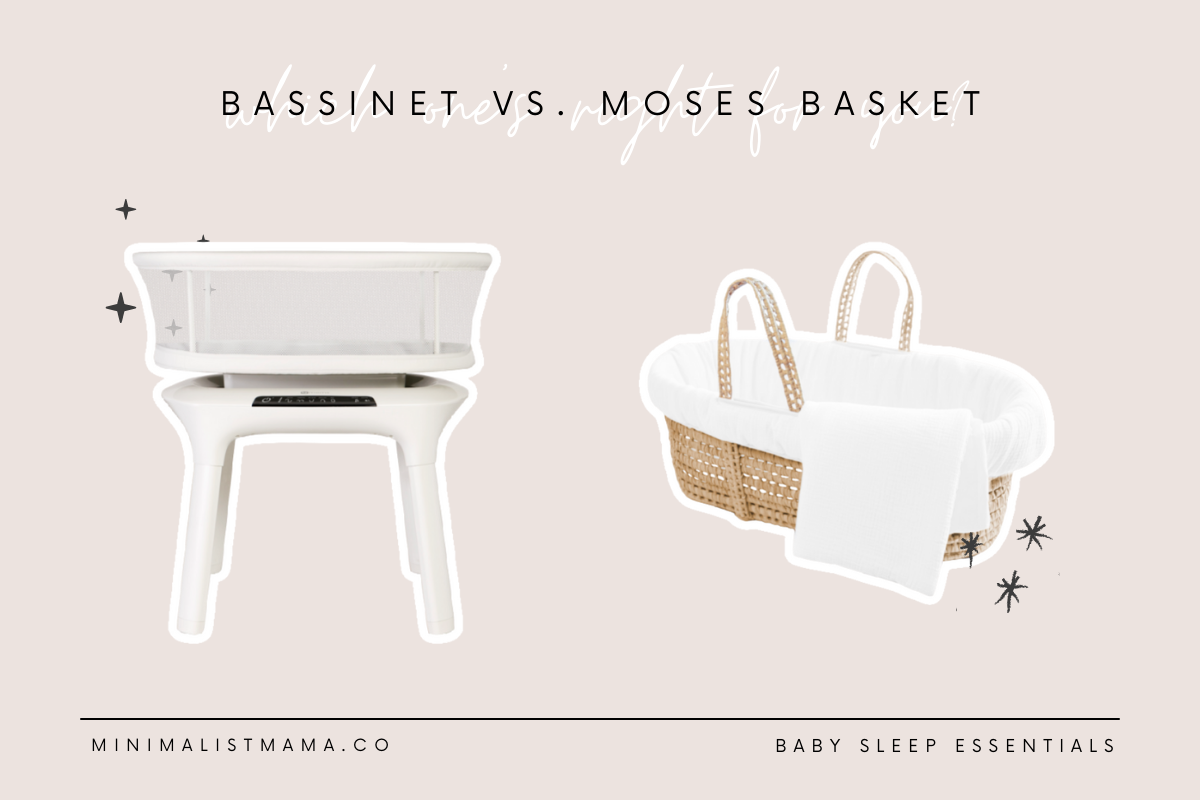 Considering both a bassinet vs. a Moses basket, but stuck trying to figure out which one will actually work for you?
I feel you, mama.
It sure is a task, trying to weigh the pros and cons of a thousand different baby items, day after day.
Sure, you can FaceTime a girlfriend with kids to get the lowdown, or text your sister… but even that gets old after a few dozen questions.
So, today, I'm sharing a baby sleep gear showdown, and I'm going to break down the key differences between the bassinet vs. Moses basket, so that you can choose the one that's right for you.
Let's dive in –
Comparing the Moses Basket vs. Bassinet
Moses Basket
Pros
Here are the main advantages of the Moses basket:
So pretty – For parents who are into the neutral, earthy trend that's super popular in nursery design right now, there's no way around it: the Moses basket fits the bill. With its natural, organic aesthetic, it can really add some gorgeous texture to a nursery, and makes for a super trendy baby photo backdrop. If you've been known to favor style over function, the Moses basket may be for you.
More portable –  Moses baskets are woven from a light material like wicker, which makes them lightweight, flexible and very easy to carry. Newborns nap a whole lot, and during those first few weeks and months, they are able to sleep just about anywhere, including the kitchen or living room. A Moses basket is convenient because it can be easily carried from room to room or up and down stairs with one hand.
Lower price point – The price of just the Moses basket itself ranges from about $50 for a mass-produced basket to around $150 for a handmade Moses basket from Etsy. You can get a basic wooden stand for the basket for about $50, and a thin mattress and sheet for another $50. If you are able to find a second-hand Moses basket, you may be able to get the whole set up for $50-$100.
Easier to store –  If you opt for a Moses basket without a stand, storing the basket itself is easier because you don't have to disassemble the unit and find a way to keep the legs together. A Moses basket
No tech issues – Because there are no mechanical components on a Moses basket, there is no chance of running into technical issues with buttons or programming. This may be a feature that draws those who prefer the simpler things in life to a Moses basket over a bassinet.
Cons
Longevity – It is only recommended that a Moses basket is used until your baby is 3 months old, or 15 pounds, which is definitely a shorter amount of time for a piece of baby gear with a decent price tag like a Moses basket.
Less sturdy – Moses baskets are woven and made from lightweight material, and the basket itself doesn't have any plastic or metal structure to it, so the sides are definitely more flimsy than a traditional bassinet.
Less durable – You may want to consider how many babies you plan to use the Moses basket for, as it may begin to fray as with extensive use.
Sold separately – While you can definitely choose to use just the Moses basket by itself, if you choose to get a stand to use with it, the two items are typically sold separately, so you'll just need to be mindful of sizing and compatibility between the two. A bassinet's basket and stand, on the other hand, are all one unit and always sold as such.
No light – Some bassinet options have a small night light built-in that can be really handy for midnight diaper changings and feedings, though this feature isn't available on a Moses basket.
No sound – Some bassinets can also play soothing sounds, which helps your baby sleep, though this feature, also, is not an option with a basket.
Only rocks back and forth – A number of modern bassinets feature gentle side-to-side movement patterns, which can help calm them down. A Moses basket by itself is just stationary, though if you opt for a stand, you can rock baby back and forth.
Noisy on wood floor – If you plan to use your Moses basket on a hardwood floor, one important drawback to be aware of is that it can be fairly noisy as the wood stand rocks on the floor, which can not only be annoying, but disturb or wake baby.
Low tech – A Moses basket does not offer any features that some bassinets do, such as smart phone apps that monitor your baby's sleep, and allow you to adjust the sound or light on the bassinet.
Bedding is harder to find – While fitted sheets for bassinets are typically widely available at most baby stores, it's a bit more difficult to find the bedding for Moses baskets, and ordering online may be your only option.
Fewer models available – Except for a few small details like designs on the side and choosing between handles that are leather wrapped or left bare, there are not many options or models to choose from when it comes to Moses baskets. Bassinets, on the other hand, vary widely and offer many, many different models.
No lowering wall – Some bassinets have one wall that lowers so that it's easier for mom to lift baby out of the bassinet, especially mothers who have had a c-section.
Bassinet
Pros
Longevity – While a Moses basket is only recommended for use until your baby is 3 months old, or 15 pounds, a bassinet may be able to accommodate your baby for up to twice as long. While the weight limits vary from model to model, the Halo Bassinest models can be used up to 5 months or 20 pounds, the 4Moms Momaroo Bassinet until 25 pounds, and the Snoo to 6 months or 25 pounds.
More sturdy – Because there are so many different models of bassinets on the market, it's hard to speak broadly about each bassinet's quality, but overall, bassinets are definitely a sturdier piece of baby gear.
More durable – Made from materials like plastic, metal, fabric and mesh, bassinets can typically withstand a bit more of banging around. This may be important for families who have little ones already running around or who plan on moving the bassinet around a lot.
Adjustable height – Many bassinets offer the ability to adjust the height of the legs to suit the height of your bed so it's comfortable and easy to pull baby out in the middle of the night, whereas Moses baskets come on a wood frame which is not adjustable.
Sold as a single unit – While it is common for the Moses basket and stand to be sold separately, a bassinet's basket and the base are one single, cohesive unit, so there is no worry of purchasing a basket that is mismatching or that may not fit the stand properly.
Night light option – Some bassinets come with a night light built in, which is super convenient for soothing your baby, or feeding and changing them in the middle of the night.
Sound option – Some models include soothing sounds, so that you don't need a separate white noise machine.
Available for rent – Interested in renting some of the more expensive baby gear instead of investing in it and then having to store, or resell it? High quality baby bassinets are widely available for rent, whereas Moses baskets are much harder to come by.
Lowering wall – A number of bassinets have a lowering wall that makes it very easy and pain-free for moms to pull baby out of the bassinet while they're in bed.
Cons
Less stylish – There's no question there are some super stylish bassinets on the market. But, that's more of an exception than a rule. For the most part, bassinets are more about safety and function than aesthetics.
Less portable – While the Moses basket can easily be picked up, and moved from room to room, or tossed into the back of your vehicle if you're heading over to a friend's, moving a bassinet around isn't quite as convenient. In order to move your bassinet from room to room, you'll most likely have to take it apart then re-assemble it, which is not exactly a walk in the park when you're a new, sleep-deprived parent.
Higher price point – There are a wide range of budget bassinets available, with prices ranging pretty wildly, from just under $100 to upwards of $1,500. However, you can find a high quality bassinet with many of the features I've mentioned for between $150 – $375.
Assembly required – If you choose to use just the Moses basket by itself, there is nothing to have to put together. The stand for
So, Which One's Better: The Bassinet or Moses Basket?
At the end of the day, when deciding between a bassinet and Moses basket, the decision is fairly simple.
If you are looking for a beautiful, Insta-worthy addition for your nursery, you're going to have to sacrifice a bit of function for style.
If you looking for something a bit more practical, durable, and with a wider range of bells and whistles, you will most likely want to opt for a bassinet. Just keep in mind that with each extra feature, you'll be shelling out a few more dollars.
Read Next:
Snuggle Me Organic vs. DockATot Lounger: Which Is Better? [Review]
19+ Simple Changing Table Essentials You're Definitely Gonna Need
21+ Simply Stunning Luxury Baby Cribs and Bassinets You've Got To See