This post contains affiliate links.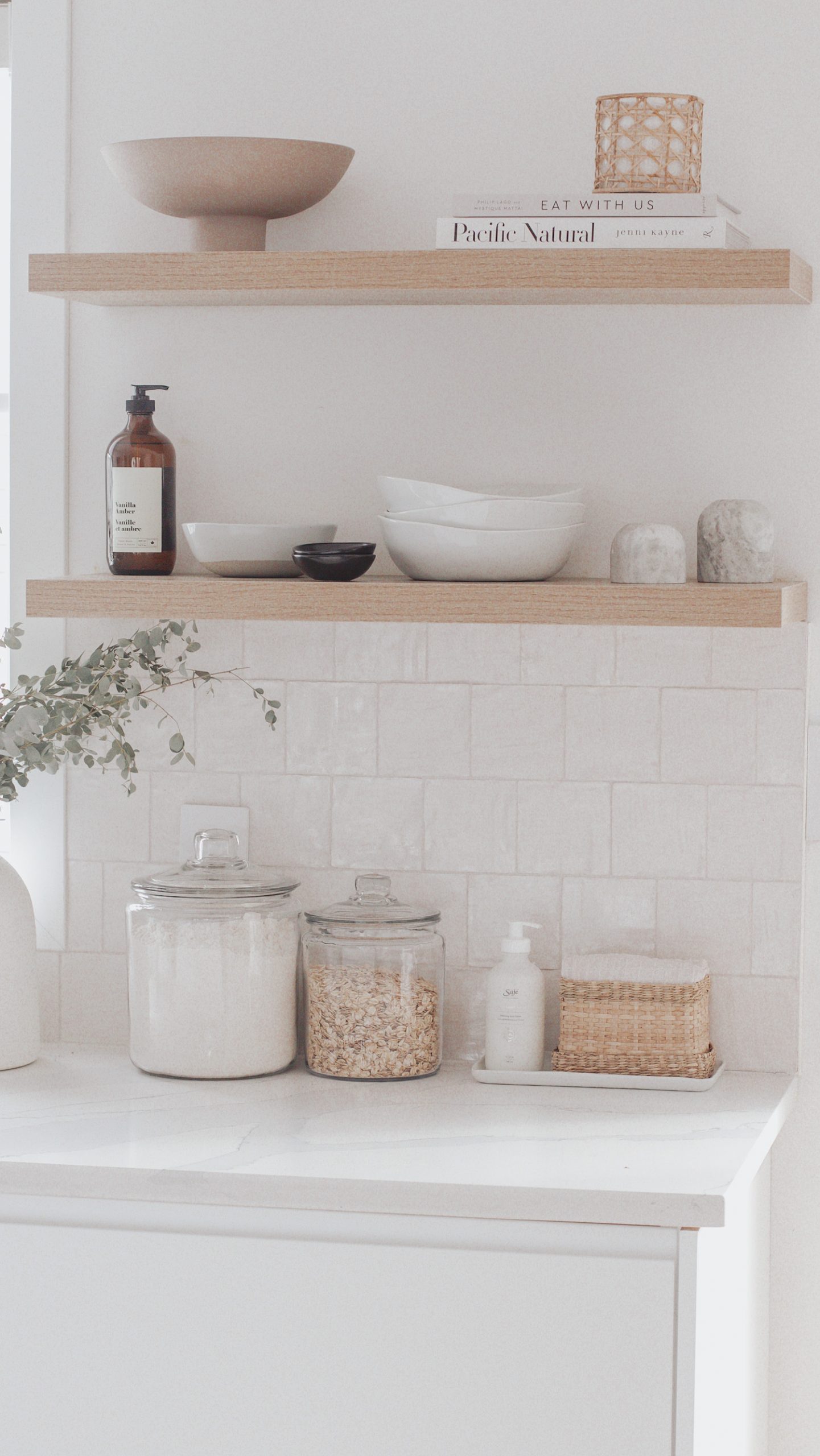 Looking for some cute minimalist shelf decor to style the floating shelves in your kitchen?
Then you're in the right place.
Today, I'm sharing our floating kitchen shelves, and all of the minimalist shelf decor that sparks joy.
Let's dive in –
How To Style Floating Kitchen Shelves
When it comes to styling floating shelves in your home, kitchen shelves, in particular, are unique.
In order for the pieces you put on your kitchen shelving to look like they belong, they should essentially be focused around things like food prep, serving, and entertaining.
I love varying heights and colors or shades, but to maintain the light and minimalist look, I like to stick with neutrals like taupe, beige, grey, white and off-black.
In styling our shelves, I love stacking some of our favorite bowls of different sizes on the lower shelves so that we can grab them easily for serving.
On our kitchen counters, below the shelves, I like to keep our hand moisturizer and some extra dish towels so that it adds a bit of texture, in the woven basket.
Oats and flour are kept out on the counter, just below the shelf, so that we can grab them as needed while preparing food, too.
The Best Minimalist Shelf Decor
Without further ado, here are my favorite pieces of minimalist shelf decor:

Read Next:
✨ 7+ Gathre Mat Dupes That Are A *Fraction* of the Price ($$$)
✨ 3+ *Stunning* Baby Boy Neutral Nursery Ideas To Steal
✨ 11+ Gorgeous, Practical Nursery Side Tables I Love (For *Every* Budget!)