This post contains affiliate links.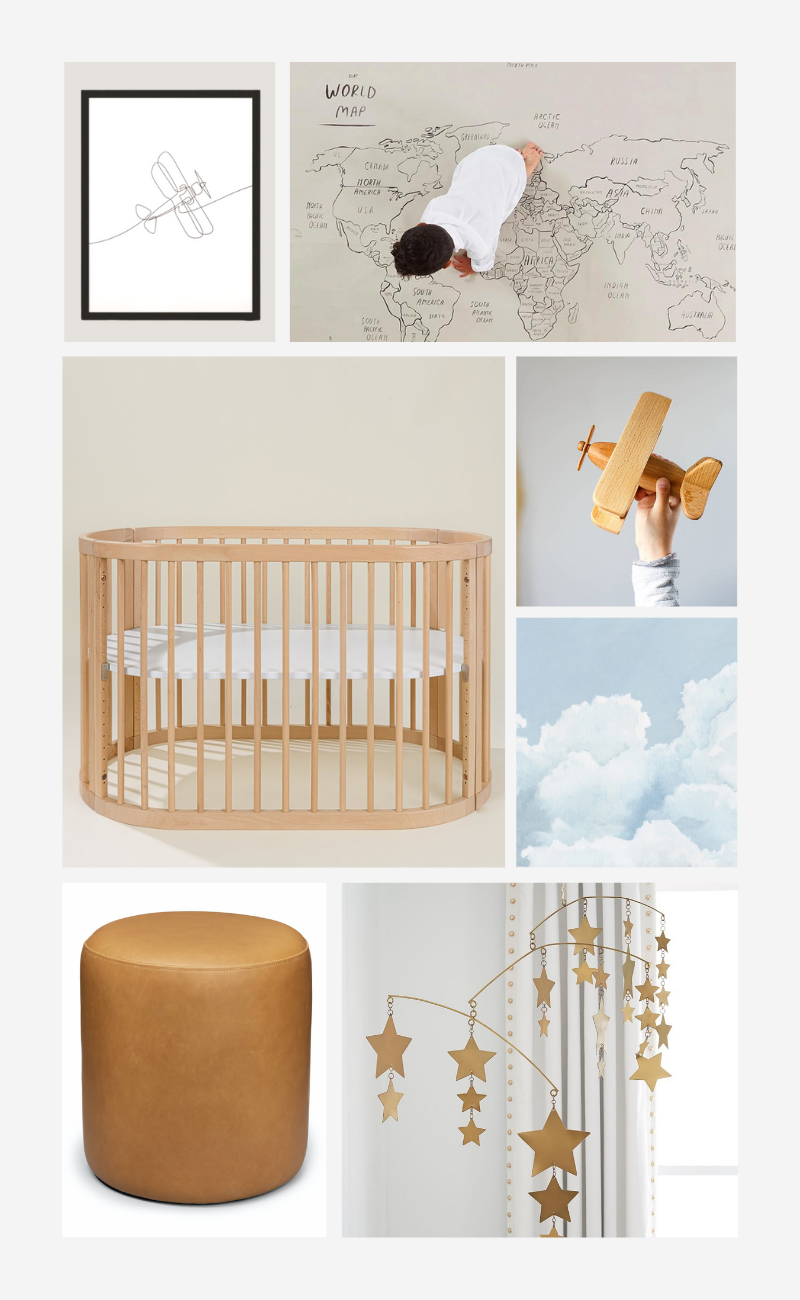 Looking for some aviation-themed nursery inspiration?
Whether daddy is a pilot, mommy is a flight attendant, or you both just have a love for travel, an airplane-themed nursery is a lovely theme that can really be brought to life in so many fun ways.
Here are my favorite decor items and picks for an airplane themed nursery:
Airplane-Themed Nursery Decor Ideas
These Gathre mats are one of my all-time faves for littles. These gorgeous leather mats are a serious work of art, featuring designs like this world map, galaxies, the alphabet, and a number of other minimalist prints that are to die for. The Gathre mat can either be used as a wall hanging or a playmat, or both. I've seen them hung in nurseries, playrooms, brought to the beach, the possibilities are just about endless! Love this globetrotting touch that I think adds just a wonderful touch of whimsy to an airplane theme nursery.
How cool is this customizable flight board?! Add special trips or destinations that mommy and daddy have taken, or use this custom flight board as a bucket list destination list for baby.
Channel the cockpit with this oversized altimeter wall clock.
Mount 2 or 3 of these cloud-shaped wall shelves in your nursery to display small prints, trinkets, mementos or toys, or even a small plant.
This cute set of 4 toys including a little wooden airplane would be adorable displayed on open shelving in your nursery.
Keep baby happy and entertained by hanging an airplane themed baby mobile over their crib or change table.
This metallic star mobile would pair very well with any of the wallpapers I've included, and you could further play off of the tone by adding other gold accents throughout the nursery.
Add a super modern edge to your nursery with this custom airplane neon light.
If there's one things babies love, it's looking at themselves in a mirror. Try building on the up-in-the-sky feel of your aviation nursery with this cute cloud-shaped mirror.
Take a less literal and more abstract approach to a cloud-shaped mirror with Pottery Barn Kid's Naturalist Mirror.
I love how the white tone, round shape, and small white wooden beads all do such a great job of playing off of a cloud.
Airplane-Themed Nursery Wallpaper Ideas
Doesn't this soft and pretty sky scene just put you at ease? Drift away into a baby blue sky with this lovely addition from Hovia.
Picture yourself and your little flying high, up among the clouds with this celestial wallpaper.
This self-adhesive wall mural is easy peasy to set up, and is the perfect blank slate for a modern, minimalist airplane-themed nursery.
Add a statement to your nursery with this pretty constellations wallpaper reminiscent of a night-time flight to la-la land.
Airplane-Themed Nursery Furniture Ideas
Use this beautiful ottoman as a footrest for your nursery glider, or simply keep it around as extra seating for family play time in the nursery.
This piece is inspired by the curves and rounded shapes of an airplane's design such as the airplane's windows and the body of the airplane.
I love how pairing this ottoman and rounded baby crib creates repetition in both the tone of the pieces as well as the curved lines and shape. A super important concept in design!
I love this sweet little side table that not only adds a contemporary touch to the nursery but is ridiculously useful for putting down your water glass, coffee mug, phone, nail scissors, swaddles, breast pump… I swear, end tables are one of the hardest working pieces of furniture in a nursery!
While this end table comes in a few different pretty neutral colors, I've included it in a sweet pastel pink here as a way to take your aviation nursery in a more girly direction if that's your aim.
Pottery Barn's Paxton power recliner. Is. It.
It is it!
The recliner of my dreams has arrived, people.
If you're looking to splurge on one item, I recommend adding this ridiculously comfortable, quality, timeless recliner is one of these pretty neutrals to your list.
Airplane-Themed Nursery – TL;DR
If you've set out to create your very own nursery as an ode to aviation, there are so many gorgeous products on the market right now that can really bring the theme to life.
By incorporating different elements such as the sky and clouds and stars, you can really begin to develop the theme. Add in a few personal touches such as the personalized flight board, an altimeter clock, a wooden plane toy or my favorite world map play mat, and you'll find the theme will come together in no time!
What do you think? Are you feeling inspired to get to work on that airplane-themed nursery for your little one yet?