This post contains affiliate links.

On the hunt for some great options for a low light nursery lamp? Wondering what the best light for changing baby at night is? Looking for the best light for feeding baby?
Today, I'm sharing the low light nursery lamp options that I have found to give off just the right amount of light without waking baby.
Let's dive in –
Ah, the great wide world of nursery lighting. As any expecting parents will soon realize, nursery lighting really isn't quite as simple as you may think. There are actually a number of things that are important to consider in order to get the right lighting that works for baby.
You'll of course want to make sure you have a nice overhead light that lights up the entire room for play time and while you're tidying the space up. But in addition to that, you'll also find that some pretty specific task lighting is super important, too.
Namely, low lighting for changing baby overnight as well as low lighting for feeding, whether that be by bottle or breast.
Here are my favourite low light nursery lamps for feeding and changing baby:
1. The Hatch Rest & Rest+
The Hatch is absolutely our go-to for nursery lighting, and I think you're going to love it, too.
There are two models available – both the Hatch Baby Rest and the Hatch Baby Rest+.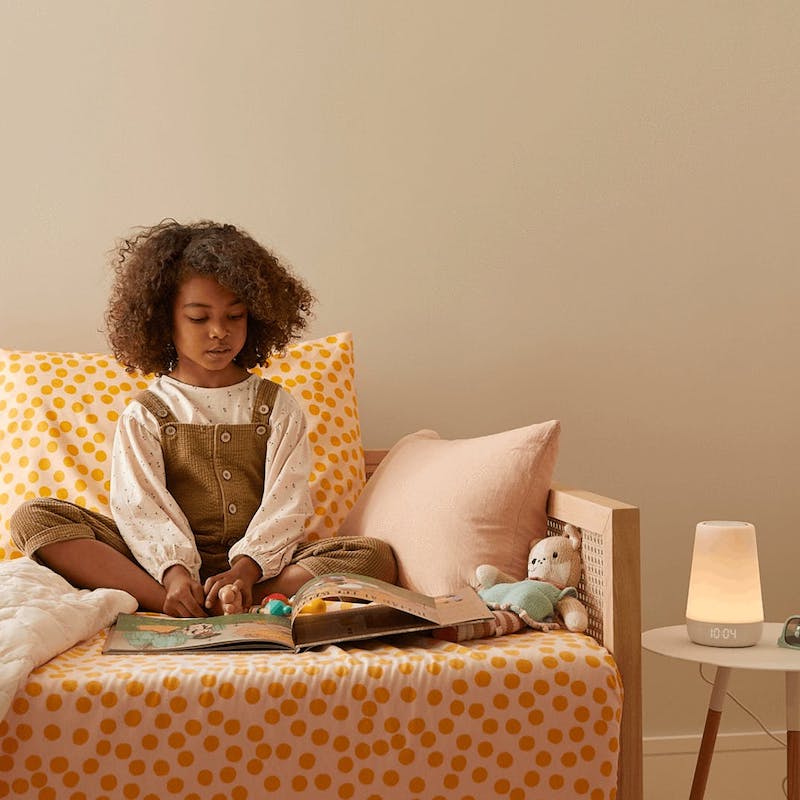 Here's why I love the Hatch Baby Rest:
Adjustable brightness – while we're busy here talking all about how to best light your nursery for feeding and changing your newborn baby, brightness is definitely something you'll want to consider. What I learned pretty quickly is that a regular lamp – even a small one with a weaker lightbulb and a frosted shade – just gives off too much light for a new baby's sensitive eyes. One of the things I love about the Hatch is the variance in light that it provides. The app has got a brightness slider that can be set at any level from 1 to 100, with even the 100 level not really disturbing babe.
Soft glow – Not only does it provide an adjustable amount of light, but thanks to its frosted finish, the light it does emit is perfectly calm and dim and just enough.
Soothing sounds – In addition to being a wonderful low light nursery lamp, the Hatch is also a white noise machine, with 10+ different soothing sounds to choose from.
Smartphone app – one of the best features of the Hatch is that it comes with a smartphone app that allows you to adjust the settings, regardless of if you're in the actual room or not. This has really come in handy when my husband or I have our hands full and the other is close by – we can quietly request an adjustment (volume down, brightness up, etc) and have it set to the right levels right away.
One-touch adjustments – The Hatch allows you to create up to 6 different 'programs' on your app – different combinations of light and sound. You can then easily jump between your favourites by simply tapping the silver ring on the top of the Hatch to shuffle between them, without having to pick up your phone.
Here are the additional features that the Hatch Baby Rest+ includes:
Dimmable clock – Forget your phone in the other room? Are your arms engulfed by babe, you can't quite reach your phone to check the time? I've definitely found myself in both scenarios, making a mental note to myself to add a clock to the nursery so that I can keep an eye on sleeping and wake times. No need for an additional device if you go with the Hatch Rest+.
Hands-free voice control (Alexa) – The Hatch Rest+ comes with the ability to turn the light and sounds on and off using their voice-activated technology, whereas you'll need to navigate your phone in the darkness to make any adjustments to sound or brightness with the Hatch Rest.
Audio monitor – The Hatch Rest+ comes with two-way audio monitoring so you can actually hear if babe is stirring or whining; the Hatch Rest does not include this feature at all.
Back-up battery – The Hatch Rest plugs into the wall; the Hatch Rest+ has a back-up battery that will keep the device running in the case of a power outage or if you're on the go.
Check out the Hatch Rest and Hatch Rest+
2. Vava Night Light
The Vava Night Light is a super popular alternative to the Hatch Rest and Rest+.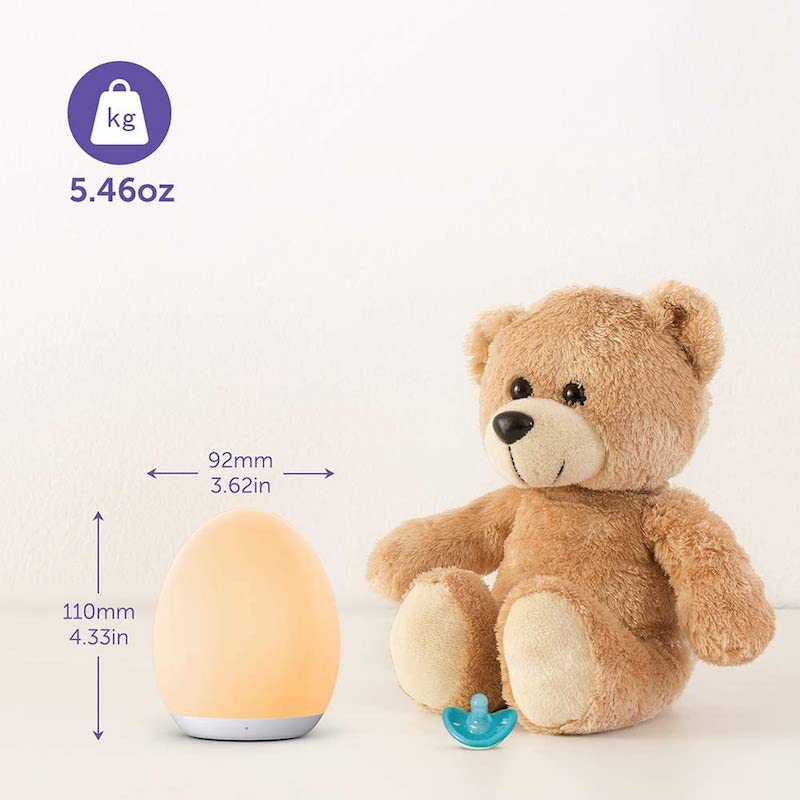 The biggest differences between the Vava Night Light vs. the Hatch Rest and Rest+ are:
Sound – The Hatch is essentially a night light and a sound machine in one, whereas the Vava only provides light. From ocean waves to nursery rhymes, the Hatch has a selection of 12 different sounds that you can play, all at different volumes, of course. I believe this is probably one of the biggest reasons to explain the price difference between the two of them, as it adds the most utility.
App – The Hatch Rest and Rest+ both include a smartphone app that allow you to program favourites, adjust sound, and the color and brightness of the light. The Vava, on the other hand, simply toggles between settings dependant on how long you tap it for.
Brightness – The Hatch allows you to adjust the brightness of the light from any level from 0 to 100%, whereas the Vava only offers off, on and 50%.
Colors – The Hatch app features a color wheel which will provide different colors of light, whereas the Vava only shines white light. As baby grows, this feature could be super neat — imagine creating a program overnight where the Hatch shines very dimly in a red or pinkish color, telling babe to stay in bed. Once it's time to wake up, you can have the Hatch programmed to glow green, letting them know it's time to come out of their room.
Portability – Here's maybe where the Vava's got a foot up – but I think it's probably about the only angle they've got, besides offering a lower price. The Vava comes with a charging base, but is designed to be more of a wireless unit, whereas in order to be able to run the Hatch wirelessly, you'd have to move up to the Hatch Rest+ (this feature isn't available on the Hatch Rest).
Size – The Hatch and Hatch+ are 6″ tall, whereas the Vava is closer to 4″. Not a huge difference, but the Hatch is a bit of a larger unit.
Check out the Vava Night Light on Amazon.
3. Lumi Pets Bunny Night Light
This adorable little glowing guy, the LumiPets night light, is the most portable option of the bunch, in that it's battery-powered, but can also be recharged via USB.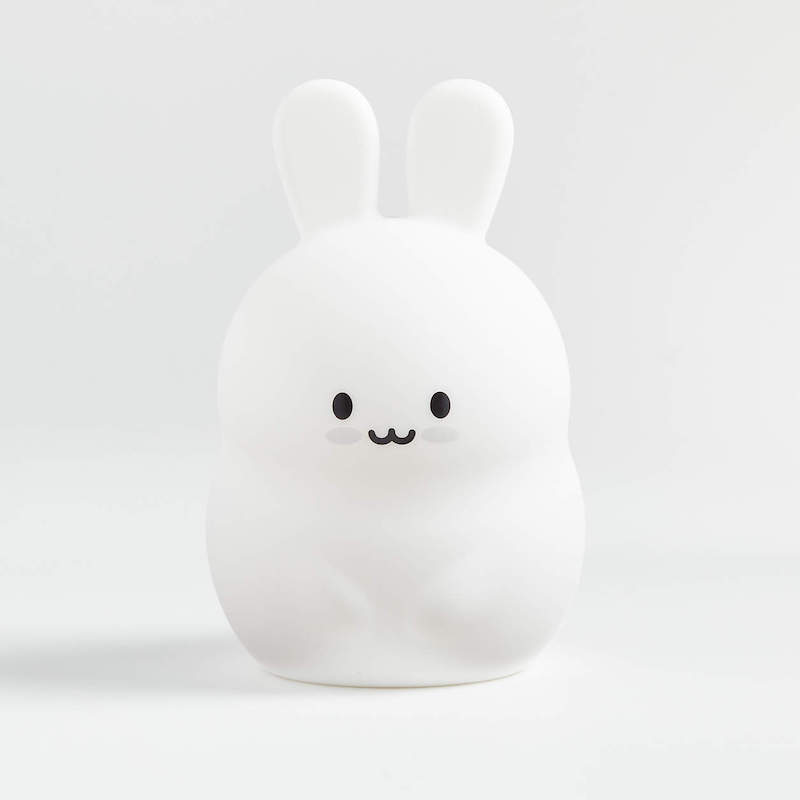 It's a good small sized nursery lamp, changes colors, has a sleep timer, and is super durable.
Check out the Lumi Pets Bunny Night Light on Amazon.
4. Essential Oil Diffuser
Yep, I said essential oil diffuser. As a night light in your nursery. Why not?
I stumbled across this lovely lighting option without even intending to, and you know what? It works!
Most models include a small light feature (the one I've recommended here does) and the amount of light that it gives off creates just the perfect late night light-up glow.
Obvious bonus – you can also diffuse essential oils as baby gets a little older (it is not recommended to diffuse essential oils around babies under 6 months).
My personal favorites would have to be from Sage, (this one)or Vitruvi, both of which have super gorgeous and simple diffusers in a number of styles.
Check out the Vitruvi Essential Oil Diffuser
5. Snooz Go Baby
The Snooz Go Baby is an awesome little portable unit that also provides white noise. Keep it plugged in in the nursery, or take it on the go, simply tying it on to your little one's car seat or other sleep spot.
Check out the Snooz Go Baby
6. Himalayan Glow Salt Lamp
Another great low light nursery lamp option is a simple salt lamp.
This one isn't portable, doesn't lull your baby to sleep, and doesn't change colors, but it does lend a natural, organic feel to the room and of course, emits the perfect amount of light.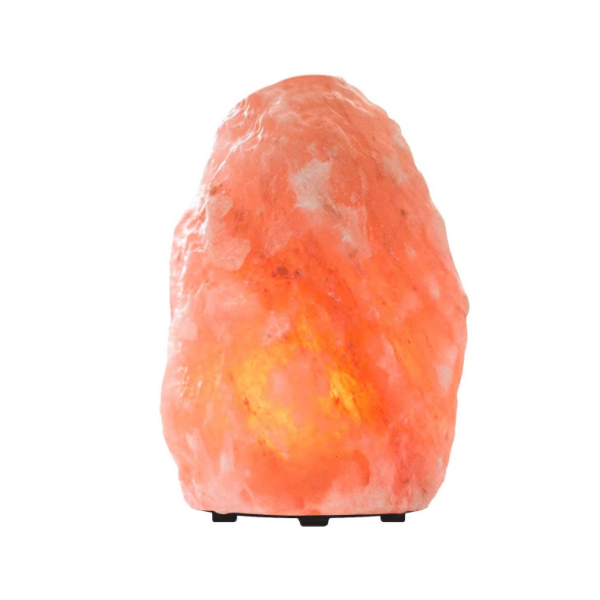 I feel like it goes without saying, but yes, salt lamps are safe for babies. Just be sure to keep the cord and the lamp both safely out of reach, as you definitely don't want babe giving the cord a tug… or licking the lamp.
Check out the Himalayan Glow Salt Lamp
7. Upplyst Cloud Wall Lamp
Lastly, this adorable little cloud-shaped wall lamp is the perfect low light solution, is super affordable, and conveniently available for purchase from Ikea.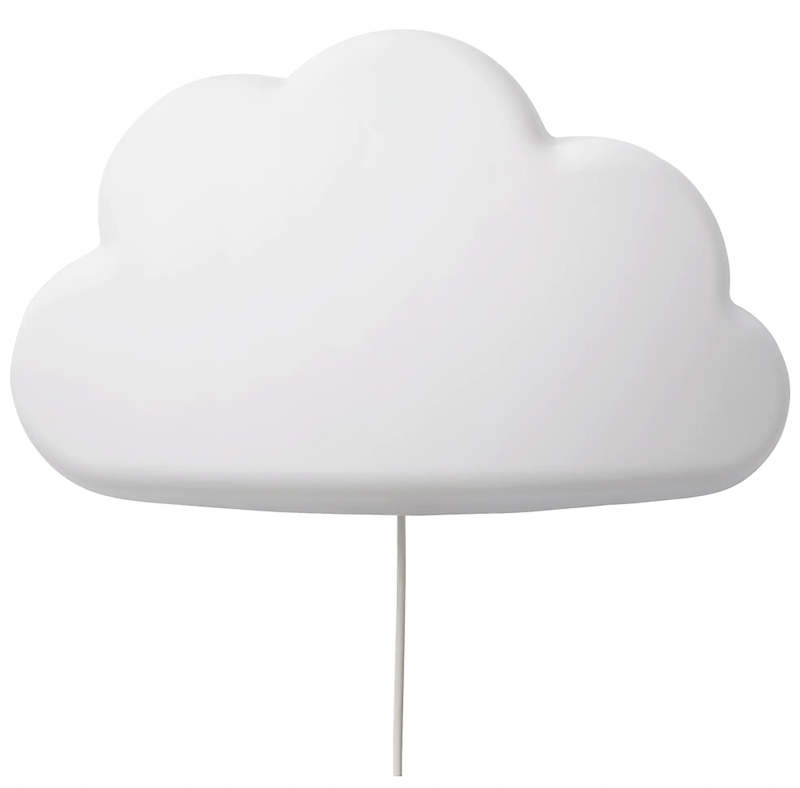 Mounted above the changing table or rocking chair, this night light will add the perfect sweet touch to any nursery.
Check out the Upplyst Cloud Wall Lamp
The Best Low Light Nursery Lamps – TL;DR
When it comes to finding the right low light nursery lamp for your little one's space, ensuring the light source you count on can be dimmed enough really is important. Not only will you be able to save many late-night wake-ups for baby, but keeping the light dim in the nursery will also allow you to drift back to sleep with less trouble. There are a number of low light nursery lamps available on the market, each with different features and designs.
Read Next: 
Baby Swing vs. Bouncer: Which One';s Right For You?
49+ Essential Items To Stock Up On Before Baby Arrives
11+ Must-Have Diaper Caddy Essentials for New Moms
11+ Super Useful Nursing Cart Essentials That You'll Definitely Need