This post contains affiliate links.

Rainbows are such a beautiful symbol of hope, so of course, the idea of creating a rainbow-themed nursery is very suiting.
Today, I'm sharing my favorite rainbow nursery decor ideas in hope of inspiring you while you design your cozy little space for your that addition of yours.
What is a Rainbow Baby?
A rainbow baby is a baby that is born after having dealt with infertility, pregnancy loss, or miscarriage. Just as a rainbow appears in the sky once the storm has passed, a rainbow baby is one born after a trying or tumultuous season.
Rainbow Nursery Decor Ideas
Without further ado, here are my favorite decor pieces, accents and rainbow nursery decor ideas:
1. Neutral Rainbow Rug
This adorable rainbow rug would go is so lusciously neutral and contempo and would pair beautifully with just about any nursery color scheme or theme you can come up with!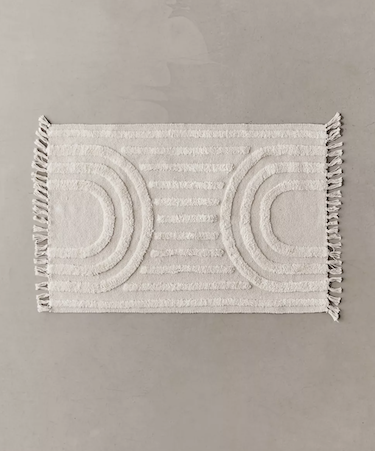 Rainbow Area Rug
2. Rainbow Stacking Blocks
I love these super popular rainbow stacking blocks. I've shown a few subdued neutrals here, but they also come in raw wood.
They make such a lovely little decor piece, and I love that they're small enough to fit on a small nursery shelf.
The best part? They're so much more than just a pretty face. These rainbow stacking blocks are functional toys, too – and they're great for open-ended play.
Wooden Rainbow Stacking Toy
3. Large Rainbow Mural Decal
This sweet rainbow decal comes in many different colours and three different sizes so you can find just the right fit to suit your nursery. They're applied easily in just a few minutes and are removable, which even makes them renter-friendly.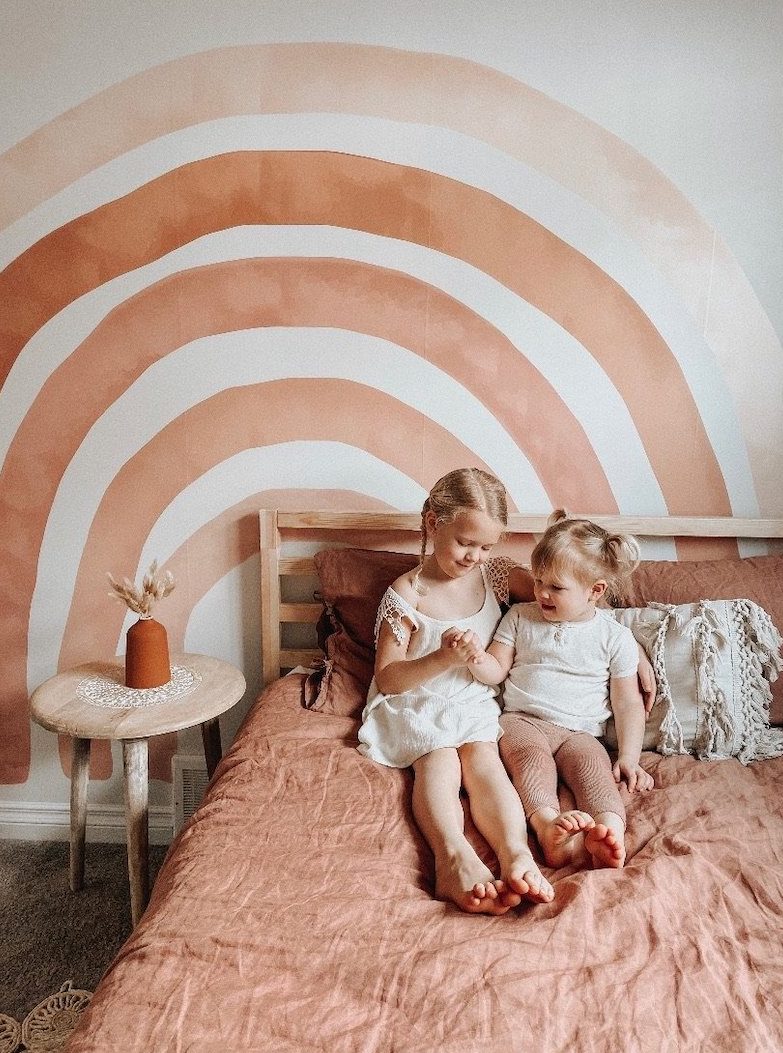 Large Rainbow Decal
5. Rattan Rainbow Wall Decor
These sweet rattan rainbows add such a lovely, neutral texture to your little one's nursery and look totally adorable hung as a pair above your baby's crib, or changing table.
They'd also go great behind your rocking chair, especially if you have a few floating bookshelves right beside it.
Rattan Rainbow Wall Decor
5. Woven Rainbow Wall Hanging
Hang this pretty woven rainbow from a wall shelf or a set of wall hooks to add a touch of softness and texture to your little's nursery.
Nordic Woven Rainbow Wall Hanging
6. Rainbow Mom Art Print
This unique piece of art is so sweet and does such a beautiful job of celebrating mama's journey, and strength, and the rainbow baby that has come to be.
Rainbow Mom Art Print Society6 ($19)
7. Rainbow Baby Mobile
This sweet felt mobile would add such a sweet touch to a rainbow-themed nursery. Try hanging it above your changing table instead of the crib to keep baby entertained during diaper changes.
Neutral Rainbow and Dove Baby Mobile All Tuckered Out Decor ($116)
8. Rainbow Fruit Wall Art
Galatians 5:22-23 comes to life in living color in this sweet rainbow print that reminds us what the fruits of the Spirit are. Illustrator and artist, Lindsay Letters, also offers gorgeous, simple hand-lettered art – the Meaningful Words collection – for outside of the nursery that you absolutely need to take a peek at!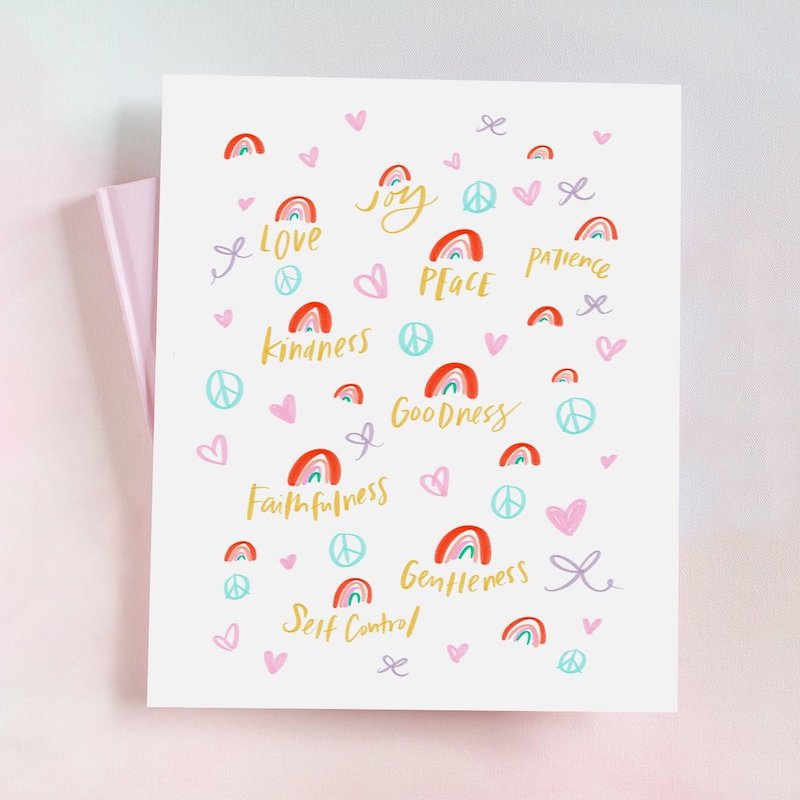 Rainbow Fruit Print
9. Rattan Rainbow Wall Hooks
Display a few of the most cherished pieces in babe's wardrobe with this modern boho rainbow decor.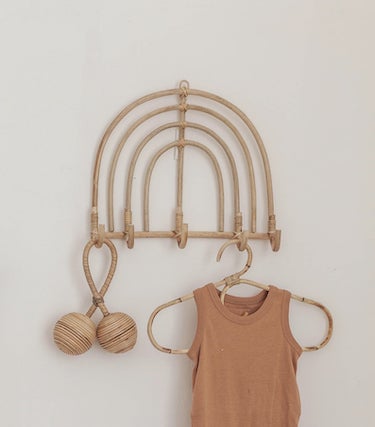 Rattan Rainbow Wall Hooks The Little Bay ($57)
10. Rainbow Play Mat
These sweet, soft play mat is handmade and not only makes for the perfect little rainbow-themed nursery decor piece, but it's so functional, too!
Rainbow Pastel Floor Mat Gypsy Kid Designs ($40)
Read Next: 
☁️ 11+ Gorgeous, Practical Nursery Side Tables I Love (For *Every* Budget!)
☁️  19+ *Stunning* Nursery Board and Batten, Wainscoting & Beadboard Ideas (2022)
☁️  29+ Jaw-Dropping Nursery Accent Walls I'm Swooning Over