This post contains affiliate links.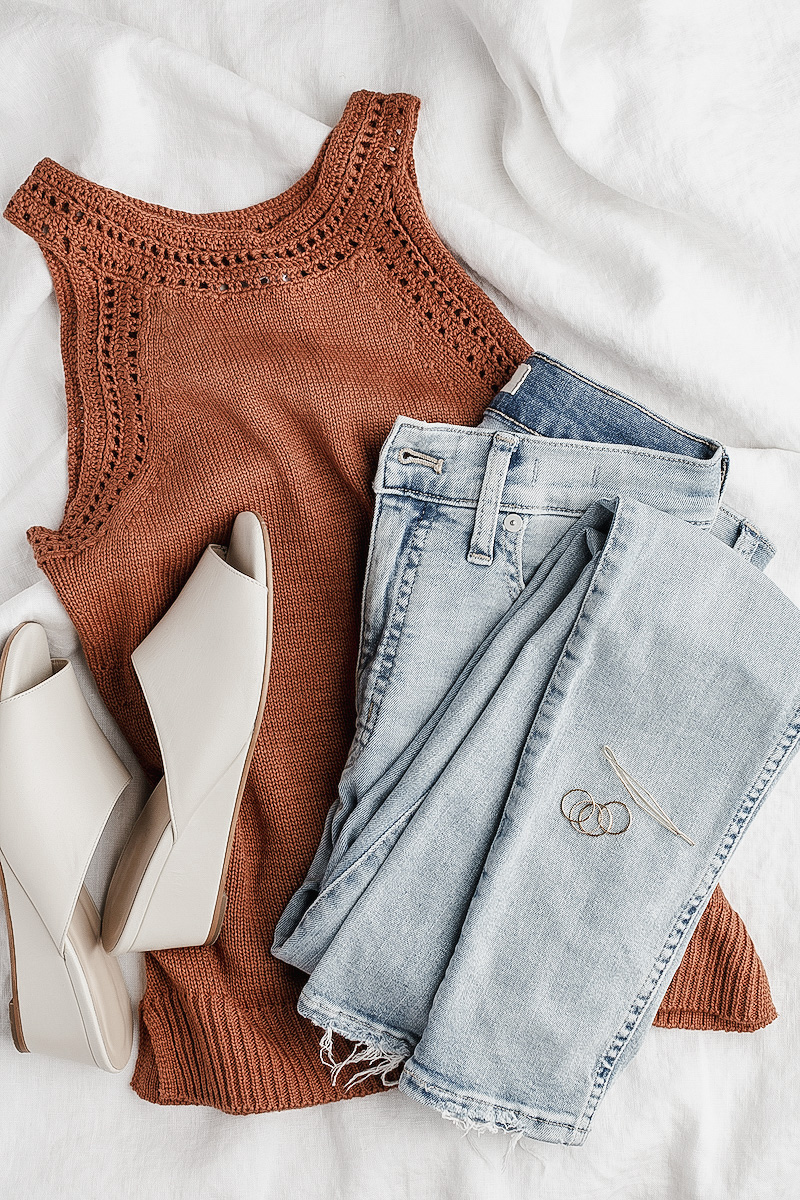 Today, I'm sharing some of my favorite fall family photoshoot outfits for 2023.
I love fall.
I think it's a pretty common sentiment.
This fall, though, is exceptionally special for me.
We're finally getting family photographs done.
And this time, we've got the most precious new addition, our little Hudson Oliver.
In preparing for our fall family pictures, I have been looking for inspiration and come across a number of incredibly talented photographers, incredibly stylish families and beautiful fall color schemes that just shout it's fall, y'all.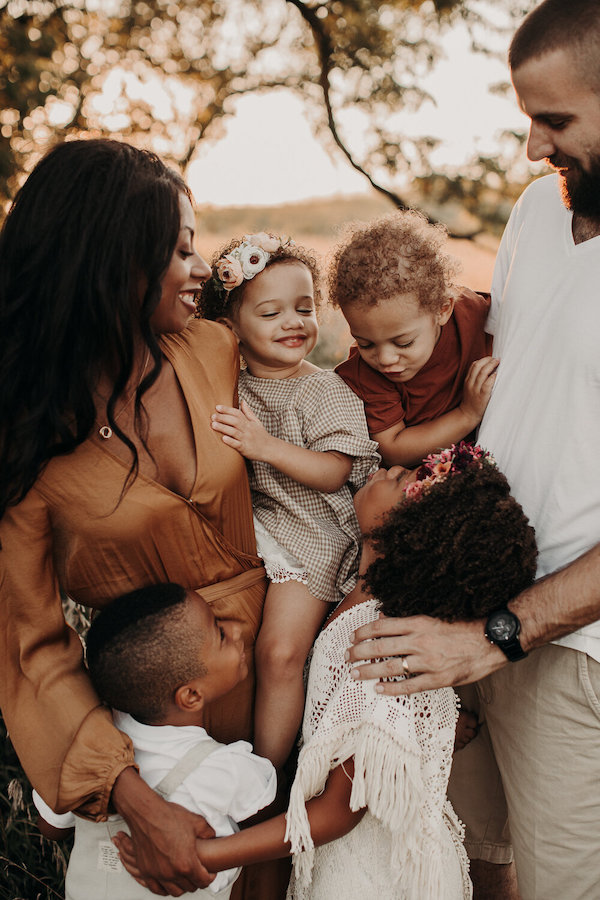 The Best Fall Family Photoshoot Outfits
From classic buffalo check, to thick, chunky knits, to corduroy and velvet and beyond – I've put together some serious fall family photoshoot outfit ideas that will have you feeling inspired before you know it.
As we explore what makes these fall family picture outfits so eye-catching, try to think of clothing items your family already owns.
Make note of what the materials and styles that you love and use them as a jumping-off point if you plan on purchasing some new pieces.
Let's dive in –
Warm Brown and Beige Fall Family Photo Color Scheme
Shades of warm chestnut, oatmeal and almond play off of each other and look beautiful amongst a similarly-colored fall backdrop.
Dad shows us that a dark grey top goes well with brown pants and the mix of deeper shades on dad and lighter shades on the rest of the family create a nice, interesting contrast. (While mama is in a pretty, linen dress with neutral nails in this photo, I love the idea of opting for red nails, too!)
Their little guy's buffalo check plaid layer adds interest to the photo, and baby's bow is the cherry on top.
White, Olive, and Rust Fall Family Photoshoot Outfits
Suede, corduroy, plaid flannel, cable knit.
So fall.
White and cream flow into shades of brown, and the little guy's adorable jacket in a deep olive ties with his plaid shirt that's cream and green.
All of this amongst the sandy, rocky beige backdrop. It just works.
Get The Look
Ivy City Co. Lottie Dress ($124)
Dusty Rose and Blue Fall Family Photo Color Scheme
Next up –
A classic dusty rose and navy pairing.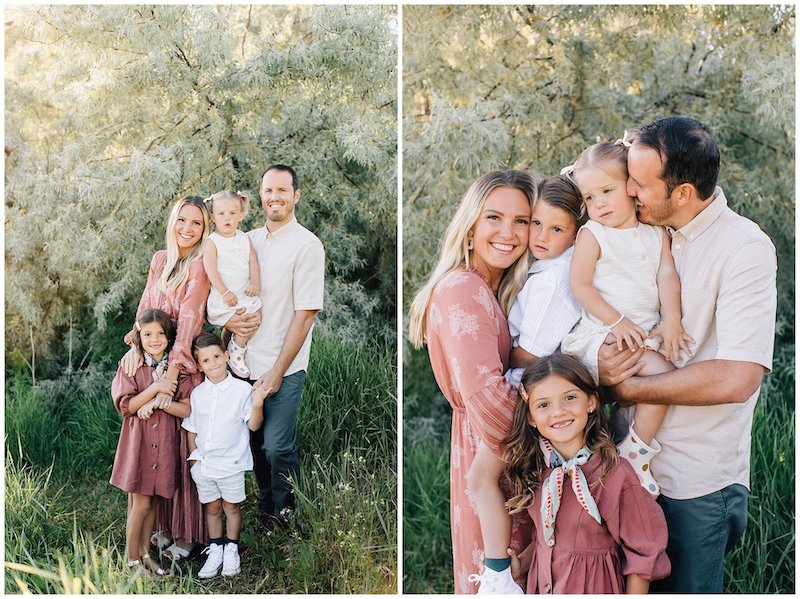 Mommy and daughter steal the show in a pop of pink, with dresses in complimentary shades of dusty rose. The flowy sleeves and gathered waist on both dresses also do a lovely job of playing off one another, but also bringing a sense of togetherness to the picture.
Dad's blue pants is the perfect match for the ladies, and the color is continued in the little girl's neck scarf as well as (though it's hard to see in these photos) – light blue stripes on his little guy's button-down shirt.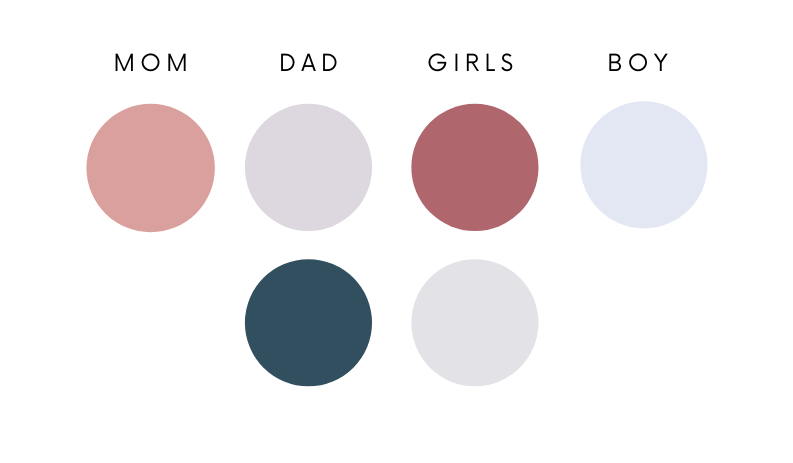 Get The Look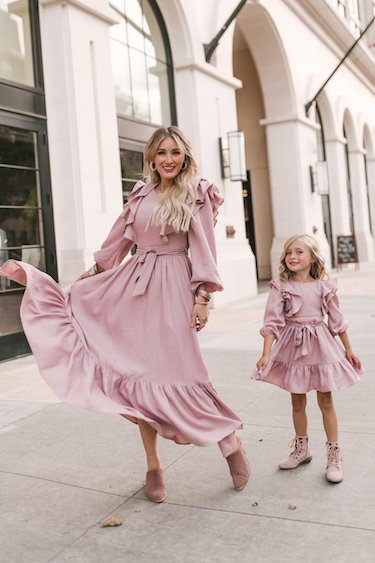 Ivy City Co. Gwen Dress ($112)
Lulus Wrapped Up In Love Mauve Satin Faux-Wrap Midi Dress ($58)
*Get $30 0ff your purchase of $50 or more from Lulus with the Shop link above*
Golden Yellow, Olive and Rust Fall Family Photo Color Scheme
Deep olive and warm, golden marigold and a peak of dainty floral give us all the fall feelings in this totally stunning fall family photo.
Baby's deep yellow hair bow ties in so well with dad's pants and mom's dress, and her adorable knit socks and suede Mary Janes capture the very essence of a crisp autumn day.
How about that cashmere? – or other luxe knit – on their little guy?
Just lovely.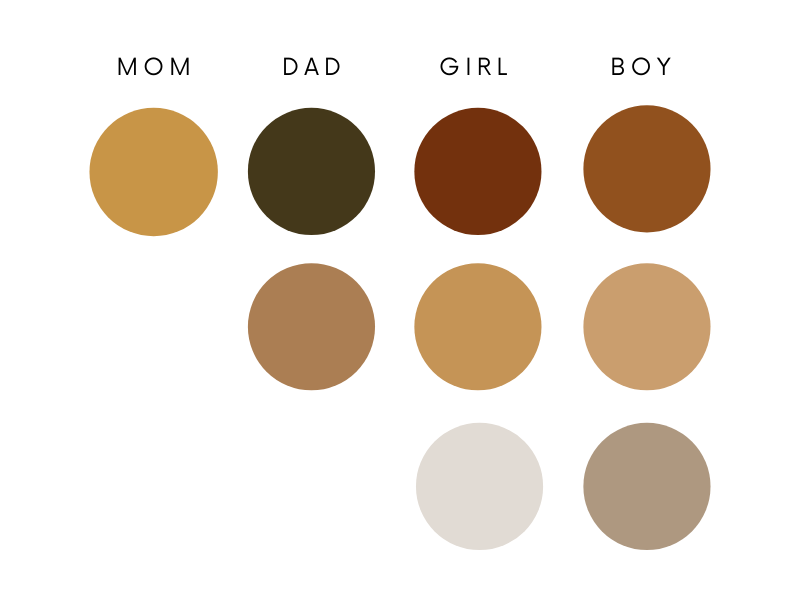 Get The Look
Winnie + Crew Knit Button Jumpsuit ($36)
Brown, Rust, Beige and Black Color Scheme for Fall Family Pictures
This tone on tone on tone is simply gorgeous.
Some more orange tones of brown, some more reddish tones of brown, some tan, cream, beige –
Get The Look
Winnie + Crew Knit Button Jumpsuit ($36)
it all looks so stunning together and again – looks simply beautiful against a similarly-toned autumn backdrop.
Moss Green and Burnt Orange Fall Family Photoshoot Outfits
I want to call the color of Dad's shirt moss.
And the orange, I'm going to call it a burnt orange.
Burnt orange and moss – the colors that paint a valley of trees in the fall.
How's that for a tip?
In coming up with a color scheme for your family's fall pictures, a good rule of thumb is to echo the tones and shades that you see in nature at this time of year.
Does that top look like it could blend into a pile of freshly-raked leaves?
Add to cart.
Another tip?
Fall family photoshoot outfits really come together when a similar color, or element, is repeated on different family members.
Mamas gorgeous butterscotch dress is soft and silky and pairs so beautifully with her little ones' chunky knit beanie and war
striped sweater.
So –
The tip?
Look for pieces with contrasting textures – it really does add so much interest to the images.
Get The Look
Ivy City Co. Demi Dress in Rust ($105)
Cream, White and Brown Fall Family Pictures Outfits
How effortless does this adorable family look?
The warm, golden tones of the dried grasses in the field compliment the shades of white, cream and brown that this clan is sporting.
A flowy dress, hat, cable knit and button down –
Get The Look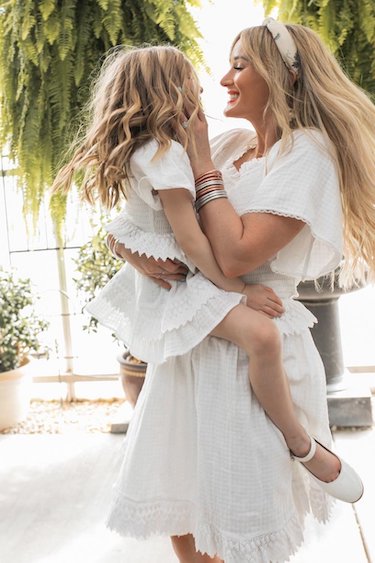 Ivy City Co. Margo Dress ($90)
have you noticed these pieces are showing up in many of these fall family photos yet?
I think they're on to something.
Edgy Black, White and Rust Fall Family Photo Color Scheme
How cool is this little family?
I feel like I need their Spotify playlists.
Dad's super cool taupe suede hat kicks his simple white tee and black jeans up like 8 notches and the pattern on mom's dress echoes his ensemble wonderfully.
The littles ones in shades of brown – suede and linen.
I'm telling you, people, textures are the secret ingredient here!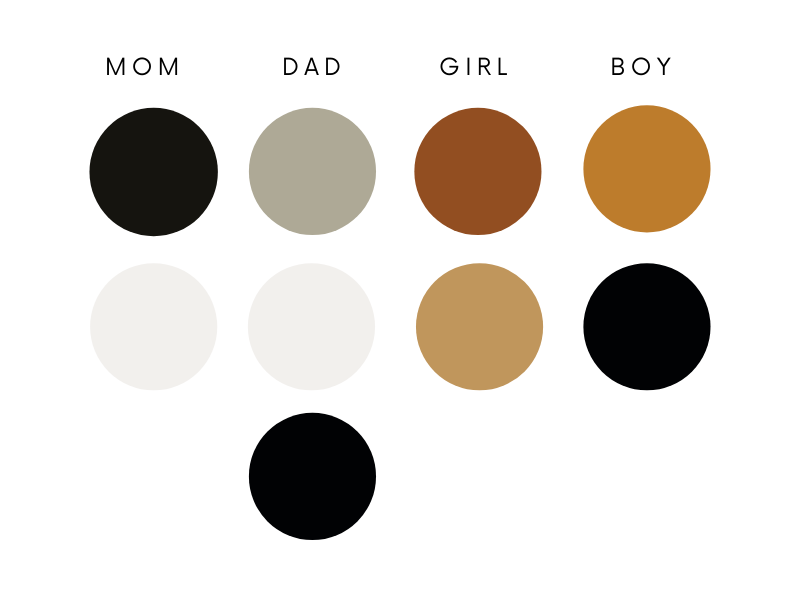 Get The Look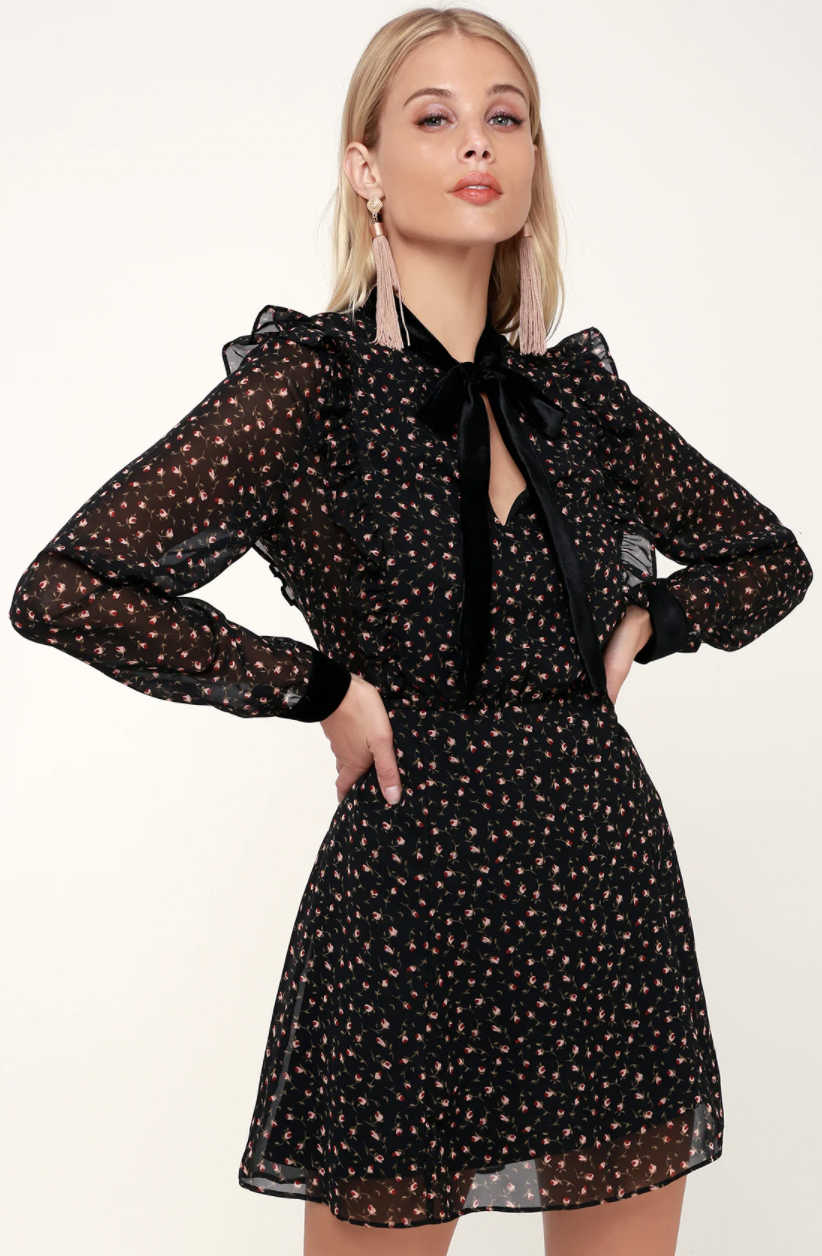 Lulus. Neilsa Black Floral Print Long Sleeve Skater Dress ($49)
*Get $30 0ff your purchase of $50 or more from Lulus with the Shop link above*
Silvery Sage, Beige and Cream Fall Family Photoshoot Outfits
For a look that leans a bit more dressed up, consider a flowy, silky dress in a soft shade like this sage color for mom.
Next, opt for a simple oatmeal linen onesie for baby, so as to not take away from moms pretty frock.
Here, dad and baby keep it classic with beige chinos, a classic white button-down for dad, and a simple pair of shoes – this round-up of black and white shoes for men lists a bunch of stylish choices!
Light Grey, Beige, Rust, Beige and Florals Fall Family Photoshoot Outfits
A light, checkered grey and white button-up with some classic chinos, a pretty feminine, floral dress and again –
cozy, chunky knit for the little guy – tie together so nicely for this cute look.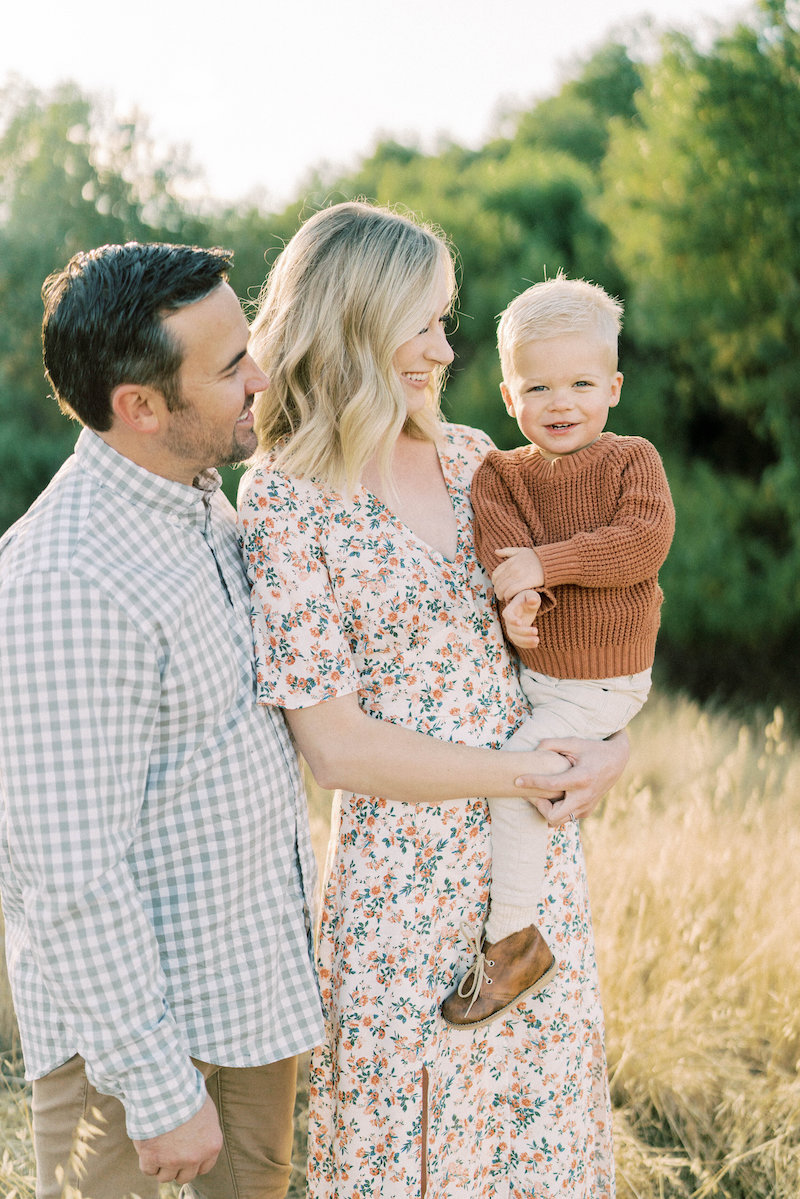 Burgundy, Beige, and Grey Fall Family Photo Color Scheme
Mama's deep maroon, dusty rose and cream colored flowy floral dress adds such dimension to this photo, while babe's super chunky knit sweater gives us all the cozy feels and more.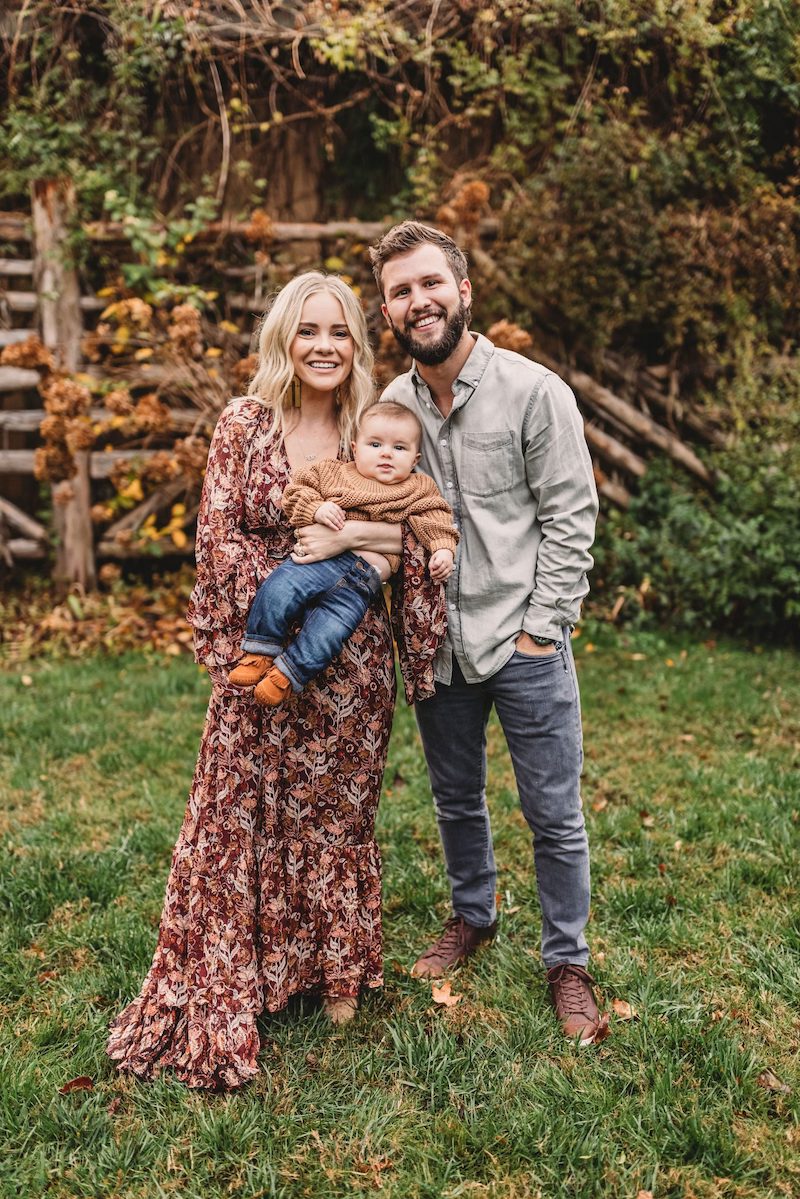 Golden Marigold and Azure Blue Fall Family Photo Color Scheme
Blue and yellow.
Just like the color of the sky against a golden field of wheat.
Dark, moody floral pattern.
Sweet, layered ruffles.
A perfect pairing.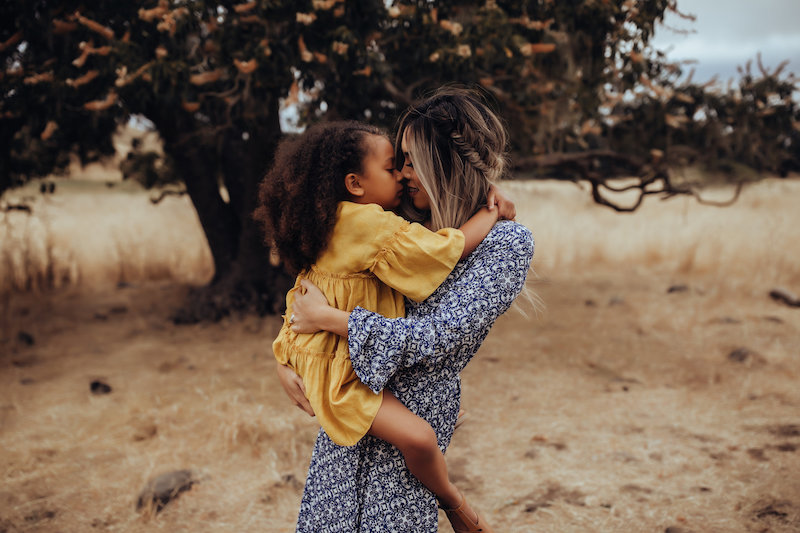 Beige, White, Taupe and Grey Fall Family Photo Color Scheme
Pretty, flowy tiers in mama's dress, classic beige and cream stripes and a soft taupe-y suede hat creates a trendy, layered look for these fall family pictures.
How To Co-ordinate Fall Family Photoshoot Outfits – TL;DR
If you're on the hunt for fall family photoshoot outfit ideas, there are so many ways to build a beautiful color palette.
Some of the most popular warm and cozy fall colors to consider are greys, creams, oatmeal, taupe, burnt orange, deep merlot maroons, forrest green or sage green – all of which pair wonderfully with black and white basics.
Try to build layers and add interest in to your family's outfits with different textures like cable knit sweaters, corduroy, and warm flannels.
Oh, and a hat.
Definitely find a good hat.