This post contains affiliate links.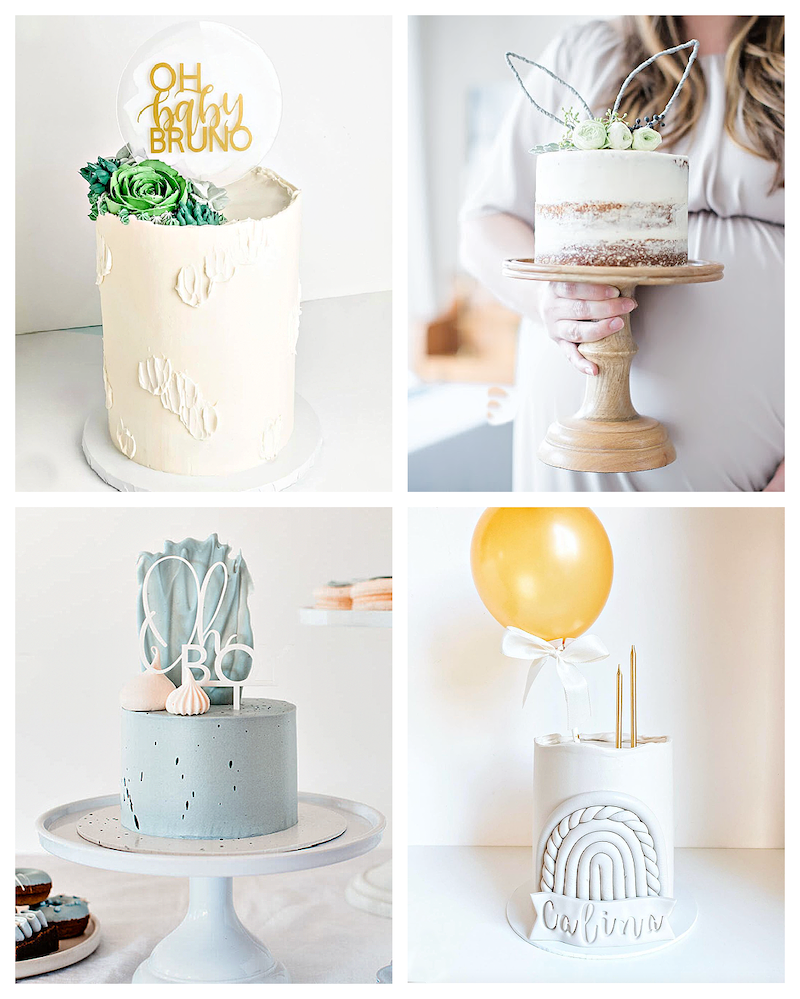 I've searched high and low to find the most beautiful, simple baby shower cakes for boys that are sure to inspire you as you plan your celebration.
Not into the ultra saturated, colorful aesthetic that plagues most baby toys, clothes, gear and… cakes?
Me neither.
As you may have gathered from this website's name, I am more of a minimalist myself.
Soothing taupes and clean whites and relaxing, smooth greys really do it for me.
So, without further ado, let's explore these dreamy modern, neutral sweets, perfect for welcoming your little one-to-be.
My Favorite *Simple* Baby Shower Cakes for Boys
While not every cake in this collection was created specifically for a baby boy's baby shower, all you'd need to do to get them to fit just right is customize the cake messaging or order a cake topper with whichever phrase you choose.
To explore the artist behind each cake, simply tap the name in the caption at the bottom of each image.
Let's check these cakes out – 
Shades of Blue Oh Baby Baby Shower Cake
Shades of rich indigo and aqua bring this cake to life and the gold foil and unexpected bursts of nonpareils take it to the next level. Beautiful and simple.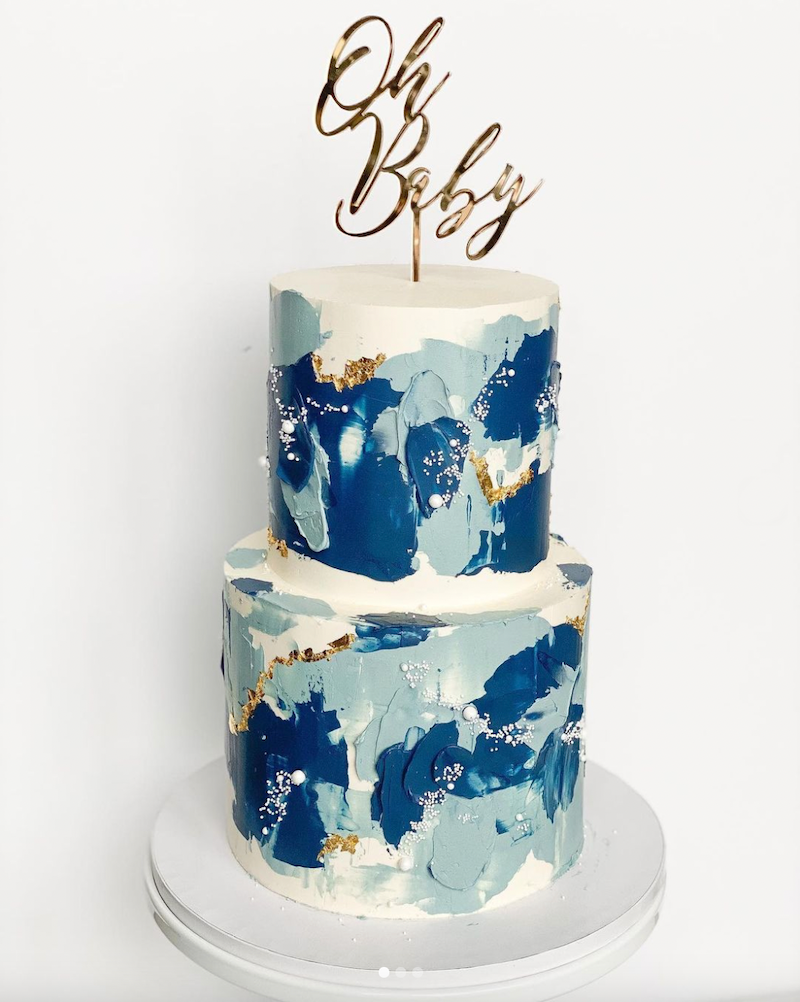 Simple Succulent Baby Shower Cake for Baby Boy
Simple piped succulents asymmetrically don this elegant and simple white baby shower cake, shopped up only by the custom acrylic cake topper celebrating soon-arriving baby boy Bruno.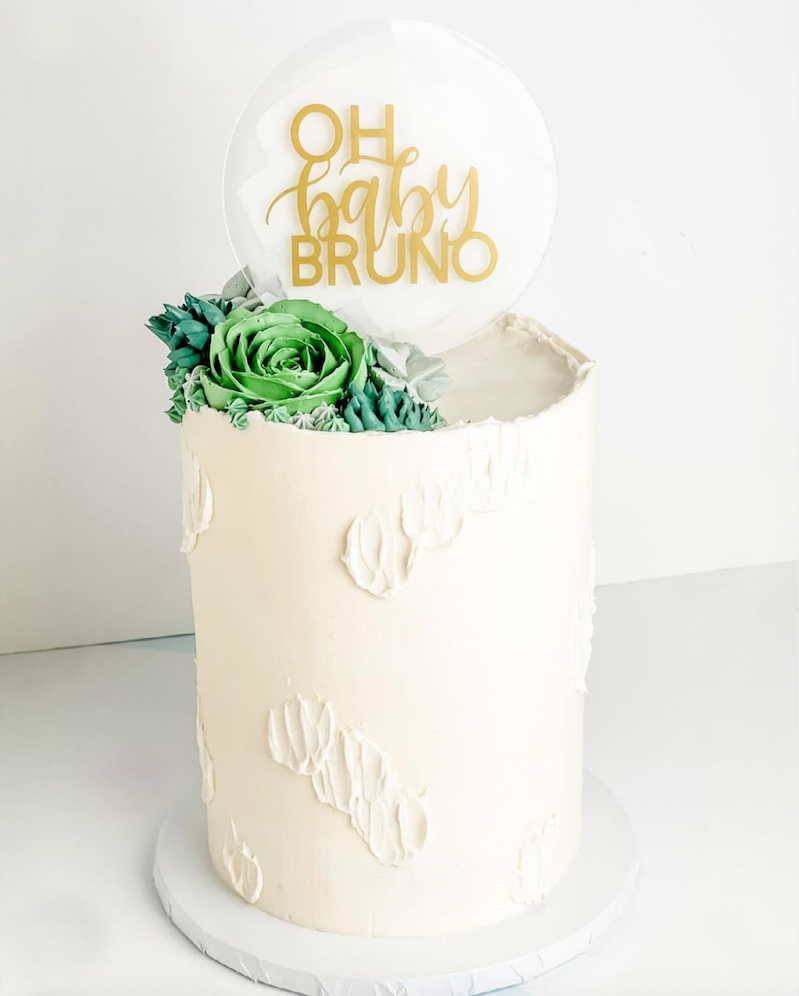 Geometric Gold Teddy Bear Cake
This sleek, gold-splattered cake features a super modern and edgy metallic teddy bear dreaming amongst fluffy clouds and is the perfect piece to add to a luxe white and gold baby shower.
Related: 15+ Unique and Adorable Teddy Bear Cakes for Baby Showers
Whimsical Woodland Baby Shower Cake
Tasty gingerbread animals dance amongst the trees in this three-tier naked cake made to celebrate a woodlands baby shower for baby boy.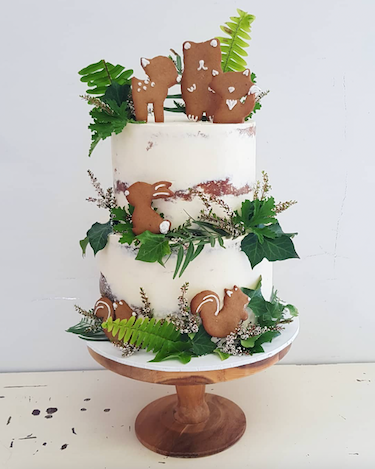 Sweet Baby Elephant Boy's Baby Shower Cake
The sweetest little elephant celebrates mama-to-be's baby on board with a bundle of pearlescent and baby blue handmade candy balloons.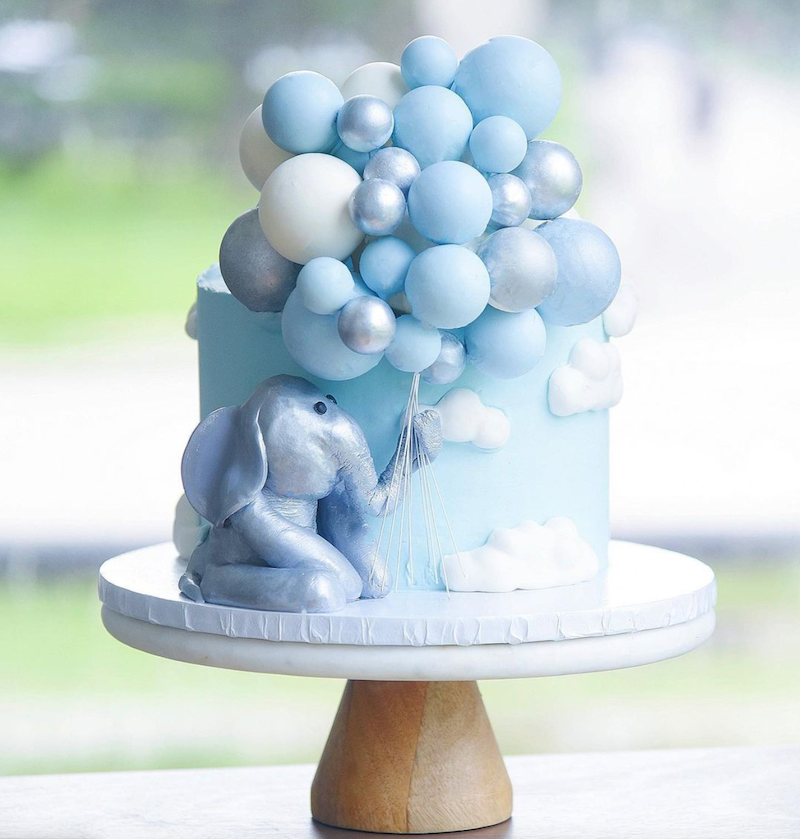 Simple Blue Baby Shower Cake
I just love this gorgeous robin's egg blue cake with simple white meringues, Oh Boy cake topper and a chocolate backsplash.
This cake, in particular, is from a super cool bakery in the Netherlands that offers 'party boxes' that include matching macarons, donuts and other accompaniments. How neat!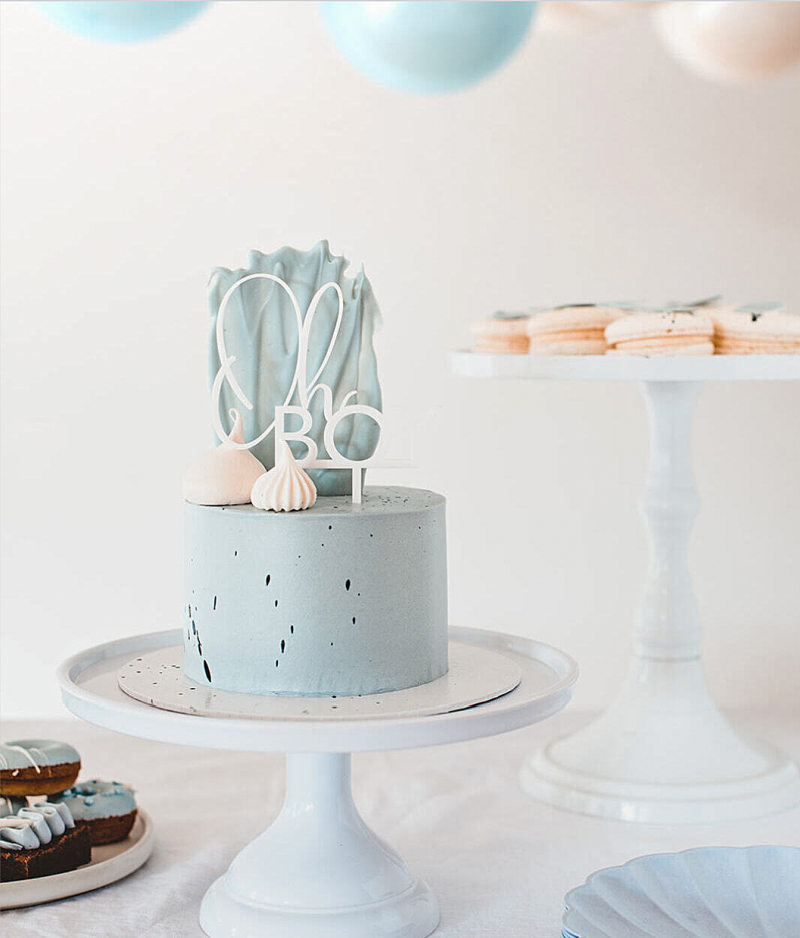 Green, Grey & Gold Balls Baby Shower Cake
Keep it cool with a simple colour scheme, textured buttercream and of course – 2021's quintessential chocolate spheres cake decoration.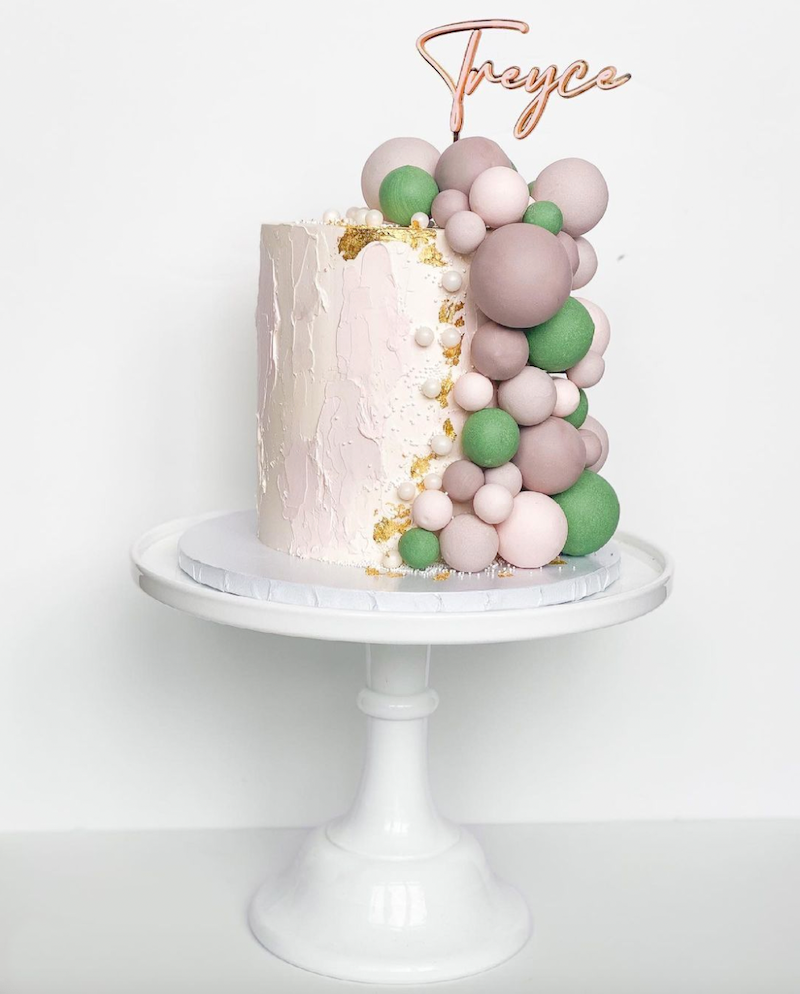 Peter Rabbit Themed Baby Shower Cakes
The classic childhood character, Peter Rabbit, is the star of the show on this set of small cakes.
I love how the bunny theme was brought to life in two different ways – the single layer naked cake with bunny ears and fresh flowers, as well as an extra set of cupcake-sized cakes featuring Peter Rabbit cut-out cake toppers.
Such a lovely way to celebrate baby boy!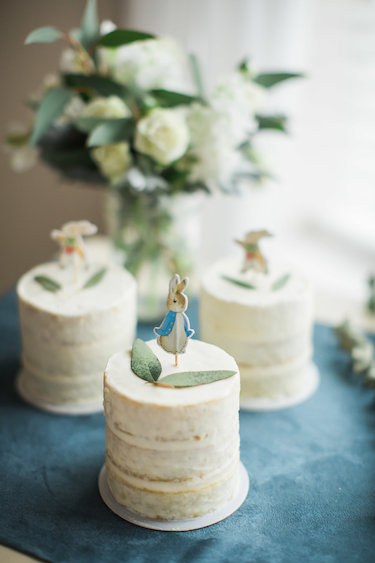 There's a Cutie On The Way Baby Shower Cake
Celebrate the fact that There's a Little Cutie on the Way! with this simple white buttercream cake customized with a Hey Cutie banner cake topper and matching fresh florals.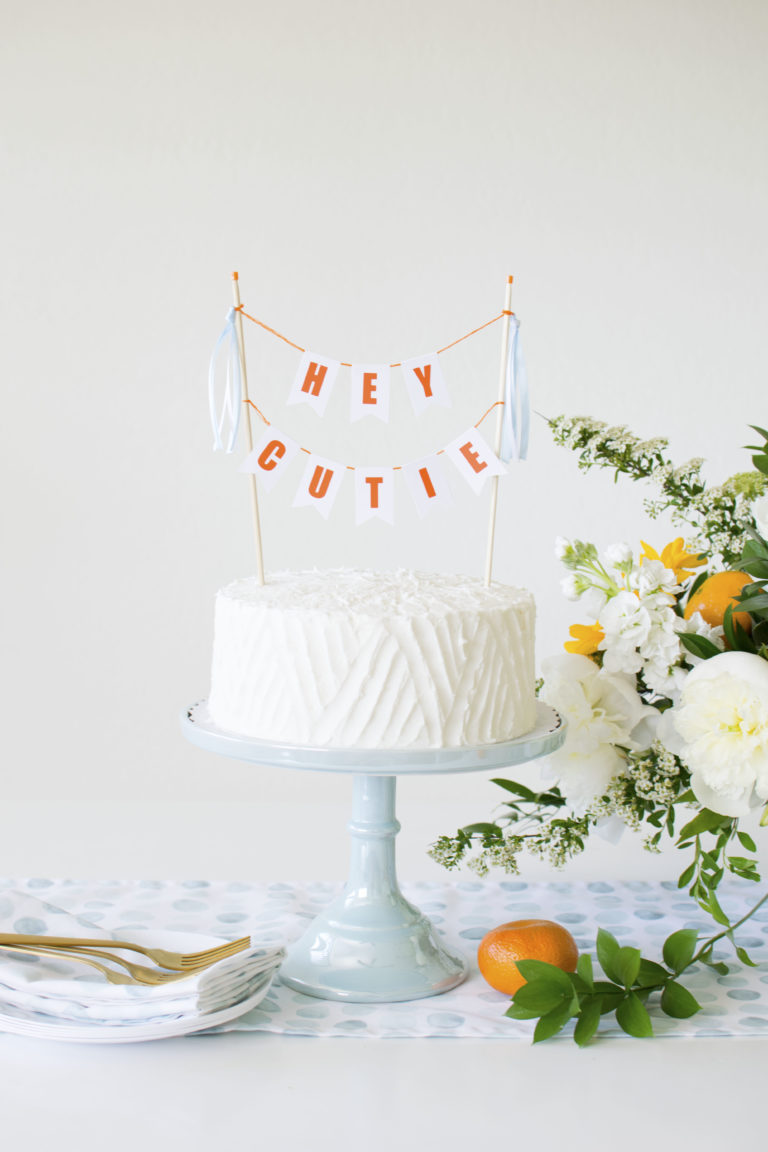 Twinkle Twinkle Little Star Boy's Baby Shower Cake
What's better than this dreamy cake in a luxe, stormy blue, featuring fluffy meringue clouds and macarons?
It would be just perfect for a celestial-themed baby shower, with a cake topper or shower theme of Twinkle Twinkle, Little Star, Over The Moon, or Love You To The Moon & Back.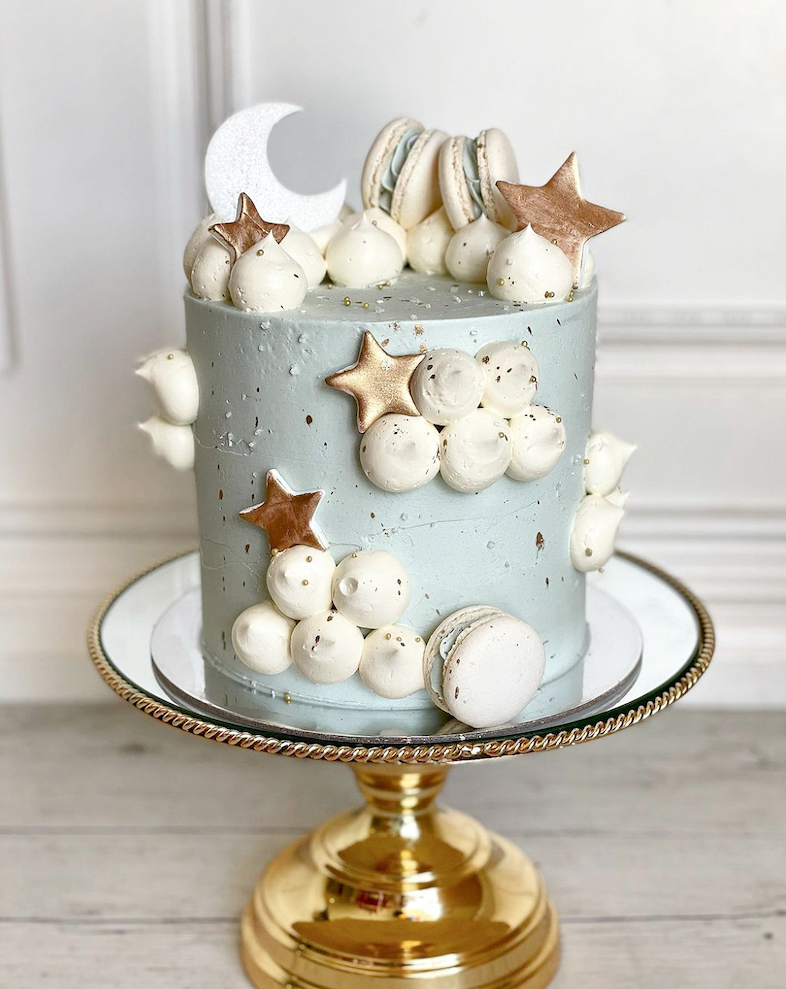 Under the Sea Baby Shower Cake
Simple Baby Blocks Cake
Well, if these aren't the most chic baby blocks that I ever did see…
Not into the all white look? Simply get your pastry chef or cake decorator to customize the look and letters.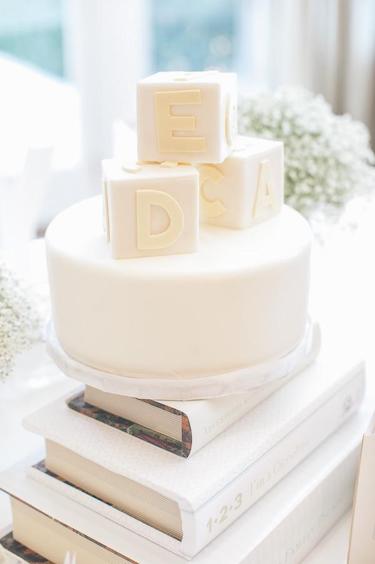 Modern Bold Stripes Baby Shower Cake
Not every baby shower has a theme. Many baby showers are just planned around a color palette. Why not bring those colors to life with this simple, yet oh-so-chic baby boy baby shower cake idea?
Blue & Gold Cookie-Topped Watercolor Cake
If you're looking for a simple baby shower cake that's less about a particular theme and instead based off a color scheme, such as this traditional shade of blue, then this cookie-topped celebration cake might be the perfect one for you!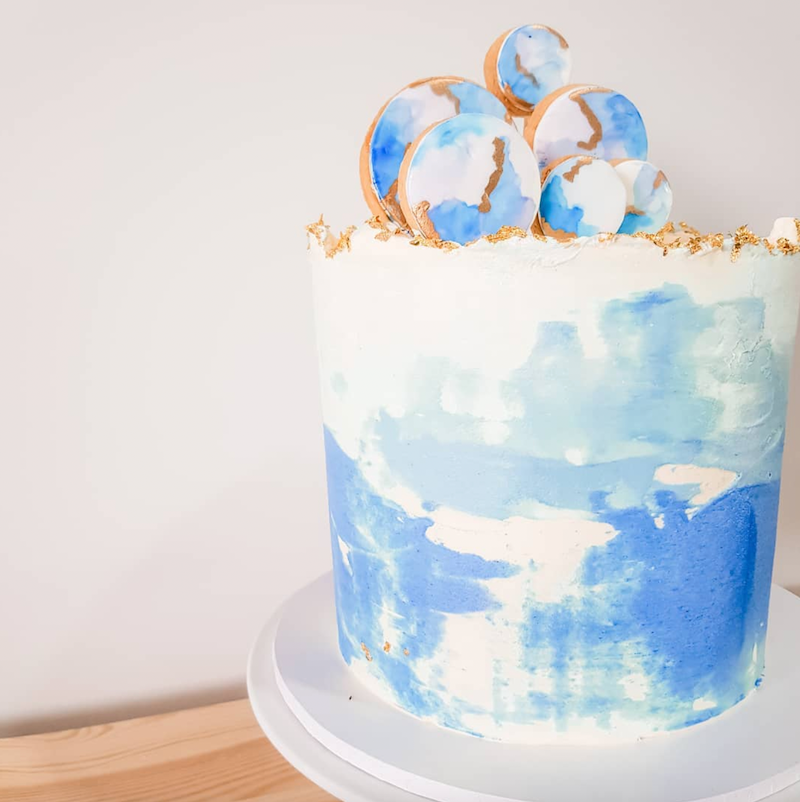 Sweet as a Peach Baby Shower Cake
Soft and sweet, just like baby-to-be. This peach-y cake with sweet buttercream details is such a nice way to welcome baby boy.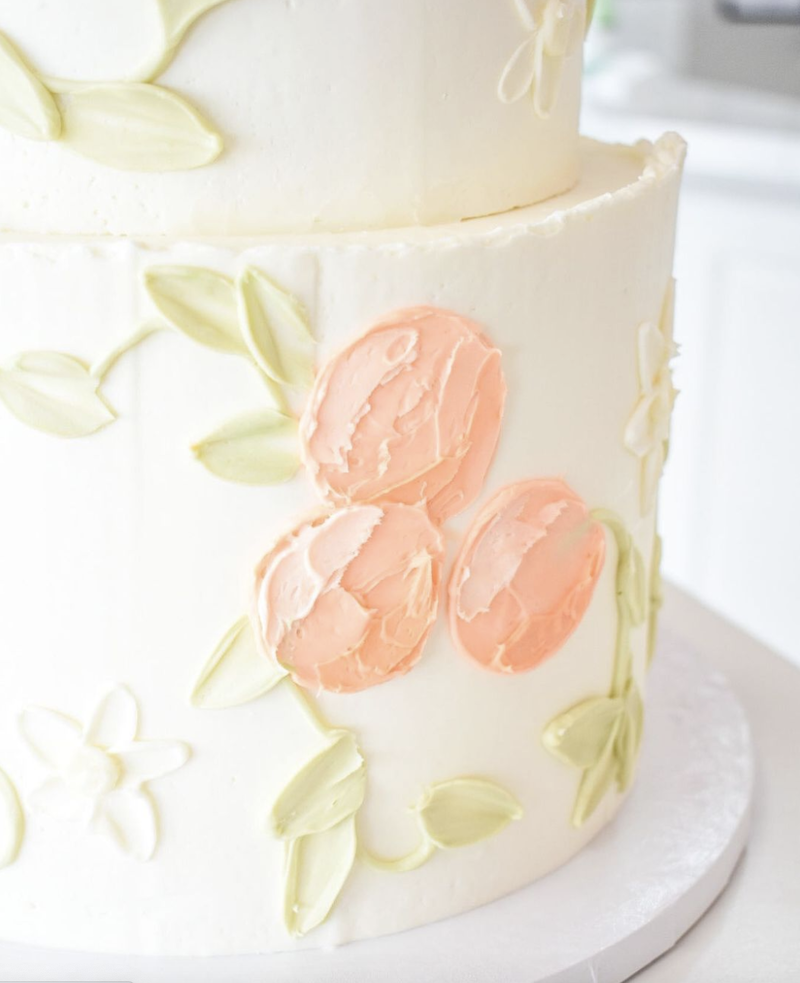 Vibrant Honey Bee Baby Shower Cake
I am officially dead. I simply can not with this one. Such a *unique* take on a honey bee-themed cake, I am in love!
This bright yellow and black number would be everything for a Sweet as Can Bee, Oh Ba-bee! or Mama-To-Bee baby shower.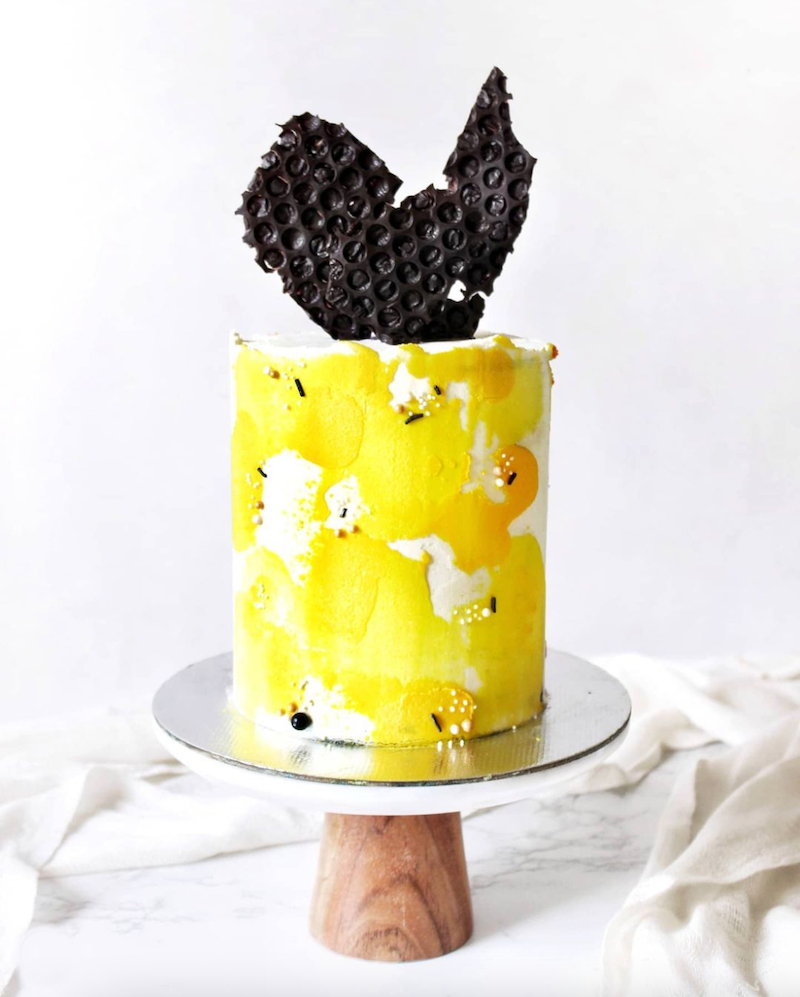 Pastel Ice Cream Cone Cake
To build off of this cake, you could run with an idea like 'too sweet', selecting a cake topper or banner with the phrase, and offering a pastel-colored candy bar as your baby shower favors, using the same hues as the cake.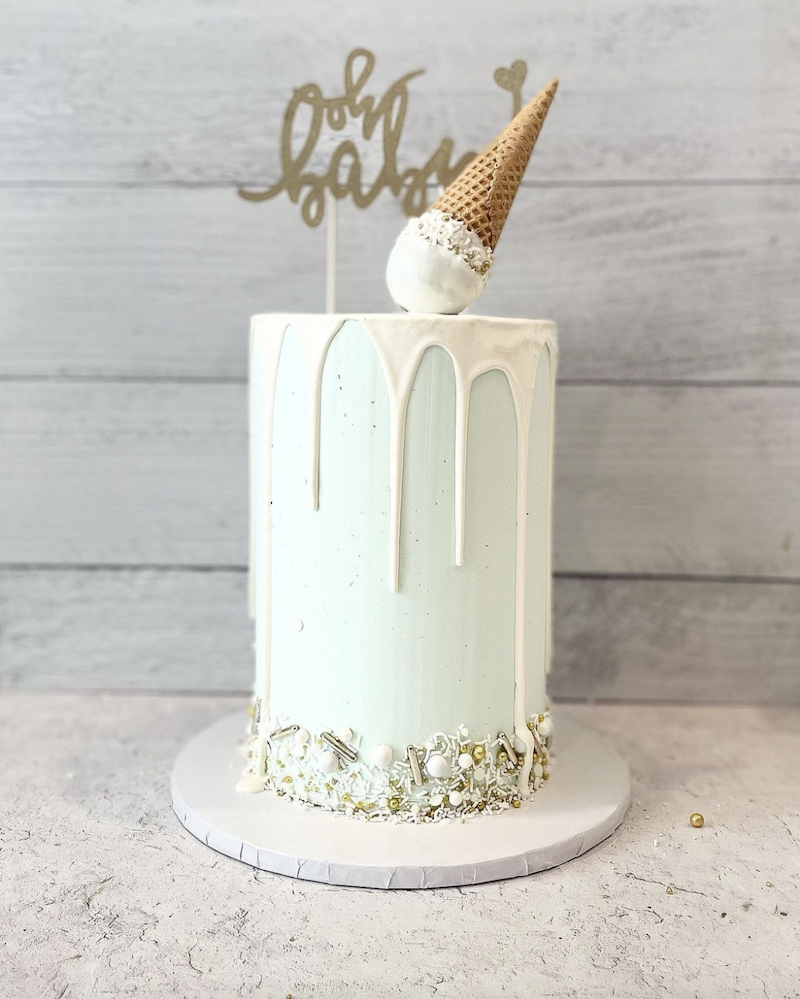 Golden Jungle Modern Baby Shower Cake
It's a jungle out there, and we are here for it. Jungle-themed baby showers are red hot right now, so why not use this cool and chic jungle-esque baby shower cake as a jumping-off point to inspire the party?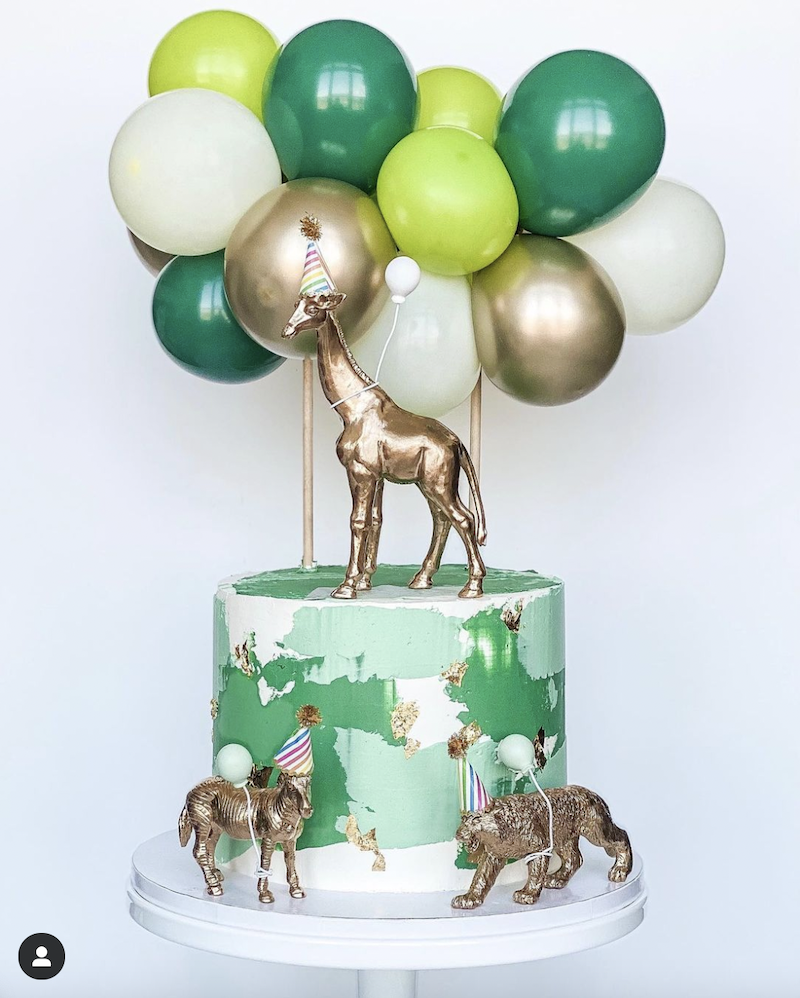 Related: 21+ Gorgeous Jungle-Themed Baby Shower Cakes To Inspire You [2021]
Let's Celebrate Baby Boy Baby Shower Cake
A simple balloon, pacifier and custom bronze cake topper are the only sweet touches this simple baby shower cake needs to celebrate baby boy.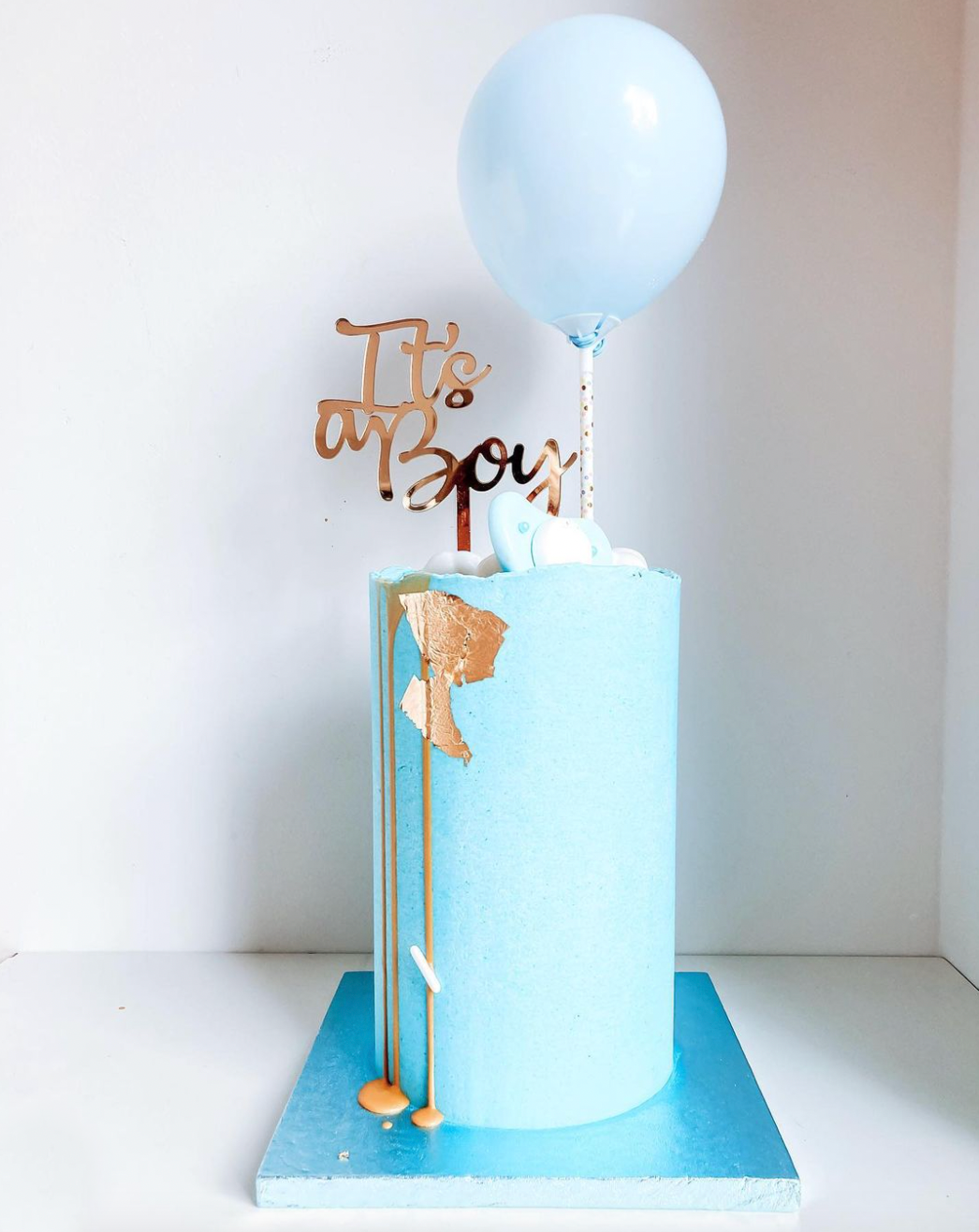 Earthy Rainbow Baby Celebration Cake
Celebrate a baby born after loss with this adorable rainbow cake. Simply ditch the number two cake topper and opt for a cute baby shower cake message like Here Comes The Sun, Rainbow Baby, Mama or Baby (Name).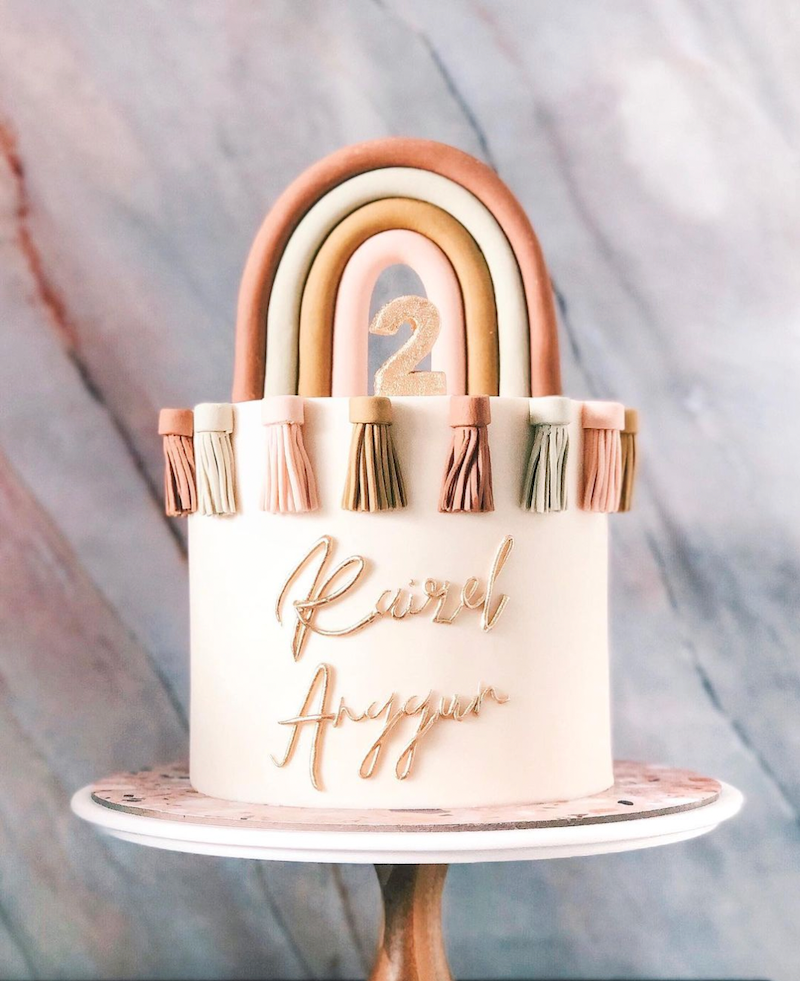 Painted Teddy & Stars Baby Shower Cake
What an adorable hand-painted teddy bear! Easily remove the decoration on this cake for nice, clean and easy-to-serve cake slices in a jiffy.
Oh The Places You'll Go Baby Shower Cake
This one gives me the warm fuzzies.
Bachelor alum, Jillian Harris, celebrated their soon-to-arrive bundle of joy with this neat Dr. Seuss classic-themed baby shower cake.
Did you notice the bottom tier of the cake is a suitcase? Adorable.
Not throwing quite that big of a bash? This cake could be easily sized down for a smaller crowd.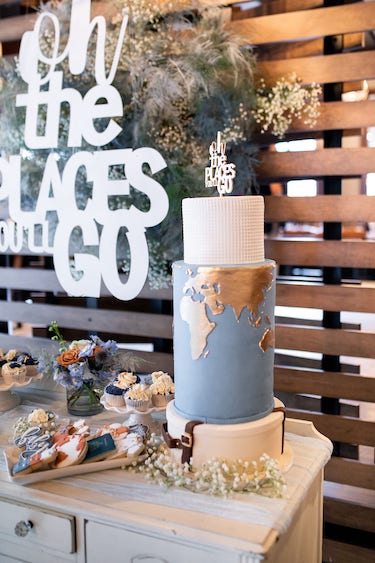 Celestial Baby Shower Cake
This super cute happy cloud cake is just the right touch of whimsy with a lovely contemporary twist. Choosing the right cake topper can really elevate the cake, can't it?
White Rocking Horse Baby Shower Cake
Classic. Simple. White. What more could you ask for? This sweet rocking horse cake is simply adorable!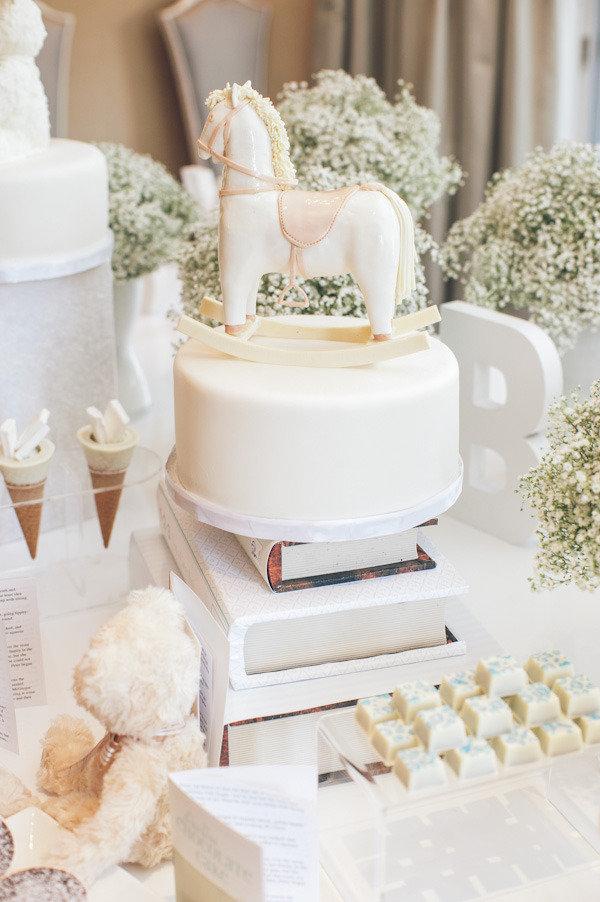 Simple Baby Shower Cakes for Boys – TL;DR
Well, there you have it.
From whimsical, pastel cakes to sweet, cuddly teddy bears, and bold modern designs, there really is so many different styles of baby shower cakes for boys.
Whether you opt for a naked cake with a custom cake topper, or a three-tier work of art, my hope is that you find just the right treat to celebrate baby-to-be.
Related: 35+ Unique Baby Shower Songs Your Guests Will Swoon Over [Playlist]