This post contains affiliate links.

Lions and tigers and jungle themed baby shower cake, oh my! What a gorgeous new baby shower theme. I love it.
Today, we're setting out on a safari to observe some beautiful and unique jungle cakes in the wild.
Perfect for welcoming your little one, these cakes are sure to inspire.
Jungle Safari Theme Baby Shower Cakes
While not every cake in this collection was created specifically for a jungle-themed baby shower, they could all easily be customized to work.
To explore the artist behind each cake, simply tap the name in the caption at the bottom of each image.
Let's check these cakes out – 
Get The Look
Meri Meri Safari Animal Candles ($11)
Shades of Green Jungle Themed Cake
When even the zebra, cheetah and giraffe have their party hats on, you know it's going to be a good one. Celebrate in style with this pretty green jungle themed cake that would be adorable for baby boy.
Peach & Palm Leaves Jungle Cake
This awesome jungle cake is taken to another level with matching zebra macarons, jungle-inspired donuts and tasty matching brownies!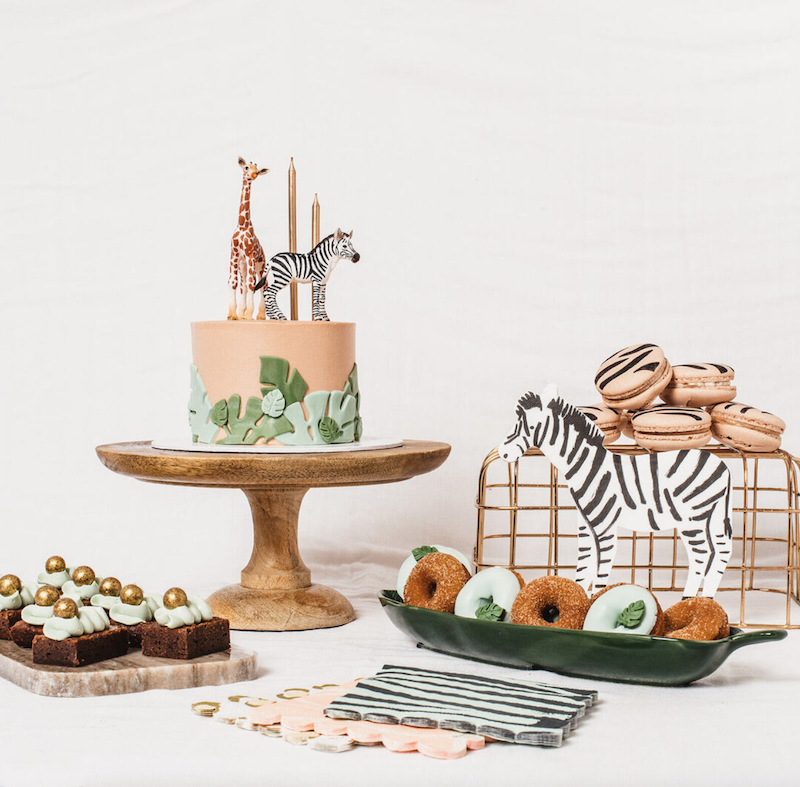 Muted Neutral Jungle Safari Theme Cake
This simple two-tiered jungle cake comes together with a simple peach-colored icing, tropical fondant flowers, a hand-painted macaron, neutral jungle animals and an adorable cake topper.
Get The Look
Meri Meri Safari Animals Dinner Plates ($9)
Sage & Orange Jungle Theme Cake
How gorgeous is this modern jungle cake?!  Hand-painted cheetah spots and muted textures bring this beautiful cake to life, and a custom laser cut cake topper adds the perfect personalized touch.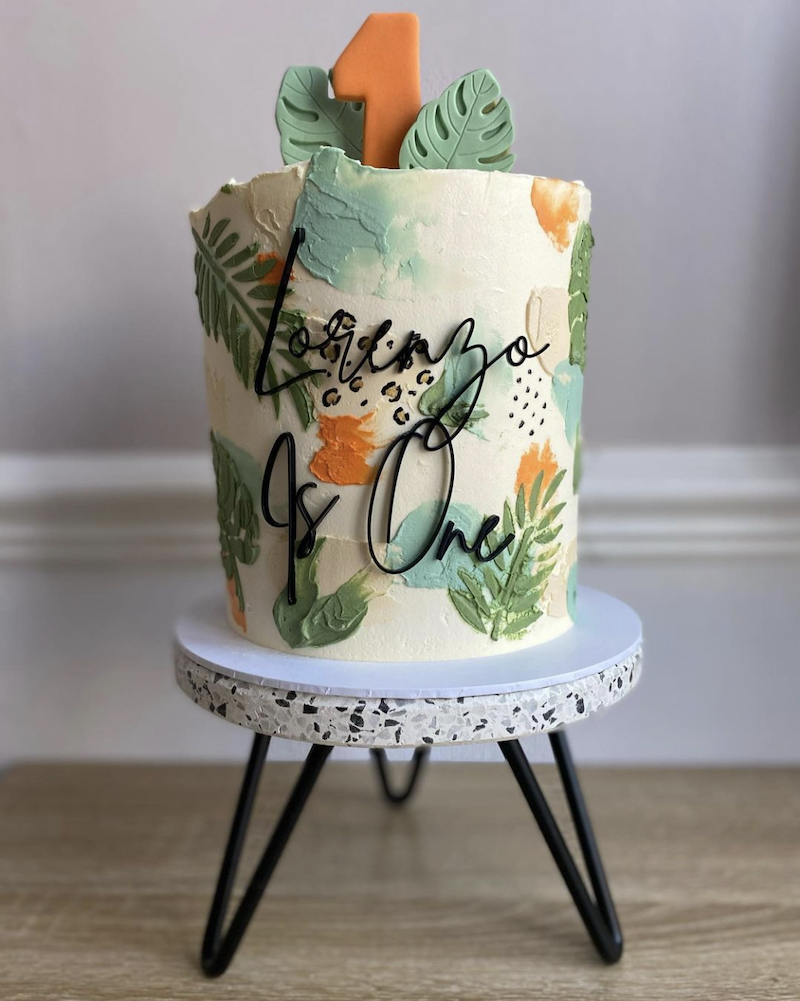 Tall White & Pink Watercolor Jungle Cake
Jungle, but make it pink. This tall white cake splashed with bubblegum pink watercolor accents and simple sprinkles is a lovely feminine take on one of 2021's biggest trends – the jungle-themed baby shower!
Fresh Greenery Jungle Theme Cake
Get The Look
PHD Cake Champagne Long Thin Party Candles ($6.99)
Green Cheetah Spots Jungle Theme Cake
Abstract cheetah spots in forest green tie this two-tone jungle cake together.
Get The Look
Proloso Safari Jungle Cupcake Toppers ($12.99)
Moody Green & Gold Stencilled Jungle Theme Cake
Modern Ombre Jungle Theme Cake
Gold & Green Watercolour Jungle Safari Theme Cake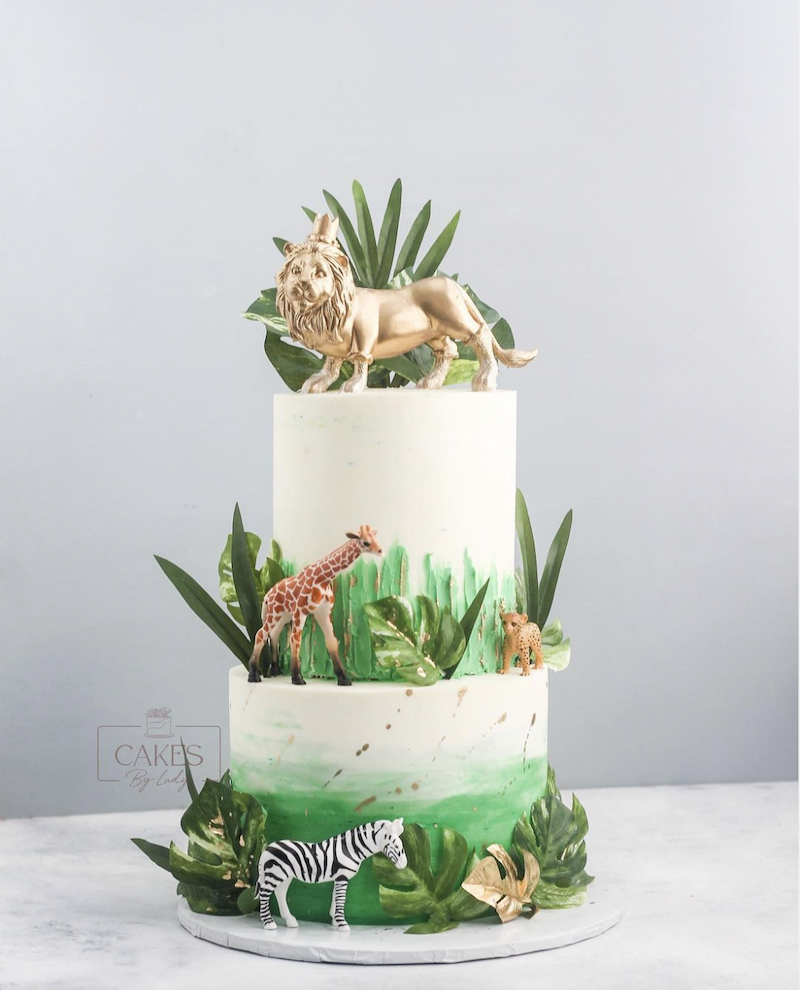 If anyone asks, the golden lion is in charge around here.
Boho Peach & Sage Safari Baby Shower Cake
Compliment this charming jungle-esque cake with a peachy and cream-coloured balloon arch or ribbon garland.
Get The Look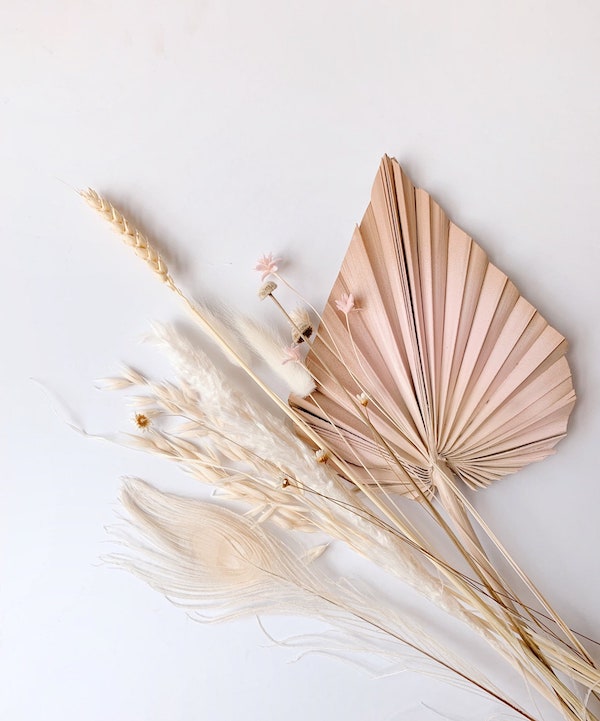 Etsy Dried Flower Bouquet Cake Topper ($21.37)
Pastel Pink and Forrest Green Jungle Cake
This simple and pretty single layer jungle-themed cake comes alive with simple one-dimensional jungle animal decorations and is perfect for a little girl's baby shower.
Related: 15+ Unique and Adorable Teddy Bear Cakes for Baby Showers
Vibrant Aqua, Gold & Green Baby Shower Cake
It's a jungle out there, especially when you're stuck on top of a cake with a bunch of pretty flowers and palm leaves.
Get The Look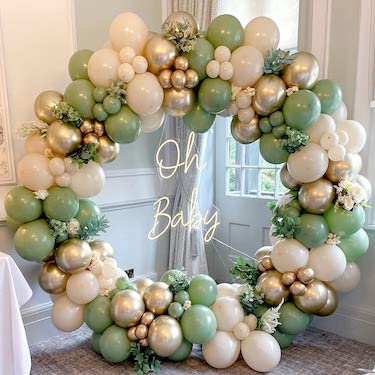 KBrand Sage, Green, And Gold Balloons Arch Kit ($18.99)
Luxe Green & Gold Naked Baby Shower Cake
Celebrate baby's upcoming entrance in style with this naked cake adorned with gold animal cake toppers, custom baby blocks and fresh eucalyptus.
Minimalist Ombre Leaves Jungle Cake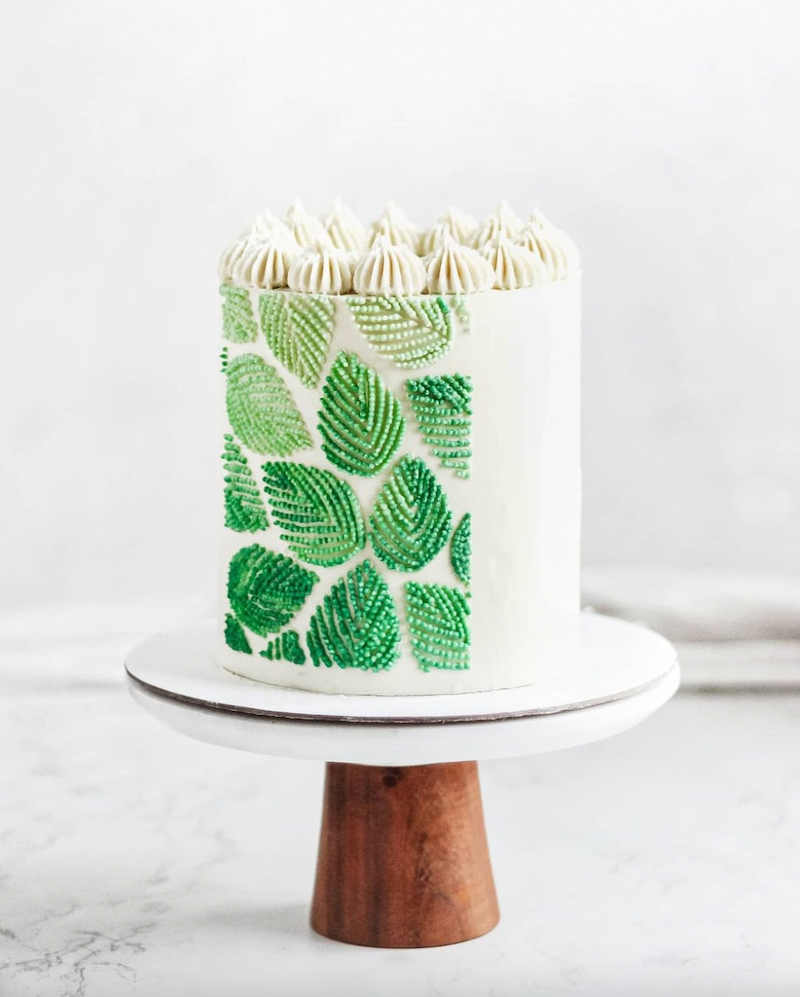 This super simple cake is minimalism at its finest. While it doesn't exactly scream jungle, isn't it true what they say that sometimes, less is more?
Planning a Baby Shower? Check out this sweet baby shower playlist I put together from my own baby shower – 35+ Unique Baby Shower Songs Your Guests Will Swoon Over [Playlist]
Pair this pretty piece with a styled jungle-themed table, and perhaps a set of custom jungle-themed sugar cookies or cupcakes!
Pale Pink and Gold Jungle Themed Baby Shower Cake
Two pretty pale pink tiers of cake are glitzed up with gold foil, a matching cake topper and mama & baby giraffe pair.
Pastel Boho Macaron-Studded Jungle Cake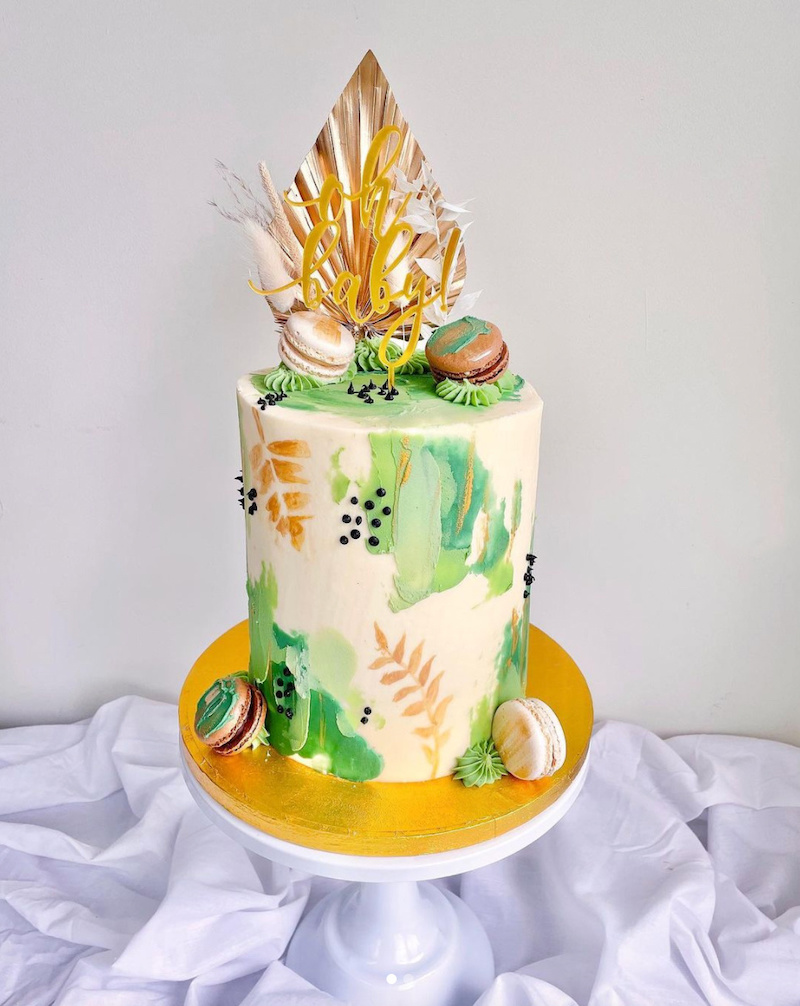 This high-energy jungle cake sure is ready to get the party started! A simple silhouette, hand-crafted macaroons and modern watercolor details take the cake.
Get The Look
LePetitLaser Baby Name Baby Shower Cake Topper ($9)
Pretty Giraffe Jungle Cake
Looking for something different? Why not feature the mama-of-honor's favorite jungle friend?
Minimalist Giraffe in the Jungle Naked Jungle Cake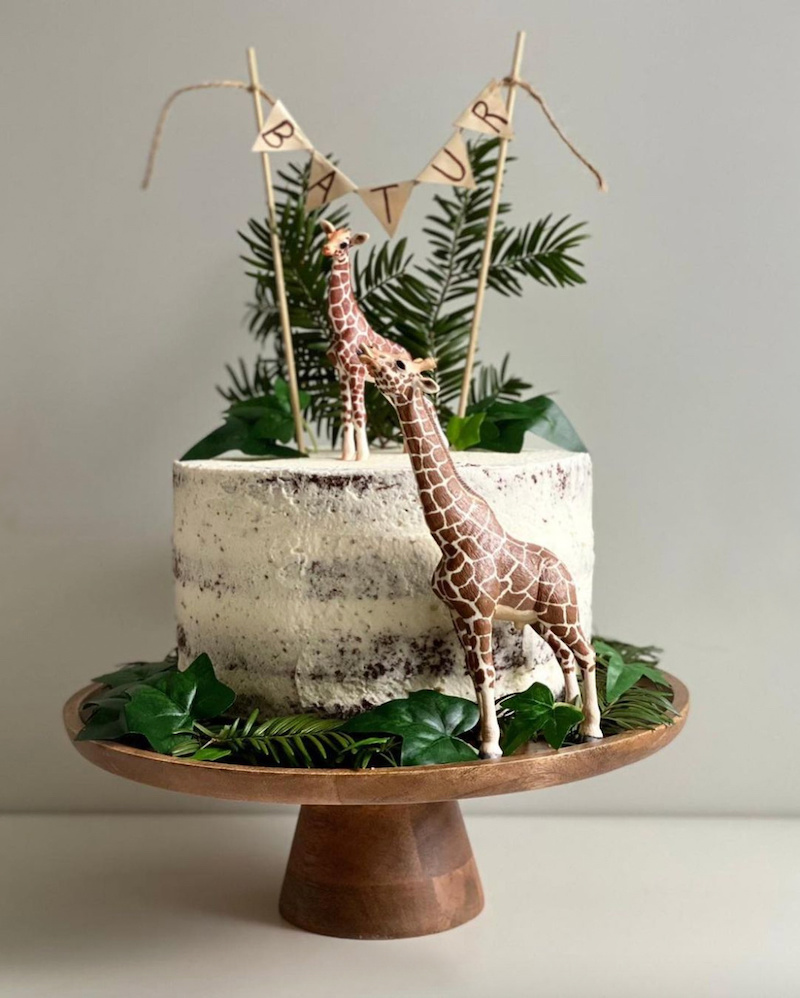 A rustic wooden cake stand makes a cozy home for this naked cake decorated with deep greens.
Related: Don't Miss These 15+ Unique and Adorable Teddy Bear Cakes for Baby Showers
To steal the look, order your own burlap cake topper and personalize it with baby's name. (I've linked it in the cake topper section below!)
Muted Neutral Jungle Cake with Animal Print Balloons
Less is more with this neutral safari-themed cake. DIY your own baby shower cake with a simple white icing and animal print balloons.
Bright Hand-Painted Jungle Cake
Hand-painted palm details, a gorgeous gold cake topper and fun green, orange, cream and gold balloons come together on this awesome jungle cake.
Blooming Greens Jungle Cake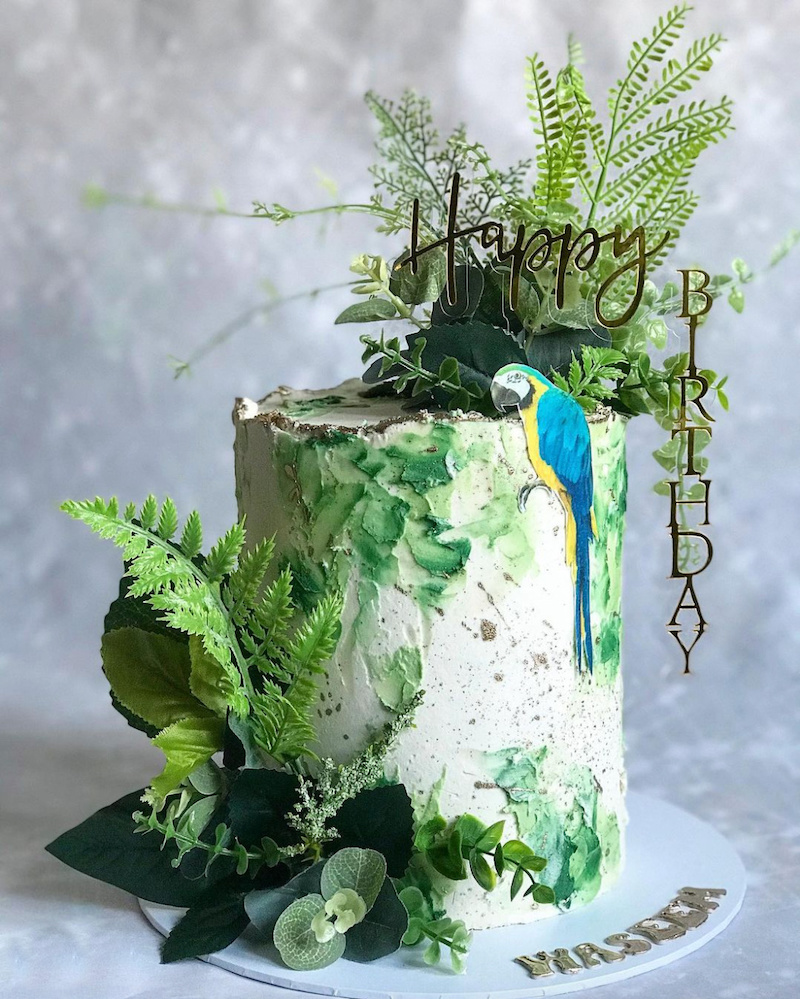 Get lost in the green with this forest-inspired cake that gets it's style from faux eucalyptus, fern fronds and greenery.
Luxe Gold Cheetah Jungle Cake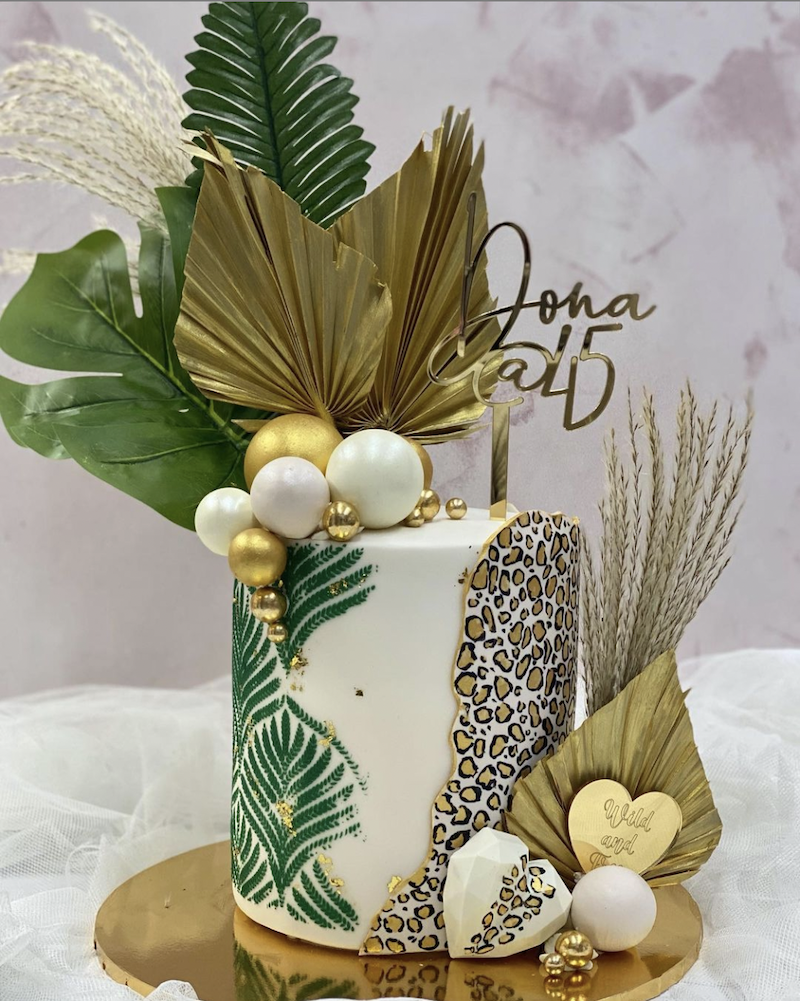 This super glam jungle-themed cake style would be lovely to welcome a baby girl thanks so pretty gold touches and boho dried florals.
Cake Stands for Safari Jungle Cakes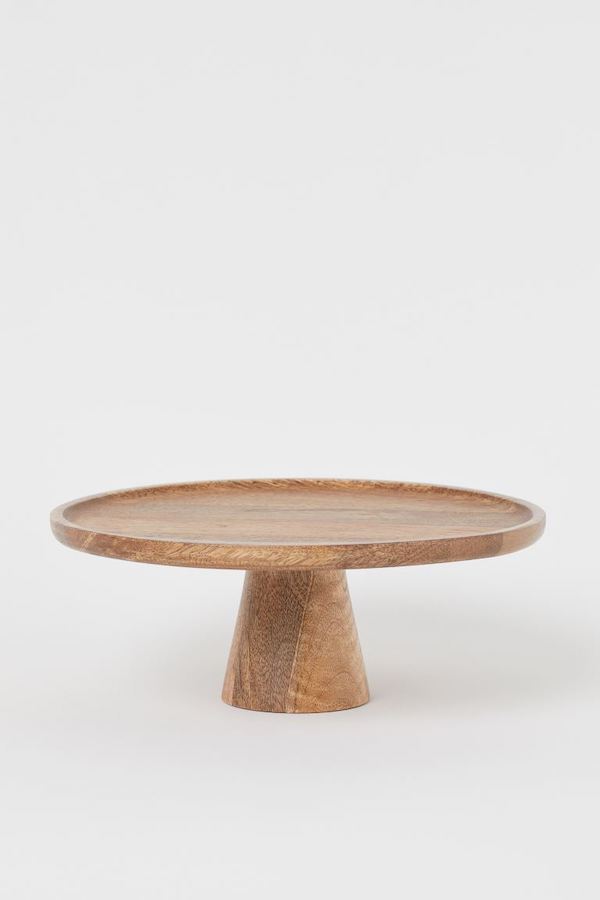 H&M Home Mango Wood Cake Stand ($24.99)
Cake Toppers for a Jungle Theme Baby Shower
Oaky Designs / Lancaster Laser Co / The Handcraft Banner / Little Dance
Cake toppers are a simple and beautiful addition that can really add a personal touch to any cake or party. There are endless styles of customizable cake toppers on Etsy that you'll be sure to find one to suit your style!
Here are a few fun text ideas for jungle themed baby shower cake toppers:
It's A Jungle Out There
Hatching Soon
Born To Be Wild
Baby
Oh Baby
Hey Baby
Oh Boy!
Hello World
Baby (Last Name)
(Baby's First Name)
It's a Boy, It's a Girl
Welcome Baby
Welcome Little One
I've put together the *ultimate* list of adorable, modern baby shower cake sayings – take a peek!