This post contains affiliate links.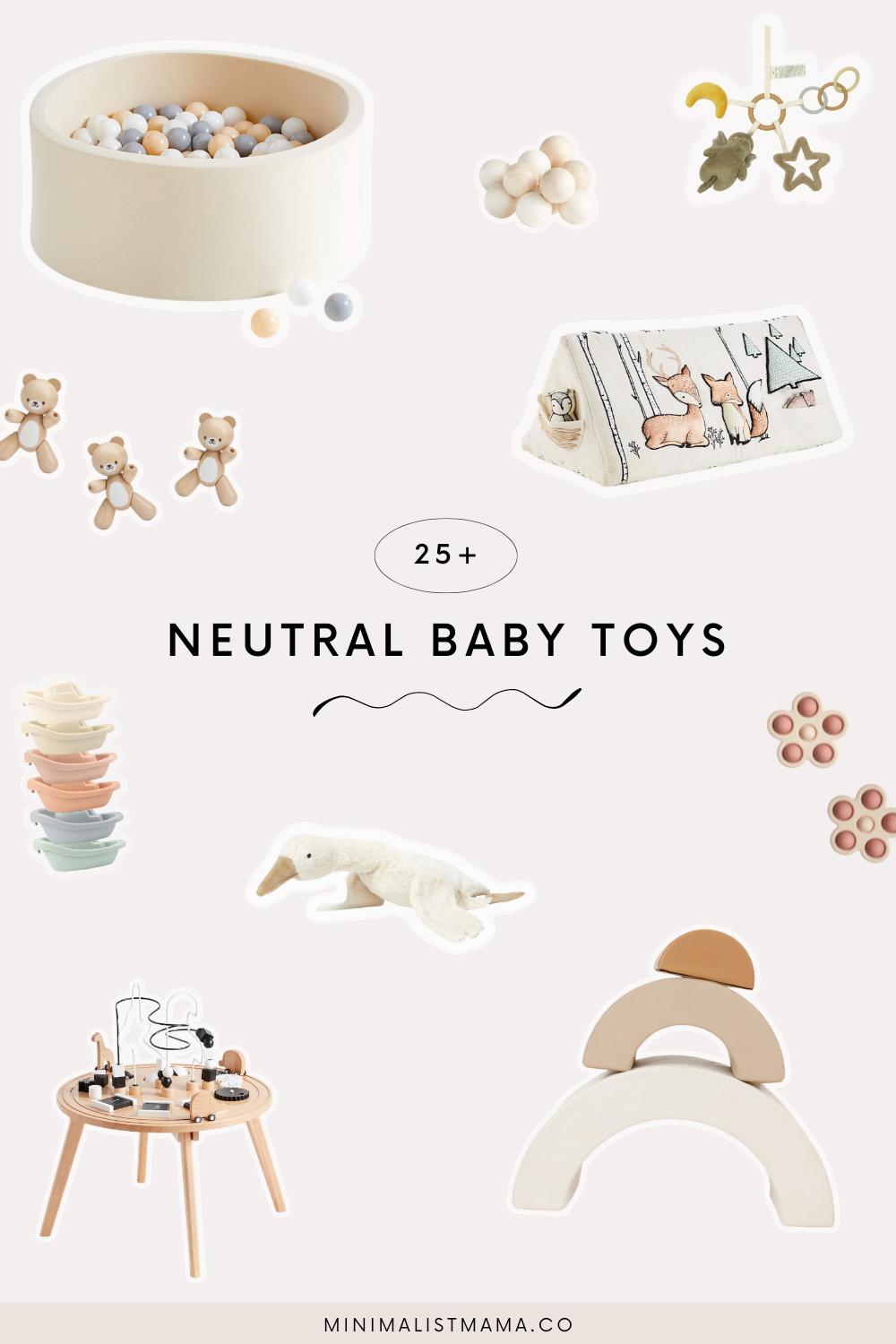 Tired of searching *literally everywhere* for cute, neutral baby toys and gear that aren't a total assault to your peaceful little home?
Then you're in the right spot. We're about to dive into the *ultimate* list of aesthetic, neutral baby toys that you are going to seriously fall in love with.
The Hunt for Aesthetic, Neutral Baby Toys
Before becoming a mama myself, I never really put much thought into the mounds, piles and masses of baby gear that come with that sweet little baby.
Once my husband and I started putting together our baby registry, it became clear pretty quickly that we were about to be facing a bit of an existential crisis — aka a rainbow explosion of baby gear.
While I do understand that bright, vibrant colors are an important piece of the early learning puzzle, I also do lean towards the Montessori-style of learning that tends to favor the 'natural beauty' in things.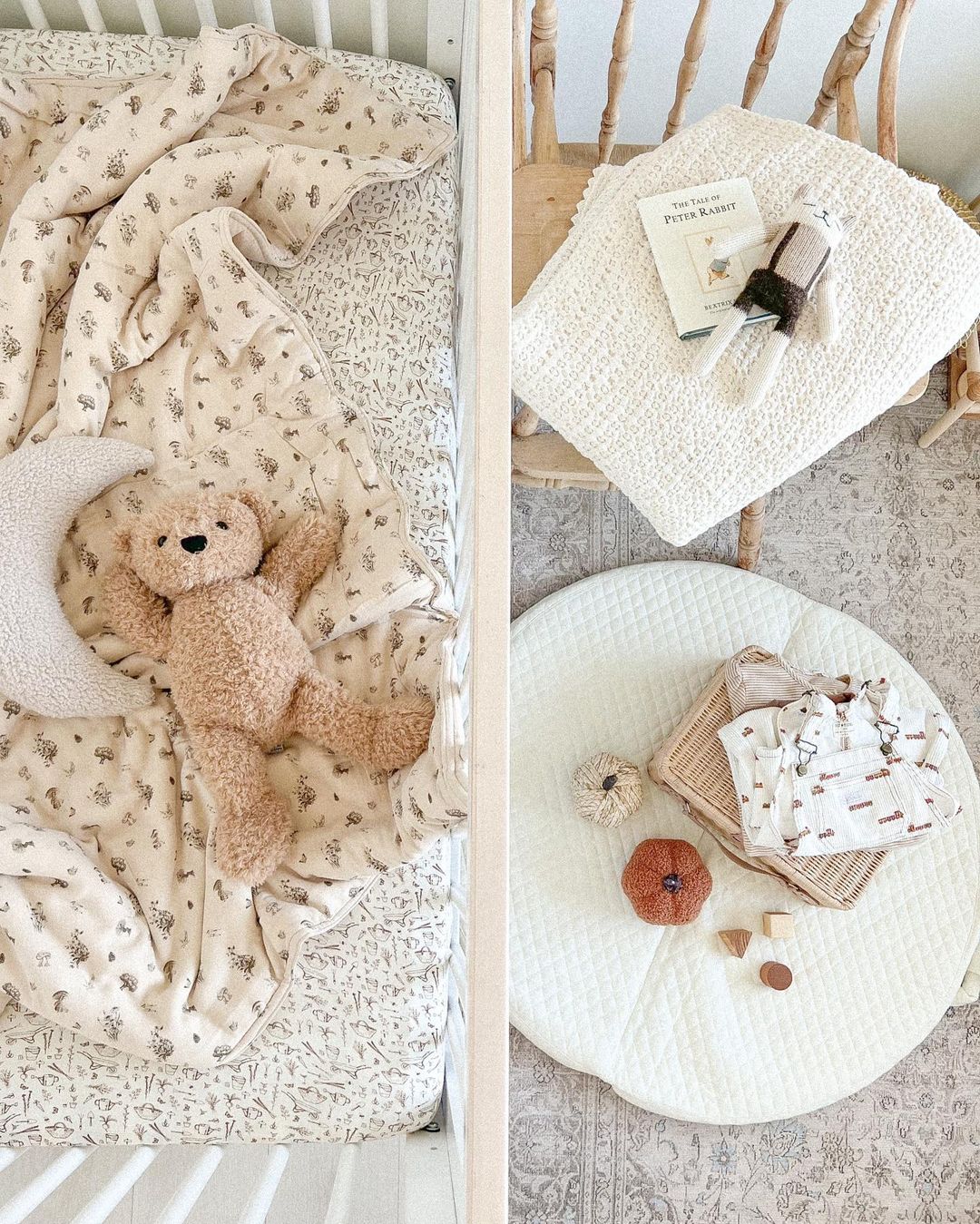 This quote from Montessori-mama, Jenna Wawrzyniec, puts it perfectly:
"Montessori at home doesn't restrict color; it reminds us not to restrict natural beauty.
It is more often the case that color is used to overstimulate and distract the child.
Our world is beautiful, and we don't actually need to buy so much extra stuff in order to inspire our children.
Can you offer a colorful, plastic toy, or use a rug with colorful prints and patterns?
Of course!
Nurturing purposeful engagement at home is possible no matter your budget, style, or toy collection.
But, if you catch yourself falling for the mainstream trap of blanketing your child's space in all things busy and bright, consider how the space makes you feel.
If it's overwhelming for you, it is definitely overwhelming for your child."
A pretty good argument for feeling good about buying some pretty, neutral baby toys for your little one, right?
Where To Buy Neutral Baby Toys
It's no secret that it's a bit of a challenge finding cute, modern baby toys.
Here are my favorite places to find neutral baby toys:
The Best Neutral Baby Toys
So, now that we're convinced that neutral baby toys are essential, let's get to the list!
One guarantee?
These cute, modern toys for babies will look great tucked into all the little corners of your home.
The Best Neutral Newborn Toys
Busy Baby Activity Chair – This activity chair could not be any cuter! This is a product that baby will love and you won't mind having sit out in your living room long-term.
Wooden Baby Gym – This gorgeous, heirloom quality baby gym is by bougie baby brand, Charlie Crane, out of Paris and is possibly the most dreamy piece of baby gear there is. It's definitely a big of a splurge, but if you think about it as a piece of nursery decor, it makes more sense (you'll also be able to resell it for a great price!)
Neutral Baby Gym – This neutral option is a perfect alternative to those loud colors that you usually see with baby gyms. And really there is nothing better than wooden beads right?
Soft Baby Activity Mat – This activity mat just screams cozy! This is definitely one of the baby toys that will be out in your main living space a whole lot in those first few weeks and months, so it just makes sense to splurge on one that's *pretty*.
Tummy Time Mirror – Mirrors are a must have for little ones exploring their surroundings. This neutral option is budget-friendly and your baby will love the high contrast.
Woodland Tummy Time Mirror – This tummy time mirror gives your little one a mirror as well as other little toys to explore. This neutral option is perfect for a curious baby while also being neutral and so pretty.
Soft Stroller Toy – Goodbye ugly stroller toys! This stroller toy includes wooden rings and a plush dragon and stars – adorable for both little boys and girls!
Sea Friends Soft Book – This book is adorable and perfect to throw into your diaper bag on the go.
High Contrast Soft Book – This book is easily manipulated by little hands and the high contrast black and white will definitely catch baby's attention.
High Contrast Flash Cards – Sometimes it's hard to find activities to keep your little one busy. These flash cards are a great and easy way to interact with your baby!
Uncle Goose Wood Blocks – Blocks are a must have baby and toddler toy. These neutral blocks allow your kids to play and create with more of a neutral appearance option than most blocks offer.
Wood Bear – This wooden bear toy is adorable, graspable, and a safe teether option!
Grasping Ball – I love the neutral color options for this grasping ball and the silicone material is always a baby favorite.
Skwish Ball – This toy is a perfect neutral wood tone and your baby will love the rattle sounds and all the different places to hold on to.
Hevea Star Ball – This ball is easy to squish and manipulate and the star design is so adorable.
Taggy Ball – Taggies are a staple baby product and this neutral option is to die for!
Flower Teether – If you are looking for a neutral baby girl teether – look no further. This teether is made of silicone and so pretty!
Rattan Rattle – I absolutely love rattan and here it is in rattle form. Such a great neutral rattle option.
Loops – These little loops are great for building imagination and those fine motor skills. I love the neutral color options that they come in as well.
The Best Neutral Play Mats & Sets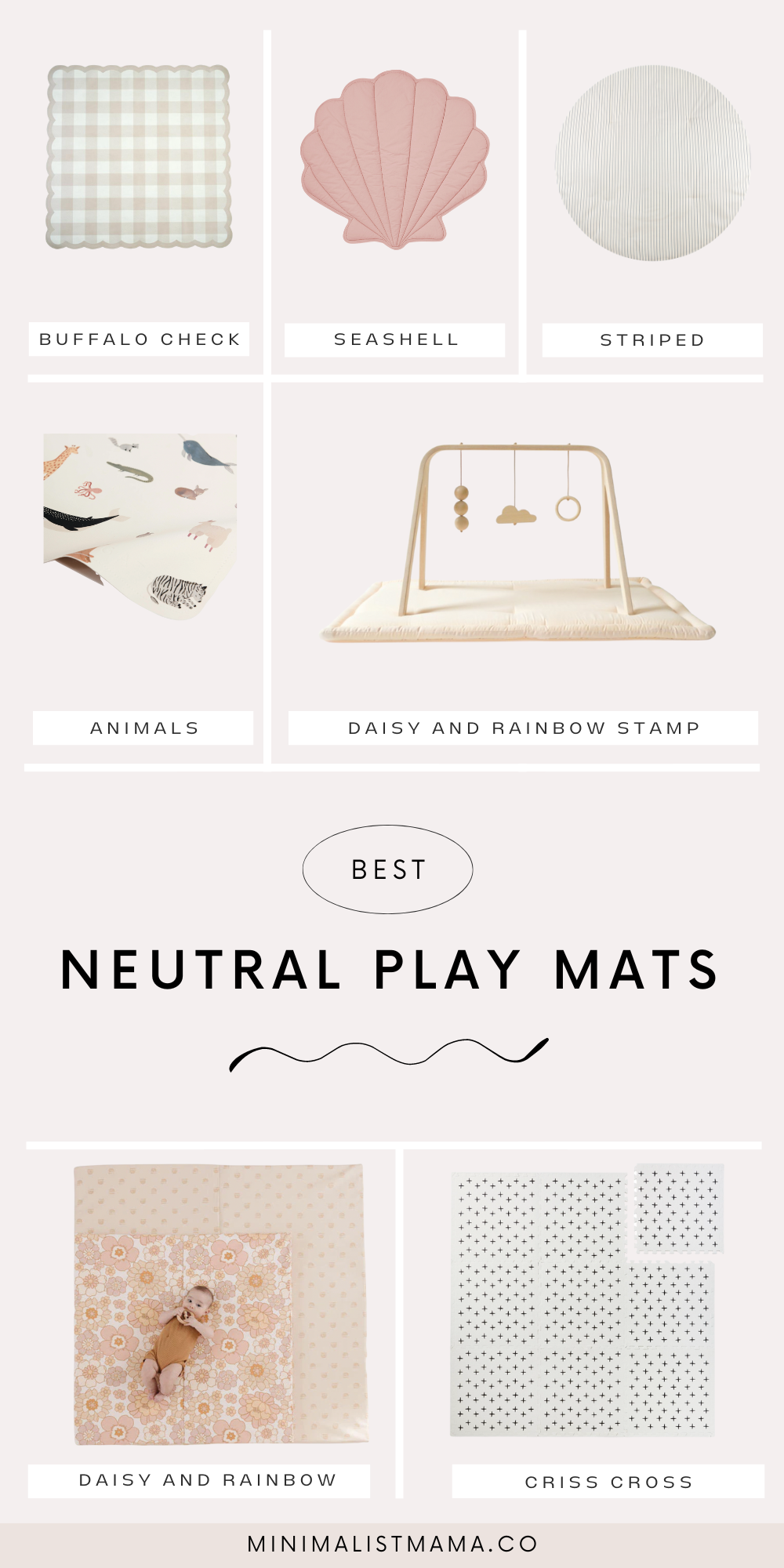 Rainbow Play Mat – This play mat is functional and absolutely beautiful. The vegan leather makes it easy to take anywhere – indoors or outdoors – and so easy to clean.
Seashell Padded Play Mat – This gorgeous, soft, fabric play mat is made by Cam Cam, one of my favorite Scandinavian baby brands, and would be the perfect star of the show for an under the sea themed-nursery. (And it's surprisingly affordable, too!)
Scalloped Buffalo Check Play Mat – This cruelty-free, vegan, non-toxic play mat is super sweet for a baby girl and by mama founded company, Wander & Roam.
Sand Play Mat – Easy to pack up and take anywhere, easy to clean, and a beautifully neutral color, this play mat is a must have.
Criss Cross Foam Mat – This foam mat is a perfect neutral option for your playroom or living room play area.
Boulevard Play Mat – This neutral play mat also doubles as a car mat. Your kids are going to love it, and you'll love how neutral and aesthetically pleasing it is.
Arc Play Set – This arc play set is a child's dream toy! Their imaginations will go wild with these indoor play arcs.
Ball Pit – When you think of a ball pit it's probably not a pretty image is it? Well, this ball pit is all the fun without all of the overwhelming bright colors. Neutral toned balls and a neutral, soft, jersey-knit ball pit will be something that you and your kids will both enjoy seeing in the playroom.
The Best Neutral Wooden Toys
Neutral Walker – This wooden walker includes neutral wood tones as well as high contrast black tones and is darling for your learning babe.
Shopping Cart – How cute is this wooden shopping cart?! Neutral wood tones paired with white accents make this toy neutral and sturdy for all that play time.
Cleaning Set – Imaginative play is so good for our little ones and this cleaning set is a great neutral toy for imaginative play.
Cooking Set – Step aside plastic play food and utensils! This wooden kitchen utensils set is neutral, sturdy, and so much better than the plastic options.
Tool Set – This little tool belt set is adorable. Can't you just imagine your little one with this strapped around their waist?
Bunny Pull Toy – Pull toys are always such a hit. This bunny pull toy is a solid maple wood and will help your child navigate their environment by walking while pulling it behind them.
Wood Push Car – This wooden toy car is interesting to look at without the obnoxious bright colors you usually see in children's toys.
Wood Tractor – This neutral tractor toy will be a such a hit with your little one. The trailer is included and helps build fine motor skills when hooking it to the tractor.
Wood Helicopter – I love the neutral tone and the cute little dot accent on this wooden helicopter. I can just picture kids spinning the top!
Wood Animal Set – There are so many ways to play with these wooden animals. Your child's imagination will go wild.
Wood Blocks – Whether your little one is a builder or a destroyer these neutral blocks are perfect for stacking and building or practicing letters and numbers.
Wood Bear Stacker – This is such an adorable stacker that allows your child to build and create the wooden bear.
Wooden Activity Set – Ok, I know I've said it before, but this is a must have. This table-style activity set includes so many ways for your child to use their imagination while also being neutral enough to leave in your living room.
The Best Neutral Puzzles and Stackers
Shapes Puzzle – This puzzle is silicone which makes it easy to manipulate and I just love the neutral color palette.
Wood Shapes Puzzle – The different wood tones in this shape puzzle makes it beautiful while also being a great way to teach those little ones their shapes.
Wood Shape Sorter – This toy neutral and pleasing to the eye and your child will have so much fun putting the shapes into the box.
Wood Ball Hammer Toy – Ok, this toy is so simple, but looks like so much fun! I know a couple of kids that would get a kick out of hitting the ball and watching it drop into the box.
Wood Stacking Rainbow – Again, the rainbow stacking rings are so simple, but what kid wouldn't love to use their imagination to make new things using the arches?
Silicone Stacking Rainbow – If you like silicone toys better than wooden ones these rainbow stackers would be a great option. They also give you more color.
Stacking Cups – I love the neutral colors of these stacking cups – they're one of our favorite toys, and are fun to play with in the bath, too!
Flower Press Toy – The pop bubbles are so much fun – even for older kids. I absolutely love the neutral pinks of this toy.
Phone Press Toy – Toy phones are always a fan favorite. This toy combines a toy phone with pop bubbles and a neutral color palette – it's bound to be a hit.
Nesting Dolls – Silicone nesting dolls – how fun is that? These cute little bear nesting dolls are adorable and are easy to clean.
The Best Neutral Plush Toys
Classic Goose – The quintessential neutral baby toy, this heirloom-quality plushie has gone viral over the past few years from mamas posting photos of their newborns sleeping with this little goose under their arm.
Moonie Bear – Looking for a way to help your little one feel more comfortable sleeping alone? Squeeze this sweet teddy bear, and its' heart beats just like mamas.
Bear Rattle – Just pull the bottom ring of this neutral toy and soft music plays for your baby.
Classic teddy – Every child needs a classic teddy bear. This one does not disappoint!
Plush Giraffe Rattle – The neutral colored rattle includes a squeaker, taggies, and is so adorable!
Bunny Lovey – This bunny lovey will be something that your child latches on to for sure. He's adorable and the muslin fabric will be perfect for your child to cuddle with.
Lion Stuffy – I love this pair of knit lion plush toys. They are neutral and adorable.
Bear Stroller Pull Toy – The printed graphic on this stroller pull toy is so adorable!
The Best Neutral Baby Teethers
Moonjax Teether – Not only is this teether functional, but the clear silicone makes it neutral and different from other silicone teethers.
Rainbow Teether – I love this rainbow teether. It's simple, but easy for babies to manipulate and chew on.
Dog Teether – This neutral brown is such a great color, and the puppy on this teether is adorable.
Sun Teether – All the little holes in this teether are perfect for those little fingers. And what is more fitting than a sunshine teether for your little sunshine?
Neutral Bath Toys
Bath Boats – Ok, we all know that our bathtubs can get so cluttered with baby toys, but these stack up, making clean-up so easy!
While the other neutral bath toys on this list are a bit more expensive because they are made of rubber and naturally non-toxic and mold-free, these little boats are a great deal and a fun little Amazon find!
Hevea Duck in White and Hevea Duck in Eggnog Yellow – The perfect alternative to the obnoxious yellow rubber ducky we are all familiar with, don't have actually have a hole in them like those super popular bath animal sets, which prevents mold from growing inside.
Baby Whale – Another rubber, non-toxic find, this cute little bath toy will guarantee a "what" of a time for your little one! (lol)
Neutral Bath Animals – By ultra-cool Danish toy brand, Liewood, this adorable set is definitely a splurge, but they could also possibly be the most aesthetic bath toy I have ever seen.
Neutral Keepsakes and Gifts
Personalized Wood Rattle, Brush & Teether – Every single piece of this set is just adorable, and would make for the perfect newborn gift.
Custom Abacus – I love that you can customize the wooden beads in this toy! Not only can your little one have fun sliding the beads from side to side, but it makes for a gorgeous piece of nursery decor that your little one can treasure for years to come.
Custom Baby Blocks – These blocks would be a great toy and they would look so cute sitting on a shelf when not being played with.
Baby Name Puzzle – This puzzle looks so cute with dark wood and white letters, or light wood with dark letters – see if you can spot it in any of your fav mommy influencer's feeds next time you're on Instagram.
OlliElla wagon – If there is one thing my son is *completely* obsessed with right now, it's his wagon. Around 18 months, he became totally fascinated with putting his toys into his wagon, walking around the house, and then laying them out one by one in another room.
This gorgeous, rattan wagon by uber-chic baby brand, OlliElla would make such a perfect gift for any little girl or boy – and I can just about guarantee it will quickly become one of their favorites!
Read Next:
☁️ 7+ Gathre Mat Dupes That Are A *Fraction* of the Price ($$$)
☁️ The Complete Baby Registry Checklist for First Time Mamas [Printable Checklist]
☁️ 21+ *Very Aesthetic* Cozy Coupe Makeover Ideas (That You Can DIY!)