This post contains affiliate links.
Whether you snagged an old hand-me-down Cozy Coupe or are starting with a brand new set of wheels, there's one thing that's for sure: When it comes to Cozy Coupe makeover ideas, the possibilities are endless.
Though Little Tike's little plastic red and yellow push car is totally iconic as-is, there's just something *so fun* about creating your very own custom piece.
With a few cans of spray paint, some cute decals, and a bit of elbow grease and imagination, the humble Cozy Coupe can be totally transformed.
Where To Buy Little Tikes Cozy Coupes & Trucks
Before you roll up those sleeves, you'll need a Cozy Coupe.

Here's where to buy Little Tikes Cozy Coupe and Trucks:
Wayfair– explore the Little Tike's collection of ride on toys on Wayfair
Target – check out Target's collection of pedal & push riding toys
Amazon – visit the Little Tikes store on Amazon
Facebook Marketplace – explore what's available second hand on your local buy & sell group
Which Cozy Coupe To Buy
Here are all of the different Little Tikes push car models that are part of their "foot to floor" collection:
Cozy Coupe Off-Roader
Cozy Coupe Sport Ride-On
Superstar Cozy Coupe
Cozy Fire Truck
Ride & Rescue Cozy Coupe
Little Tikes Cozy Coupe and Truck Makeover Ideas
From flower truck to hippie van and everywhere in between – here are the best Little Tikes Cozy Coupe makeovers you've gotta see:
Beachy VW Kombi Van Cozy Coupe Makeover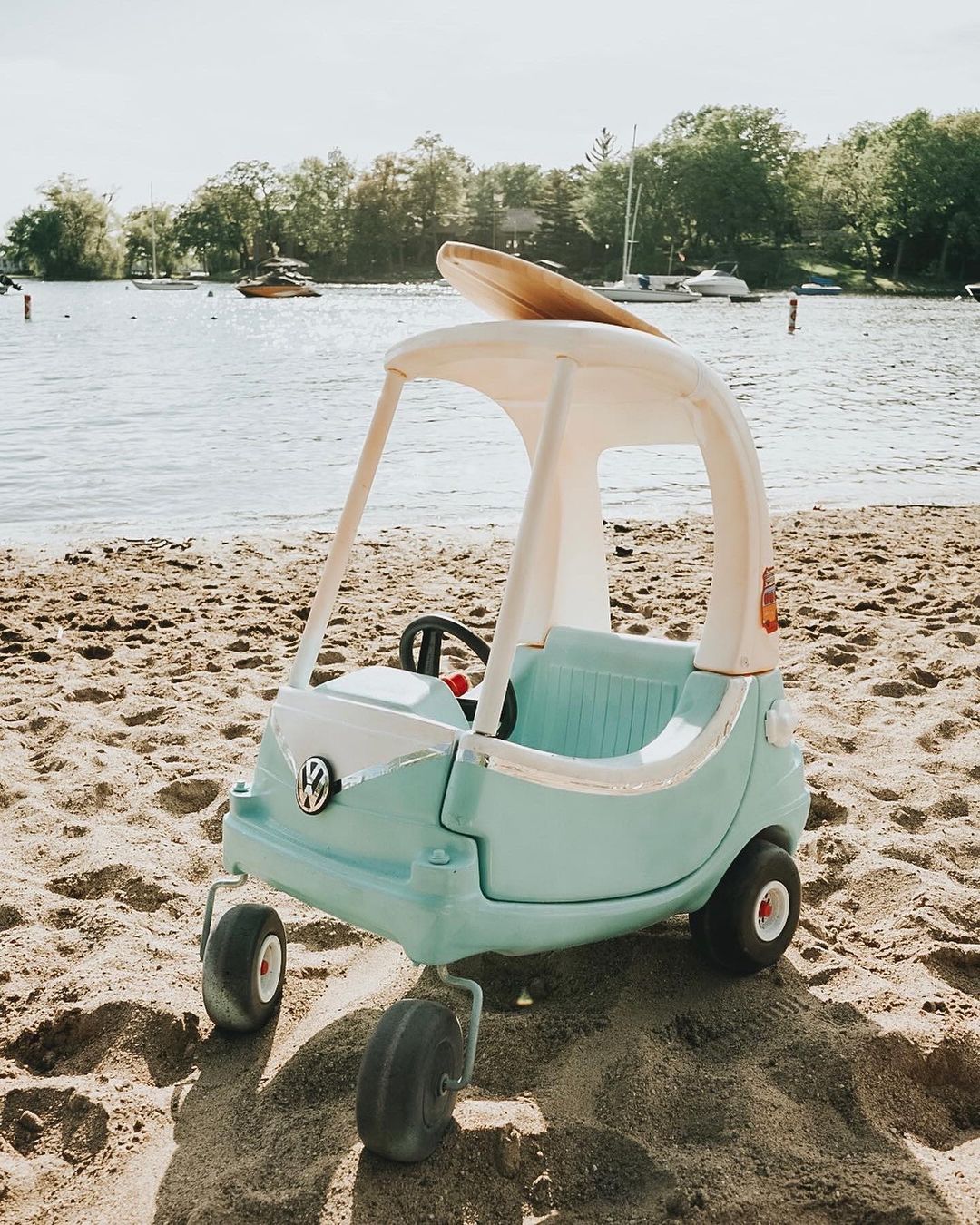 Surfs up, baby!
This beachy blue VW Cozy Coupe makeover includes chrome trim, classic VW badge and mini surf board to boot.
Pink VW Cozy Coupe Makeover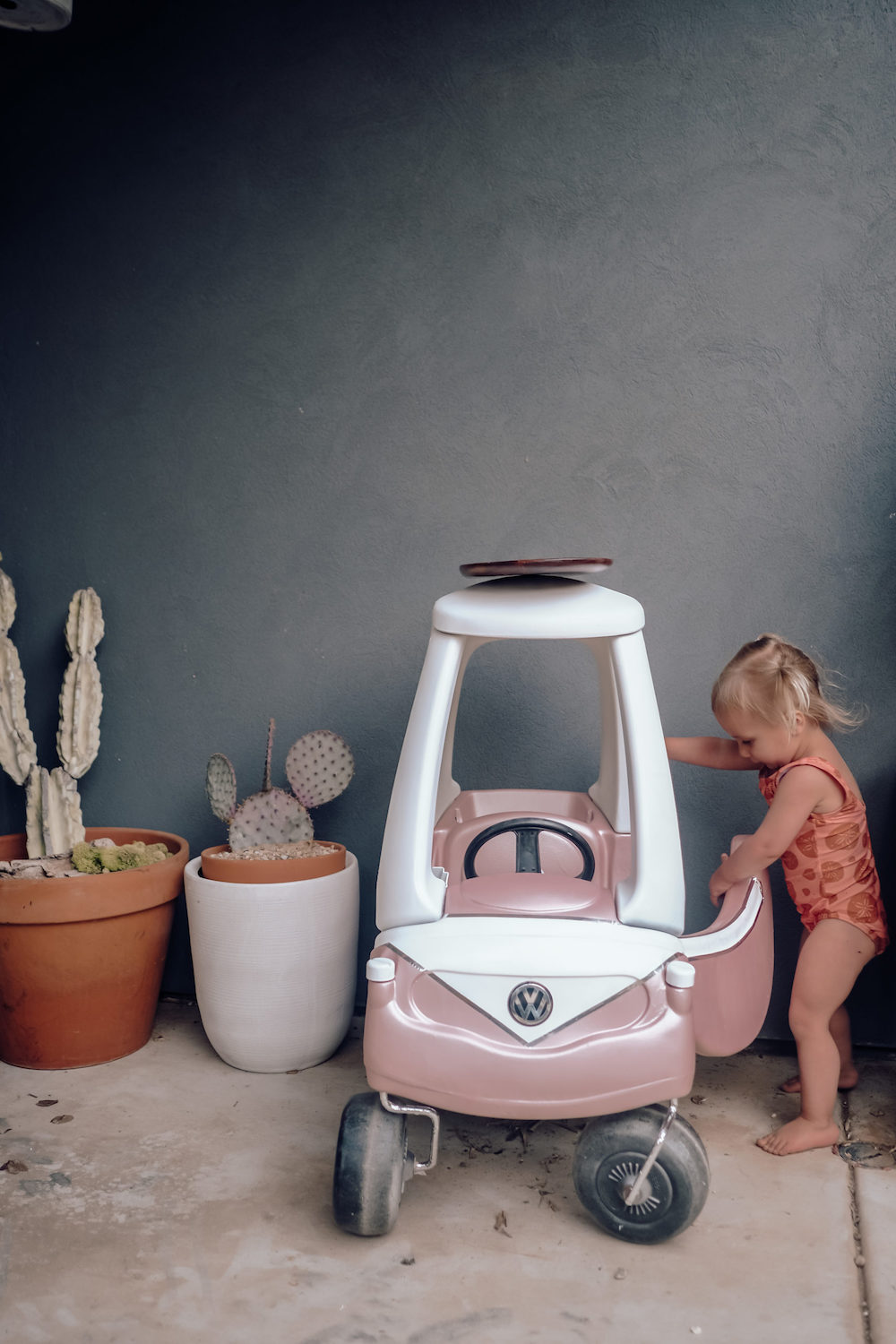 Ice Cream Truck Cozy Coupe Makeover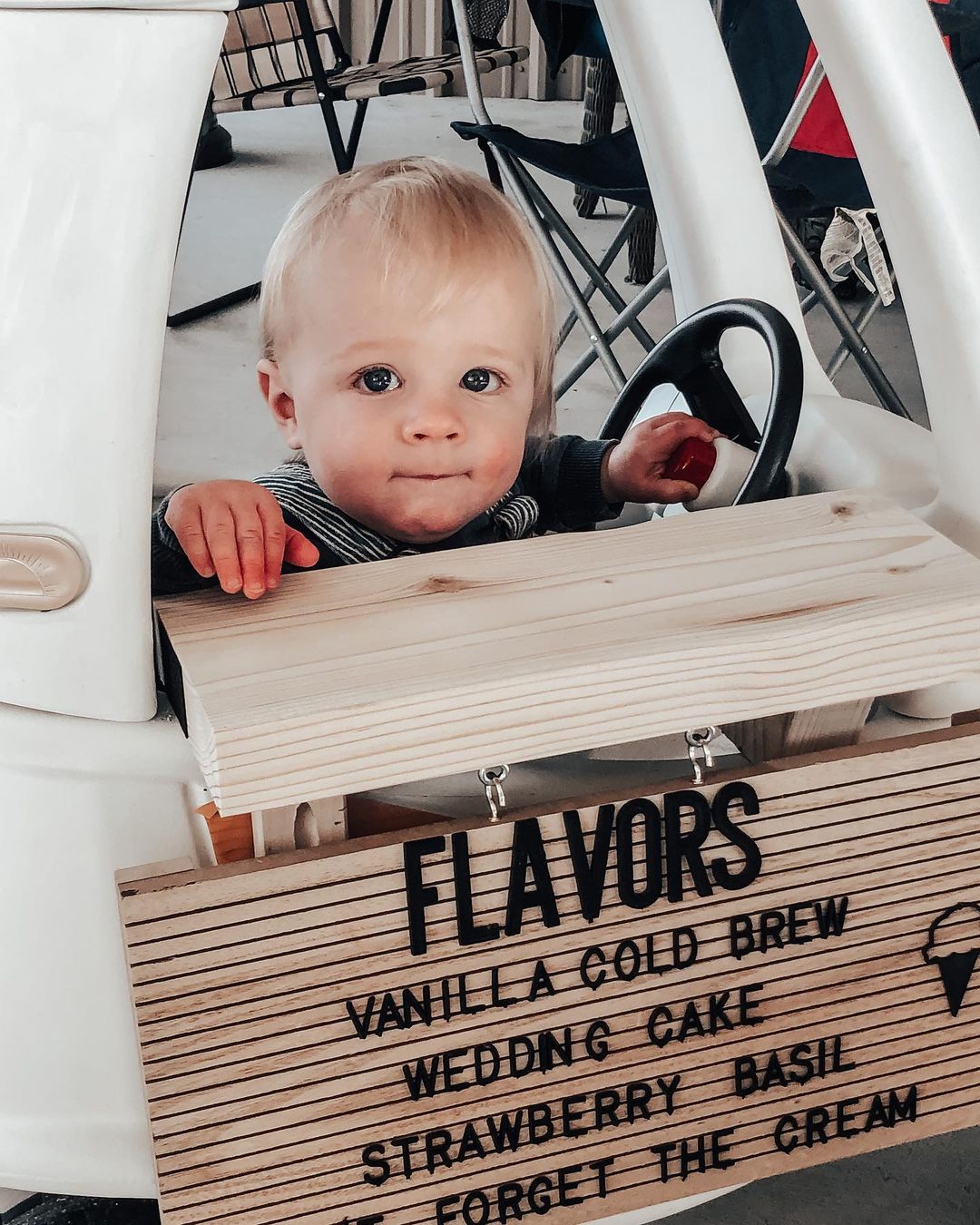 Jungle Safari Jeep Cozy Truck Makeover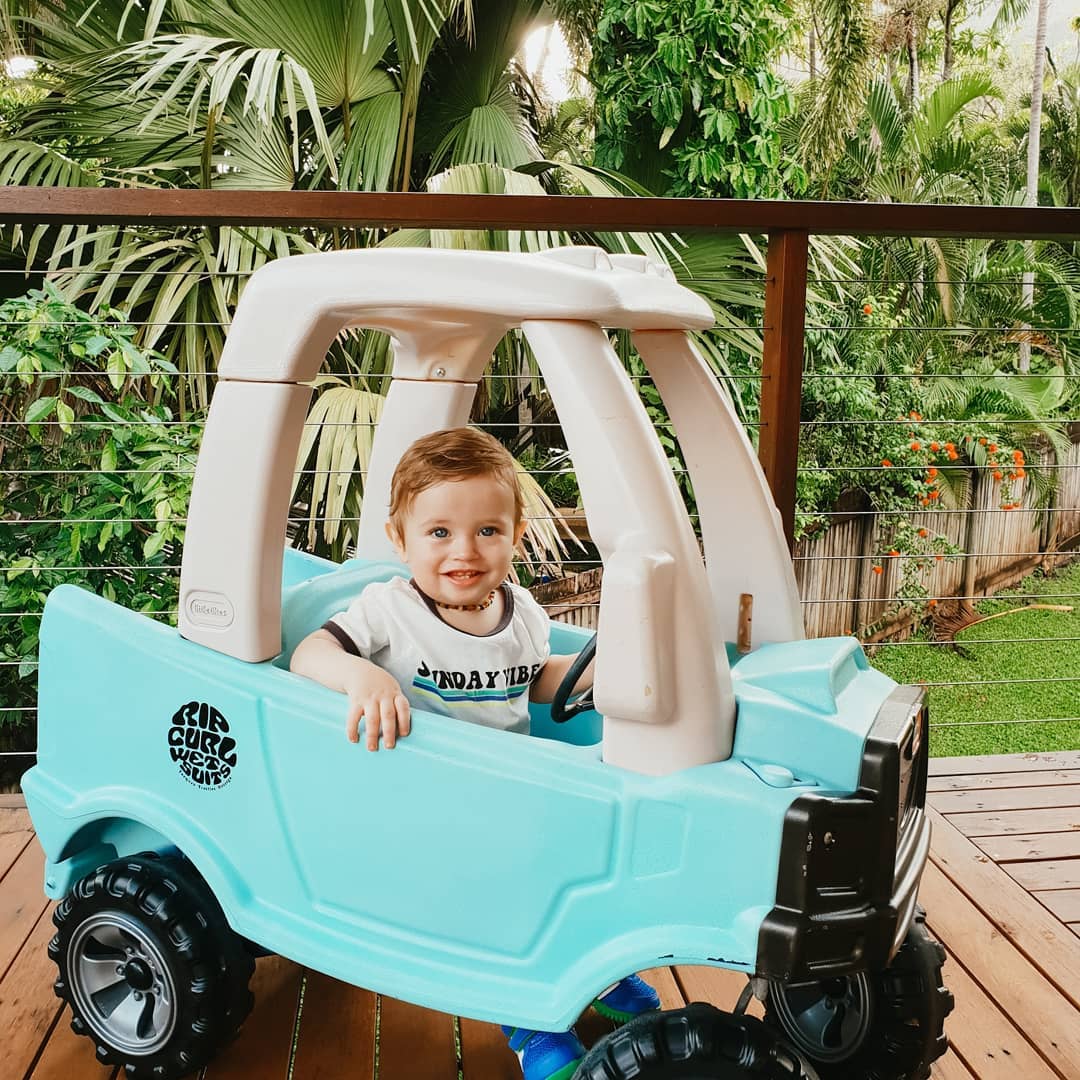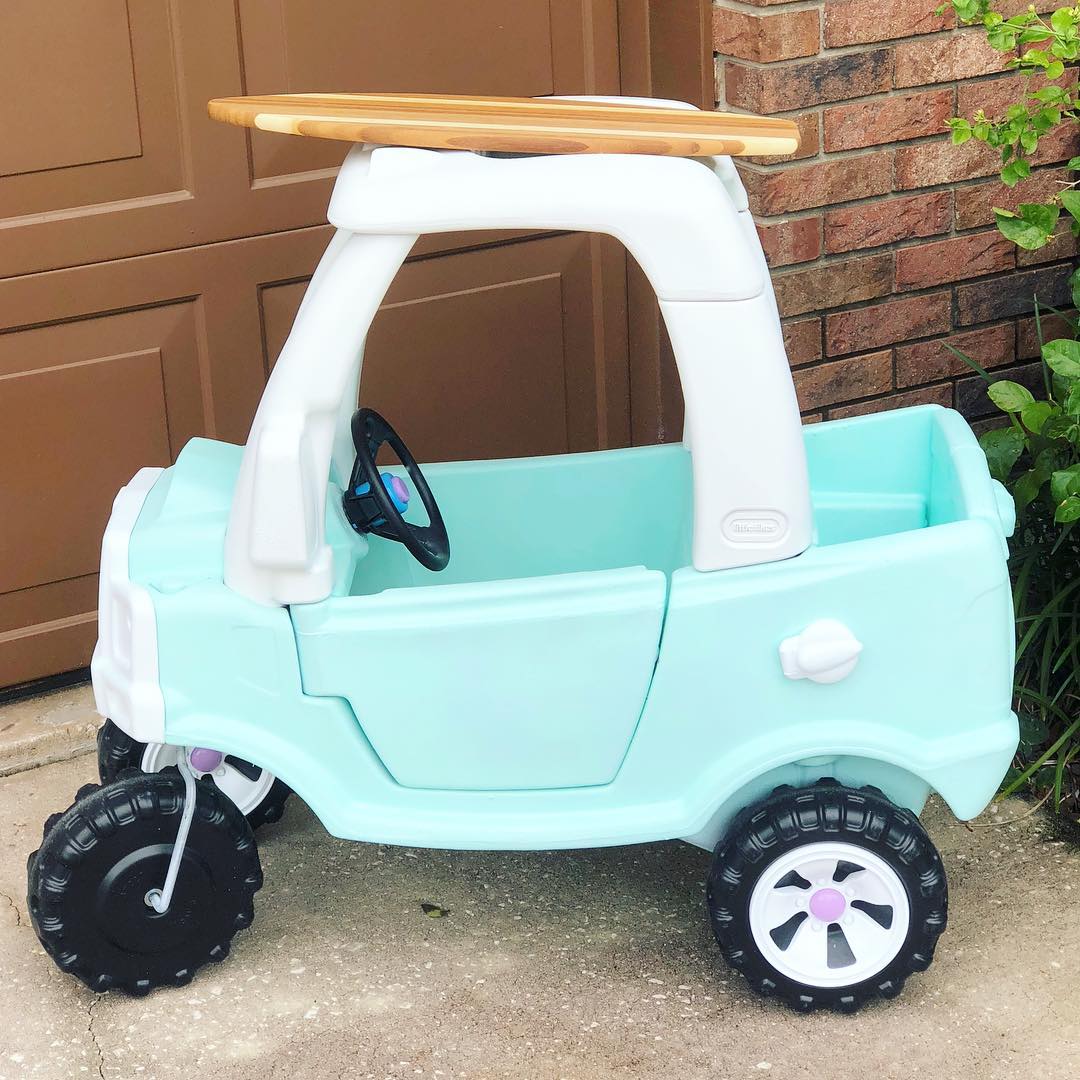 Powder Blue Cozy Coupe Makeover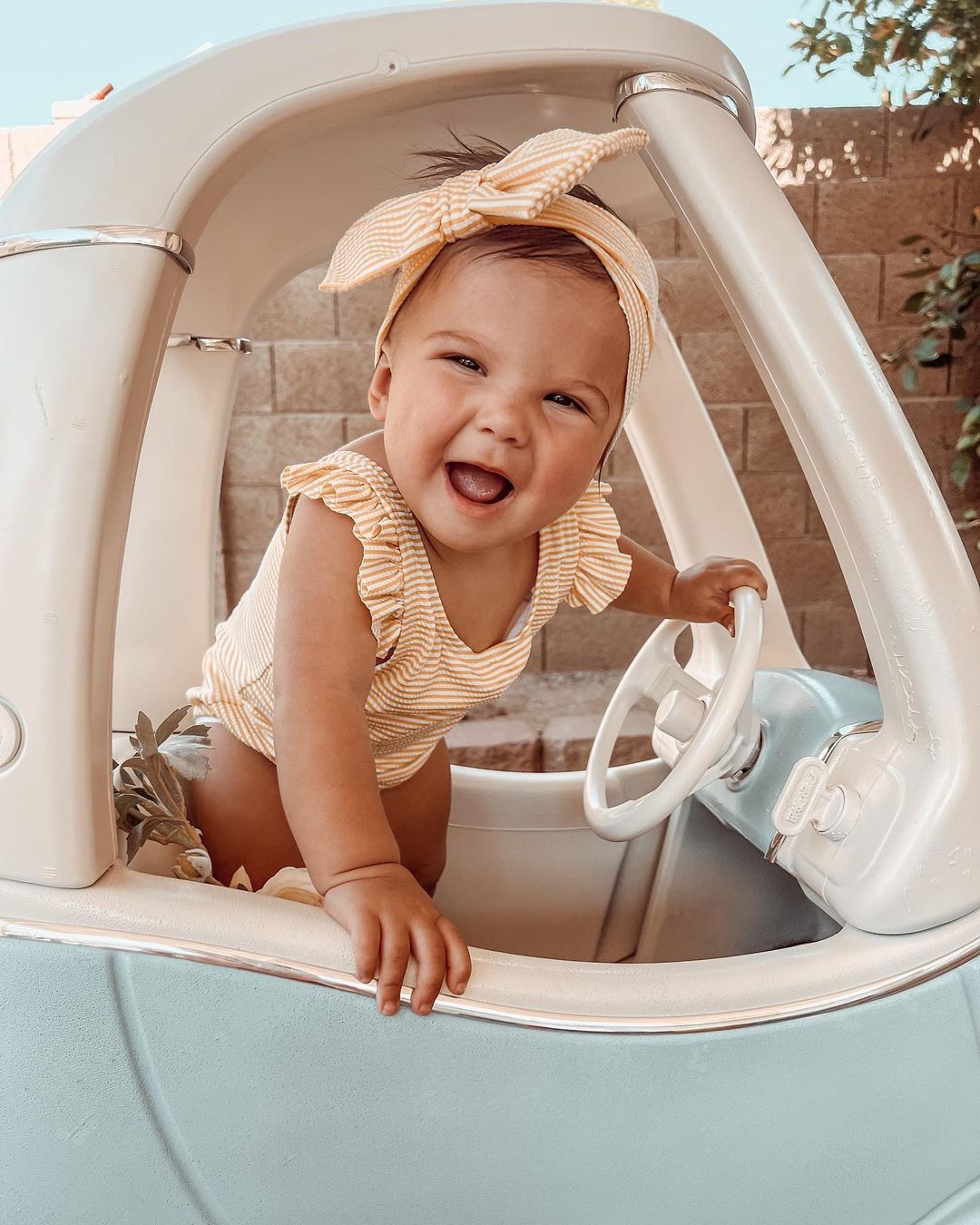 Love this pretty Cozy Coupe makeover?
You'll need some powder blue spray paint, beige paint, and this chrome trim.
Pink and White Volkswagen Cozy Coupe Makeover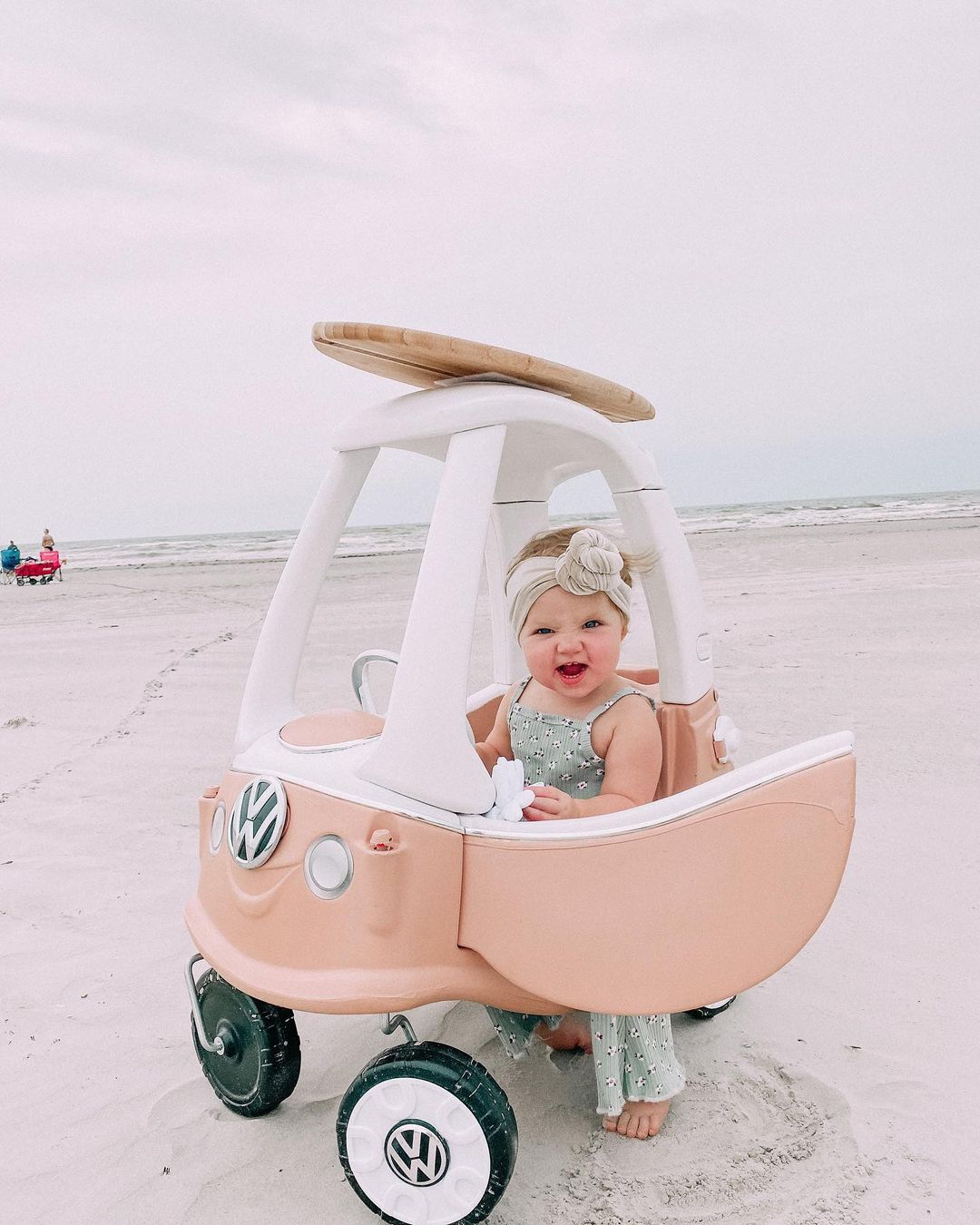 Looking for something groovy for your little cutie?
Get the look of this adorable pink VW Cozy Coupe with this dreamy shade of pink spray paint, stick-on chrome trim and VW hubcap set.
The finishing touch?
A cute mini surfboard that's actually a *bamboo serving platter from Amazon*!
Another great idea? I think it would be so cute to tie-dye a small piece of fabric you already have (these tie dye patterns are so fun and totally in right now), and make a little pennant or flag for your Cozy Coupe!
Wood Panelling Cozy Coupe Makeover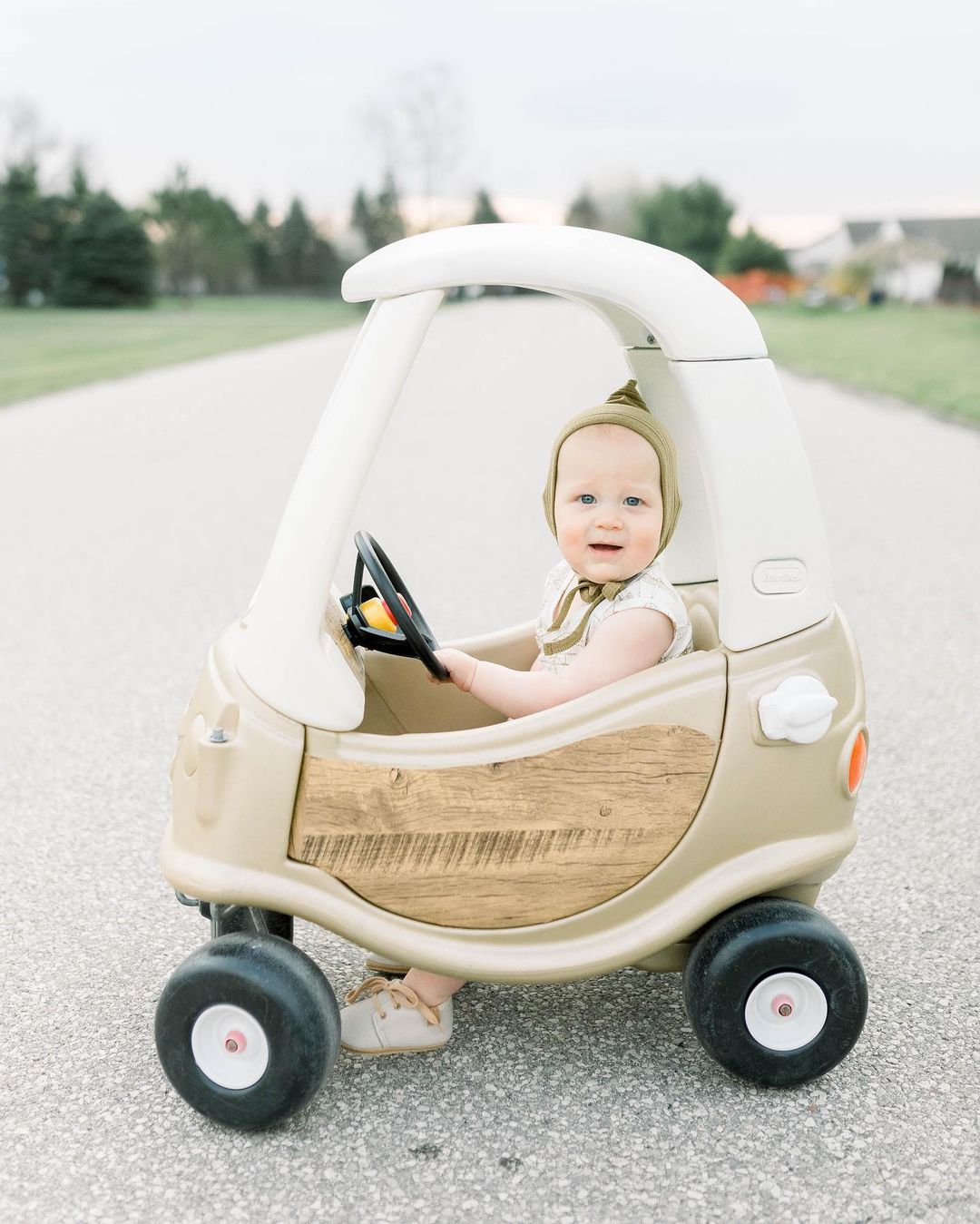 Make your Cozy Coupe retro cool with some white paint, gold paint, and these neat faux wood panelling decals (but be sure to order the right panelling for the specific Cozy Coupe model that have, as they vary in size).
White & Baby Blue Cozy Coupe Makeover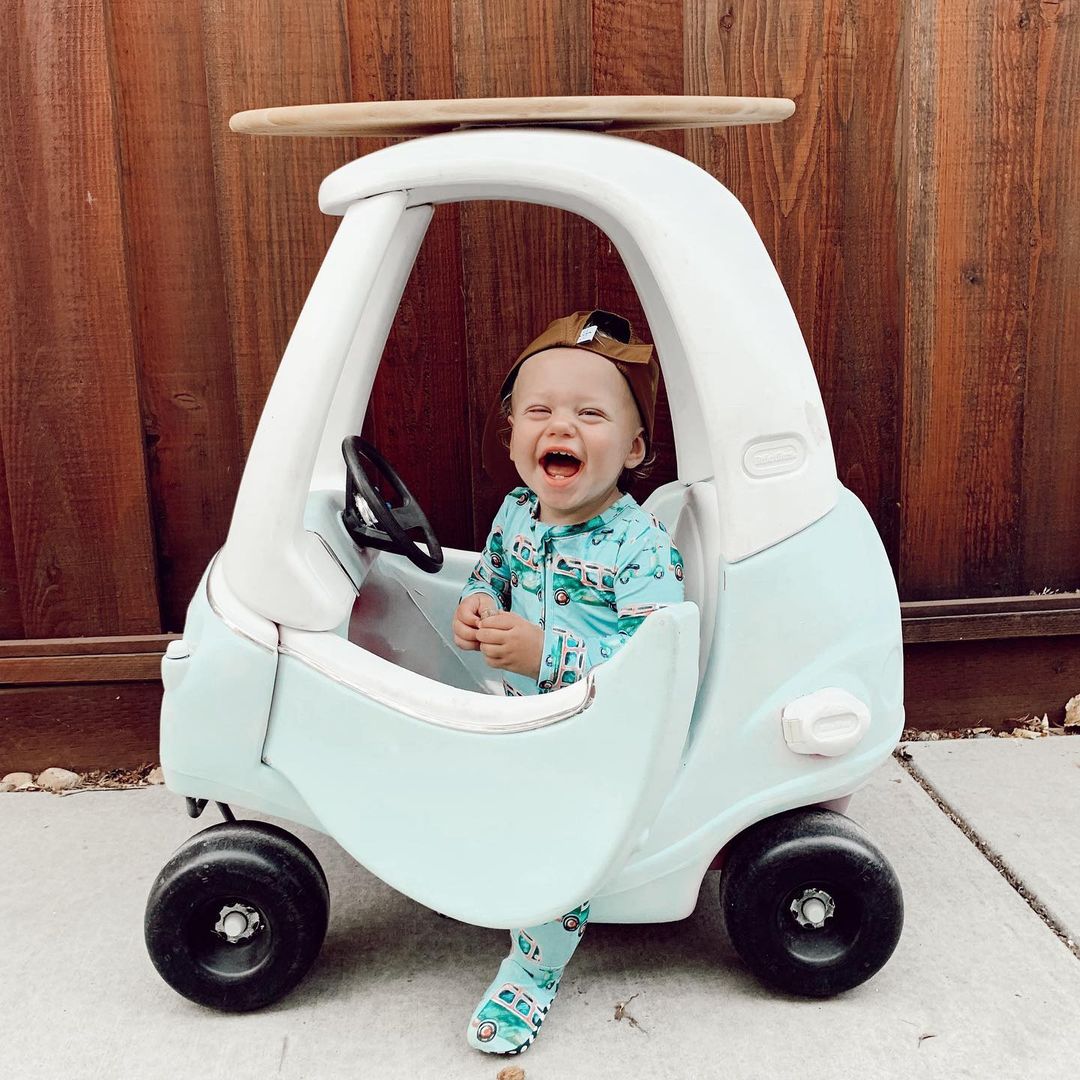 Luxe Bronze & Black Cozy Coupe Makeover
Neutral Cozy Coupe Makeover with Surf Board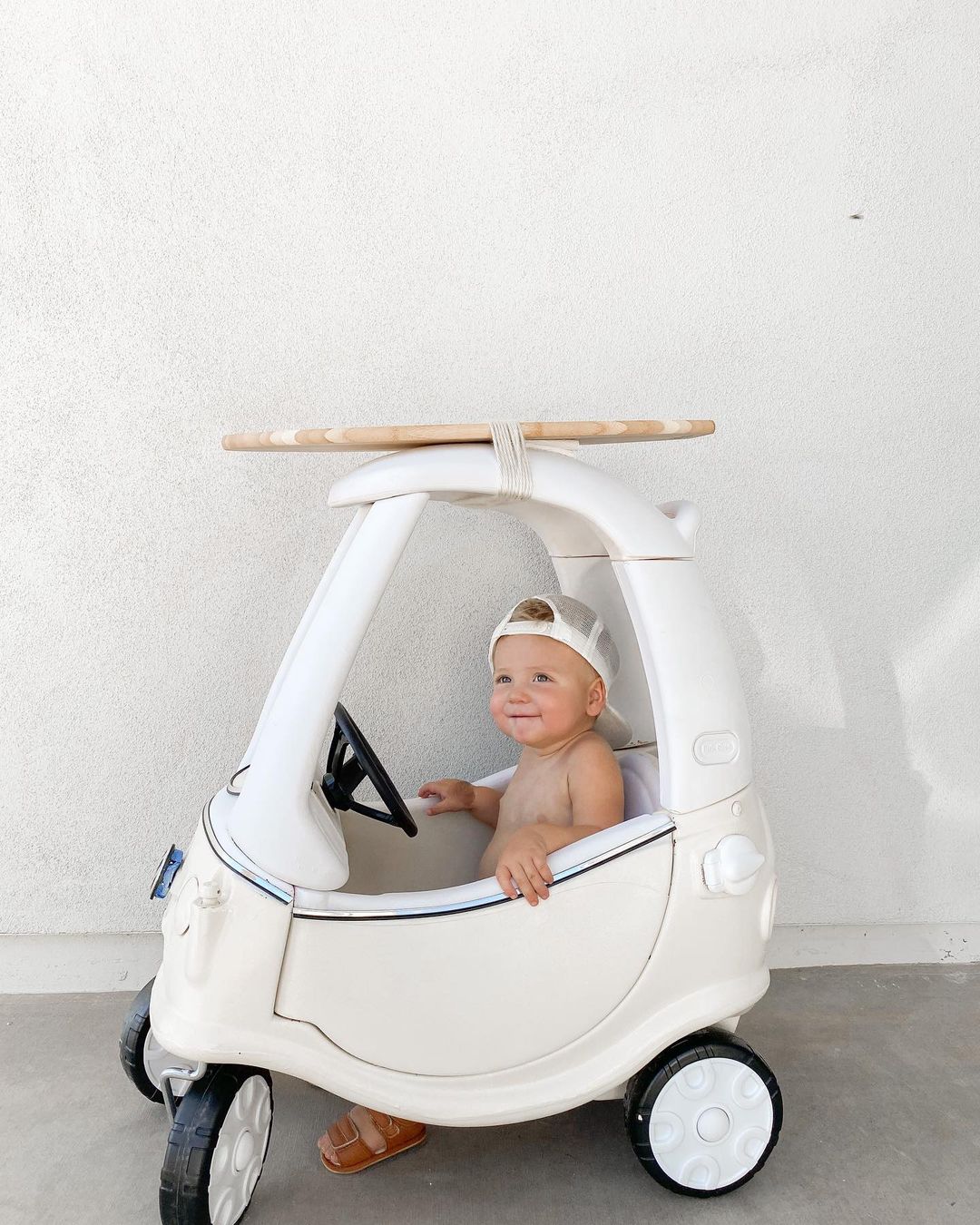 Searching for a some bright, white and neutral Cozy Coupe inspo?
This creamy dreamy set of wheels is light beige on the bottom, white on top, and brightened up with chrome trim.
Cozy Coupe Makeover with Roof Rack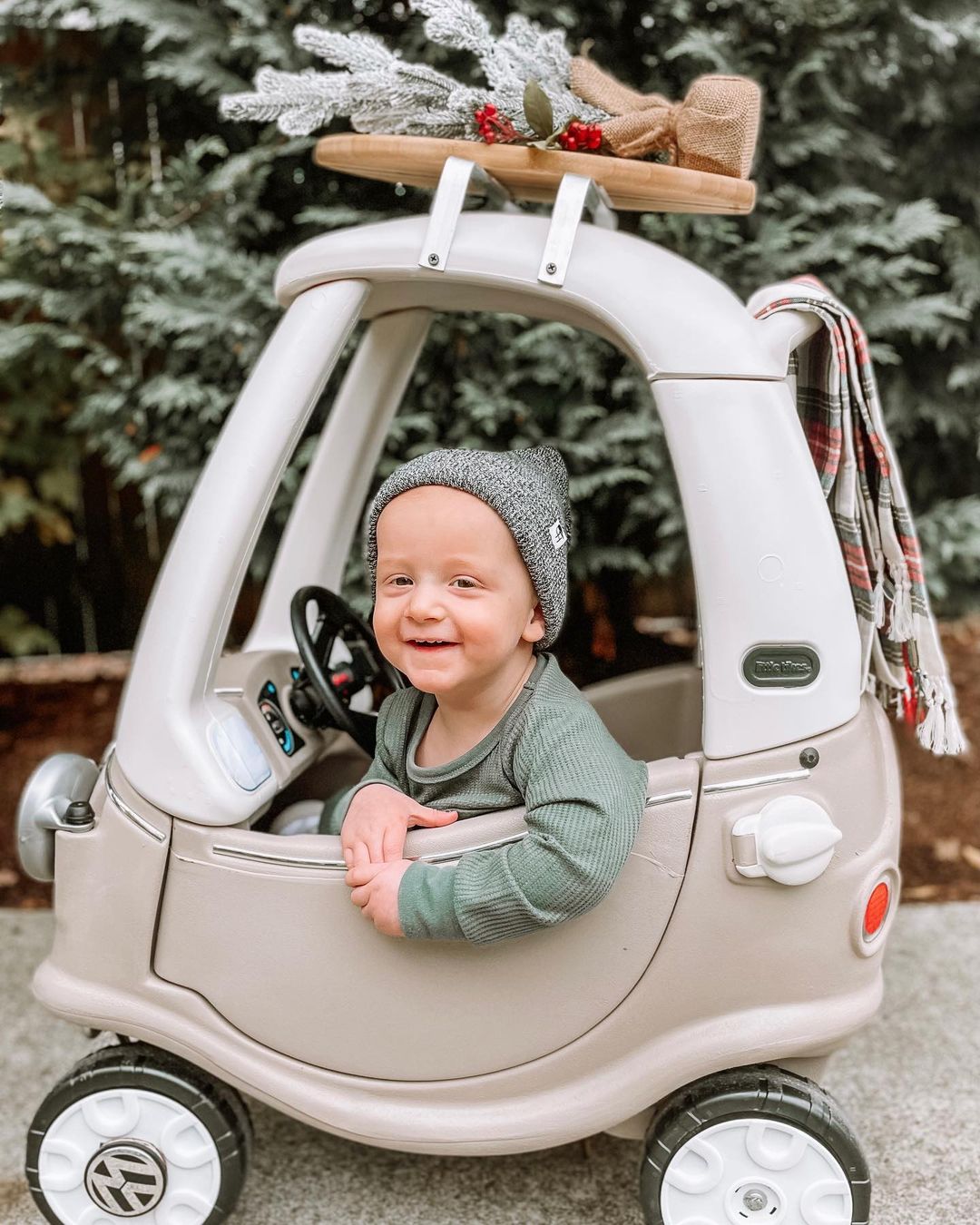 Did somebody say custom roof rack?
This adorable neutral Cozy Coupe makeover is definitely a must-see.
And the most essential detail of this cutie cruiser?
Clearly the plaid scarf.
Pretty Pink Cozy Coupe Makeover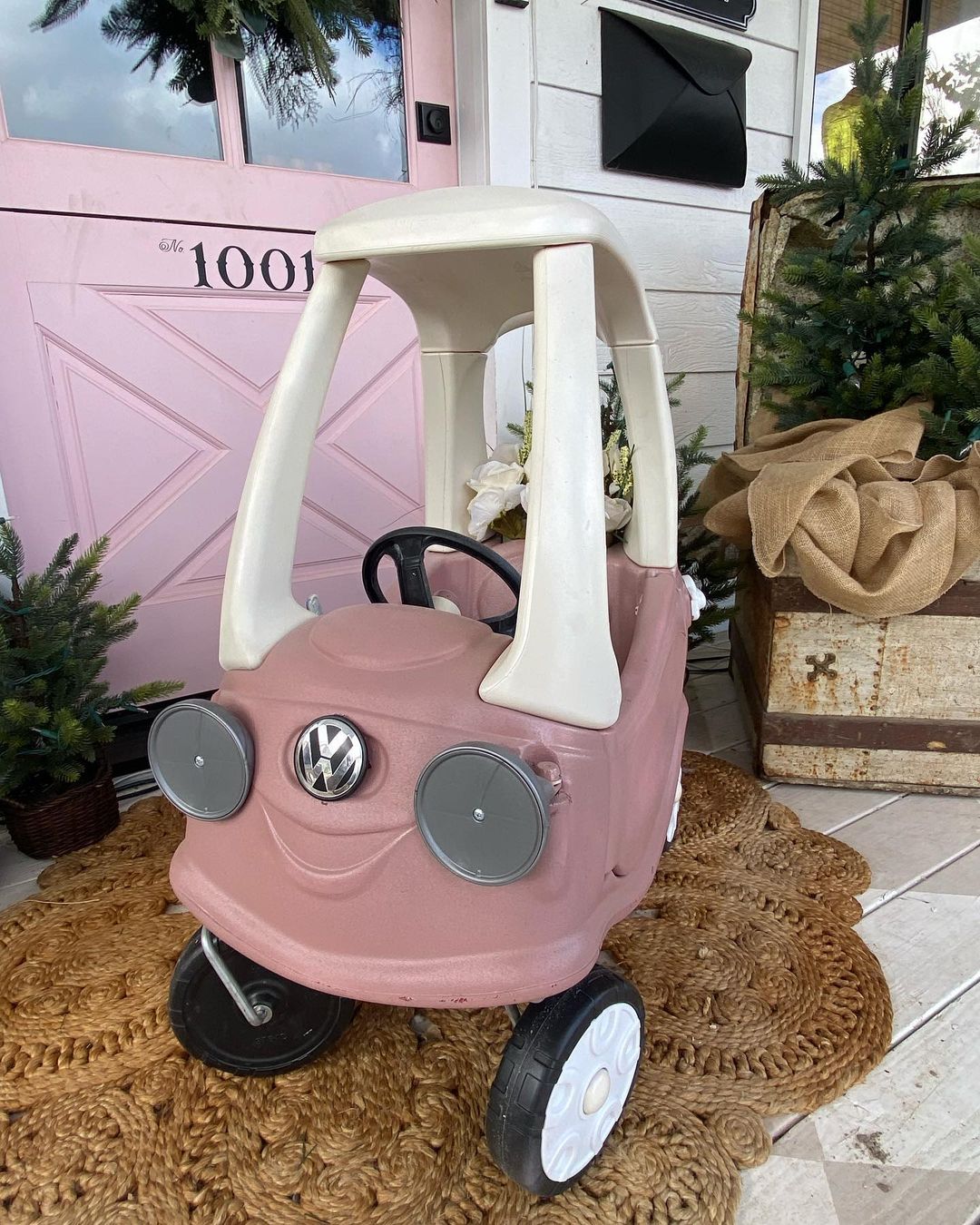 Looking for a pretty cozy coupe makeover idea for your little girl? This creamy pink color is adorable.
If you want to keep that sleek look, be sure not to skip the coat of white paint on the hubcaps.
Christmas Lights Cozy Coupe Makeover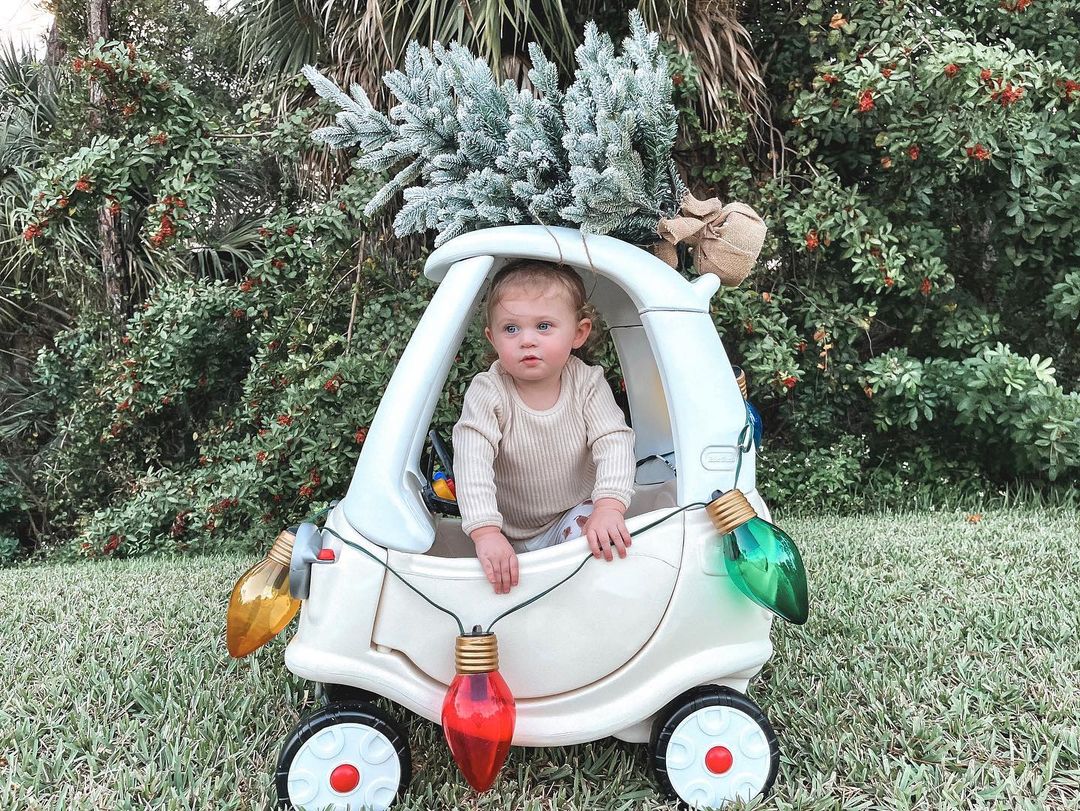 Considering a creamy white Cozy Coupe paint job?
Great idea – it makes the perfect backdrop for a seasonal transformation.
A simple string of fun oversized lights and mini Christmas tree are all you'll need once Christmas rolls around!
Bright Red Cozy Coupe Makeover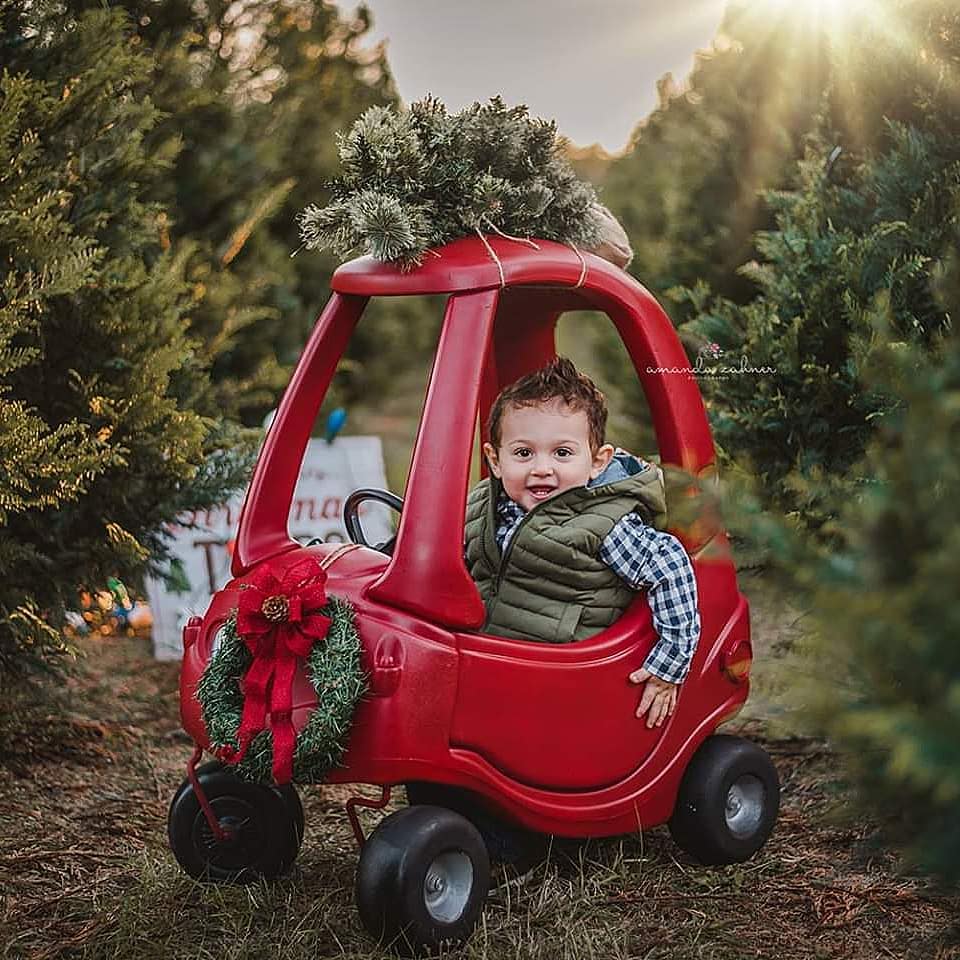 I'm dreaming of a… red Cozy Coupe.
To copy the look, give your Cozy Coupe a few coats of bright red paint, and use twine to attach a mini wreath to the front and Christmas tree to the roof.
John Deere Cozy Coupe Makeover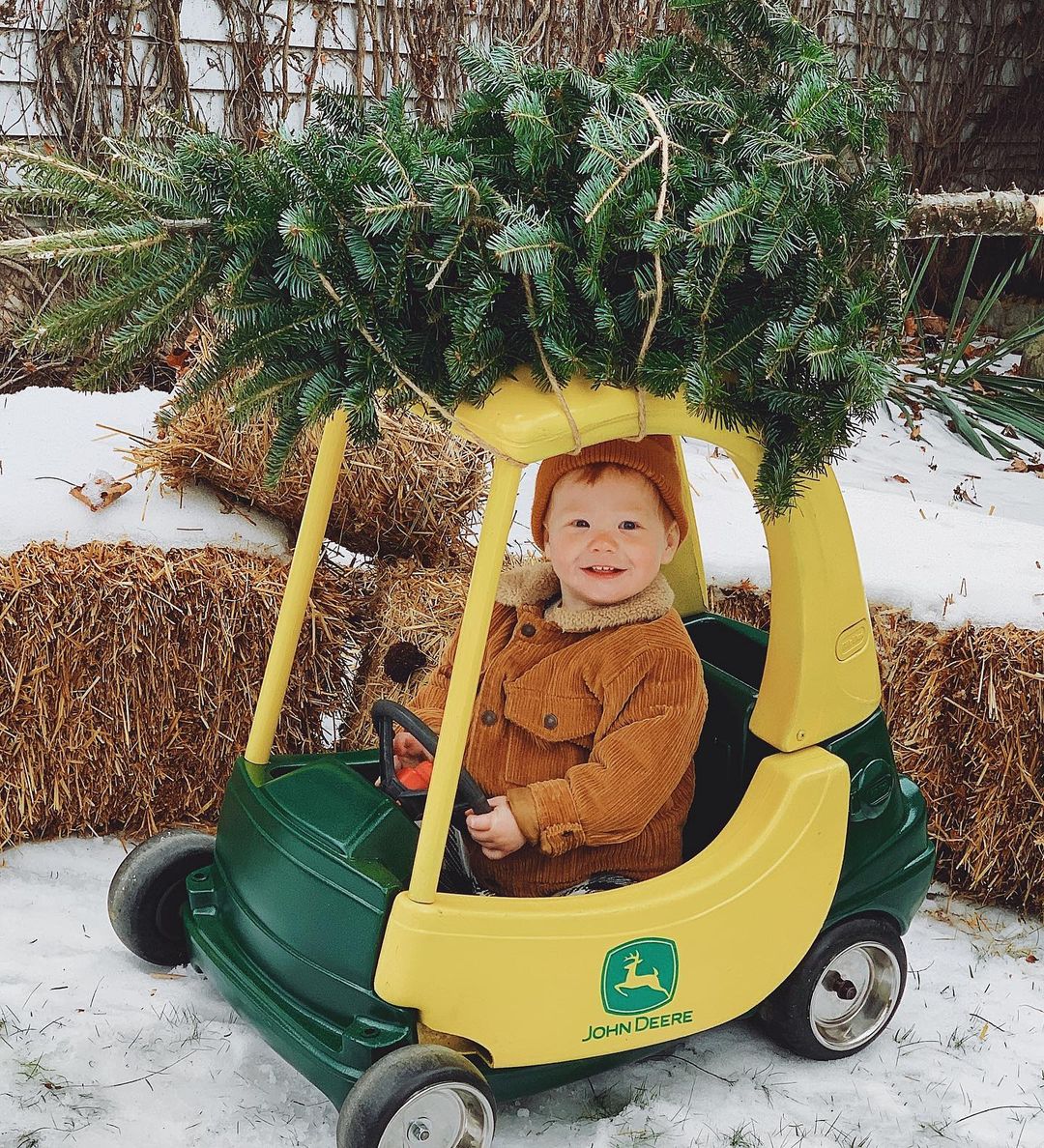 Little Tikes Cozy Coupe, but make it country.
Get that baby ready for life on the farm with this John Deere Cozy Coupe makeover.
To get the look, you'll need deep green spray paint, yellow spray paint and a John Deere logo.
Blush Pink Cozy Coupe Makeover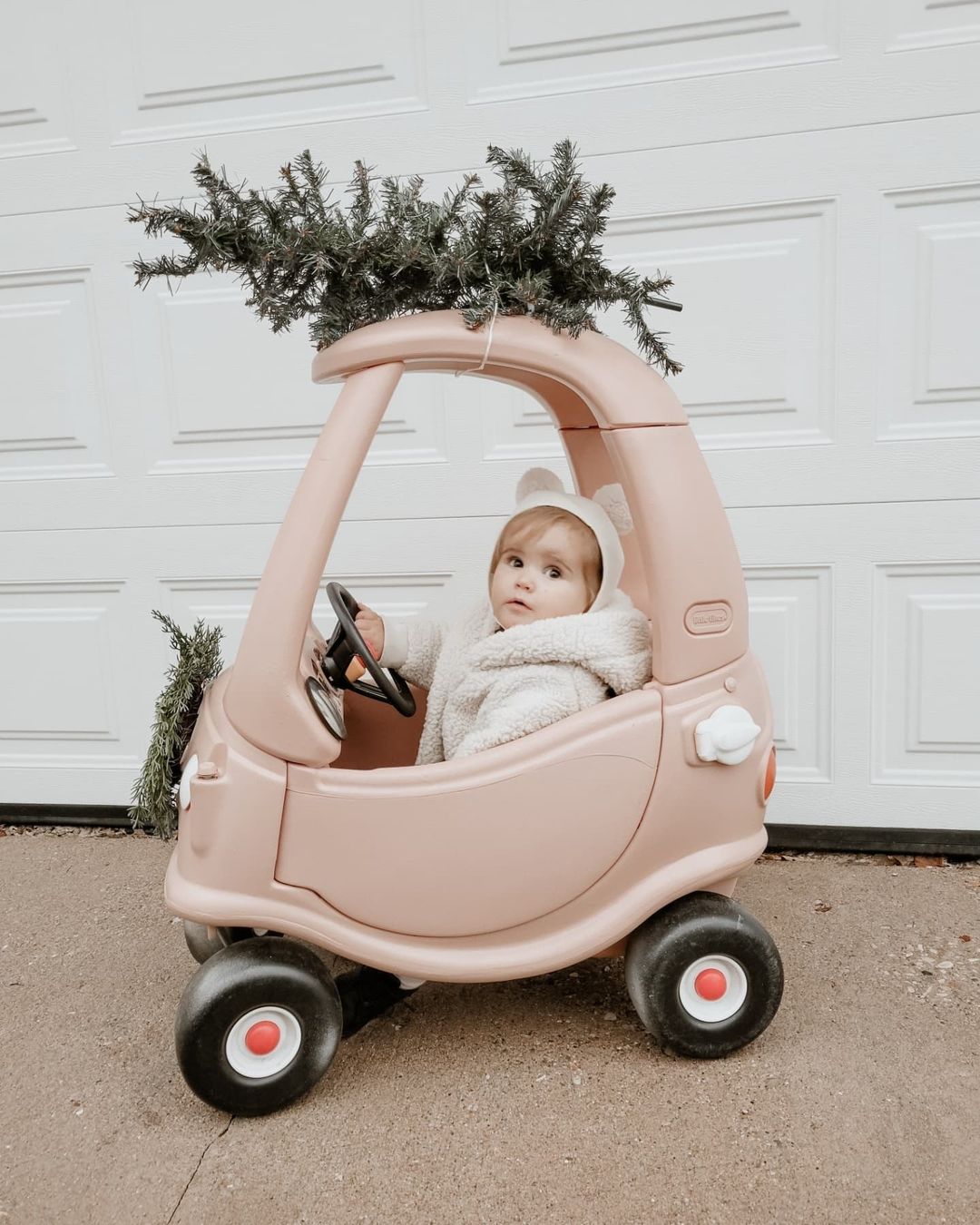 While many Cozy Coupe connoisseurs love keeping the two-tone look, this aesthetic transformation is all about that monochromatic look.
All pink everything.
Except the gas cap and headlights.
Obviously.
Hunting Season Cozy Truck Makeover Halloween Costume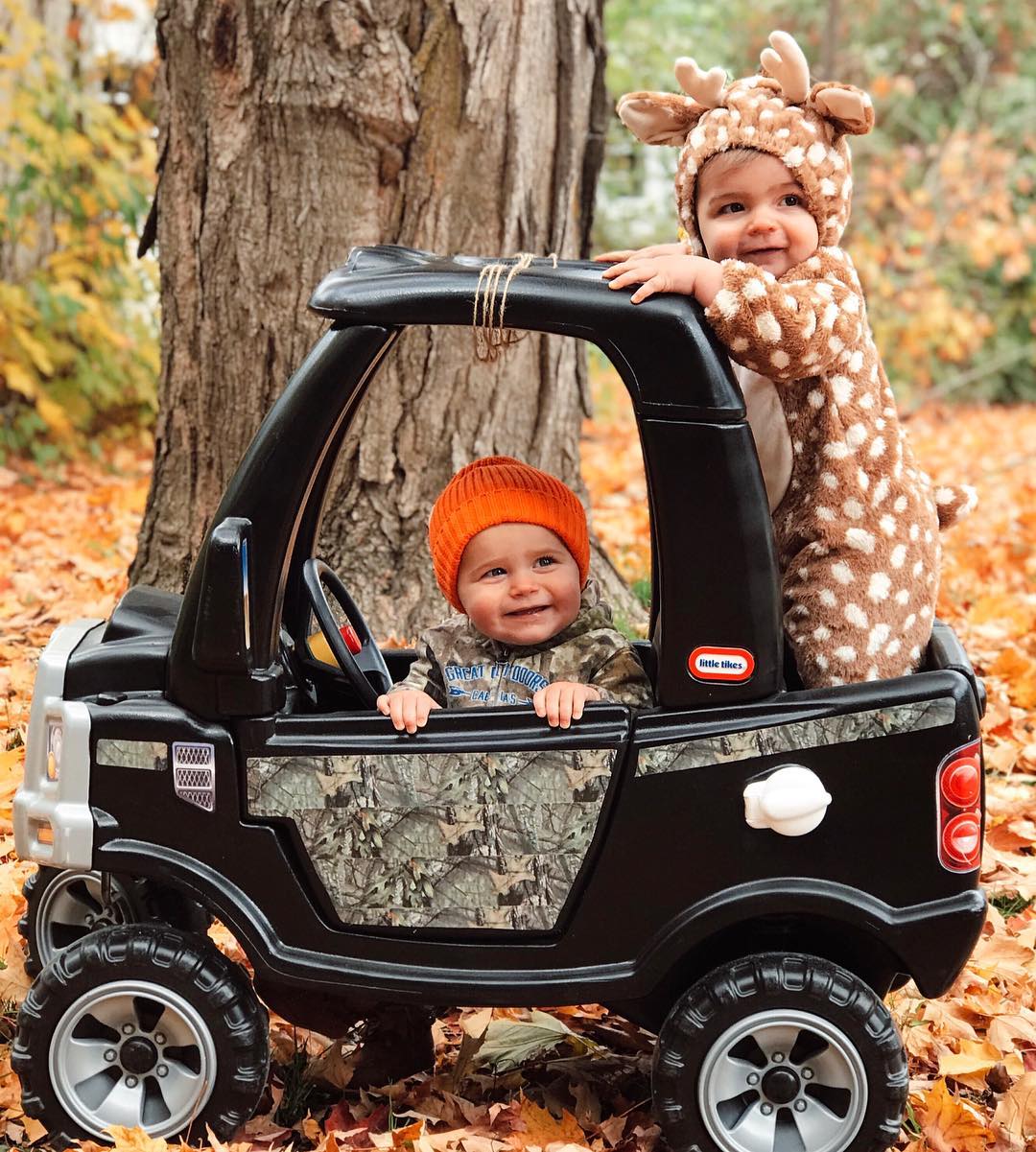 What's black, camo and cute all over?
This cool Cozy Coupe transformation, perfect for a fun little Halloween costume for your littles – complete with tour guide and baby deer.
Copper & Cream Cozy Coupe Makeover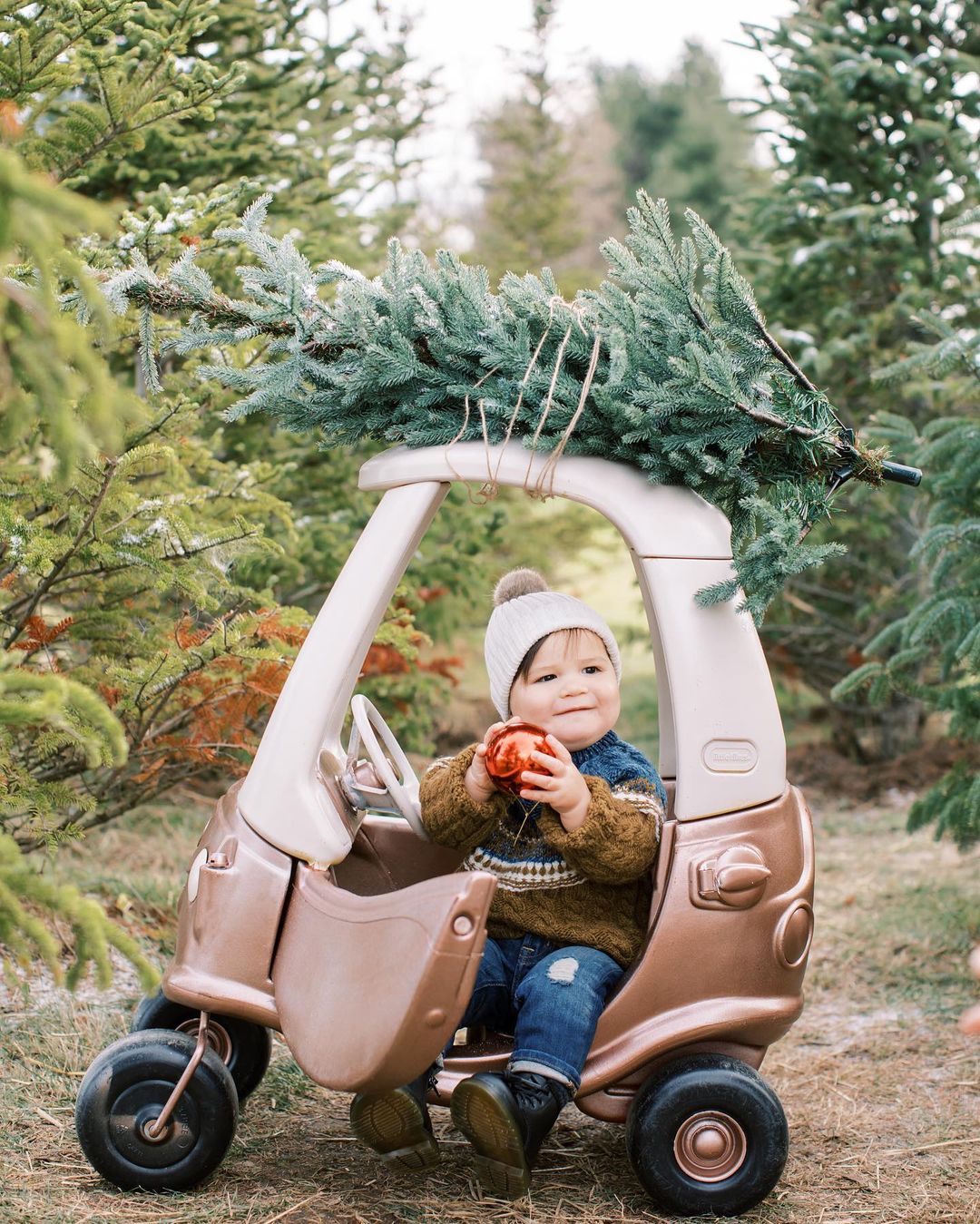 Chick-Fil-A-Mobile Makeover
A coat of black paint, some hand-painted spots, a Chick-Fil-A logo and replacement headlight decals and you've got yourself a bonafide Chick-Fil-A-mobile!
And, yes, I would like fries with that. 🍟

And there you have it – some of my very favorite Cozy Coupe makeover ideas to take your little one's plastic toys from drab to fab!
Came for the Little Tikes makeover because you're a preschool educator?
Check out this great little collection of preschool mission statements over at Home Faith Family, or explore these super fun gardening activities for kids! 🪴
Read Next:
15+ BEST Toddler Toys for Road Trips (A Toddler Mom's Top Picks!)
The 11+ Cutest, *Buttery-Soft* Bamboo Baby Pajamas I'm Obsessed With
11+ Totally Gorgeous Ikea Nursery Ideas That You Need To Copy
19+ *Stunning* Nursery Board and Batten, Wainscoting & Beadboard Ideas (You Need To See)