This post contains affiliate links.
These are the best toddler toys for road trips, tested and chosen by three toddler moms with boys from 18 months to 3 years old.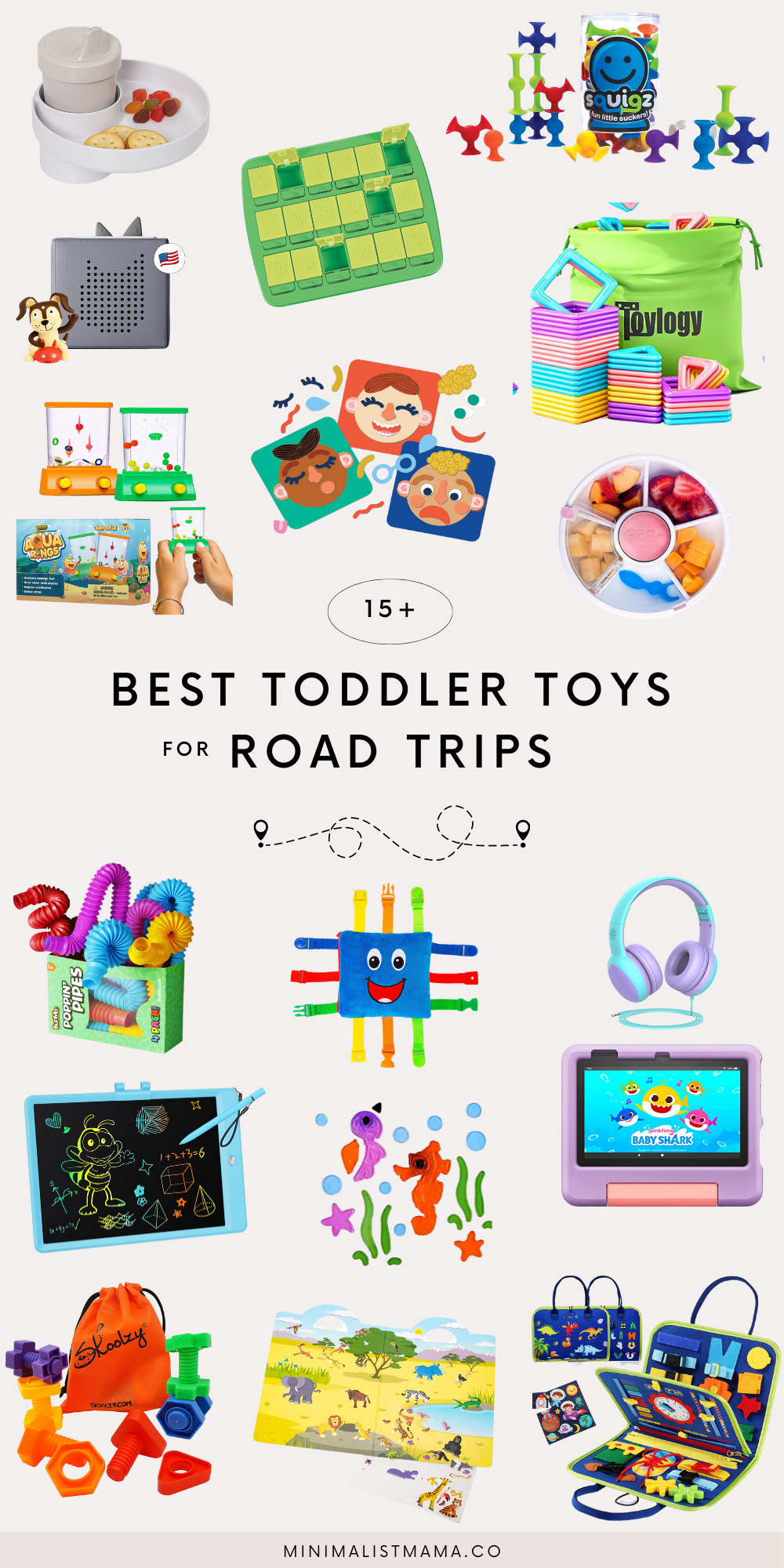 Have a road trip with a toddler on the agenda? Or maybe you're just looking to keep your little one entertained in the car on the daily.
As a toddler mom myself, I have researched, purchased and tried piles of road trip gadgets, activities and toddler toys for on the go and today, I'm sharing our top picks for the best toddler toys for road trips –
Let's get to it –
Ready to roll? Check out these great tips about saving money on gas over at Real Sophisticated Consumer before you hit the road!
Car rides can be a little more difficult when you throw a toddler into the mix.
We all know how busy and active toddlers are, and expecting them to stay still and strapped into a car seat quietly is just not a realistic expectation.
That being said, keeping them entertained can make or break your trip. To keep mama and toddler's sanity in check, I've created the perfect list of all of the best toddler toys for road trips that will keep your toddler engaged and focused for more than 5 minutes.
Let's dive in-
First up – I've got to include these awesome puffy sticker sets, because they're something my son will play with for long periods of time, and they're such a great little activity.
The books open up to two different scenes – one on the front, and one on the back, and the stickers are so fun and great for building vocabulary.
These little sticker books by Melissa & Doug come in a set of 3, includes a whole sheet of super high quality puffy stickers that can be stuck, pulled off, stored and re-stuck many times without any issues.
However, this isn't the case with all of these sticker books that we've tried from Amazon. I have also purchased a few other sets and the stickers were super thin and some were a cling style sticker, both of which I just found were too tough to handle for my two-year-old's little fingers.
Up next is Squigz.
These silicone sticky cups are essentially a new style of building blocks that are sure to provide your little one with loads of fun – way beyond your car ride – no matter how long!
These fun little pieces stick to each other, smooth surfaces, and even to foreheads if you really want to get wacky! 🤪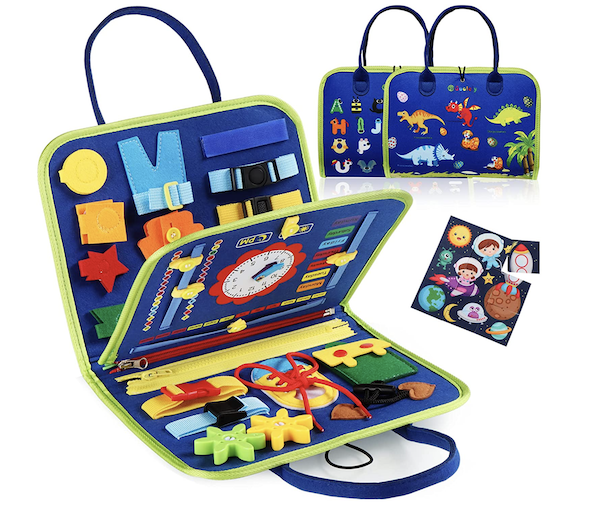 There are so many activities that are included in this busy board, including different types of clasps, zippers, buttons and puzzles –
all great for helping your little one with their fine-motor skills and building strength in their fingers (which can help them improve .
The handles that are attached fold it up like a book and make it very simple to take with you on your way to where you're going!
If you have a child that loves art and to be creative this doodle bard is a perfect way to do that during travel. Perfect mess-free option for travel!
Travel can get a little messy, especially when you're talking about a toddler.
This great little on the go plate just inserts right into your toddler's carseat's cupholder, so your toddler can easily reach their snacks (which you'll inevitable pack hundreds of).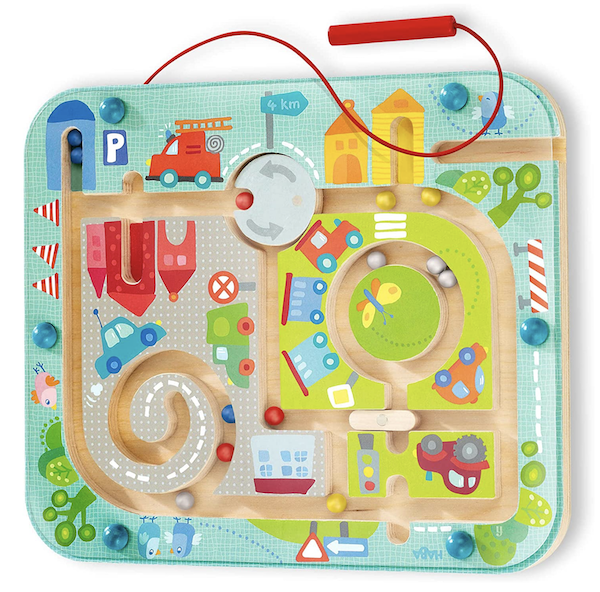 This cute and compact town maze will be the perfect toddler activity that needs no guidance from a parent.
Using the attached pen your little one can move the little magnetic balls around the town map and into their matching colored garage.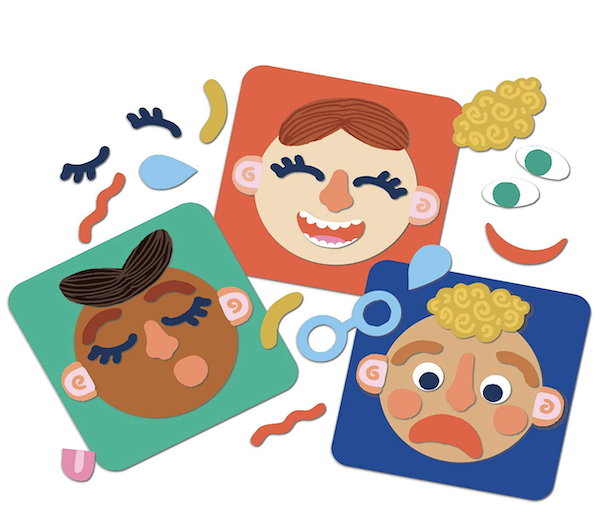 Allow your toddler to get creative – even in the confines of his or her car seat. This cute activity comes with a board and many different magnets that encourages kids to get creative in a little less messy way that is perfect for travel!
Does your toddler love coloring? Mine does.
The only problem is, handing over a set of markers and notebook to your little one in the back of your car unsupervised is pretty much a recipe for disaster.
This awesome little book, that comes with 4 different scenes, as well as a hollow pen that you fill with water, allows your child to color different scenes with no risk of swallowing on a cap, or painting your car upholstery.
"But wait, there's more -"
My toddler's favorite thing about these coloring books is that there are actually little invisible characters hidden in the scenes. f
This simple little toy was gifted to one of my toddler nephews at Christmas and he went absolutely wild over it.
While it won't likely provide endless hours of entertainment, it's something new and novel that your toddler will love pulling apart, squishing back together and building loops with.
Why do toddlers love buckles and buttons so much?
My little guy absolutely loves these little buckle toys – buckle, unbuckle, then start all over again – there is just something exciting and rewarding about hearing the buckles snap together, and it's great for developing strength in their little hands, too.
Another great open-ended toy is these magnetic blocks, which are essentially a low-cost Amazon version of Magna-Tiles or Connetix.
Snap them together, build a castle, let your kid's imagination go wild – when they're done, simply tuck them away in the carrying case that's included.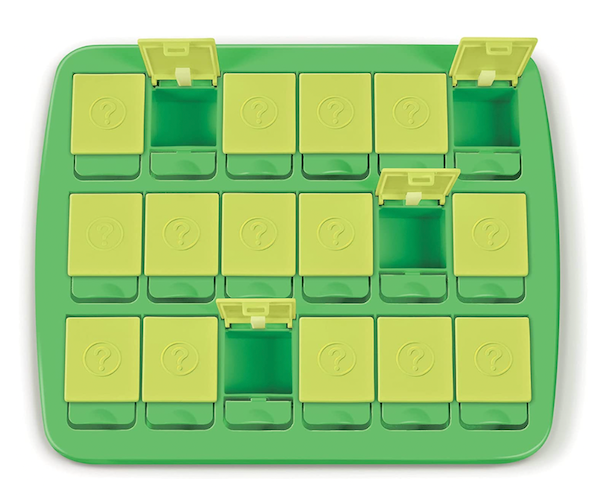 Have you seen the tackle box snack box that went wild on platforms like TikTok and Pinterest last summer?
This super fun little snack tray is essentially a bit sturdied version of that.
While the tackle boxes pose the risk of a huge snack explosion should your little one accidentally tip it over, this snack tray is awesome because each little compartment is opened individually, which can help with damage control if it falls out of your toddler's hands!
From Cheerios to mini pretzels, dried cranberries, cereal – and of course, one or two of those little spots have to have some fruit snacks in there, too!
Another exciting way to tackle time is this snack spinner that's almost broke the internet a few times.
When pressed, the big, bright and easy-to-press raised button in the middle spins the tray of snacks around so that your little one can open the little door to access their snacks.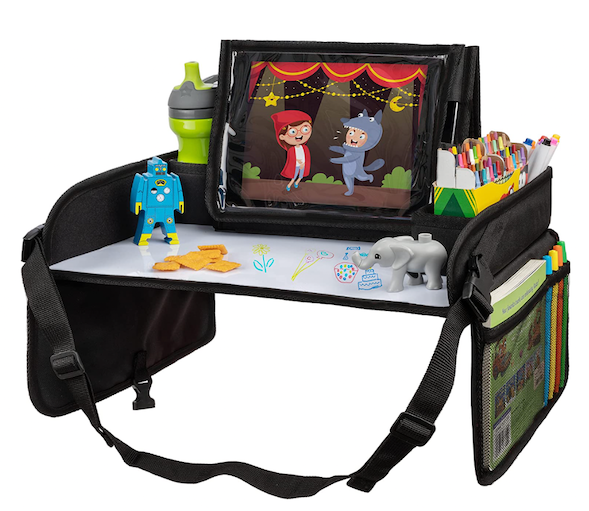 All these fun toys, but no place to play?
Enter, carseat travel tray.
This great little gadget simply gets buckled around your little one's car seat and provides them with a nice, flat surface to color, draw or enjoy other fun activities on.
To play with this little toy, your toddler simply grabs a chunky bolt, threads them onto the bolt and then twists, twists, twists.
Not only will this little set help your child work on problem solving and fine motor skills, but you can interact with them too to work on learning their primary colors.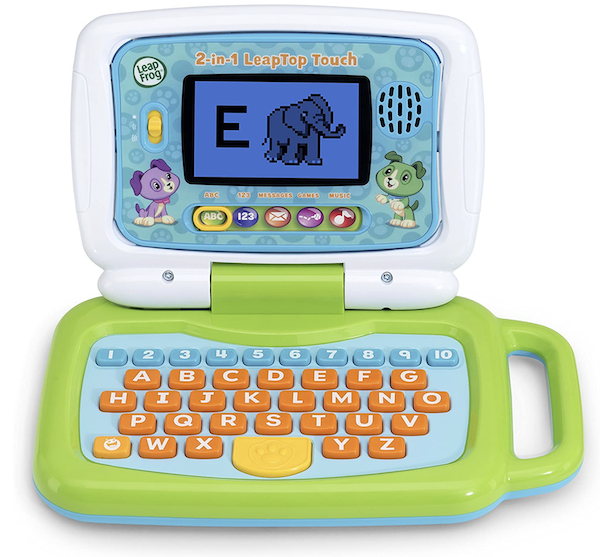 Another great screen-free option – the Leap Frog kid's computer.
Practicing their letters can be fun with this learning computer!
It includes many different activities and songs that will keep your child's attention. If your child enjoys pretend play it also is a great prop for a toddler that wants to mimic the tapping fingers they've seen from mom or dad.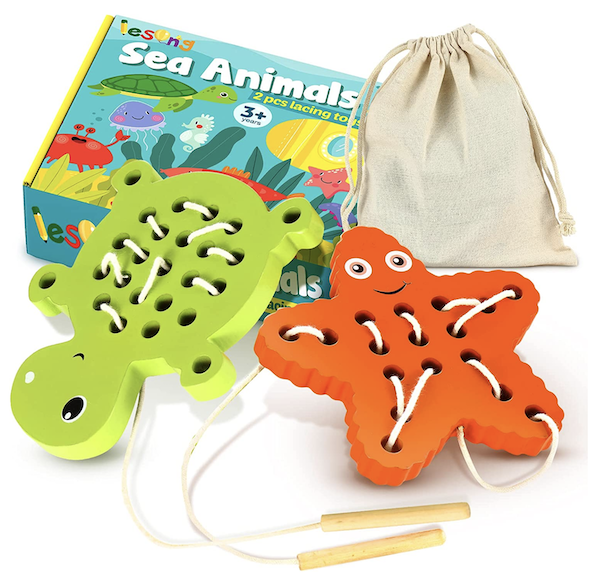 This cute lacing activity could keep your toddler's busy hands working for hours!
Lacing the string through the holes and then winding them back out is great for hand coordination and will also keep the attention of your little one.
This cool little gadget is essentially a screen-free alternative to a phone, tablet or tv.
A small electronic box that fits into your toddler's hands, figurines are attached to the top of the box and a story featuring the character is read through the speaker.
Another one of my son's favorites is this great little Duplo set.
Essentially, a larger style of Lego that's better for younger kids who are still learning how to get each piece to connect, this set includes a big dino whose mouth opens and closes, a baby dino who can connect to his back, and a guy who sits on a motorcycle with wheels that turn.
Bonus – none of the parts are small enough to pose a choking hazard!
Press the button to shoot the balls or hoops upwards in the water and try to catch them on the hook or hoop.
Although actually getting the balls into the net may be pretty tough for younger kids, there's no doubt your little one will love watching the balls fly around through the toy.
Lastly, though many parents (including myself) like to keep screen time to a minimum, travelling can be super challenging with little kids.
At the end of the day, sometimes you just need to give your toddler their favorite show or movie, and let them chill out.
Wrapping Up
Well, there you have it – our very top picks for the best toddler toys for road trips in 2023.
I hope this list helps you when planning your next adventure with your family!
There is nothing better than exploring and traveling with your little ones and I hope this makes it even more enjoyable for all of you.
Read Next:
🚂 The *Ultimate* Summer Bucket List for Toddlers
🚂 21+ *Very Aesthetic* Cozy Coupe Makeover Ideas (That You Can DIY!)
🚂 29+ *Perfect* Gifts for 2 Year Old Boys (That Our Toddlers Are Obsessed With)