This post contains affiliate links.
The most fun, creative summer bucket list for toddlers, including a free printable bucket list to print for yourself!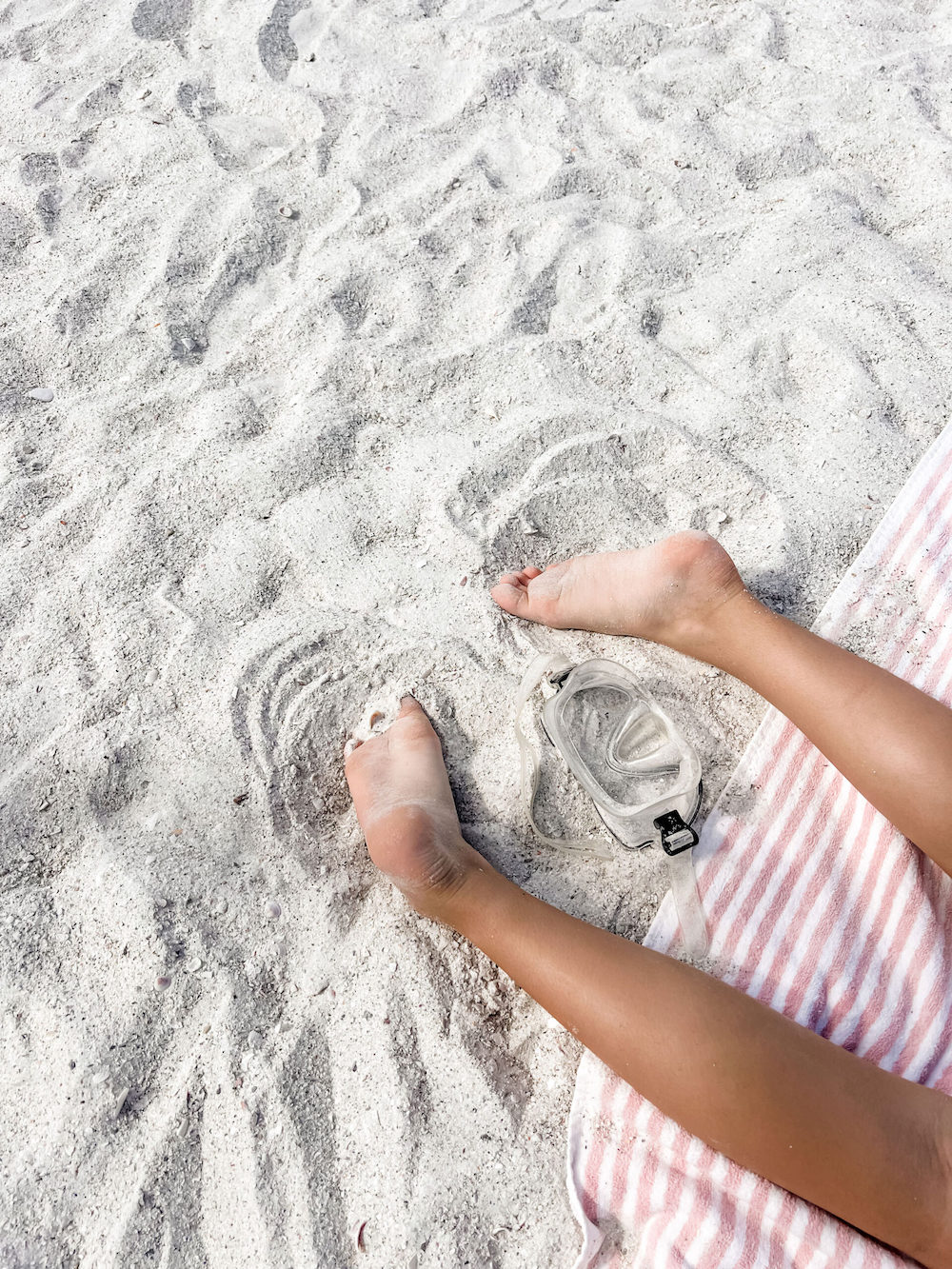 Are you a toddler mama, searching for a list of fun things to do with your little one as the weather gets warmer?
Then kick back and get comfy, because today, I'm sharing the absolute quintessential summer bucket list for toddlers, including a fun free printable bucket list that you can print out and check off as you go!
Let's dive in –
Grab your free summer bucket list for toddlers printable here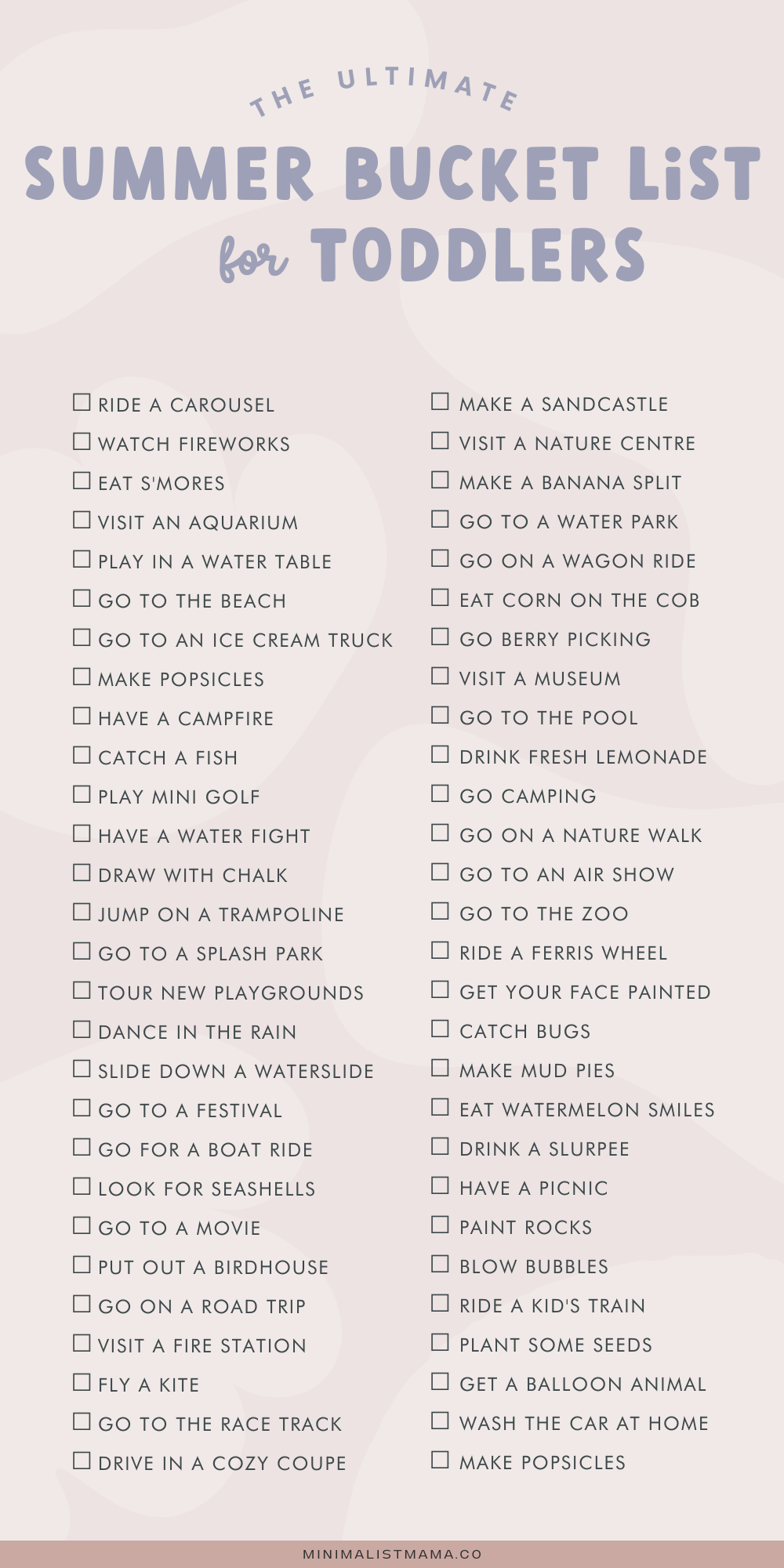 The Best Summer Bucket List for Toddlers
Without further ado, let's dive into this super fun summer bucket list of toddlers, chock fun of exciting, unique and super memorable activities to try with your toddler this summer:
01. Ride a carousel
The lights, the sounds, the cute little horsies – take a ride on a carousel and watch as the horses go up and down.
02. Watch fireworks
Do you live somewhere where it gets dark earlier on in the evening during the summer? If you do, check your local schedules – most likely on July 4th in the US or Canada Day in Canada – and see where you can bring your little one to catch one of these neat and colorful light shows.
03. Eat s'mores
Mmmm… there's just something about that classic, marshmallow-y goodness, isn't there?
Whether you have a little fire pit in your backyard, or you're at your favorite campground, trying this yummy, gooey summer snack is a must.
Though it's fun to learn how to roast marshmallows over an open fire with a stick, giving a toddler a hot tool just isn't safe quite yet, so let the adults handle the marshmallows, and only hand over the stacks once they're all assembled.
Don't forget the wet wipes!
04. Visit an aquarium
Does your toddler love ocean animals?
Whether it's asking to watch Finding Nemo for the thirteen thousandth time, or asking to go watch the fishies at the pet store – my son is *obsessed* with all things aquatic.
Though we don't have an aquarium in our city, we are planning a summer trip to the Vancouver aquarium, which I already know is going to be a huge hit!
05. Play in the water table
Sure, splashing around in a simple water table is loads of fun.
But, have you ever gotten your dad to rig your water table with this inexpensive fish tank water pump so that you have *unlimited* rain showers to play with like this brilliant mama did?
(Wondered about safety? Plug the water pump into an outdoor extension cord, and wrap it with electrical tape!)
06. Go to the beach
Whether your toddler is into splashing around in the water, or a bit more shy and only wants to get their toes wet, visiting a beach is such a fun experience to share with your kids.
Play in the sand, look for little creatures in the water, and watch as birds come and go.
Don't forget the sunscreen, umbrella and snacks!
07. Go to an ice cream truck
Head out for a yummy afternoon snack or sweet treat for dessert at a local ice cream truck.
If you're lucky, you may even be able to find something neat like soft serve swirled with two flavors, or a scoop n roll style ice cream spot.
08. Make popsicles
While it's no secret that there are certain recipes that are a bit tough to involve toddlers with, popsicles aren't one of them.
Try adding berries or chopped fruit and Greek yogurt to basic popsicle moulds, or pour in leftover smoothie for a yummy, sweet treat.
To make things even more exciting, give these fun dino popsicle molds a go!
09. Have a campfire
Does anything say summer more than the smell of last night's campfire on your clothes?
Share this quintessential summer smell with your toddler
10. Catch a fish
Take a trip to a pond or stream with a long-handled net and a jar and try to catch some minnows from the water, or go fishing with Dad or Grandpa and try your hand at catching a fish!
11. Play mini golf
Find a fun mini golf course and bring your toddler out to try their hand at putt putt.
Just keep in mind that they may not be able to make it through a whole 9 holes.
12. Have a water fight
While water guns are lots of fun for kids, toddlers may find the co-ordination and finger strength needed to be a bit challenging.
This summer, I'm going to give these super fun reusable water balloons a shot instead!
In order to fill them up, they just need to be submerged in a bucket of water, and gently squeezed open. The magnetic seal that goes through the middle opens like a coin purse and the balloon is filled with water!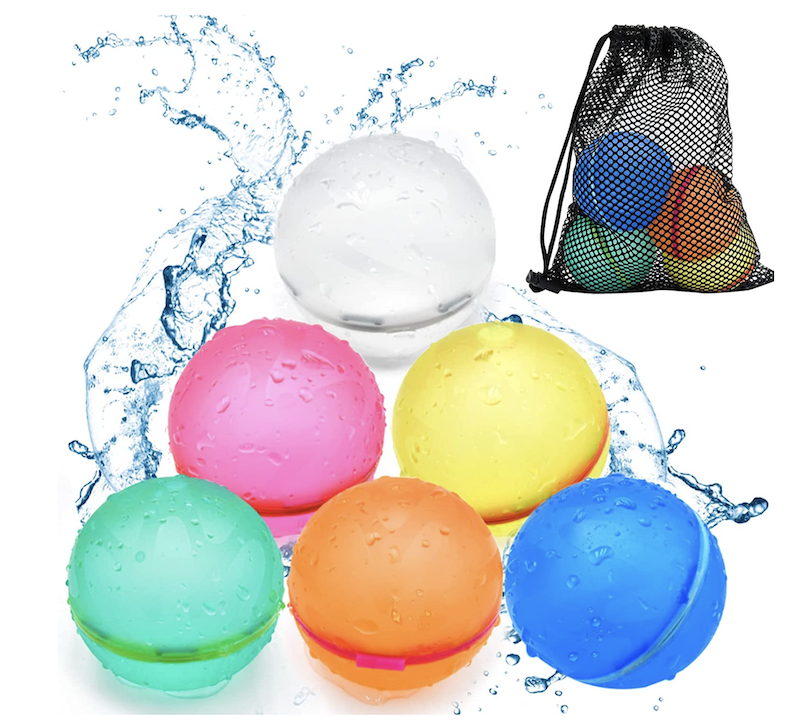 I can't wait to give these to my son this summer –
I'm sure he'll just love watching the water balloons 'pop' all over the deck and lawn, and I won't have to worry about real balloons popping –
(balloons are a choking hazard because the rubber can very easily get stuck on the inside of your little one's throat if swallowed).
13. Draw with chalk
Draw a hopscotch for your little one to jump through, or try drawing a large, simple picture like a flower or stars and have your child color them in.
These little chalk grips are great for helping toddlers learn how to grip the chalk, and it also prevents the chalk from breaking in half.
14. Jump on a trampoline
Bouncy, bouncy, bouncy, boing!
15. Go to the splash park
That cement can get a little slippery, so I always have my little one run around with wet shoes or rubber strapped sandals on so he has a bit of grip.
16. Tour different playgrounds
Some of my favorite ways to find new playgrounds is by following some of our local family fun Instagram accounts.
17. Run through the sprinkler
Scorching hot day? Head outside and run through the sprinkler to cool off.
This great little mat just hooks up to your garden hose, and then creates little spray fountains that your toddler will love running through.
18. Go to an outdoor festival
Take some time to research and plan out a visit to a fun festival in your area.
Some of our favorites are the Street Performer's festival, and a country music festival about an hour out of town.
19. Go for a boat ride
Get out on the open water and maybe even get up close and personal with a few ducks, if you're lucky.
Whether it's a local ferry ride or paddleboats at the park, your toddler will love exploring this new environment.
20. Try a freshly squeezed lemonade
Have you given your toddler a lemon or lime yet?
Get your toddler to try a new, sour flavour, and enjoy one of summer's best drinks by adding lemonade to your toddler's summer bucket list.
Little ones can get involved with squeezing lemons and stirring up their own batch of lemonade at home, or get one of those giant freshly squeezed lemonades at a local fair or festival.
21. Go camping
Whether you plan a family camping trip in a tent, trailer or just set up a little camp out in your backyard, camping is such a fun summer activity for your family to enjoy.
22. Go on a nature walk or hike
Hit the trails and explore a new park or hiking trail with your toddler this summer.
While you're on a nature walk, you can try pointing out and naming different animals or insects that you see, and different sounds that you hear.
One of the main reasons why I've sometimes opted out of going for a walk with my little one is the hassle of bringing out dog, because the leash he had would always yank on my arm and become such a distraction while trying to manage my busy toddler. I found this great little guide on choosing the best dog leash and it really helped!
23. Go to an air show
Does your little one love airplanes?
If you can find one close enough to where you live, they can be tons of fun!
There will usually be a number of airplanes that kids sit in (my son would go crazy for all the 'buttons'), as well as all of the fancy flying airplanes, too, of course.
24. Go to the zoo
Lions and tigers and bears –
How did I even make it this far without mentioning the zoo?!
This has definitely been one of my son's favorite things to do over the past year – so much so that we've even gone on a few road trips to visit zoos in other cities, and even visited the zoo in the freezing cold Canadian winter, too.
If your toddler loves visiting to the zoo, many have yearly passes that are pretty reasonably priced, so it's definitely something to look into.
25. Ride a ferris wheel
Up, up, up we go!
Point out all of the things you see from way on up high on the ferris wheel, and have fun climbing up towards the clouds in a ferris wheel.
Don't forget to snap a photo of you and your little one on the ferris wheel – it really is a picture perfect photo opp!
26. Get your face painted
Is your toddler more of a butterfly kind of gal, or froggy kind of guy?
Be sure to add face painting to your summer bucket list for toddlers today!
27. Go on a road trip
Hit the open road this summer and explore somewhere new – and be sure to check out my round-up of the best toddler toys for road trips, while you're at it!
28. Go to an outdoor pool
Outdoor pools are one of my toddler's favorite summer activities, so I've invested in a few one-piece swimsuits for him (it's worth it to us).
Did you know that the fabric many brands use actually has SPF in it, so you don't have to worry about re-applying sunscreen as often?
29. Eat a giant slice of watermelon
Is there anything that screams summer more than a giant watermelon smile?
30. Drink a slurpee
Okay, maybe not a whole slurpee, but at least try a few sips!
Many convenience stores run fun promotions throughout the summer, too, like "anything but a cup" days, where you can fill any container you bring full of Slurpee for one low price – these could be extra fun too.
31. Have a picnic
Put together some mini sandwiches and some fruit and head out to a park for a fun picnic in the sun.
32. Paint rocks
If there's one activity my two-year-old is totally obsessed with right now, it's painting.
Though we only use washable paints, it's a pretty messy activity, so when the weather's nice and warm, take it outside!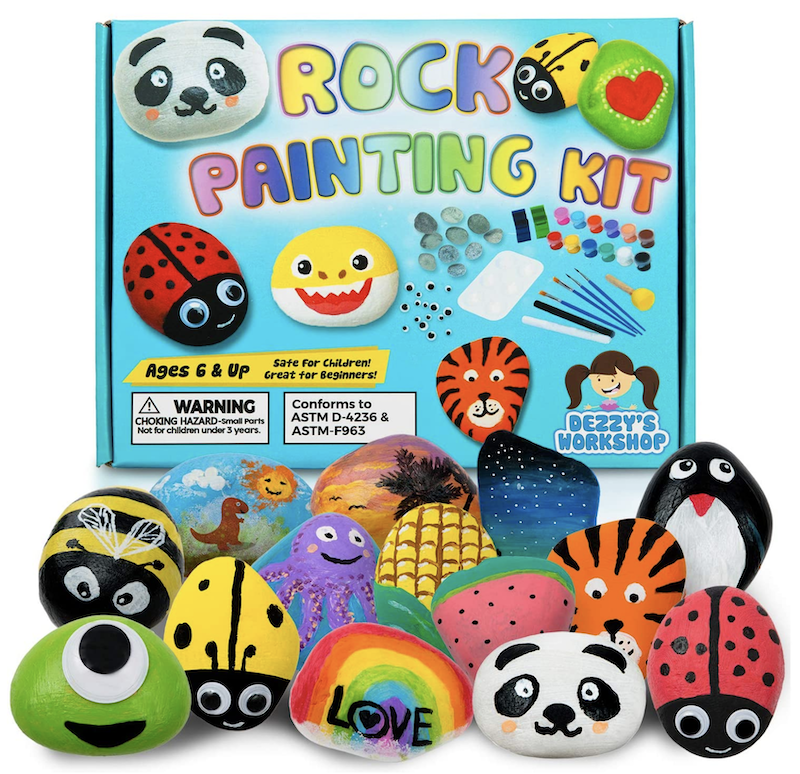 Switching the canvas from paper to rocks gives your little one a sensory experience, and keeps things interesting.
At their age, they won't be able to turn their rocks into dinos or ladybugs, so try something more simple instead like getting them to paint each rock in one solid color, and work on naming and matching colors instead.
If you've already got some washable paints and a few paint brushes at home, dig them out – if not, this cute little rock painting kit includes everything you'll need.
33. Blow bubbles
Definitely one of my toddler's favorite activities – bubbles!
But, as any toddler mom knows – not every set of bubbles is created equally.
This awesome little set of Fubbles is a spill-free and the the bubble wands are easy for little hands to maneuver!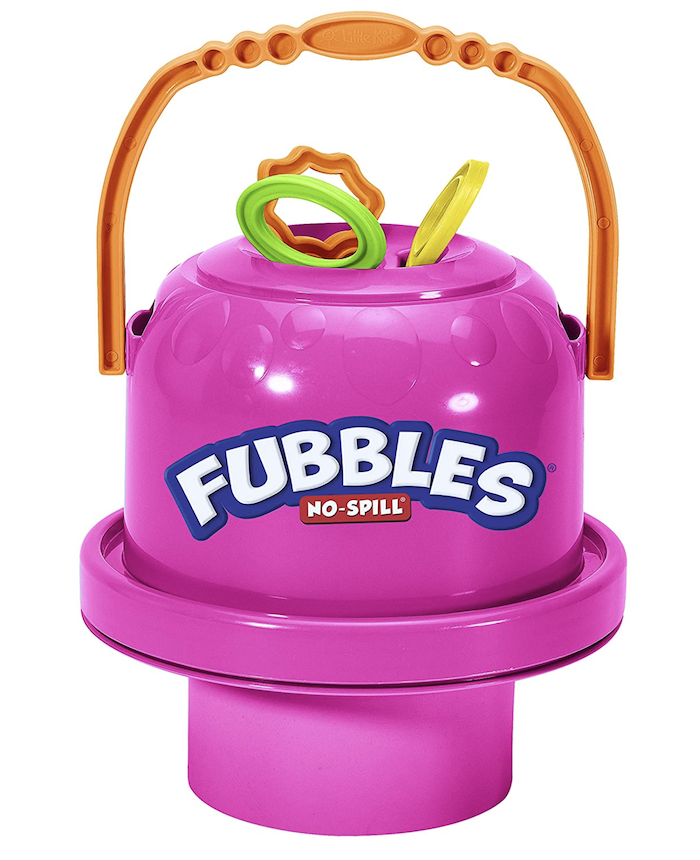 34. Ride a train
Chugga chugga, choo choo! Does a park or zoo near you have a kid's train?
35. Plant some seeds
Pick up a mini watering can, an envelope of seeds, some potting soil and a few small containers and get dirty with your little one, planting the seeds and watering them as you go (or grab this cute little aesthetic gardening set).
Before you know it, your little seeds will be sprouting – what a fun lesson for your little!
36. Get a balloon animal
Balloon animals are fun, especially when your toddler gets old enough to request their favorite animal!
But, be sure to keep a close eye on your toddler while they have their balloon animal (I would take it away from them while you're driving in the car), because balloon pieces can be a choking hazard if the balloon pops.
37. Wash the car
Give that car a suds up, and a rinse down – a bucket full of soap, some giant sponges and a garden hose are all you need for this memorable addition to the summer bucket list for toddlers.
38. Go berry picking
Head out of the city to visit your local u-pick berry patch for a tasty trip.
To make things even yummier, stop for some whipping cream and angel food cake on the way home, and build 'strawberry shortcake' stacks for dessert.
39. Visit a museum
And be sure to be on the look out for free admission days!
40. Go to a theme park
Is there anything more worthy of being added to a summer bucket list for toddlers than a day trip to a theme park!?
Ride the kiddie coaster at an amusement park, or step back in time at a historic site in your city.
41. Look for seashells
Search for seashells or collect rocks on the beach, and while you're at it, take the time to describe the different textures, shapes, colors and sizes of each of them to help build your child's vocabulary, too.
42. Go to a movie
Here's another great rainy day to-do for the summer – check local listings for matinee showings at your local movie theatre, or see if you can find a special discounted show time during the week to save a few dollars.
43. Make a birdhouse
Have you ever noticed those mini birdhouses that they've got at the dollar store?
There are all different shapes and sizes, and they're typically in an unfinished wood that's just screaming to be painted.
Grab some birdseed while you're out, and set aside some time to put your painted birdhouse out in the yard so your toddler can watch the birdies come by.
44. Catch bugs
This neat little bug vacuum sucks up bugs with the squeeze of a button, and then temporarily traps them in a little compartment so that your little one can get a close look at them.
It's recommended for kids 3 and older, but with a bit of help from an older sibling or a parent, I'm sure your little one would be off to the races.
This little ant farm is another great little activity – have your little one sit out in the sunshine watch as the ants carve back and forth through the tunnels.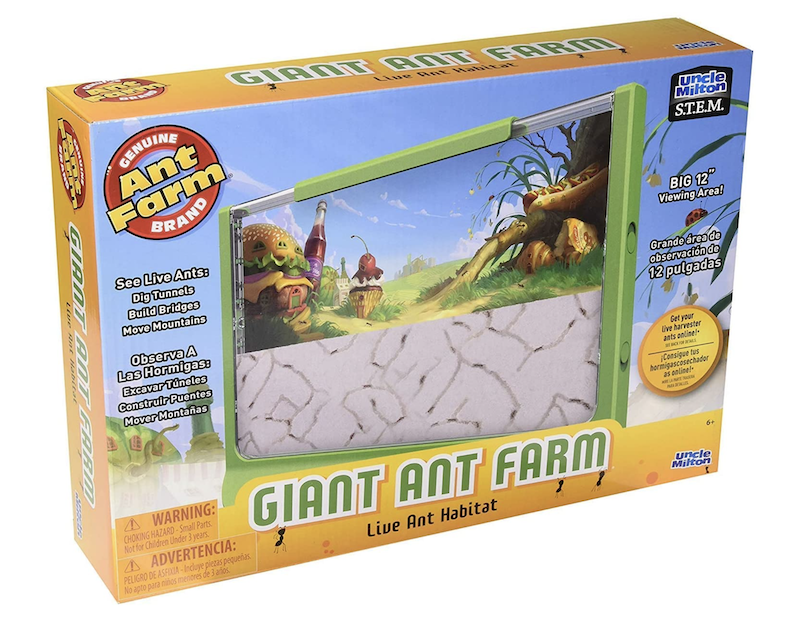 45. Try cotton candy
Get a good taste of this yummy, whimsical treat that's usually found at summer fairs and festivals – bonus points if you can find somewhere that it's been freshly spun so you can watch the magic happen!
46. Fly a kite
Windy weather in the forecast?
Go fly a kite!
47. Go to the race track
Whether you go to see the horses racing around the track, or head to the car races, checking out a new venue and taking in all of the sights and sounds is something new and fun to try this summer.
48. Make a sandcastle
Find a sandy beach or sandbox and build a magical castle in the sand.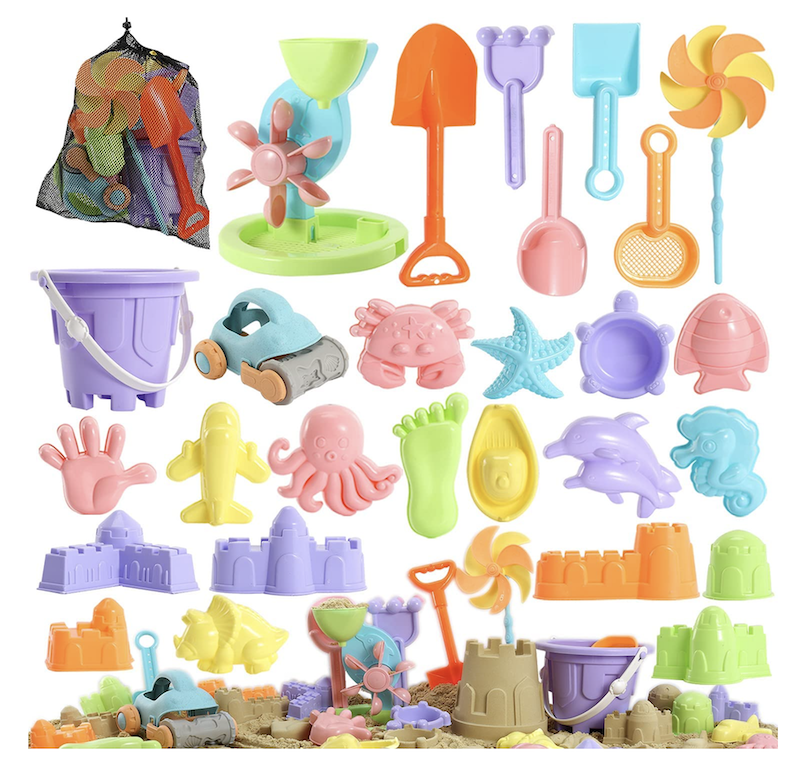 Or, set up a little plastic kiddie pool, dump some kinetic sand in there and try this activity at home.
49. Visit a nature centre
Take a peek online before you go to see if there is any fun programming, or drop-in classes your child could take part in.
50. Visit a fire station
And if you're lucky, you might even get to honk the horn!
51. Make a banana split
Extra sprinkles, please!
(But skip the marshmallows for now, as they can be a choking hazard for young kids).
52. Go to an outdoor concert
There's nothing like listening to live music in the warm summer air. Check out local listings for music festivals or performances in your area.
Depending on the venue, you may want to bring a pair of these noise-cancelling earmuffs.
53. Visit a farmer's market
Many cities will have year long, farmers markets, but often times there will also be specific out for markets that are only open during the summer.
Our community has a summer farmers market on Monday nights just a few blocks from our home that includes live music and fun food trucks.
If you haven't already been, you definitely need to add it to your toddlers summer bucket list.
54. Make mud pies
What toddler doesn't like to get their hands dirty?
To make mud pies, simply add a few cups of mud to a small bucket, pour in a bit of water, then mix it up and form it into "pies" – or watch this quick mud pie tutorial by YouTuber Caleb Kids Show.
55. Visit grandparents
Does your extended family live in a different city?
Add a family visit to your toddler's summer bucket list.
56. Dance in the rain
It's raining, it's pouring, the toddler is… dancing!
57. Eat corn on the cob
For something different, prepare a few different toppings, like cotija or feta cheese, some freshly cut herbs like dill, parsley or cilantro, or even a smoked or flavoured salt and get your toddler involved by letting them sprinkle them the toppings of their corn and trying all the different flavours.
58. Go to a baseball game
Batter up! Go cheer for the home team and experience the cheers and crowds.
That's a Wrap on our Summer Bucket List for Toddlers
Whether you have your dream vacation planned this summer, or just stick around town and try a few of these activities, I hope I've inspired you to add a few to your summer bucket list for toddlers and gotten you excited to make memories with your little one this year.
Still searching for more fun activities?
If your little one is in the older half of the toddler age bracket, this cute set of If You Give a Pig a Party free printables from 3 Boys and a Dog is great for a rainy day and includes things like color matching, counting games and an easy paper bag puppet to make with your child!
Or, check out this great little list of Labour Day Activities for Toddlers over on the Thrive At Home Central blog.
Read Next:
🏖️ 21+ *Very Aesthetic* Cozy Coupe Makeover Ideas (That You Can DIY!)
🏖️ 29+ *Perfect* Gifts for 2 Year Old Boys (That Our Toddlers Are Obsessed With)