This post contains affiliate links.
Trying to come up with the *perfect* second pregnancy announcement can be so much fun. Today, we're sharing all of our favorite ideas for a sibling pregnancy announcement to get you inspired.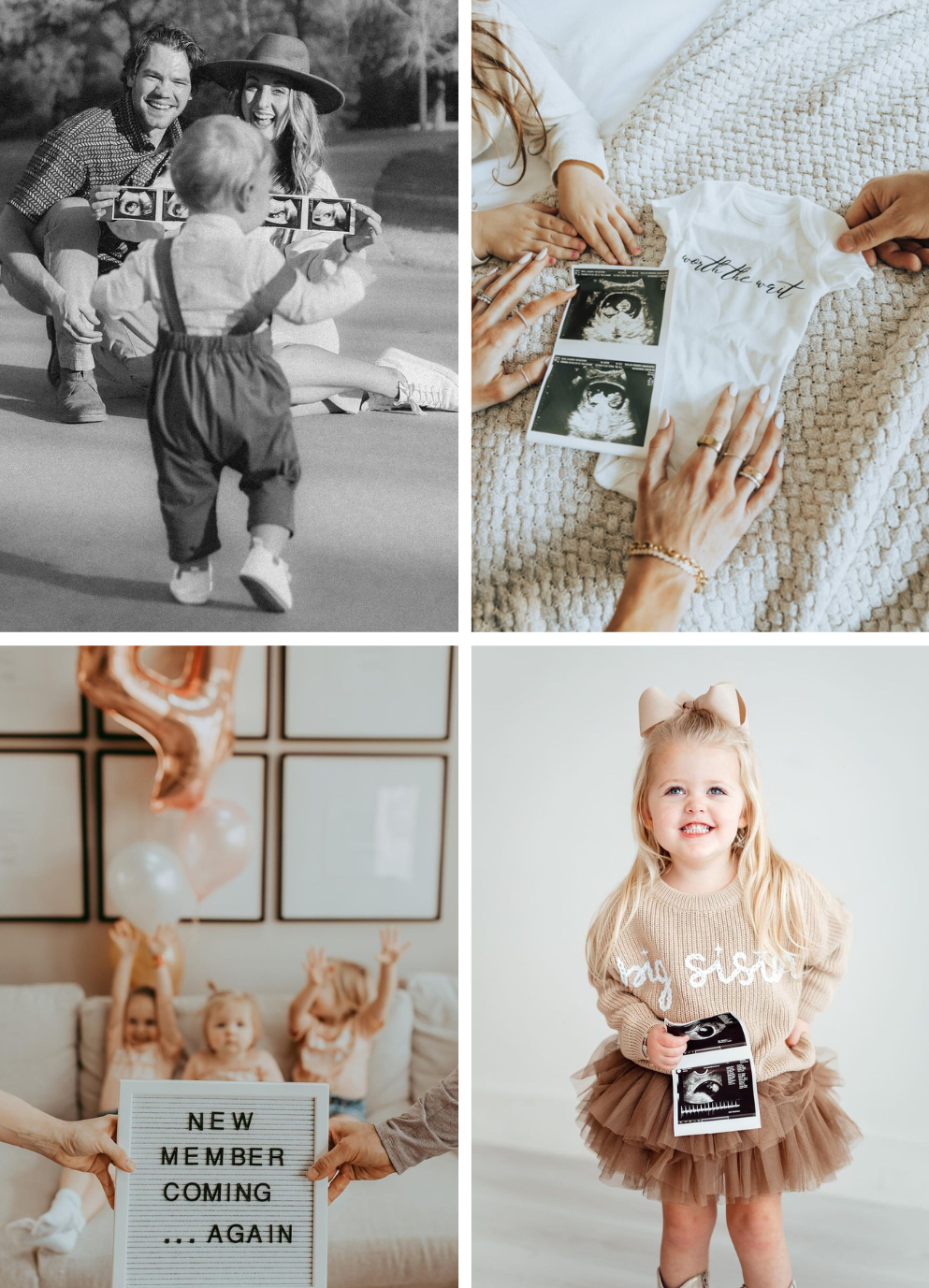 Can you believe it?! Your little one is going to be a big sister or big brother. Getting your older child involved in a sibling pregnancy announcement is the cutest way to make them feel proud of your growing family.
Disney Castle Sibling Pregnancy Announcement
Expecting a new little prince or princess?
Why not tell the world about it with a beautiful photo in front of a Disney castle?
A unique way to involve the older sibling is to allow them to be the one holding your ultrasound photo.
For more Disney pregnancy announcements and quotes check out this article next!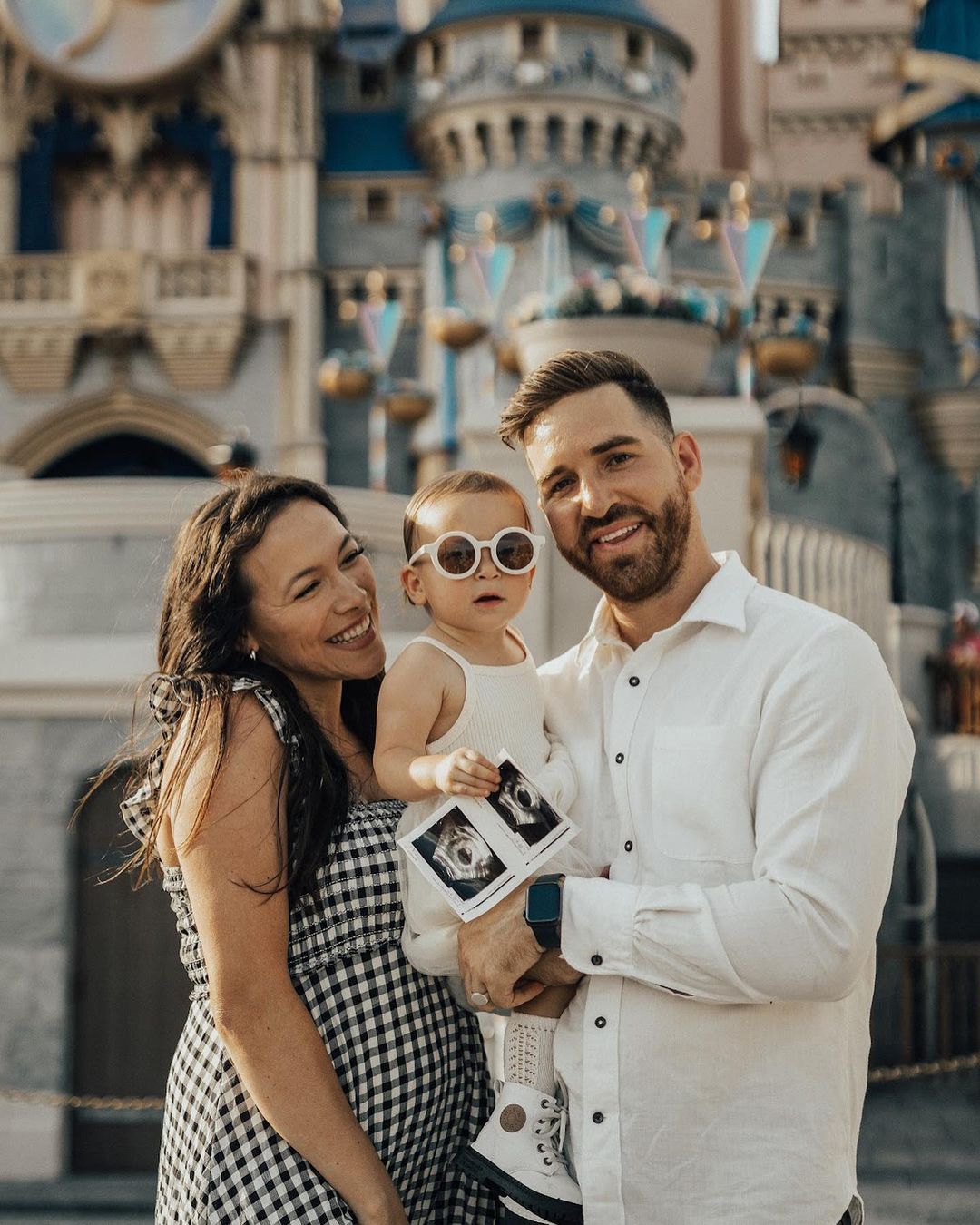 Sibling With Sonogram Announcement Idea
A sonogram photo is a wonderful way to tell your loved ones that there's a new family member on the way! Have your first born hold up the image of their new sibling, or hold it in front for them so they can concentrate on being CUTE.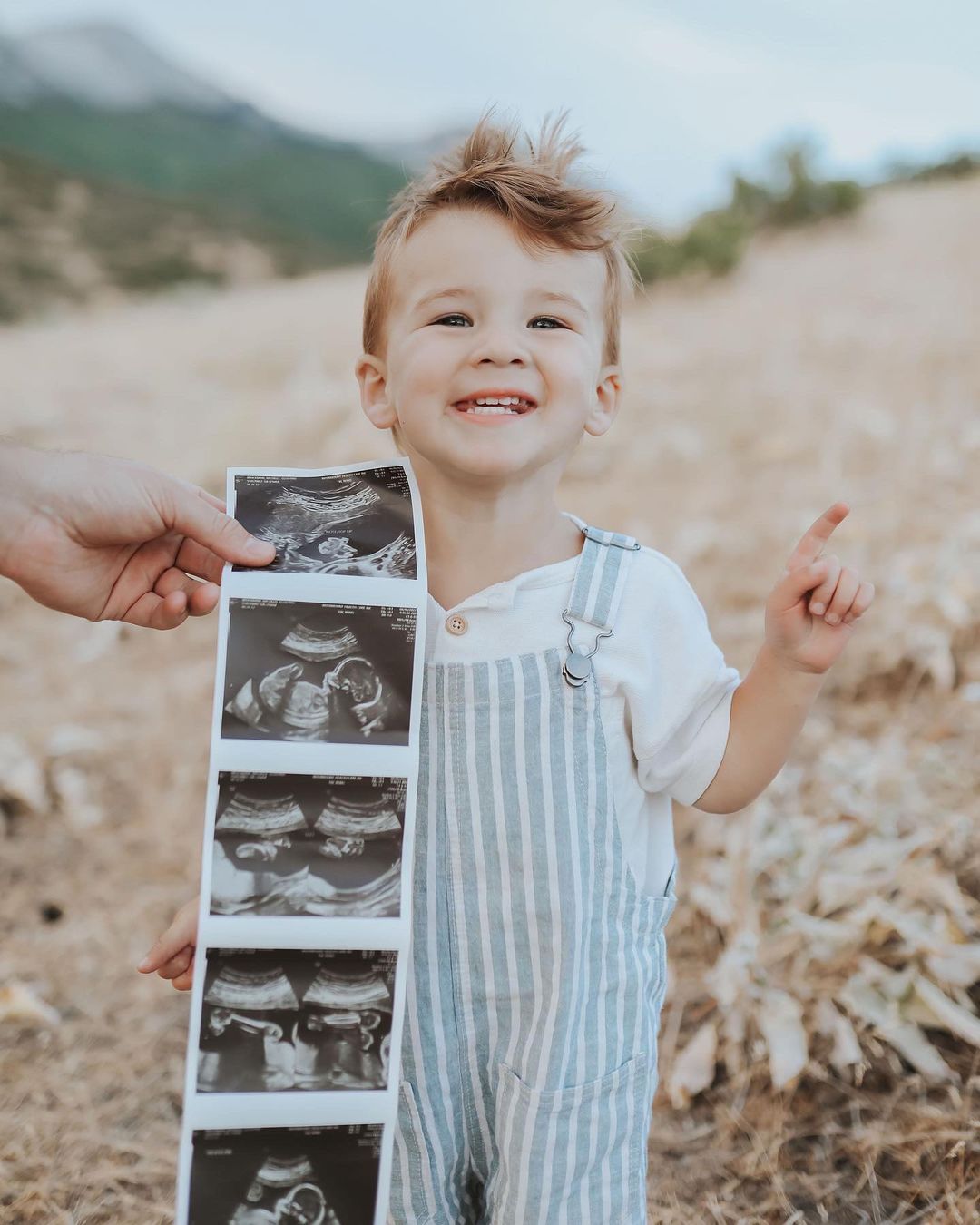 Fun at the Fair Sibling Pregnancy Announcement
Another great way to share your special news is finding a unique and fun location like a fair or amusement park. A location like this is a great way to add some playfulness into your announcement photo.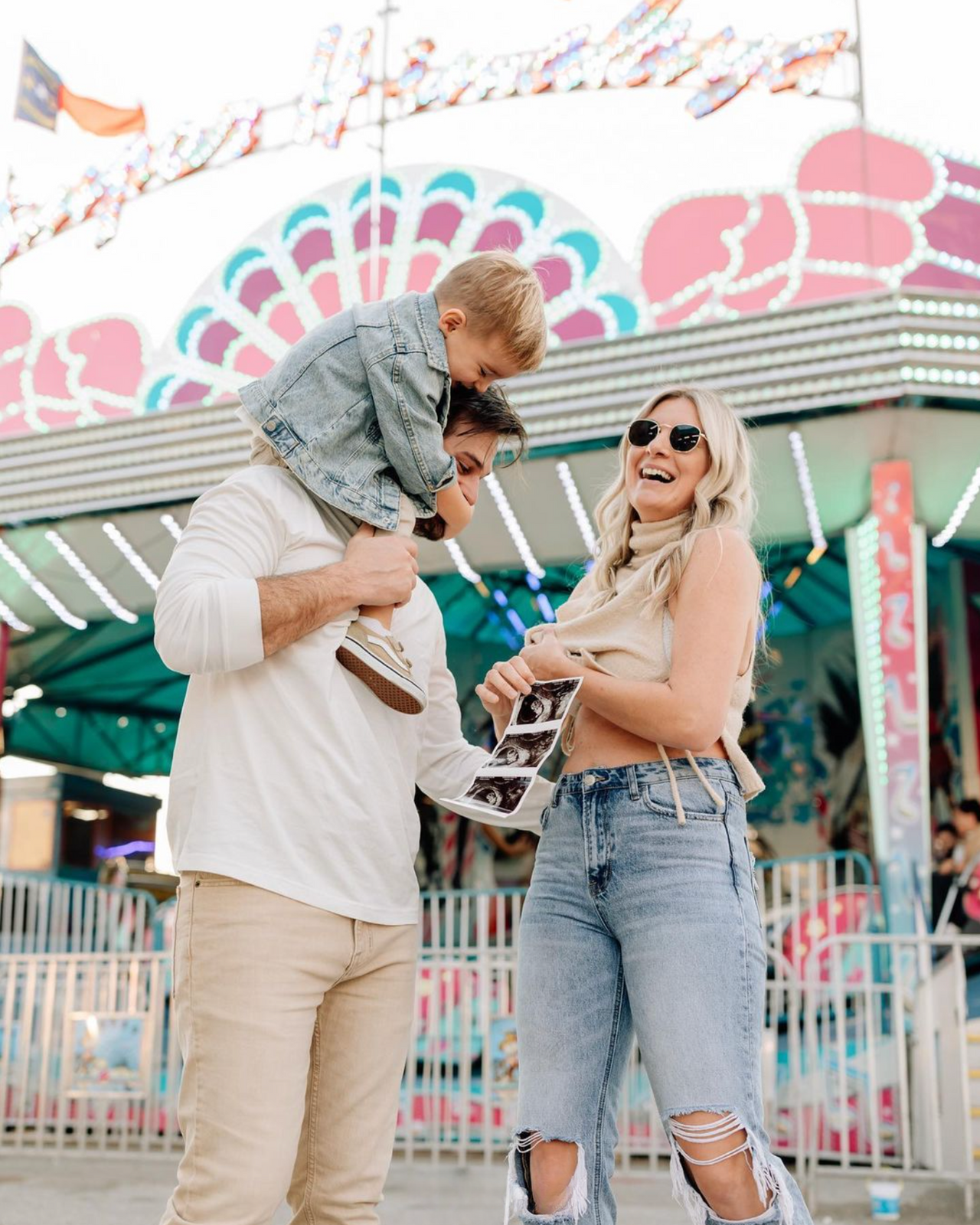 Blurred Family With Sonogram In Focus
A cute way to share your exciting news is to hold out your ultrasound so it's in focus and share a smootch with your partner while you hold your kids. If you have a tripod at home, set it up with one person first to make sure the right parts are in focus, then jump in the shot with your kids!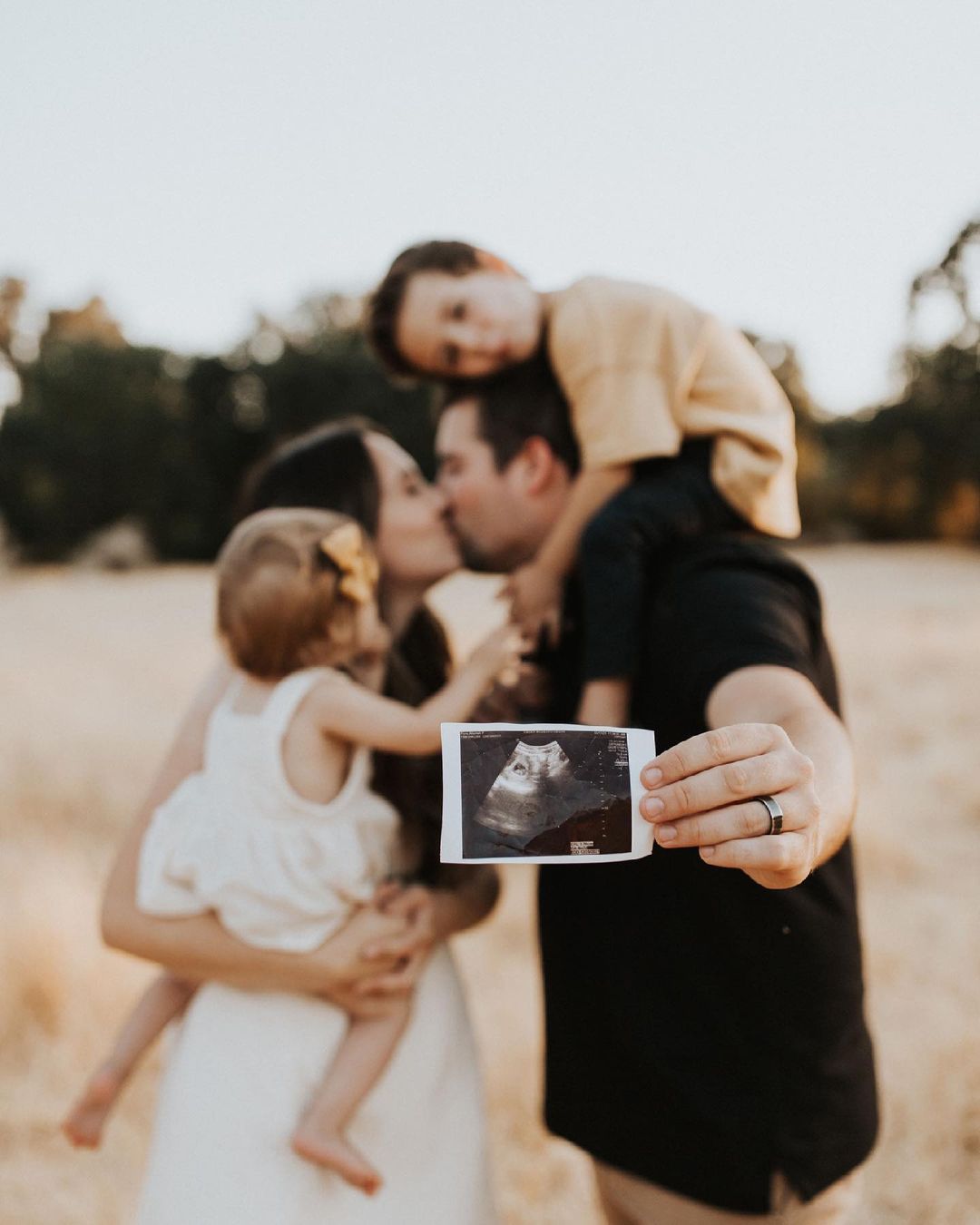 Siblings Playing And Baby Sonogram Pregnancy Announcement
Letting your little ones play and rough house is such an adorable way to share your big news in a photo op.
Use your ultrasound photo and a positive pregnancy test as props to get your kids involved with your big announcement.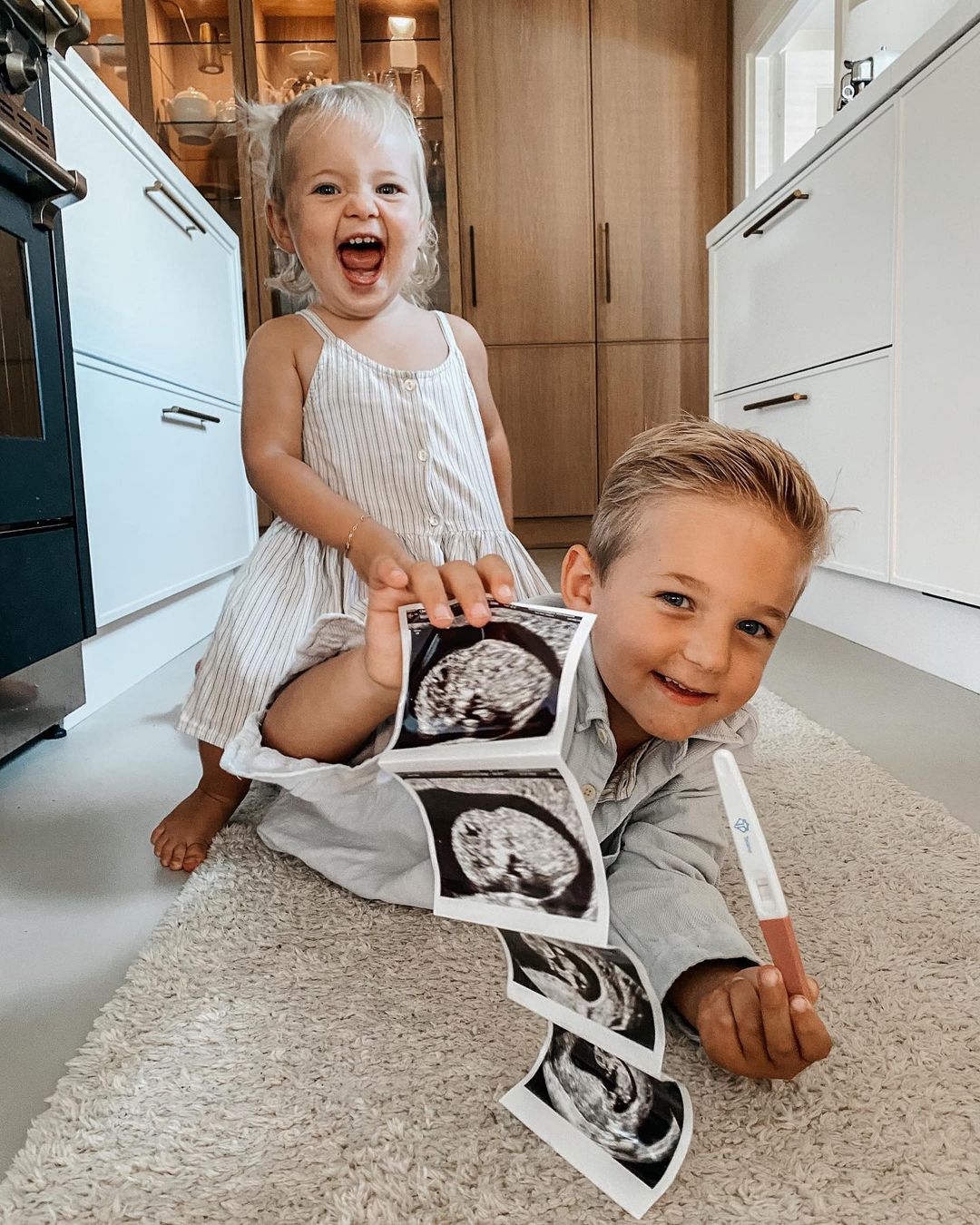 Big Brother Clothing Pregnancy Announcement
If you're looking for the perfect way to share your pregnancy news, getting the whole family involved in your big reveal is a great idea. You can find a sweet monogrammed sweater or shirt like this for your older child to allow them to break the news!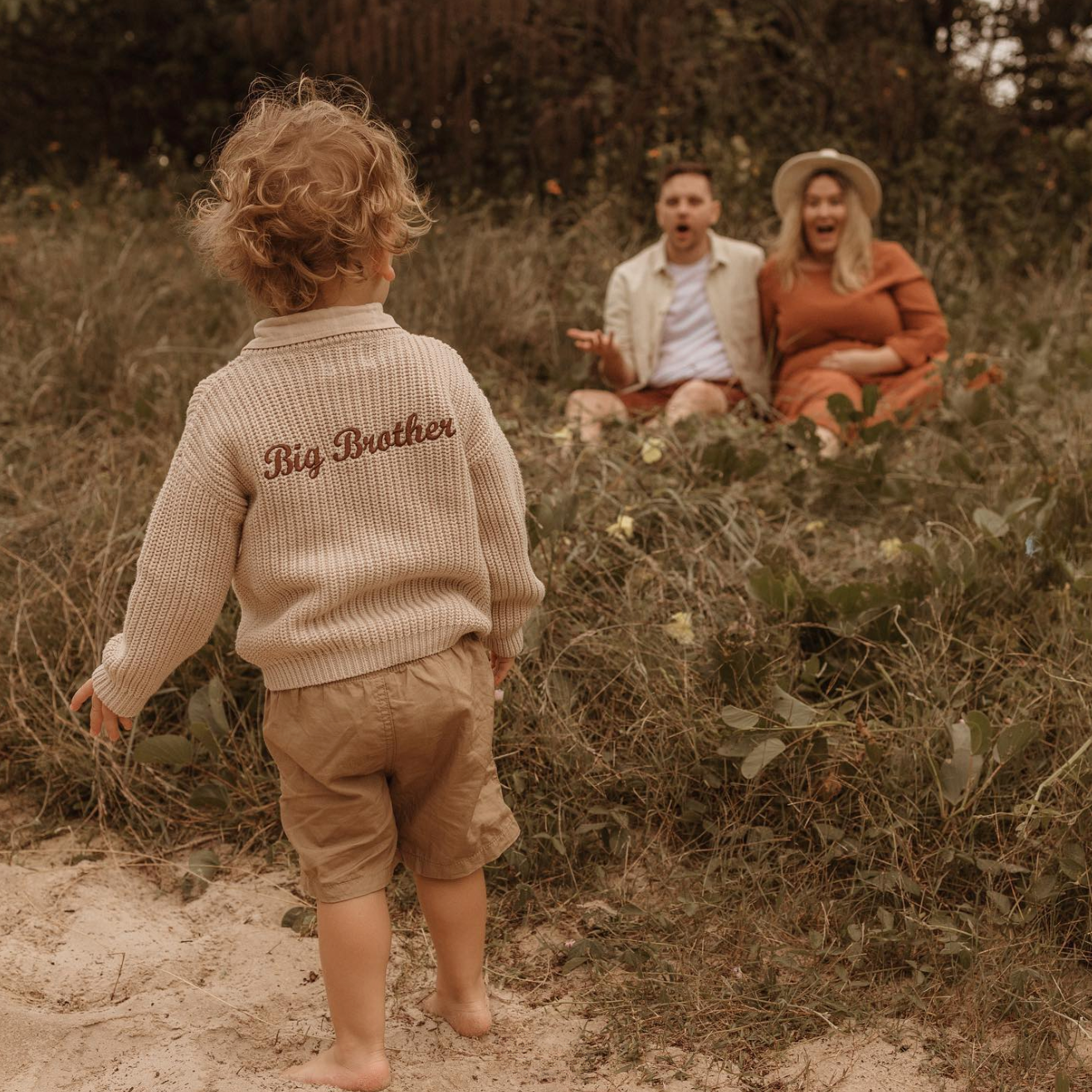 Oh Baby Balloon Sibling Announcement
Staging a fun little photo shoot like this with balloons at home is a totally cute way to involve your older child in breaking the news. If you can't find disco balls, head to your nearest party supply store and see if any other props delight you!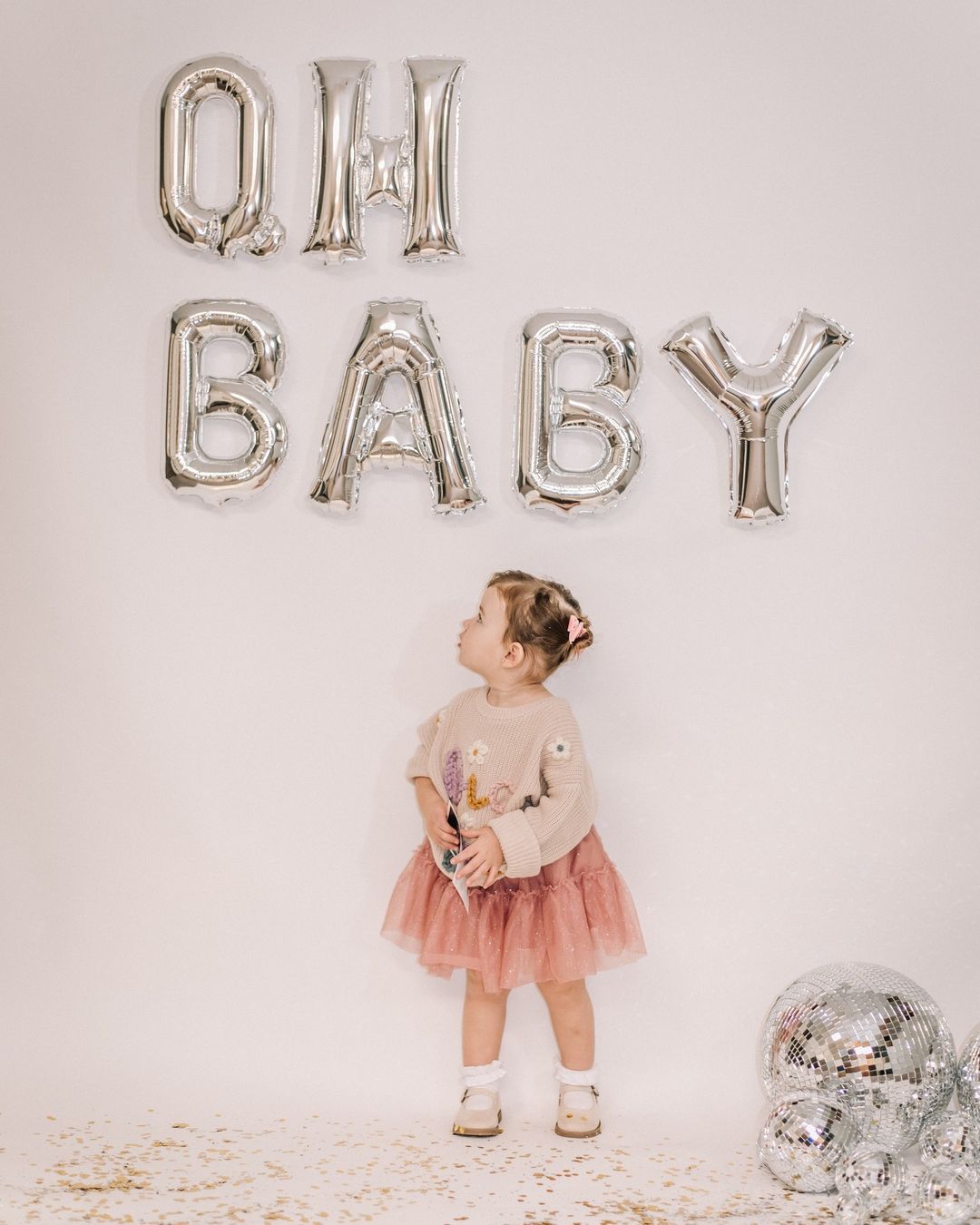 Get the look:

Sibling Belly Kiss Pregnancy Announcement
Is your older child excited to be a new big brother or big sister? Getting a photo of them kissing your bump is a beautiful idea. The closer you are to your due date with your new baby, the bigger your gorgeous baby bump is going to get.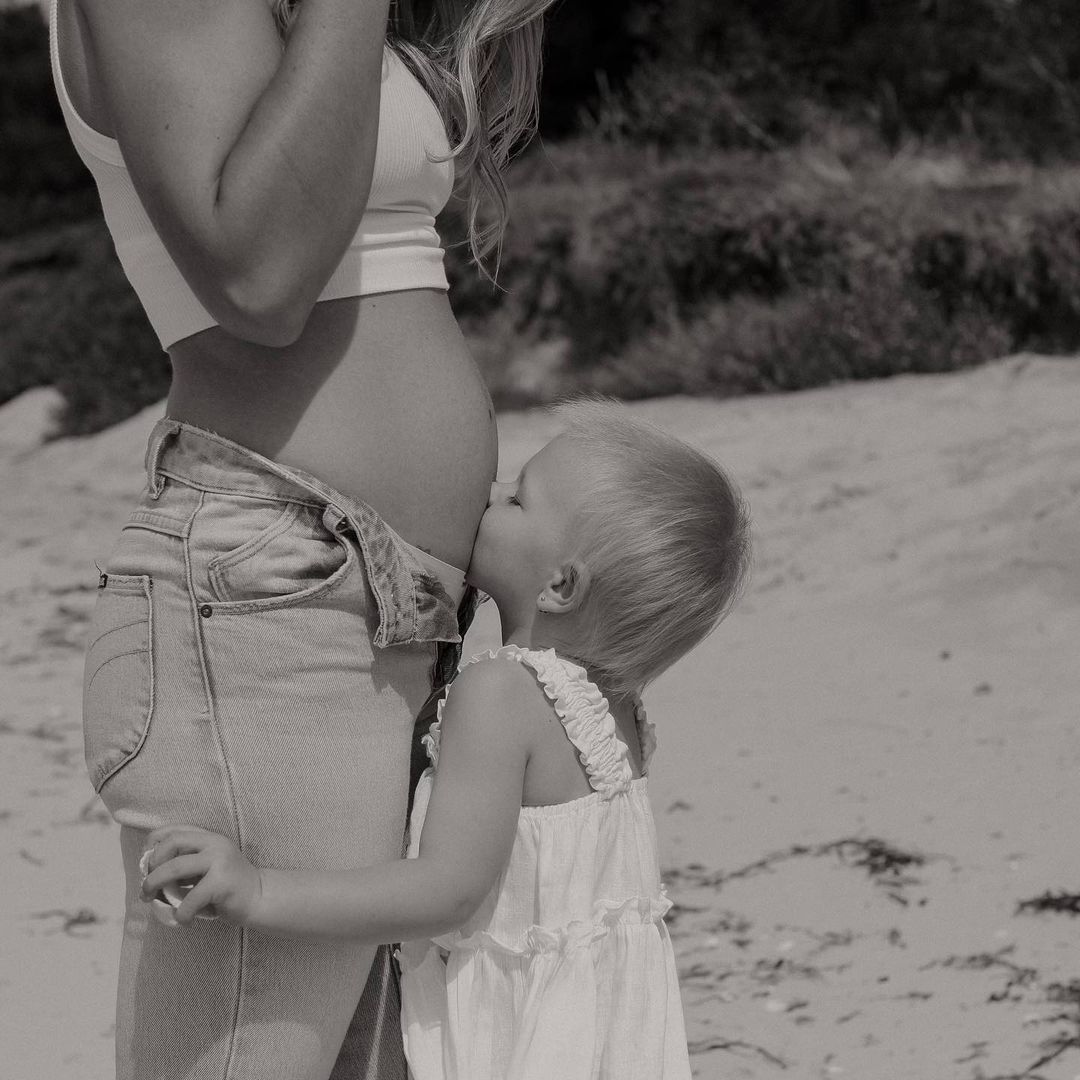 Family With Ultrasound Announcement
A charming natural landscape makes for a beautiful backdrop. Having your backdrop out of focus also helps keep the spotlight on the announcement you're making.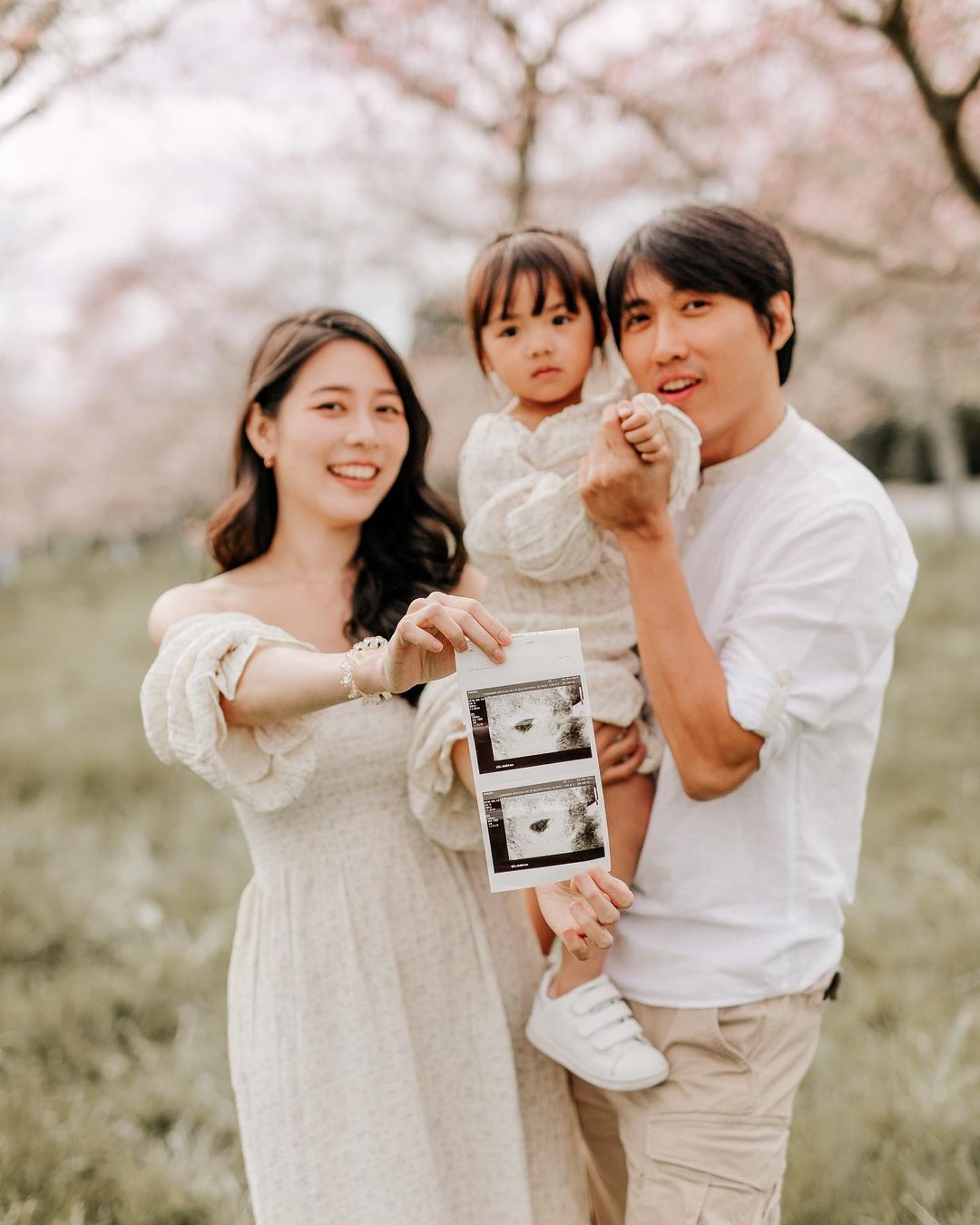 Tackle Daddy Pregnancy Announcement
You could use your ultrasound photo or even a positive pregnancy test to help announce your only child is becoming a big brother or big sister.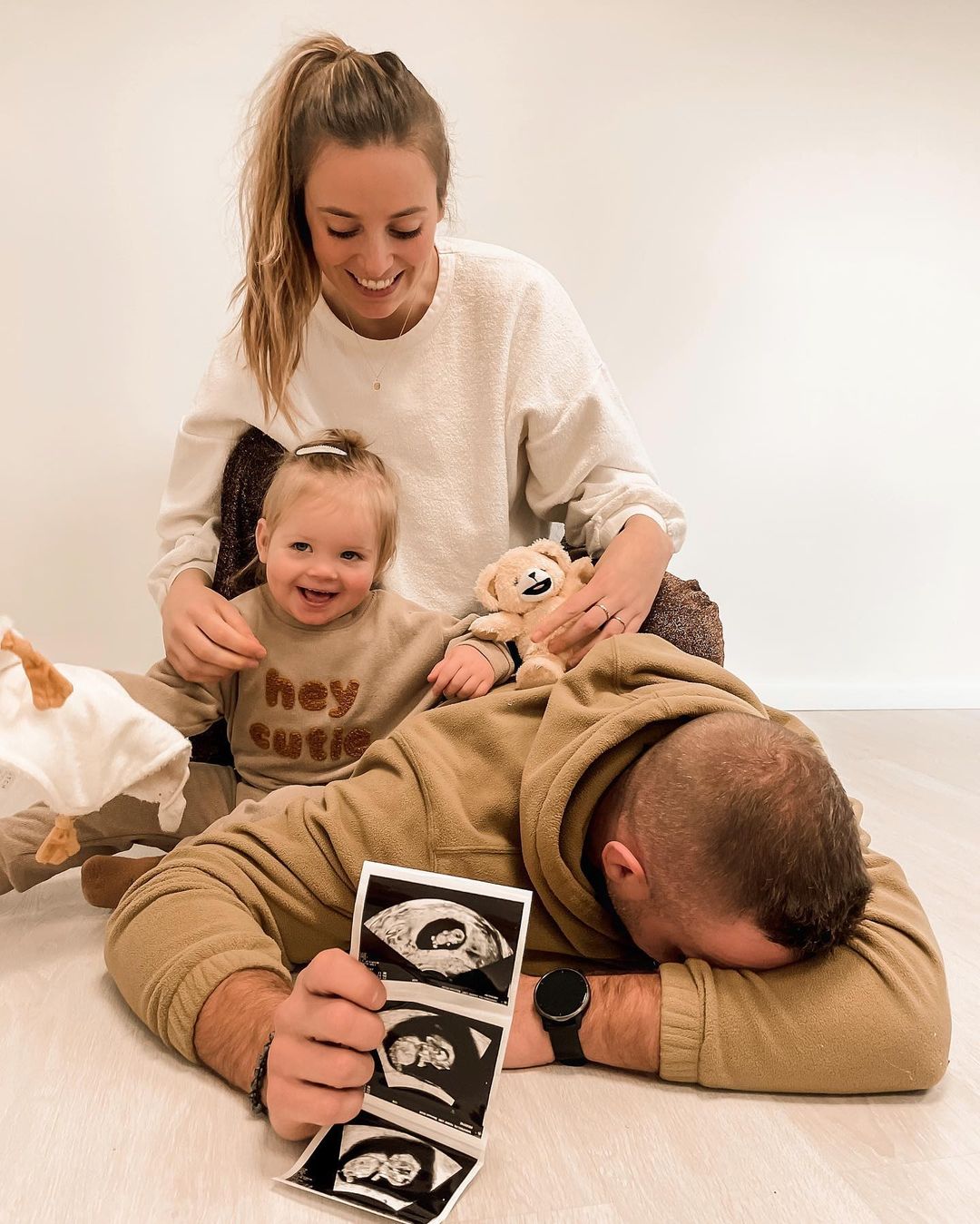 Sibling Letter Board Pregnancy Announcement
If you have a letter board or even a small chalk board at home, it can make a great prop to help with your big announcement. For more creative ideas using a letter board to announce your new family member check out this whole article on letter board pregnancy announcements.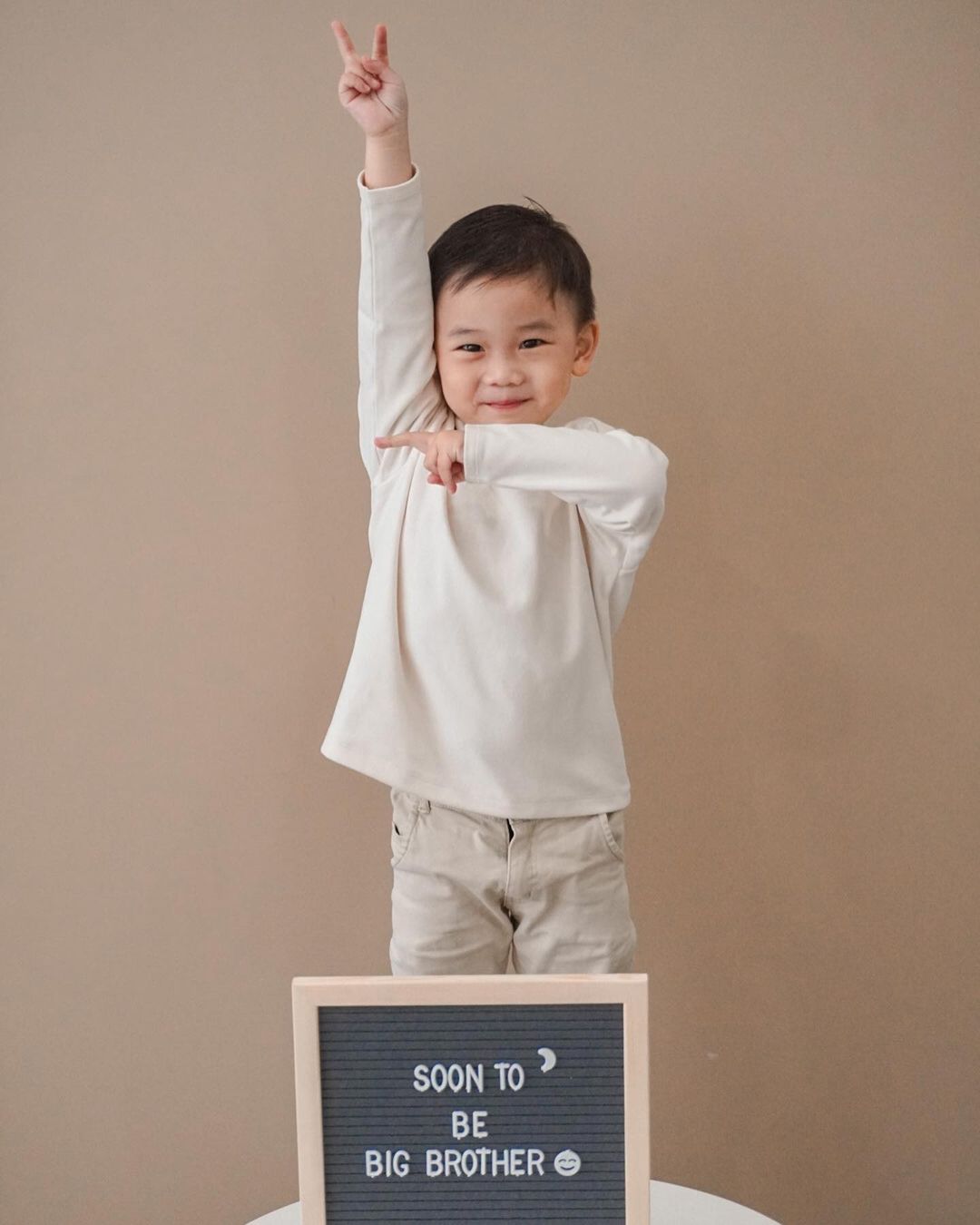 Sweet Family Cuddle With Ultrasound
Pick up your older children and share a kiss with your partner. It's such a sweet photo idea to share your good news with friends and family members.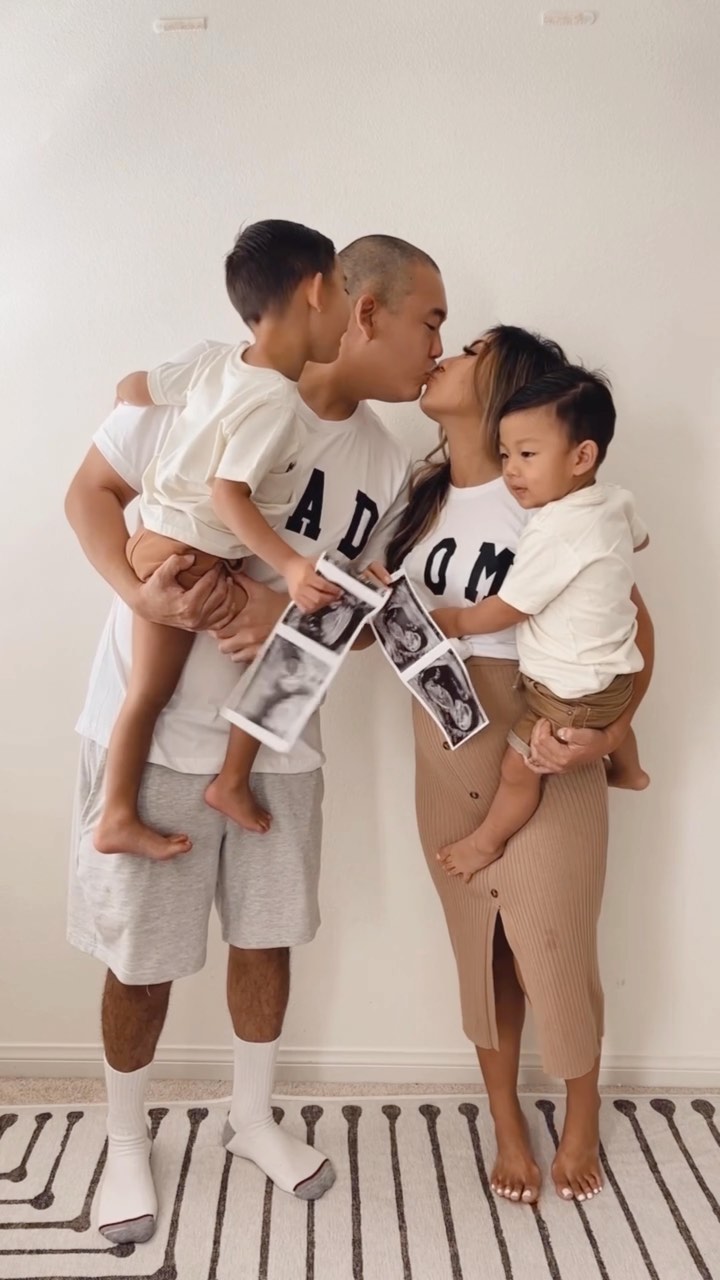 Baby Number One Announcing Baby Number Two
Having your first baby help announce their new sibling is a fun way to create a unique announcement. A photo set up like this is silly and fun, especially if your first born is still quite young and putting everything in his mouth.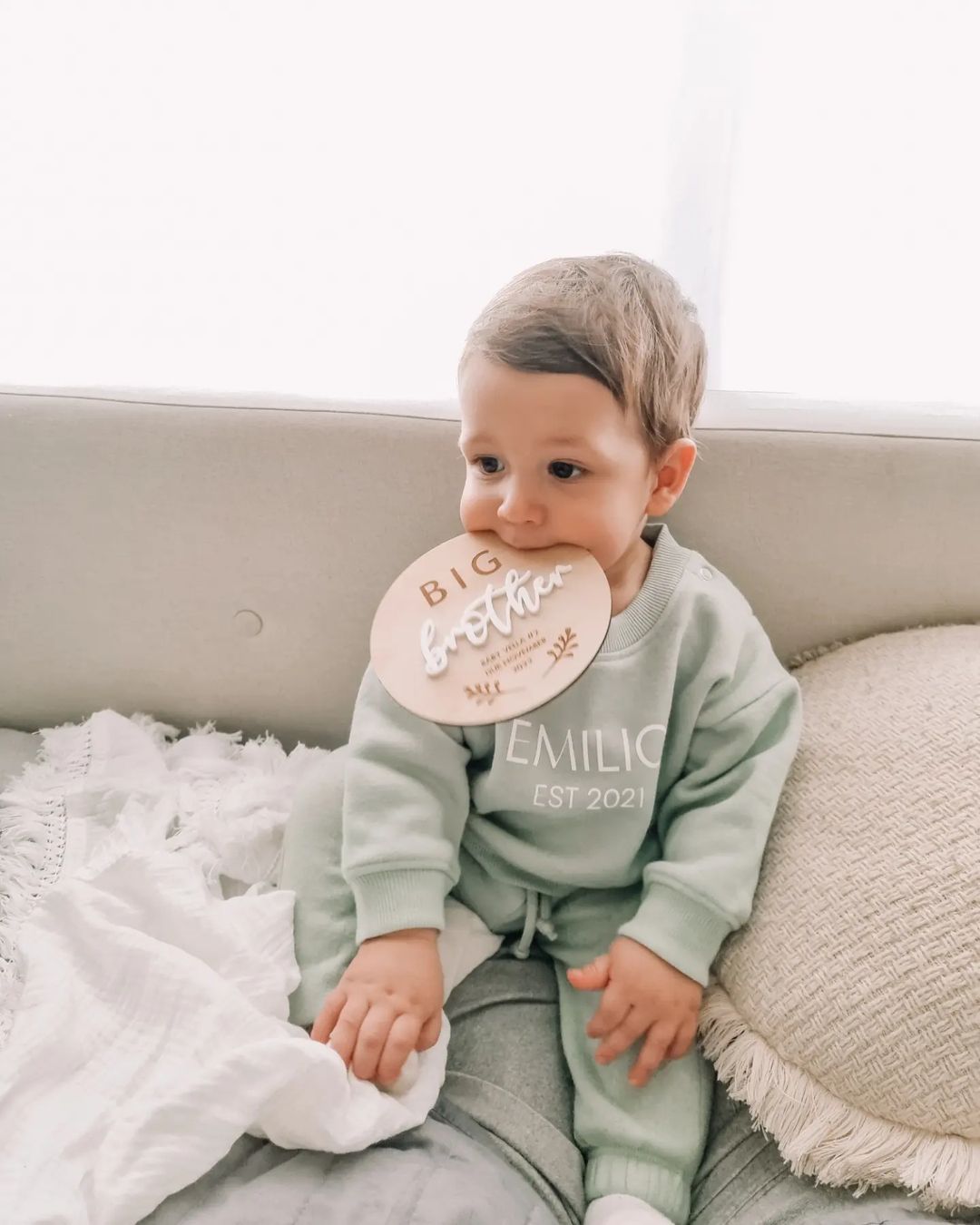 Big Sister Sweater Announcement
Another fun idea to announce your new addition is to put your older child in a cute big sister or big brother outfit and let them hold your ultrasound on their own!
Your first born is going to be so proud to start helping with your new little addition and that starts now with this fun photo idea.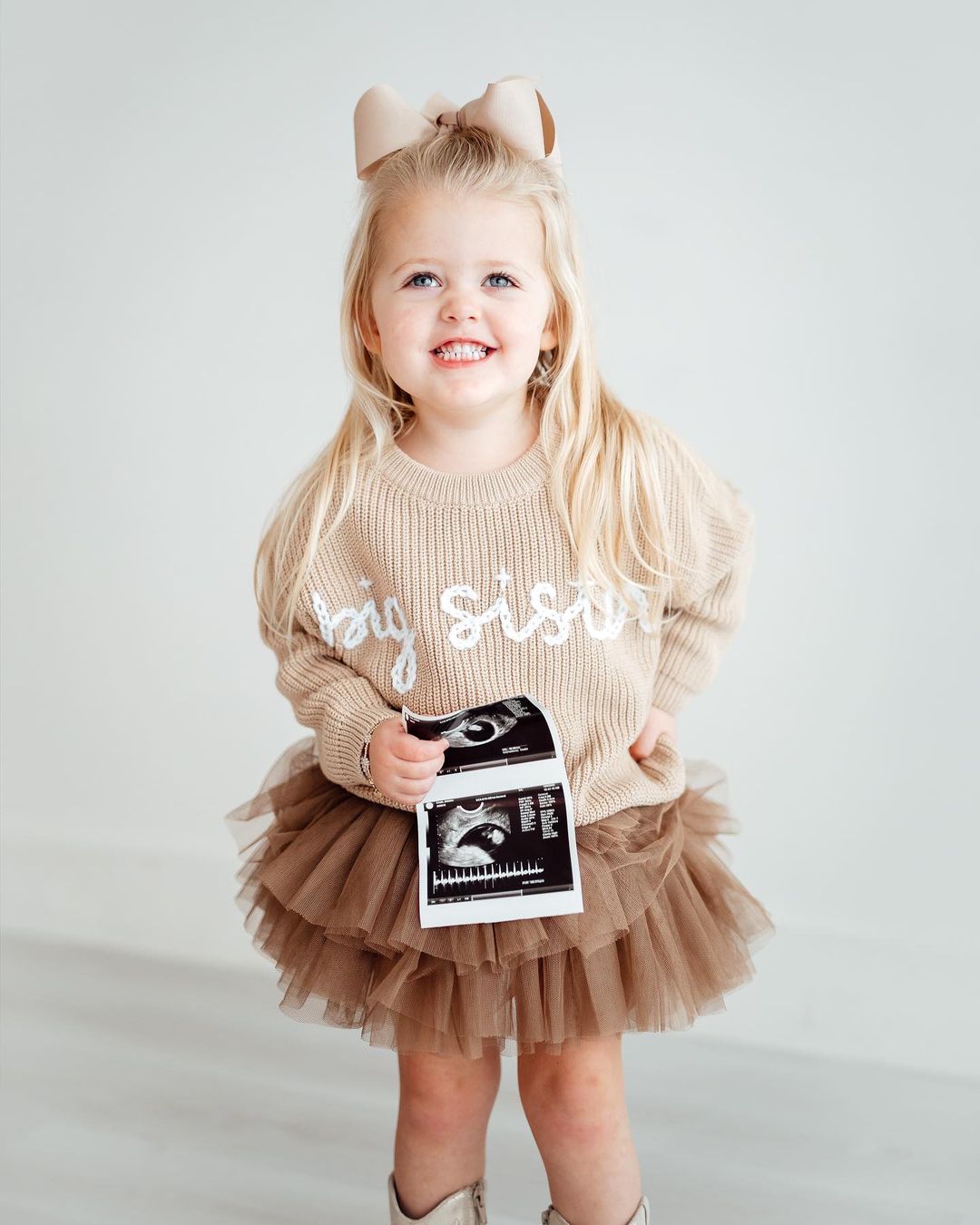 Bump Kiss Pregnancy Announcement
Neutral tones and trail paths in the fall are a beautiful way to capture your family's special moments. Thinking about your photo environment and its color palate can help you craft the perfect outfit choices for your family photos.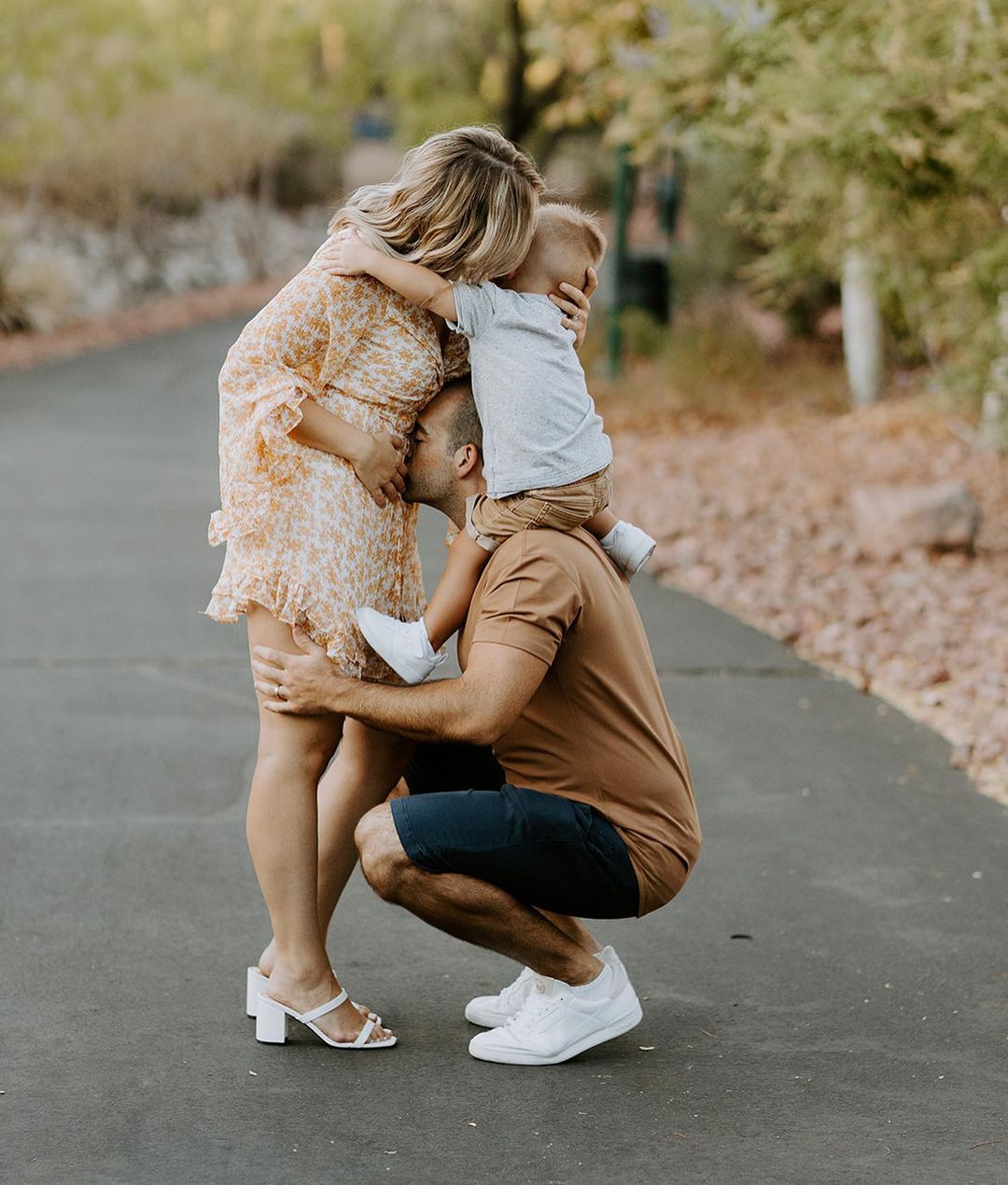 B Is For Baby – Onesie Announcement
A gorgeous field can be the perfect backdrop for your announcement. Can't get your older child to cooperate and hold your photo props? Try bribing them with tiny candies or your kids' favorite snacks. Sometime's a mom's gotta do what a mom's gotta do and a single M&M can get you some prize-winning smiles, haha.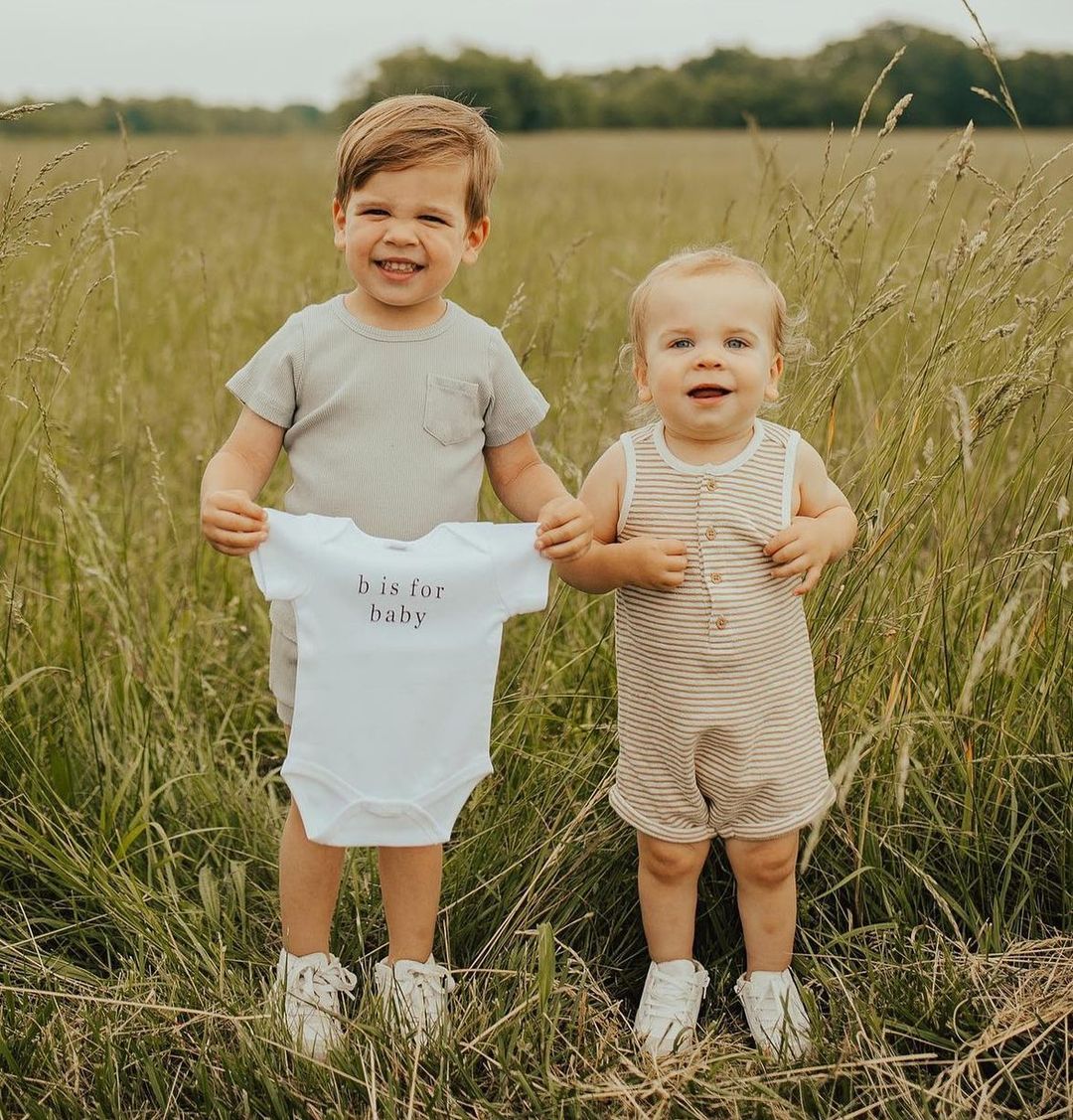 Already have a little white onesie?
DIY your own little pregnancy announcement onesie by purchasing a little SVG file off of Etsy, and heat pressing it on to a onesie you already have! (This great little list with picks for the best heat press for sublimation even shares one model for under $100!)
Little Brother Baby Announcement
This is a great alternative to the 'big sister' clothing you can get your older child to wear. Give them a 'little brother' onesie to hold. It makes for a great contrast so you can see just how much smaller the new baby is going to be compared to your big-kid.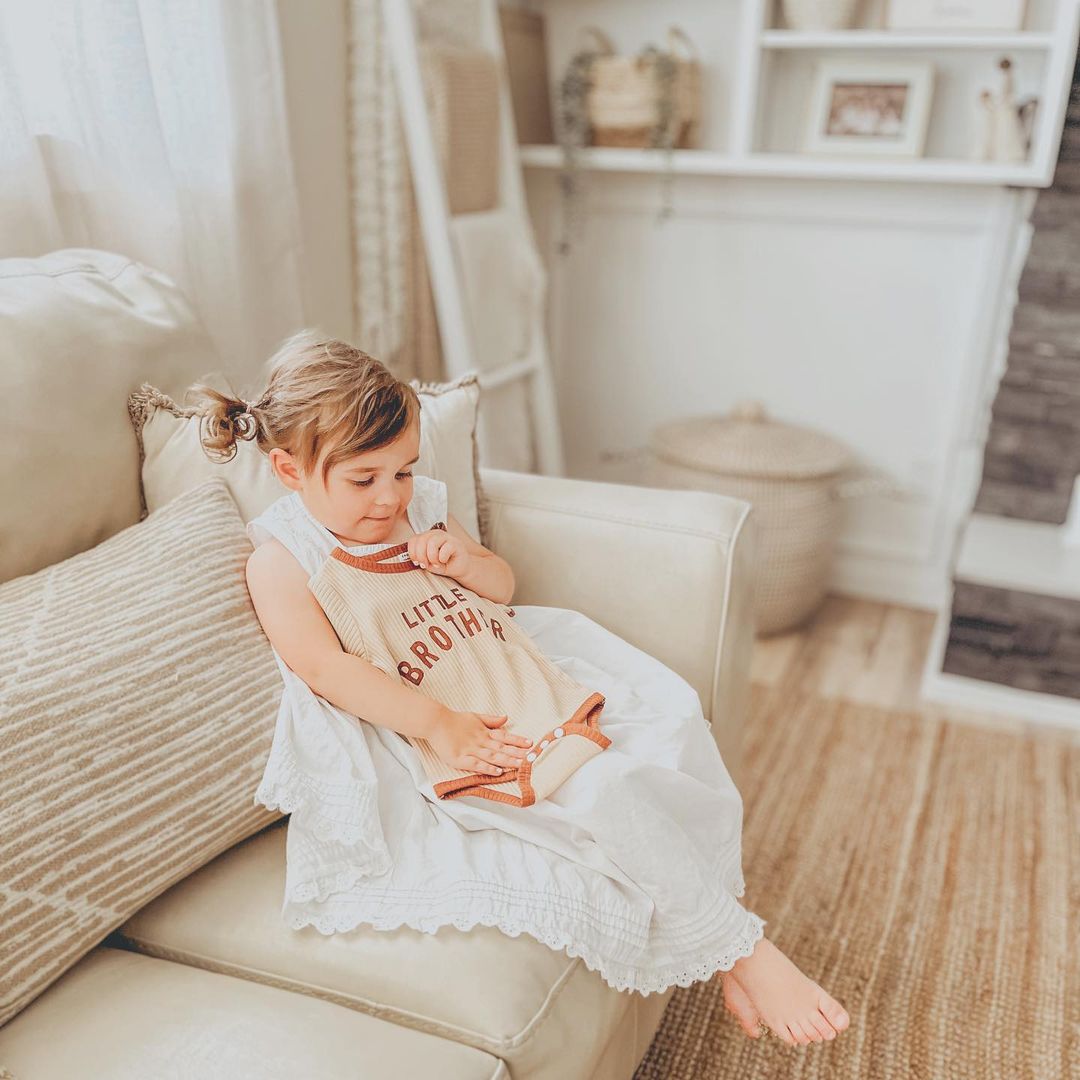 Big Sister To Do List
This is a super cute choice for a sibling pregnancy announcement. If you have a roll of craft paper you can use some painter's tape to attach it to the wall. Just make sure the cap is on when you give your older child the pen!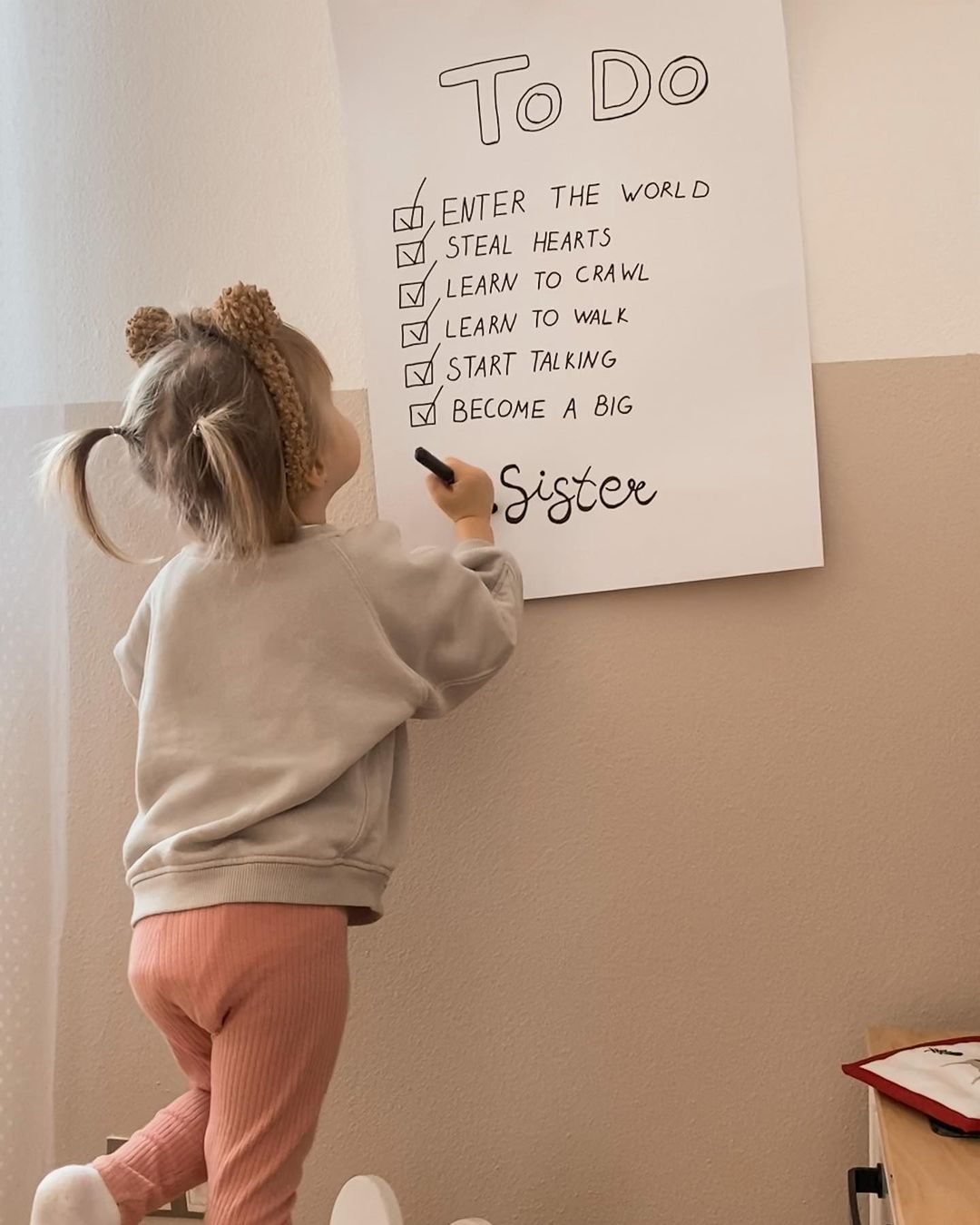 Second Baby On Board
Looking for a ridiculously clever and witty play on words?
Bring the phrase 'baby on board' to life by snapping a shot of mom and baby #1 floating on a paddleboard.
Take it to the beach! If you're looking for some more beach pregnancy announcements, check out this post next.
Baby Number Three Balloon Announcement
The best way to get beautiful lighting like this is to set up a photoshoot right after the 'golden hour' when the sun is beginning to set.
Matching shoes, matching dresses and similar bows! This is an endearing way to photograph your family. Put your older children in matching outfits and choose complimentary colors for mom and dad!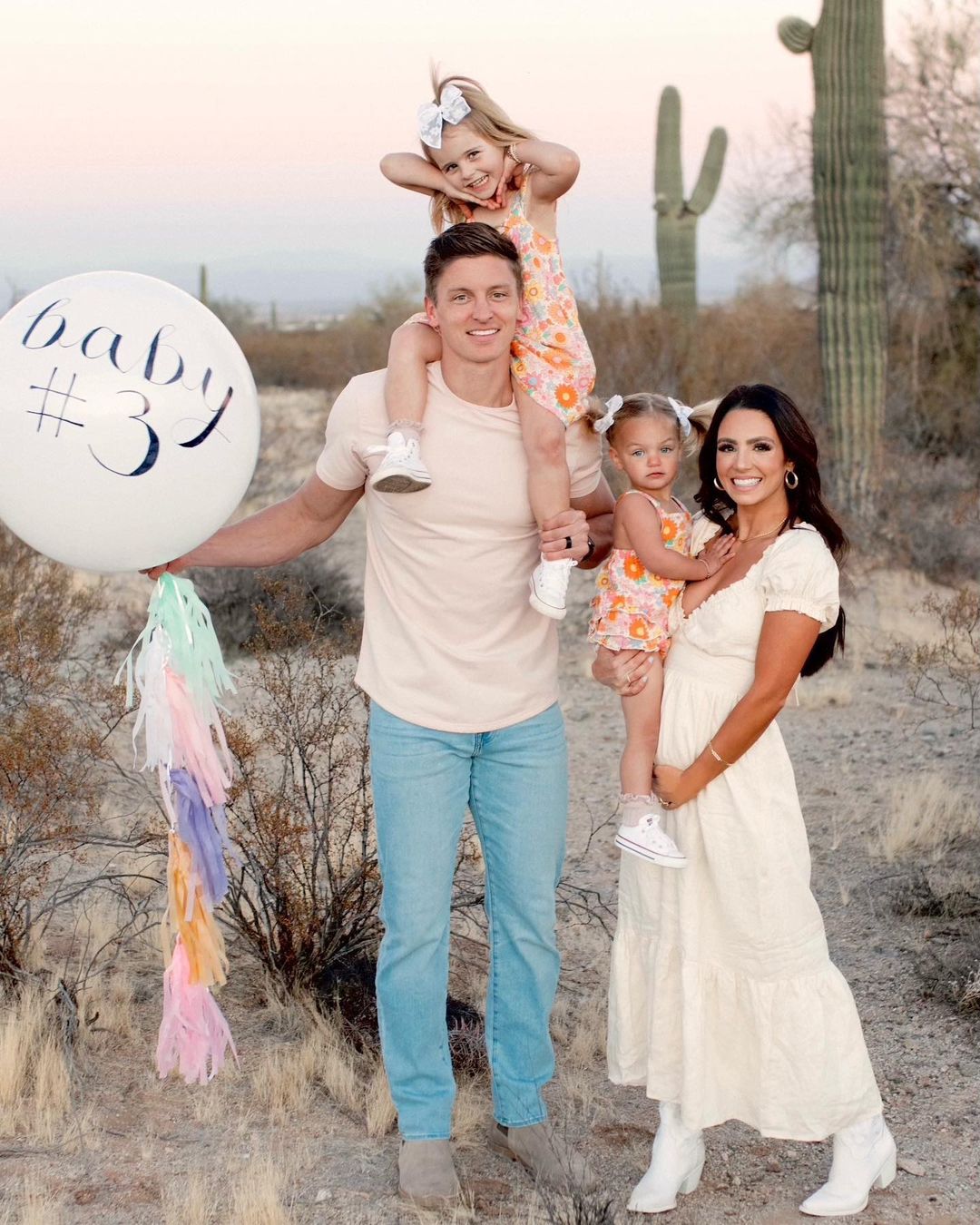 Big Sister Balloon Announcement
Using a big party prop like a balloon is another wonderful way to share the news about baby number two. Using your hand to help accentuate your bump is a classic trick to help make your baby bump pop when it is still sweet and little.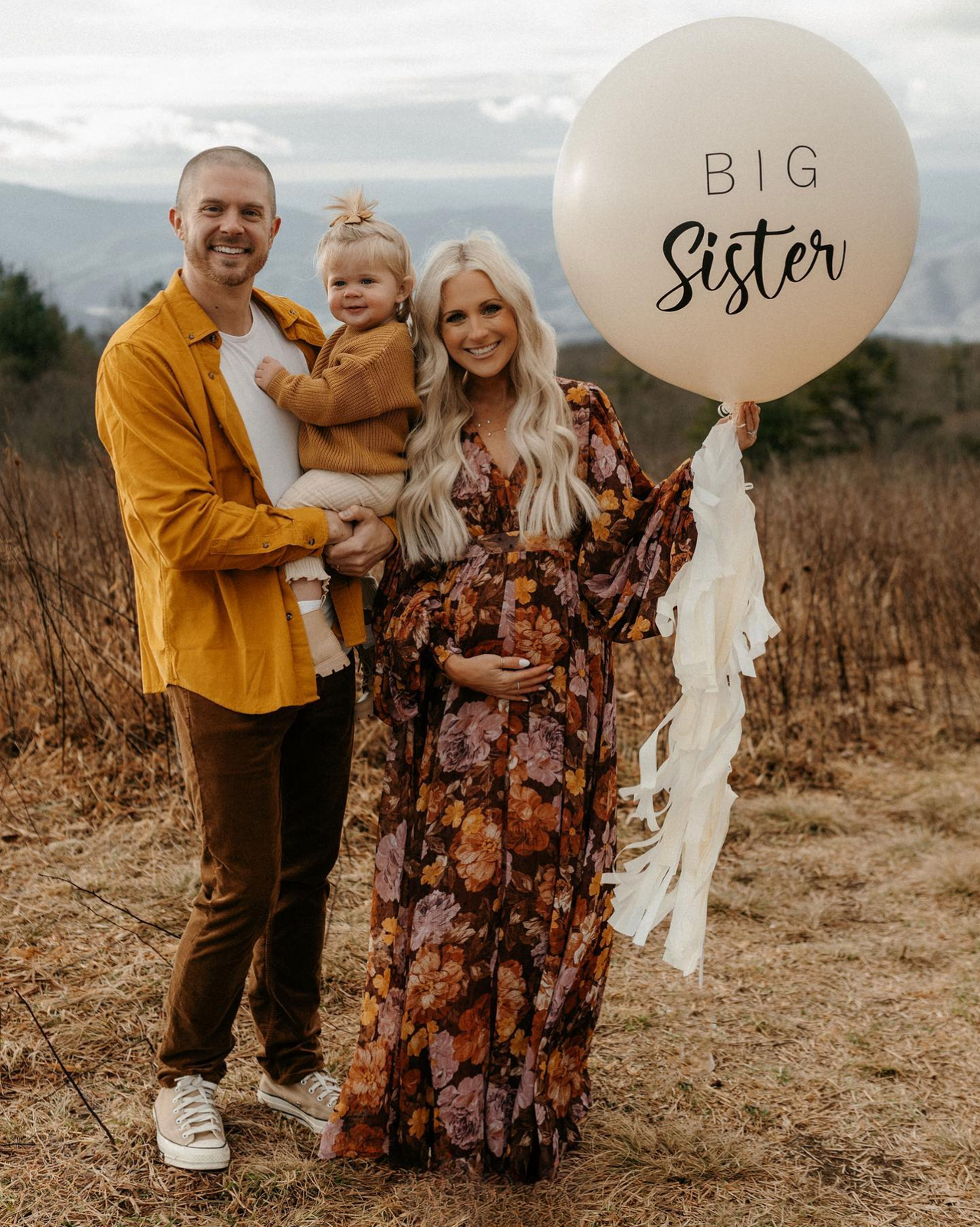 Cute Barefoot Family Pregnancy Announcement
Let your kids hold the ultrasound photos and kick off your heels for a great family pregnancy announcement photo.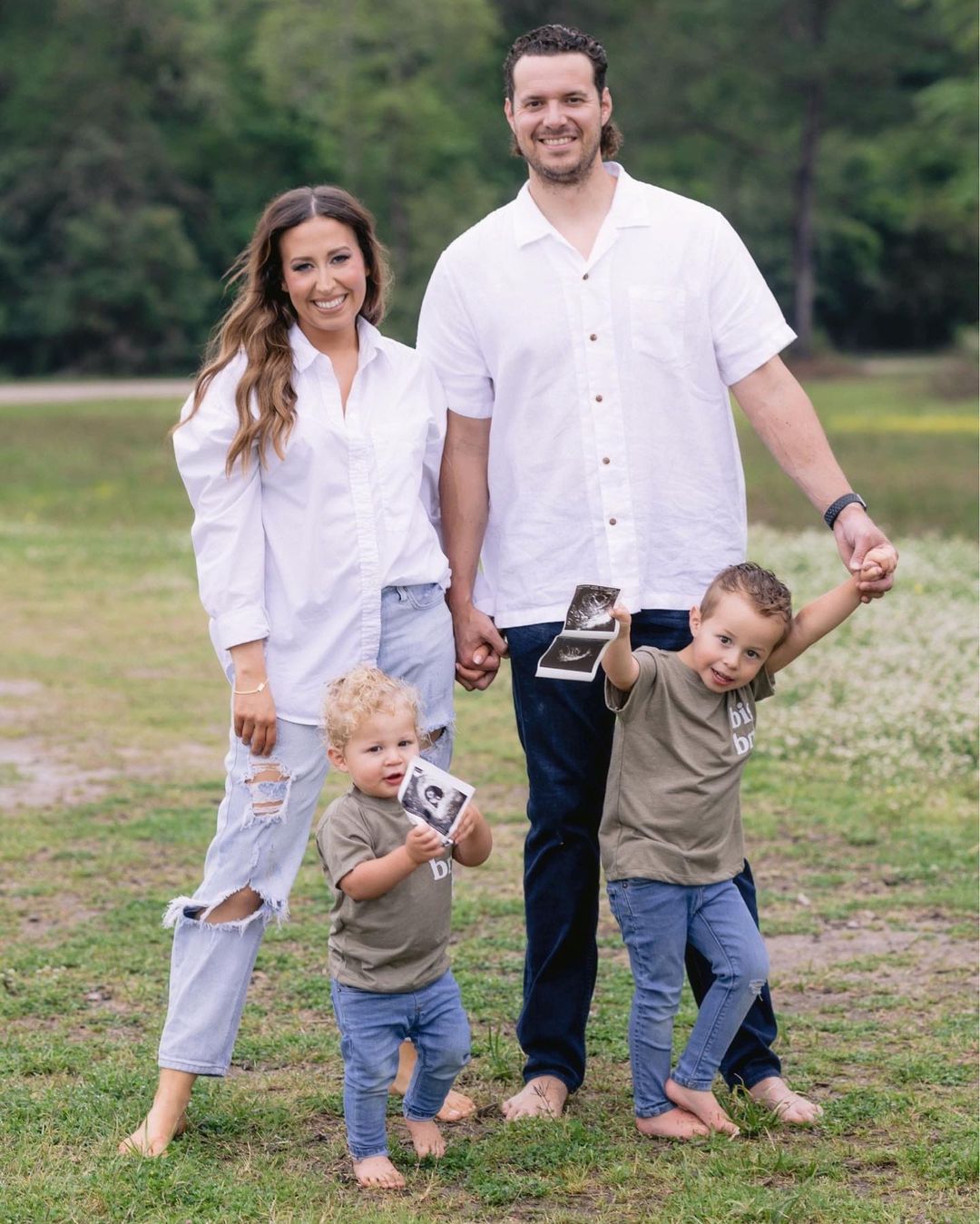 B Is For Big Brother & Big Sister
B is for big sister… B is for big brother… B is for baby!! The good news is, you can use and reuse these cute family shirts for other photos in the future. Imagine how cute they'll be lined up with the little new addition too.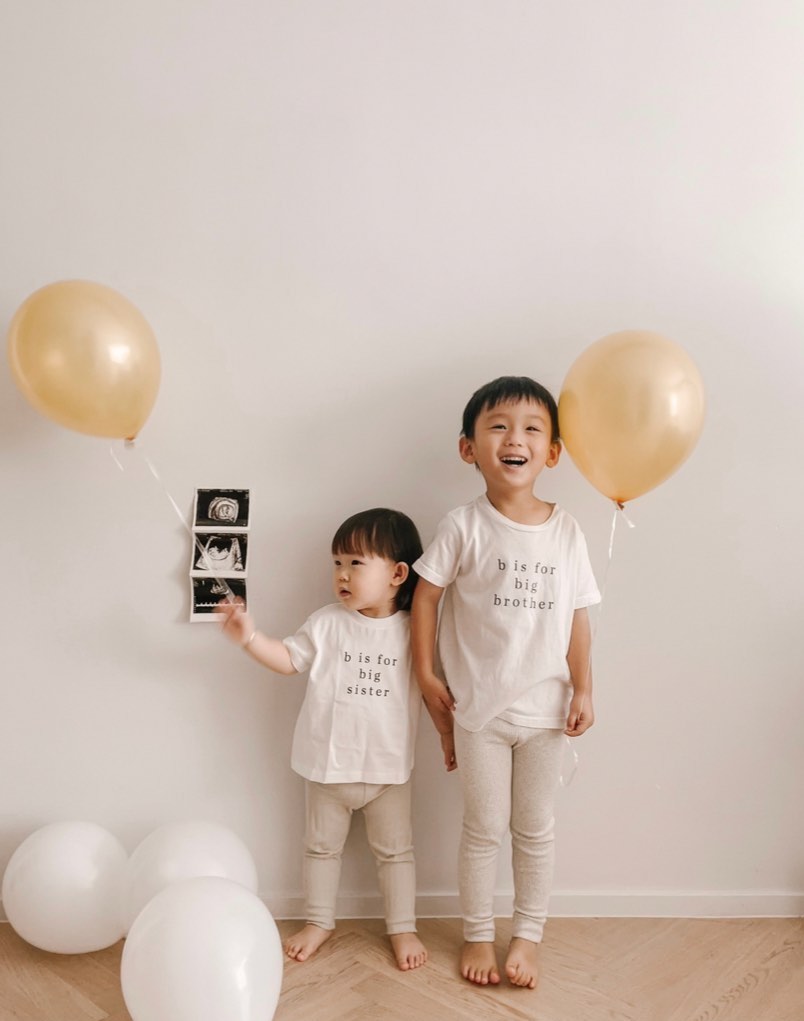 Get the look:

Worth The Wait Sibling Announcement
If your family has been patiently waiting for your next family member a 'worth the wait' pregnancy announcement is a heartfelt sentiment to add to your photo op.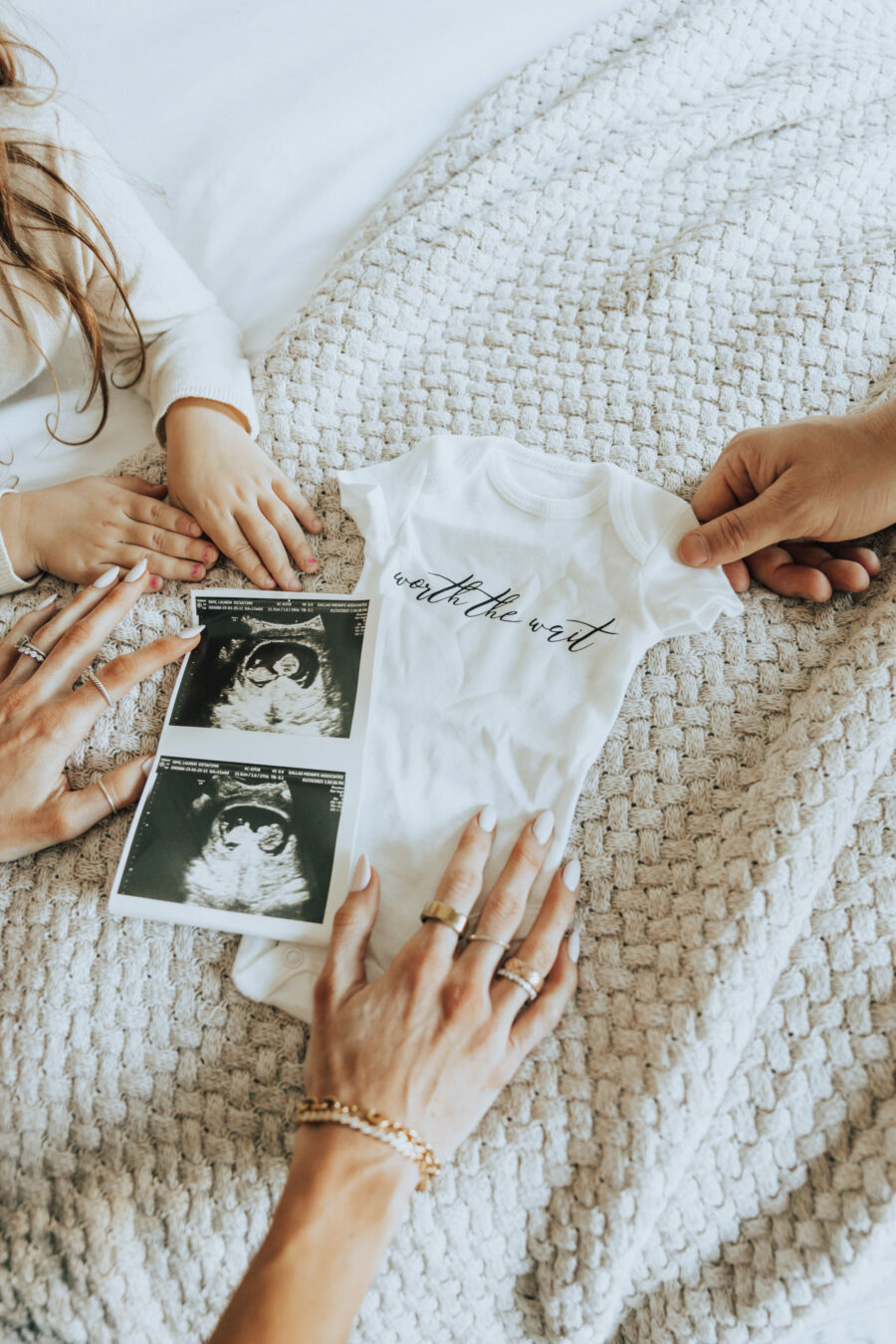 Get the look:

Laughing Family Baby Announcement
What kind of jokes can you tell your firstborn to make them laugh? Give them a quick tickle and have your partner hold up your ultrasound to get a natural smile from your child.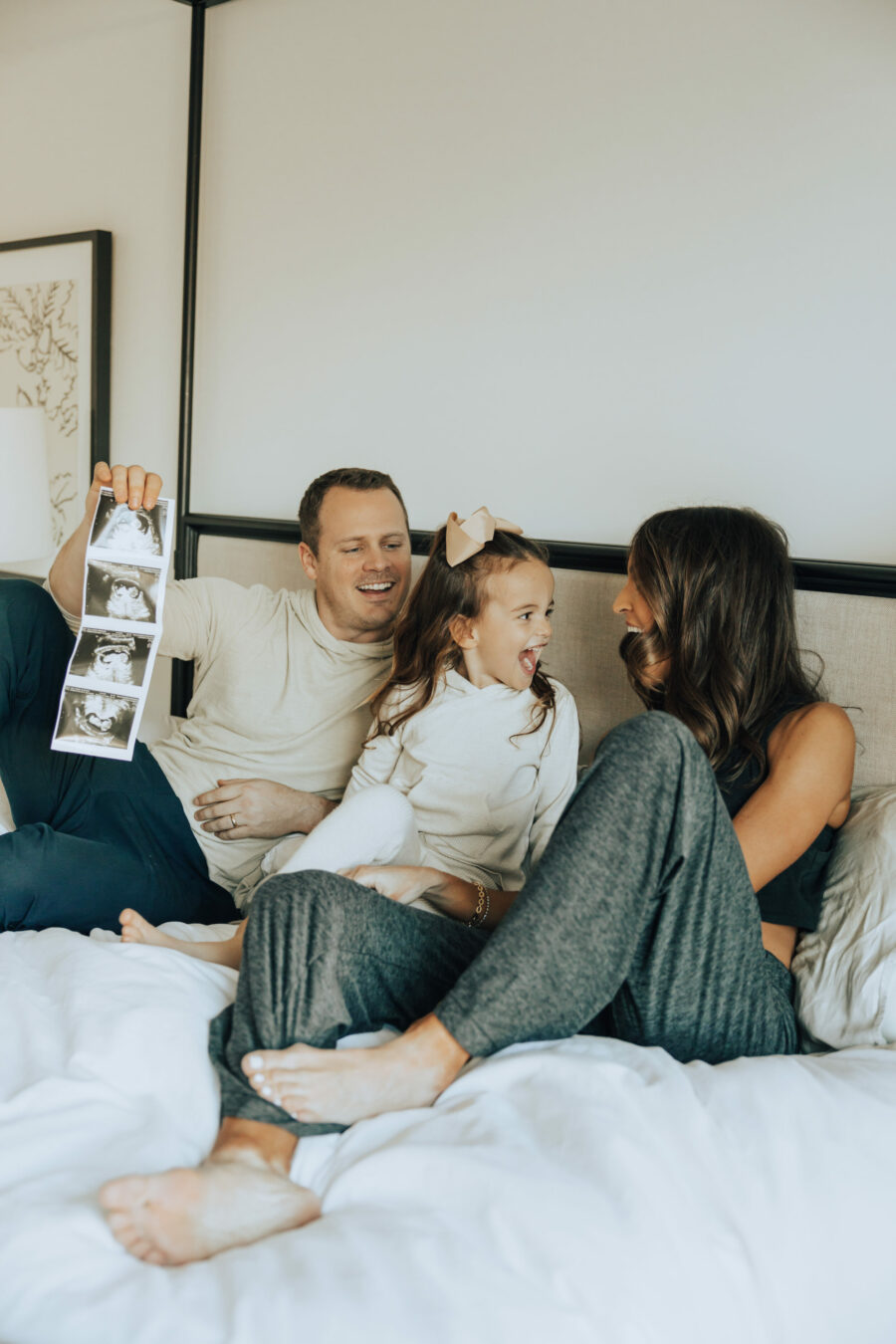 Cute Baby Onesie Announcement
How about an outift for your firstborn AND your new addition? This photo idea is just begging for you to do a remake in a few months when baby arrives and your kids can be photographed together.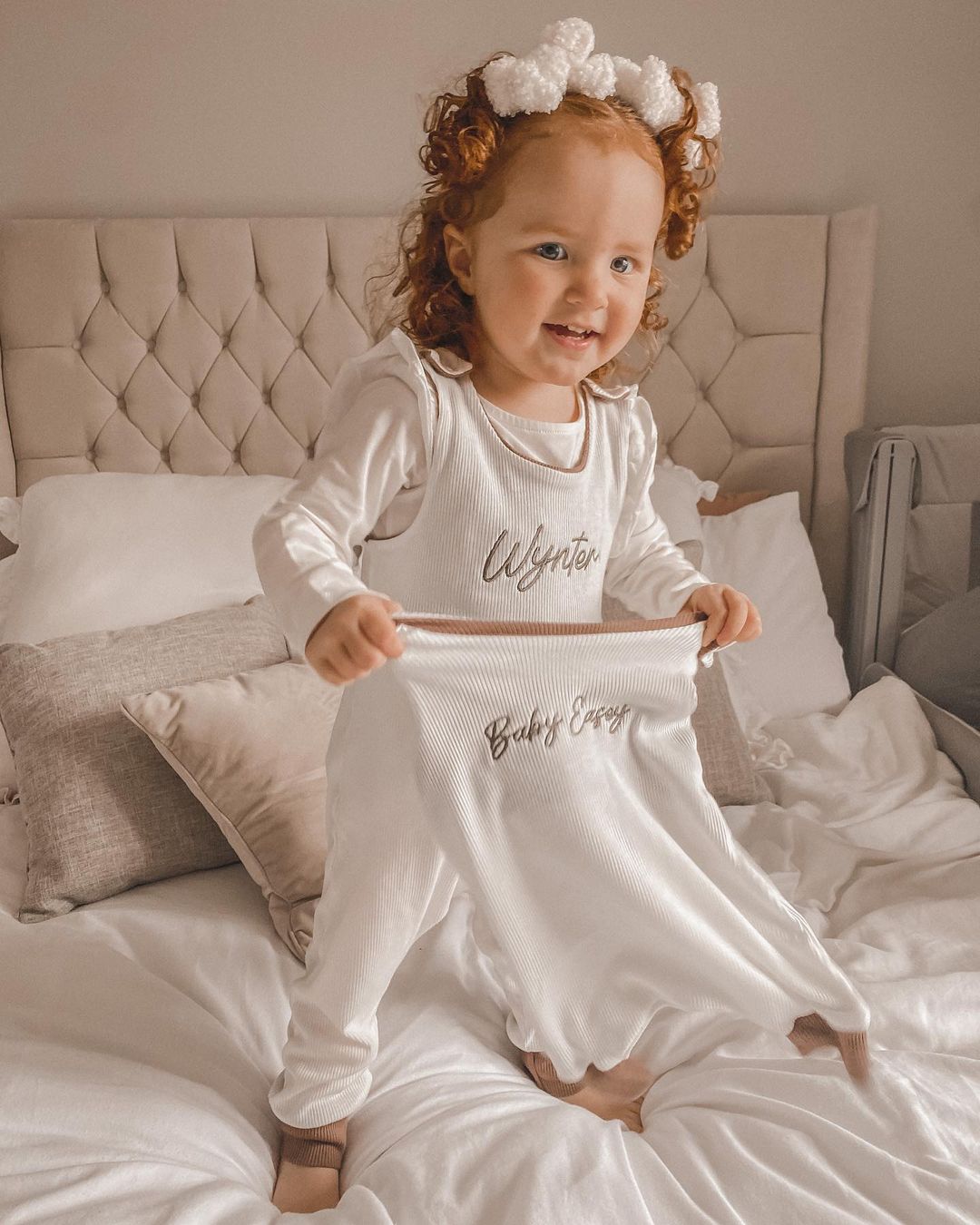 Baby Number Four Sibling Announcement
Giving your older children special props can help motivate them to take part in your sibling pregnancy announcement photos.
You can really see how choosing complimentary outfits for your older children bring together a look like this.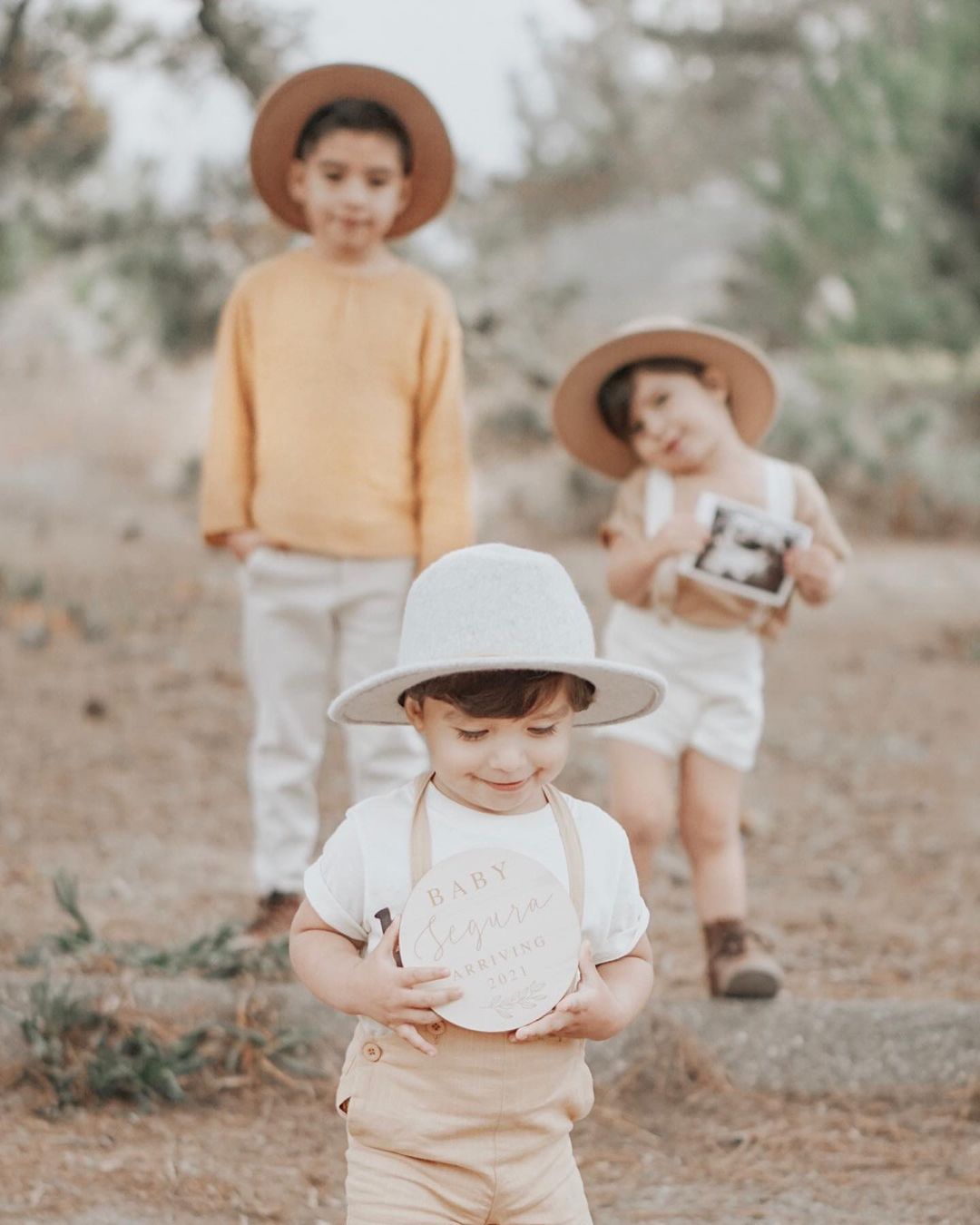 Big Bro Balloon Announcement
Big letter balloons like this often come with a dot of double sided tape and a straw to help you blow them up. The good news is they inflate easily and without paying extra for helium.
You can usually stick them to the wall with a bit of painters tape or even string some fishing line or clear string through the tops of the balloons to make a little banner.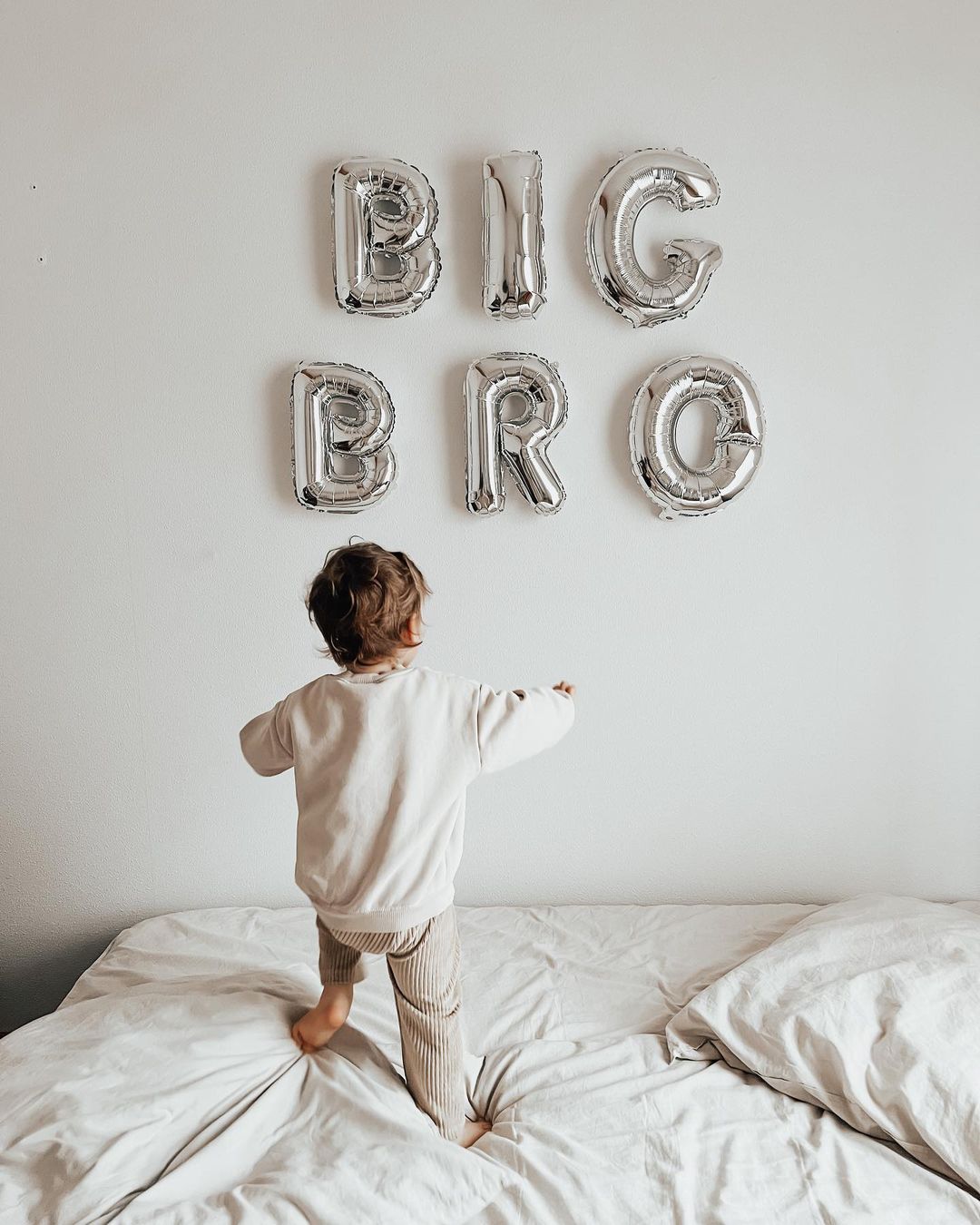 Get the look:

Golden Hour Beach Sibling Announcement
Can you say *golden hour* ? The sunlight in this photo is stunning and soft. Take your photoshoot to the beach and wear neutral tones that compliment each other but aren't too matchy-matchy for a great photo idea like this.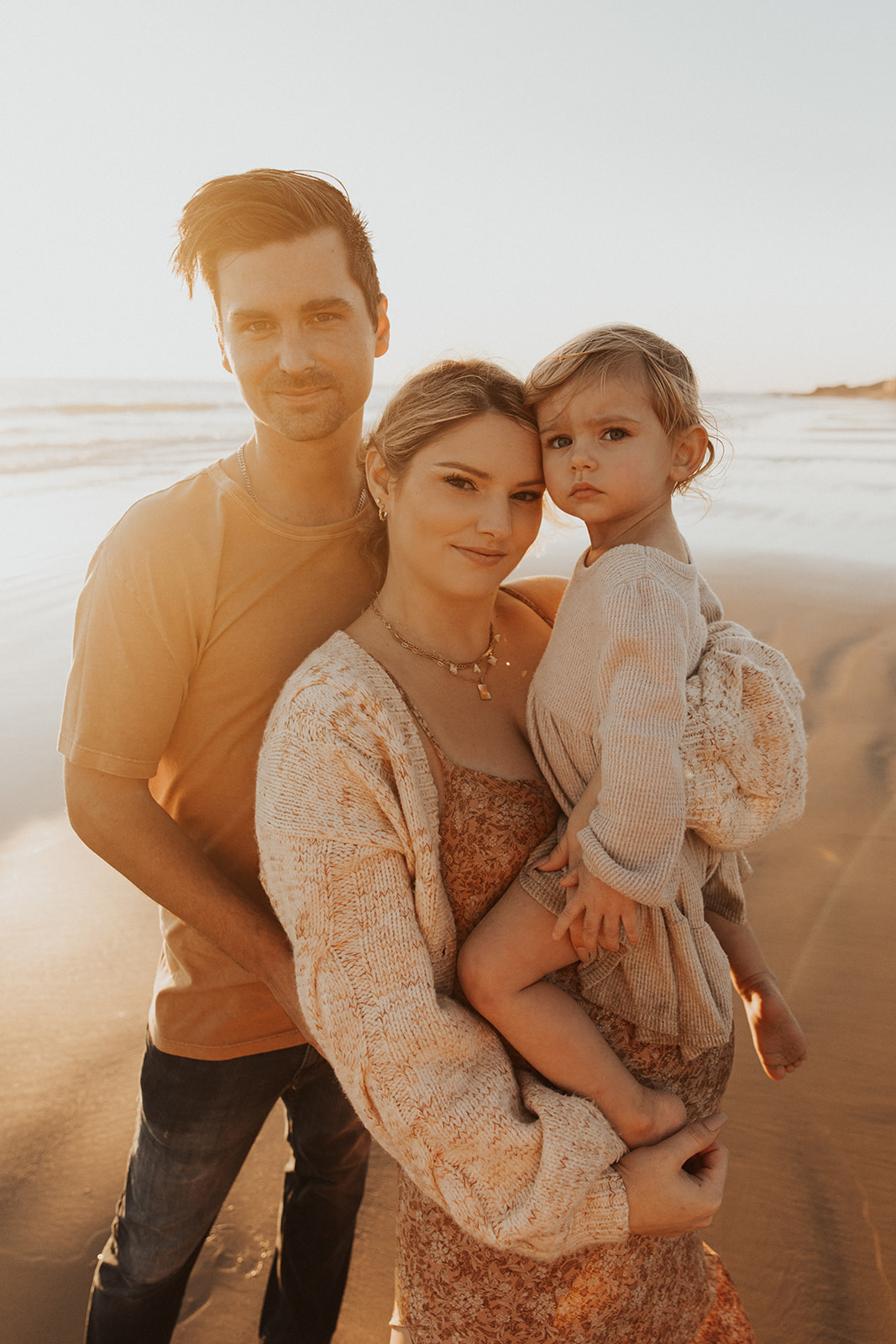 Baby Kiss and Ultrasound Announcement
Give your firstborn a kiss and hold up your ultrasound! The sunlight and natural setting makes this photo set up *magical*, raw and organic.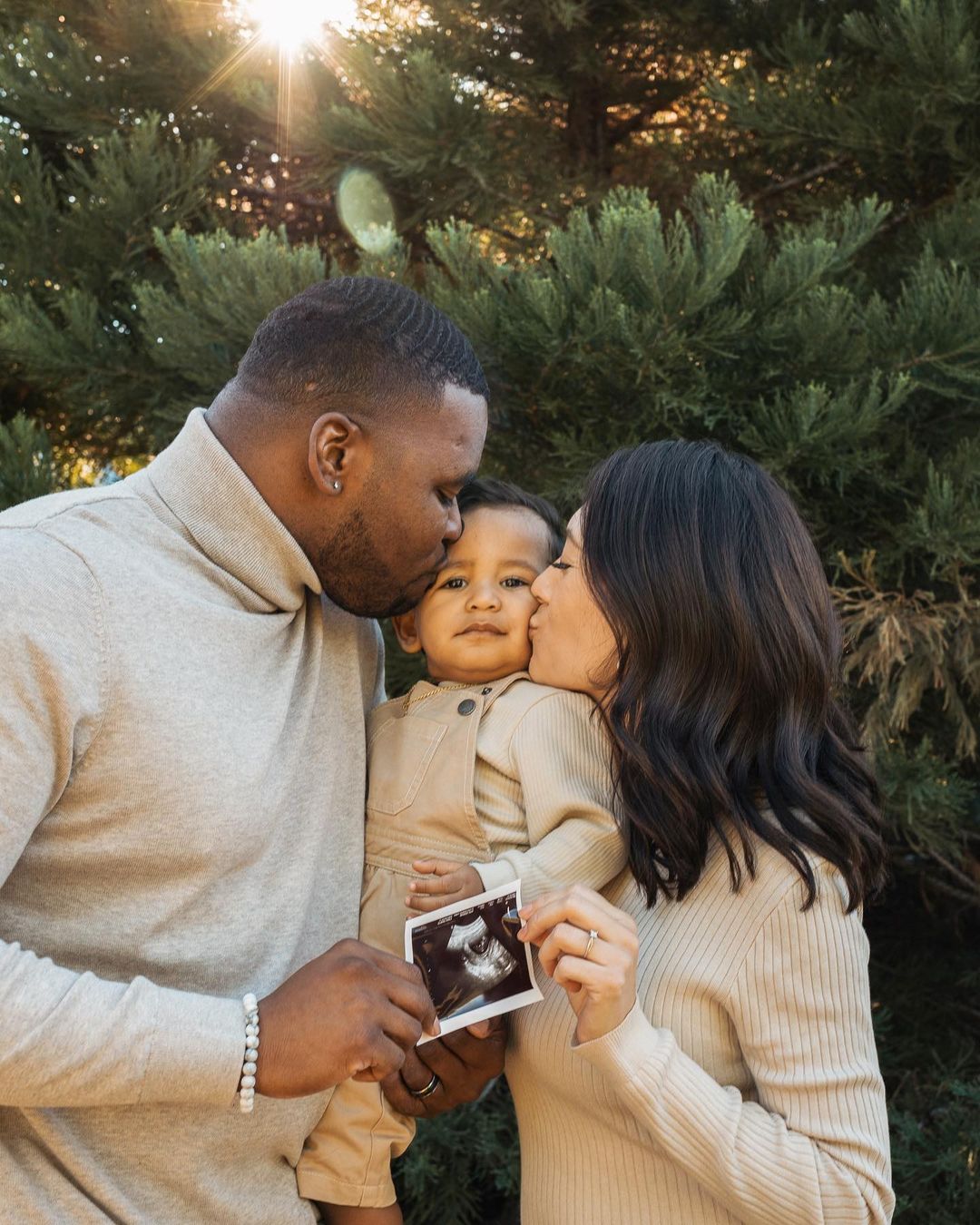 Planning a baby reveal in December? Don't finalize your plans until you see these *stunning* Christmas pregnancy announcement photos!
Big Sister Flag & Sister Sweater
How adorable is this big sister? A fun prop can be the key to success when trying to get the perfect sibling pregnancy announcement photo.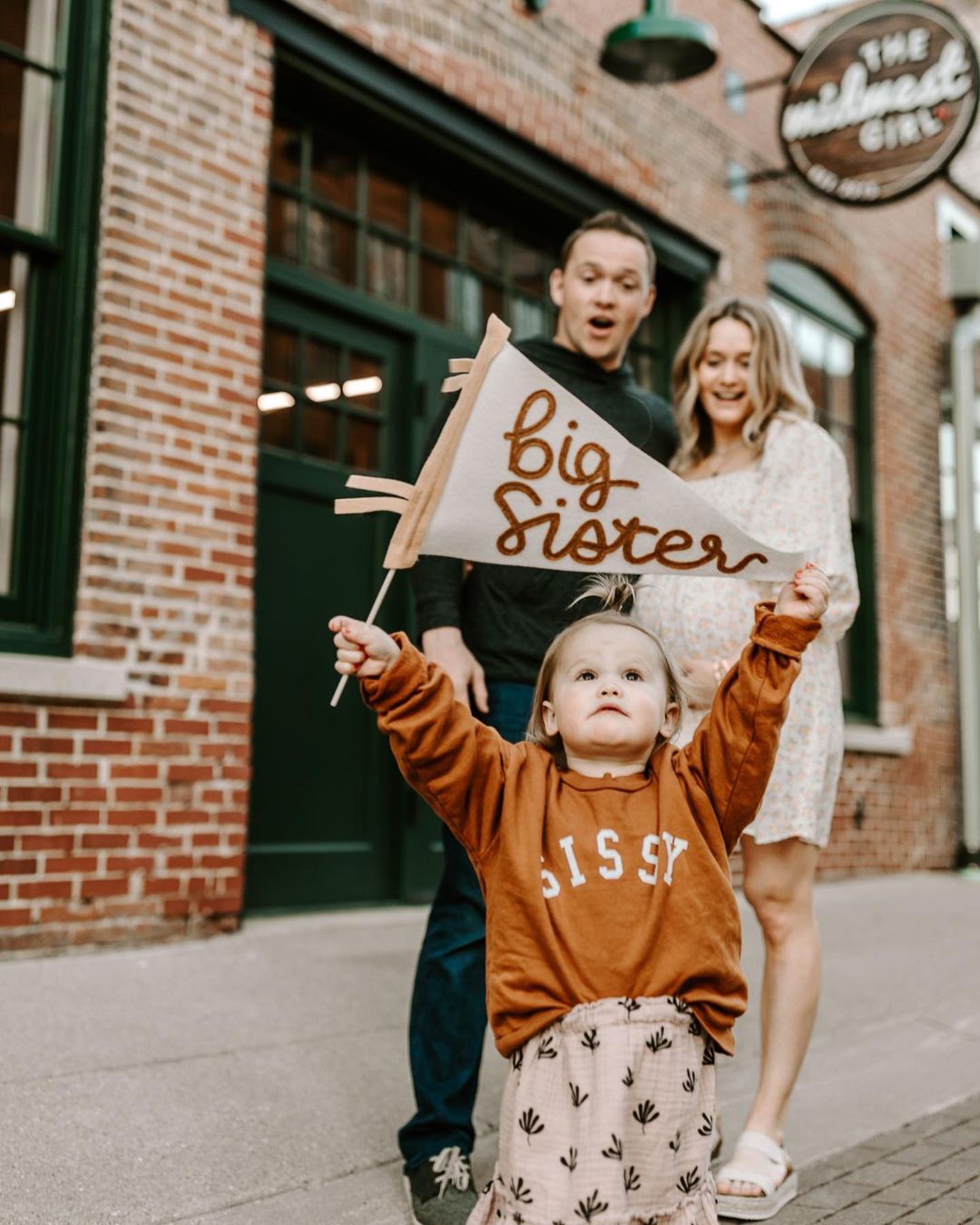 Older Sibling Ultrasound Announcement
Black and white can make a simple pregnancy announcement look super chic. Hold up your ultrasound, give your first child a big smile, and have them walk towards you to recreate this shot.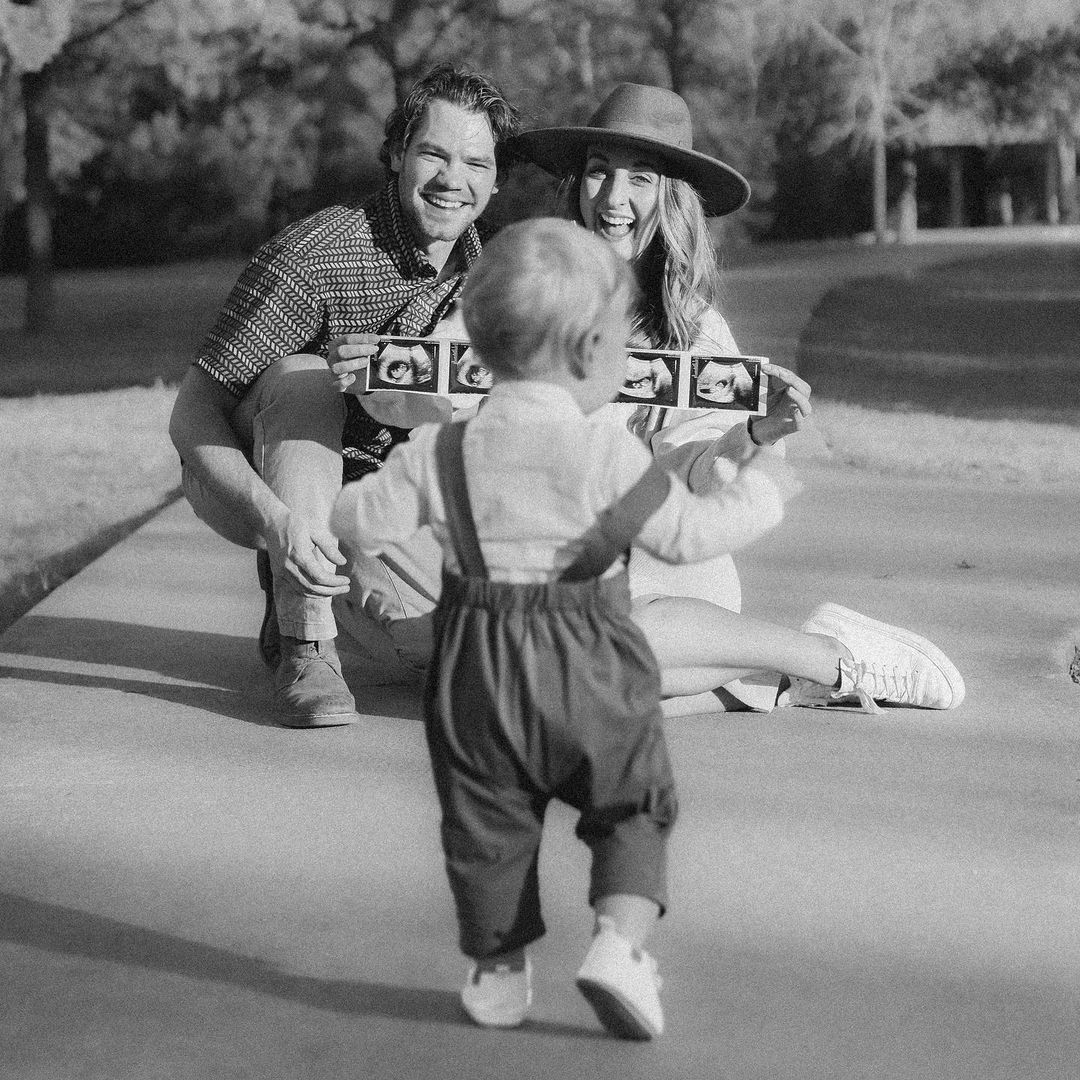 Back Pocket Sonogram Baby Announcement
Want a fun and simple sibling pregnancy announcement? Try putting your sonogram in your older child's back pocket.
If you're worried the photo won't stay put, you could use a clothes pin or clip in the bottom corner of the photo and sink it as deep as you can into your older child's pocket. Or use a loop of tape on the back of the photo!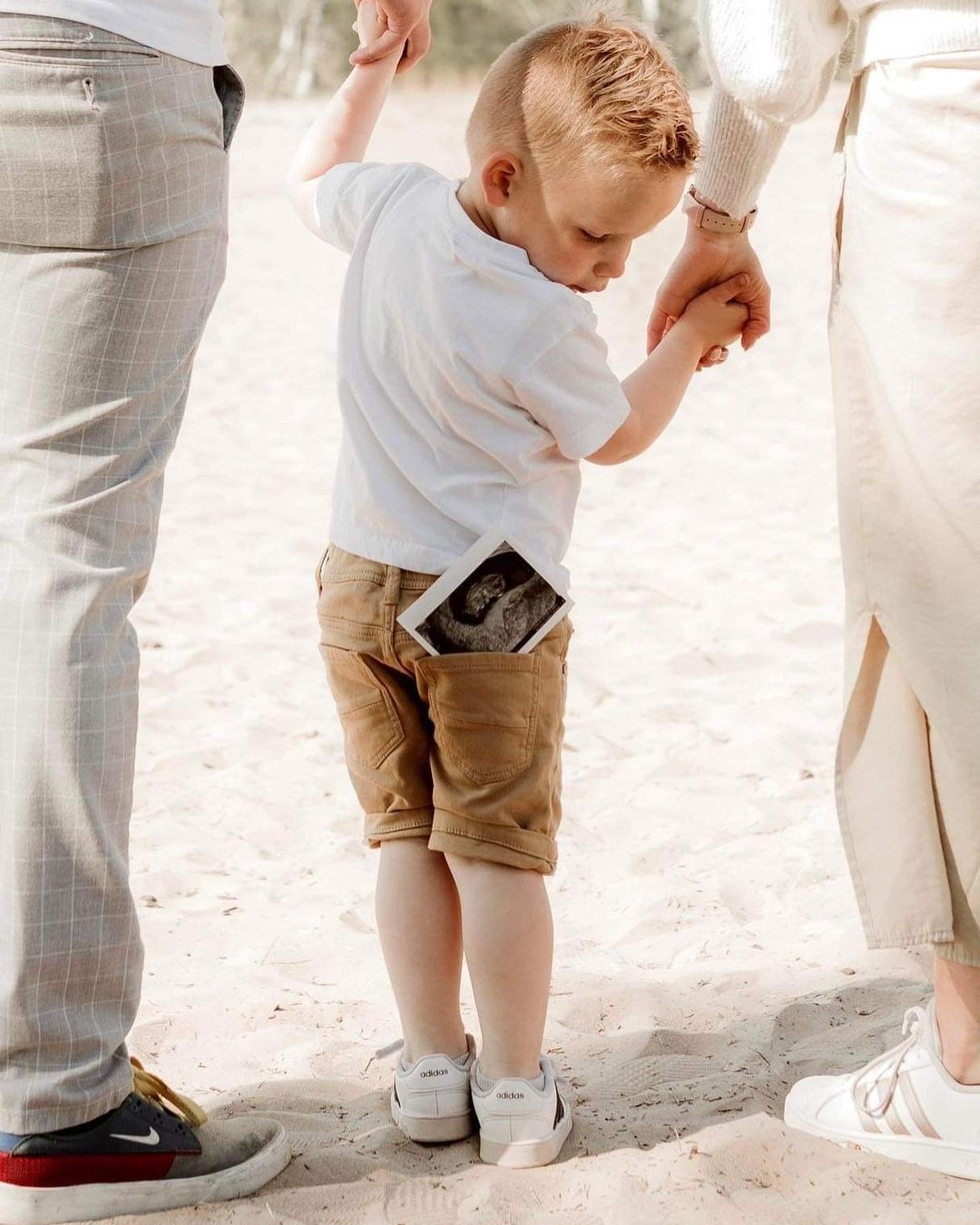 Big Brother Twin Announcement
Big brother x2! Oh baby, you've got twins on the way. Pick a fun outfit and grab your letter board for this style of sibling pregnancy announcement. And then after your photoshoot grab a quick nap… because you're about to have #doubletrouble.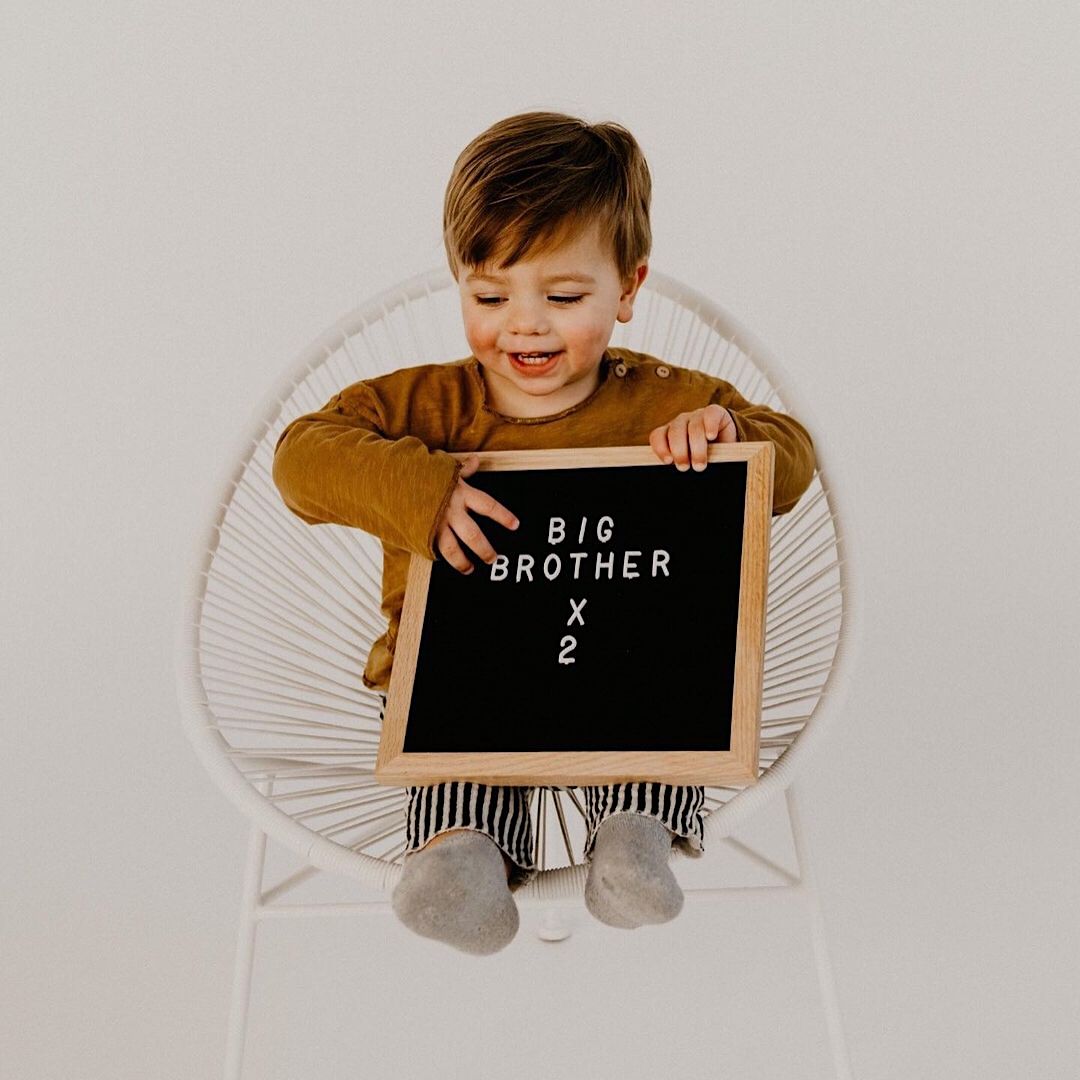 New Member Coming Letter Board Announcement
Whether your family is on baby number two, three, four or more… This is a great photo set up to announce your next baby.
Mom and dad's hands each hold one side of the letter board with your announcement. Your other kiddo's can be in the background with a helium filled number balloon.
Pro tip – put your kids on the couch and they don't even need to stand still! Take the stress out and let them sit next to each other, they're slightly out of focus anyways so this photo style is fool proof!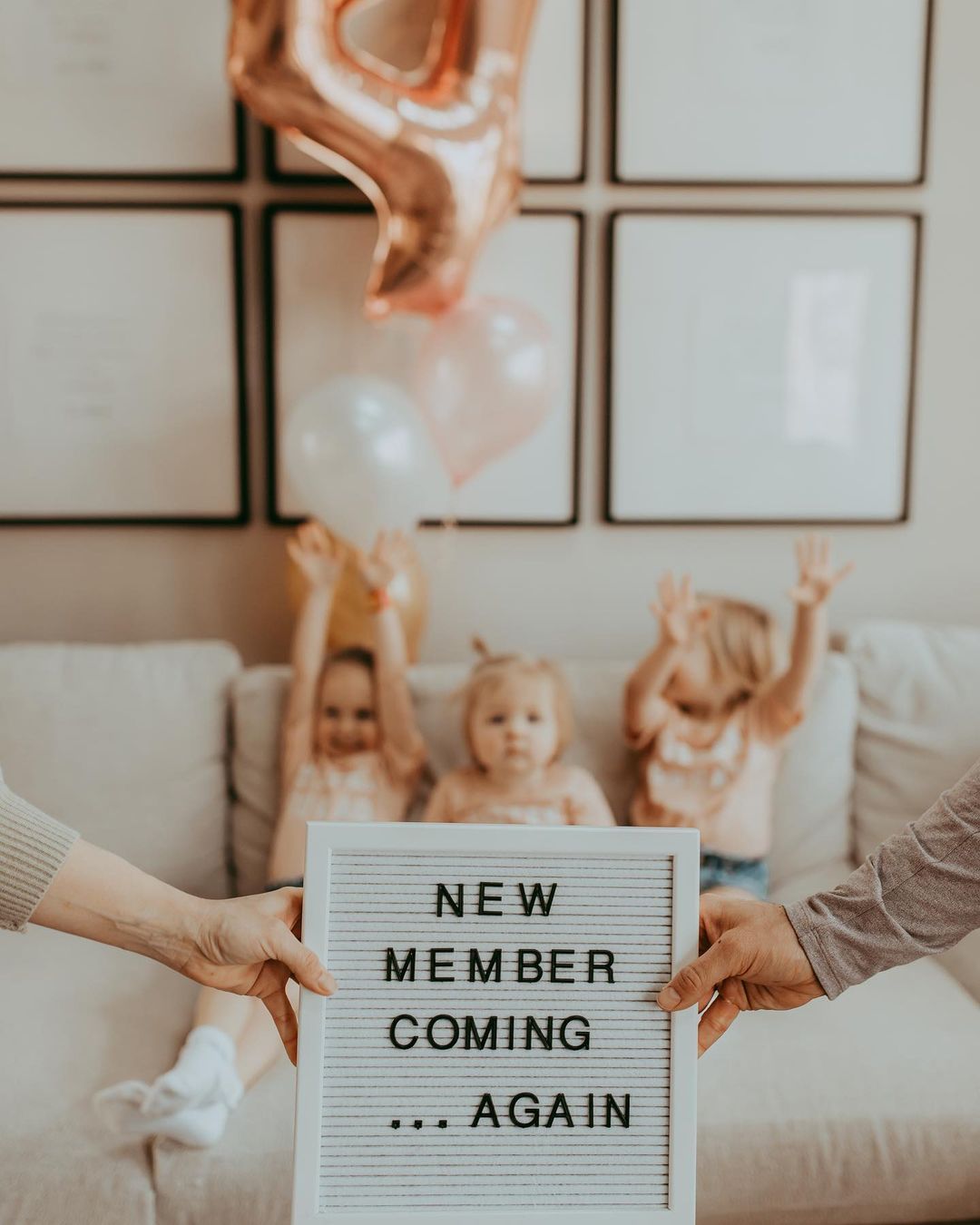 Mama Bird With Baby Birds
Matching family outfits are an ultra-adorable way to announce your new family member's expected arrival. Not everyone has a beautiful camper van like this to take photos in, but think about a location in your life or home that has special meaning to you to help recreate this feel.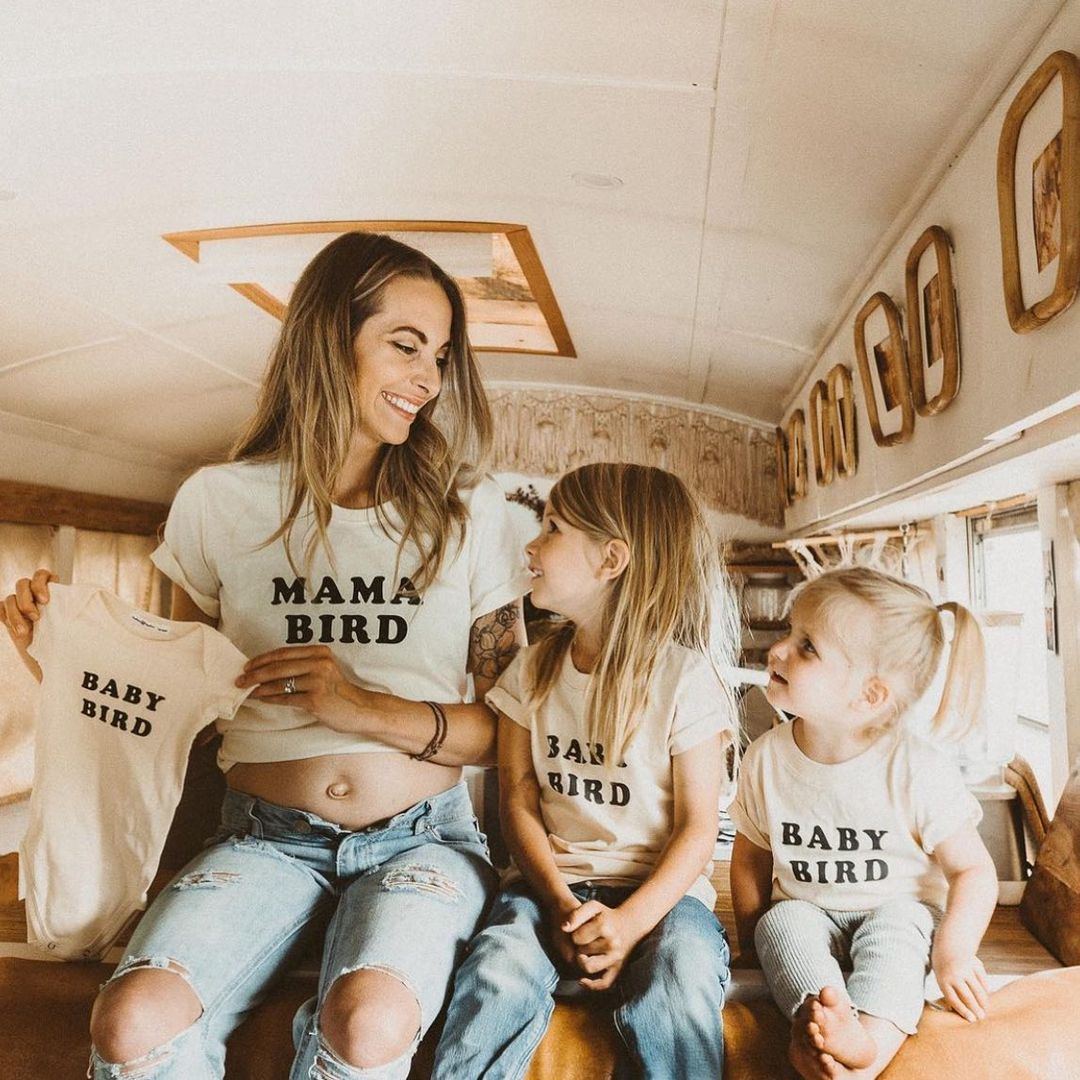 Letter Board Baby Number Two
A fun alternative to using a standard felt letter board for your baby announcement is to use a magnetic letter board like this one. They can be faster to make phrases with, which saves time AND sanity…
Place your word board in front of you and your family, stand back a little out of focus and get snapping to re-create a photo like this.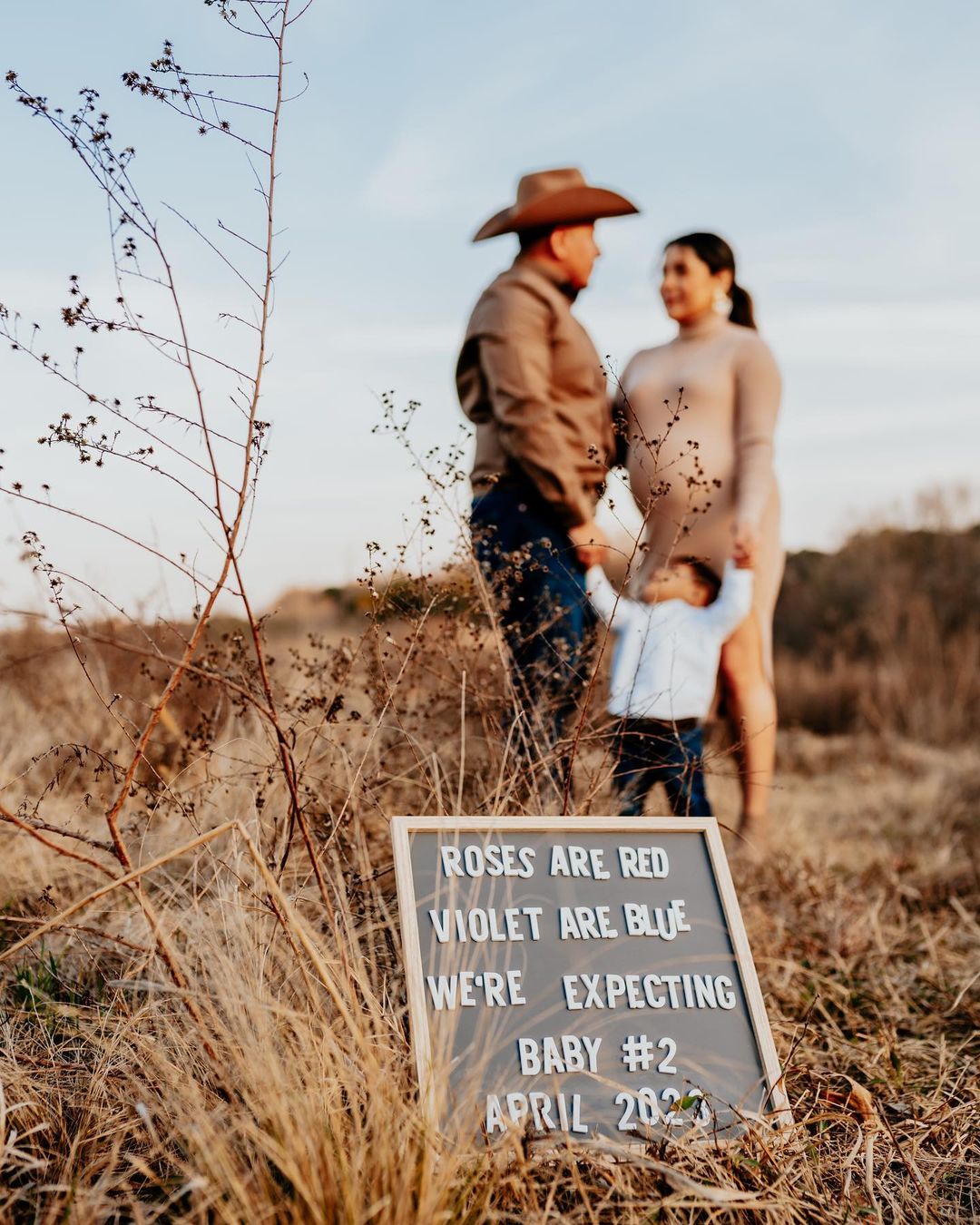 Bunny Ears at Disney Pregnancy Announcement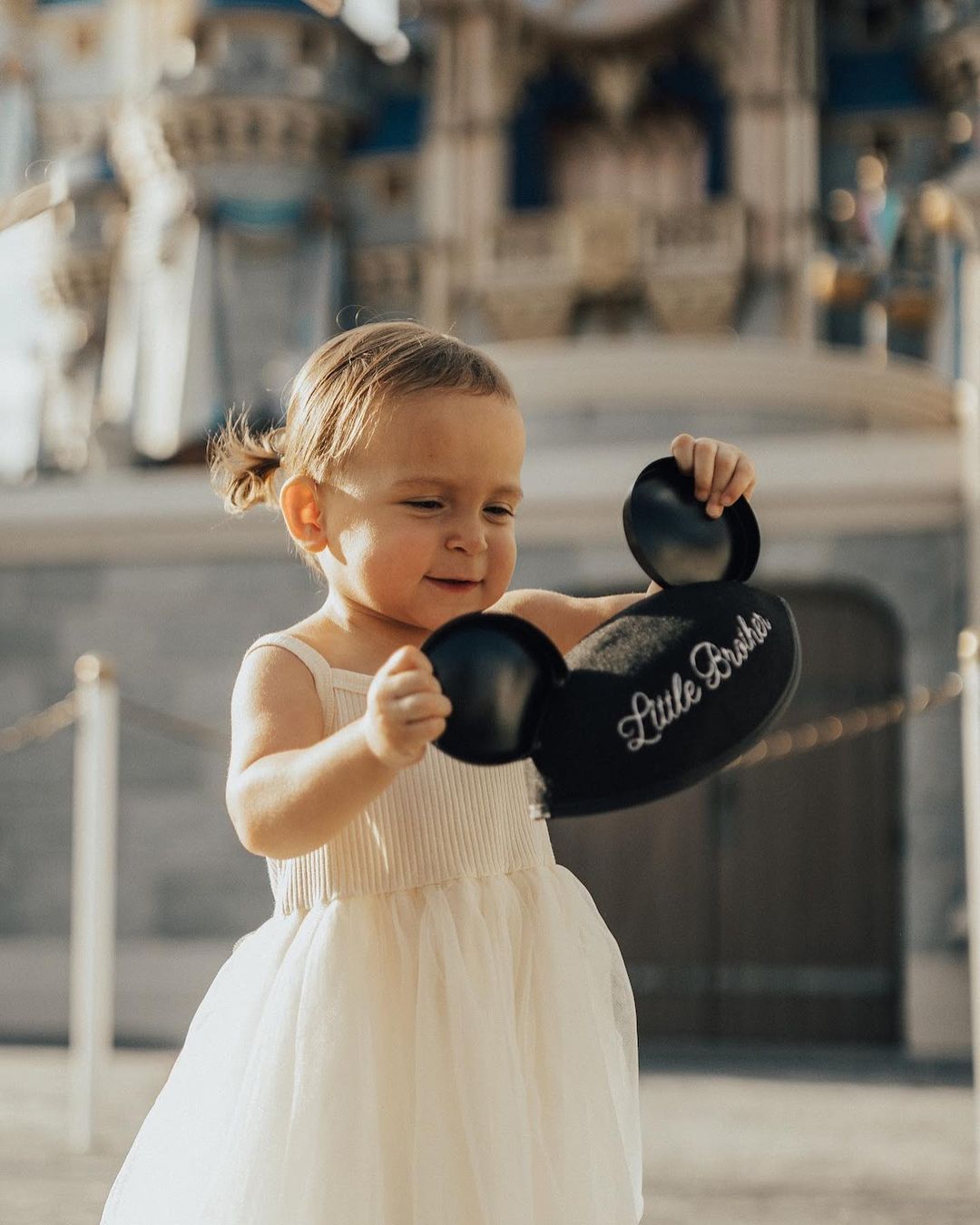 Final Thoughts On Sibling Pregnancy Announcements
I hope you loved all these creative pregnancy announcement ideas to help you announce the new addition to your family. There are so many creative ways to share the exciting news about your new baby on the way. Use these ideas to create your own treasured family photo to share with your close friends on social media.
You're going to want to remember this snapshot of family life for years to come!