This post contains affiliate links.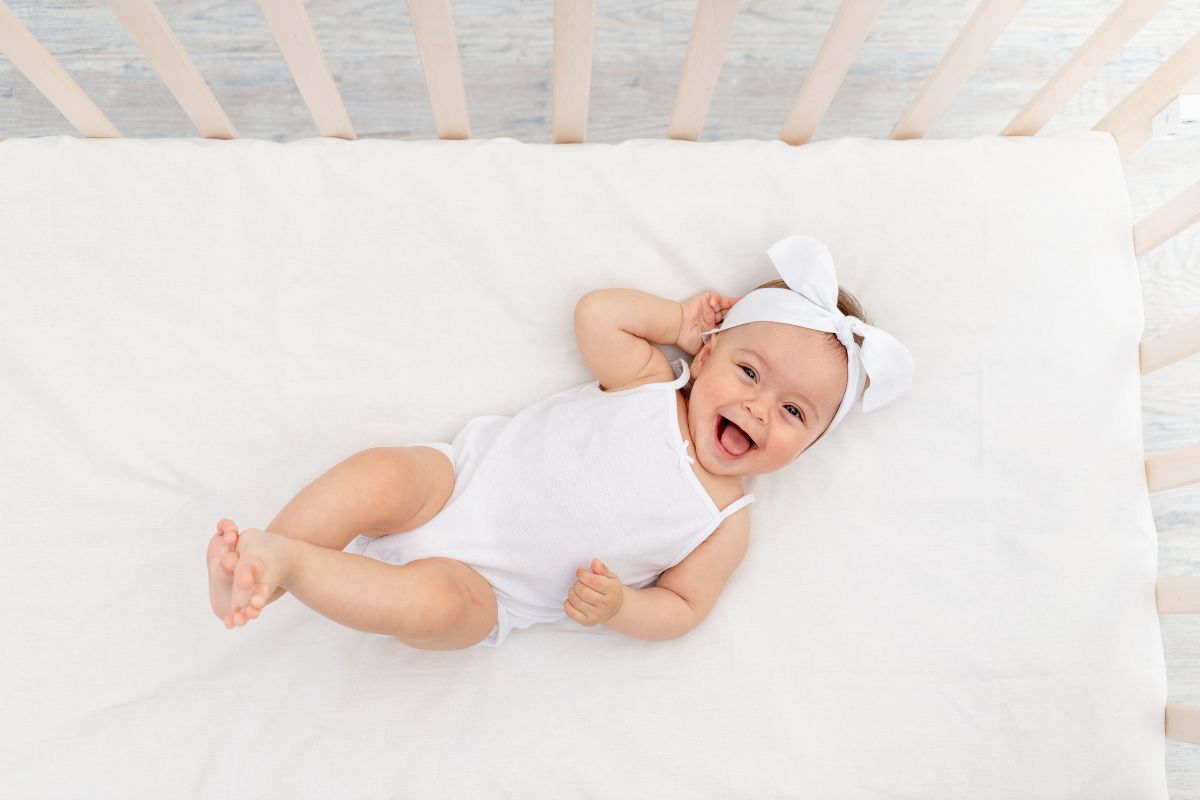 The Best Modern Girl Names (2023)
Here is the ultimate list of my favorite pretty modern girl names, listed by genre:
Here's what's in store –

Gender Neutral Modern Girl Names
Modern Girl Names with Hippie Vibes
Nature-Inspired Modern Girl Names
Short Modern Girl Names
Looking for a modern girl name that's short and sweet? These modern baby girl names for 2023 are all either one or two syllables, and go great with a longer middle name or last name:
Nova
Does the birth of your little one signify something new in you and your partner's life?
Latin for new, the name Nova is a short and sweet choice and super popular, too.
In 2021, Nova was the 32nd most popular baby name for girls (while its alternative spelling, Novah, was in position 743).
Adley
With roots in both Arabic and Hebrew, the name Adley means God is just, or honest.
Esme
From Old French, the name Esme means loved or admired, though it can also be thought of as an abbreviation for the gemstone-inspired name Emerald.
Esme was in position 379 in 2021.
Cove
This totally unique, ocean-inspired baby name is actually gender neutral and used for both boys and girls.
Meaning small coast inlet, the name Cove gives serious peaceful vibes.
This past week, interest for the name Cove (via Nameberry) was up 40%, and it was ranked the 1266th most popular baby name for girls on the website.
Isla
Up 11 spots to position 33 on the charts, the name Isla a super popular choice, with 5,514 baby girls being given this name in 2021. Beachy and feminine, if you're looking for a name that is quickly recognizable and easy to pronounce, Isla could be the choice for you!
Capri
Love the wanderlust-y vibes of this name? Bookmark our list of geographical baby names for later – chock full of baby names inspired by cities, towns and places around the world.
Nyla
With Arabic origins, the name Nyla means winner or, one who achieves. This modern baby girl's name is a great alternative to the names Lila, Nora, Lola, and Nola.
Haven
Neveah is out, Haven is in.
Ayla
Meaning from the oak tree in Hebrew, this baby girl's name first started to become popular in 2006 when it was in position 265 in the US, and has been slowly climbing over the past decade. In 2021, the name Ayla was the 108th most popular name for girls in the US.
Esti
In early 2023, celeb couple Chrissy Tiegen and John Legend welcomed their own little Esti – Esti Maxine – who joins older siblings Luna Simone and Miles Theodore.
Kaia
While the name Kai, which is a gender neutral choice meaning ocean, ranks at position 770 in 2021, the name Kaia is a much more popular choice, in position 231.
Lyra
A feminine form of the Greek word, lyre, which is a stringed instrument similar to a harp that was popular in the Mediterranean in the ancient era.
While this baby girl's name definitely has some music-inspired edge to it, it is also a celestial baby name, as Lyra is also the name of a small constellation that can be seen in the night sky.
Love the worldly essence of this name? Check out our full list of geographical baby names, inspired by places around the world!
Gemma
While the name Emma has held fast as the first, second or third most popular name for baby girls in the US since 2003 (that's over 20 years!), the name Gemma first appeared on the charts in 2008 and has been hovering around position 200 for the last five years, indicating it's a totally modern choice, yet still a unique choice.
Naya
Of Indian origin, the name Naya means renewal. The name Naya had a huge jump in popularity from 2020 to 2021, flying up the charts 85 spots.
Cute Modern Girl Names
Want something extra sweet for your little baby girl? These cute modern girl names are perfect while your little one's just a tiny tot, but are still very wearable as your child gets older.
Oakley
Having jumped a whopping 89 spots from 2020 to 2021, the name Oakley is hot, hot, hot and means meadow of oak trees.
Sawyer
In position 216 for baby girls in 2021, the name Sawyer is a super popular choice that is such a great choice for a mama looking for modern girl names with a Southern vibe.
Bambi
The newest baby Bambi around? Love Island UK's star, Molly Mae, welcomed baby Bambi in January '23.
Everly
With a number of different spellings topping the charts, the most common spellings for this baby girl's name are Everly (#57), Everleigh (#99), and Everleigh (#362).
Love matchy-matchy sib sets of names? A baby girl named Everly with a brother named Everest or Everett is one of my fav pairings.
Saylor
If you like this baby girl name with a boho feel, be sure to check out our full list of beachy baby girl names, too!
Maisie
This unique and rustic baby girl's name rose 60 spots on the charts in 2022, and means pearl in Scottish.
Georgia
Is there more of sweet, Southern name than Georgia? Up five spots in 2022, the name Georgia means earth-worker.
Love the idea of a cute nickname for your baby girl? My favorite nicknames for Georgia include Ginny, Gia and Gigi.
Navy
Next up, the name Navy. While more vintage color names for girls like Rose, Ruby and Violet have been classic choices for decades, the name Navy is 2023's modern pick.
Blakely
Following the gender neutral baby names trend of giving names stereotypically used for boys, to girls, the name Blakely adds the feminine -ly ending to a name more commonly given to males.
Lainey
Trend alert – the name Lainey for a baby girl has flown up an incredible since 2020, landing in position 174.
Could it possibly crack the top 100 in 2023?
This French baby name means bright, shining light and is such a beautiful, modern baby girl's name.
Leighton
This gender neutral baby name is of Old English origin and means meadow town, or leek town, and is meant to describe where someone was from.
Besides being a nature-inspired baby girl's name, the name Leighton also gives off old money vibes, as actress Leighton Meester played Upper East Side it girl, Blair Waldorf on Gossip Girl for years.
Poppy
This pretty flower name for girls is not only adorable for a young girl, but ages so well, too.
A global sign of respect, rememberance and hope for our armed forces around the world, this name could be the perfect pick for mamas looking to honor a family member who served.
Brynlee
From Old English meaning burnt (bryn) meadow (lee), this name was ranked #204 in the US in 2022.
Kinsley
Meaning king's meadow, you'll notice a trend in this modern Western-style baby girl names: the -ley ending is a popular one.
Similar modern baby girl names include Tinsley, Emsley, Kensley, Ainsley, Kingsley, Hemsley, and Presley.
Harper
The name harper means quite literally, harp player, and is an occupational name.
This super popular baby girl's name just recently dropped from position 10 to 11 on the baby name charts in 2022, but is still super well-loved.
If you're looking for a name for a baby brother to Harper, check out this list of last names as first names that would naturally pair well.
Unique Modern Girl Names
Looking for the unique modern girl names that are still stylish, yet totally uncommon?
These hidden gems are found lower down on the baby names charts, but they're either creeping their way up, or have been spotted across many different channels in the big wide world of baby names:
Camdyn
Emberly
Freya
Hadley
Baylor
London
Harlow
Berkley
Paloma
Berkley
Pepper
Elowen
Dream
Bellamy
Haisley
Marlow
Modern Girl Names with Hippie Vibes
Next up in our collection of modern girl names are our hippie girl baby names. Made popular in the 60s and 70s, modern mamas are embracing earlier years and falling hard for these pretty, flower power baby names.
Goldie
Indigo
Lennon
Celeb alert: country swooner Thomas Rhett and Lauren Akins welcomed Lennon Love Akins in 2020.
Daisy
Sunny
Billie
Stevie
Lyla
Frankie
Vibin' with the bohemian feels of these baby names?
Check out our whole list of hippie baby names for girls: 49+ Hippie Girl Names (With Meanings) That Are Making A Comeback
Nature-Inspired Modern Girl Names
Another heavy influence in the world of baby names in 2023 is the great outdoors.
Dive into the top baby names charts, and you'll notice that many of the most popular baby names take influence from flora and fauna of all sorts.
The names Lily, Violet, Willow, Ivy, Iris and Magnolia are all different types of plants and flowers, celestial names like Luna and Stella are inspired by the stars and moon, whereas Autumn and Summer give serious seasonal vibes.
Ocean
Flora
Coast
Willow
Oaklynn
Wrenley
Clover
Sunlee
Aspen
Estella
Saige
Ember
Skye
Wynter
Violet
Wren
Calliope
River
Honey
Soleil
Emberlynn
Love this style of baby name? Check out our full list of ocean-inspired girl names here.
Vintage-Inspired Modern Girl Names
If there is one thing for certain, it's that vintage baby girl names are super hot in 2023 in the world of baby names.
In fact, the Social Security Administration's list of girls names rising in popularity is chock full of them:
While the name Margo flew 122 spots up the charts from 2020 to 2021, the name Nellie rose 97 spots, Octavia was up 88 spots, and Mavis rose by 83 spots. Other old fashioned baby girl names that are leading the baby name charts include Nora, Clara, Margaret, Cecilia, Magnolia and Lillian.
Maeve
Birdie
Eloise
Millie
Opal
Ottilie
Margot
Mabel
Eleanor
Pearl
Nellie
Sylvie
Ophelia
Clementine
Hazel
Elsie
August
Biblical Modern Girl Names
Looking for a name that honors your faith as a Christian? Our picks for top modern girl names inspired by the Bible include some surprising choices like names most commonly used for boys, and one with an interesting spelling, too.
Noa
Ezra
Micah
Meaning who is like God?, the name Micah is a total hidden gem for baby girls.
While more common Biblical baby names like Mary and Miriam (in positions 133 and 261, respectively) might feel like a safe choice, Micah is definitely more unique and I personally think this baby name will be on the rise for the next few years.
Also, if you haven't already watched every episode of the third season of Love is Blind with blonde bombshell, Micah, are you even living in 2023?
Shiloh
Selah
Nyomi
Wondering if we've just made a typo? No oops here – this formerly uncommon spelling of the name Naomi is actually 2023's fresh spin on this classic pick.
Having first appeared on the US baby name charts in 2021 in position 970, Nyomi jumped 51 spots in 2021, to position 919.
James
Perhaps another unsuspecting addition to our collection of modern baby girl names, the name James is actually a quiet up-and-comer for girls in 2023.
Although it doesn't yet rank on the US charts, the name James for girls is in position 597 on the Nameberry ranks for 2023.
Olive
While the name Olivia has held fast as one of the *ten* most popular baby names for girls in the US for over twenty years, its more uncommon counterpart, Olive, is coming up behind it.
Having jumped over 100 spots on the charts in the past five years, the name Olive was the 182nd most popular girl's name in the US in 2021.
Though there are so many ways you could go with this name, I love the idea of the name Olive being symbolic of the olive branch that, along with the dove, came after the great food that Noah experienced, as a symbol of peace and hope.
No matter which name you choose for your baby girl, it will be end up being the one that's just right.
Although it might not be exactly what you'd like to hear while poring over lists and lists of baby names that just don't seem to fit, take a deep breath and relax.
Whichever name you do end up deciding on for your baby will be special because you were the one who chose it!
And hey – if you *do* end up going with a baby name and decide after a few days that it's just not right, you *can* change it if you need to (because hey, even Kylie did it!).
Read Next:
❤️‍🔥 285+ Seriously Gorgeous Unique Girl';s Names You *Need* To Hear
❤️‍🔥 125+ *Strikingly Pretty* Earthy Girl Names (with Meanings)
❤️‍🔥 85+ Gorgeous Girls Names Ending in Ie or Y (Totally Cute and Feminine)