This post contains affiliate links.
Searching for cute Disney pregnancy announcement ideas to recreate for your very own baby announcement? Then get cozy because we've rounded up the very best Disney baby announcement ideas that every Disney-lovin' mama-to-be simply *has* to see!
Planning a special way to announce that you're pregnant is one of the most special parts of pregnancy, IMO.
It's like – you finally get to share some incredibly special news with friends, family and others across your socials, and you want something that just feels *you*, right?
Well, mama, if you can sing every lyric to Be Our Guest without skipping a beat, and *totally* agree that Dole Whip is a food category of its own, then this round-up is for you!
We'll kick things off with some quick ideas for how to plan a Disney-themed pregnancy announcement, then go through some photos of cute Disney pregnancy announcement ideas to inspire you, share our giant list of Disney pregnancy announcement quotes that you can use on social media, and finally, we'll show you our fav Disney pregnancy announcement shirts and Disney baby announcement onesie ideas, too!
Ladies and gentlemen, boys and girls, let's take a ride –
First things first:
How do you announce your pregnancy at Disney?
Here are some of the cutest ways to announce your pregnancy at Disneyland, Disney World or another one of the parks:
Take a photo of your favorite Disney snack and add an extra serving for baby

Choose your favorite Disney movie

Choose your favorite Disney ride

Hold Disney balloons

Hold your sonogram up in front of your favorite spot
Write a cute Disney quote on a letterboard

Wear Minnie ears

Hold a Mouseketeers hat

Wear a Disney-themed pregnancy announcement t-shirt

Hold up a pregnancy announcement onesie

Pose in front of the castle
Customize an "I'm Celebrating" sticker
Disney Pregnancy Announcement Ideas
They say a picture is worth a thousand words and hey, we agree.
Here are some of our very favorite Disney baby announcement photos to get your creative juices flowing while planning that little Disney baby reveal:
01.

Family Photo in Front of the Disneyland Castle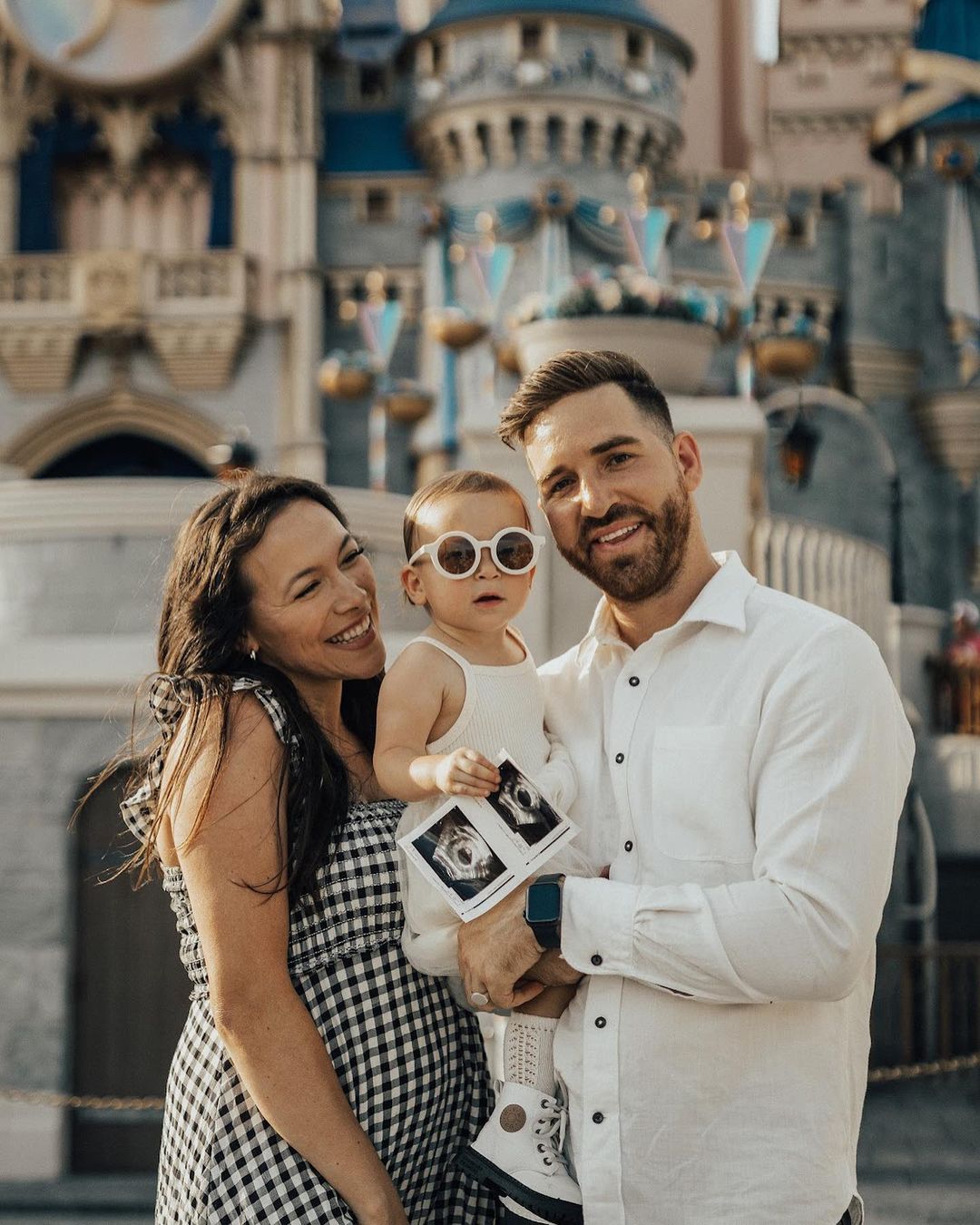 Looking for more cute sibling pregnancy announcement photo ideas? Check out the full collection here: 35+ *Ridiculously Precious* Sibling Pregnancy Announcement Photos
02.

Mouseketeer Ears in Front of the Castle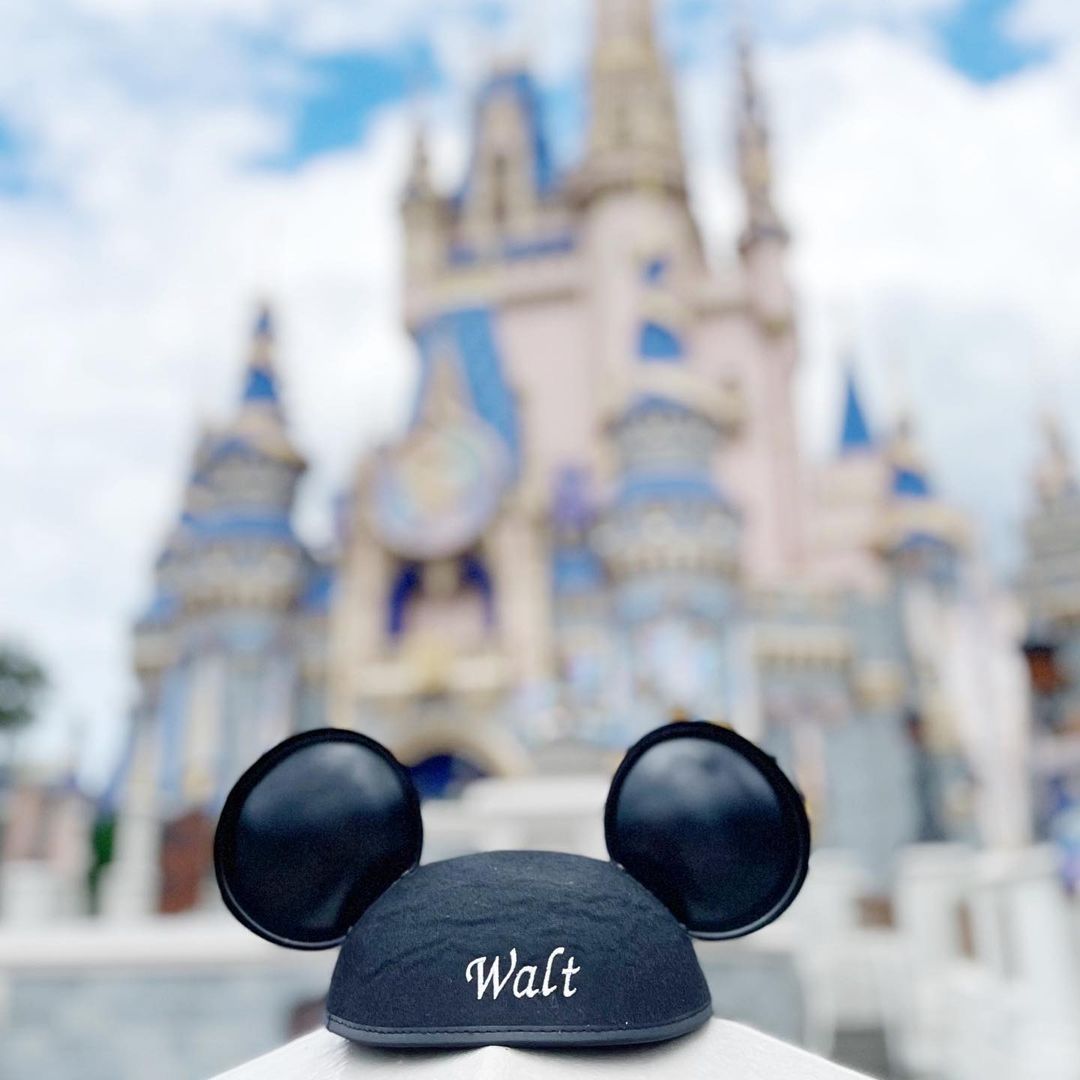 03.

The Cutest Disney Pregnancy Announcement Shirts and Onesie
04.

The *Cutest* Disney Babyccino
05.

The DIY Disney Pregnancy Announcement Photo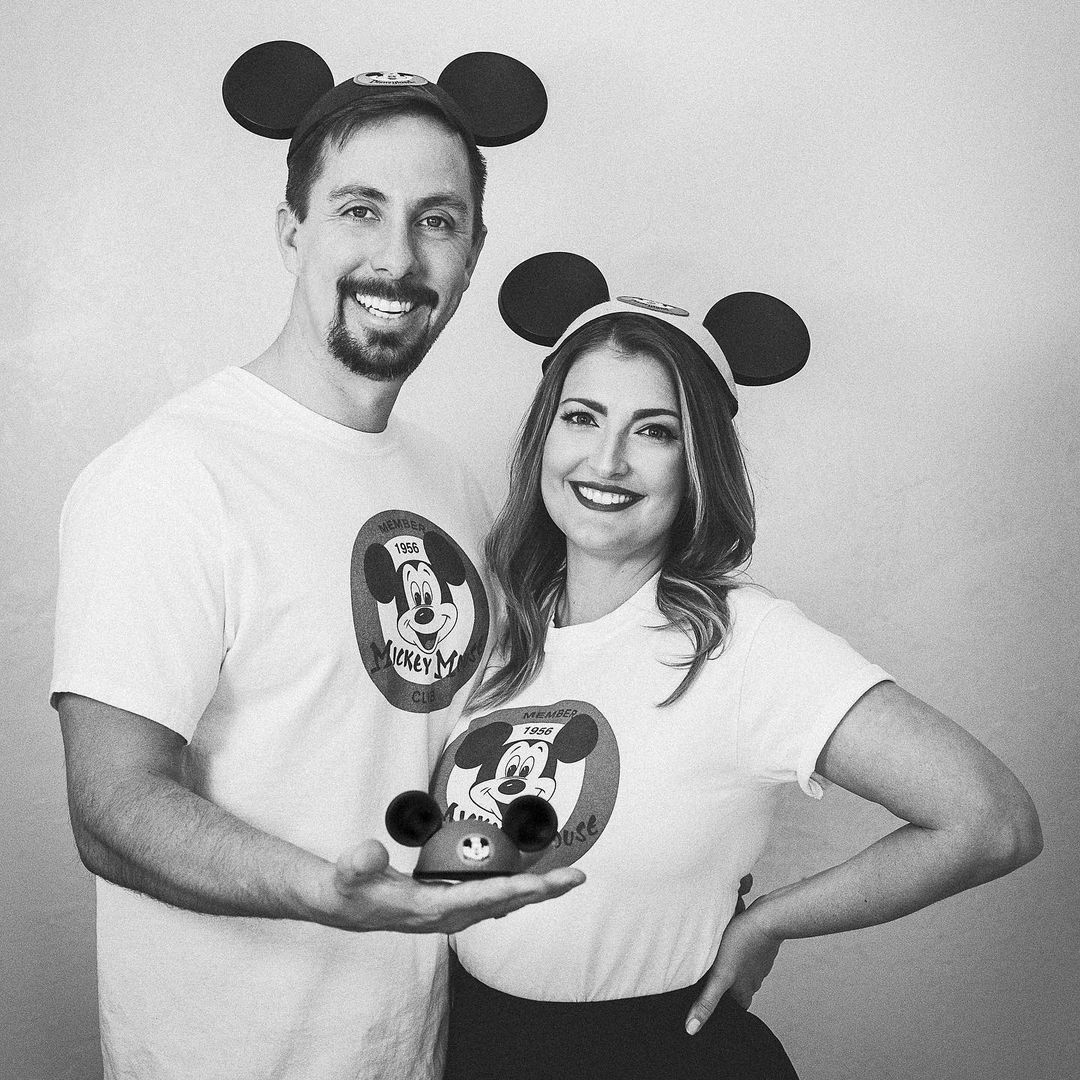 Can't quite make a trip to Disneyland work for your special baby reveal?
Simply find a spot in your home with a neutral background, and get geared up in your fav Disney fits and snap your own pregnancy reveal pic!
06.

The Sibling Disneyland Pregnancy Announcement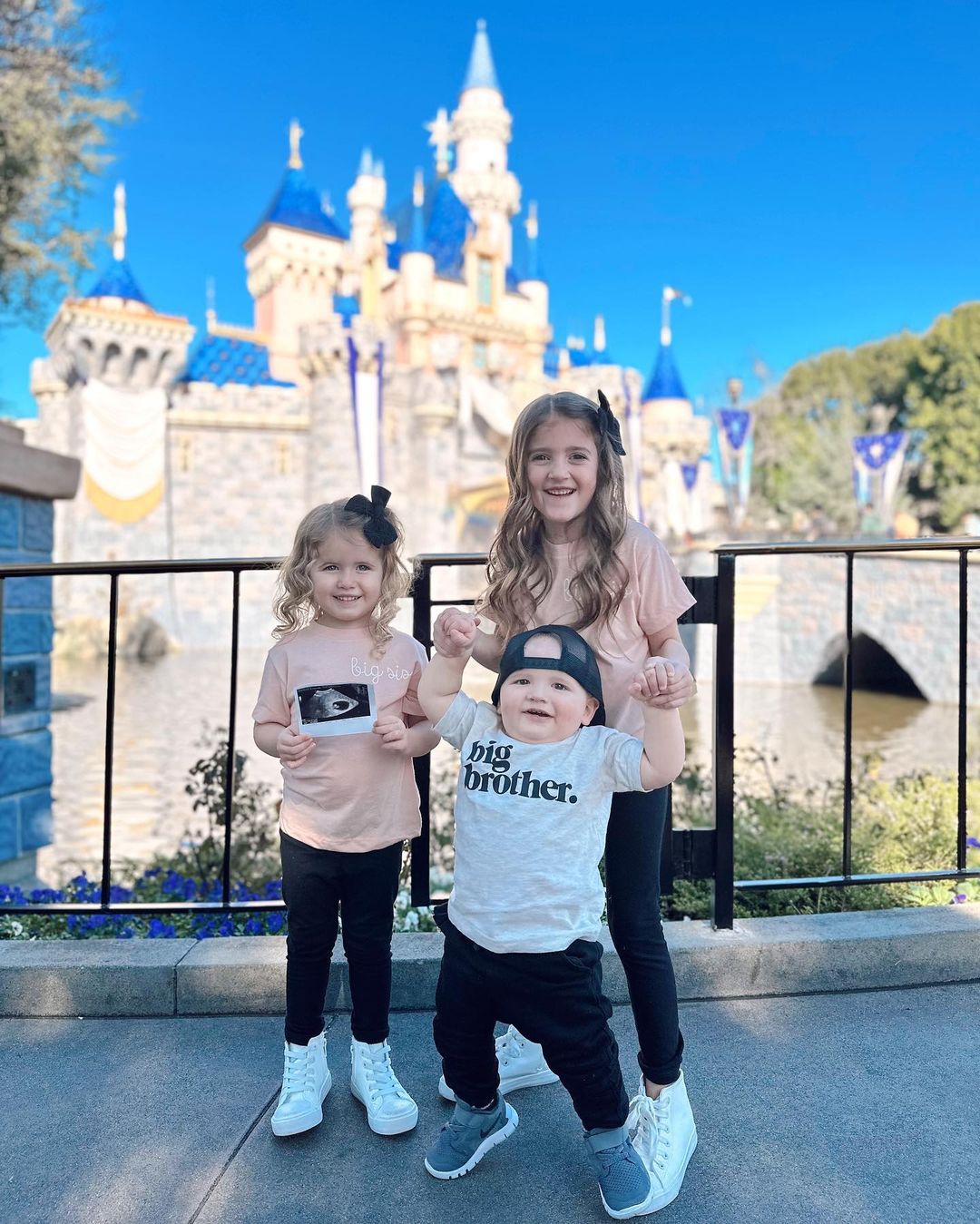 07.

The Flat Lay Disney Baby Announcement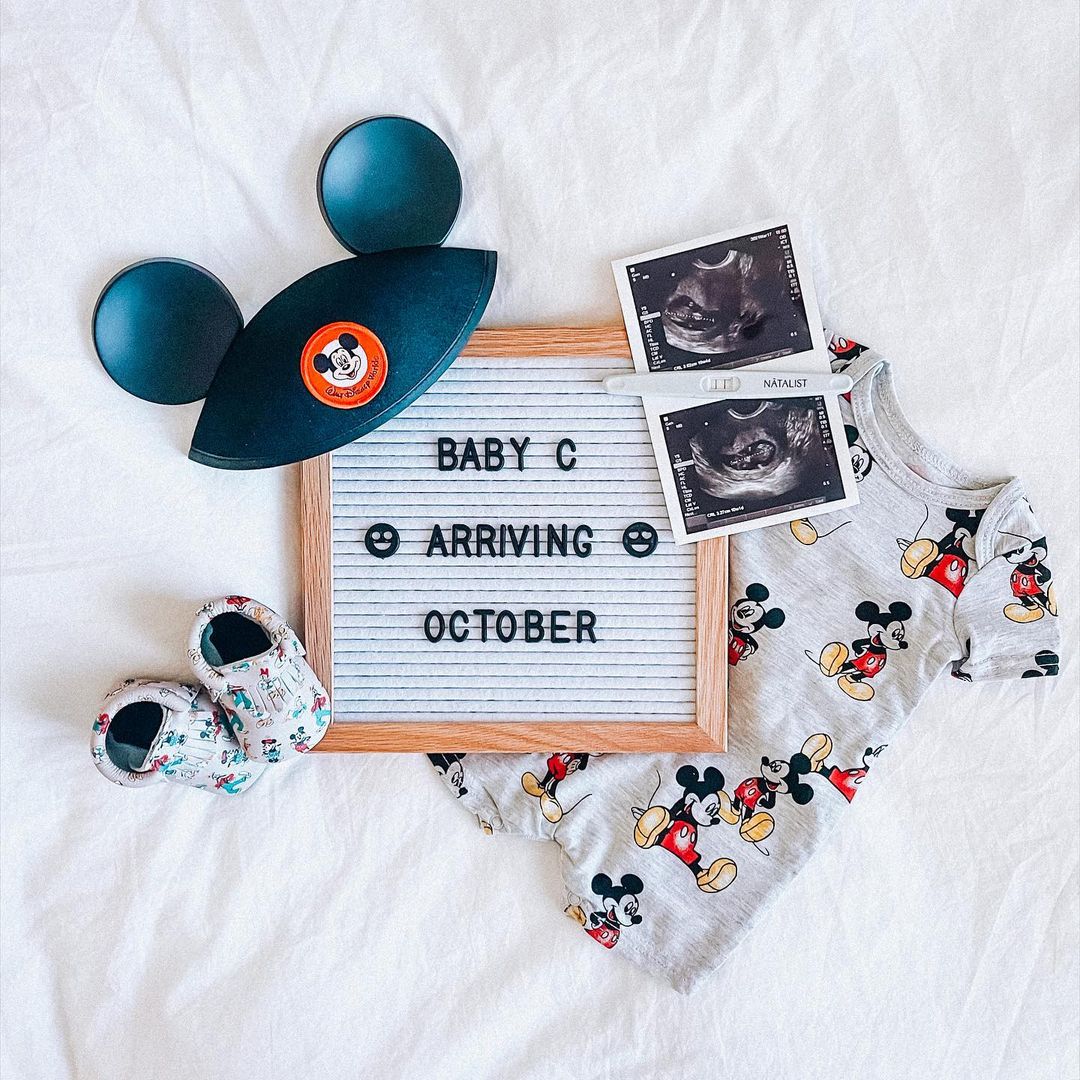 08.

Show Off Your Baby Bump in Your Fav Disney Spot
I love how the background of this image is mostly blue and pink, with mama-to-be in a nice neutral white dress – the tones are so suiting for a little bébé!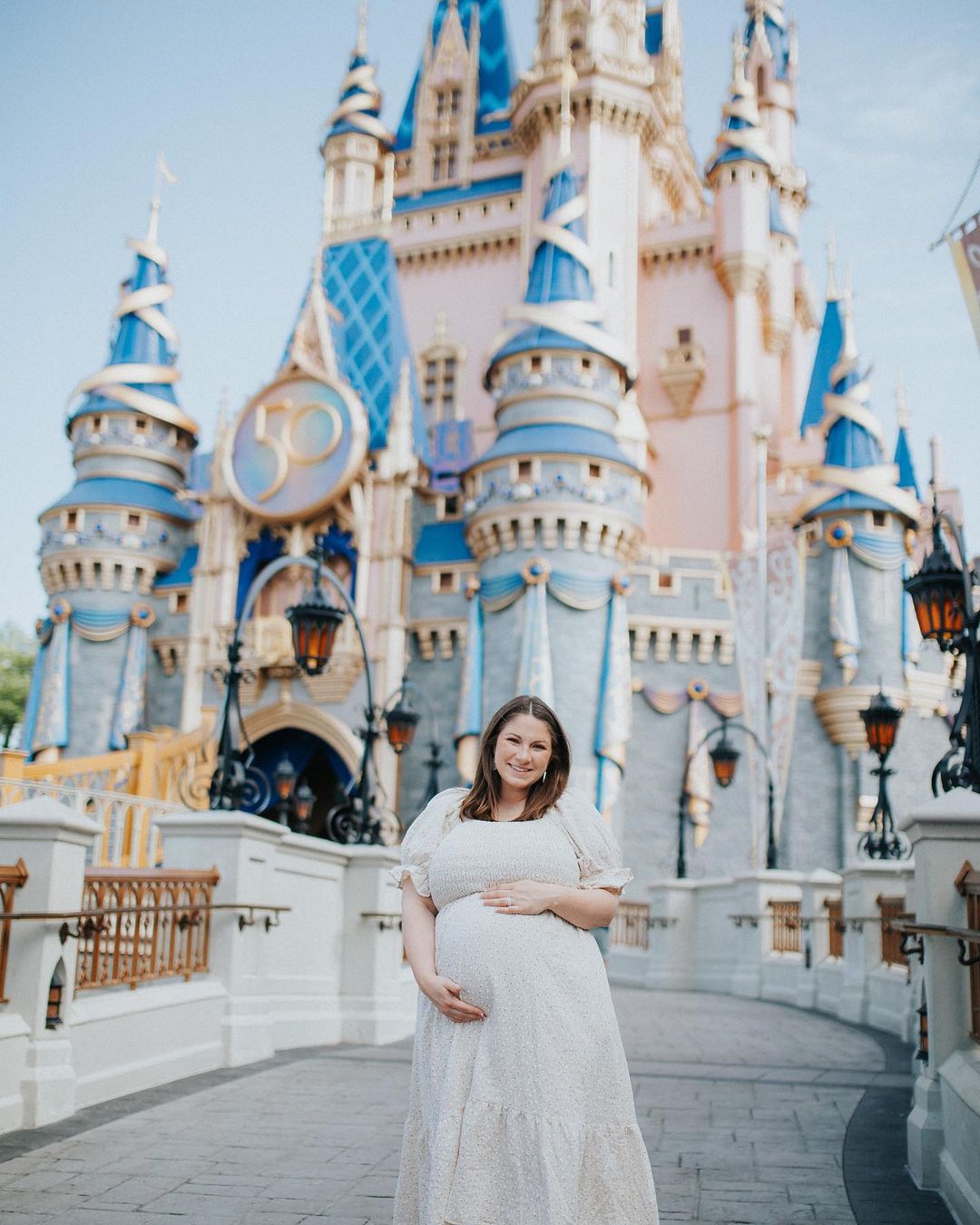 09. Hold Blue & Pink Disney Balloons (and Your Bump!)
10.

Write It In The Sand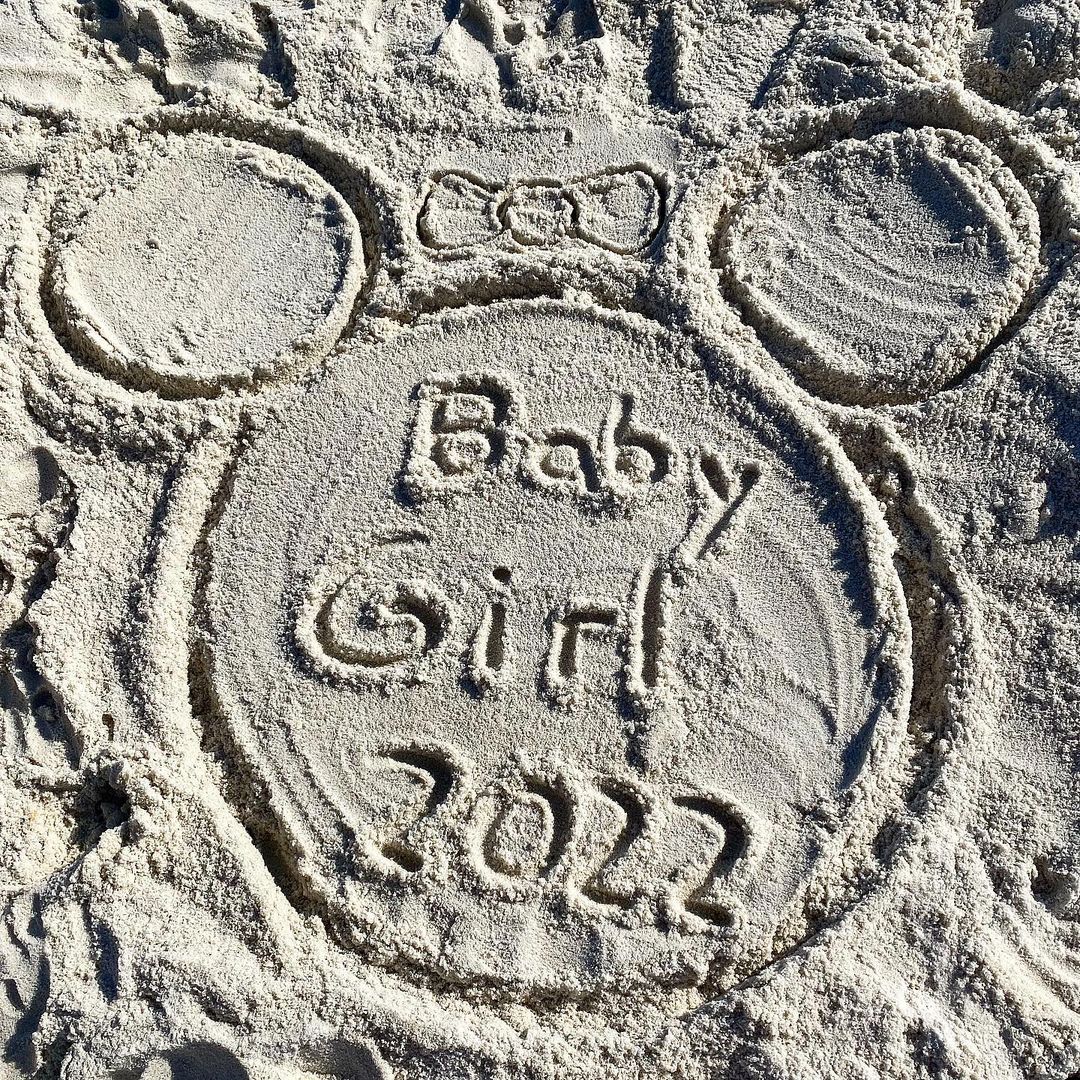 11.

Hold Your Sonogram Up in Disney World
12. Pose with Hubby, Your Sonogram & Mickey Mouse Ears
13. Big Brother or Sister Holding Mouseketeer Ears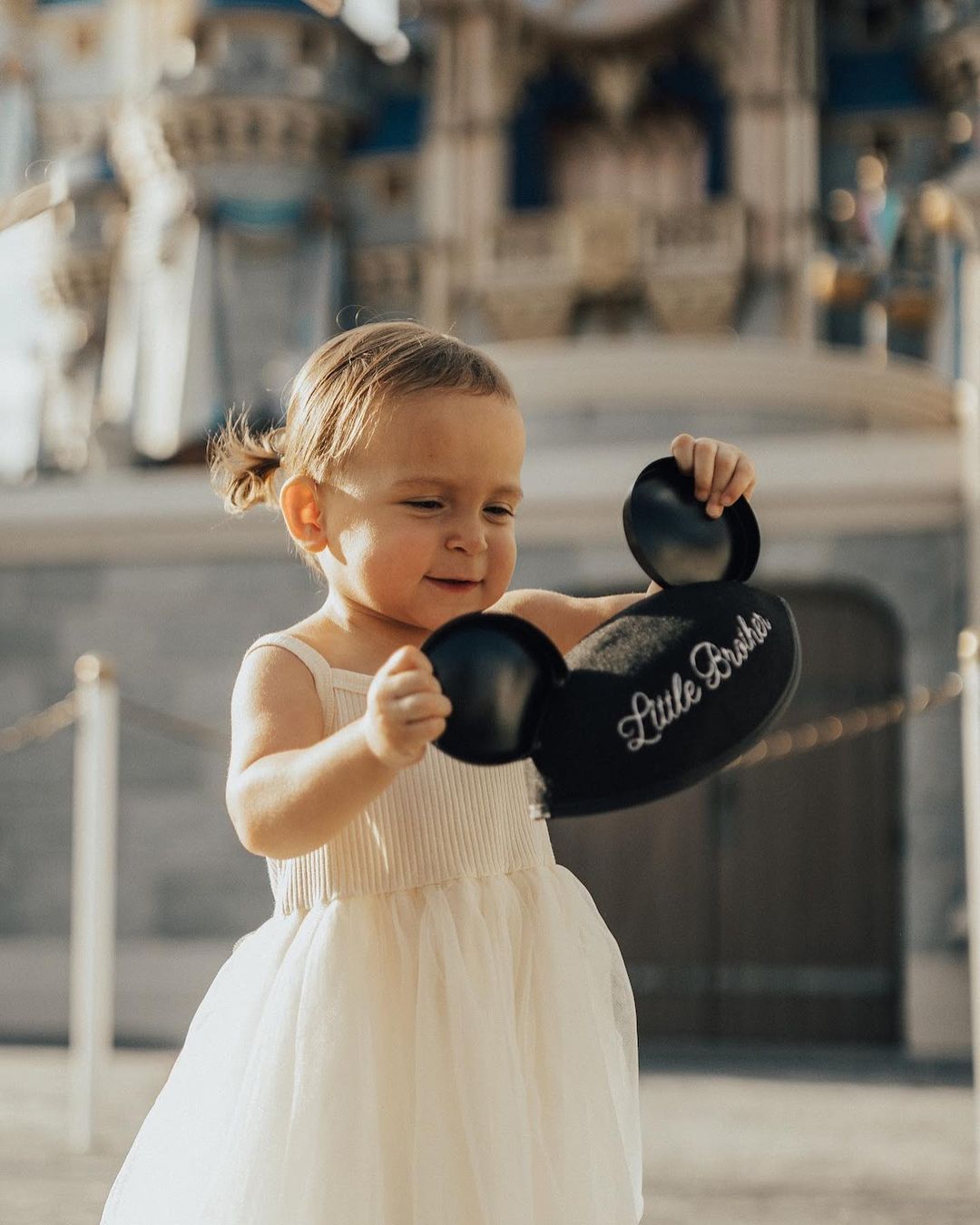 14. Looking Down at Mouseketeer Ears
15. Take a Photo with *Both* of Your Babies 🥹
16. Cinderella & Prince Charming Disney Pregnancy Announcement
17. Pose on Main Street, U. S. A.
18. Toy Story Themed Disney Pregnancy Announcement
19. Up Themed Pregnancy Announcement Ideas
20. Star Wars Pregnancy Announcement Ideas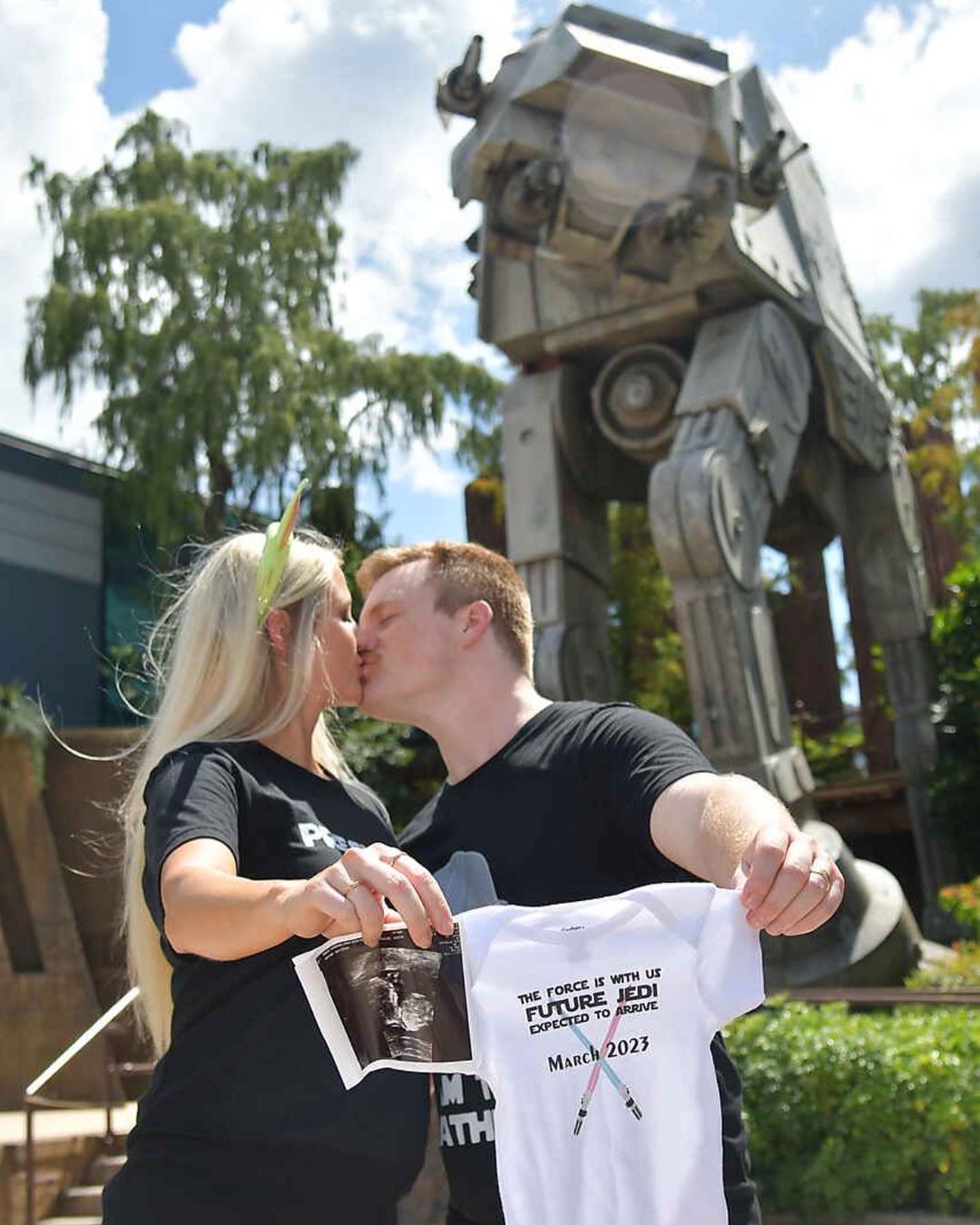 21. Letterboard Disney Pregnancy Announcement
Disney Pregnancy Announcement Quotes
Looking for some cute Disney pregnancy announcement quotes to add as a caption on your social media post?
We've rounded up just about *every* adorable catchphrase and Disney movie quote that you could think of, and listed them by theme.
Here they are –
General Disney World or Disneyland Pregnancy Announcement Quotes
A dream is a wish your heart makes
Dreams really do come true
Happiest mama on earth (A play on "Happiest place on earth")
It's a small world, but ours is growing
Future disney addict arriving (year)
A new princess joins our castle this year
Snacking for two (with images of Disney treats)
Baby's first Disney trip
We're adding a princess to the pack
Mickey & Minnie Mouse Pregnancy Announcement Quotes
Honorary Mouseketeer (month, year)
We're adding a new pair of ears to our family
See ya real soon!
A new Mouseketeer will be joining the club
Adding a mouse to the house
Newest Mouseketeer Expected (month)
Baby Mouse Coming (year)
Winnie the Pooh Pregnancy Announcement Quotes
Sometimes the smallest things take up the most room in your heart.
A little hunny is on the way!
Any day spent with you is my favourite day
There's a rumbly in my tumbly!
Our greatest adventure
Mommy to bee
Toy Story Pregnancy Announcement Quotes
Boy Story 1 (or 2 or 3) – coming this (month)
You've got a friend in me
Up Pregnancy Announcement Quotes
Our last great adventure begins
The greatest adventure is what lies ahead
Beauty & The Beast Pregnancy Announcement Quotes
Beauty and the bump
There may be something there that wasn't there before
Even miracles take a little time
Cinderella Pregnancy Announcement Quotes
Bibbity boppity bump
So this is what makes life divine
Lilo & Stitch Pregnancy Announcement Quotes
Ohana means family and ours is growing
Ohana means family and ours is beginning
Frozen Pregnancy Announcement Quotes
Every Anna needs an Elsa
Let is grow, let it grow, let it grow! (Over baby bump – play on Let it snow)
The Little Mermaid Pregnancy Announcement Quotes
Soon to be… part of this world
Lion King Pregnancy Announcement Quotes
Wild one coming soon
Future king on board
Our little lion is on the way
The Incredibles Pregnancy Announcement Quotes
Something incredible is coming!
Alice in Wonderland Pregnancy Announcement Quotes
She's late! She's late! For a very important date
Tangled Pregnancy Announcement Quotes
All at once, everything is different, now that I see you (from the song 'I See The Light' in Tangled, sung by Rapunzel)
Now she's here, suddenly I know, I'm where I'm meant to go
The Avengers Pregnancy Announcement Quotes
Future Avenger coming soon
Star Wars Pregnancy Announcement Quotes
Dadalorian in training
Future Jedi – Arriving (month, year)
The force is with us
Pregnant, I am
Wrapping Up
And there you have it – the ultimate list of Disney pregnancy announcement ideas that are just too good to miss! Which one is your favorite?
Read Next:
✨ 185+ *Precious* Pregnancy Announcement Captions To Steal
✨ 101+ *Adorable* Baby Bump Captions (That You Need To Steal)
✨ 19+ Adorable Pregnancy Announcement Cookies You Should Totally Copy