This post contains affiliate links.
Beachy baby, searching for pretty ideas for a beach pregnancy announcement? Then cozy up, mama, because today, we've rounded up the very best, *gorgeous* beach baby announcement ideas for 2023 that you are going to *obsess* over.
Scrolling through snaps of unique and creative pregnancy announcement ideas is many expecting and hopeful mama-to-be's hobbies.
But when it comes time to planning your own special news, it can feel impossible to choose a baby announcement idea that feels like it fits just right.
Whether you're a bonafide water baby yourself, or just have a special moment like an engagement that also took place on the beach, there are so many reasons to choose a beach pregnancy announcement.
So you don't have to, we've dug through piiiiles of pregnancy announcement photos across all of our socials, and picked the very best shots to get you inspired.
Let's dive in –
The Sandy Handprint Beach Baby Announcement
While the classic ultrasound photo will help make it crystal clear just what your image is about, if you are looking for a more subtle or unique way to reveal that there's a baby in your belly, try a sandy handprint instead.
To keep the image light and airy, stick with outfits that mirror your setting – light beige or khaki colored pants or shorts blend well with the sand, and white and light blue items go well with the same tones found in water and sky.
The Beach Baby Holding the Sonogram Second Baby Announcement
Looking for a cute idea for a sibling beach pregnancy announcement?
Put your sun hat on your little one and give them the sonogram for this sweet photo opp.
You can definitely plan a few different shots, but by opting for this cute pose that doesn't include your first baby's face, you really give the sonogram a chance to shine on its own.
The Romantic Sunset Bump Grab
Wondering which time of the day to plan your beach pregnancy announcement?
Photog Nicole Kirshner gushes, "I always love shooting during golden hour or blue hour. The last little bit of light during the day is my favorite."
Wondering what, exactly, blue hour is?
"Right after golden hour – [when]the sun sets & everything is blue [and] purple."
Baby On Board Beach Pregnancy Announcement
Have a cute pregnancy announcement caption idea?
Try using that as a jumping-off point to inspire your beach pregnancy announcement.
The phrase "baby on board" is brought to live in this creative photo by the Kopersens.
The Blurry Bump
Looking for a beautifully simple image to capture your baby announcement?
Simply stare down at your bump for this candid shot.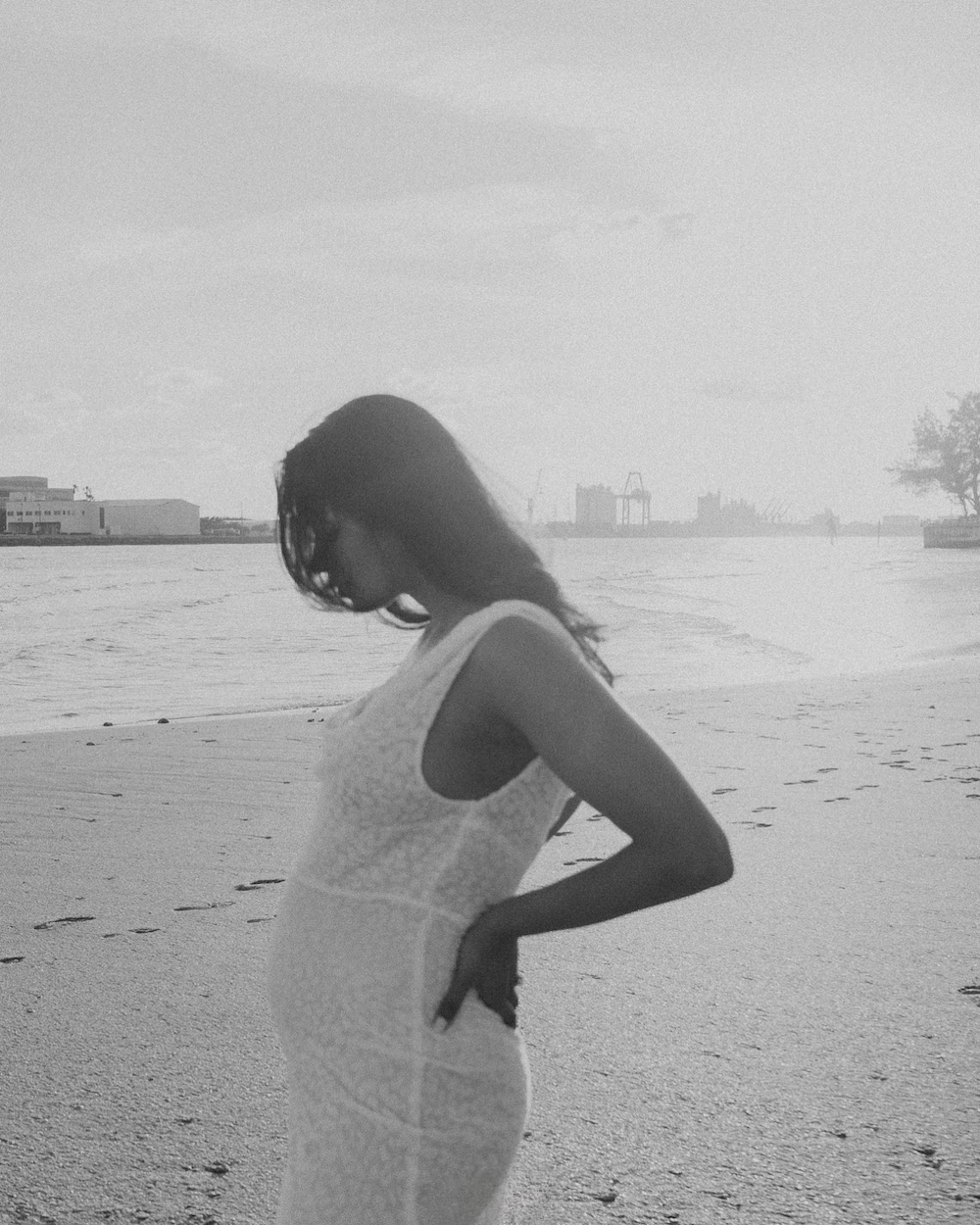 The Written in the Sand Beach Pregnancy Announcement
Although this gorgeous baby reveal photo was taken professionally, this is definitely a shot you could recreate on your own.
Simply use a stick to draw a heart and the month that your baby is expected.
The Golden Hour Beach Pregnancy Announcement
Love the look of this gorgeous style of image that's just absolutely soaked with those last moments of sun?
For photos with a beautiful, warm tone, plan your photoshoot for 'golden hour' – those last few minutes of sunlight before the sun dips down over the horizon.
The Deserted Tropical Beach Pregnancy Announcement
Create a beach pregnancy announcement photo that's got a deep, rich feel to it, by choosing a lush tropical forest for your backdrop.
NBD, right?
The Coastline Couple Beach Pregnancy Announcement
Photography truly is an art, and it's no secret there are hundreds of factors that influence a photograph.
In this beach pregnancy announcement photo, mama-to-be grabs her bump and looks at soon-to-be daddy, but what's worth noting is the composition of the photo – much more pulled back than some of the other, super focused shots on our list.
The Admiring the Sonogram Shot
During my first pregnancy, I had ridiculous morning all-day sickness that lasted way past the first 12 weeks.
If you're in the same boat (see what I did there?), consider planning a photo like this little beachside snuggle sesh.
No hair and makeup required. 👌🏼
The Itty Bitty Baby Shoes Beach Pregnancy Announcement
Although I've seen them on many lists of "baby items you actually don't need", baby shoes are one of my *favorite* items to buy.
Besides the fact that they're ridiculously cute, they make for a great little photo prop to announce that you're expecting!
Riding Bikes on the Boardwalk Beach Baby Announcement
Not all beach pregnancy announcement ideas require sand and salt, and this ridiculously adorable couple who took a set of cruiser bikes for a ride along the coast proves it.
The Daddy Grabbing the Bump Baby Announcement
While any quality photographer will be sure to capture a number of different shots and perspectives during your photoshoot, this idea is definitely one to add to the list.
Yes, mama's the one dealing with that nagging queasy feeling, going to all of the doctor appointments, and dealing with an expanding belly, but a pregnancy announcement is something special for daddy, too, so find a moment to get him involved.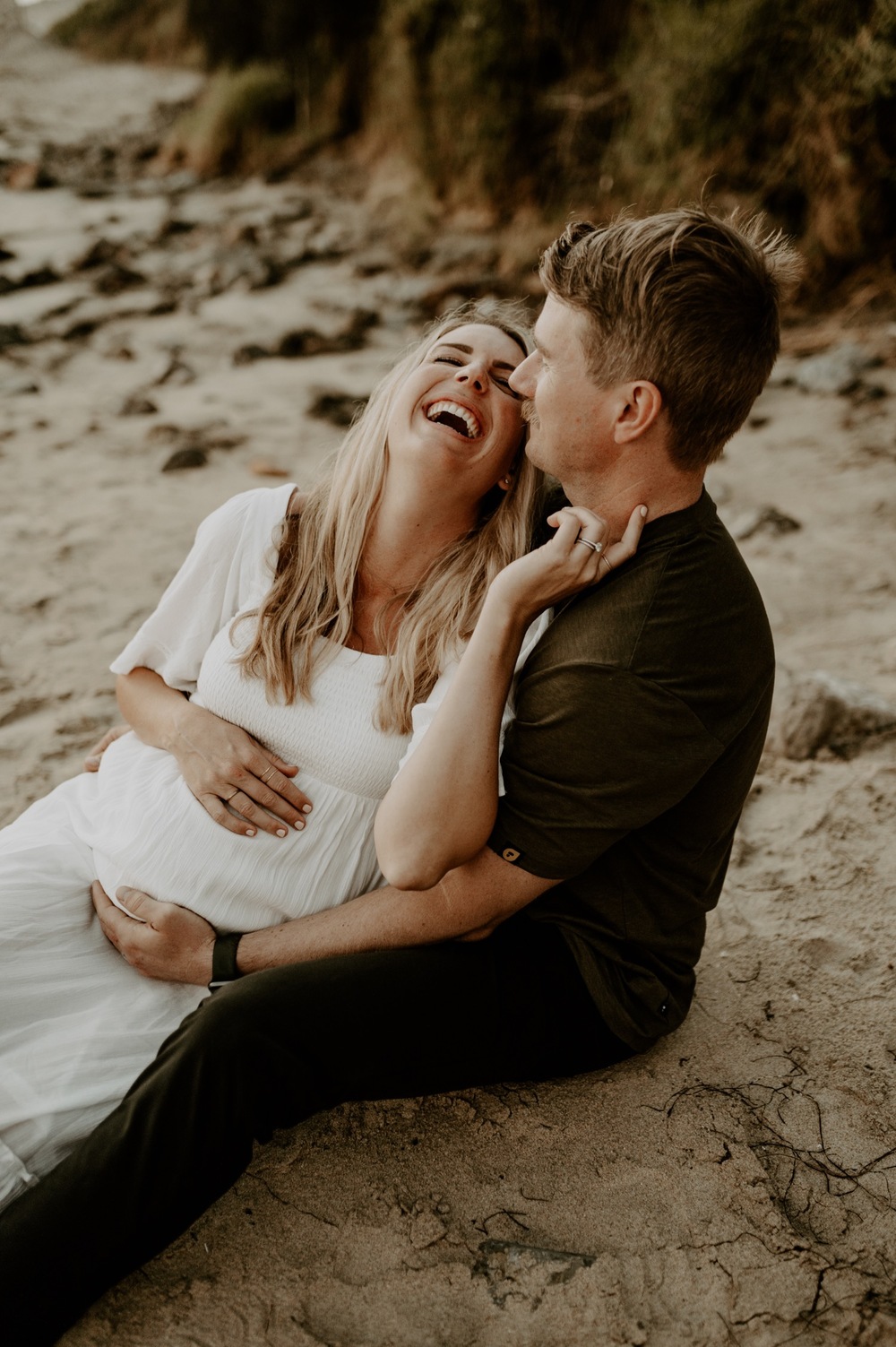 The Second Baby Beach Pregnancy Announcement
Trying to figure out what to wear for your pregnancy announcement photoshoot on the beach?
Nicole has the *best* piece of simple advice ever – "I always say neutrals photograph best."
The Black and White Baby Bump Shot
On the to do list?
For a gorgeous, candid shot, take a moment to connect with your little one while you twirl around holding your bump.
The Hold Me Gently Beach Pregnancy Announcement
Highlight your connection with daddy-to-be by taking a moment to embrace.
The Sun Hat Beach Pregnancy Announcement
The baby on board sun hat is another *perfect* idea for mamas who want a special photo, but simply cannot with the whole glam getup.
The Sitting Solo Beach Baby Announcement
This photo is all about the light – and mama-to-be is *glowing*.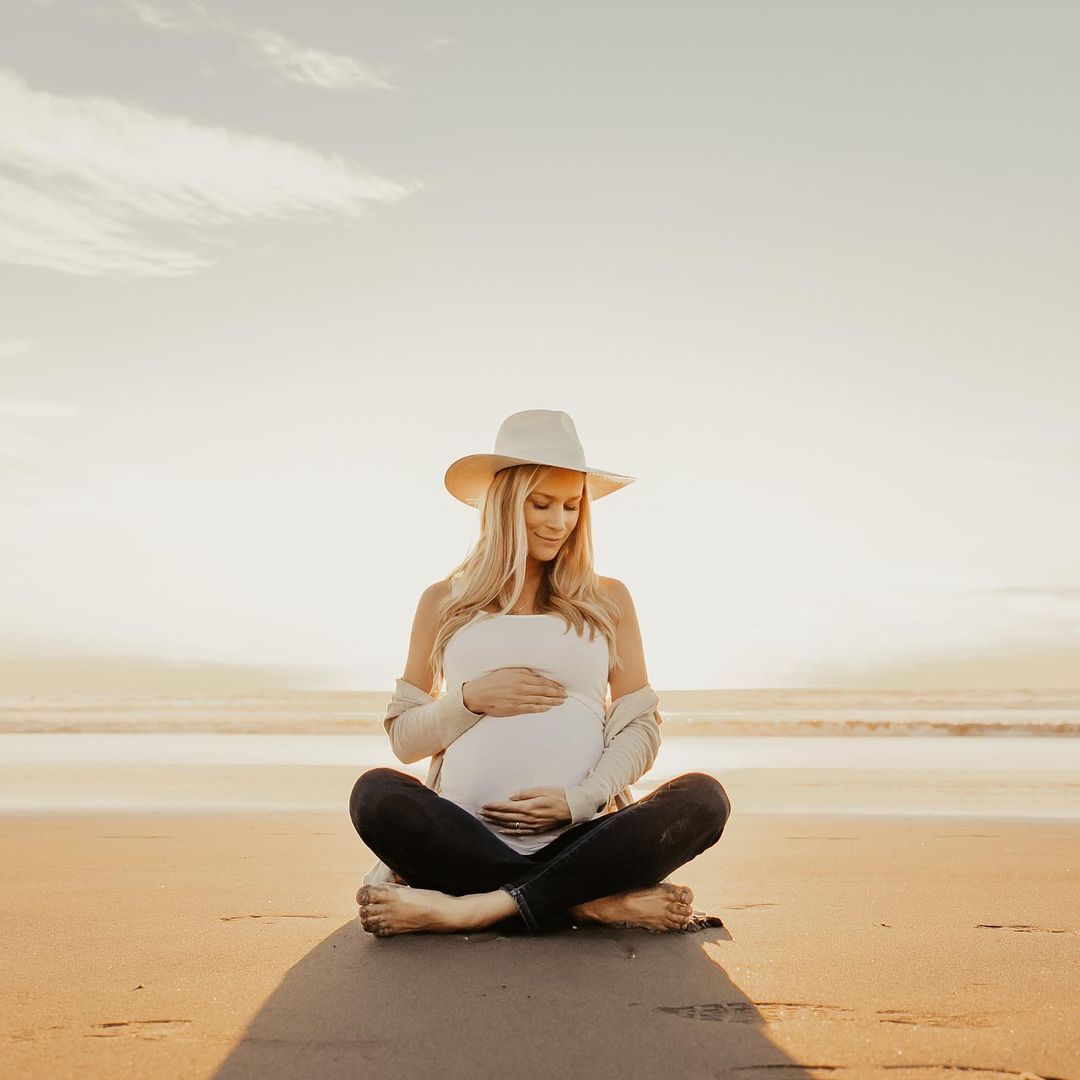 The Soft Hair Tuck Beach Baby Announcement
A sweet, precious moment between mommy and daddy – classic.
The Toes in the Sand Beach Pregnancy Announcement
Flowy floral dress? It's a yes from us.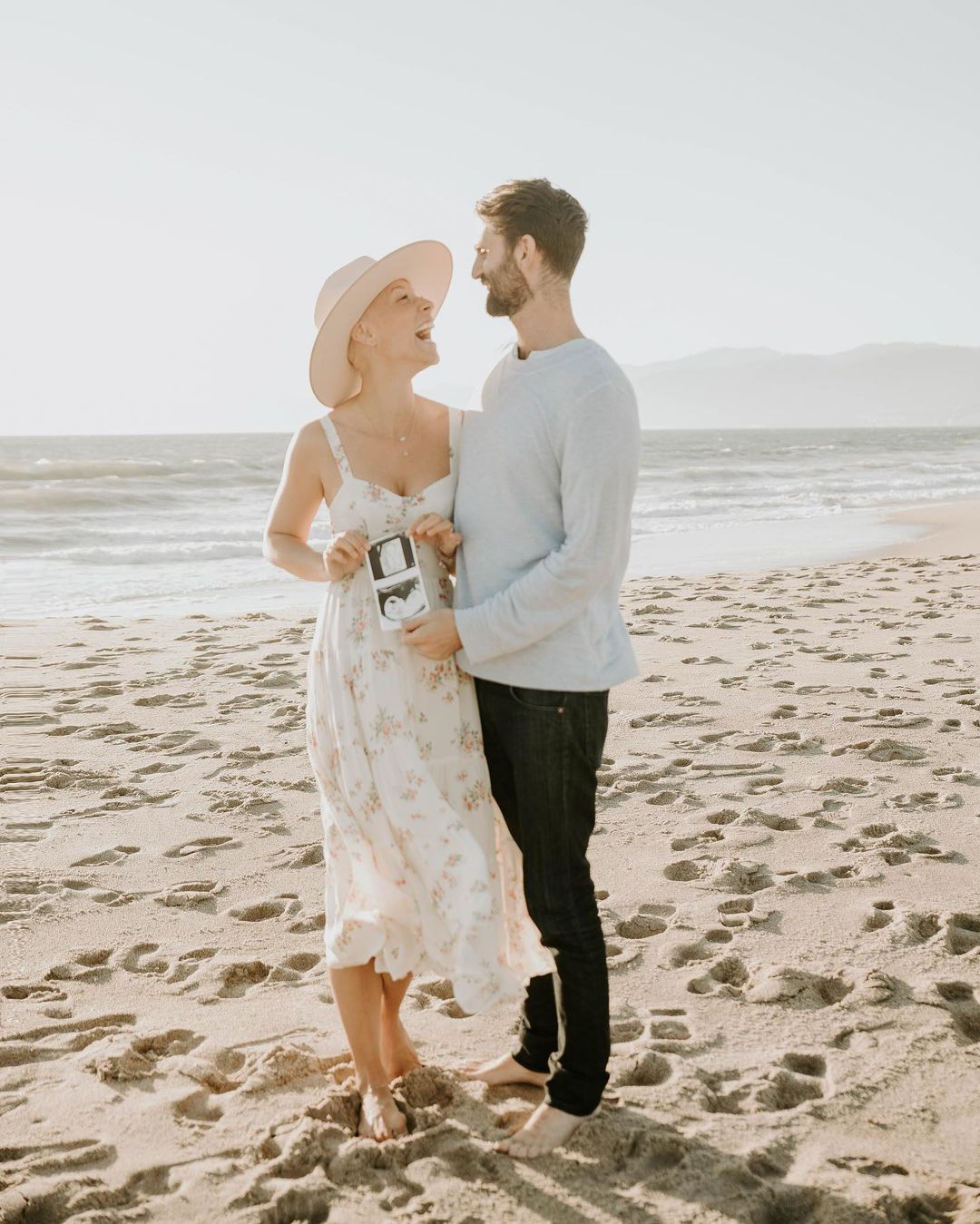 The Shoreline Sonogram Beach Baby Announcement
This pretty photo is another example of how stunning a photograph can turn out when you take a moment to look at the colors of the environment you'll be shooting in, and try to mimic them in the outfits that you plan.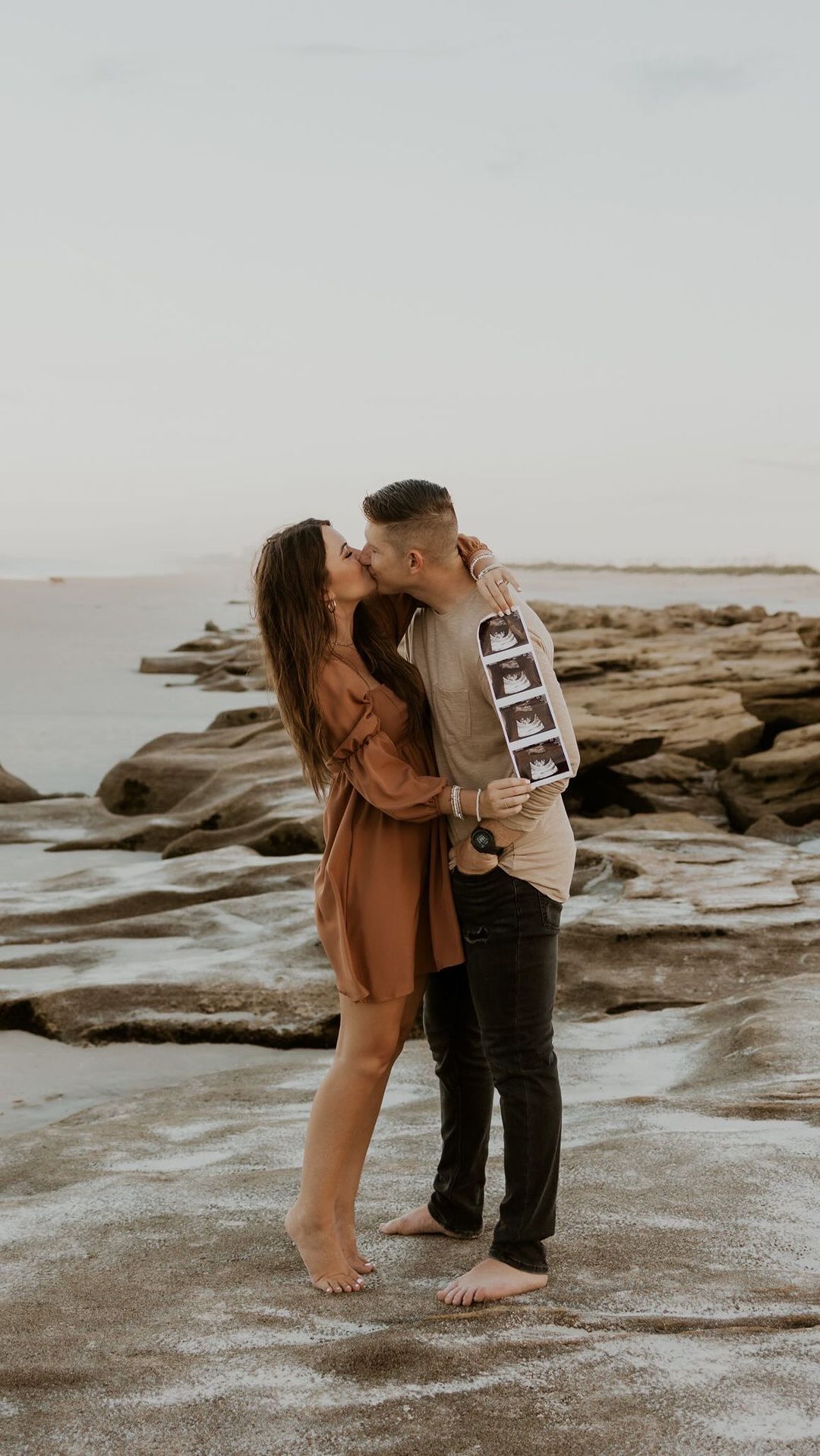 The Big Brother in Training Beach Pregnancy Announcement
It's going to take a bit of training, but somebody's gotta do it!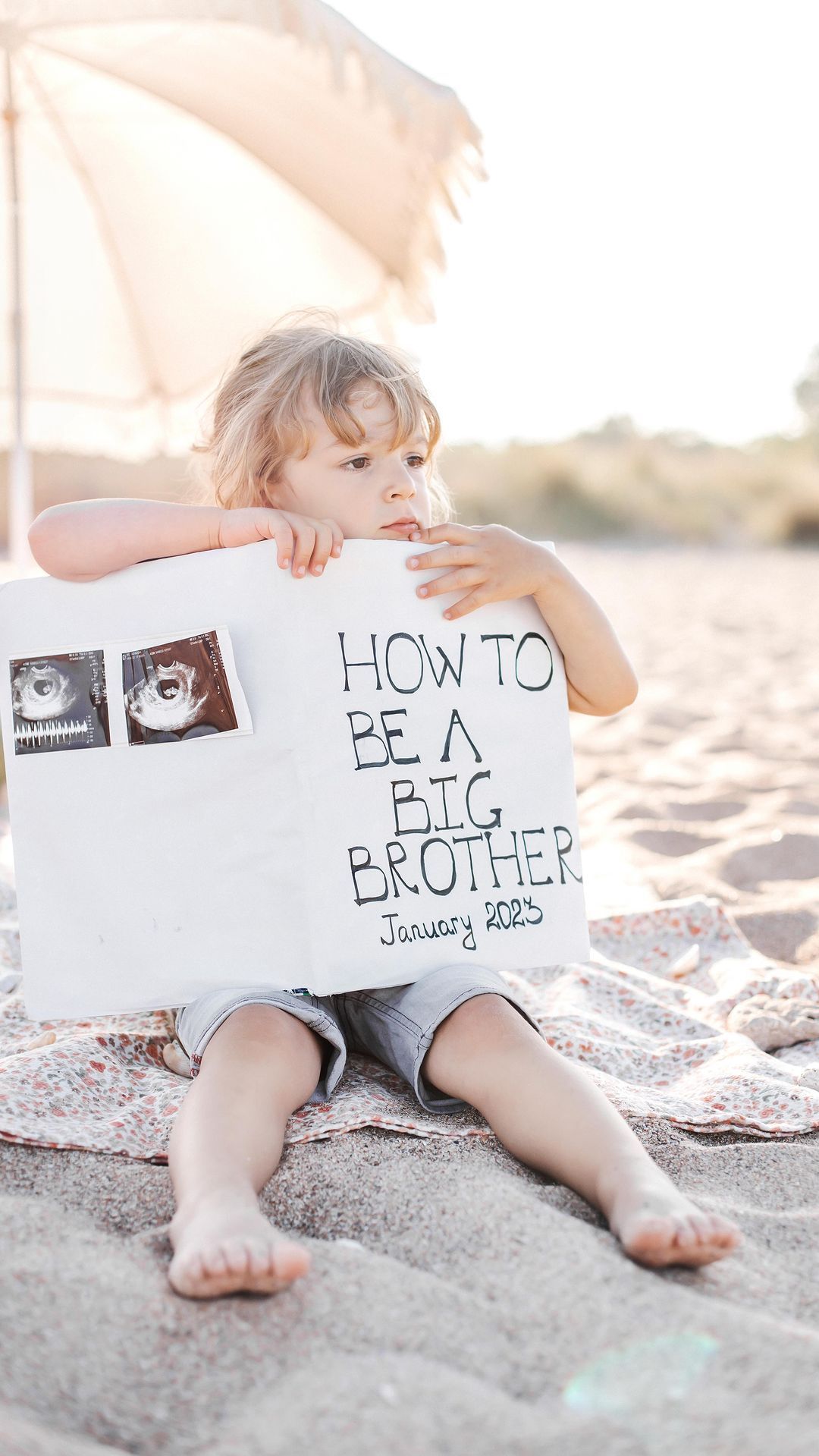 The Wrapped Up In You Beach Baby Announcement
Are you more of a light and bright or rich and moody kind of gal?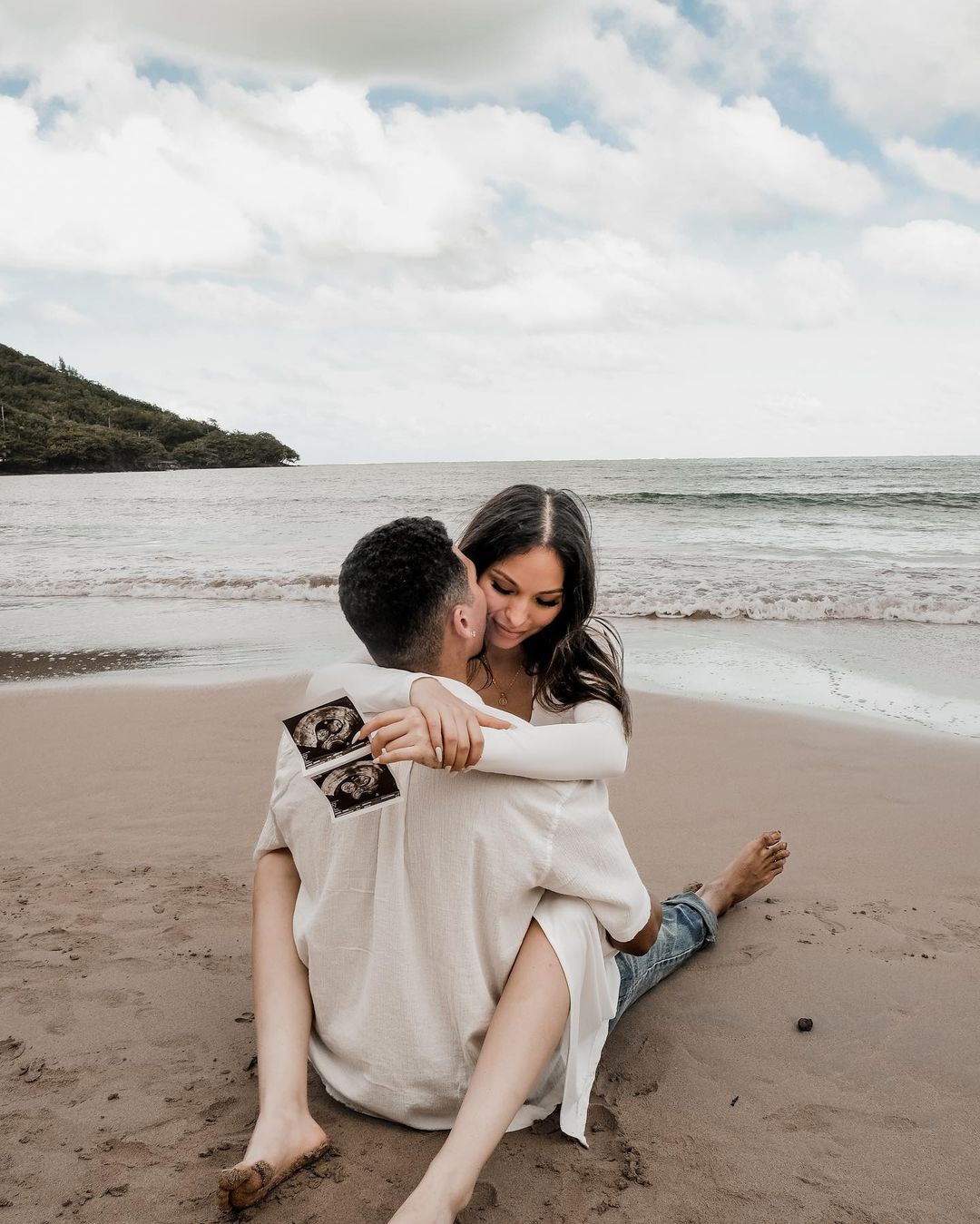 A Special Mommy-Baby Moment
Have a tropical setting that you're planning to take your baby announcement photos in?
A white bikini and button-up beach cover-up are a great low-key outfit idea for the mama-to-be.
The Crashing Waves Beach Baby Announcement
It's no secret that the blurry photo is having its moment right now – and it works.
Wrapping Up
So, will you choose the bikini, the beautifully flowy dress, or a simple, casual outfit for your beach baby announcement?
No matter which way you decide to share your special news, remember to take a moment to soak it all in – because these are the moments you will never forget, mama.
For more inspiration beyond the beach pregnancy announcement that you're planning, check out these picks, too –
Read Next:
🐚 49+ *Beachy* Baby Names For Girls, Inspired by the Ocean
🐚 101+ *Adorable* Baby Bump Captions (That You Need To Steal)