This post contains affiliate links.

Searching for baby bump captions for that totally adorable photo you just snapped, huh?
Well, don't fret, mama – you're in the right place.
Between planning a cute pregnancy announcement, choosing the perfect baby name, preparing for baby and oh – creating a human – it's no wonder you've run out of creative juice.
So today, we've put in the legwork so you can, well, kick yours up instead.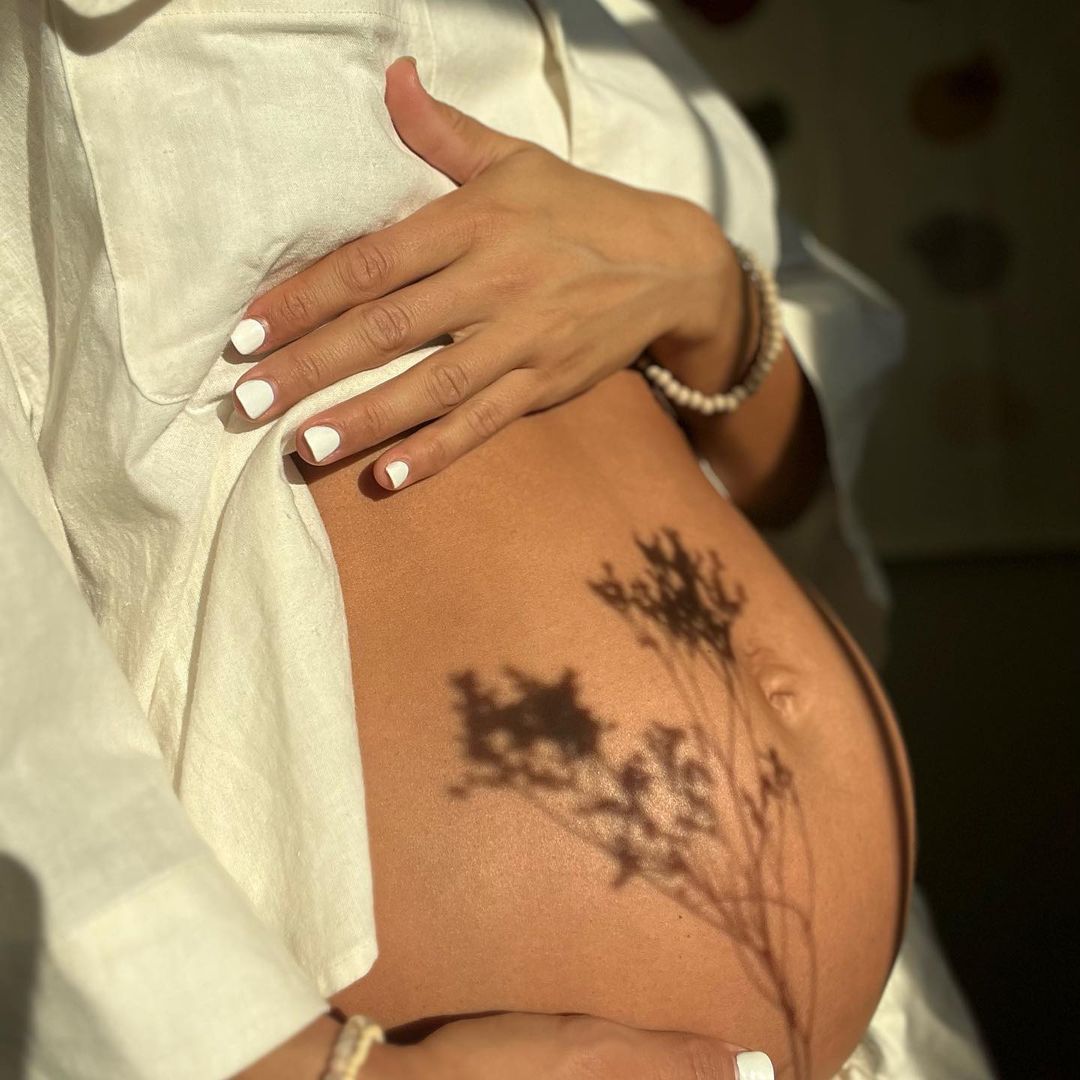 As you get ready to welcome that precious, new life into your family, it's so special to be able to snap some photos to remember this time.
From funny (ok – downright hilarious), to cute, to sentimental – we've rounded up over 100 of the best baby bump captions that we just know you're going to love.
So, grab a cuppa and let's dive into some of the best baby bump picture captions out there –
What Should I Caption my Baby Bump?
When trying to come up with a cute pregnancy bump captions for social media, you've got options.
Laughing at how ridiculously hard this whole pregnancy thing is? Silly, funny baby bump captions can help you capture the mood.
Finally had the chance shower and actually feel like a human for a minute?
Go with one of our cute pregnancy captions instead.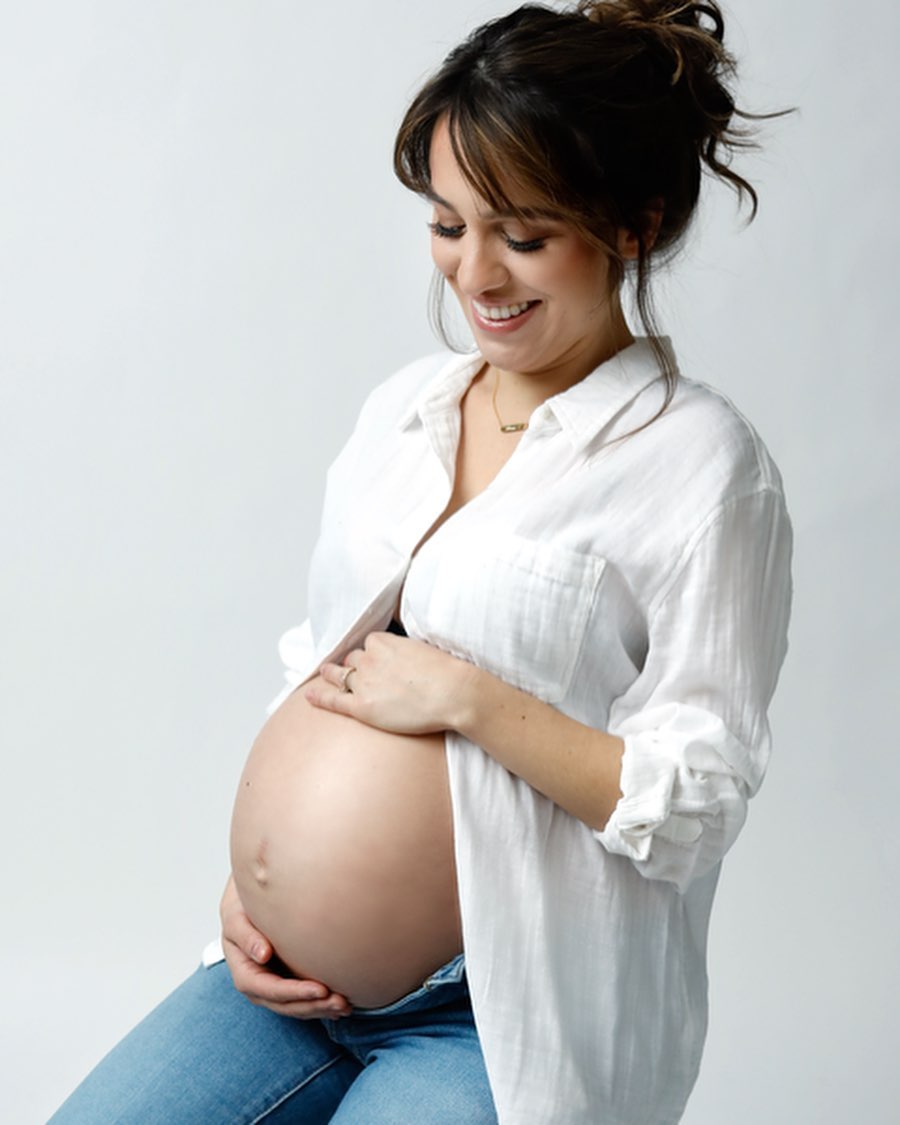 Or – if you're a more festive gal (you know, the kind whose Christmas decor goes up on November 1st) – check out our list of cute seasonal baby bump captions to celebrate that bump in style.
Whether you're expecting a boy, or baby girl, there's something on this list for you!
To jump to a section, just tap one of the links below:
Cute Baby Bump Captions
Looking for something more sentimental and sweet?
These cute baby bump captions and Instagram are a match made in heaven. ☁️
Future Besties
F l o u r i s h i n g
Baby loading…
Feelin' myself 〰
baby daddy 🥹
Pregnant as a mother
(##) weeks with you, baby (girl/boy)
This is (#) weeks
Baby has entered the game
Mama in the making
Funny Baby Bump Captions
Congrats, mama! You're in the middle of the ride of a lifetime.
Let's celebrate by laughing at these hilarious baby bump selfie captions together –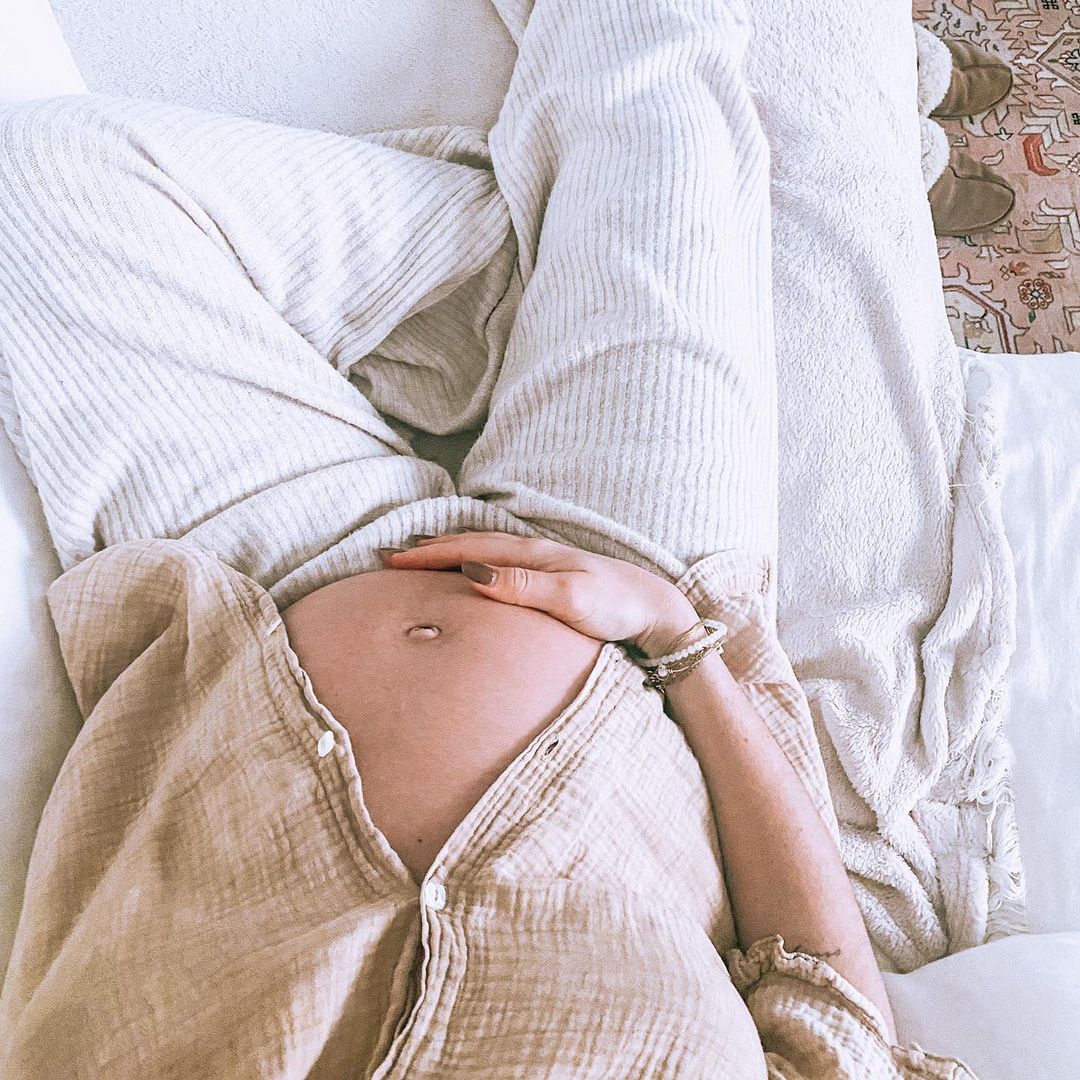 While many mamas won't share their pregnancy on social media until after 12 weeks, some do.
Whether you want to start taking (and sharing) bump pics as soon as you see that positive pregnancy test, or choose to wait until later – here are our favorite funny pregnancy quotes to share that growing, new baby of yours.
(Fair warning: buckle up, mama – this list of funny baby bump quotes is *huge* – get comfy.)
8 weeks – The secret is killing us.
Week 8 – How many donuts is too many donuts? 🍩
Week 9: As emotionally unstable as an IKEA table.
Week 10 – Growing this baby is exhausting. 💤
I like to think coffee misses me too. 12 weeks.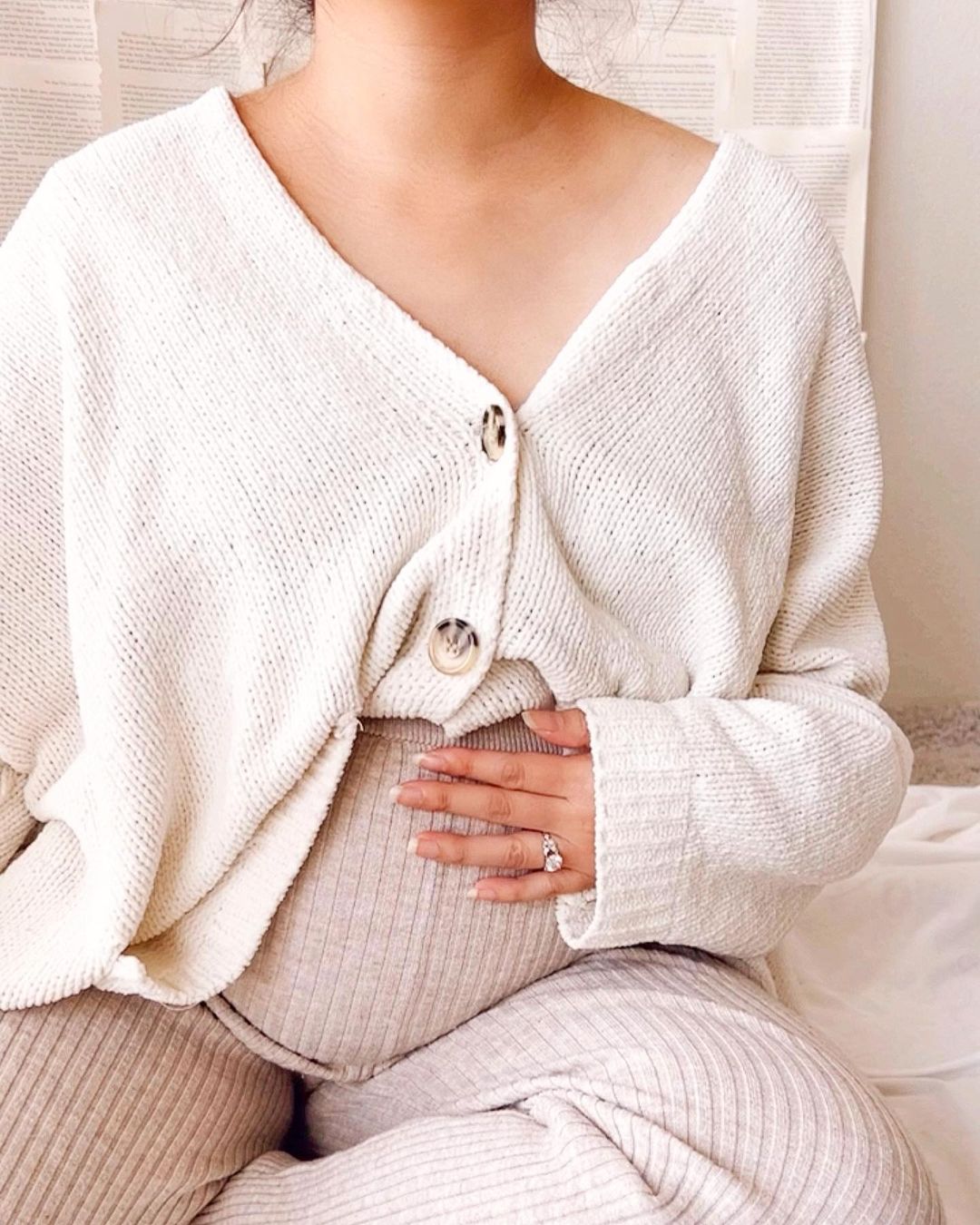 Morning: tired. Afternoon: need a nap. Night: wide awake.
Week 10: Thank God for Amazon. 📦
12 weeks – Might be a bump, might be a burrito.
Today, I conquered the world. Just kidding. I napped.
Turning food into human is exhausting.
The second trimester takes place between 12 to 24 weeks.
For some expecting mamas, the second trimester can be a time where you get a burst of energy and feel a whole lot better (compared to the first trimester).
For others, not so much.
Either way –
From feeling that first kick, to saying bye-bye to sleeping on your back, the second trimester is full of new experiences, no matter how you slice it.
So, cue up that Instagram post and share the ups and downs of your second trimester with these cute pregnancy quotes:
Week 13 – How to win an argument: 1. Be pregnant 2. The end.
15 weeks – Pass the guac.
16 weeks – I wonder if wine misses me too.
16 weeks – Cuteness in progress.
18 weeks: Exhausted, hungry, hormonal. Approach with caution.
19 weeks – My current fashion style: things that still fit me.
Halfway there, baby boy (girl) 🤍.
20 weeks – Whoa, we're halfway there!
20 weeks – Boy or girl?
20 weeks – Halfway to meeting our sweet baby boy and it still feels surreal.
20 weeks & counting.
20 weeks – Half baked, baby!
Week 21 – Not to brag, but I haven't had a mood swing in like seven minutes.
21 Weeks – Me: Bedtime. Baby: Karate Time.
Week 21 – Less jeans, more stretchy pants.
22 weeks – To pee or not to pee. That is never the question. Pee.
Don't know about you but I'm feeling 22 weeks pregnant.
22 weeks – Baby is an acrobat.
Week 24 – It's all fun and games until your jeans don't fit.
24 weeks – Partial eclipse of my toes.
24 weeks – You're killin' me smalls.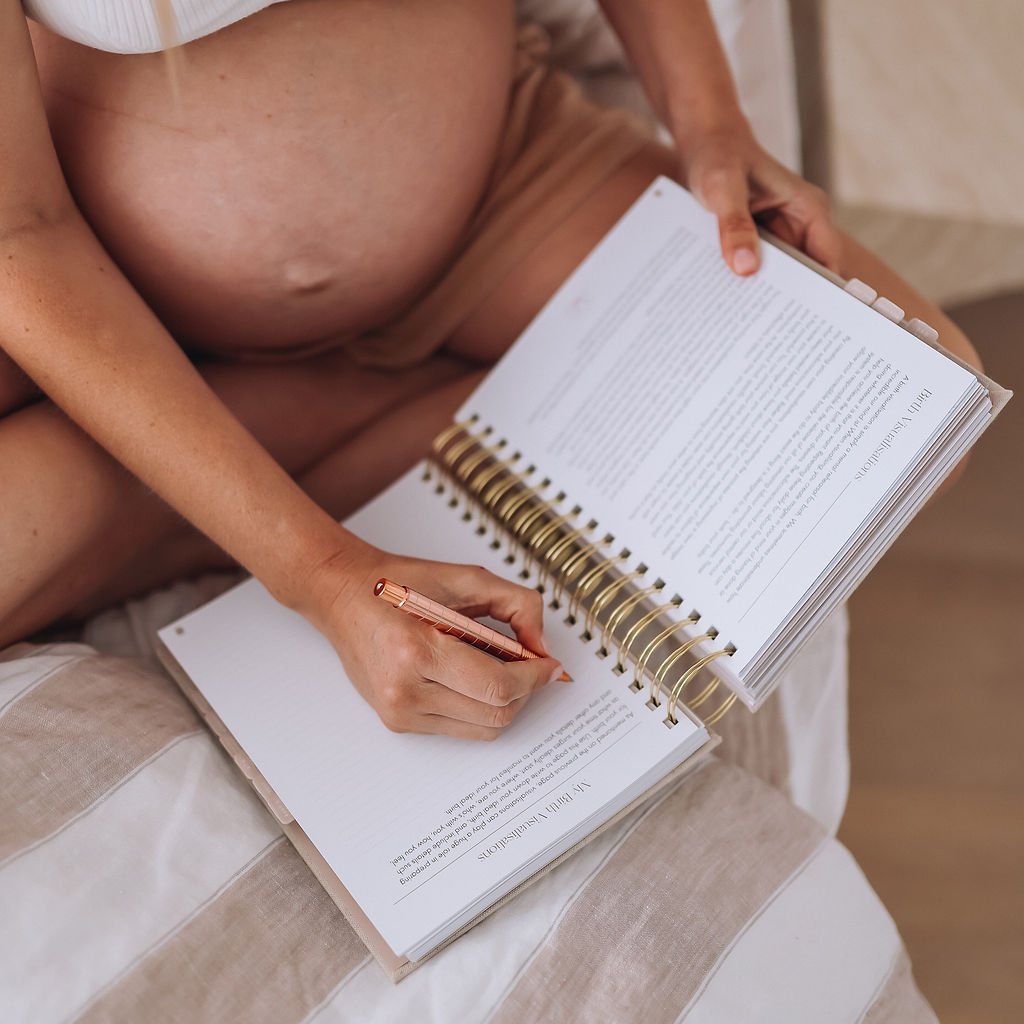 And last but not least, possibly the most (awkwardly) hilarious and funny trimester of them all, the third trimester.
Your due date quickly approaches, and your little miracle will be in your hands before you know it.
Here's how to document it with these funny pregnancy captions for the third trimester:
Hello 3rd trimester, goodbye toes!
25 weeks: Ways to my heart – buy me food, make me food, be food.
25 weeks and heartburn has me up all night.
25 weeks – Need oxygen.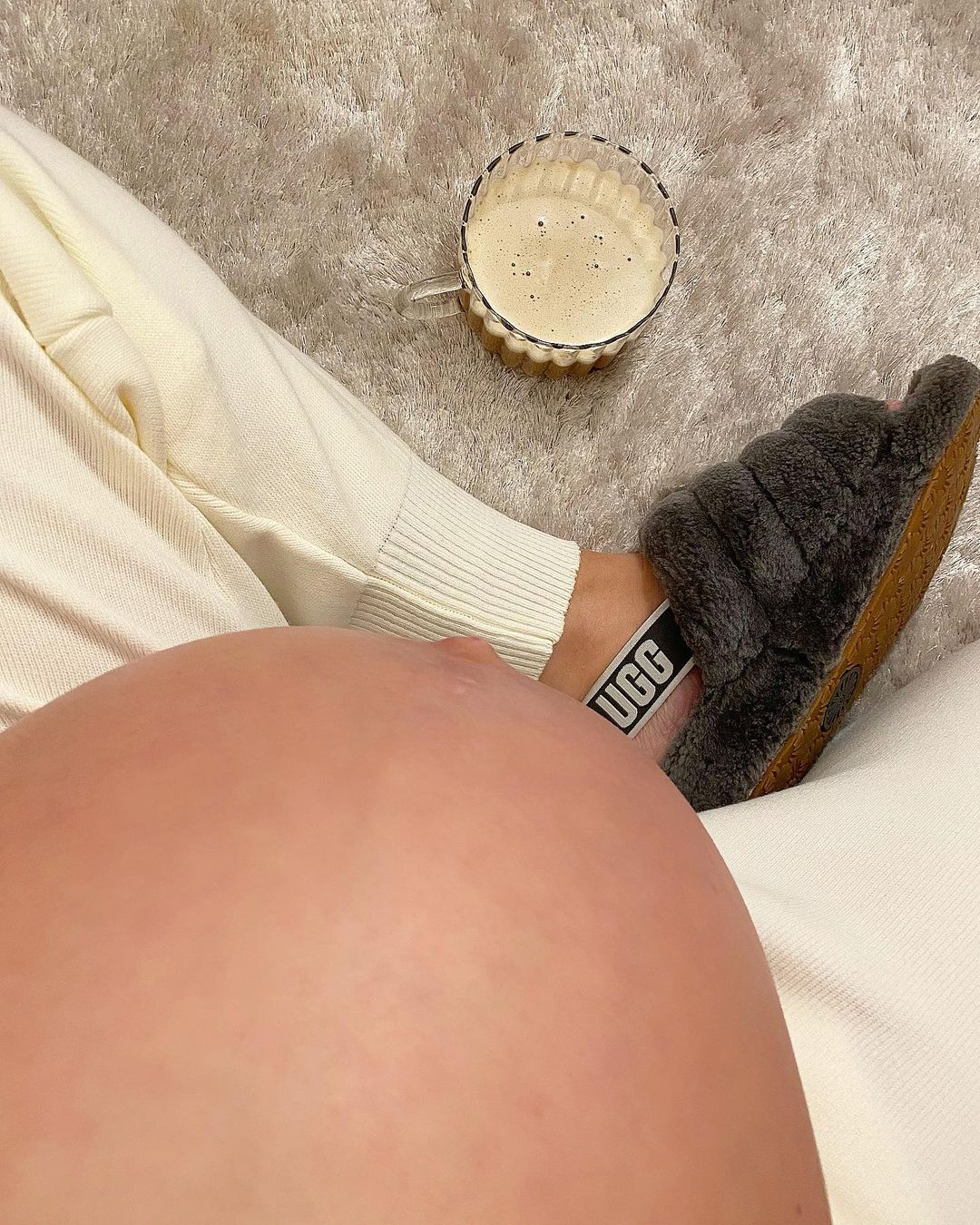 Week 25 – Where is my chocolate?
All I do is PEE PEE PEE, no matter what.
Week 26 – Less than 100 days until we get to meet you.
Week 27 – Nothing fits, I have to pee, A pair of socks made me cry.
Week 27 – How many Tums is too many Tums?
28 weeks – They said there'd be glowing.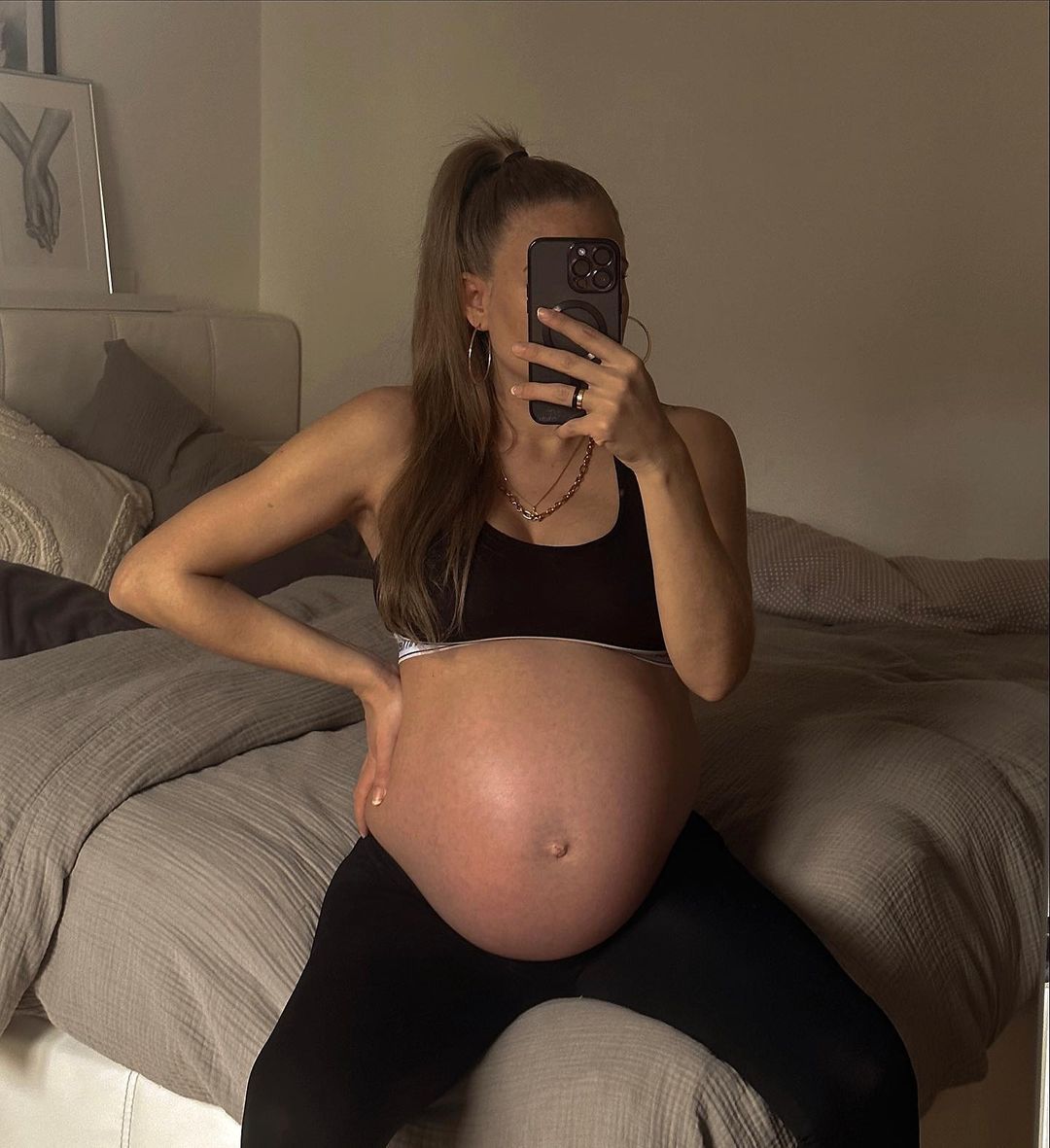 Week 28 – Him: is that my shirt? Her: not anymore.
29 weeks – Can't stop eating, can't sit in my shoes, couldn't be happier.
29 weeks – Kick me baby one more time.
"I'm really enjoying this hot weather" – said no pregnant woman ever.
30 weeks down, 20 million things to do, 10 weeks to go.
Week 30: Heartburn game strong.
Week 30 – Bra off, hair up, belly out.
30 weeks down.
31 weeks – A balanced diet is a cupcake in both hands.
Week 31 – What is sleep?
I seem to remember once being able to get up without sound effects… 31 weeks.
32 weeks – Our birth plan: we want the baby to come out. That's our plan.
32 weeks – I'm not waddling, it's called pregnancy swag.
32 weeks – I just don't want to look back and think… I could've eaten that.
32 weeks – When rolling over in bed counts as your daily exercise.
32 weeks – Only peed 8 times last night. Go me.
Week 33 – If you're happy and you know it, kick your mom.
33 weeks – I'm just a girl, holding a lemonade, asking it to be a margarita.
33 weeks – How many onesies is too many onesies?
Week 33 – Don't ask me why I'm crying because I don't know.
34 weeks – I'm at the point where if it falls on the floor, it's dead to me.
Can't wait to meet you.
35 weeks – each month has an average of 30 days, except the last month of pregnancy which has 1573 days.
35 weeks – When your wife is this pregnant, you don't eat the last of anything.
Week 35 – The baby made me eat it.
40 weeks: Ready to pop.
Too big for most of my clothes, too far along to buy more.
35 weeks – Roses are red, violets are blue, I'm too pregnant to rhyme, give me ice cream.
35 weeks pregnant (but it feels like 80).
35 weeks – The waddle is strong. The bladder is not.
36 weeks: Hello month 9. Or, as pregnant women call it, eternity.
My bump, my bump, my giant baby bump.
36 weeks – Yes, the sound effects are necessary.
Week 36: See you in four weeks, toes.
37 weeks – I have earned the right to not wear any pants.
Week 37 – Loading 98%.
37 weeks – Feed me donuts and tell me I'm pretty.
38 weeks – Baby is the side of a toddler.
Week 38 – Why aren't contractions called birthquakes.
38 weeks – Running out of womb.
Week 38 – You don't know how many people you dislike until you have to name a baby.
38 weeks – I love you, but get out.
38 weeks – Everyday I'm waddlin'.
39 weeks – Bun almost done.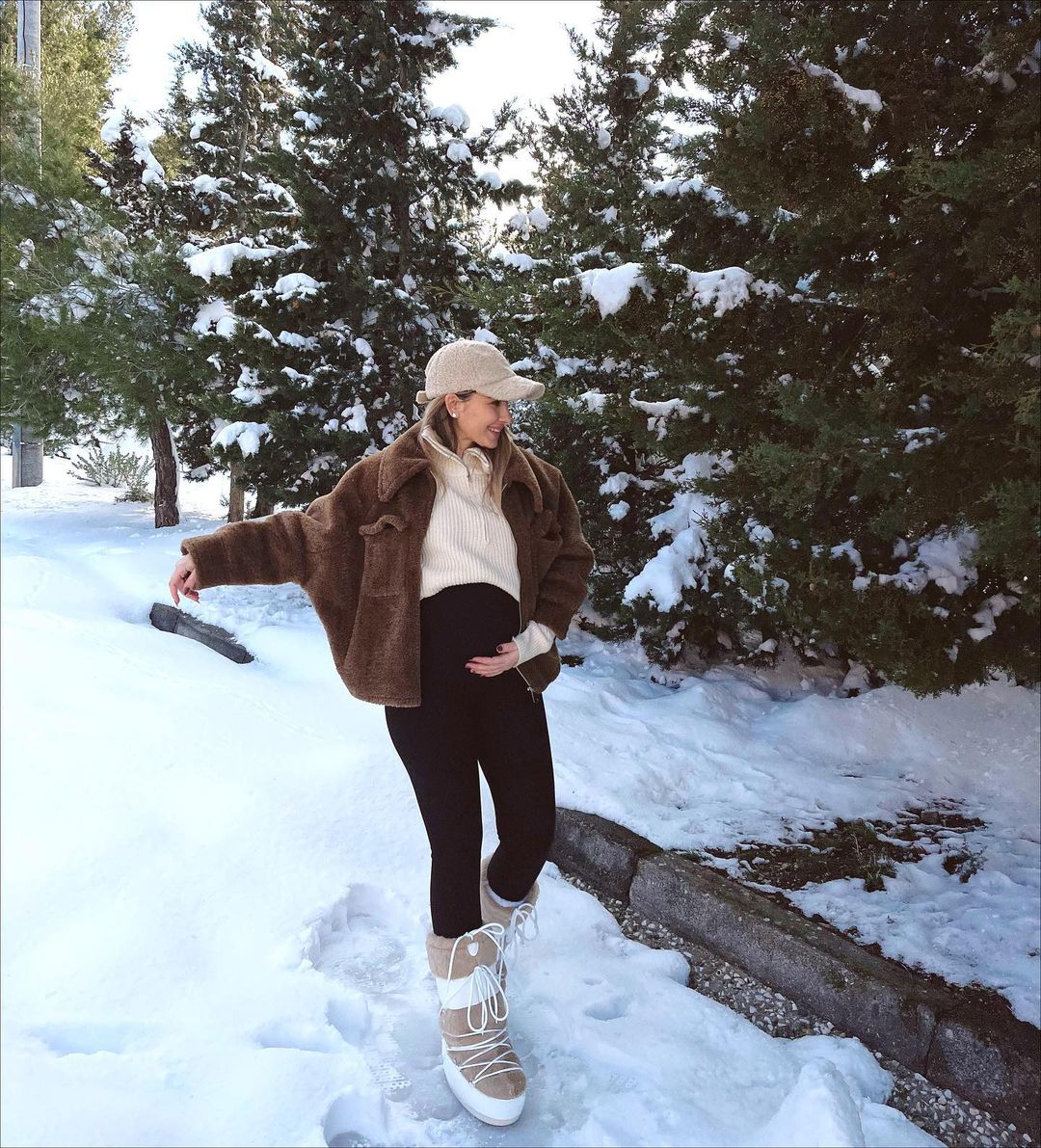 39 weeks – Eviction notice served.
Week 39 – Ask if the baby is here one more time.
Week 40 – Well at least you don't have to be pregnant for 10 years.
Week 879 (or at least it feels like it).
Christmas Baby Bump Captions
We sure hope the egg nog and gingerbread aren't the only things keeping you warm this season.
These sweet and witty Christmas baby bump photo caption ideas should give you some warm and fuzzies, too:
The best Christmas present… on backorder until April.
Merry Bump-mas ❤️
Bumpin' around the Christmas tree.
All I want for Christmas is you.
Bump's first Christmas.
Dear Santa, Don't be jelly of this belly.
Son of a nutcracker! It's baby month.
Silent Night. Not For Long.
Fa-la-la-la-la-la-la-bump!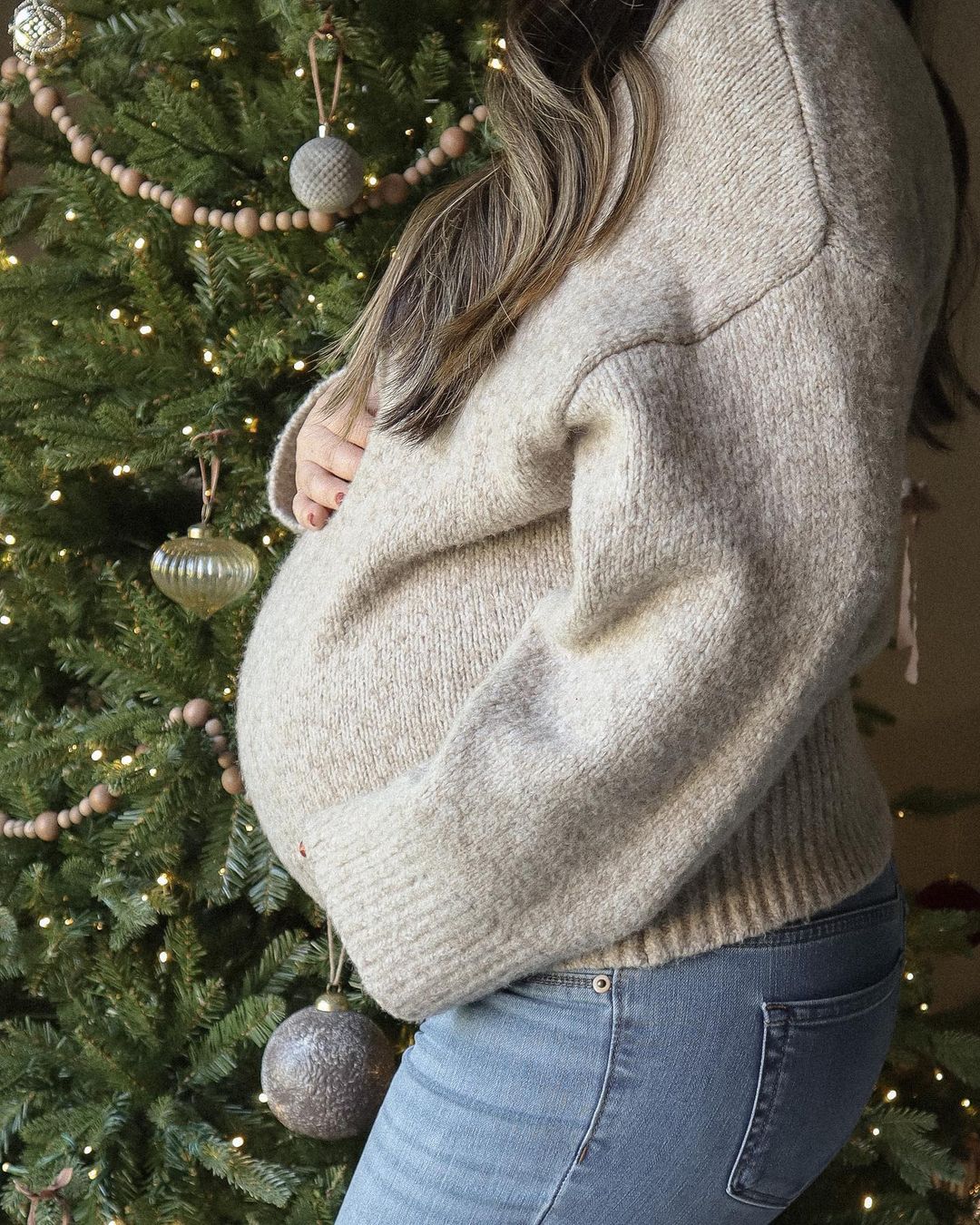 Easter Baby Bump Captions
Celebrate Easter in style with these cute pregnancy quotes perfect for showing off the bump:
Bump's first Easter
Growing our little bunny 🐰
Hatching soon 🐣
Mama bunny
Somebunny sweet is on the way
Wrapping Up
What do you think? Did you love this list of cute pregnancy bump captions as much as we loved putting it together?
Before you go – don't forget to save these growing baby bump captions to Pinterest, so you can find again, as the weeks go on!
Read Next: 185+ *Precious* Pregnancy Announcement Captions To Steal