This post contains affiliate links.
Searching for the best non-toxic baby shampoo for your little one? I tested a pile of them – find out which ones I loved, and which ones I think are better to avoid.
As a new mom, there's no shortage of things to try to figure out, but most recently, finding the best non-toxic baby shampoo was at the top of my list.
When it came to my baby's bath routine, I set out early on to find products that are gentle, free from harmful ingredients, but still effective.
While on my own personal journey of swapping out many popular products for more low-tox or non-toxic alternatives, I've come to find some great brands, products, and resources, like the EWG database, which is a really wonderful database that allows you to look up the safety of both individual ingredients and products.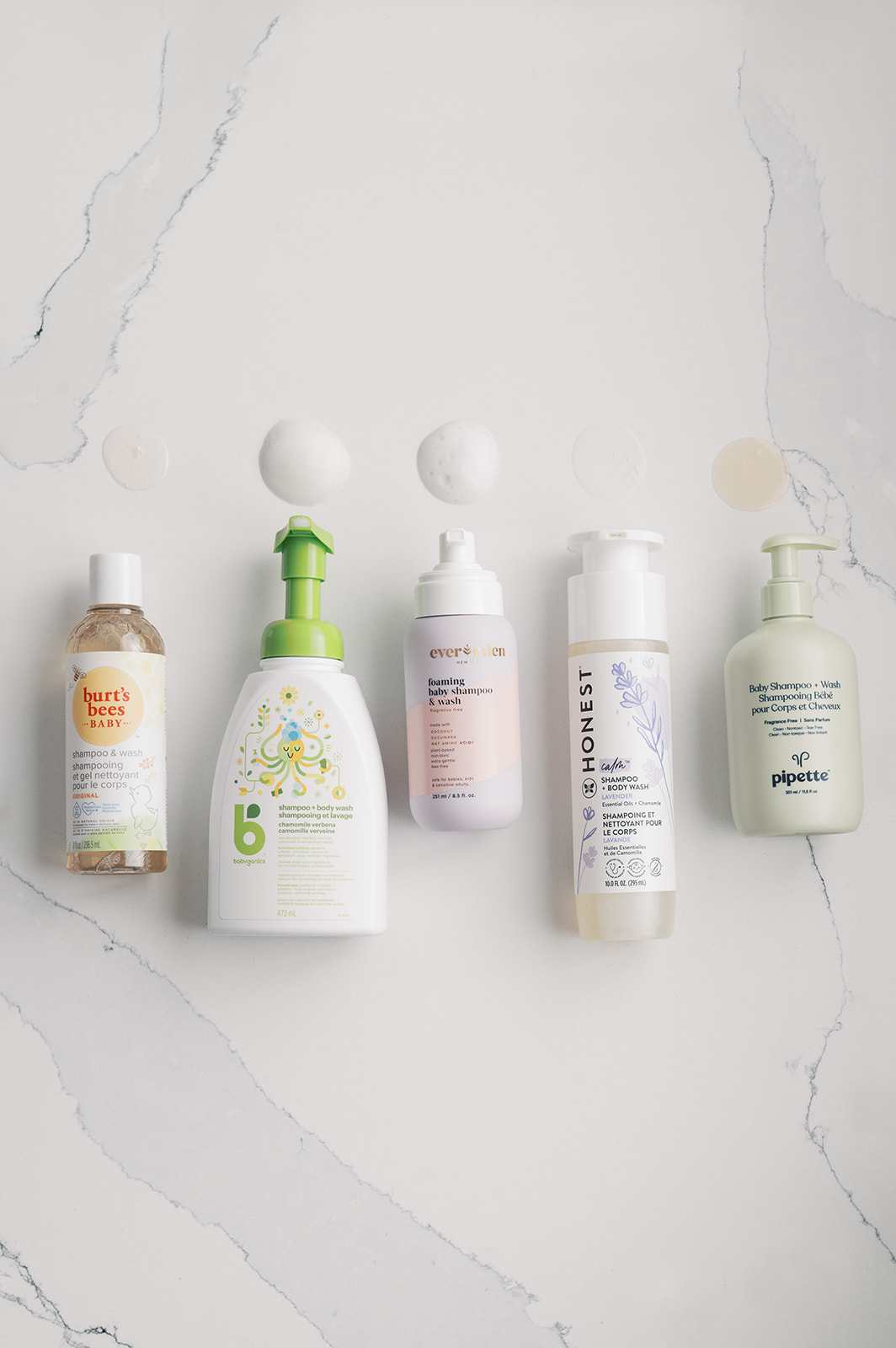 In searching for the best non-toxic baby shampoo and wash, I tested out a handful of products from 7 different brands: EverEden, Babyganics, The Honest Company, Pipette, Burt's Bees, Dabble & Dollop, and The Rocky Mountain Soap Company.
In this guide, we'll take an in-depth look at each of these products, look at a bit about each company, the product quality, their EWG ratings, price points as well as where to find them if you want to give them a go yourself!
Let's get to it –

First up – EverEden – one of my fav non-toxic baby brands, and a really wonderful brand to gift to expecting and new mamas, too.
A brand started by a group of doctors, is a collection of beautiful, light and gentle skincare including baby wash, baby shampoo, body lotion, face lotion, eczema treatment, sunscreen, and even bubbles – all having earned the EWG's seal of approval, too.
Their entire line of products is packaged beautifully, very gently scented, and doesn't irritate sons sensitive skin.
I also love that they sell their skincare in bundles: easy, one-click shopping for busy mamas.
Their bottles also come with a great little cap, so they travel well (as opposed to some of the other brands which have a pump that is a huge pain in the butt to pack in a beach bag, or suitcase).
While I pretty much can't say enough wonderful things about this non-toxic baby wash & shampoo, I'd be remiss not to mention two small drawbacks with EverEden.
At $21 for a 8.5 oz bottle of baby soap, which works out to be $2.47 per ounce, EverEden is on the pricier end of the spectrum for non-toxic baby body wash.
Additionally, the EverEden brand can only be purchased on their website, so you can't just add it to your Target order once you're run out.
EWG Rating:

EWG Verified™️

Pros:

Pretty packaging, created by dermatologists, super light formula

Cons:

Pricier, not available in grocery stores

Price (per bottle)

: $21 for 8.5 oz

Price (per oz)

: $2.47 per oz

The Honest Company is a brand started by celeb mama, Jessica Alba, after frustration in trying to find clean, safe products for her own baby (as well as her own sensitive skin).
For this test, I tried the Calm (lavender-scented) Baby Shampoo & Body Wash, on my little guy, and loved the gentle, light formula that had a super light, mild lavender scent.
One of the great things about the Honest Company is that their products are widely available at grocery stores and drug stores across the US & Canada, and that convenience is actually super important to a busy mom like me.
Additionally, this line of non-toxic baby shampoo and body wash can also be bundled with other products from the Honest Company, like their diapers, and ordered as a subscription at up to 30% off.
It's no secret that moms have a million and one responsibilities and having the ability to 'set it and forget it' – as well as purchase these great, non-toxic products at a discount – is really helpful.
Possibly the only drawback to mention is that while the Honest Company does offer an unscented option, the majority of their baby shampoo and body washes do include a number of fruit extracts (such as the camellia sinensis leaf extract in the citrus vanilla scent) that could cause some issues with allergy & immunotoxicity, as per the EWG, which could be an issue for babies with super sensitive skin.
EWG Rating:

EWG Verified™️

Pros:

Widely available, affordable, available at a discounted price via subscription

Cons:

Not available in foaming formula, unscented varieties could irritate super sensitive skin
Price (per bottle): $10.99 for 10 oz

Price (per oz)

: $1.09 per oz

Where to buy:

The Honest Company website, Amazon, Target

Overall, this product didn't have any concerns when it came to fragrance or scent, as it is unscented, which is great.
At $0.62 per ounce, it's a great price, especially compared to the higher end of products we tested, which range as high as $2.50 per ounce.
We loved this product, will repurchase, recommend it, and use Babyganics sunscreen during the warm summer months, too.
EWG Rating:

Insufficient data

Pros:Super light formula rinses out very easily

Cons:N

ot EWG verified

Price (per bottle)

: $9.99 for 16 oz
Price (per oz): $0.62 per oz

Pipette Baby Shampoo & Wash is an all-natural product made with plant-based ingredients and it's free from sulfates, parabens, phthalates, and synthetic fragrances.
Overall, I love the Pipette line and use and love the baby lotion every night with my little guy.
It's an easy add to cart at the grocery store, meets the non-toxic gold standard of being EWG-Verified and is affordable, so in general, I do recommend this product, though it didn't make it to the very top of my list.
EWG Rating:

EWG Verified™️

Pros:

vanilla & ylang ylang scent is literally dreamy, super affordable, aesthetic packaging

Cons:

Doesn't make great bubbles, not available in foaming texture, unscented products smell a bit clinical, thicker formula takes a bit more work to rinse out of your little one's hair
Price (per bottle): $7.97 for 12 oz

Price (per oz)

: $0.66 per oz

Ah, the tale of two… bees.
The story of Burt's Bees is one of humble beginnings – a joyful hobby and reprieve from busy city life for once editorial photographer-turned beekeeper, Burt Shavitz, who started the company in the 80s.
What started as a joyful hobby and reprieve from busy city life for Burt would later turn into a massive business acquisition by mega-brand, Clorox in 2007 for $925 million USD.
So, the question quickly becomes — was the Burt's Bee's brand able to maintain it's natural, non-toxic roots after having been sold to Clorox, or would the big brand silently start swapping safe, quality ingredients for cheaper alternatives?
Unfortunately, I believe the latter is true.
All in all, while this product is fine in a pinch, I don't particularly like the scent, and to be honest, I just don't like supporting the Clorox brand because of the company's MO of prioritizing profits over product quality and safety, across all of their lines.
Further drawbacks with this product include the fact that it isn't EWG-Verified, has a high concern for allergies & immunotoxicity listed on EWG, and lastly, that it includes fragrance, which
At the end of the day, this product didn't make my shortlist, and I wouldn't repurchase or recommend it.
EWG Rating:

4 / 10

Pros:

Widely available, inexpensive, recognized brand

Cons:N

ot EWG-verified, contains fragrance, didn't love the scent

Price (per bottle)

: $6.89 for 12 oz

Price (per oz)

: $0.57 per oz

Where to buy:

Amazon

While initially creating my shortlist of best non-toxic baby shampoo brands to purchase and review, I had come across Dabble & Dollop's infant care line of products, Dabble Ducky, listed on the EWG website as EWG Verified.
As I set out to order the product from their website I got pulled away from my computer by my busy toddler, and had to end up coming back another time to complete my purchase.
Here's where the confusion set in.
Though the Dabble Ducky brand, which is Dabble & Dollop's infant line of bath products and skin care, is EWG Verified, the children's line of products, is not.
(And I ended up accidentally ordering a whole box full, of the latter.)
The products that I did end up receiving included both the whip formulations (which are foaming) as well as the gels (which are not).
The products were nice and light, without being drying, though the biggest drawback that I personally found was that they were pretty heavily scented.
The scent to me felt a bit overwhelming and artificial.
Lastly, at $2.50 per oz, this was the most expensive of all the products we tested in search of the best non-toxic baby shampoo and wash, and for that reason, Dabble & Dollop didn't end up at the top of my list and I would not repurchase this brand.
EWG Rating:

EWG Verified™️

Pros:Fun packaging, mama-owned brand,

works great as a bubble bath

Cons:Pricy, scent is strong and artificial,

shipping to Canada took over a month, had to pay additional duties to Canada,

Price (per bottle)

: $20 for 8 oz

Price (per oz)

: $2.50 per oz

Where to buy:

Dabble & Dollop website, Amazon, Sak's Fifth Avenue, select baby boutiques

The Rocky Mountain Soap Company is a great little Canadian brand of super natural non-toxic soaps, washes and skin care products that was started in Western Canada.
This is the brand that I first used with my son when he was born, but because it isn't widely available across the US, we'll keep this review more brief.
The formula is silky smooth, wonderfully light and incredibly gently scented. I felt really great using it on my newborn's skin and would highly recommend this brand if you can get your hands on it.
It's generally available at most of its Canadian shops, though has gone out of stock a number of times over the past few years.
Pros:S

uper gentle formula, very short ingredient list, small Canadian business

Cons:Only available for purchase on website,

goes out of stock frequently

Price (per bottle)

: $12 for 8.11 oz

Price (per oz)

: $1.47 per oz

Where to buy:

Rocky Mountain Soap Co. website
TL;DR – Best Non-Toxic Baby Shampoo
Finding the best non-toxic baby shampoo for your little one can definitely be a bit tricky, but thankfully, there are some super high quality brands on the market today.
With gentle, nourishing formulas that wash off the sticky messes from the day without irritating their delicate skin, there really is something for everyone on this list!
Have oily skin? Check out this great little round-up of the best Korean sunscreen for oily skin over at Haul of Fame next!
Read Next:
🛁 The 11+ Cutest, *Buttery-Soft* Bamboo Baby Pajamas Brands (That I'm Obsessed With)
🛁 11+ *Super Adorable* First Birthday High Chair Decorations
🛁 13+ *Precious* Baby's First Easter Picture Ideas (That You Can DIY)