This post contains affiliate links.
Originally Published Jan 3, 2022 ・ Updated June 1, 2023
On the hunt for the softest, most adorable bamboo pajamas for baby (aka bamboo sleepers or bamboo footies)? I'm a real mommy and these are the brands that I actually spend my money on.

Today, I'm so excited to share the best of the best bamboo baby pajamas – from muted mellow neutrals, to fun and whimsical prints, from fold-over mittens to bum flaps – these dreamy bamboo baby sleepers have it all.
Let's dive in –
Babies spend a lot of time in their pajamas.
At least mine did!
Especially as a newborn.
And *especially* in 2023.
It didn't take long for me to decide that it made sense to allot a bit more of our baby clothing budget towards higher quality pajamas, and less towards things like onesies and pants.
And so, I purchased my first bamboo baby footie.
And then another one.
And then, well, it became a bit of a slippery slope. 😅
I will warn you –
Once you snuggle your little baby up for the first time, wrapped in buttery-soft bamboo, it sure is hard to go back to run-of-the-mill cotton.
Not only do bamboo baby pajamas *feel* luxuriously soft, they actually also have a number of science-backed benefits for your little one, like improved temperature regulation –
"Bamboo, another soft, breathable material, is more absorbent than cotton, highly effective at regulating temperature (keeping you cool in summer and warm in winter) and has antibacterial properties" (source).
Bamboo baby sleepers can also be a complete game-changer for little ones dealing with eczema.
The National Eczema Society explains:
"Many people with eczema find that wool and synthetic materials, such as polyester and nylon, cause overheating, sweating and irritation, which set off the dreaded itch.
Rough seams, fibres, fastenings and threads can also cause problems for sensitive skin.
Your choice of clothing can make a considerable difference to how comfortable you feel."
Among their recommended fabrics, of course, is a number of bamboo blends, such as viscose and rayon, as well as lyocell, or Tencel.
So, it's clear that bamboo baby sleepers really do have benefits.
Now, which bamboo baby pajamas are best, and where can you find them?
The Best Bamboo Pajamas for Baby
From A-Z, here are my very favorite brands of bamboo pajamas for baby:
One of the common themes you'll find in many of these lovely brands is that they were started by moms who were unsatisfied with the selection of pjs that were available for their little ones — and Little Sleepies is no exception.
Started by mama Maradith, Little Sleepies makes one-piece bamboo baby sleepers in the most adorable and fun prints, like this super cute Breakfast Buddies print (pictured above).
From bright little sunshines, to barnyard animals, to sushi (!!!), to milk and cookies — Little Sleepies prints are truly adorable.
Most recently, they've also teamed up with Disney on a few limited edition prints.
Lastly, Little Sleepies goes one step further to offer family matching pjs, mommy and me sets, and they even have these adorable "Grow With Me" sets that come with three bamboo baby sleepers in three consecutive sizes.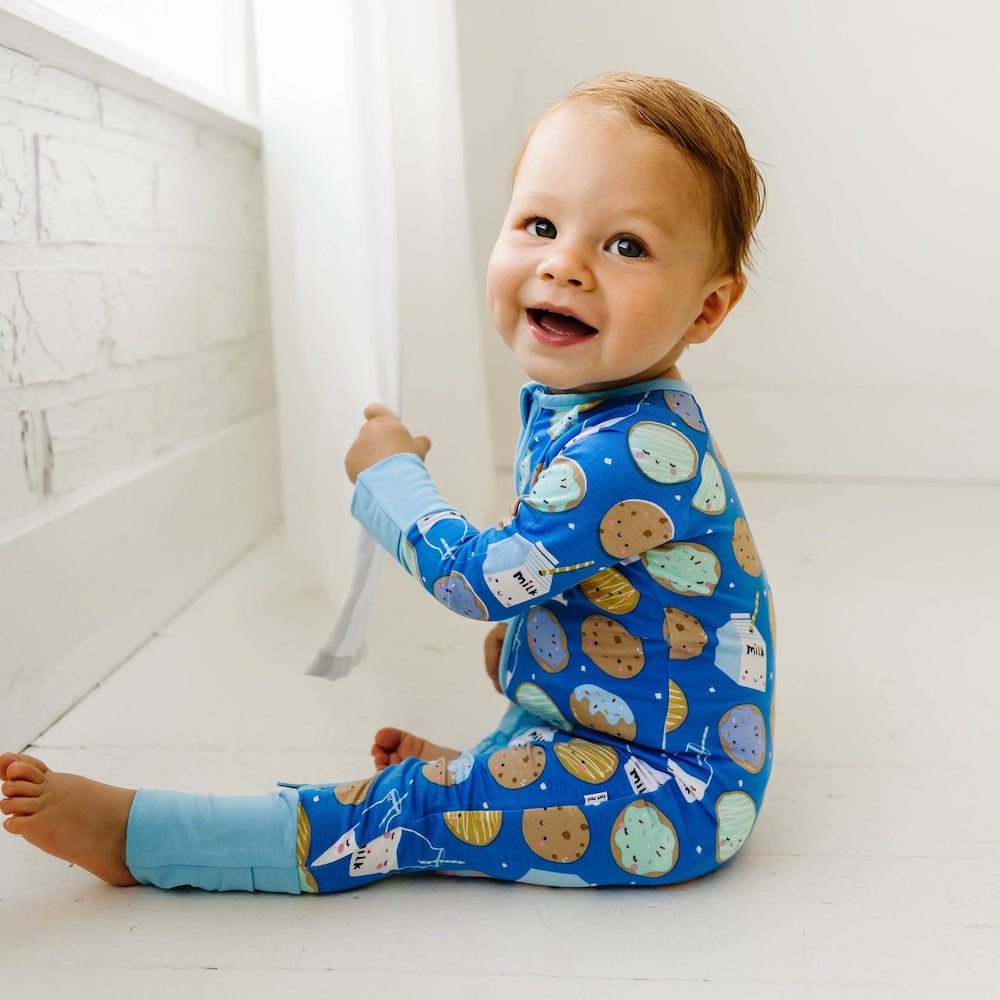 Material:

bamboo viscose

Convertible foot cuffs:

yes

Fold-over mittens:

yes

Two-way zippers:

yes

Snaps or zippers:

zippers

Price: Regular

$33, Sale from $28
Convertible foot cuffs:

no

Fold-over mittens:

yes

Two-way zippers:

yes

Snaps or zippers:

zippers

Price: Regular

$32, Sale from $11 (!!!)

Shipping: Free US shipping over $75
Kyte Baby is another one of our bamboo pyjama and romper staples.
Each season, Kyte Baby drops a new collection of gorgeous neutral shades (typically five per drop), and as of recently, has also been coming out with some really fun, *minimalist* prints, too, like a timeless animal spots print and cute, whimsical rainbows.
While their sleepers do not include the fold-over mitts or feet, their footies do include a little ruched detail at the ankle, which helps them stay in place, as well as grips on the feet for their 6 month and up sleepers.
If you're looking to snag a deal, keep an eye out for their super popular seasonal sales where you can save upwards of 15%. You can either sign up for their email list, Facebook group, or subscribe to notifications on their Instagram account to stay in the loop.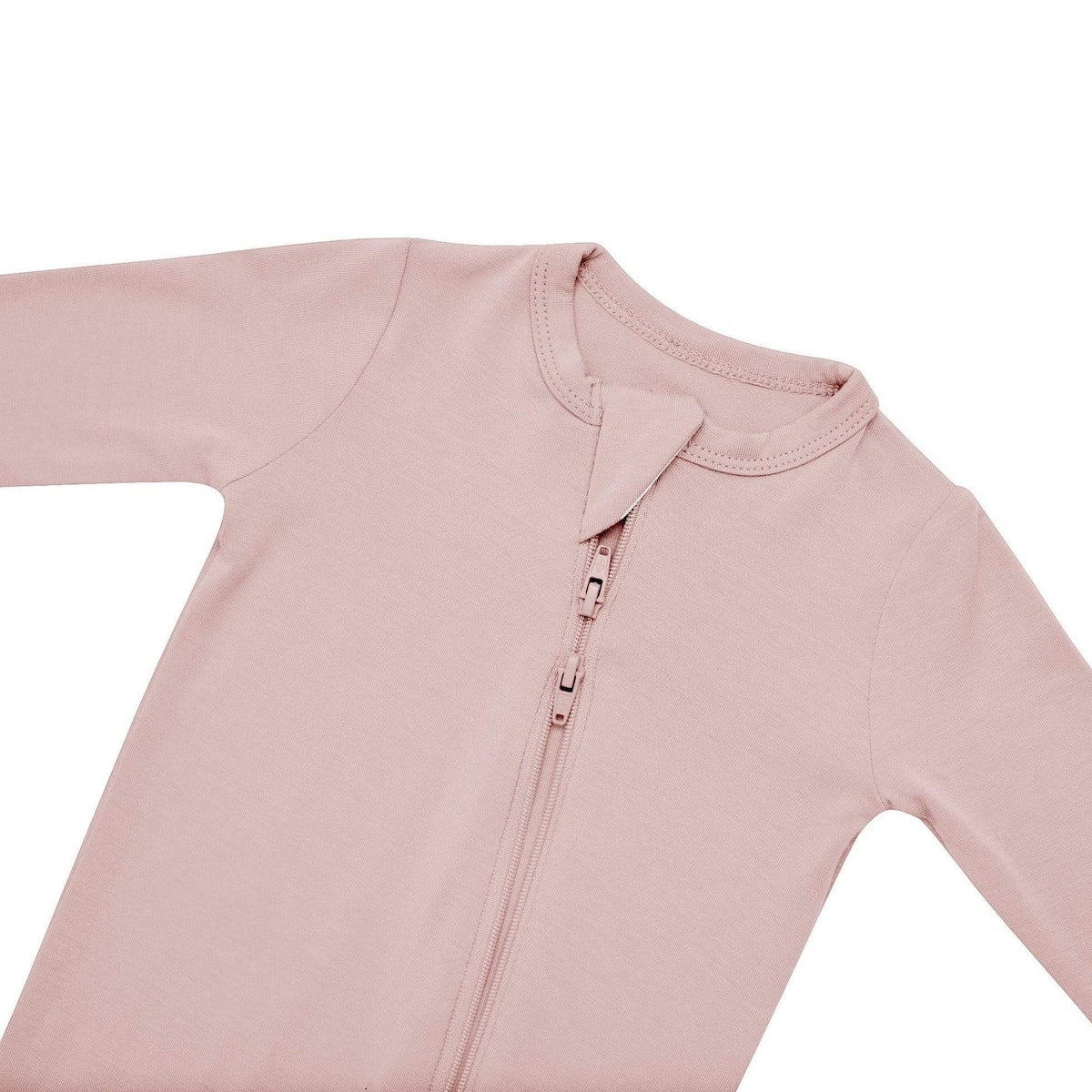 Material:

bamboo rayon

Convertible foot cuffs:

no

Fold-over mittens:

no

Two-way zippers:

yes

Snaps or zippers:

both

Price:

$33
Oh my gosh, I LOVE Gunamuna.
They have the sweetest, *gorgeous* minimalist prints in such pretty neutrals and all of their pieces are sooo-oh-oh soft.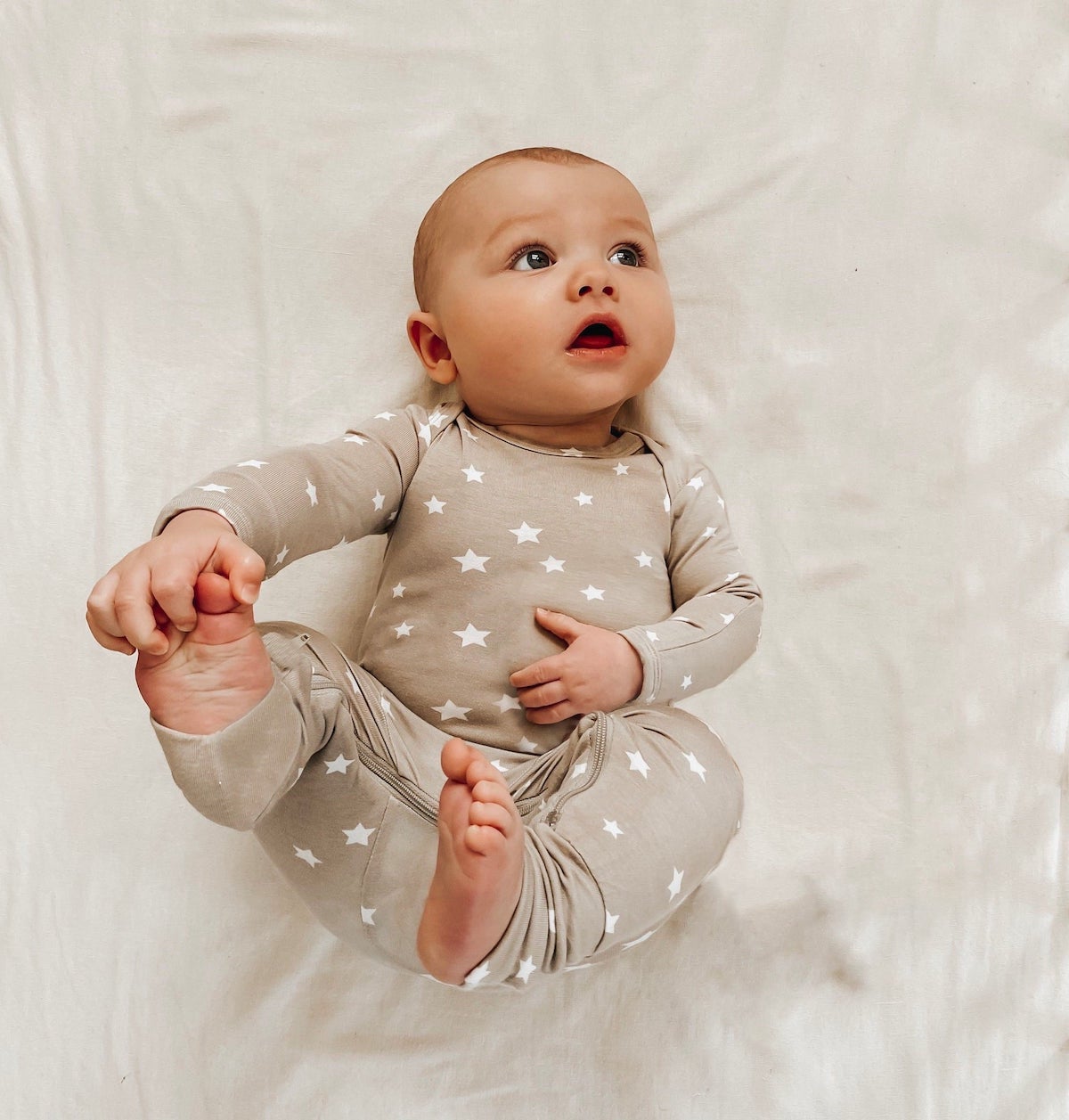 What is unique about Gunamuna baby pajamas is that they have a u-shaped zipper from ankle to ankle, which allows baby to keep their pjs on for diaper changes (which means less tears!).
In addition to bamboo pajamas for baby, Gunamuna also makes really great sleep sacks, which you transition to once your little one can roll over.
Does this baby sleeper brand sound familiar?
You may recognize the name Goumikids from their successful Shark Tank appearance, where they made a deal with Kevin O'Leary.
Goumikids was started by – yep, you guessed it – another mom who had decided that what the modern baby market had to offer was simply insufficient.
And that's probably not surprisingly.
After all, with *genius* features like their signature snap bum flap that allows for super simple diaper checks, it's no wonder there's a hands-on mom behind the design!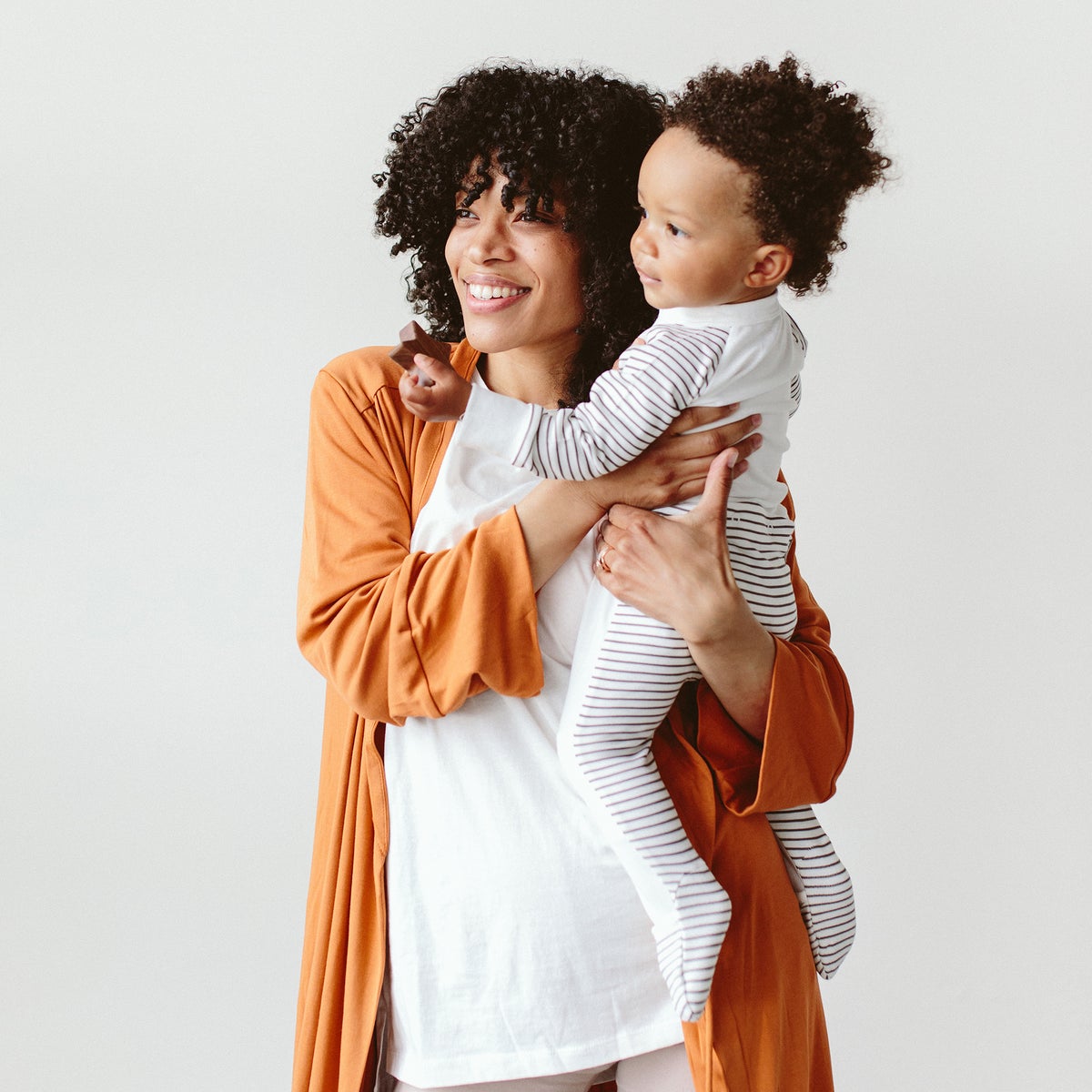 Not only does Goumikids have a wide range of cute, minimalist prints and solids, made from a blend of organic bamboo and cotton, but they also have a line of thermal (waffle) pajamas with contrasting trim.
Lots of gender neutral styles from this brand, too.
If you're in the market for some quality bamboo baby sleepers, you should definitely give Goumikids a try!
Solly Baby is a high-end baby brand based out of California that got its start with its gorgeous, buttery-soft baby wraps and ring carriers.
If you're looking for the most chic and stylish bamboo baby sleepers, you definitely have to check Solly Baby out.
But Solly Baby sleepers aren't just another pretty face – the material they're made from is literally luscious.
While many of the other bamboo baby pajamas on this list are made from bamboo rayon or bamboo viscose, Solly Baby's clothing and wraps are made from one of the highest-quality bamboo material, called modal.
Solly Baby is absolutely one of my favorite brands to gift (and receive) – it truly is a treat!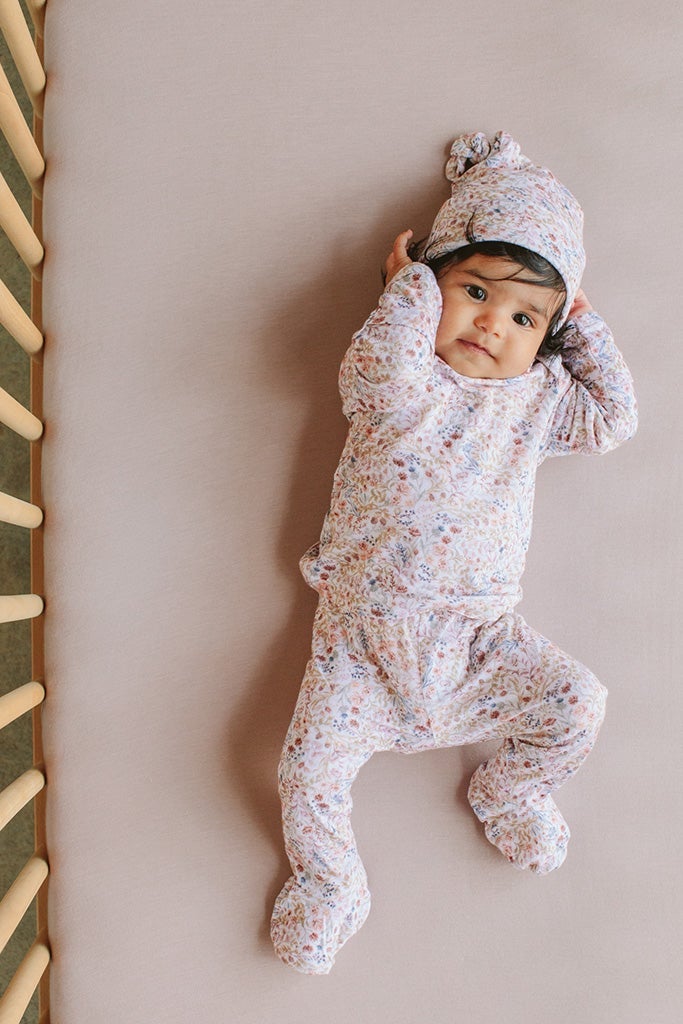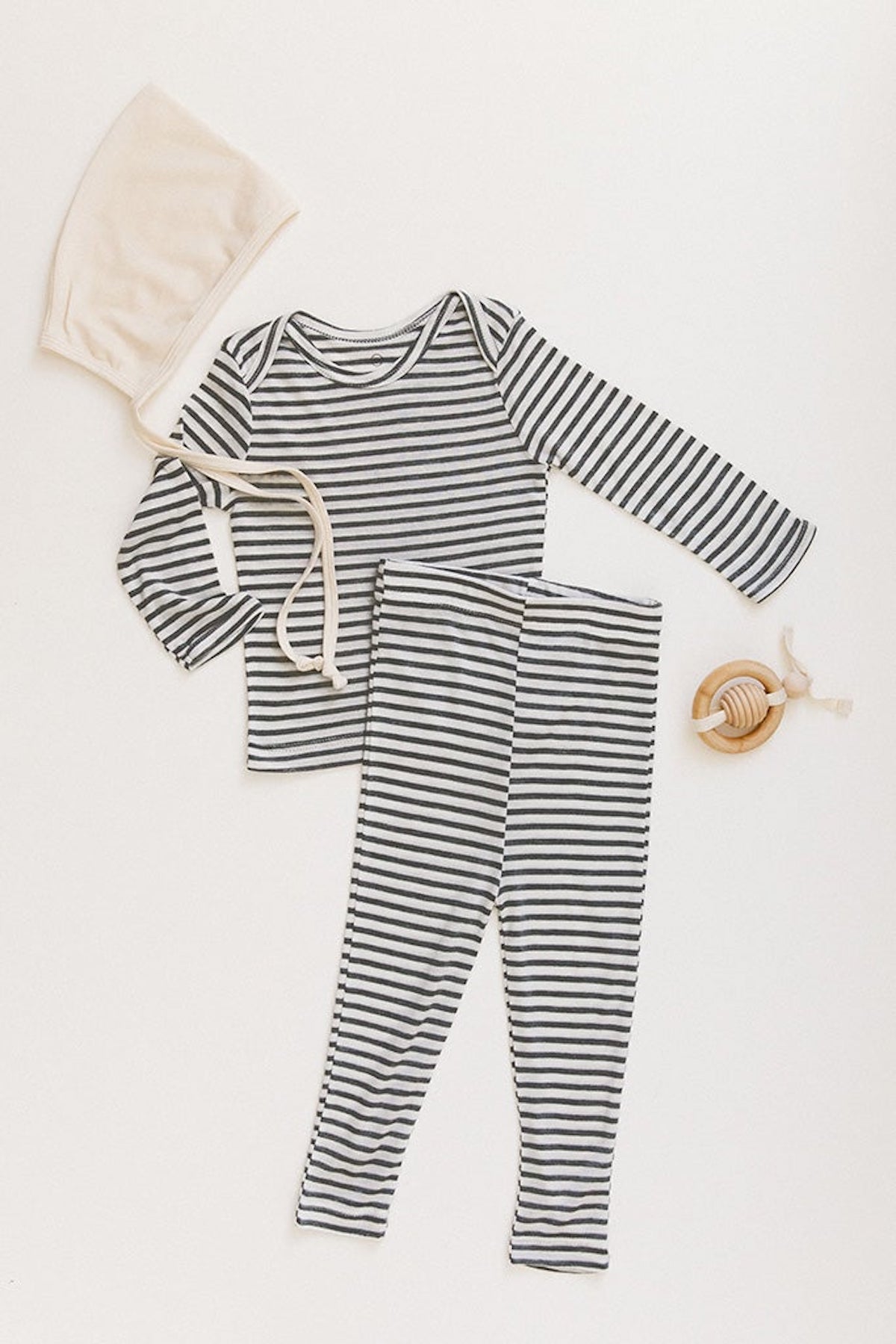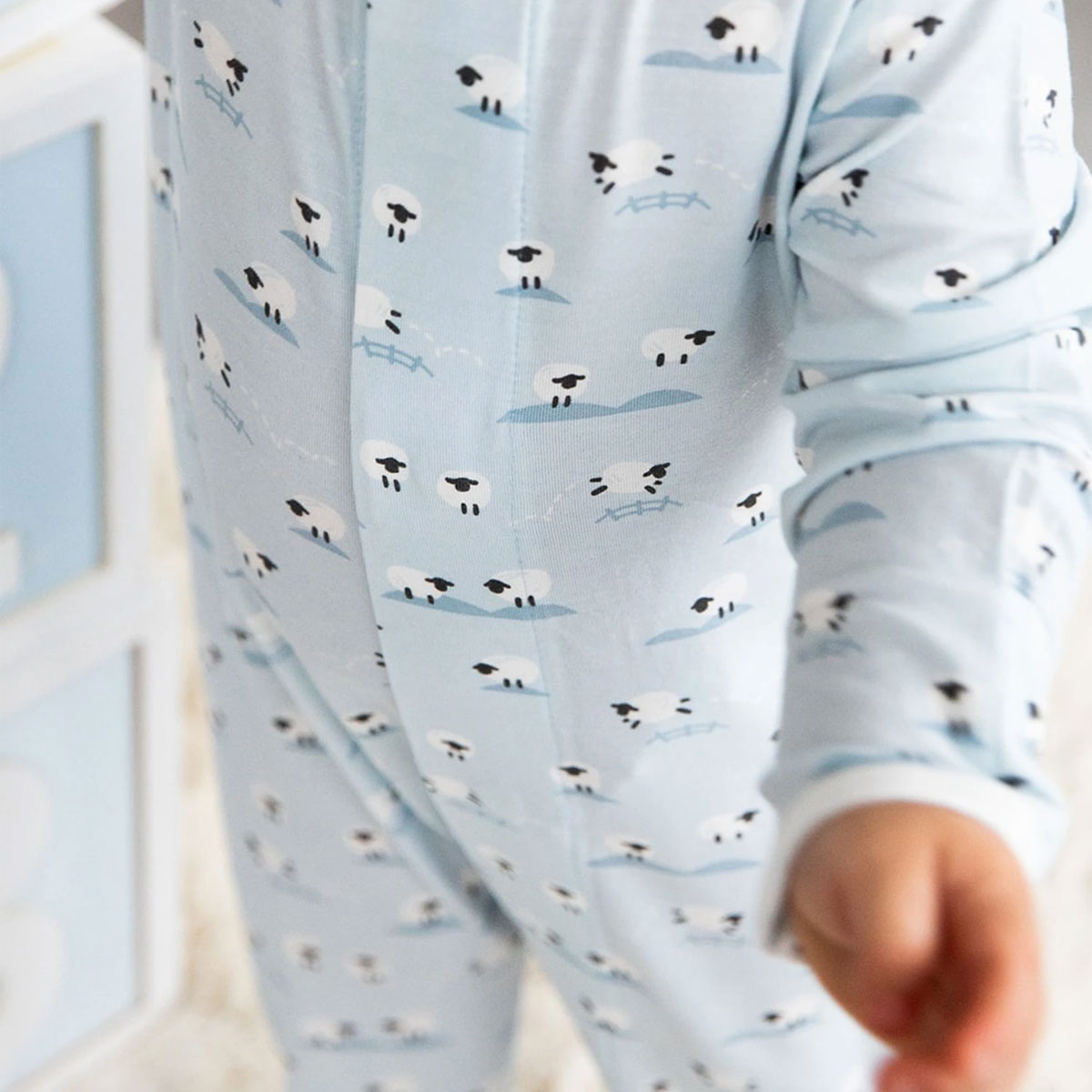 Magnetic Me is a bamboo baby pajamas brand that we've just discovered, and has quickly become one of our favorites.
Magnetic Me has actually changed the pj game – they've replaced the traditional snap and zipper closures with completely enclosed magnets instead!
Magnetic Me pajamas are made out of modal fabric, just like Solly Baby.
Out of all of the bamboo blends, I'd say this one is my favorite. I find it just a bit more significant than the other blends like viscose or rayon, in that it seems to have the slightest bit of weight to it. I've found this type of fabric to wrinkle less easily, which is awesome.
Angel Dear is a great little brand with really cute bamboo footies for babies – both neutrals and cute, whimsical patterns like boho suns, pancake stacks with syrup, and even a cute dinosaur print.
You can check out the whole selection of Angel Dear pajamas at Baby Cubby (they ship for free in the US! 🥰 ) – just make sure to check the product details of each footie, because they do have two styles: some of their pajamas are bamboo, and some are cotton!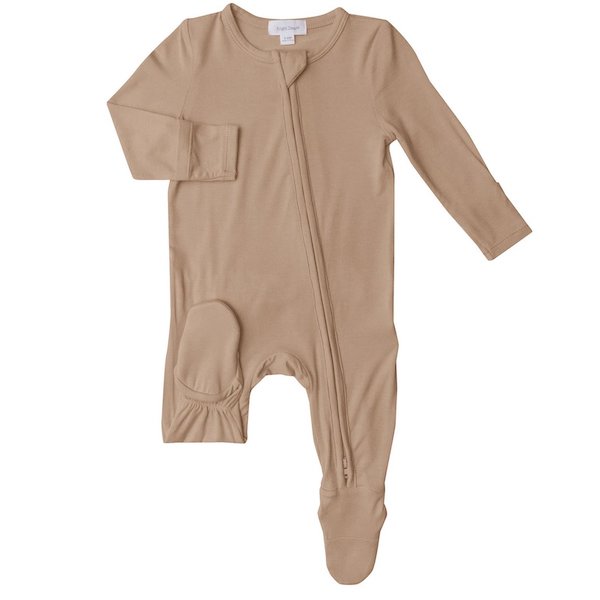 Shop →
09.

SpearmintLOVE

Love those little ruffle-bum pyjamas you've seen on adorable little babies?

They're probably from SpearmintLOVE!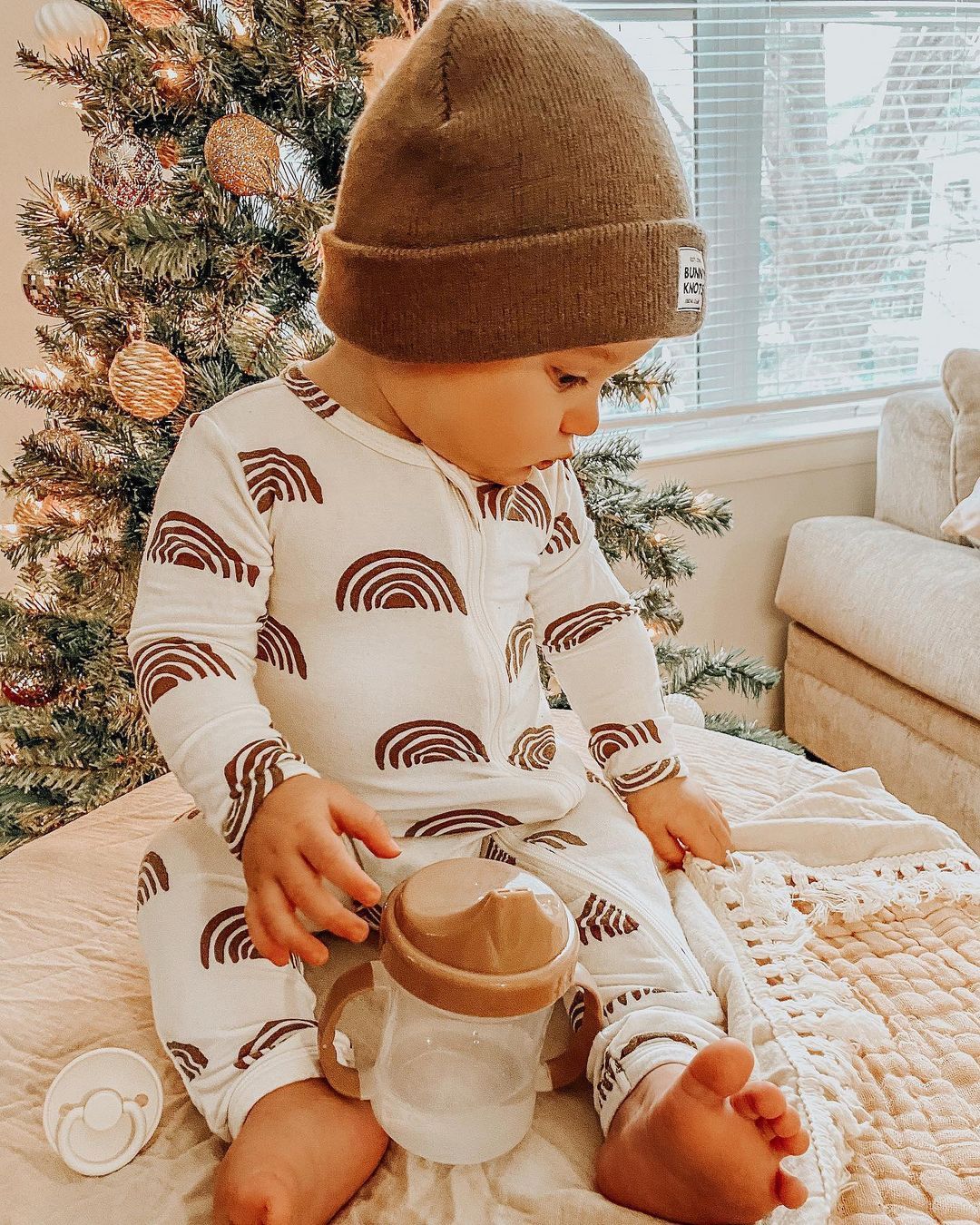 Material:

bamboo viscose

Convertible foot cuffs:

no

Fold-over mittens:

yes

Two-way zippers:

yes

Snaps or zippers:

zippers

Price:

$25-37
11.

Tenth & Pine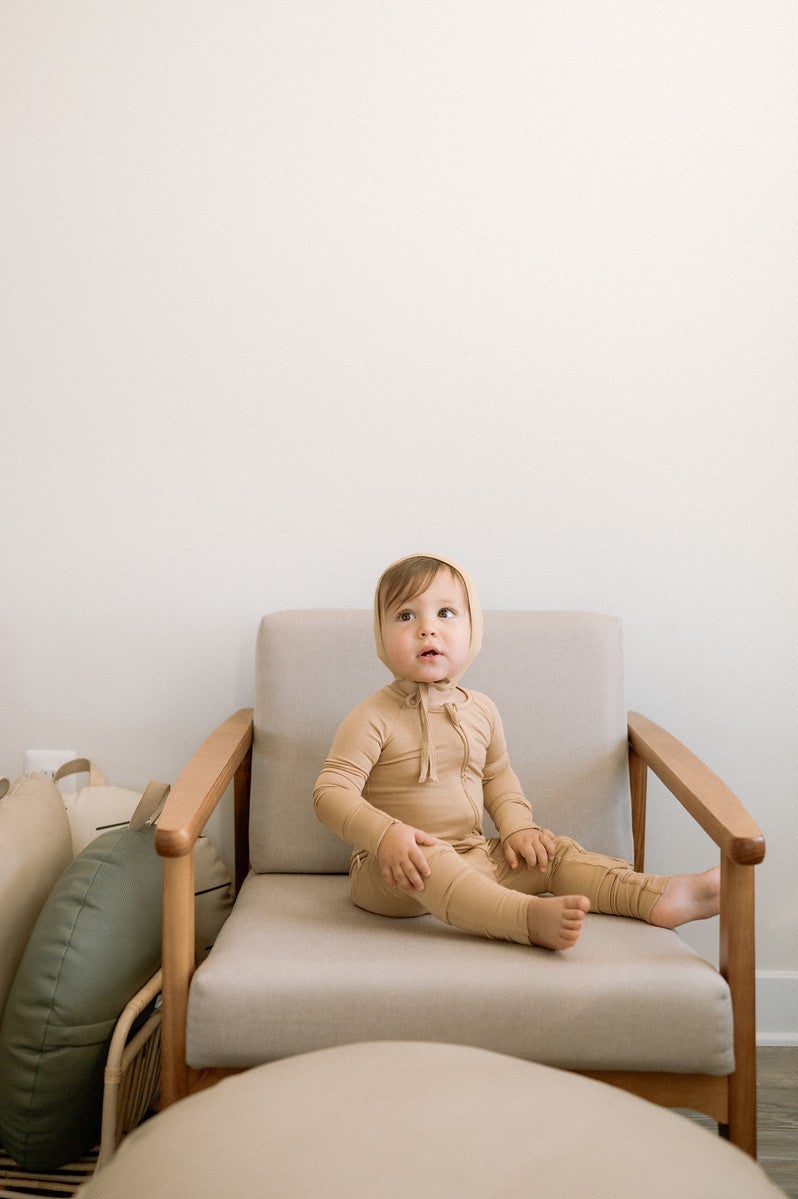 12.

Bamboo Little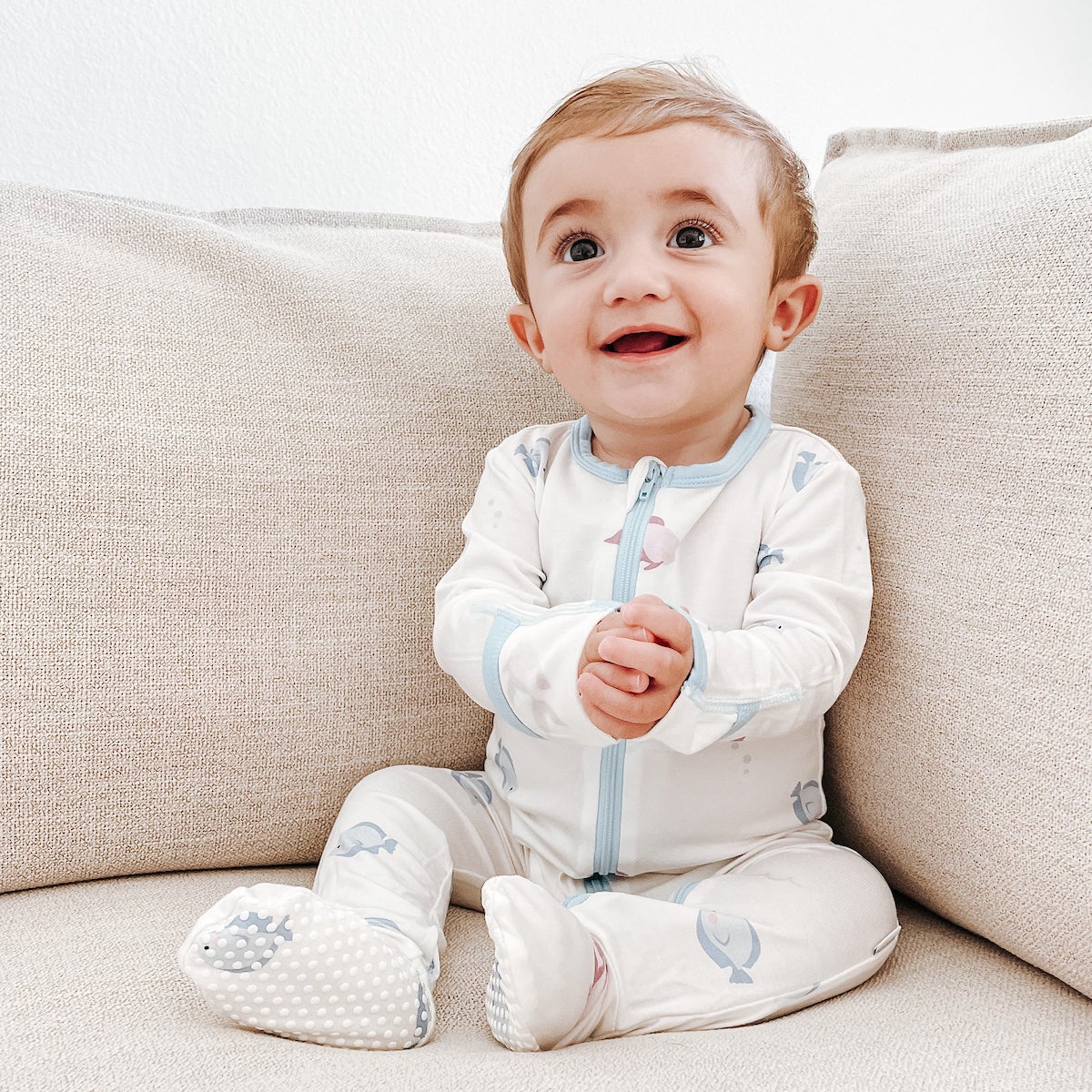 Final Thoughts
So, are bamboo pajamas for baby worth it?
At the end of the day, bamboo baby pajamas are – yes – absolutely worth it, in my opinion, and one of the best items to splurge on for your little one.
Their incredibly soft texture is beyond dreamy, and even helps those little babes with temperature regulation.
But don't just take our word for it – give one of these wonderful bamboo baby pajamas a whirl and let us know what you think!
Now we turn the tables – what are your favorite bamboo pajama brands?
Still looking for more?
Before you know it, that little one will be walking – if you're into bamboo baby sleepers, you should absolutely take a peek at this great little round-up of affordable barefoot shoe for kids, too!
Read Next:
45+ Adorable Nursery Shelf Decor Ideas You Need To See
9+ Apps For New Moms That Will *Actually* Change Your Life
29+ Uplifting and Encouraging Positive Affirmations for New Moms