This post contains affiliate links.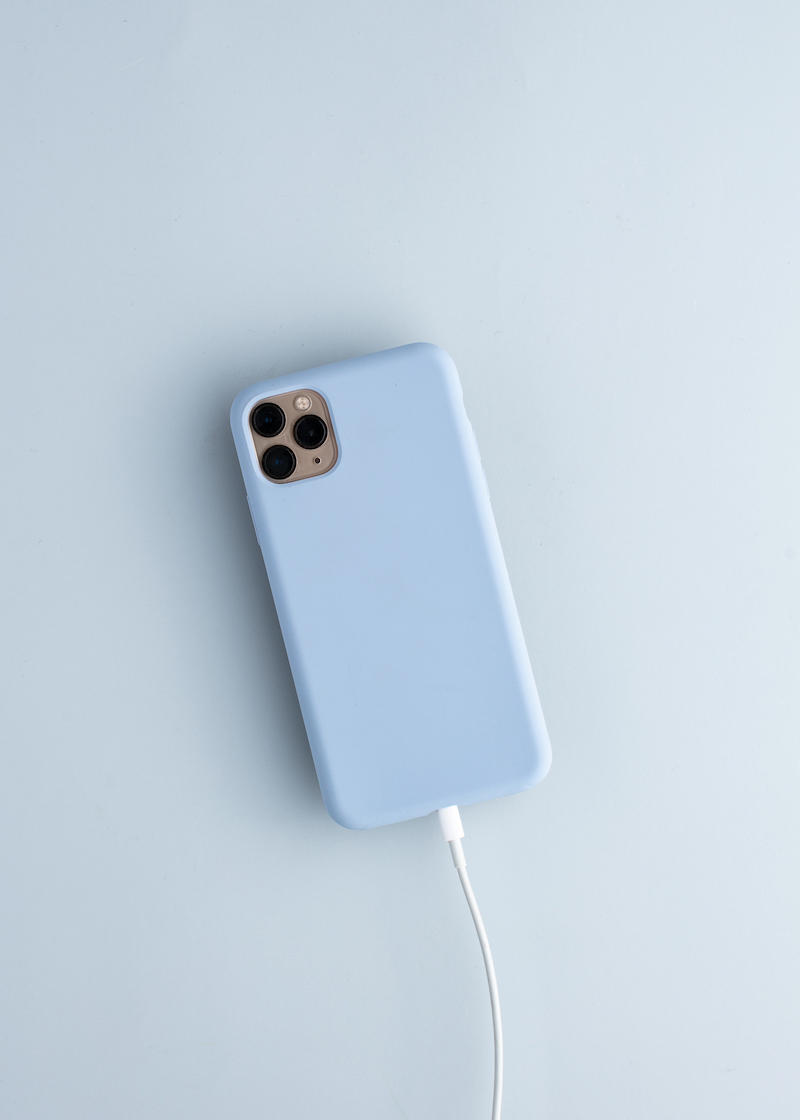 In today's digital age, it's both a blessing and a curse that most of us have our phones strapped to us 24/7. Today, I'm looking at the bright side of things and highlighting the best apps for new moms that I can't stop using.
These apps all serve a different purpose; they either help new moms understand the important stuff, track what matters or save precious time.
I've broken the apps here into a few different categories: apps for baby that cover sleep, development and activity, apps for mom that help with both physical and mental health, a few helpful shopping apps, and one of my favourites – an app to create special keepsakes at the tap of a screen.
I can't wait to share them with you.
Let's get started –
Here are the 10 apps for new moms that I've found to be incredibly helpful postpartum:
The Best Apps for New Moms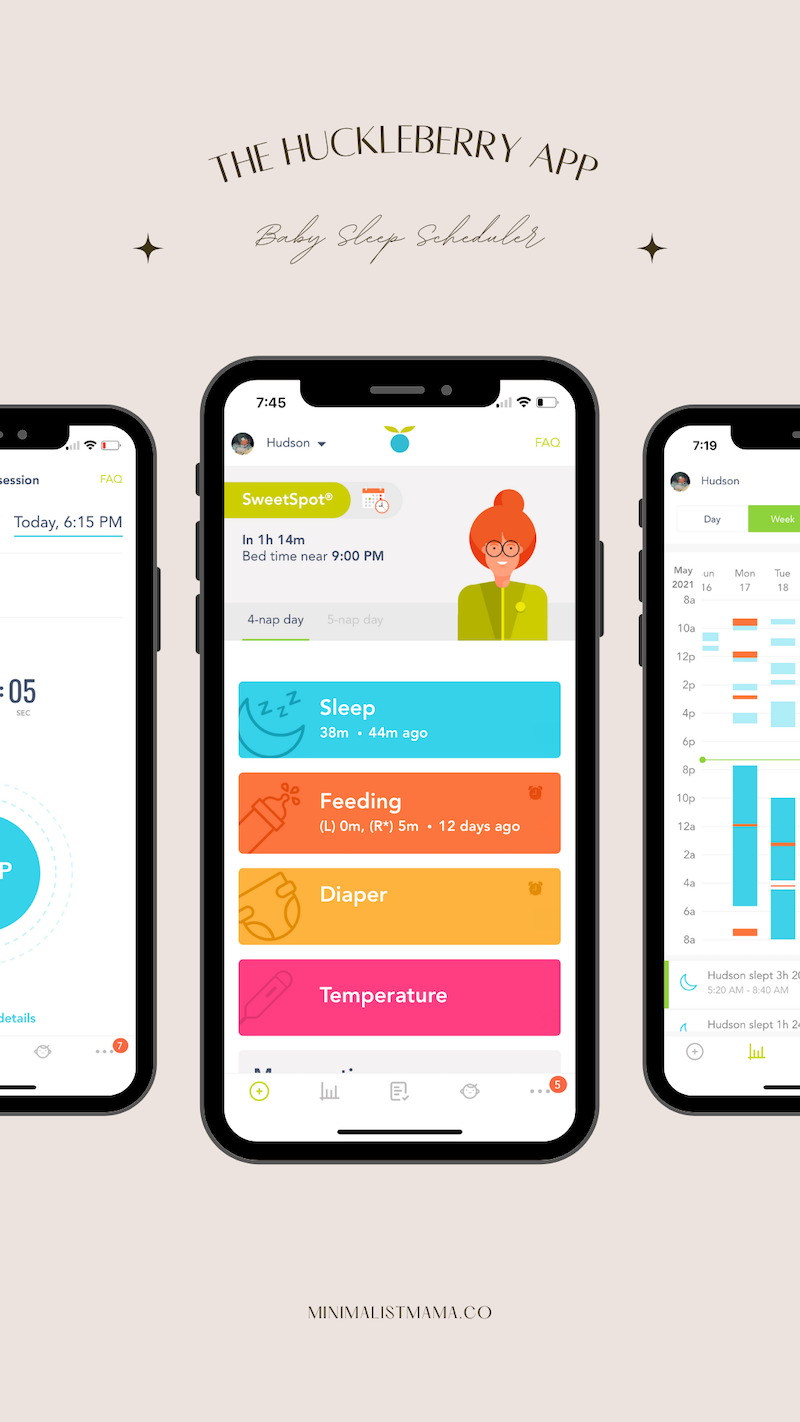 1. Huckleberry
If there is any app that is a legit game changer for new moms, it's this one. I still can't get over how much finding, and using, the Huckleberry app, has helped.
The Huckleberry app is an all-in-one-place tracker that allows you to log baby's sleep, feeding, diaper changes, medicine, growth and temperature, as well as mom's pumping.
That being said, the only two things that I personally use it to track are his sleep and feeding.
Before putting Huckleberry to work (as well as working with a sleep coach), I genuinely felt that my home address was Crazy Town, population: me.
Trying to keep track of when our little guy fell asleep, for how long, when the last time he ate was — it was tough.
I tried many different methods, like writing it down in a notebook, on a dry erase board, making notes on my phone, an ongoing text convo with my hubby where we'd text the time he fell asleep each time it happened… none of it really worked.
It was too hard to keep the information all in the same place, and then to have to extrapolate and keep calculating when we should put him down for his next nap.
Wait too long, and he'd get overtired and borderline hysterical; try to put him to bed too early and he'd get upset because he wasn't tired and wasn't ready for his nap.
Enter, "SweetSpot" nap predictor.
Backed by a team of doctors and pediatric sleep consultants, Huckleberry's SweetSpot nap predictor uses your child's sleep data to automatically predict when they should go down for their next nap, and night time sleep.
And it works.
Like, really works.
Not sure if you should bring baby's lounger into the kitchen to start lunch? Check the SweetSpot to see when their next nap is scheduled for.
Can't remember when your little one fed last? A quick peek at the app and you've got your answer.
Download Huckleberry on Android
2. Baby Sparks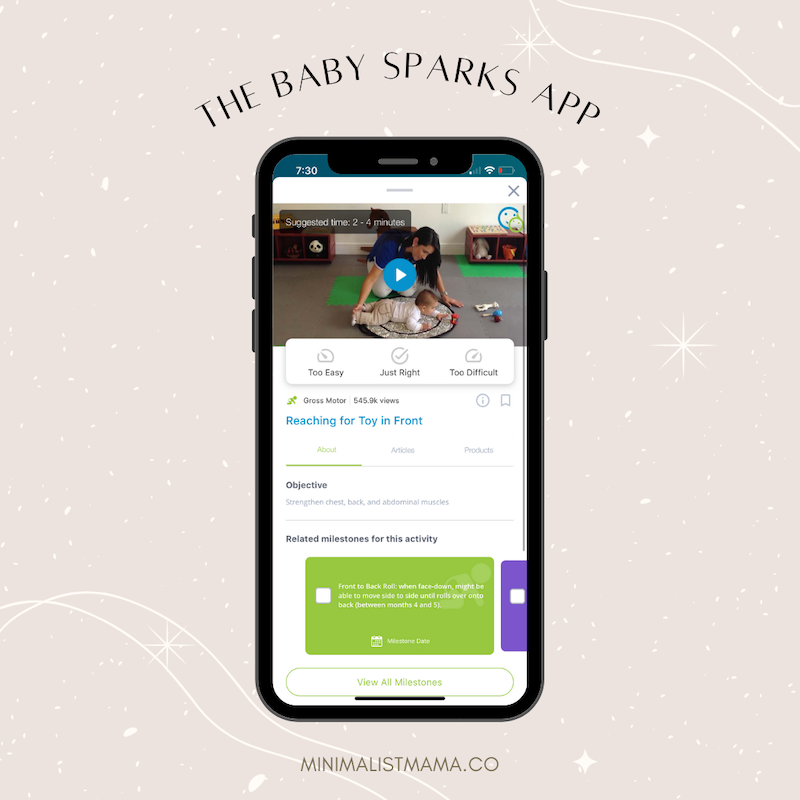 The Baby Sparks app is a baby developmental training program, that provides a daily activity plan for your little one.
For a low monthly fee, you can choose from a number of daily activities that span the major developmental categories – cognitive, gross motor, speech and sensory.
Most of the activities don't require any equipment at all, and those that do, only call for simple items you can find around your home.
For a first-time mama who had absolutely zero knowledge of age-appropriate activities for my little babe, Baby Sparks has been an incredibly helpful tool!
Not only do I feel confident in knowing that the activities that we do together are contributing positively to his development, but I really love that all the information is in one spot and so easy to access.
Explore BabySparks today!
Download Baby Sparks on Android
3. Wonder Weeks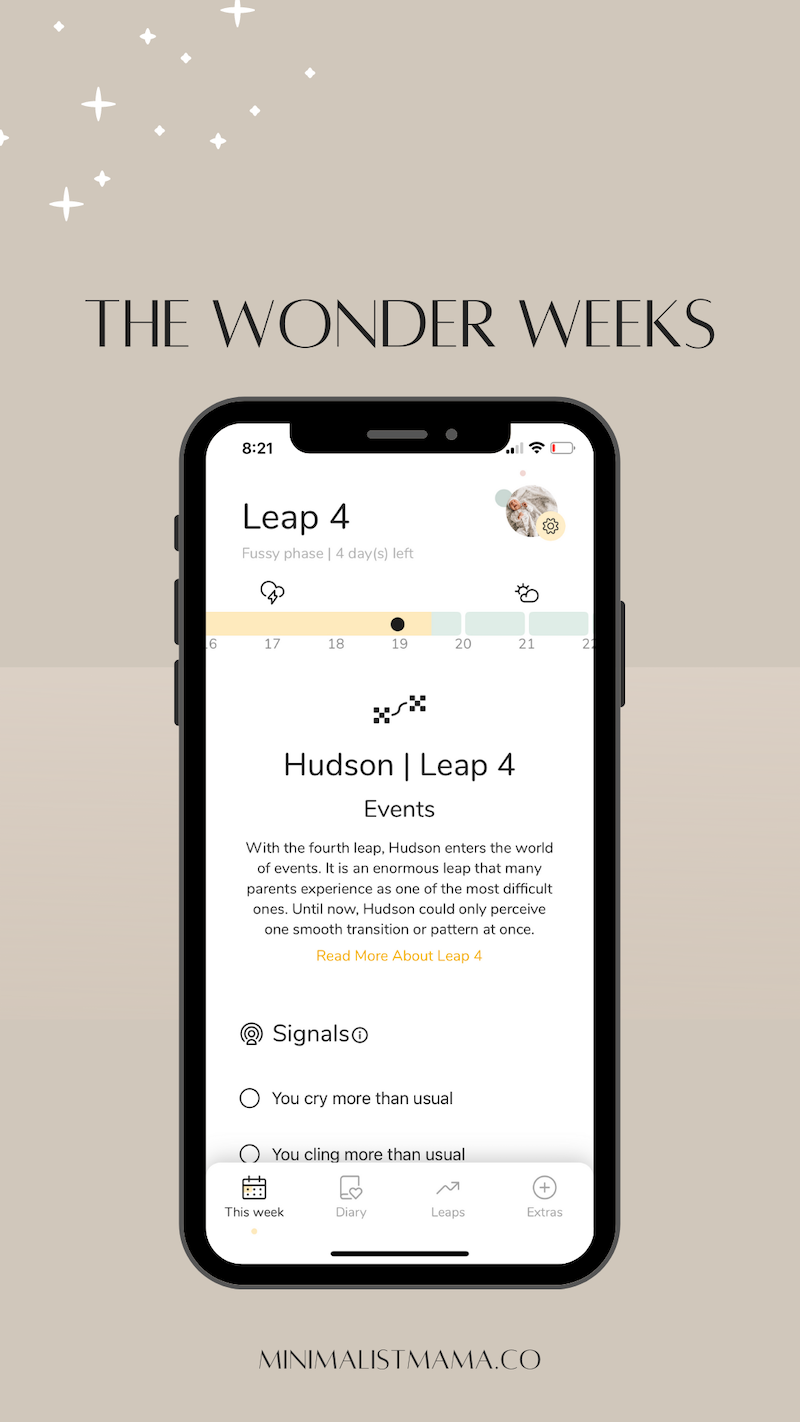 The Wonder Weeks app is a developmental framework for babies that schedules and explains the 10 mental leaps that your little one will go through during the first 18 months of their life.
The Wonder Weeks app, in particular, provides you with a week-by-week understanding of how your baby is developing and
I will say – in speaking to other moms, the sentiments for this app have been a bit divided.
Almost all of the moms I've spoken to swear by the accuracy of the app, but a few have opted out of checking in on the upcoming leaps because they feel it just sets them up to expect a crappy period (days, week, however long the leap is).
Of course, each mama's different, but I do feel it's worth checking out. So, take a look around and decide if you love it or not!
Download Wonder Weeks on Apple
Download Wonder Weeks on Android
Health Apps for New Moms
4. Juna
Juna is an all-in-one health & fitness app for mamas, providing both fitness and nutrition plans developed specifically for ttc, pregnancy and postpartum.
Juna may just be the one app for new moms that provides more value than I can really wrap my head around.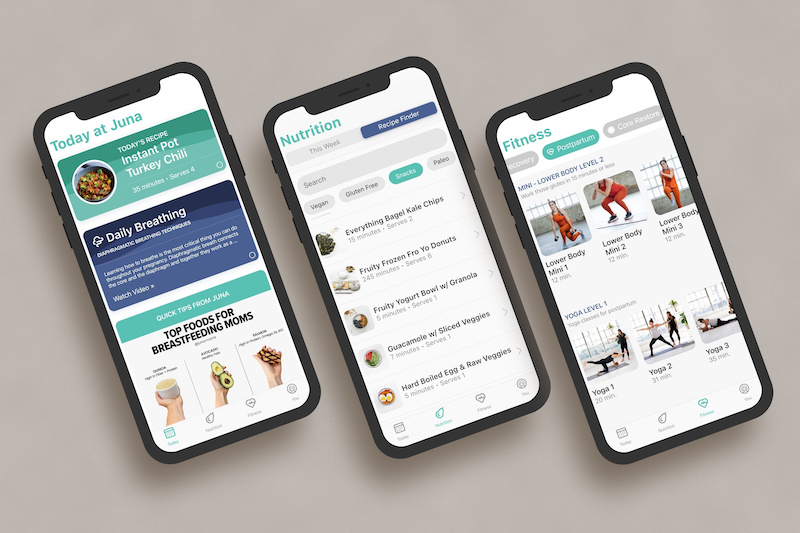 On the nutrition front, the Juna app includes an incredible database of super simple, healthy recipes and meal ideas for busy new moms and mamas-to-be.
For fitness, Juna includes an incredible video library of exercises, appropriately organized by the phase of pregnancy or motherhood you are in.
From cardio workouts to get your heart pumping, to strength training, to stretching, diaphragmatic breathing and beyond. Juna's got it all.
5. Expectful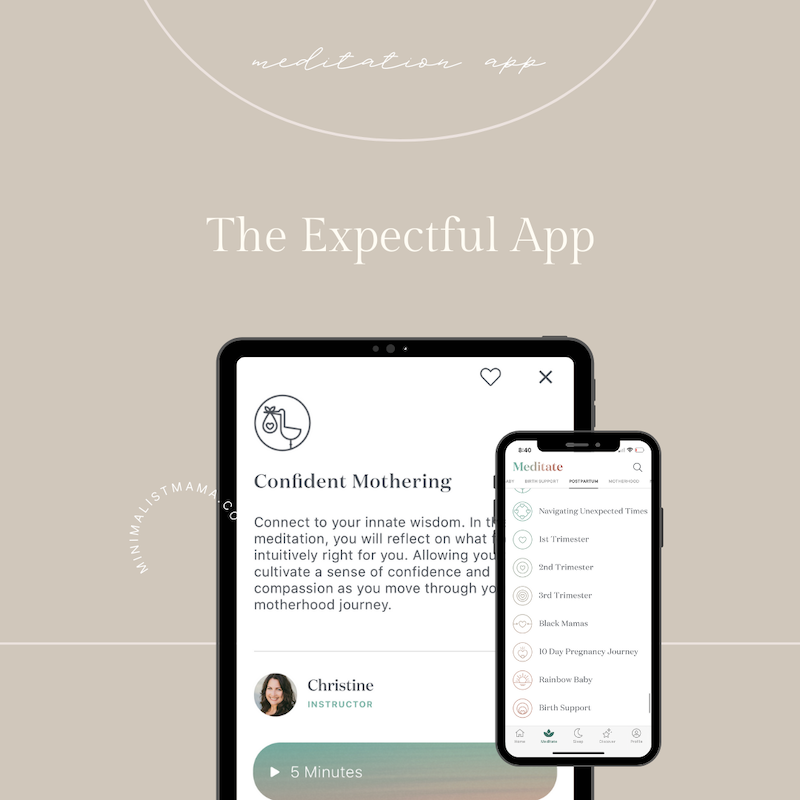 Expectful is a modern meditation app for trying to conceive, pregnant and postpartum mamas.
Having dealt with, and continuing to deal with, anxiety myself, I truly find Expectful to be very effective in having helped me manage my mental health during my pregnancy and into motherhood.
Such a large part of our mental health has to do with the thoughts and ideas that we repeat to ourselves throughout the day. Expectful helps to rewrite those thoughts.
The Expectful app offers a free 7-day trial, so you've got nothing to lose!
Give it a try.
6. Ornament
Ornament is a modern health-monitoring app that provides a simplified way to see and track the results of lab tests.
Simply upload your most recent blood work and Ornament will provide you with gorgeous, easy-to-follow tables and graphs that clearly illustrate the results.
Some mamas are fortunate enough to experience a smooth pregnancy with no health concerns while some are handed a few more challenges.
I personally developed preeclampsia during my last pregnancy and am still needing to monitor a number of health markers until everything returns to normal, and Ornament makes that easy.
Shopping Apps for New Moms
7. Thrive Market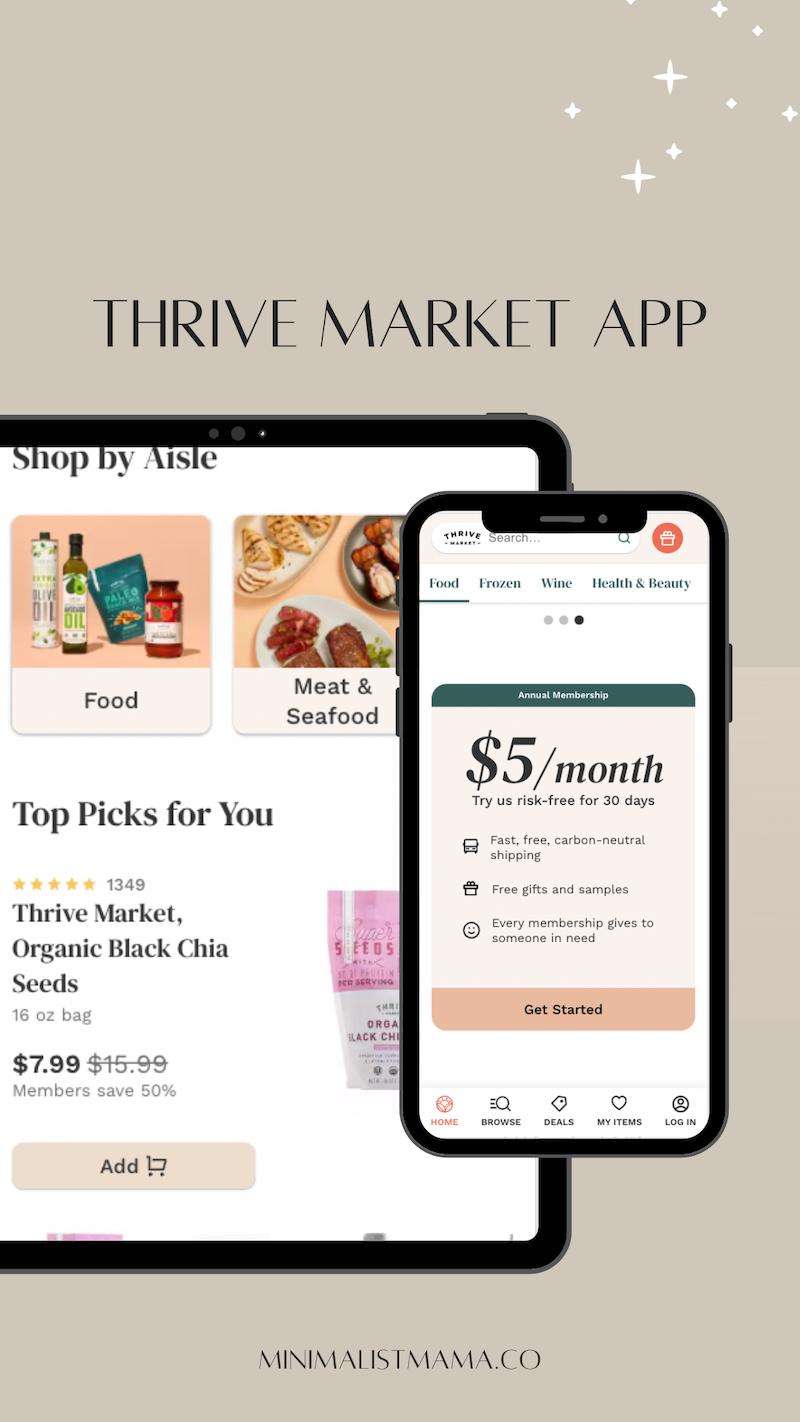 Thrive Market is a subscription-based online grocery store that stocks a wide range of healthy, organic and specialty grocery items.
With Thrive Market, there's no physical store – they ship the items to your home, following a delivery schedule that you choose.
The idea is that because they don't have to take on the overhead costs of operating an actual grocery store, they can avoid passing those fees on to you, and you save money in the end.
As every mom quickly figures out, online grocery shopping and grocery delivery services are a total lifesaver.
Will babe only sleep if you're holding him? Spend time scrolling on your phone during the overnight feeds?
Simply download the Thrive Market app, browse their shop while babe cozies up in your arms, and enjoy the convenience of healthy groceries delivered to your doorstep!
Download Thrive Market on Apple
Download Thrive Market on Android
8. Amazon
The usefulness of this app just about goes without saying, but thank you, God, for Amazon.
In all honesty, before I became a mom, I really didn't understand why Amazon had such a cult-like following.
I mean, how hard is it really to just pop out to the corner and pick up some toilet paper and bobby pins?
Ah ha. HA. Ha. Hahaha. Yeah. Amazon for the win.
From wet wipes to comfy lounging clothes to baby toys, Amazon just makes it easy.
Other Apps for New Moms
9. Peanut
Bumble, but for moms.
Find and connect with local mamas in your area for IRL play dates and meet-ups, or keep it online and just swap tips!
10. BabyPage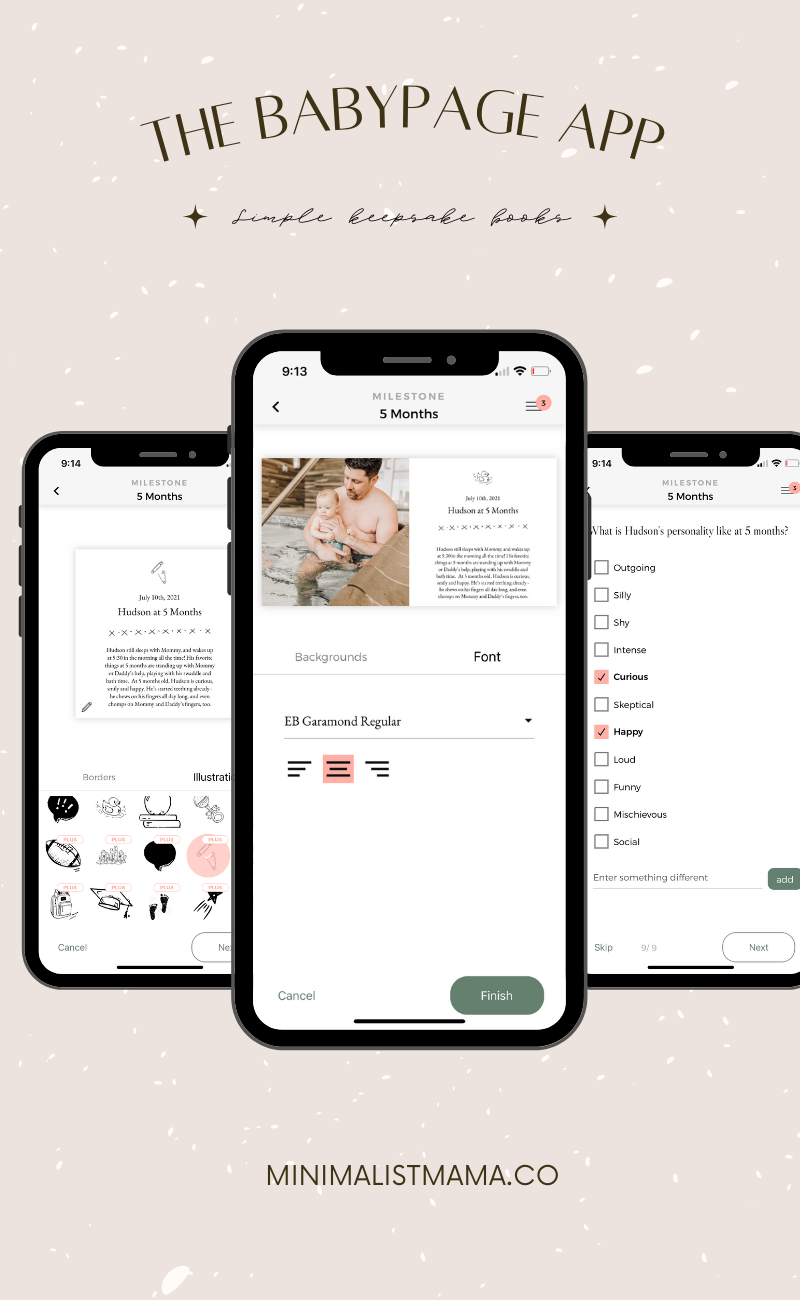 And last but not least, BabyPage.
BabyPage provides busy parents with a simple way to capture baby's milestones in a simple keepsake photo book.
While there are a number of other apps and photo book websites on the market, I've purposefully only chosen to mention this one.
BabyPage's pretty minimalist designs, ease of use and adorable hand-sketched icon illustrations all make it a winner in my books.
BabyPage is free to download and will allow you to build basic pages for your keepsake book on their free version. An upgrade to paid version unlocks several more photo collage templates, icons and fonts.
Give it a whirl and see what you think!
Best Apps for New Moms – TL;DR
From activities for babies to healthy postpartum snacks to connecting with other moms and capturing those sweet memories, there's – yep, you guessed it – an app for that. If you are a new mom yourself, I absolutely recommend taking advantage of some of these super useful apps for new moms!
Don't have an iPhone? Learn how to get all the Apple Car Play features without an iPhone!
Read Next:
7+ Essential Tips for Surviving Postpartum Night Sweats
11+ Helpful Breastfeeding Tips for New Moms
29+ Uplifting and Encouraging Positive Affirmations for New Moms