This post contains affiliate links.

Breastfeeding can be an incredibly challenging, but equally rewarding, journey.
As a new mom, I've picked up breastfeeding hacks from lactation consultants, other mamas, and a bit of trial and error, too.
Here are some of the most helpful breastfeeding hacks for new moms that I know will make breastfeeding easier and more comfortable for you:
01.

Store your pump parts in the fridge

This is one of my very favorite *top* breastfeeding hacks for new moms.

If there's only one of my breastfeeding hacks that you read, it should be this one.

In those first days and weeks, there is a lot of dishes and laundry.

Because in the first while, your body may be producing not quite enough, or too much, breast milk, you will probably be using your breast pump pretty darn often to help regulate things.

In order to avoid bacteria growth, the general rule of thumb is to wash all of the pump parts with hot soapy water, and dry them, after every use, and then to fully sanitize the pieces once a day.

But, between constant nursing sessions, diaper changes, trying to eat and drink and use the washroom yourself, it feels like you're consumed just about every minute of the day.

So – save yourself some time, and leave a medium-sized bowl or clean plastic container to store your pump parts in in your refrigerator.

After each pumping session, simply put all of your breast pump parts (except the actual pump) into the fridge, which will stop bacteria growth. (I used this system throughout the day and then put the parts through our dishwasher on the sanitize cycle each night).
02.

DIY your own nursing bra in a pinch

Did baby arrive a little sooner than you expected?

If you haven't had the chance to get yourself a good nursing bra or tank, you can use an old form-fitting tank top or bralette (but not too snug) and simply snip holes where your breast pump attaches.

It's not a glamorous solution, no, but it works in a pinch!

These are the super popular, affordable nursing bras I used: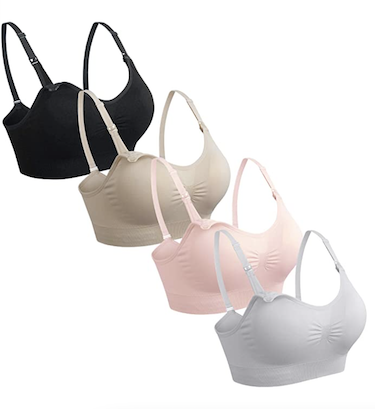 Amazon Nursing Bra for Breastfeeding, 4 Pack ($29)
These are some super popular, comfy nursing tanks from H&M: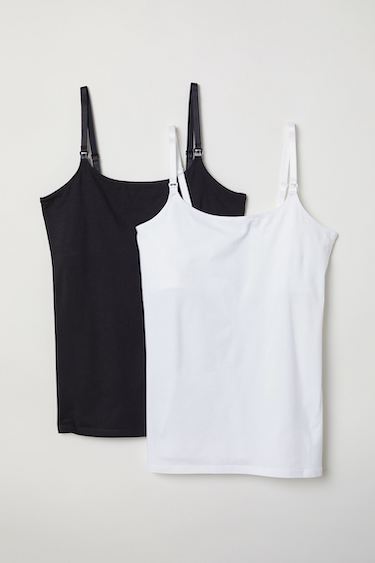 H&M Mama Nursing Tank, 2 Pack ($23)
And here is the Range Rover of nursing bras:
Blanqi Body Cooling Maternity and Nursing Bra ($49)
At the end of the day, which nursing bra you have isn't what matters most – just free those hands any way you can, mama!
03.

Put down your phone

In the first few days after having Hudson, I was in touch with my aunt often.

One of the pieces of advice was one I will always remember.

Put down your phone.

I know the hours and minutes spent breastfeeding can seem never ending, especially during those first few weeks, and all you want is a moment for yourself.

To watch a whole tv show.

To catch up on your favorite podcast.

To just zone out and scroll mindlessly through Instagram for awhile.

But do yourself a favour and try to remember to put your phone down once in awhile.

Take the time to be present with your baby.

Stare at their face, brush their hair back, hold their tiny little hand.

Breastfeeding is so special and unique and it truly is a gift, so try to savour it once in awhile.
04.

Get a really big water bottle (no, bigger)

I have never been so thirsty in my entire life than I was those first few weeks after having Hudson.

Typically, I aim for at least 2 litres of water a day (64 oz), but I swear I was chugging down 4 or 5 litres (around 120 to 150 oz) in that initial postpartum period.

My aunt's friend, a retired midwife, recommended I try to get at least 100 oz per day while breastfeeding as a rule of thumb.

So, get yourself a big water bottle.

Because your hands will most likely and often be filled with a sweet little baby, I recommend finding one with a handle and a straw because it's easier to manage one-handed.

I love this Reduce brand water bottle because it's nice and big, easy to handle, and will even keep your water cold all day.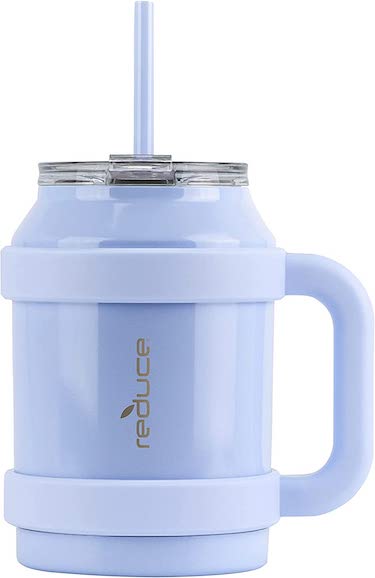 Reduce 40oz Mug Tumbler, Stainless Steel with Handle ($27)
05.

Don't wear tight-fitting bras or tops

A clogged duct is no fun.

But you know what's worse? (A lot worse)

Mastitis.

The day I developed mastitis was the one time as a new mommy that I called my husband, crying and begging for him to come home from work.

After having worn one of my pre-baby sports bras for the past few days, I had ended up with a clogged duct in one of my breasts, and then mastitis.

Mastitis is essentially inflammation that happens in your breast tissue when milk becomes trapped inside. It hurts, it's swollen, it can burn and ache, and you often will get a fever and chills.

Oh, and then there's that baby of yours that needs you.

It's not a fun time.

Wearing bras and tops that are too tight, as well as a number of other factors, can cause mastitis.

So – do your best to completely empty your breasts at each feeding, and avoid restricting your breasts in bras or tops that are too snug-fitting.
06.

Find the right nursing pillow

The right nursing pillow can really help get you and babe into the right position and make those long breastfeeding sessions a lot more comfortable.

Or, not.

I have personally tried almost all of the popular breastfeeding pillows on the market – SnuggleMe Organic Feeding + Support Pillow, the My Brest Friend, and the Boppy.

What I ended up using?

A regular, good quality, down-filled pillow.

As with many things in the land of baby, you'll most likely have to try a number of pillows to see what works best for you.

Read Next: Snuggle Me Organic Nursing Pillow Review: Is It Worth It?
07.

Set up a nursing cart

A nursing cart is exactly what it sounds like – a cart or basket to store all of your breastfeeding essentials.

It's usually kept either in the nursery or on the main floor of your home, like your living room, where you'll be spending the most of your time in those first few months.

Here's exactly what to include in a nursing cart.
08.

Breastfeeding shouldn't hurt

While we were at the hospital, we got to work with a lactation consultant.

I learned *a lot* from her, but one of the first things I learned is that it shouldn't hurt.

If it does, here are a few things to consider:
Check if baby is latched properly
Try a different breastfeeding position
Try a different breastfeeding pillow
Use a regular pillow or blanket to help with positioning
Try sitting somewhere else
Try adding some nipple balm to your nipples
If breastfeeding still hurts for you, it may be best to contact a certified lactation consultant in your area.
09.

Buy an extra set of accessories for your breast pump

In those first few weeks with your new baby, it feels like the pile of baby bottles and breast pump parts that need to be washed is never-ending.

Give yourself a break by purchasing an extra set of accessories (flange, valves, bottles) for your breast pump so that you don't have to rush to clean them every time you use them.

It's worth it, trust me!
Nenesupply Pump Parts Compatible with Medela Pump In Style Breastpump ($15)
10.

Side-lying is awesome

Explore, learn and try different breastfeeding positions.

Before I realized that you can breastfeed lying down on your side in bed with babe tucked in tight beside you, I spent night after night, sitting cross-legged on my bed nursing my baby, with every muscle in my arm and neck and back screaming for mercy.

Then, I tried lying on my side to breastfeed.

Game-changer.

The side lying nursing position not only allows you to avoid the whole awkward sitting in bed struggle, but it can also save you a few sleepy midnight stumbles to the nursery, too, depending on where your baby sleeps.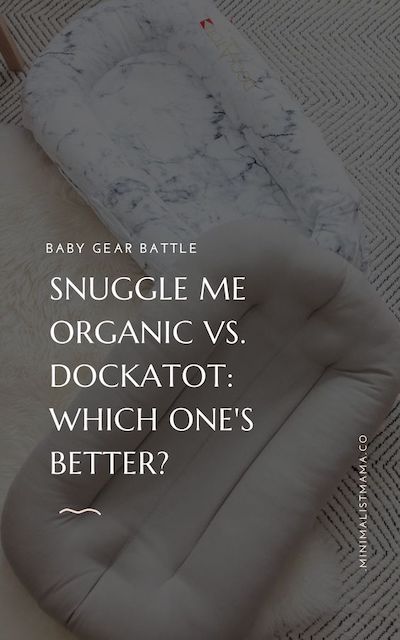 Read Next: Snuggle Me Organic vs. DockATot Lounger: Which Is Better? [Review]
11.

Use epsom salt to release a clogged duct

Because of the fat in breast milk, sometimes, one of the ducts in your breast can get clogged.

If this happens, you'll be able to feel it – it almost feels like there is a small marble stuck in your breast, in one particular spot. And it'll hurt.

If you aren't able to release the clogged duct, it can turn into mastitis, which is sometimes an infection. In order to try to get that clogged duct released, you can try a few things.

This is what worked for me:
A long, hot shower, with the shower head pointed directly on my breasts
Bending over in the shower so that my breasts are hanging down, and hand expressing, as well as massaging the part of my breast closest to my body
Filling my haakaa with hot water and epsom salts then holding the haakaa upside down on my nipple
Lots of water
Lots of nursing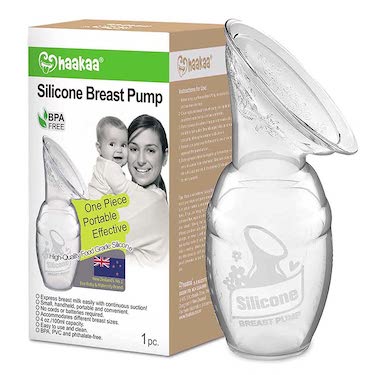 Haakaa Manual Breast Pump ($11)
Breastfeeding Hacks for New Moms – TL;DR
Do your best to make it as comfortable as possible, try to take time to be present with your baby while you are breastfeeding, and take advantage of some helpful breastfeeding hacks that can save you precious time.
You've got this, mama!
Read Next:
65+ *Aesthetic* Neutral Baby Toys That You Literally *Need*
29+ Uplifting and Encouraging Positive Affirmations for New Moms
The *Essential* Postpartum Grocery List (+21 Easy Postpartum Meals)