This post contains affiliate links.
Snuggle Me Organic vs. DockATot: which is better? 
You've probably already asked a few of your girlfriends which one they prefer. 
Checked which one your sister-in-law has. 
Looked both of them up online to compare features and prices. 
And – 
you're still not sure.
Is the Snuggle Me Organic worth it? 
Is the DockATot worth it? 
Is there really even much of a difference?
I'm a new mom and I bought, and used, both of them. 
Here's my take: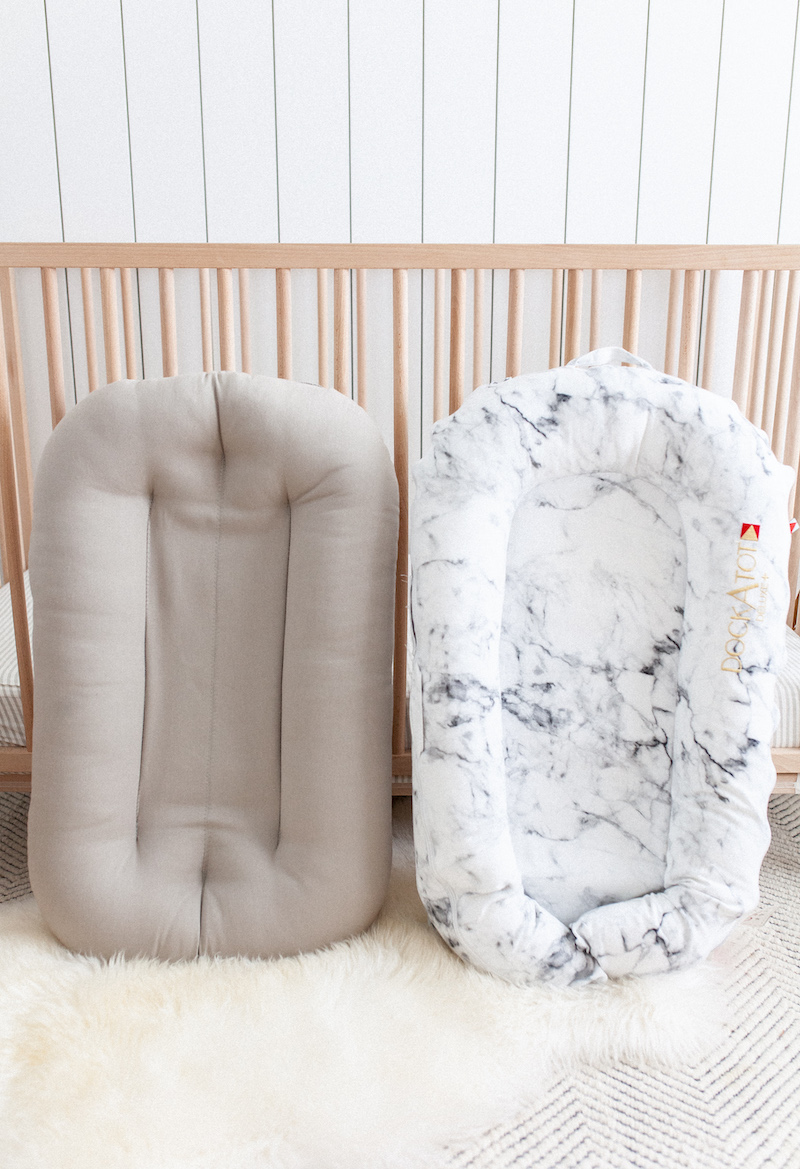 Uses
What are the DockATot and Snuggle Me loungers used for?
While many parents around the world have used and continue to use infant loungers like the DockATot and Snuggle Me for both cosleeping and helping babies sleep more soundly on their own, the practice has been widely deemed as unsafe.
This article from Aden's Mom – Snuggle Me Safety: The Evidence-Based Guide does a really wonderful job of taking a deep dive into infant lounger safety.
In the guide, she explores recommendations from every major source you'd want to hear from on the issue – the CPSC (Consumer Product Safety Commission), infant sleep studies and guidelines by the AAP (American Academy of Pediatrics), the FDA (U.S. Food and Drug Administration), Safe Infant Sleep and beyond.
Related: 49+ Important Items To Stock Up On Before Baby Arrives
I highly recommend reading it if you're interested in learning more.
That being said, even without using these baby loungers for sleep, there still are a whole lot of other ways that they can be used safely, so let's take a peek.
Approved uses for both of these popular baby docks include lounging, tummy time, playtime and diaper changes.
Beyond that is where the DockATot offers a bit more than the Snuggle Me: the toy arch and the cabana kit.
DockATot
Toy Arch – As part of its design, the DockATot lounger includes a carrying handle on the side, which allows you to attach accessories. In this case, a toy arch. As a new mom with a growing babe, I definitely noticed that after a while of lounging all day, my little guy started getting a bit bored and began wanting to look around and explore. Because he was still so small and couldn't sit up yet, a lot of the baby play gym options just wouldn't work. By being able to add a toy arch to the lounger, I was able to keep him safe and contained, but also entertain him for longer. Super helpful. Another reason I think this toy arch is so great is that you aren't limited to only using the DockATot toys. I really love these fun, super affordable plastic linking rings. The rings easily attach into the fabric loops on the arch and as baby grows, they can be attached to other things like a Baby Bjorn bouncer, their stroller or car seat, or just used for open-ended play. My son, Hudson, is 5 months old right now and absolutely loves grabbing on to these and putting them in his mouth.
Cabana Kit – Another accessory that adds extra functionality to the DockATot lounger is the cabana kit. This sunshade and bug screen combo fit around and over the lounger. The cabana would be great for the pool, beach days, camping, or a picnic in the park.
Snuggle Me Organic
The Snuggle Me Organic unfortunately doesn't offer any similar accessories.
Design
When comparing the Snuggle Me Organic vs. DockATot, there are a couple of key differences, with one of the main differences being the design of the loungers.
The DockATot is essentially made up of three pieces:
a long, tube-shaped pillow
a flat, rectangle-shaped pillow
a cover that keeps each pillow in place
The Snuggle Me, on the other hand, is all one piece and does not come apart.
One of the biggest differences between the two loungers is the actual base of the lounger, where baby lies.
One of the most stand-out features of the Snuggle Me is its hammock-like design.
While the DockATot features about an inch of padding on the bottom, the Snuggle Me does not.
Lending to its name, and its aim, the Snuggle Me, well, snuggles.
You Need to Know: 11+ Must-Have Diaper Caddy Essentials for New Moms
Instead of laying on a padded layer at the bottom, baby is instead hugged by a snug sling of fabric.
And this is no accident!
Snuggle Me Organic founder, Mia Carr, created the snuggly little lounger after having a set of twins that wouldn't stop fussing unless they were held.
To create something that made her babies feel like they were in her arms, she put together the very first lounger at her own kitchen table.
And it, of course, featured the signature snug-feel sling.
Style
While the functionality, price, and construction of each lounger are important things to consider, the style of it is way up there for me, too.
There is so much baby gear out there that's a major eyesore.
Whenever there's the opportunity to opt for a more simple, beautiful baby item, I am all in.
Luckily, both the Snuggle Me and DockATot offer a whole lot of contemporary and stylish options.
Snuggle Me Organic
The Snuggle Me is so sleek. So stylish.
It's available in a handful of pretty, calm neutrals like natural (cream), sugar plum (pastel pink), gingerbread (brown), gumdrop (a mauve-ish tone), and slate (sage).
Nice and simple.
No patterns. Just creamy neutrals.
DockATot
While the DockATot does make their loungers in solid colors like pale pink, baby blue, grey and white, what sets them apart is the bold patterns that they also offer.
From beachy, contempo palm leaves to rich, moody jungle fever, luxe marble patterns to animal prints and beyond – the gorgeous designs are just dreamy.
New patterns are released on a fairly regular basis, and they've even done a few collabs – most recently, with British design house, Morris & Co.
Material
Wondering how safe the materials used to make these newborn nests are for babe's delicate skin?
Thankfully, both the DockATot and Snuggle Me use high-quality fabrics and components, though they do differ.
Snuggle Me Organic
Did the name give it away? 
The Snuggle Me Organic is made from GOTS-certified organic 100% cotton and lined with polyester stuffing.
The GOTS certification is widely recognized. Not only does the cert ensure the materials are free from hazardous substances, but it also upholds quality standards such as colorfastness and shrinkage. 
DockATot
What is a DockATot made of?
Similarly, the DockATot is also made from cotton with a polyester filling, but instead of being certified by the Global Organic Textile Standard (GOTS), they are vetted by an organization called Oeko-Tex.
While the DockATot does not use organic materials, the materials they do use meet the requirements to earn the Standard 100 badge from Oeko-Tex.
Sizing
When comparing the size of the DockATot and Snuggle Me Organic, the DockATot ends up being the more spacious of the two, giving your little one an extra inch and a half in the width as well as the length.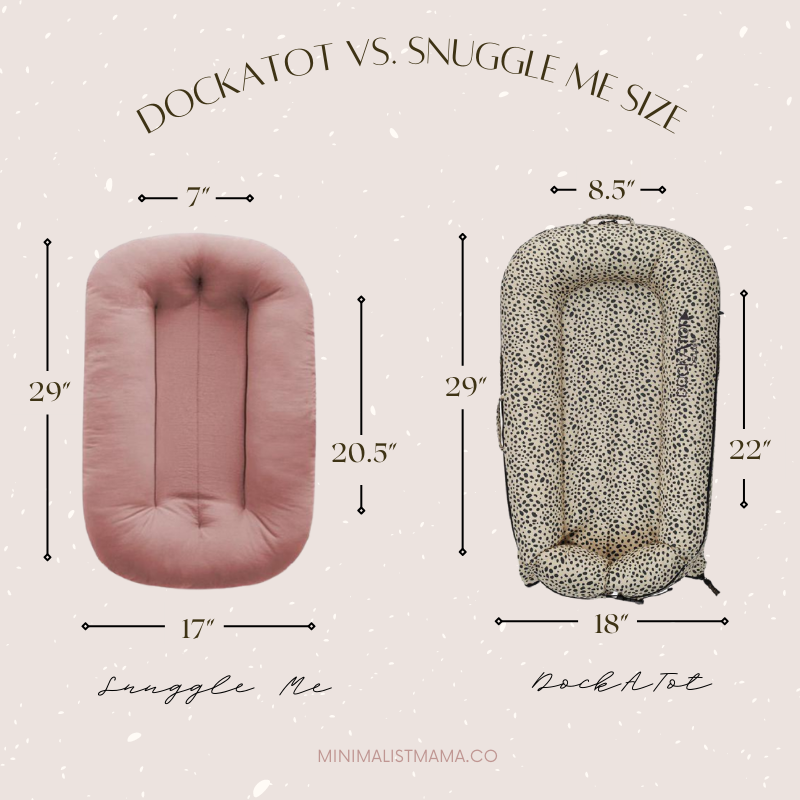 While the two loungers seem to be very close in size, I did find that once my son got to about 5 months in age and around 15 lbs, his shoulders were being rolled together by the sides of the Snuggle Me, and his legs were over the edge.
At the same age and size in the DockATot, he was still able to lay flat without any rounding in the shoulders, and his feet were contained in the lounger without his legs having to be elevated.
Wash & Care
One issue that I did find with the DockATot is that re-stuffing the tube-shaped pillow into the cover is a major pain.
Because the pillow has been made to really fill the cover and create a nice, strong edge to hold baby in, it's a bit of a tight squeeze.
One of the times after I had washed the cover and was re-assembling it, I did end up snagging the pillow on the zipper and tearing it slightly.
This is not an issue with the Snuggle Me, as the covers are much more loose and slide off very easily.
The stuffing in the Snuggle Me is sewn into the lounger, and the entire lounger is then washed in the machine, so no unzipping is required.
While this does make the wash & care of the lounger a bit easier, it can also toss around the stuffing a bit, which *could* lead to a bit of a warped shape over time.
Because you're washing the whole lounger, another thing to keep in mind is the dry time.
Between the length of an entire machine wash cycle, the time it takes to air dry (which is about 1-2 hours, plus about 10 minutes tumble dry low), your lounger will be out of commission for that time.
Alternatively, because the DockATot stuffing can be removed and doesn't really need to be washed if you have a second cover, you can simply zip the stuffing in and be back in business in only a few minutes.
Both loungers will require slightly different care at the end of the day and will wear accordingly, too.
Baby Cubby DockATot Deluxe+ Dock ($175)
DockATot
Can a DockATot be washed? 
Yes, washing your DockATot is easy. Simply remove the pillows from the cover and machine wash.
Can DockATot go in dryer?
While the DockATot care guide recommends hanging the cover to dry, I have put it in the dryer a number of times and have had no issues.
Lifespan
DockATot
What ages is the DockATot recommended for?
The DockATot comes with in two sizes: the DockATot Deluxe+ which is for babies 0 to 8 months, and the DockATot Grand, which is meant for little ones from 9 to 36 months old.
Snuggle Me Organic
Similarly, the Snuggle Me Organic also offers two similar sizes: the Snuggle Me Organic Infant Lounger which is for babies from 0 to 9 months who are not yet crawling, and the Snuggle Me Organic Toddler Lounger, for babies 9 to 36 months as well (the same as the DockATot).
As per Snuggle Me's size guide, your little one's ready to transition from the infant to toddler lounger once they meet the following 3 guidelines:
at least 9 months old
crawling
21″ from the top of their head to the base of their bum
Availability
How easy is it to get your hands on a DockATot or Snuggle Me?
DockATot
While there are currently no limitations on the DockATot loungers in the United States, us Canadian mamas aren't quite as fortunate.
Well, kind of.
Why?
In 2017, the Government of Canada issued a safety alert warning parents of the suffocation risk involved in using the DockATot as a space for babies to sleep unattended, or as a cosleeper.
It was then established that because of this risk, they would no longer be available for sale in Canada.
So, what's a girl to do?
The only option that I have found here in Canada is to purchase a pre-owned DockATot off of Facebook Marketplace.
This is where I personally bought our DockATot.  I picked it up for a steal, at about half the price that it retails for and it was in *almost* perfect condition, and even included a carrying case.
Now, besides the fact that the only option for Canadians is to buy the dock pre-loved, there's one other drawback, as well.
You're most likely going to find that the selection of prints that is available locally is pretty limited.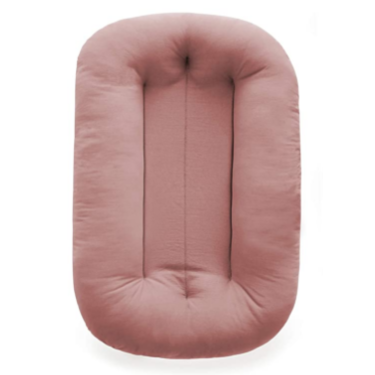 Amazon Snuggle Me Organic Baby Lounger ($99)
Snuggle Me Organic
The Snuggle Me Organic is widely available throughout Canada, the United States, and beyond.
Production
DockATot
Where is the DockATot made? 
The DockATot is designed in Sweden and produced in Europe.
Snuggle Me Organic
Where is the Snuggle Me Organic made?
On the other hand, the Snuggle Me lounger is designed and produced by 'local Minnesota sewers' in the United States for those who like to shop local.
Price
How do the two loungers stack up in terms of affordability?
DockATot
The DockATot comes with a washable cover and retails for between $175-205. Additional covers are $75-95.
The price varies a bit for different colors and patterns, and obviously, depending on which retailer you purchase from.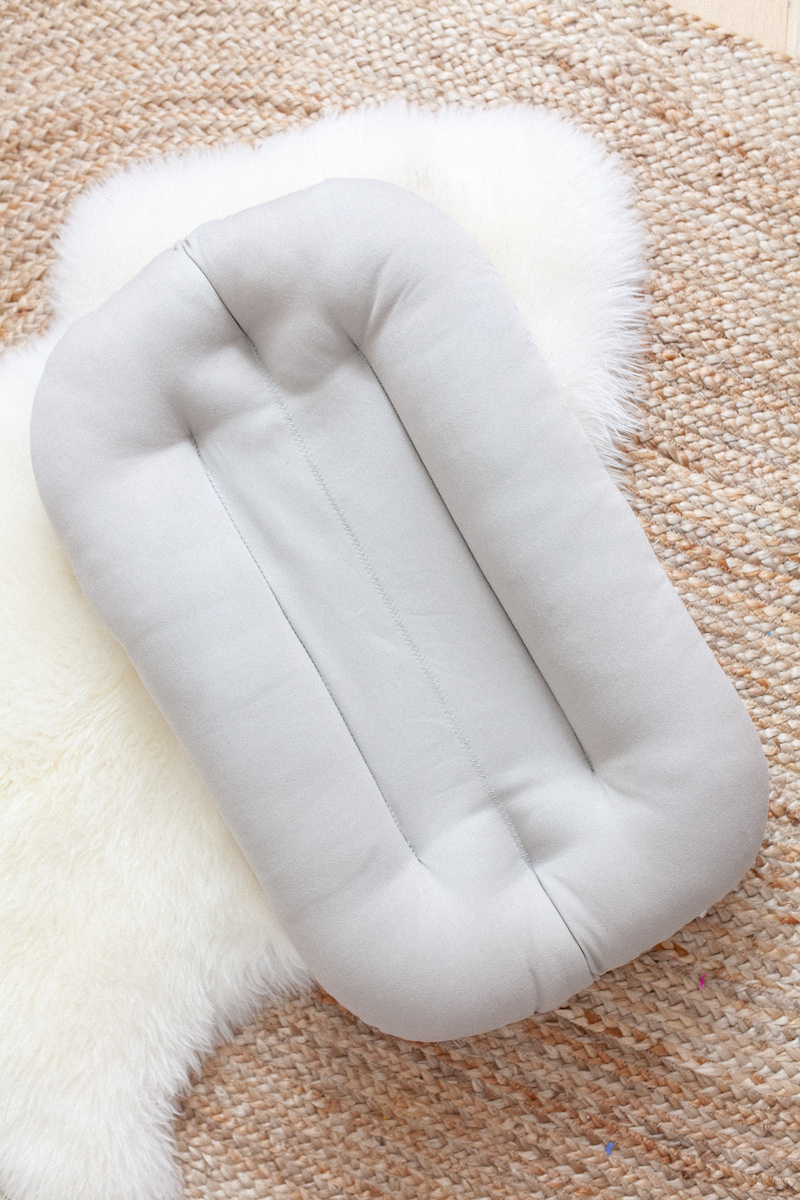 Snuggle Me Organic
Determining the price of getting started with Snuggle Me Organic is a bit less straight forward.
While the Snuggle Me does technically come with a cover, if baby spits up or has a blow out in the Snuggle Me, you'll be left having to wash the entire lounger.
For this reason, it's recommended to use the Snuggle Me with an extra cover on.
The Snuggle Me lounger retails for $99, with the cover being sold separately for $48.
For the Snuggle Me dock and a washable cover, you'll pay about $147.
An extra note on about the Snuggle Me – occasionally, they do also sell "Imperfects" – loungers with a few minor imperfections – for 50% off, but they go quickly!
The DockATot – My Final Review
At the end of the day, the DockATot gives your babe a little more space and therefore, could end up being used for longer, depending on the timeline of their development.
However, because you've got to unzip the super snug cover, then zip it back up tightly around the pillows, the wash and care of the DockATot is more a nuisance. It's also the pricier of the two.
For Canadians, the only options for the DockATot will be what a friend or family visiting the US can bring back for you, or what you can find secondhand.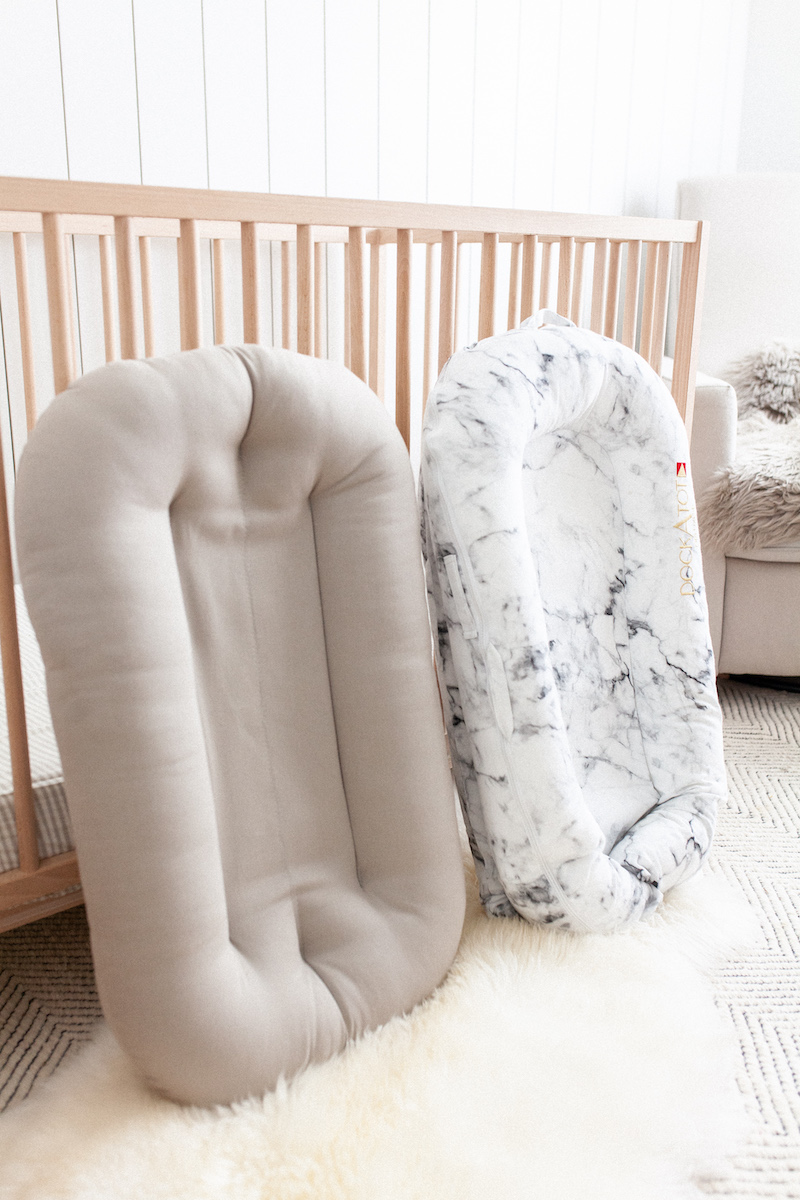 The Snuggle Me Organic – My Final Review
The Snuggle Me Organic is a beautiful product and super minimalist (yummy).
It is also the more snug of the two. While some may feel that they would get less use out of it because of its tighter design, you could also argue that while you can use it, you get more use out of it, if your baby prefers the feel of it to the DockATot.
The wash and care of the Snuggle Me cover is simple, as it fits over the lounger like an envelope, and to some, this simplicity may be what wins them over.
For Canadians, the Snuggle Me is widely available for purchase (get it on Amazon here) and can easily be added to your baby registry, so you are guaranteed to be able to get the color of cover that you love.
Snuggle Me Organic vs. DockATot – TL;DR
I personally feel that a baby lounger is an absolute must-have for newborns.
While the Snuggle Me Organic and DockATot have a whole lot in common and are both stylish, quality baby products, there are a few key differences that could sway potential buyers either way.
Personally, I feel that the style, wash & care and price will be the main considerations.
Read Next: Snuggle Me Organic Nursing Pillow Review: Is It Worth It?
Photography for this post done by Christal Sczebel of styleyouroccasion.com