This post contains affiliate links.
The Best Bible Verses for a Baby Shower
Doesn't the right bible verse hold so much power?
The power to give hope, to reassure, to guide, to celebrate, and to explain.
Are you planning a baby shower for someone special and really wanting to honor the mama-to-be's faith and encourage her through the word?
Then pull up a seat.
Today, I'm sharing my favorite baby shower bible verses and a few fun ideas on how to incorporate them into your celebration.
(Still searching for a theme for baby shower? Here are our top picks for boy baby shower themes in 2023!)
Are you in leadership at your church? Check out this great little set of tips for leading a ministry meeting over on the Loving Christ Ministries blog.
Where To Use Bible Verses At a Baby Shower
Here are a few ideas on incorporating these bible verses into the baby shower:
Cards – Add one of the bible verses about baby to the baby shower invitations as part of the design or write one of them in the card that you give to the mother-to-be, along with a personal message about what the verse means to you.
Decor – Consider ordering a custom printable off Etsy to display in the space like on the mom-osa bar or guest book table.
Cookies – Custom sugar cookies are a super popular trend for modern baby showers right now. Consider sending one of the shorter verses over to the baker to have them included as one of the cookie designs.
A Toast or Devotional – In charge of saying a few words to celebrate the mama-to-be? Use one of these baby shower bible verses to help guide your speech!
Games – For a fresh take on the classic 'late night diapers' activity, print these verses out and put them in a small jar or basket beside the diapers. Give guests the option to use one of the bible verses to write on the diaper for some late night encouragement.
Guest book – Similar to the diaper activity, you could have guests tape the small printed bible verse into the book, and use it as a writing prompt for their well wishes.
Not sure where to start? Etsy is a great place to look for custom printables – I absolutely love these gorgeous, minimalist Bible verse prints – they would make such a lovely addition to a baby shower gift!
Baby Shower Bible Verses for Baby
1. For I know the plans I have for you," says the Lord. "They are plans for good and not for disaster, to give you a future and a hope. Jeremiah 29:11
Jeremiah 29:11 reminds us that God has a plan for each and every one of us, including the newest little addition to the family. This bible verse would be great on the guest book table in a small frame.
2. You made all the delicate, inner parts of my body and knit me together in my mother's womb. Psalm 139:13
3. Before I created you in the womb I knew you; before you were born I set you apart;" Jeremiah 1:5
4. I praise you because I am fearfully and wonderfully made; your works are wonderful, I know that full well. Psalm 139:14
These verses from Psalms and again, the book Jeremiah, are classic bible verses that do a wonderful job at reminding us just how precious and intentional each new life is.
5. For this child I have prayed. 1 Samuel 1:27
This verse is really beautiful for parents whose journey to conceive their little one came with challenges – whether that meant fertility issues, miscarriage and loss, or a tough pregnancy.
Having this bible verse hand lettered and printed on some pretty cardstock would make for a really gorgeous baby shower decor piece that you could display on the gift table or by the food and beverages.
These simple marble place card holders from Crate & Barrel are great for holding up small printables at the shower, like this bible verse or even game prompts.
Even better? They're the perfect little gift for the mama-to-be, who can use one to display the bible verse on some open shelving in the nursery.
6. The Lord bless you, and keep you; The Lord make His face shine upon you. Numbers 6:24-25
7. Children are a gift from the Lord; they are a reward from him. Psalm 127:3
8. Let all that I am praise the Lord; may I never forget the good things he does for me. Psalm 103:2
Baby Shower Bible Verses for Mom
9. For God has not given us a spirit of fear and timidity, but of power, love, and self-discipline. 2 Timothy 1:7
From ultrasounds to blood work to screenings, there sure are a lot of opportunities for an expecting mom to let fear and worry take hold during pregnancy. With each new semester, comes new challenges.
2 Timothy 1:7 reminds us that God has not given us a spirit of fear – but of power, instead. As the mother-to-be faces the last few weeks of pregnancy, this verse truly is a powerful affirmation to encourage her to reflect on.
10. This is my command—be strong and courageous! Do not be afraid or discouraged. For the Lord your God is with you wherever you go. Joshua 1:9
11. For I hold you by your right hand— I, the Lord your God. And I say to you, 'Don't be afraid. I am here to help you. Isaiah 41:13
For the mamas who have been feeling a little anxious, Isaiah 41:13 tells them to take courage throughout the journey and that they are never alone.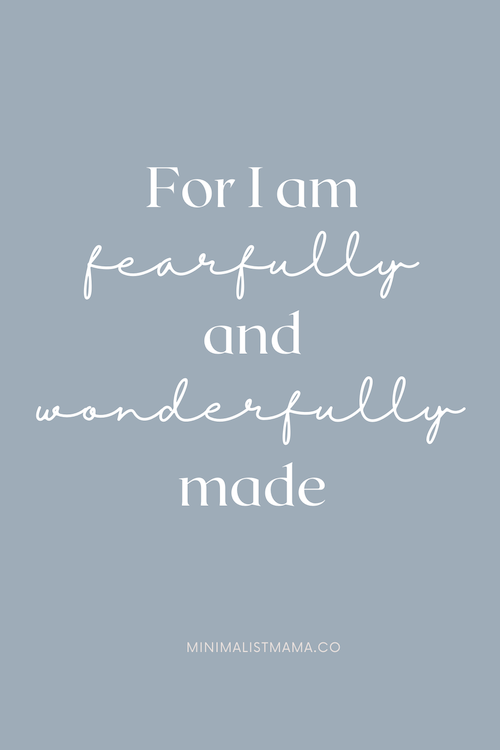 12. And now, dear brothers and sisters, one final thing. Fix your thoughts on what is true, and honorable, and right, and pure, and lovely, and admirable. Think about things that are excellent and worthy of praise. Philippians 4:8
13. So be truly glad. There is wonderful joy ahead, even though you must endure many trials for a little while. 1 Peter 1:6
14. Now may the Lord of peace himself give you his peace at all times and in every situation. The Lord be with you all. 2 Thessalonians 3:16
15. But if we look forward to something we don't yet have, we must wait patiently and confidently. Romans 8:25
16. Always be joyful. Never stop praying. Be thankful in all circumstances, for this is God's will for you who belong to Christ Jesus. 1 Thessalonians 5:16-18
I love these verses that remind moms to always do their best to find the pockets of joy and moments of gratitude in each day.
17. Each time he said, "My grace is all you need. My power works best in weakness." So now I am glad to boast about my weaknesses so that the power of Christ can work through me. 2 Corinthians 12:9
18. She is clothed with strength and dignity; she can laugh at the days to come. Proverbs 31:25
19. I am with you always. Matthew 28:20
20. Give all your worries and cares to God, for he cares about you. 1 Peter 5:7
21. Rejoice always and delight in your faith; be unceasing and persistent in prayer; 1 Thessalonians 5:16-17
Baby Shower Bible Verses for Postpartum Encouragement
22. But Moses protested to God, 'Who am I to appear before Pharaoh? Who am I to lead the people of Israel out of Egypt? Exodus 3:11
23. She sees that her trading is profitable, and her lamp does not go out at night. She sets about her work vigorously; her arms are strong for her tasks. Proverbs 37:17-19
These verses are really wonderful reminders for mamas who may be feeling like they just don't have what it takes to fill their new role.
Just as God chose Moses to lead the people out of Isreal, He also chose each and every mother.
24. The Lord is my shepherd; I have all that I need. He lets me rest in green meadows; he leads me beside peaceful streams. He renews my strength. He guides me along right paths, bringing honor to his name. Psalm 23:1-3
From the late nights that turn into mornings, the throbbing neck and back muscles from rocking your little one, to the toppling pile of dirty dishes – motherhood is a full. time. job.
There's no doubt that as a new mom, at times, it can feel like you truly just don't have the strength to get through the day. Psalm 23:1-3 tells us that God renews our strength each day.
Baby Shower Bible Verses – TL;DR
Have you ever been uplifted and encouraged when someone shared a Bible verse with you?
Has anyone ever hosted a baby shower for you that left you feeling so special and sunny?
Baby showers are such a sweet celebration of new life and answered prayers and it is my hope that these bible verses help to make the occasion even more beautiful.
If you're looking for even more ideas, here are some of the most precious Bible verses about unborn babies, over at Home Faith Family.
Want to keep reading? I love this article by Money Wise Steward about blessing others, and this list of deep icebreaker questions by Loving Christ Ministries – both of which would be totally useful if you're throwing a Christian baby shower!
Read Next:
✨ 29+ Unique and Useful Baby Shower Gifts for *Mom* (Not Baby!)
✨ 25+ Unique and Meaningful Expectant Dad Gifts That He'l Truly Love
✨ 19+ Useful Breastfeeding Gift Basket Essentials That Every Mama Will *Love*