This post contains affiliate links.
Searching for boy baby shower themes in 2023? You'll love these super modern and cute baby shower themes for boys, hand-picked by our team!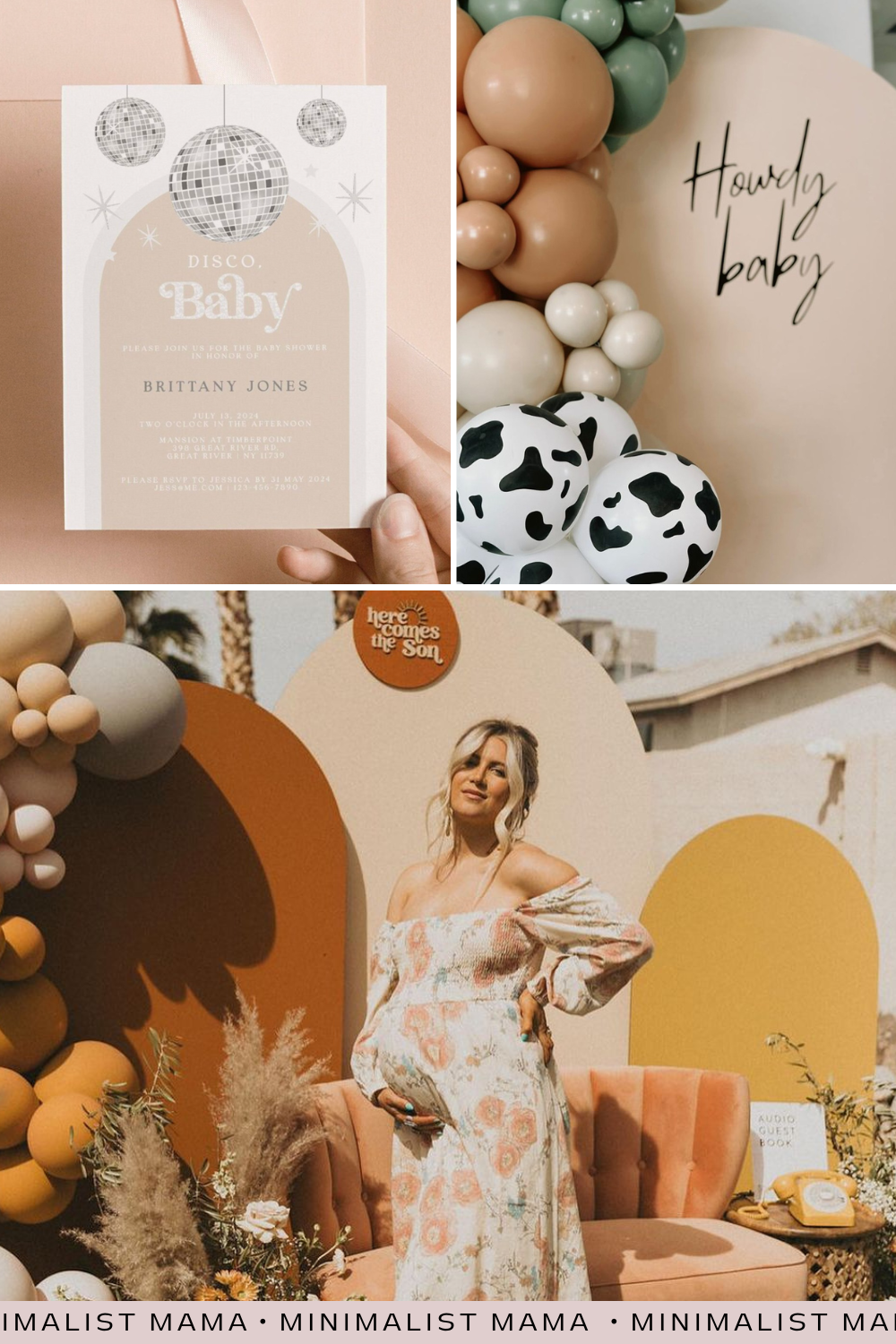 It's time to sprinkle a touch of magic and a whole lot of charm into the party that's all about that little bundle of joy on the way. From wild adventures to the ocean floor and so much more… get ready to dive into a world of imagination, because planning the perfect boy baby shower is about to become your favorite adventure!
We've gathered a treasure trove of boy baby shower themes that will make your heart skip. You'll 'awwww' with sweetness, you'll laugh out loud, and most of all – you'll find the perfect theme to help you celebrate your bouncing baby boy.
A Little Cowboy Is On The Way
Cowboy boots, horseshoes and hay bales… Cue the denim! It's time for a cowboy-themed baby shower.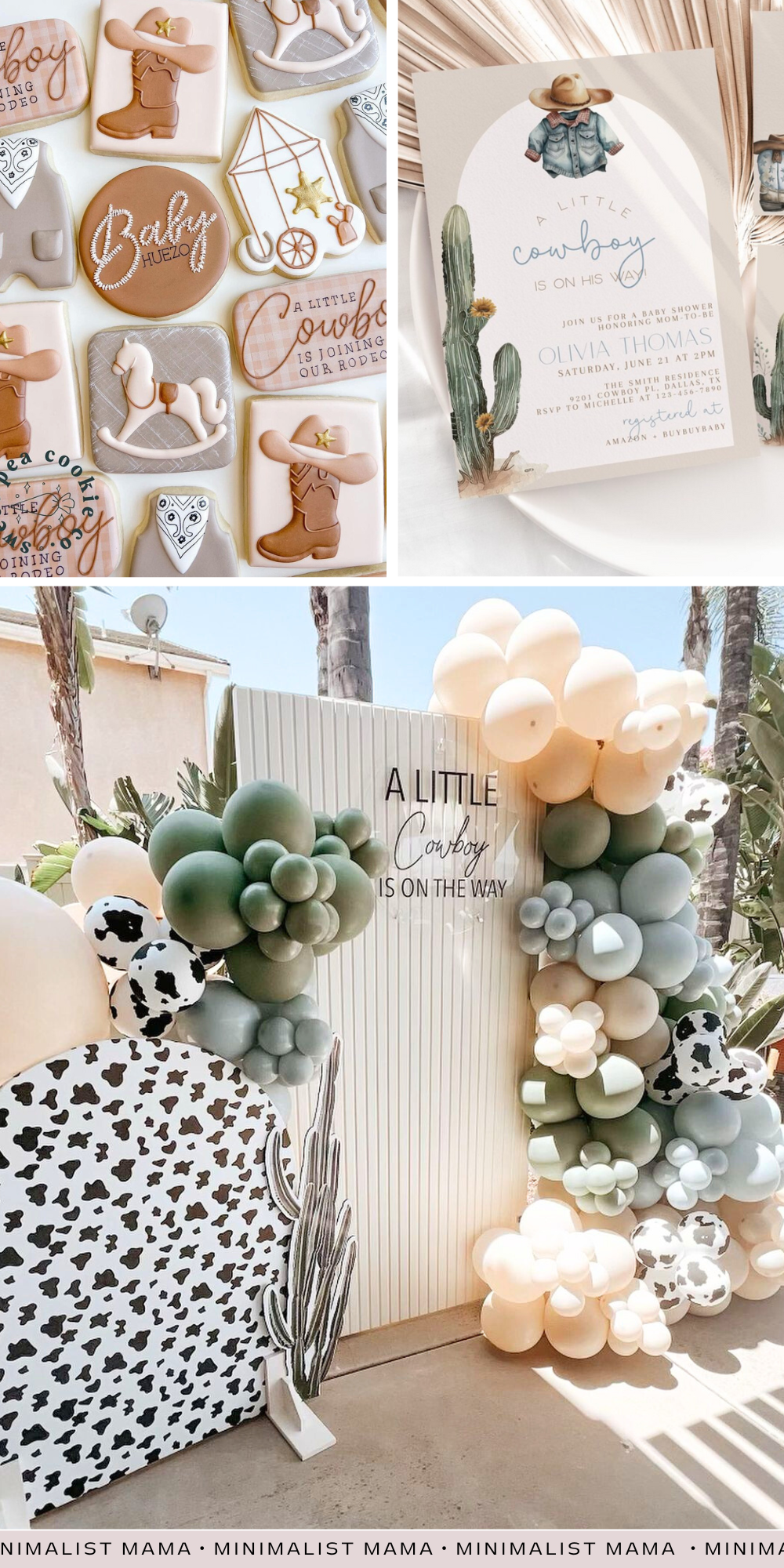 Image credits cookies | invitation | backdrop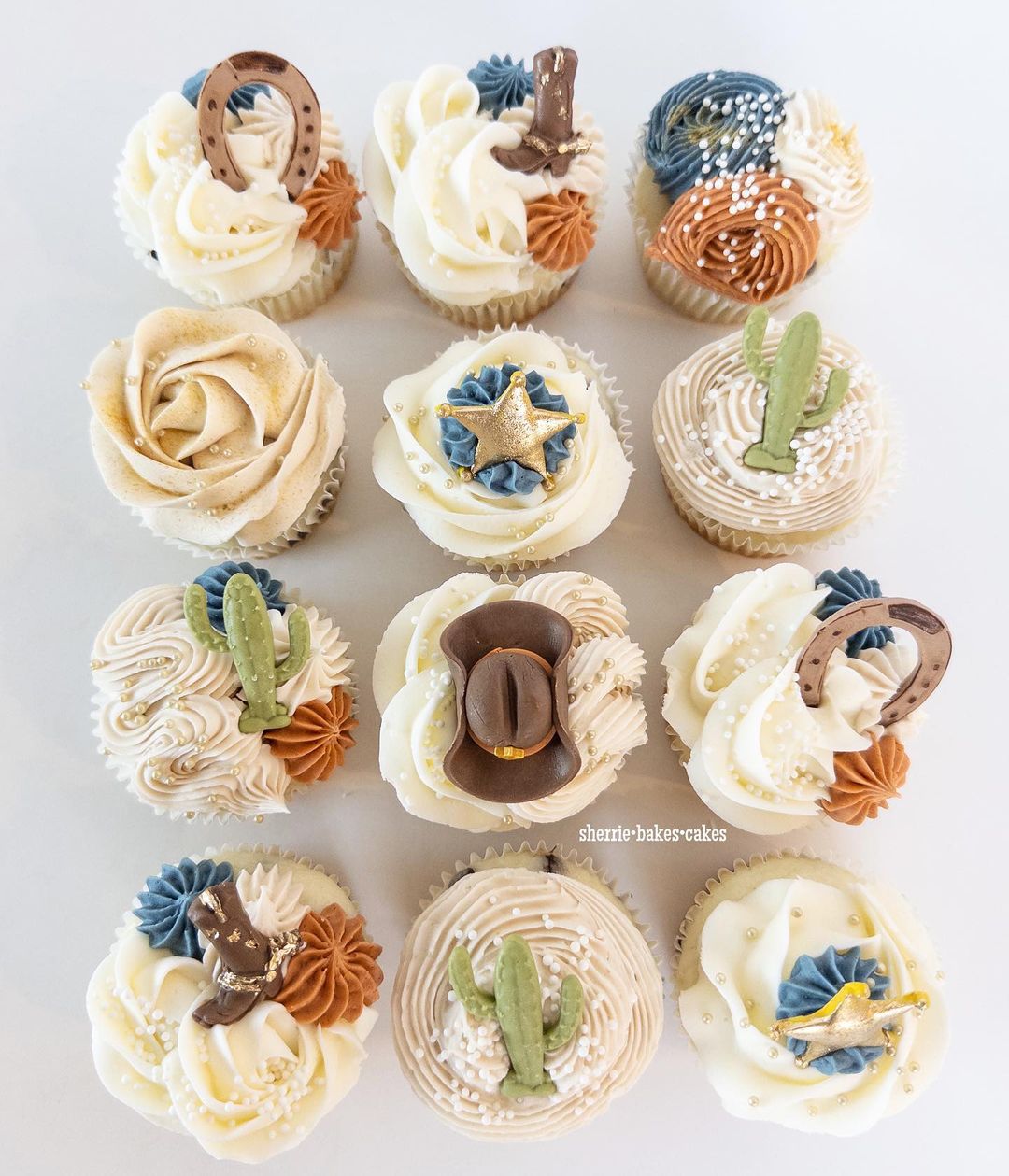 'A little cowboy is on the way' is the perfect theme for your little man. You can use cacti, cowboy hats and even a wooden rocking horse to really tie in some fun elements into this cute theme.
A Little Mushroom Is On The Way
Lush greenery, and natural elements make this little mushroom themed baby shower a great idea for expecting parents who love a neutral color palette.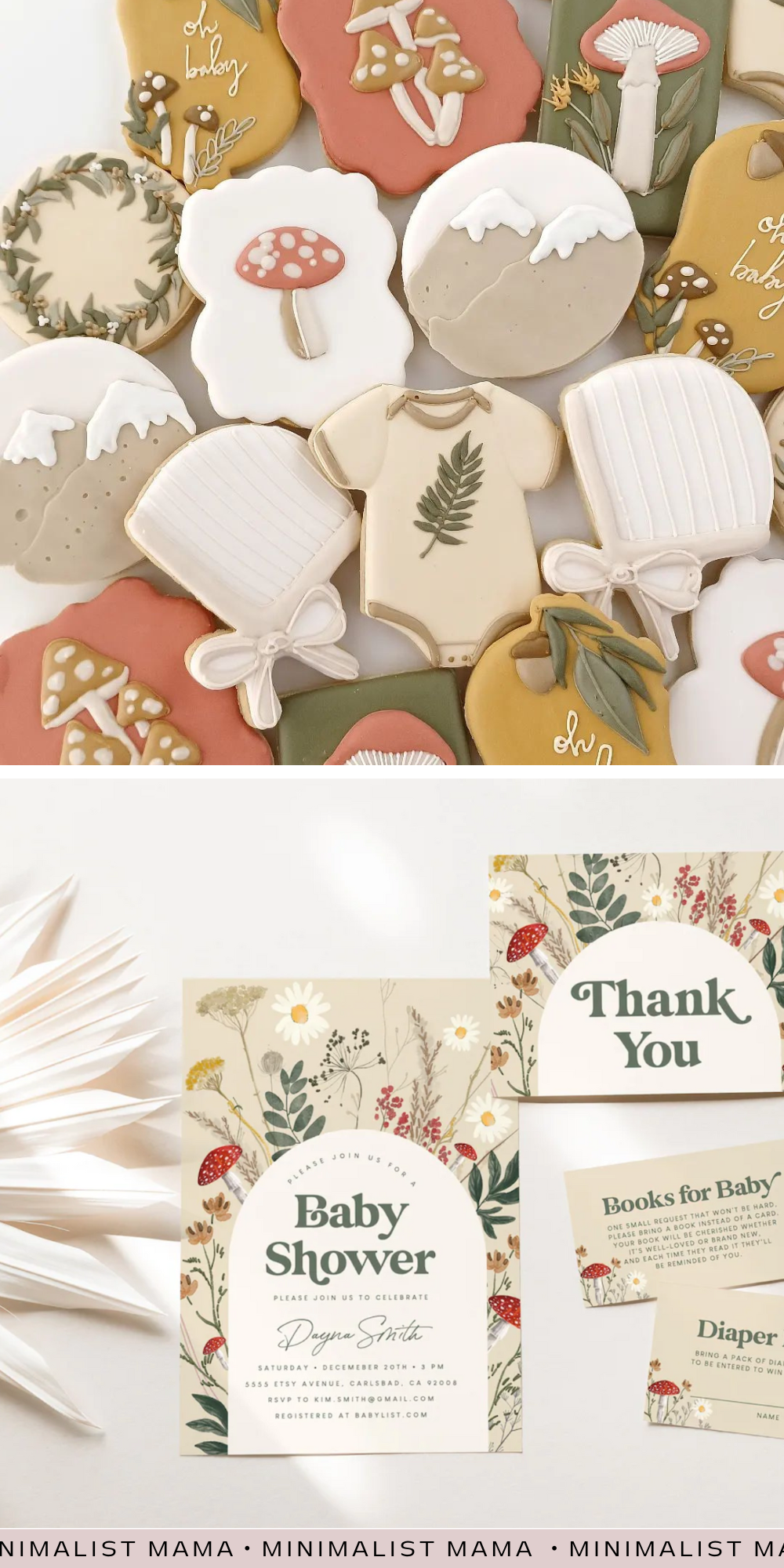 Image credits cookies | invitations
If you're looking for a slightly more neutral theme for your little boy, this is a great theme to consider. Using little red mushrooms for some adorable details really make this theme pop.
Classic Blue Baby Shower Theme
The color blue is often associated with baby boys, making it a traditional and fitting choice for a baby shower celebrating the arrival of a little boy.
A blue theme exudes a sense of calmness and elegance, creating a refined and sophisticated atmosphere for the baby shower.
Disco Ball Baby Shower Theme
Ready to glitter? If you want a baby shower that really feels like a *party* look no further!
This disco ball themed baby shower is a fun way to celebrate! Your belly might be making you feel round, so throw on a shiny dress and sparkle!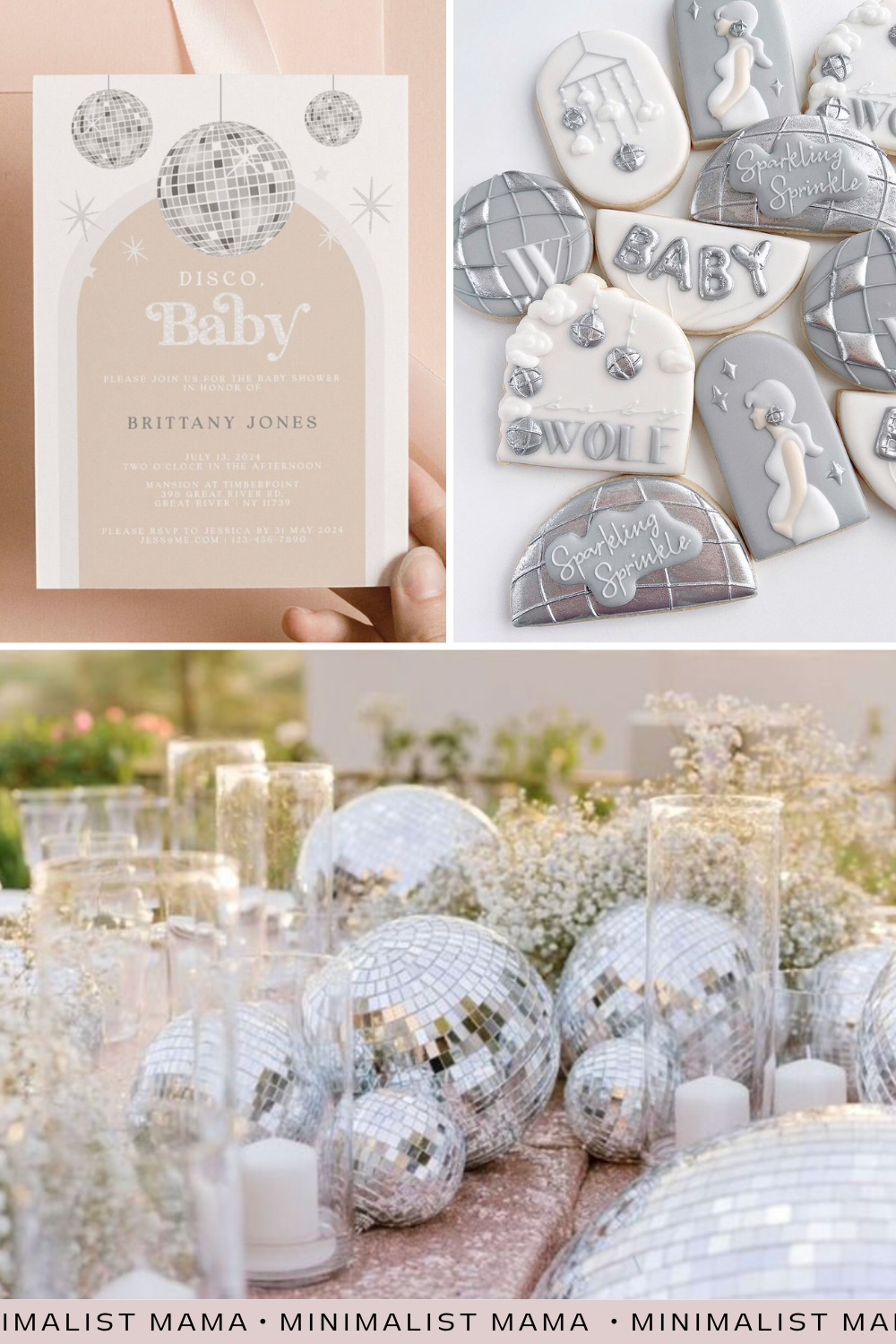 Image credits invitation | cookies | decor
This is also the perfect party theme for a second baby shower, typically called a 'sprinkle' instead of a 'shower'. Have yourself a 'sparkling sprinkle' and get ready to stun your guests!
Here Comes The Son Boy Baby Shower Theme
The Beatles + a pun… what could be better? If your son is the sunshine in your life, this theme is a great way to welcome him to the world.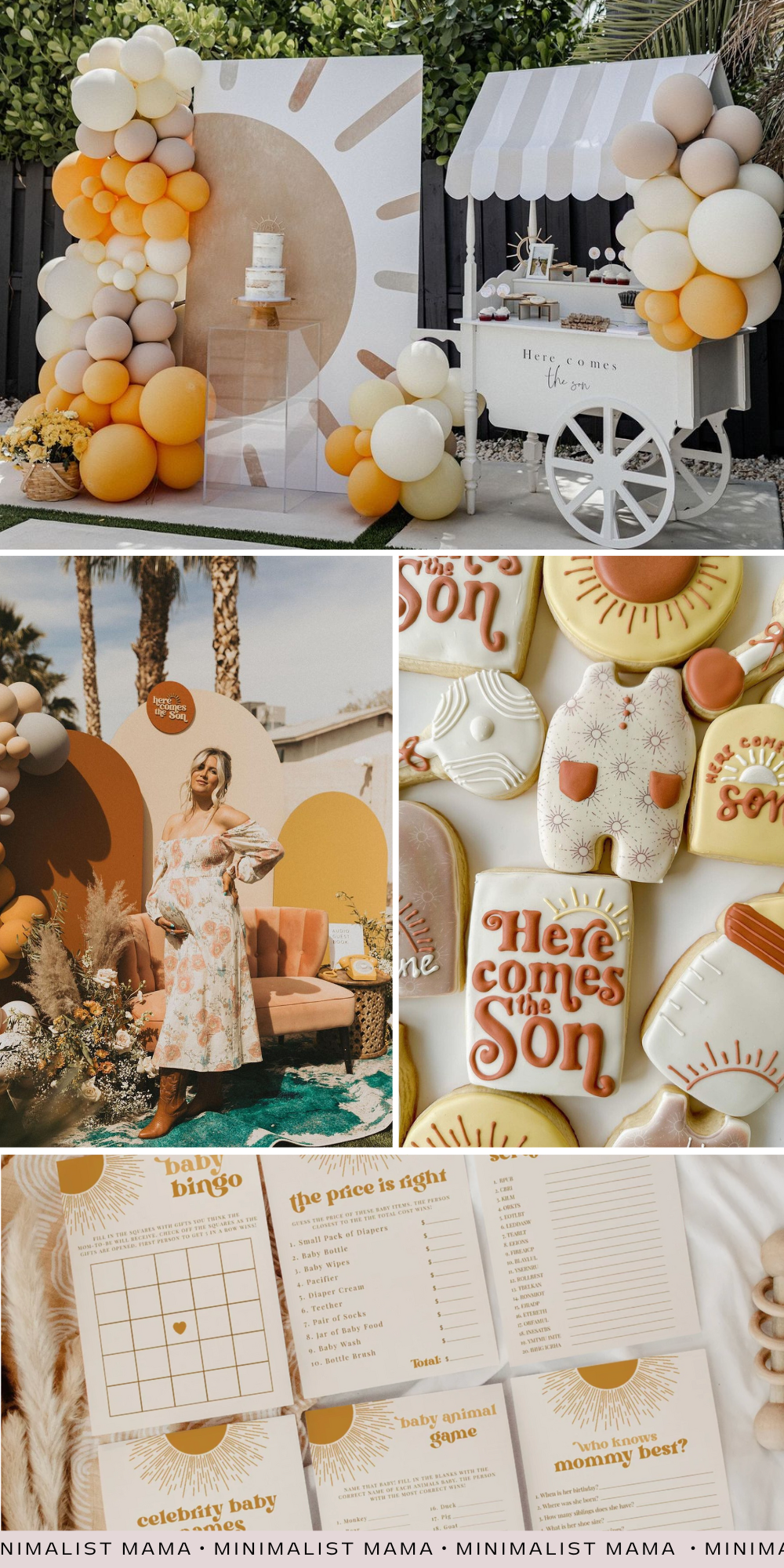 Image credits backdrop | backdrop | cookies | baby shower games
With warm gold and orange tones, this son/sun themed baby shower is totally perfect for a boho chic aesthetic.
Veggie Garden Baby Shower Theme
Want a totally unique baby shower theme? How about a veggie garden themed party.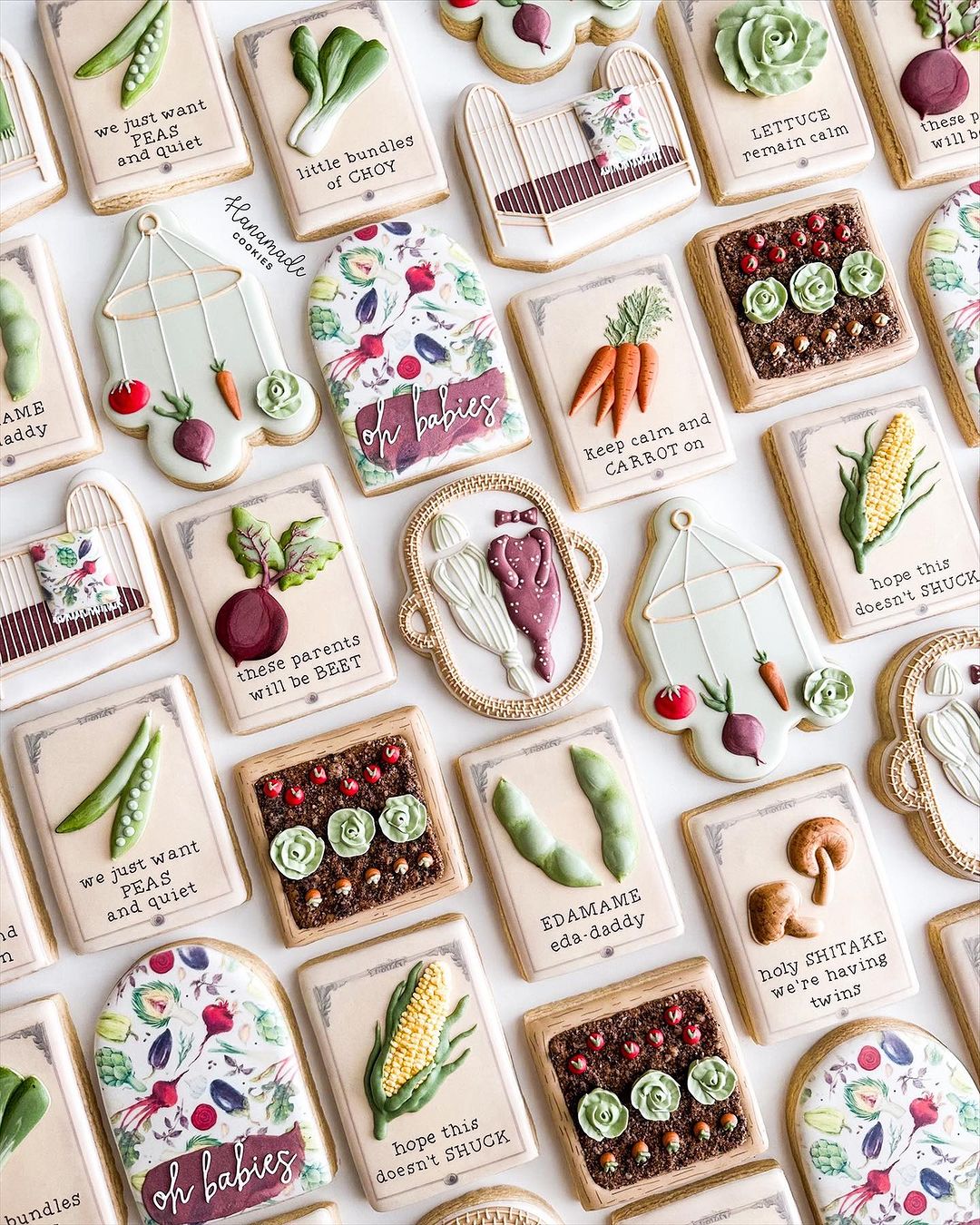 With some hilarious puns like 'these parents will be beet' and 'little bundle of choy' there are some cute and hilarious sayings you can use to tie this theme together and have so much fun!
A Little Cutie On The Way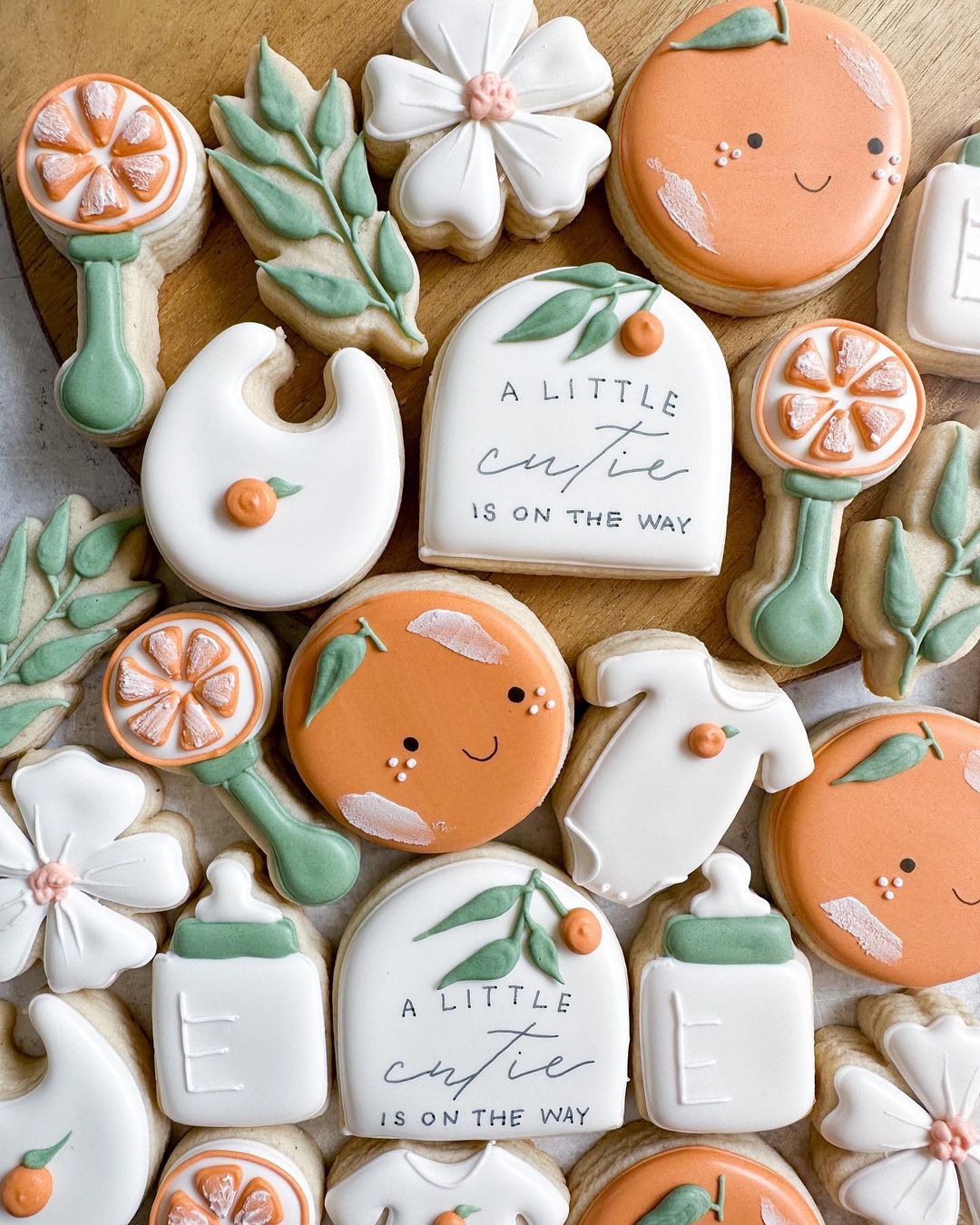 This baby shower theme is playful, bright and sweet!
Use citrus fruits like oranges, lemons, and limes as decorative elements, along with cutie-themed banners and signage. Serve refreshing drinks like lemonade, limeade, or orange spritzers to tie into the citrus theme.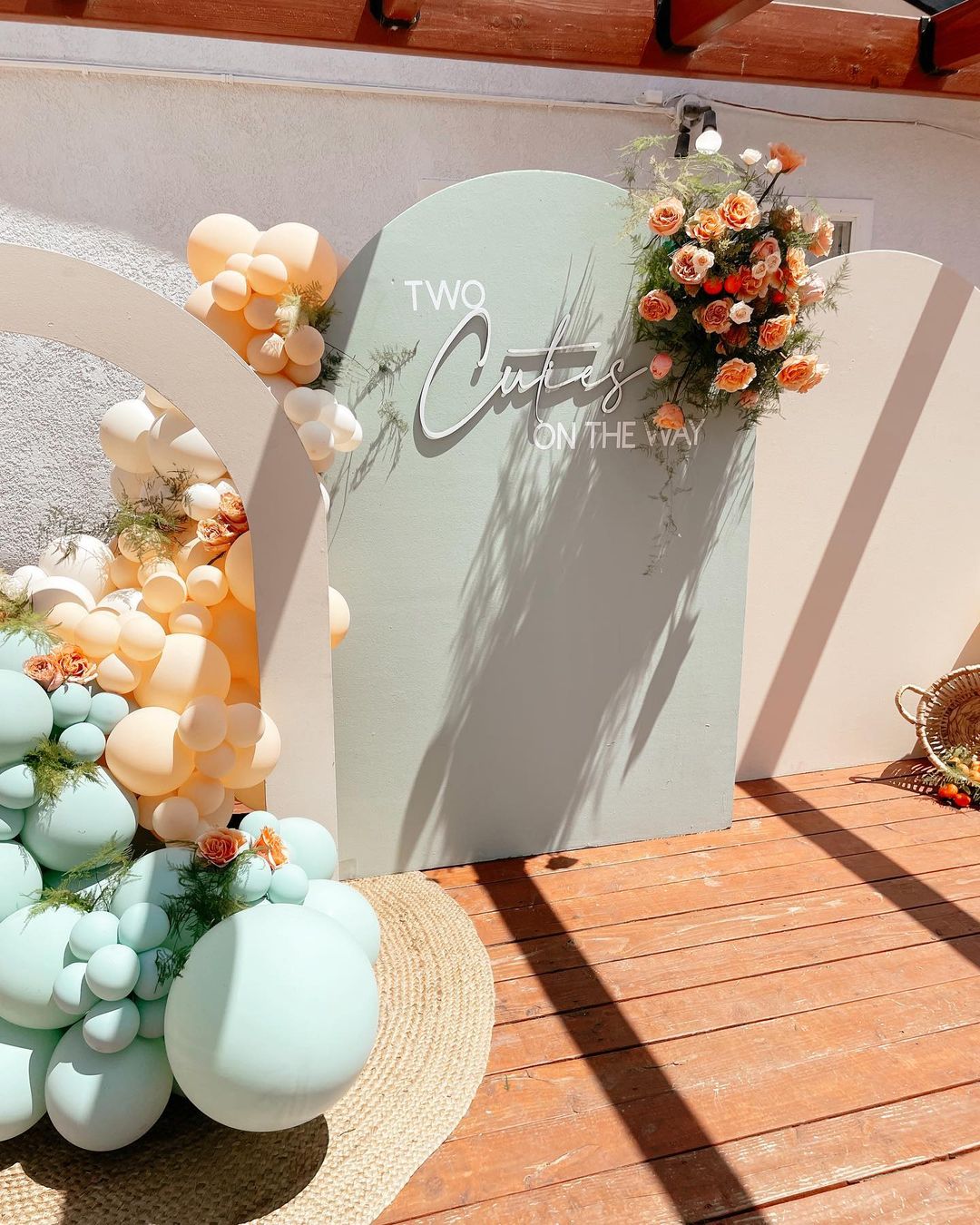 Lemon-Themed Boy Baby Shower Theme
Another addition to the citrus family of boy baby shower themes, a lemon-themed baby shower.
Image credits cupcakes | cookies | decor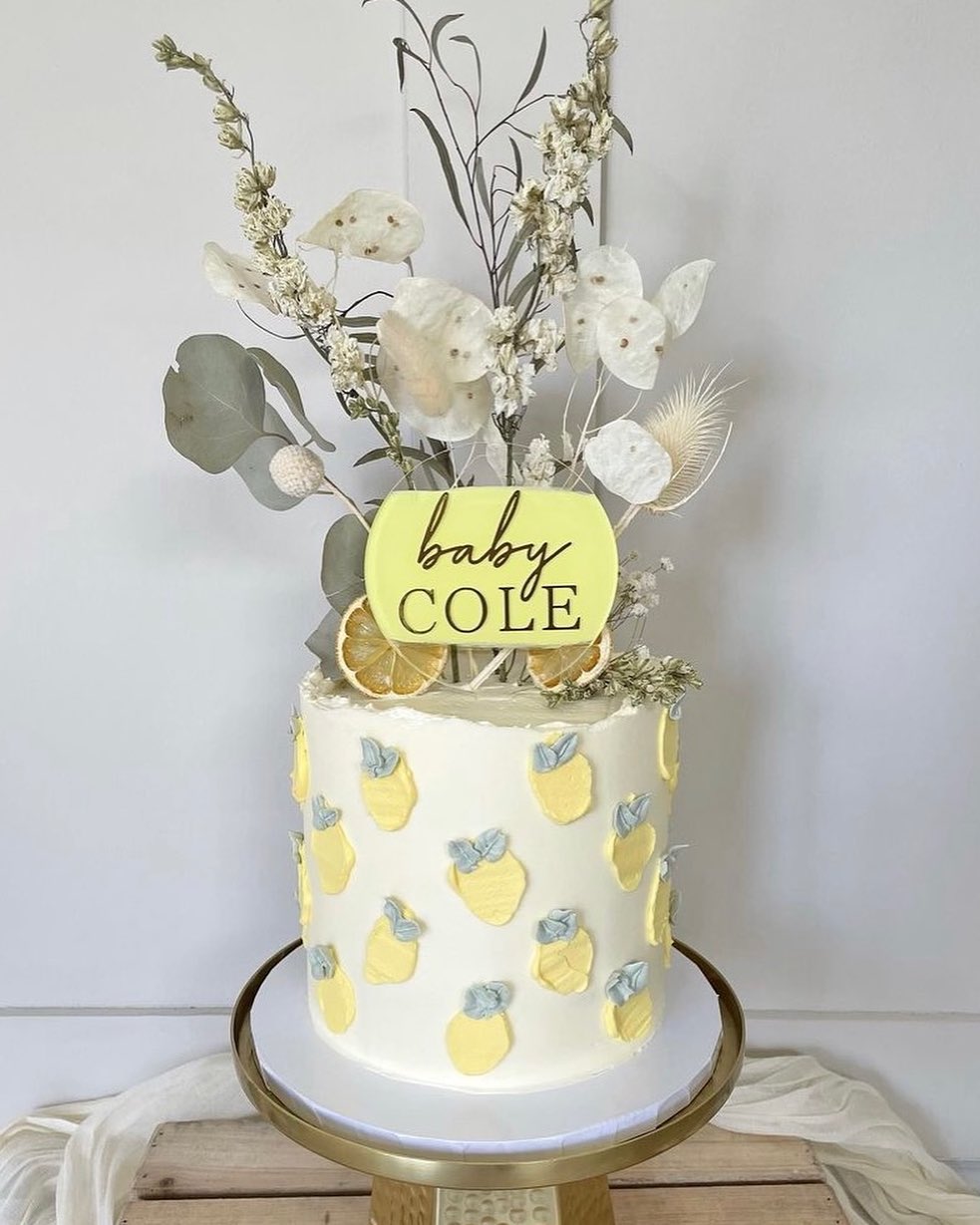 Adventure & Travel-Themed Baby Shower
Having a baby is the greatest adventure of all time. Why not have an adventure & travel themed baby shower?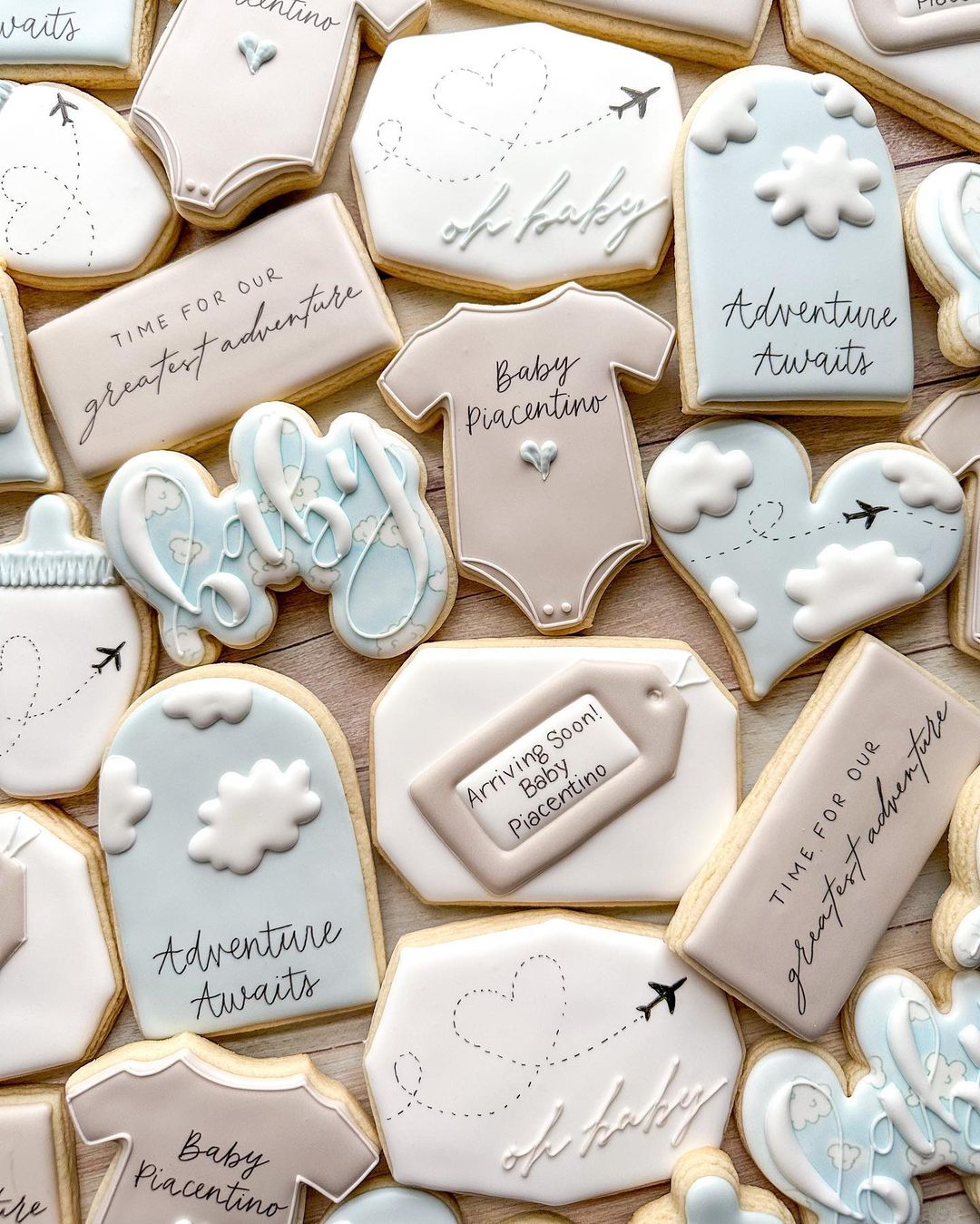 Sweet and clever phrases like Adventure Awaits, Let The Adventure Begin and Our Greatest Adventure are perfect for this theme.
Consider using soft blues and some dreamy white balloons to look like clouds for this theme.
A Wild One Is On The Way Baby Shower Theme
The 'Wild One' theme captures a sense of adventure and playfulness, reflecting the upcoming journey of parenthood and the excitement of welcoming a new little boy.
Elements like woodland animals, safari animals, and nature-inspired decor are all great options to enhance the adventurous vibe.
Small adventure-themed party favors, like compasses or mini binoculars are sure to be a smash hit!
Peter Rabbit Baby Shower Theme
Peter Rabbit is a popular choice for a good reason! It's absolutely adorable.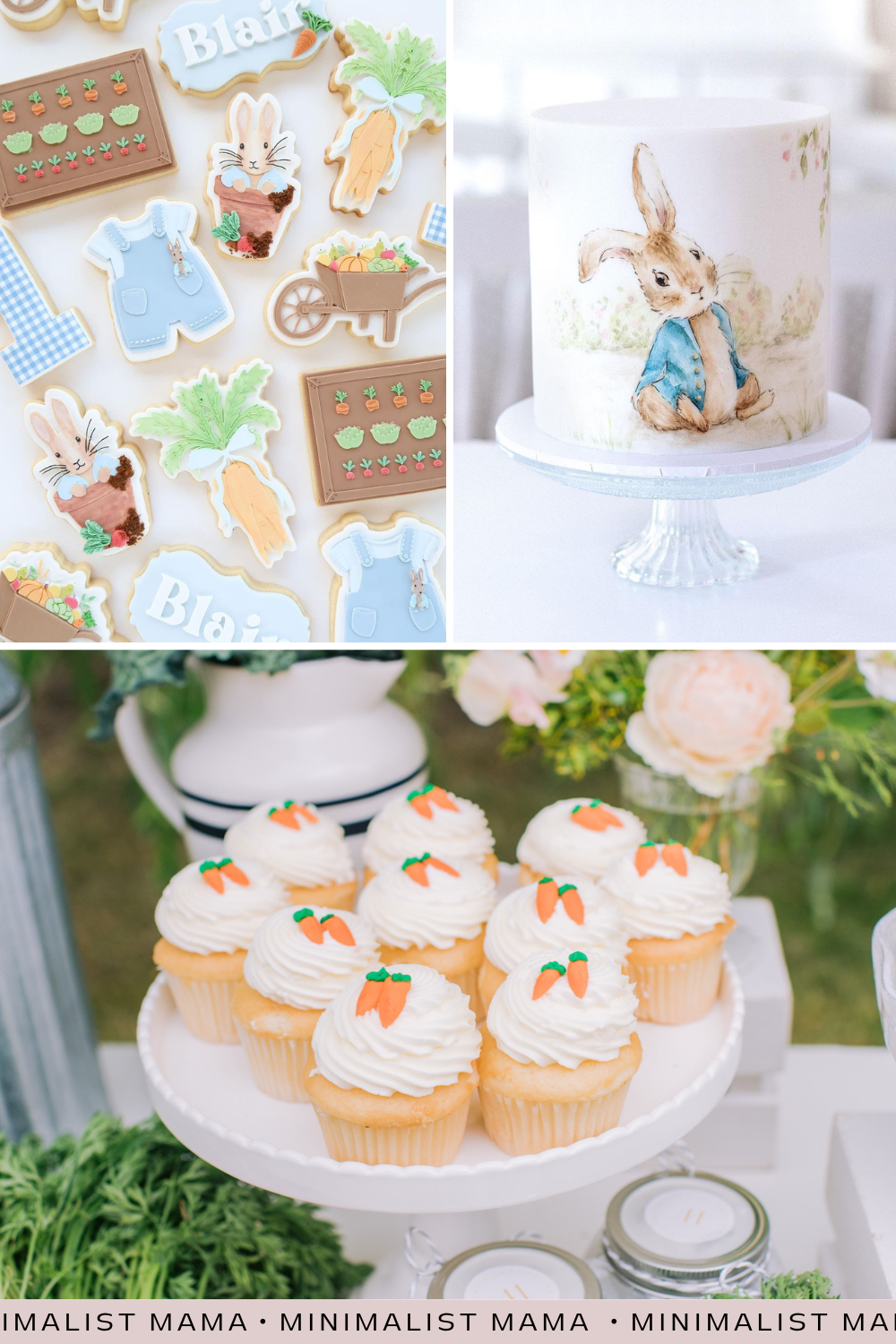 Image credits cookies | cake | cupcakes
Cute little forest animals meet vintage charm with this Peter Rabbit baby shower theme. You could even serve carrot cake or send your guests home with fun little rabbit garden decorations as party favors!
Baby On Board Baby Shower Theme
Surf's up for this baby on board baby shower theme!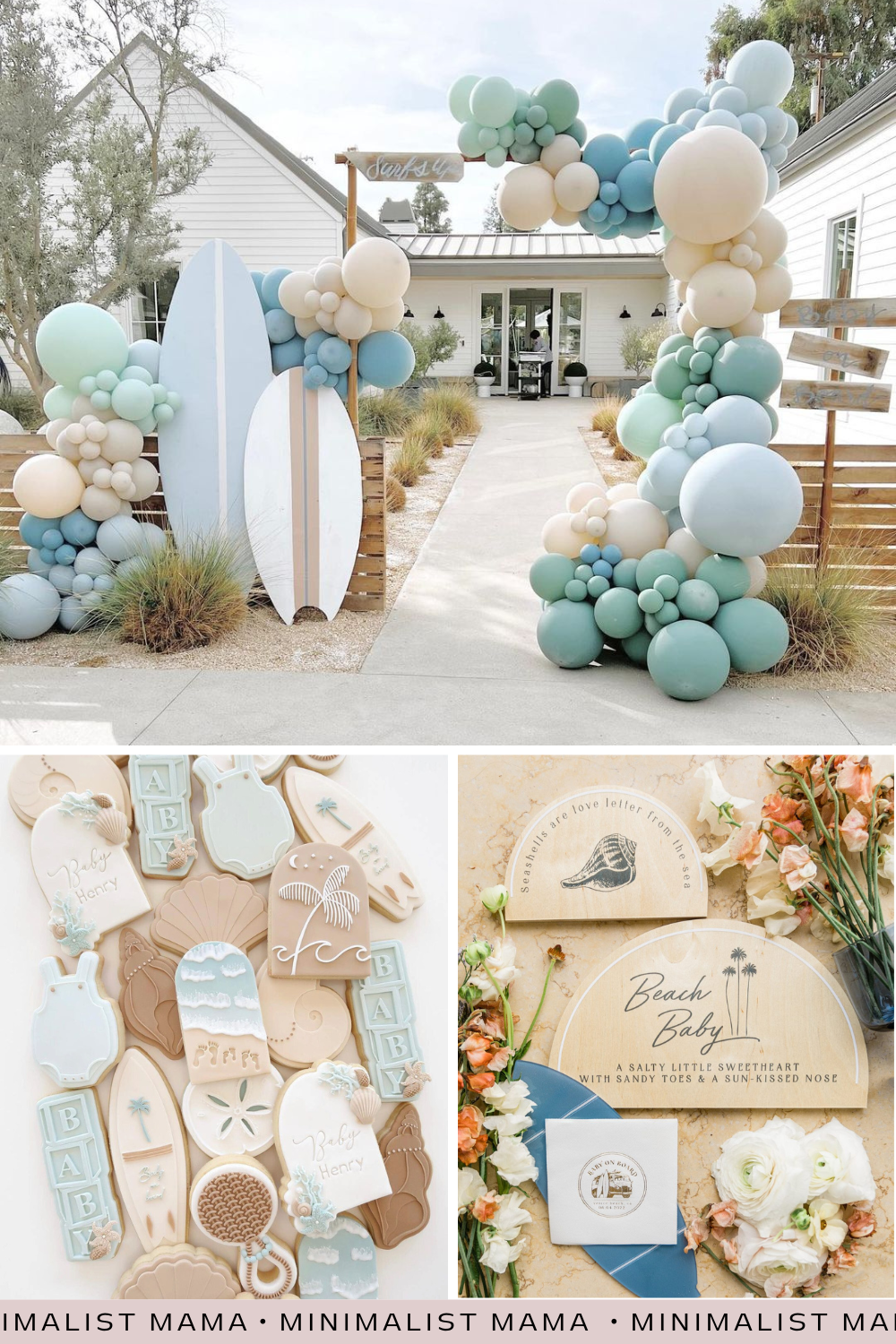 Image credits balloons | cookies | wishes for baby
Looking for cute baby shower themes that are perfect for the summer months? Take it to the beach! A 'salty little sweetheart with sandy toes and a sun-kissed nose' is soon to be part of your family.
A Little Pumpkin Is On The Way
If your baby shower aligns with the fall season, a pumpkin-themed theme can add a touch of seasonal delight to the celebration.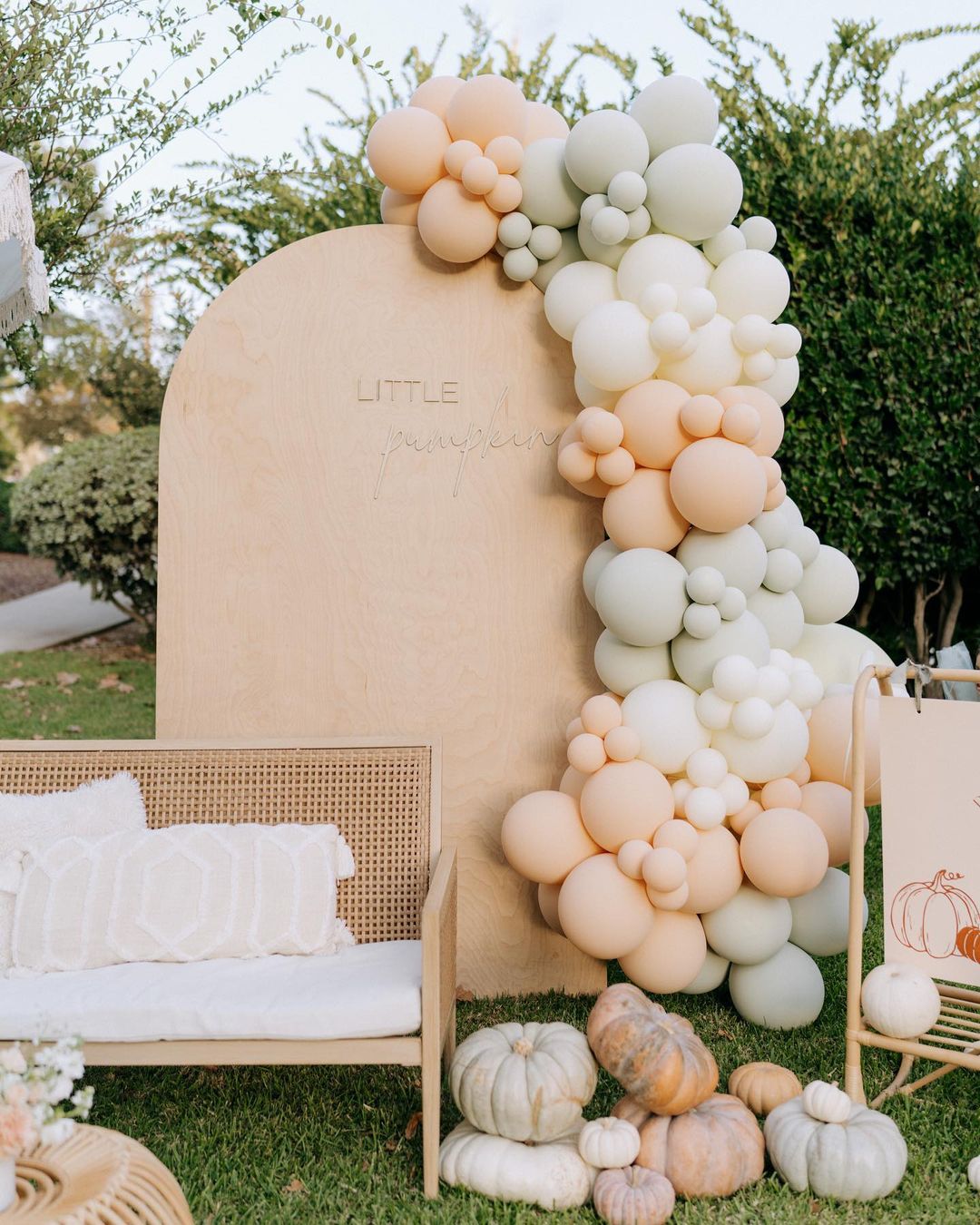 The warm and rustic color palette of oranges, yellows, and browns creates a cozy and inviting atmosphere. You might want to incorporate pumpkins of various sizes, fall leaves, burlap, and rustic elements like wooden crates to create a charming pumpkin patch-inspired decor.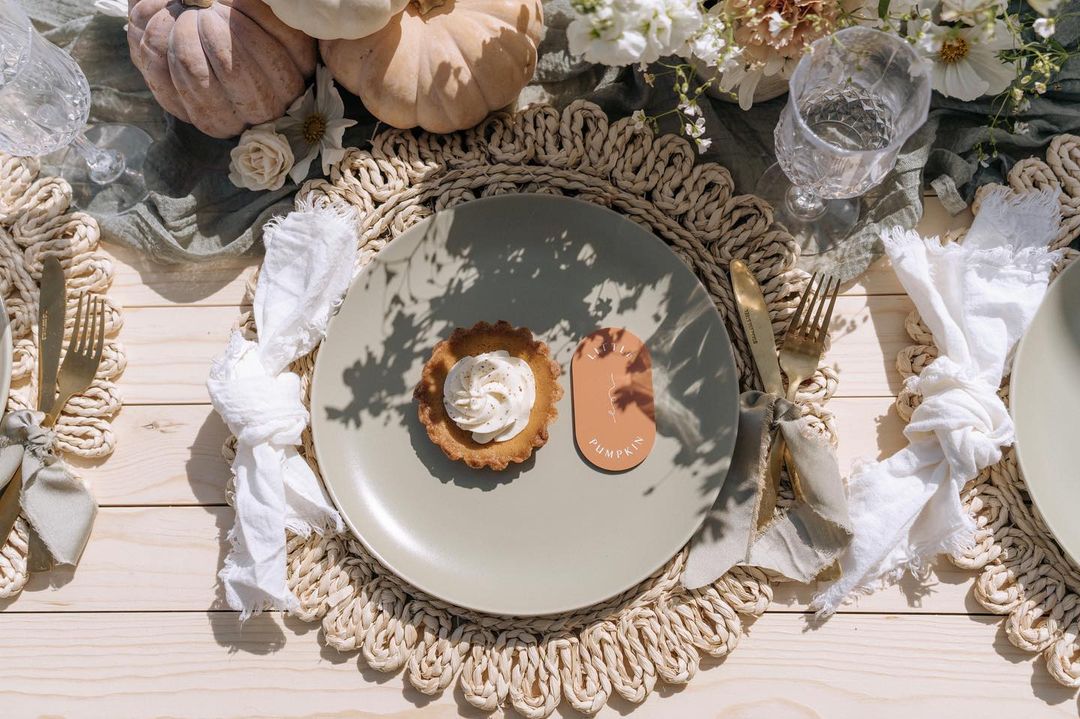 Under The Sea Boy Baby Shower
Is there anything cuter than a nautical theme for little boys?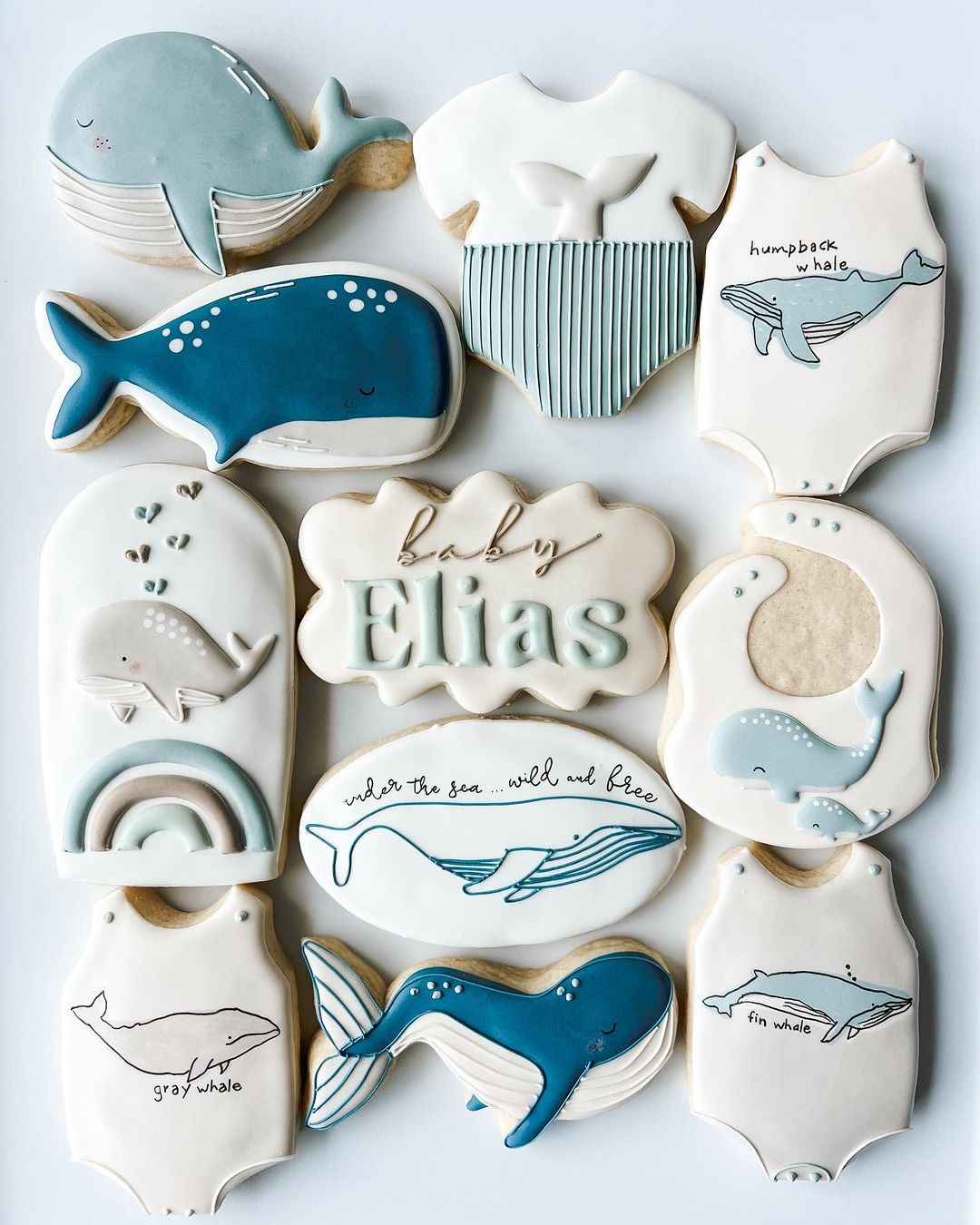 An under the sea themed party is a super cute way to incorporate navy and baby blue ocean colors, whales and fish. You'll have a whale of a time at this style of party. If you love the idea of using the color blue for your baby boy's shower theme but want an extra unique touch, this is a good idea.
Llama Llama Baby Mama Baby Shower Theme
Ready for a cuteness overload? Llamas are incredibly charming animals, making them a perfect focal point for a baby shower theme.
Llamas are often associated with Southwestern and bohemian aesthetics, allowing you to create unique and chic decor. Did you know that aside from being cute, llamas are known for their nurturing and protective nature, making them a symbol for the journey of motherhood?
Winnie The Pooh Baby Shower
Bears and bees and Tigger too! I love Winnie, how about you?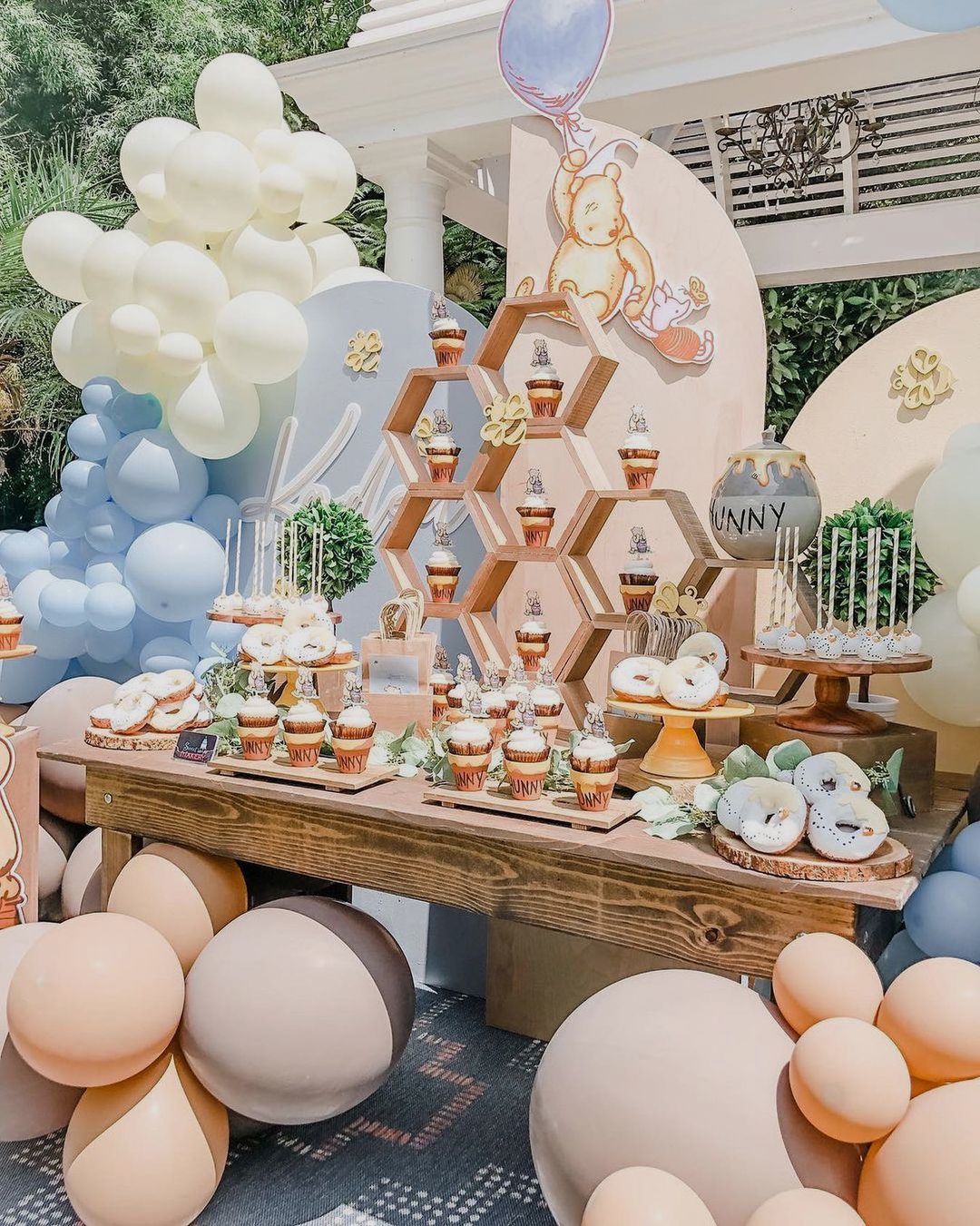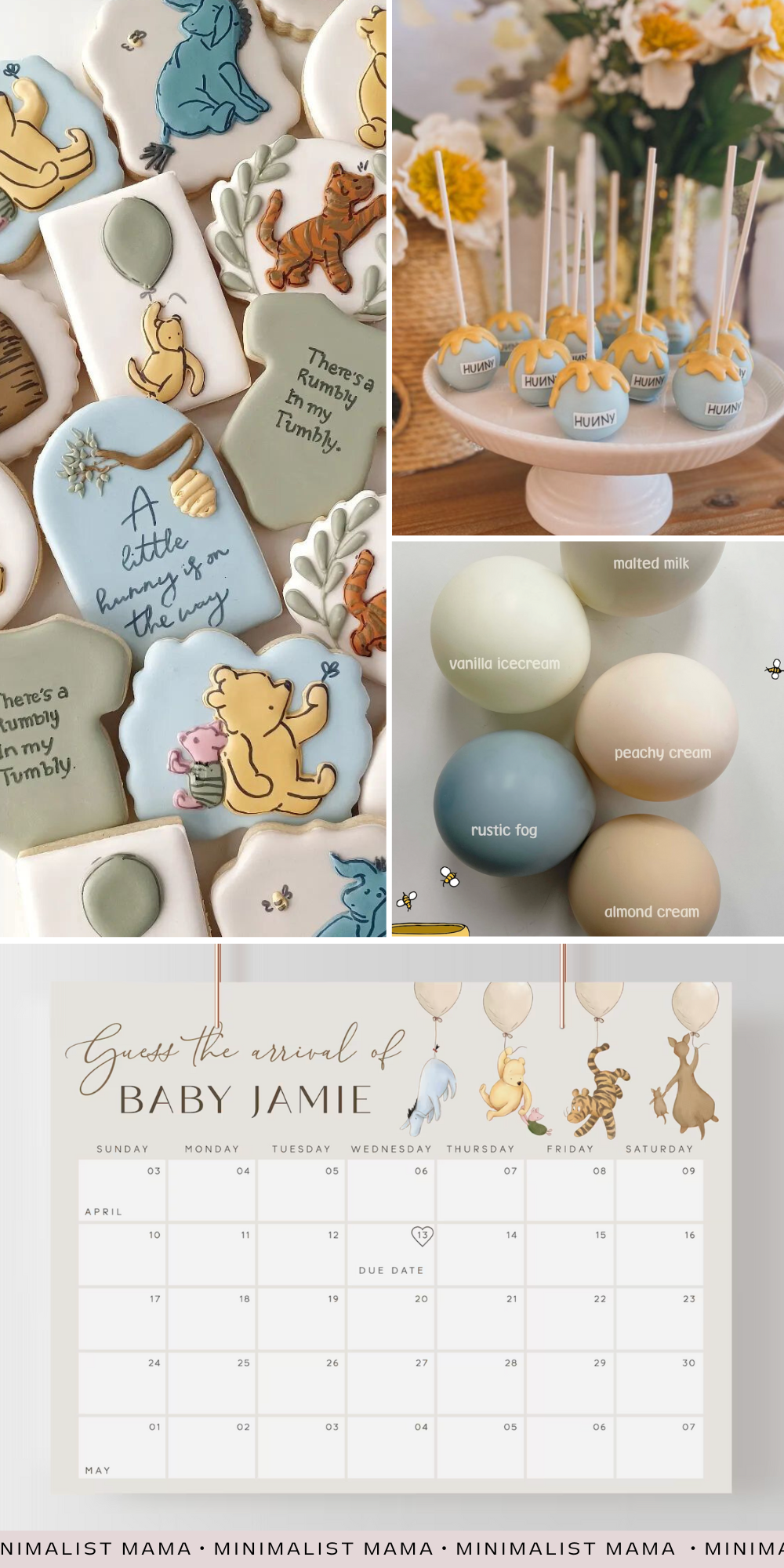 Image credits cookies | cake pops | balloons | printable due date calendar
Winnie the Pooh is such a beloved childhood character, it's a great option for a baby shower. Using blue colors as well as peach, cream and honey creates the perfect color scheme.
A Lil Dumpling Is On The Way Baby Shower Theme
If you love dumplings and want a unique shower theme for your little boy, this is the theme for you!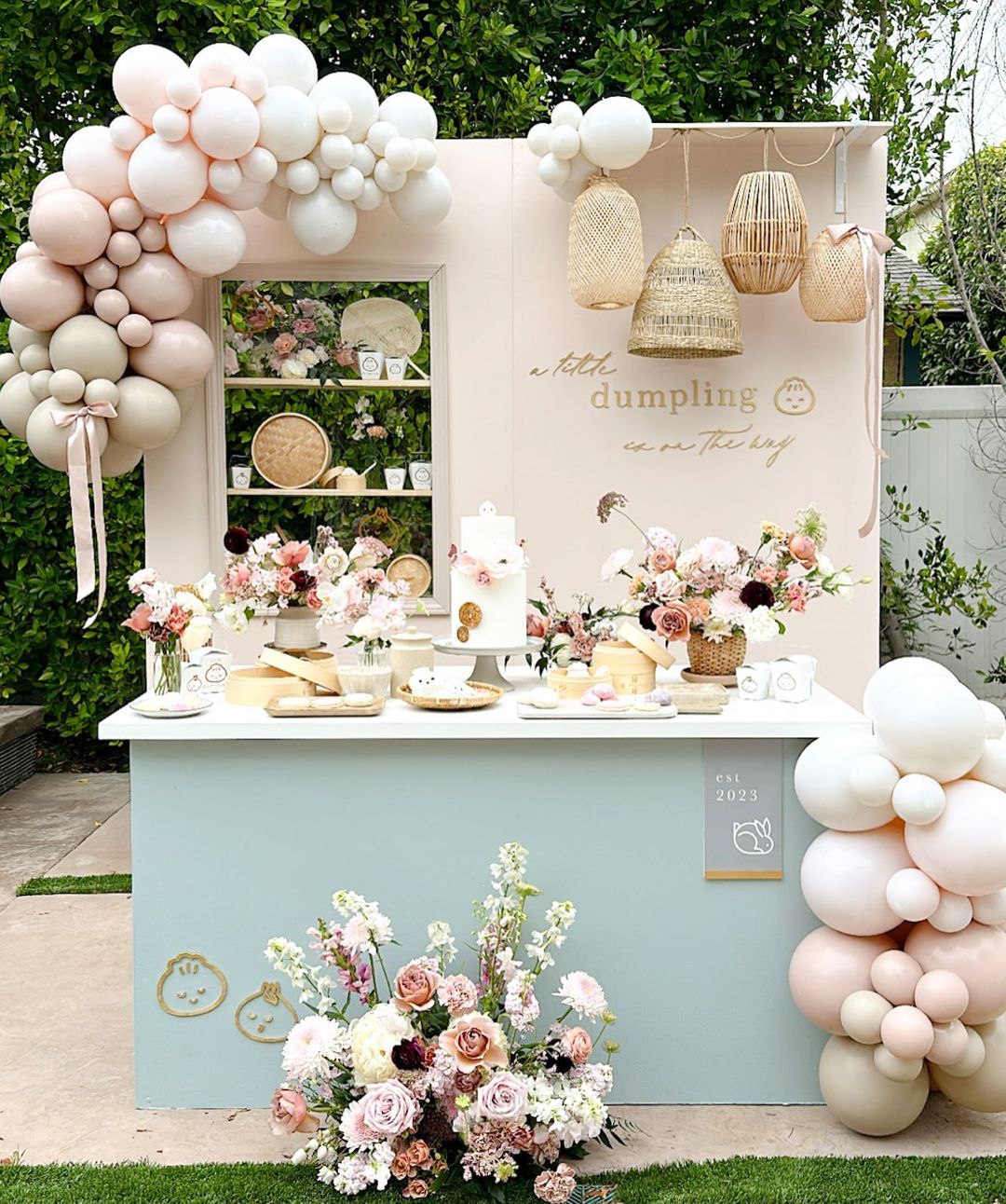 Image credits invitations | cookies | onesie
We can't get enough of these dumpling themed cookies, and invitations! A theme like this is one your guests are sure to remember for the rest of their lives.
Slice Slice Baby Pizza-Themed Baby Shower
Time for a pizza party! Add a playful and creative touch that sets your event apart from traditional baby showers.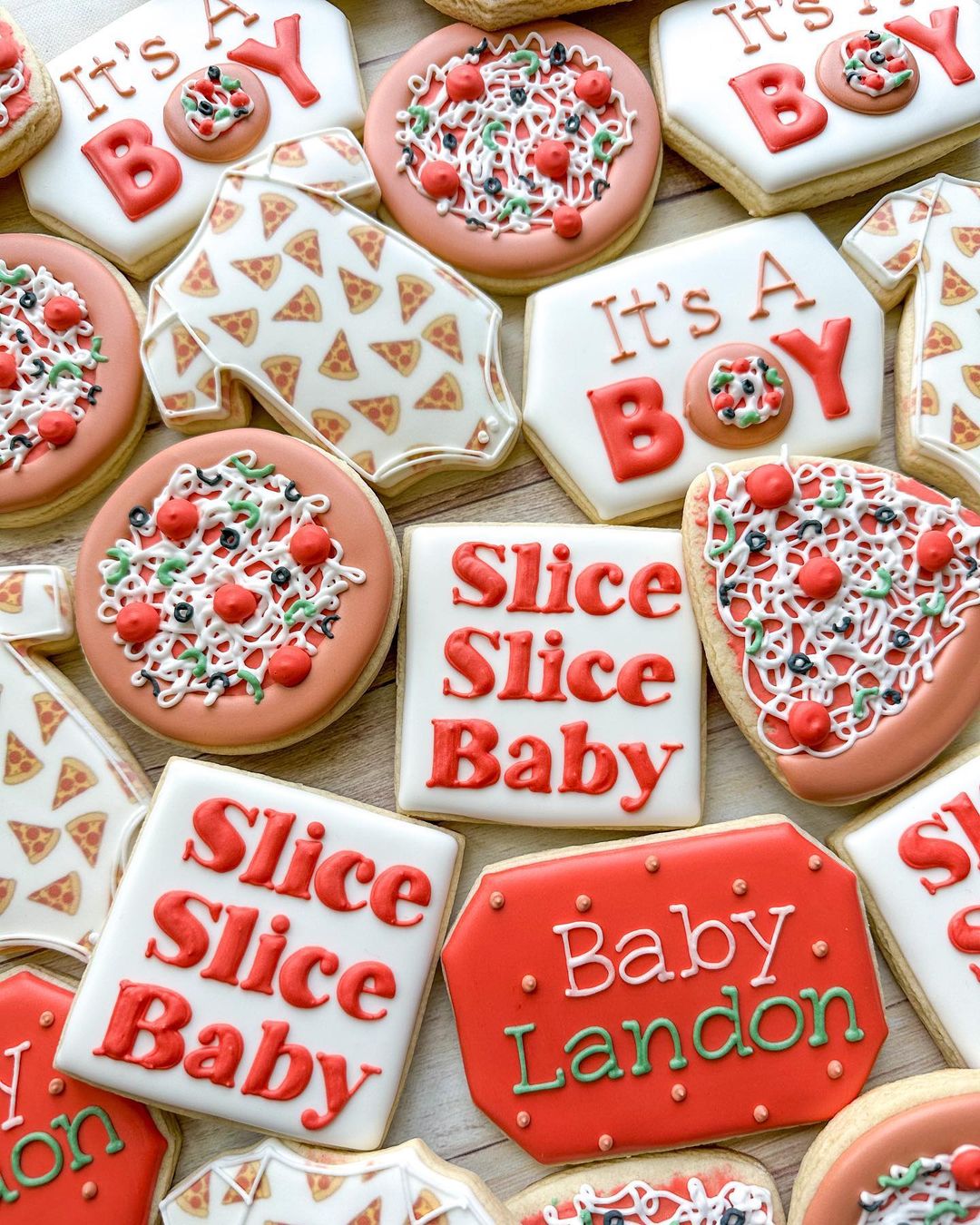 Traditional baby showers can sometimes feel formal or overly structured. A pizza-themed baby shower brings a relaxed and casual vibe, allowing guests to feel comfortable and enjoy themselves without the pressure of formalities.
Baby In Bloom Boy Baby Shower Theme
This theme captures the essence of growth and new beginnings, which align perfectly with the journey into parenthood and the upcoming birth of a baby.
Soft pastels, and neutrals can create a gentle and calming color palette that complements the idea of blooming.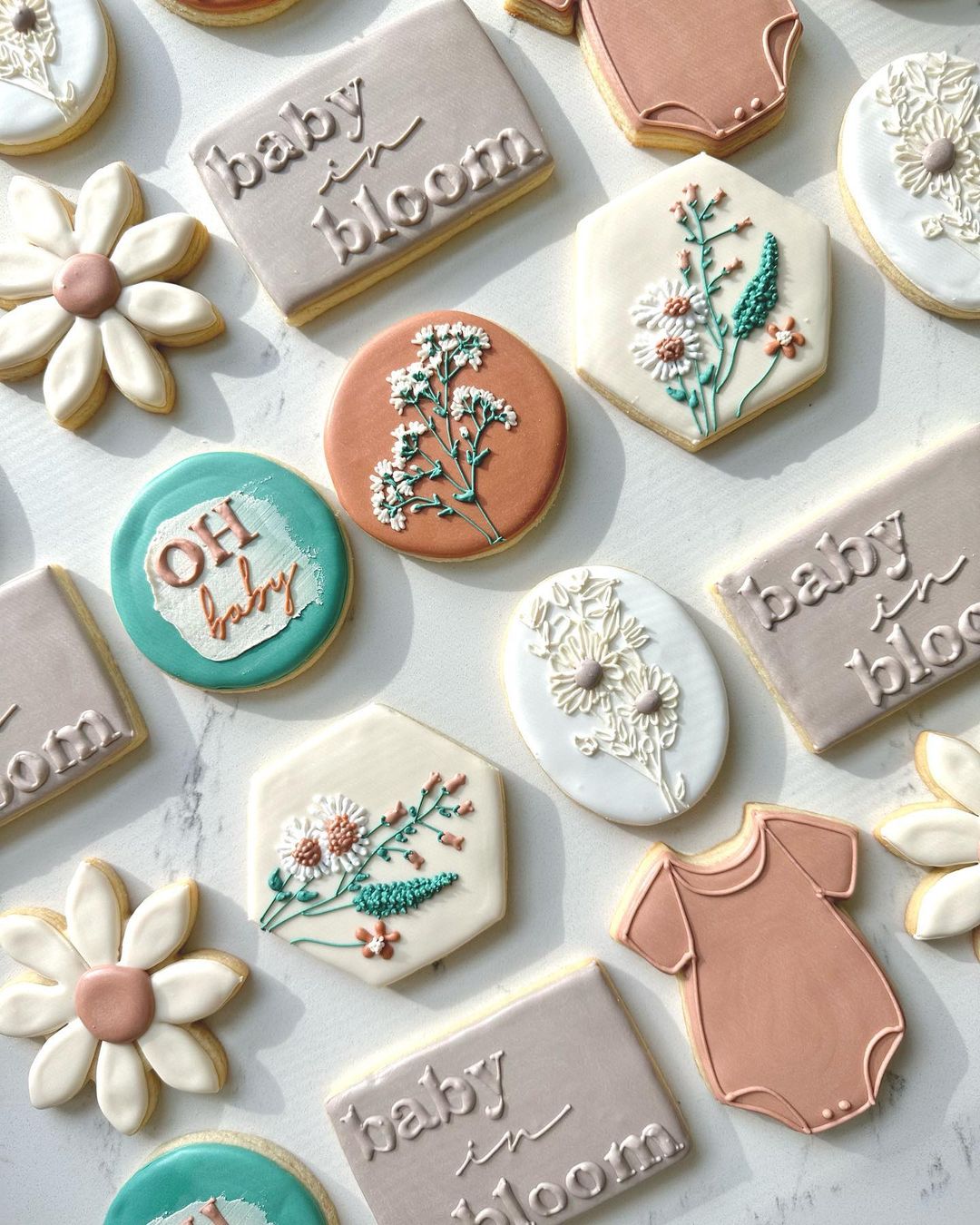 Eucalyptus Greenery Baby Shower Theme
The muted and calming color palette of eucalyptus greens, soft grays, and whites evokes a sense of nature and serenity.
Eucalyptus and greenery arrangements have a timeless and classic appeal. You might want to use eucalyptus leaves, ferns, and other greenery elements in your decor. This theme is perfect for a minimalist yet visually appealing setup.
Over The Moon Boy Baby Shower Theme
The "Over the Moon" theme brings a sense of magic and wonder to a baby shower.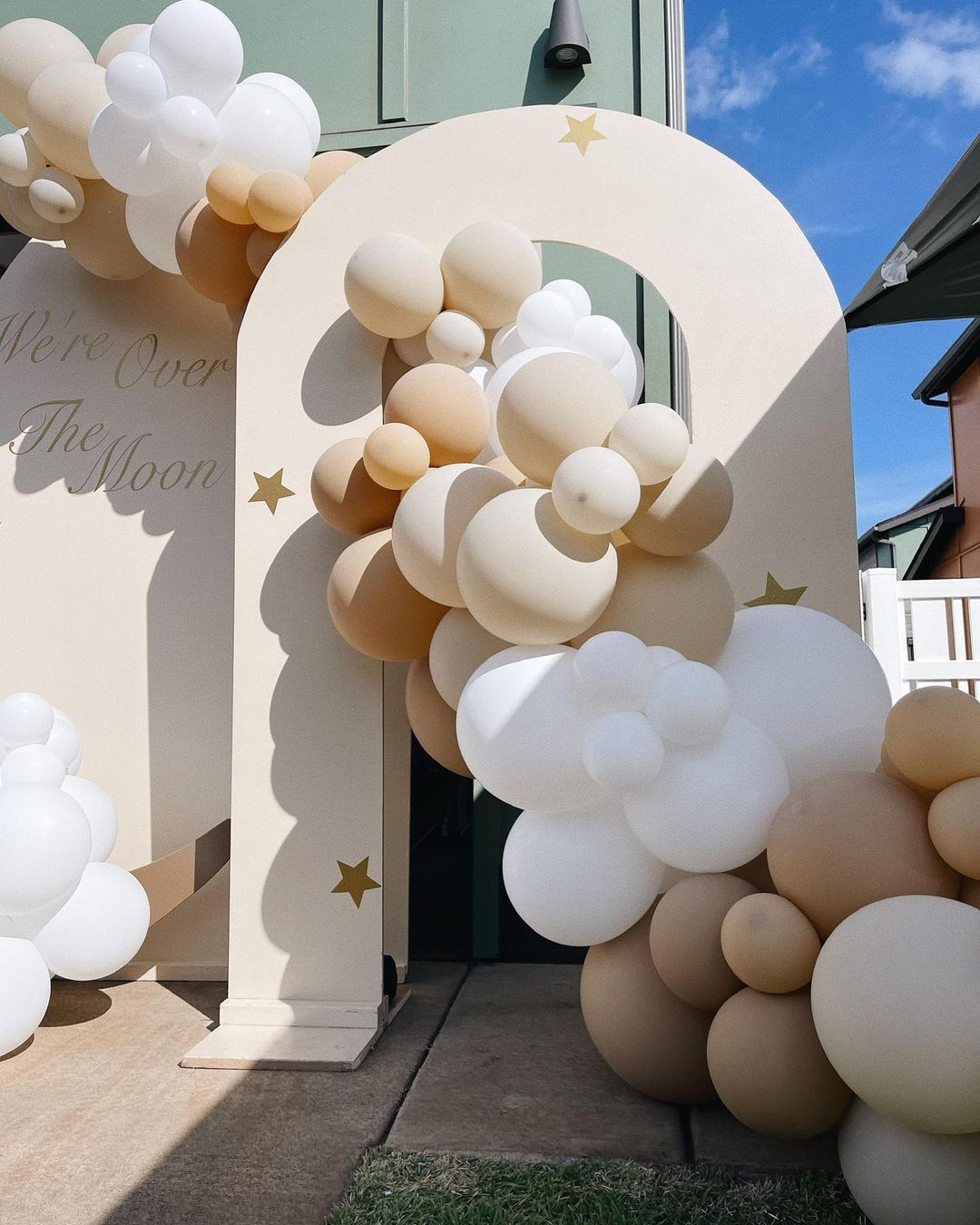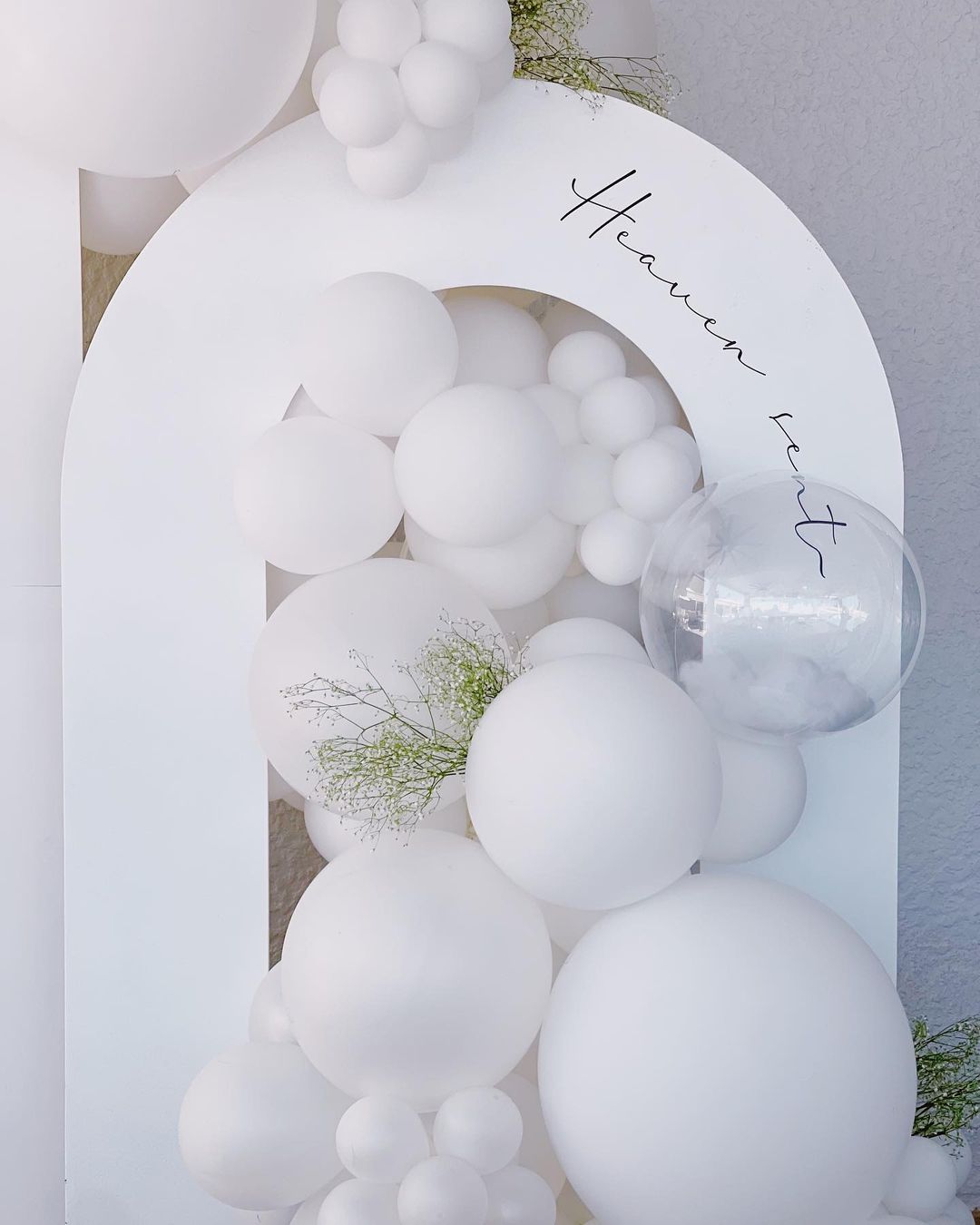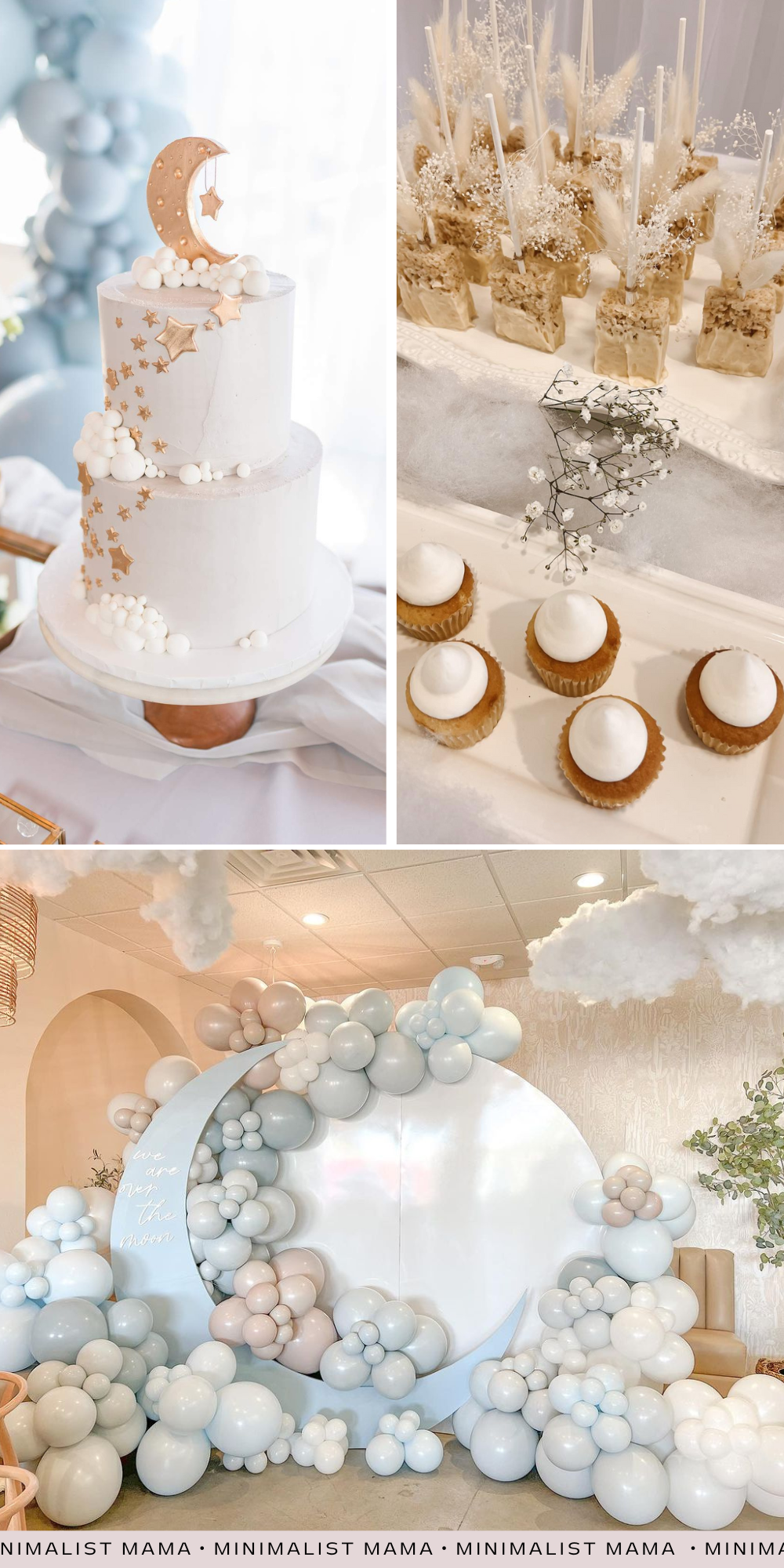 Image credits cake | sweets | balloons
The moon and stars theme offers a huge range of decorative opportunities. You can use elements like crescent moon cutouts, hanging stars, and celestial-themed banners to transform the venue into a magical space.
We Can Bear-ly Wait Baby Shower Theme
Cute, cozy and playful… Teddy bears are perfect for a baby shower.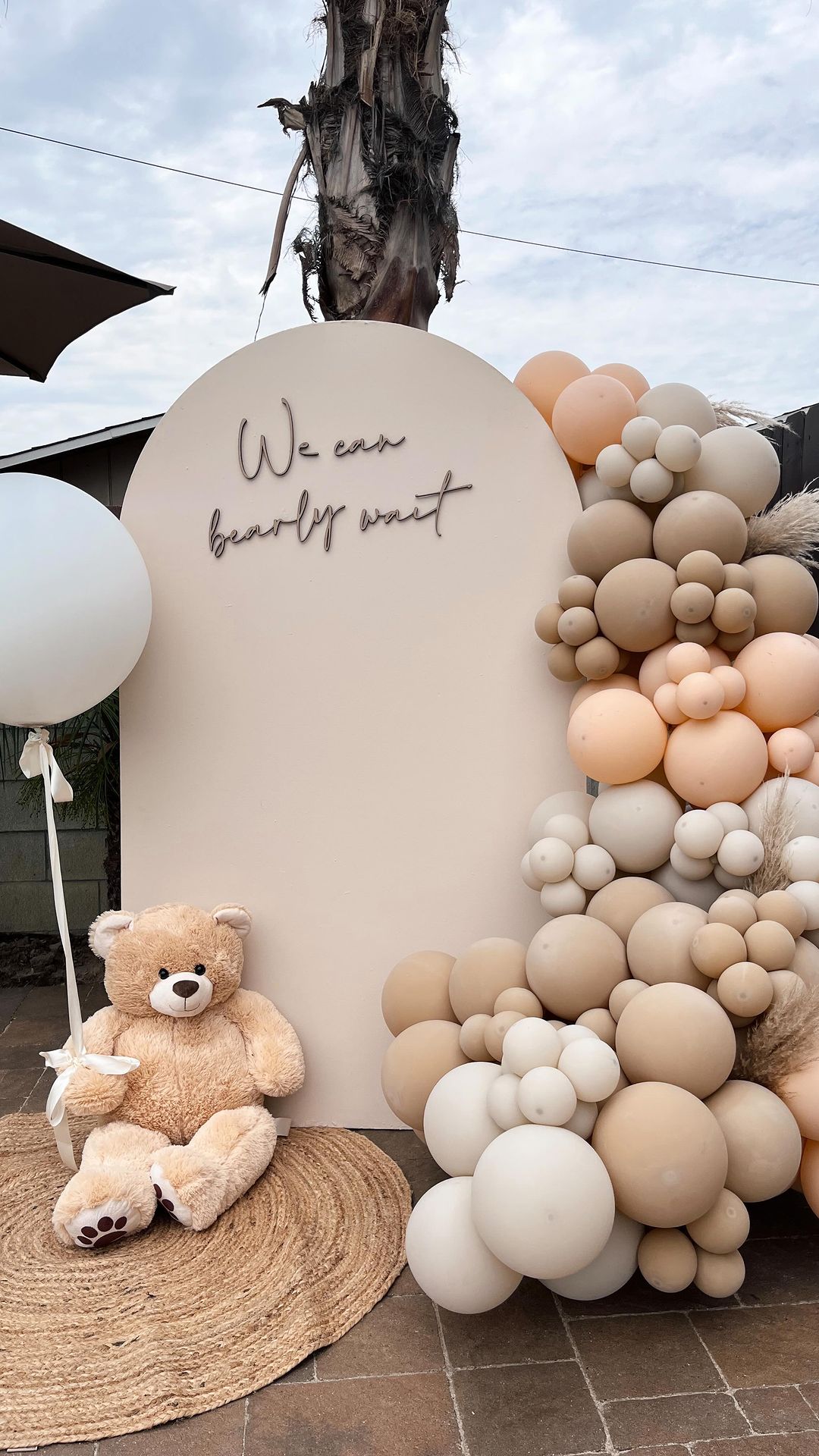 If the baby shower is outdoors, you could have a "teddy bear picnic" with blankets and stuffed bears to create a charming setting. Decor and gifts from a "We Can Bear-ly Wait" baby shower can easily transition into nursery decor if you can't get enough of this theme.
Obsessed with this theme? Check out this whole collection of our top picks for teddy bear baby shower cakes!
Fishing Baby Shower Theme
Oh Bouy! It's a Boy! If weather permits, you could consider hosting a fishing themed baby shower outdoors, perhaps near a lake or river.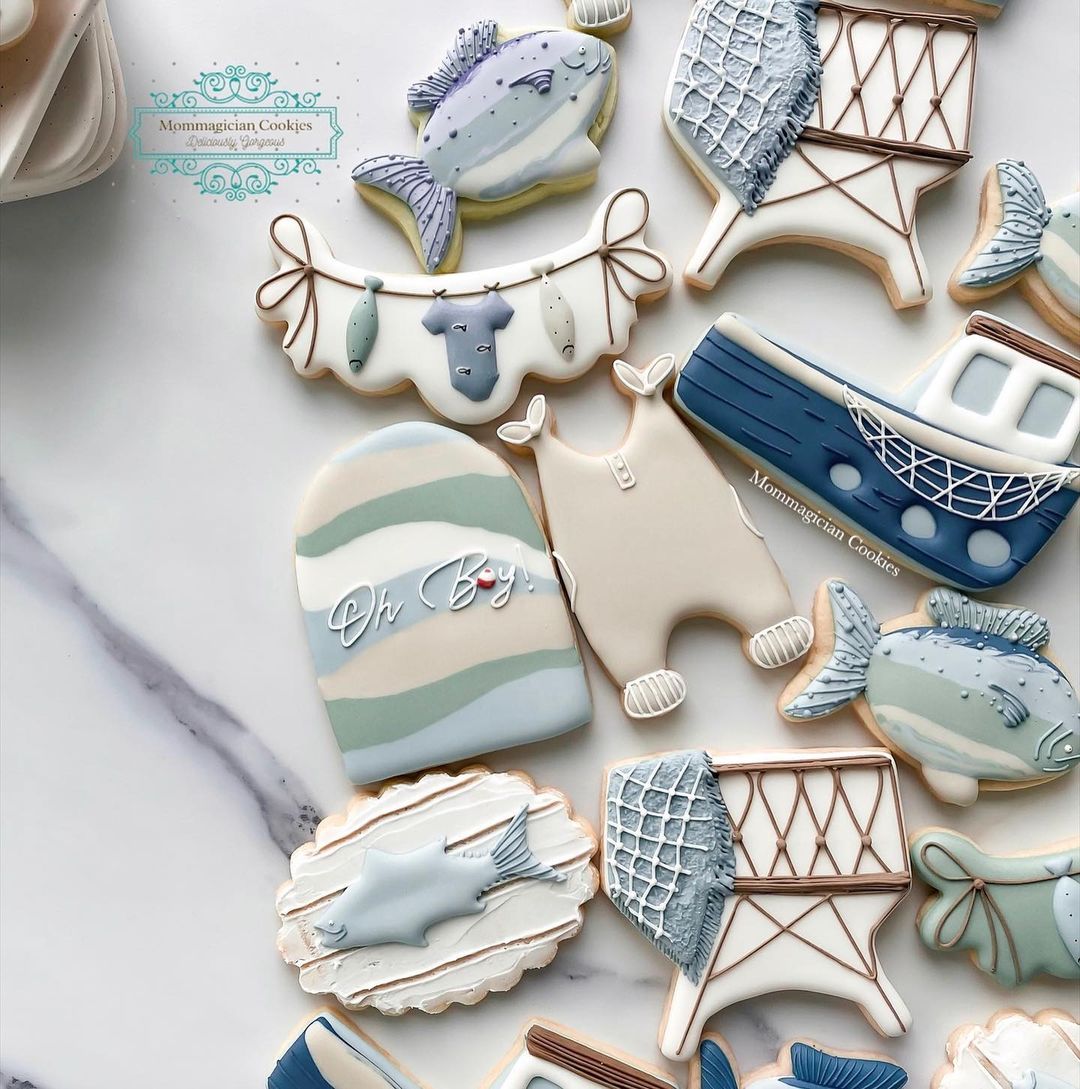 The fishing theme lends itself well to a natural and rustic aesthetic. You can incorporate elements like wooden decor, fishing nets, and earthy colors to create a cozy and outdoorsy atmosphere.
A Baby Is Brewing Baby Shower Theme
While a baby shower is unquestionably a time to honor the mama-to-be on her journey of pregnancy and welcome baby, sometimes, it's nice to plan a little nod to dad, too.
After all – he *is* the one who does all the midnight ice cream runs, right?
'A baby is brewing' baby shower theme is great for a co-ed baby shower. If you want the guys to get excited to attend, this is the theme for you!
Giraffe Themed Boy Baby Shower Theme
Whether you prefer a modern, rustic, or elegant aesthetic, a giraffe theme can be adapted to suit different styles by adjusting the color palette and decor elements.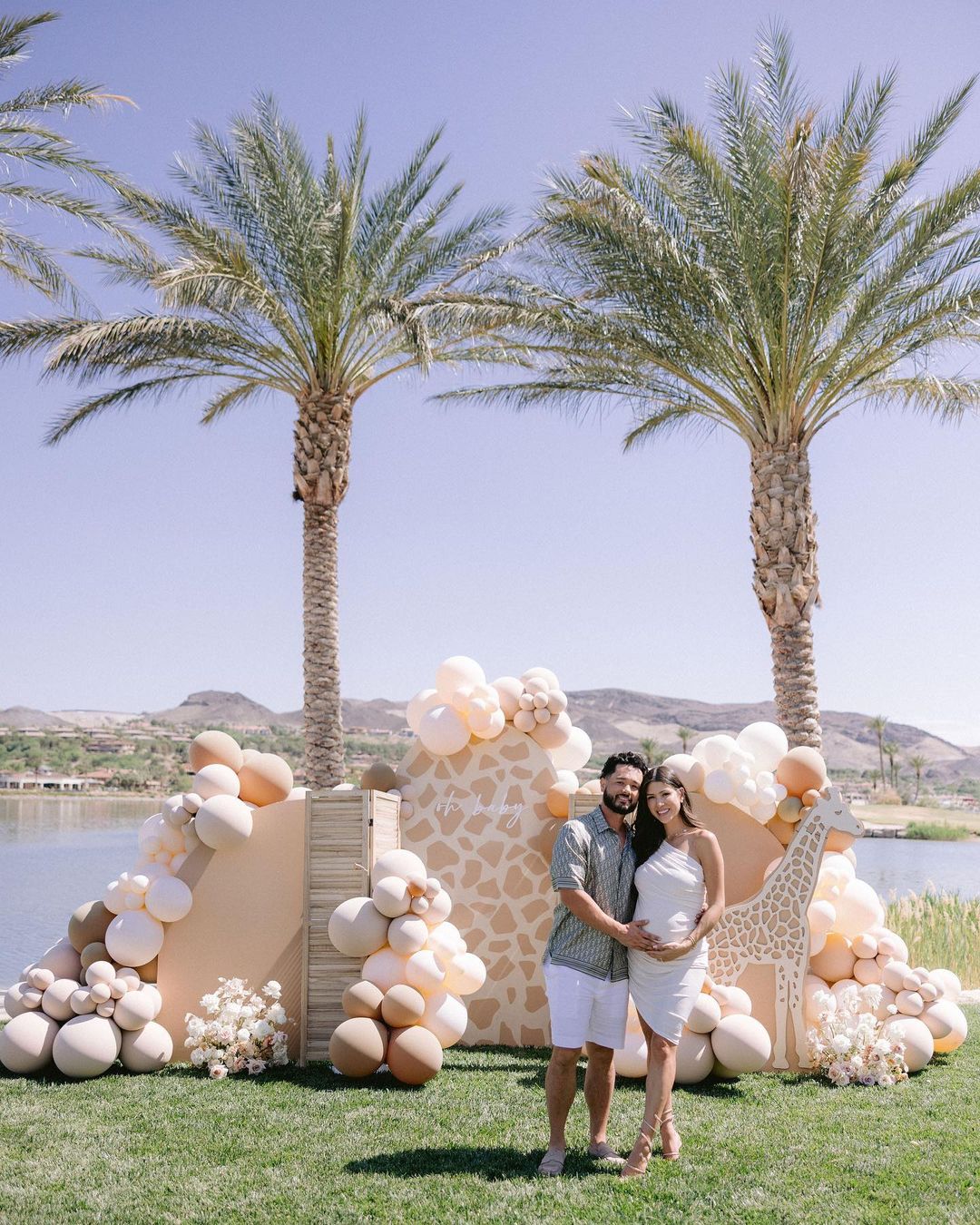 Giraffes are such gentle and whimsical creatures, they're a great animal to incorporate into a baby shower theme. You could even incorporate giraffe-themed quotes and messages that symbolize growth, new beginnings, and the journey into parenthood.
Imagine giraffe-shaped cookies, cupcakes with giraffe toppers, or a cake adorned with a giraffe design… The options are endless!
Mommy-To-Bee Baby Shower Theme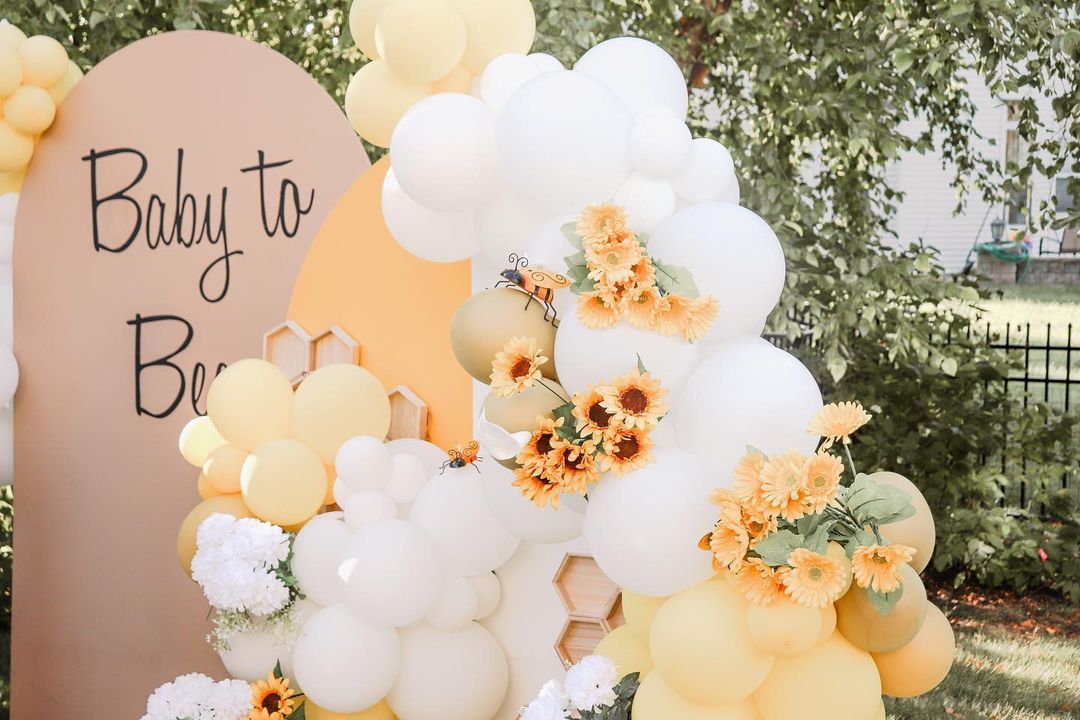 The "Mommy-To-Bee" theme is whimsical and sweet, adding a touch of playfulness to the celebration. Incorporate a cheerful color palette with shades of yellow and black, just like bees and honeycombs. A bee-themed baby shower will have your guests buzzing with delight.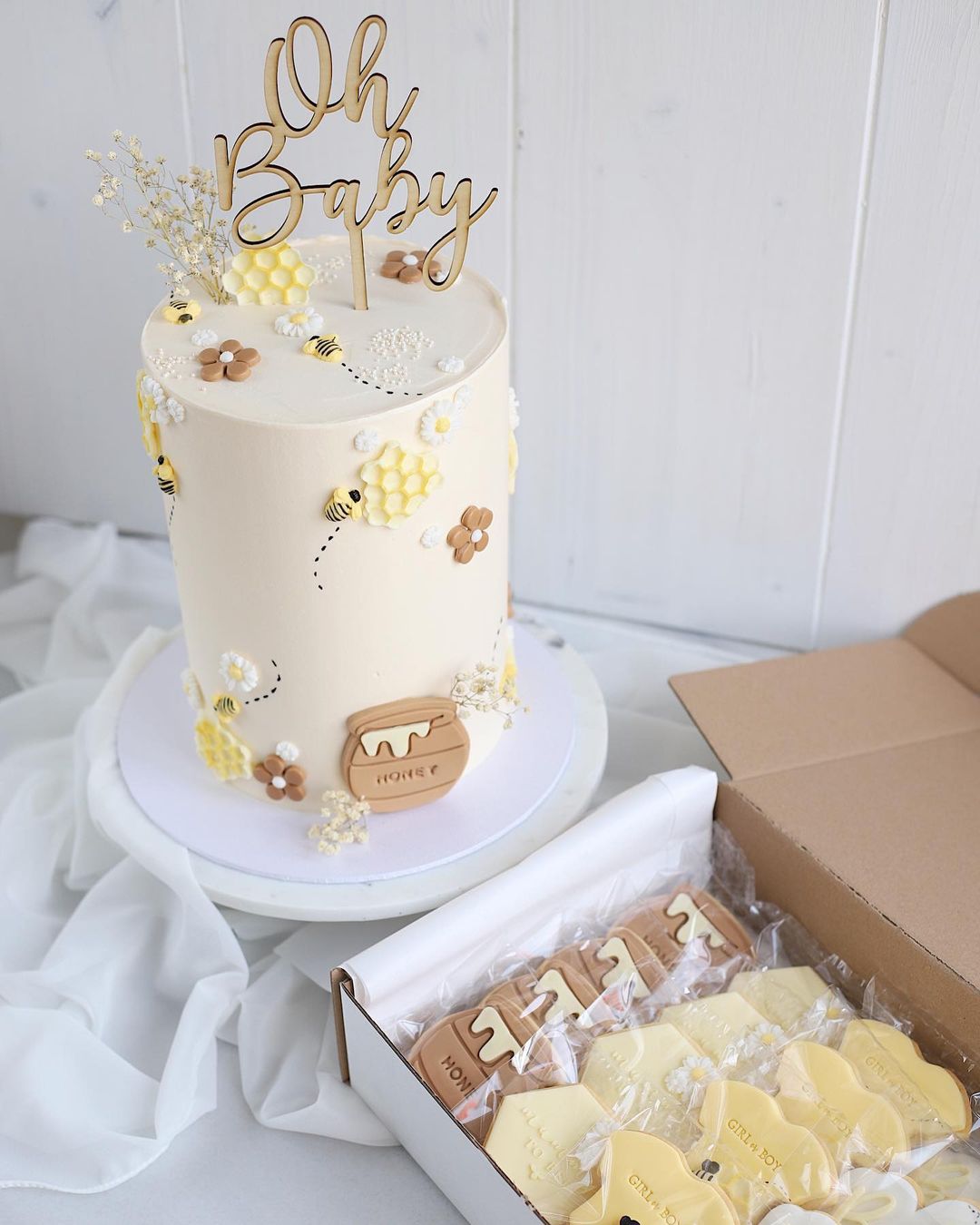 The Office-Themed Baby Shower
Transform your venue into a "Dunder Mifflin" office setting with office supplies, cubicle-style decorations, and paper products reminiscent of the show for this 'The Office' baby shower theme.
Create a menu inspired by the show, such as "Schrute Farms Beet Salad," "Michael Scott's Pretzel Bites," or "Kevin's Famous Chili." You could even encourage guests to dress up as their favorite "Office" characters for added fun.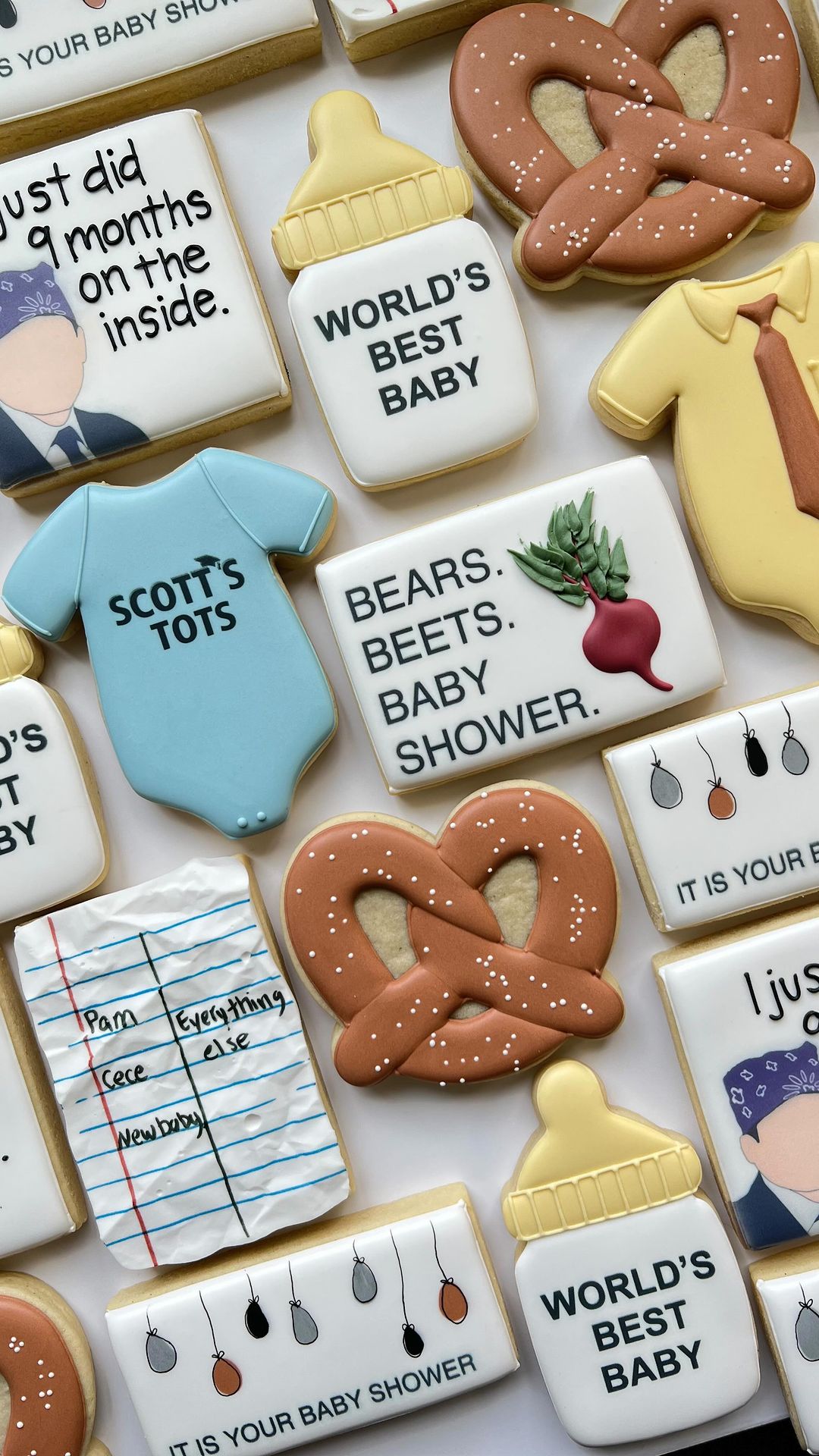 Woodland Animals Boy Baby Shower Theme
Incorporate elements like faux tree stumps, animal figurines, moss, and forest-inspired banners to transform your venue into a woodland wonderland.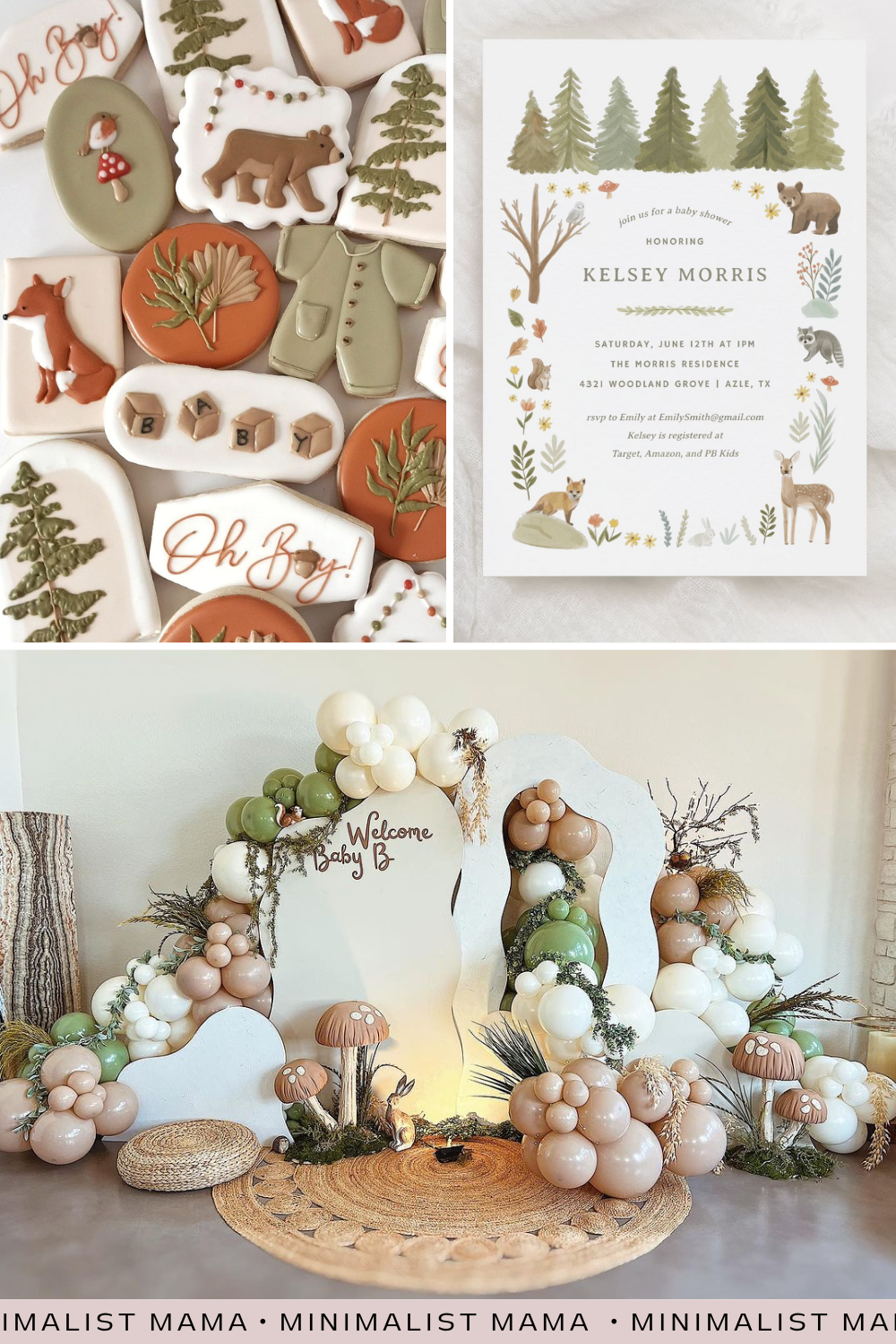 Image credits cookies | invitations | decor
Depending on the season and weather, you can choose to host your baby shower outdoors in a park or garden to create a natural woodland setting, or indoors with forest-inspired decorations.
Some decorations and gifts from a woodland animals-themed baby shower can even seamlessly transition into the baby's nursery decor.
Taco Bout A Baby Fiesta Baby Shower
This is a lively and festive theme for a bold and beautiful baby shower.
Vibrant and bright colors, such as reds, yellows, greens, and blues, can be used in your decorations to create a festive and energetic ambiance.
Use a piñata filled with candies or small favors, to add an element of interactive fun to the celebration. Or consider featuring Mexican-inspired desserts like churros, tres leches cake, and colorful fruit salads. Did someone say nacho bar? I'm in!
Which of these Boy Baby Shower Ideas did you love best?
I'm certain you'll find the perfect baby shower theme on this huge list! Whether you're hanging with giraffes, ready to taco 'bout babies, or getting cozy with some woodland critters, these boy baby shower themes are bound to make your celebration unforgettable. So grab your party hats and get ready for a wild ride – because the little man of the hour is on his way, and his baby shower is about to be the talk of the town!
Not sure if you're having a boy or girl?
Another super popular trend in parties is the Barbiecore trend – consider a pretty pink party with lots of fun details!
Read Next:
☁️ 29+ Unique and Useful Baby Shower Gifts for *Mom* (Not Baby!)