This post contains affiliate links.

The Best Baby Shower Gifts for Mom
A Gorgeous Mama Mug
Why does this coffee mug feel like my friend?
There's no doubt that mamahood is a (more than?) full-time job that revolves around prioritizing, and caring for, our families.
Maybe that's why it sure feels special when there's something that's for us.
Just for us.
Even if all it is is a simple coffee mug.
Make that comforting cup of coffee special for mama each morning with this beautiful handmade mug.
Nurtured 9 Just For You, Mama ($42)
A Buttery Soft Blanket
For those few sacred moments where we have a chance to relax, Sunday Citizen's beautiful, luxuriously soft blankets are oversized so that mama can wrap herself from head to sleepy toes.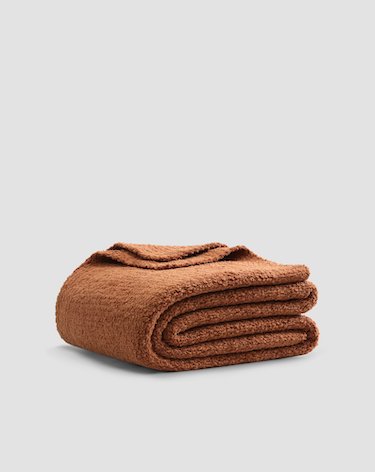 Sunday Citizen Snug Throw ($165)
A Stunning Mama Necklace
Darling Jewelry Studio Snug Throw (From $51)
A Luxe Pillowcase & Fluffy Slippers
Did you know that independant lab testing has shown that a silk pillowcase can reduce the amount of friction on mama's face and hair by up to 43%?
Yep, this baby will actually absorb less of mom's face lotion than a traditional cotton pillowcase as well as cause less hair tangling!
Now that's the kind of beauty sleep I'm talking about…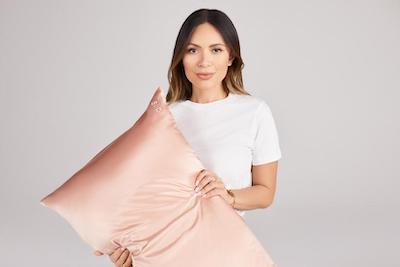 Kitsch 100% Satin Pillowcase with Zipper ($17)
Layers upon layers upon layers of cozy stuff was really all I wanted when I was a new mom.
A pair of cute slippers are *perfect* for mom to wear around the hospital room, too.
This pair of fluffy Amazon slippers is a great little gift – or if you've got a fashion-forward mama you're shopping for, you *need* to check out this awesome list of Ugg slipper dupes that are super trendy, cute and comfy.
Literally can't go wrong.
Amazon Women's Cross Band Slippers ($21)
A Luxe Hair Dryer
Because a blow dry is about as far as she'll get on many days – you'd might as well make it a good one!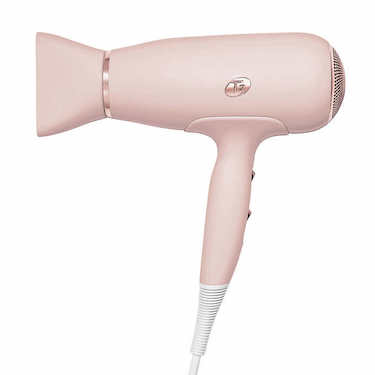 T3 Micro Cura Hair Dryer ($179)
An Incredibly Special Piece of Jewelry
Vana Chupp Studio Classic Silhouette Charm Necklace ($85)
A Super Cute Lounging Set
Um, it literally says "good moms club" and there's matching "good boys club" and "good boys club" sets, too. I simply cannot. I want this so bad.
Sun Peony Coconut SPC Good Moms Club Sweatshirt ($64)
A Cute Leaving The Hospital Set
Pink Blush Maternity Camel Jogger Maternity Lounge Set ($62)
A Pretty Baby Wrap
Solly Baby Wrap in Cottage Rose ($69)
A Wall Print That'll Make Her Tear Up
I'm not crying, you're crying! 😭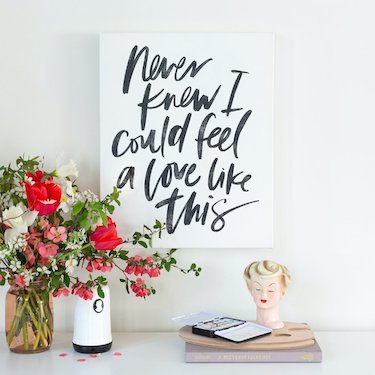 Lindsay Letters Love Like This print ($54)
An On-Repeat Romper
Gift mama a super easy 'outfit' to throw on that requires 0 brainpower but still looks totally adorbs with this ridiculously loungeworthy ruffled romper by cult fav, Smash & Tess.
Did I mention they make matching rompers for minis?…
I can't.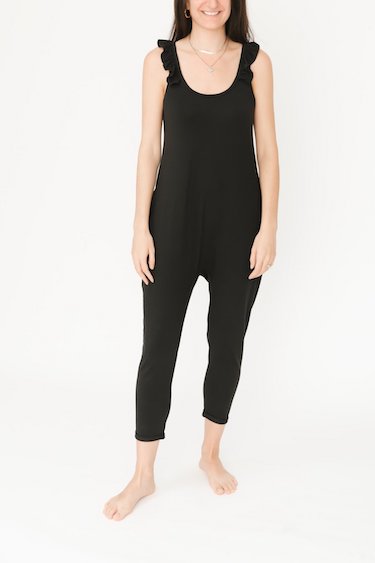 Smash & Tess The Sweetheart Romper ($89)
A Heated Coffee Mug
I've gotta say, I never knew how much of a luxury a hot cup of coffee was until I went weeks without being able to finish one.
Give mama the gift of caffeine with this super cool smart mug that comes with keeps coffee hot.
Ember Self-Heating Smart Coffee Mug ($129)
Cozy, Nursing-Friendly PJs
After giving birth to a baby, really, mom's #1 priority for herself is sleep, but in a close second – comfort.
These sweet and classic pajamas are made from bamboo, which is not old ultra soft but it also is odor-resistant and super breathable.
Postpartum night sweats are a *real thing* and keeping cool and… non-smelly… definitely a welcomed benefit for the mama!
Kindred Bravely Clea Bamboo Short Sleeve Classic Pajama Set ($49)
A Carry-All Mommy Bag
This teddy material is everything right now.
But –
If you're not sold on it, this super cool carry-all also comes in a pretty animal print and chic neutral solids, too.
Give mama a way to wear her new title loud and proud with this super cool mommy bag.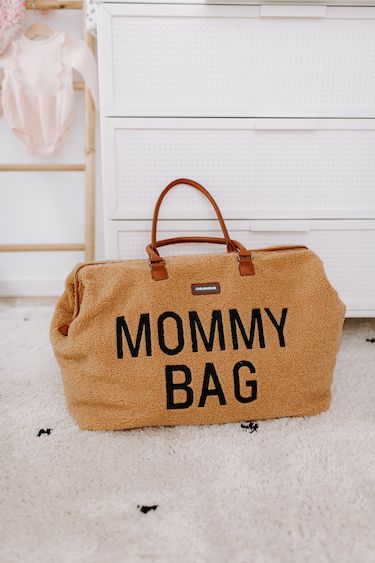 Childhome Mommy Bag ($169)
A Pretty Water Bottle
All the water. We need it aaaaall!
Though not every mom will be breastfeeding, many will, and I am telling you –
I have never been more thirsty in my life than the few weeks immediately after having Hudson.
This cool waterbottle will do just the trick.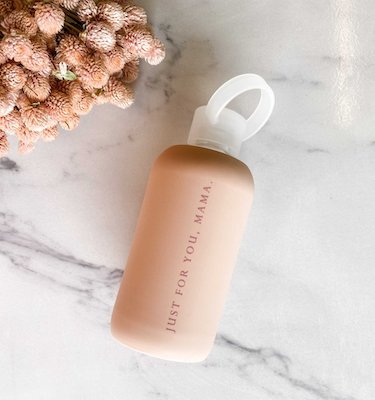 Nurtured 9 BKR Just for You Mama Waterbottle ($39)
A Postpartum Doula or Night Nurse
Remember priority #1?
Yep, sleep.
This is the *ultimate* baby shower gift for mom, not baby!
Though I've never seen any of my girlfriends actually receive this as a gift at their baby shower, I asked a long list of mommy friends what they thought the best baby shower gift for mom was, they all said someone to come over and watch baby so they can have a second to breathe!
So –
if you're looking for a practical *unique* baby shower gift, this is it.
Did you know? Postpartum doulas will actually come to your home during the day and care for baby. If baby's peacefully napping? Postpartum doulas will do things around the home like meal prep, laundry and tidying up.
Night nurses, on the other hand, come over at night, while mom's asleep, and stay up with babe, feeding, rocking and putting them down to sleep.
Check for local providers in your area and ask about purchasing a gift certificate.
A Cute & Comfy Sweatshirt
I mean.
Is this not the cutest sweatshirt you've ever seen?
I am truly in love with it.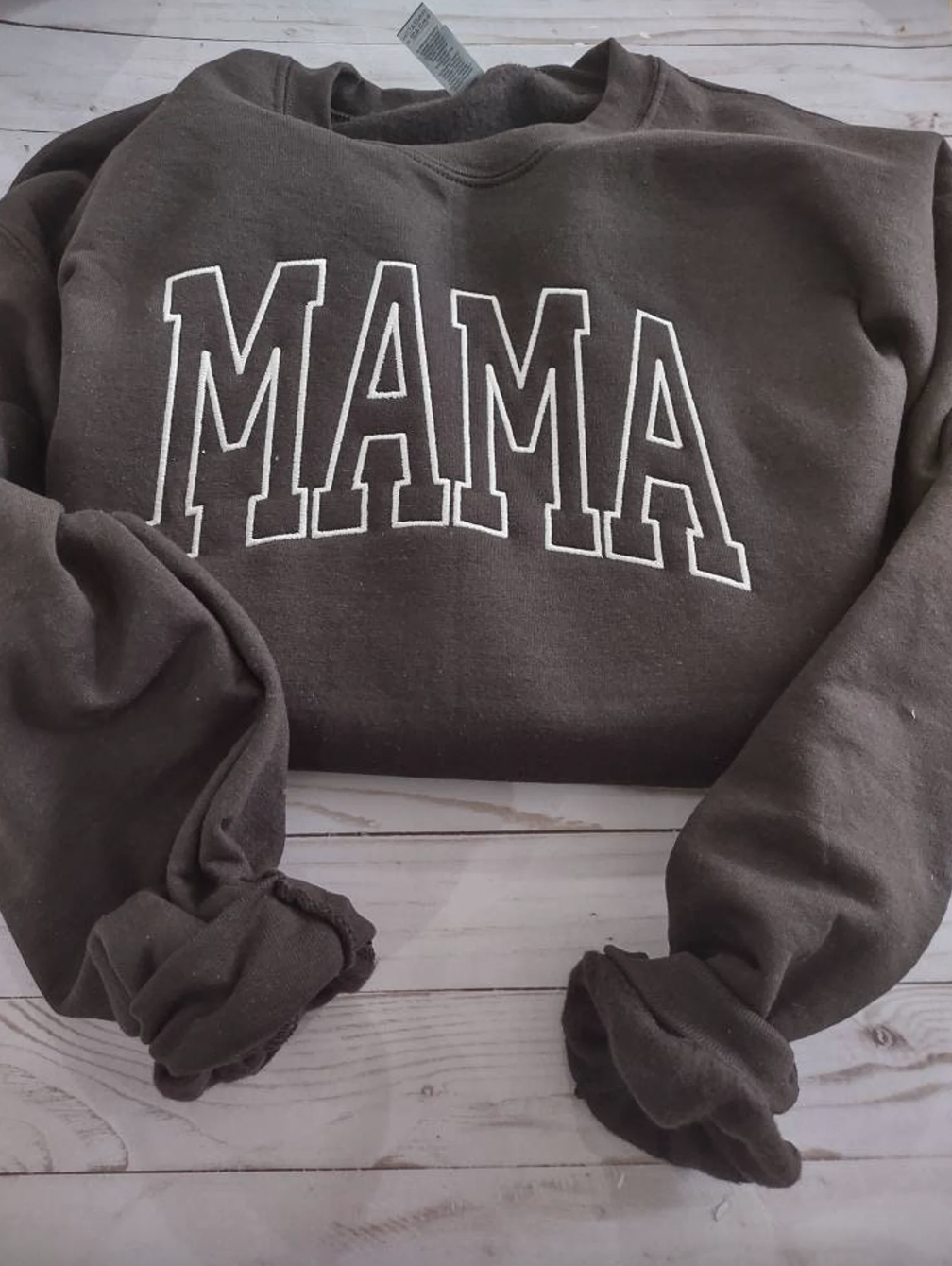 Etsy Mama Sweatshirt
A Cricut Machine
A Cricut machine is pretty much an essential for moms – so what better rite of passage for the expecting mama than to own her very own Cricut!
Basically a modern-day label maker on steroids, this home-based die-cutting machine will be used by that new mom for *years* to come.
From DIY'ing her own baby clothes labels, to stickers for organizing toys, and even making cute gift tags and invitations for daycare teachers – there is no shortage of ways for a new mom to use a Cricut.
Check out this great little Cricut Explore Air 2 review to learn more.
Breastfeeding Essentials
The best of the best in breastfeeding essentials – a great baby shower gift!
Blanqi Washable Nursing Pads ($12)
Blanqi Body Cooling Maternity and Nursing Bra ($49)
Encouraging Affirmation Cards
This sweet set of birth affirmation cards is such a sweet gift to encourage mama to get in the right mind set before giving birth, and make for such a special keepsake.
Nurtured 9 Birthing Mantra Cards ($15)
A Really Big Tumbler
Not as cute as the mama waterbottle, but maybe a bit more functional.
This really big tumbler is just the right size to keep mama hydrated and the straw is perfect for new moms because they can still sip away one-handed (which is pretty much the only state she'll be in for the first few months!).
The insulation keeps drinks cool and it's available in a number of other cute, neutral pastel colors, too.
Reduce 40 oz Mug Tumbler ($27.99)
The Perfect Robe
So buttery soft.
Treat mama to the title of most stylish mom in the postpartum ward with this beautiful delivery robe from Storq.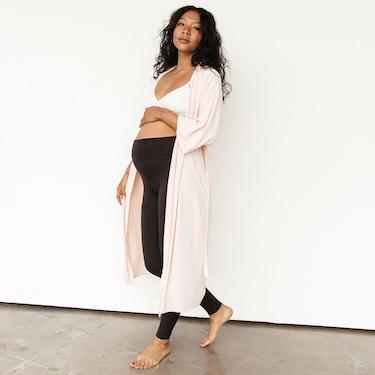 Storq Feel Good Delivery Robe ($128)
Some Me Time
Help mama to feel like herself again and take a moment to just relax by treating her to a blow-out, manicure, pedicure or massage at her favorite local spot.
Healthy Snacks, Delivered
Take one more thing off mom's plate (keeping herself fuelled) by buying her a few months of healthy snack box deliveries.
Packed with delicious, unique and healthy snacks, this cool crate of treats will give mama something interesting to enjoy as well as keeping her fed!
Cratejoy SnackBoon Healthy Snack Box ($24/mth)
A Wine Tasting, Delivered
It's been nine long months without a glass of wine – why not acknowledge all of those times mom had to opt out with a celebratory delivery of wine?
Enter, Vinebox.
Choose from red, white, rosé and other themed boxes – and have a few glasses of carefully sourced, unique wines sent to mom to enjoy.
Plus, how cute is the packaging? I am such a sucker for some good branding.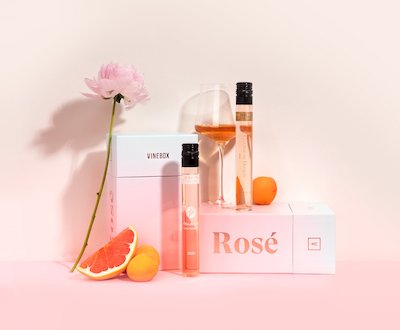 Vinebox Rosé Collection ($65/mth)
A Special Delivery Gown
Hospital gowns suck.
This awesome labor and delivery gown is soft, stylish, the perfect fit and even comes with nice, big pockets with a flap.
Kindred Bravely Universal Labor and Delivery Gown ($39)
A Necklace with Baby's Name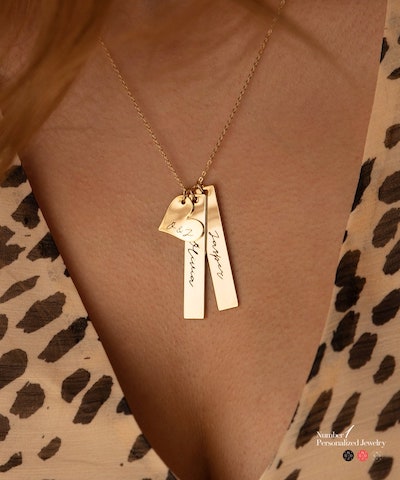 SNDJ Custom Baby Name Necklace ($15)
The Best Baby Shower Gifts for Moms (Not Baby) – TL;DR
From the coziest, comfiest gifts to tasty treats for mama to enjoy in those little moments of peace, there are so many ways to pamper the mama-to-be with a special baby shower gift.
Planning a baby shower for the mama-to-be? Check out this free printable A-Z Baby Items Shower Game from Mama's Buzz!
Read Next:
21+ Baby Shower Bible Verses To Bless The Mama-To-Be
Looking for gifts for a *second* baby? ✨ 21+ Best Gifts for a Second Baby ✨