This post contains affiliate links.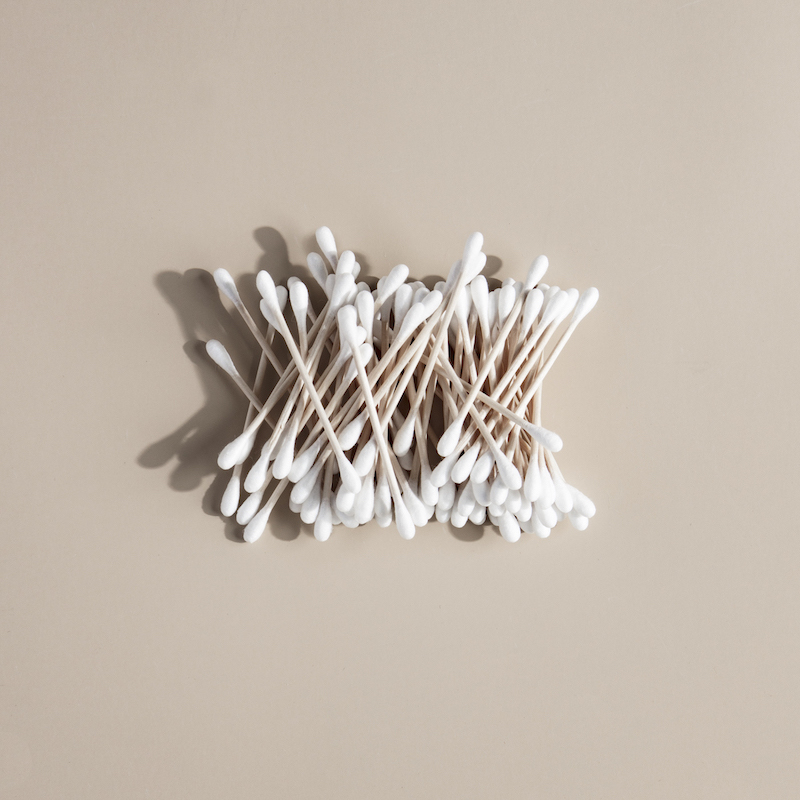 Putting together a diaper caddy is a super helpful way to get your home ready for baby.
So, what do you put in a diaper caddy, exactly?
Today, I'm sharing exactly what we put in our newborn diaper caddy, what, exactly, a diaper caddy is, and is for, as well as a few bins and baskets that work well as a diaper caddy.
Let's jump in – 
What is a Diaper Caddy?
Simply put, a diaper caddy is just some type of basket or box that keeps a handful of baby hygiene items and diaper changing supplies together.
It's usually kept somewhere like the living room or the main floor of your home.
If you're planning on having baby cosleep with you, you'll also one in your bedroom, too – at least a pared-down version that has diapers, wipes, and hand sanitizer for overnight diapers changes.
One of my go-to mom hacks is to also keep an 'on-the-go' diaper caddy with a few diapers, wipes, portable changing pad or swaddle, small hand sanitizer and change of clothes in my vehicle for those emergency oops moments. I just keep the items in a large zip-top bag or small plastic bin in the back of our vehicle.
What is the Point of a Diaper Caddy?
A diaper caddy is used to store the essential items you'll use for a quick diaper change in the space that you spend most of your day. This is so that you can save time and avoid having to carry baby upstairs and into their nursery for every diaper change.
What Goes in a Diaper Caddy?
Here are the diaper caddy essentials that you *actually* need:
1. Diapers
When our little guy was just a newborn, I kept our diaper caddy stocked with an entire row of diapers because he just went through them so often! I would say newborns probably go through about 8 diapers a day, with most of the diaper changes probably being done in the nursery (not in your main living space, where the diaper caddy is).
So, storing about 10-15 diapers in your diaper caddy is probably a good starting point.
Now, with Hudson being a little older (5 months old), I keep about 5-10 diapers in our diaper caddy, and refill it about once a week.
We've tried a whole bunch of different diaper brands and the ones that we've stuck with are Huggies Little Snugglers Plus+.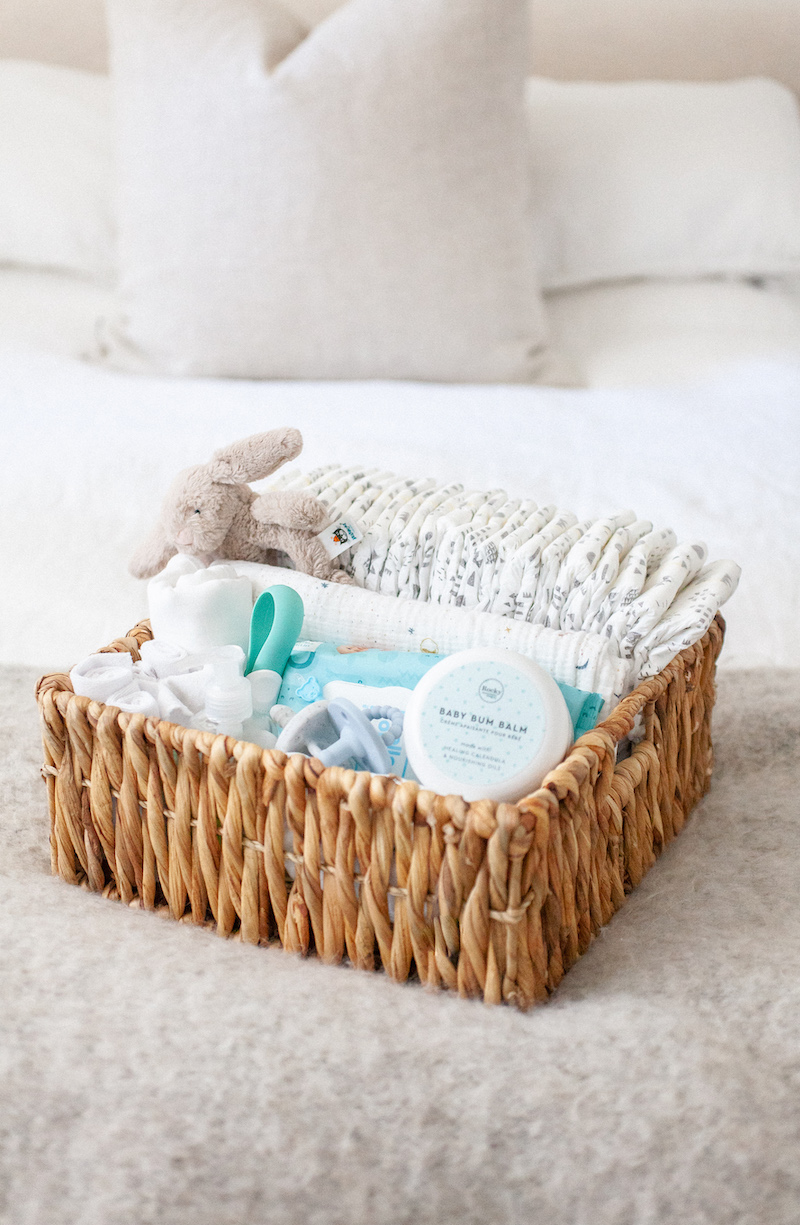 2. Wipes
Of course, a quick diaper change requires wipes. We use these ones.
3. Changing Pad
I like these bamboo changing pads – they're just a tad bit bigger, and softer than the other versions I've seen.
I also really love this vegan leather changing mat – it's so great to just roll out for a quick diaper change, because it's larger than the fabric changing pads, so it gives you a bit of extra assurance. It's also really awesome to keep in your diaper bag for on-the-go diaper changes!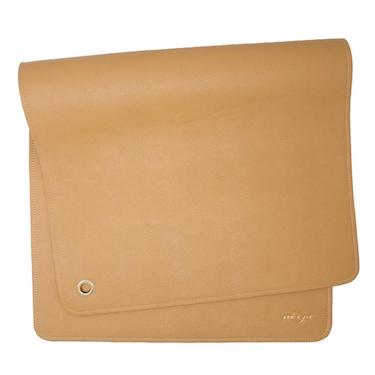 Bek & Jet Vegan Leather Changing Mat in Tan ($23)
4. Swaddle or Burp Cloth
I love these simple white muslin burp cloths that come in a pack of 5. They're the perfect size to drape over your shoulder and super soft to wipe the spit-up off of our babe.
I roll these up whenever I'm folding laundry and store a few of them in our diaper caddy.
5. Hand Sanitizer
I bet you'd never come to a point in time when you thought of washing your hands as a luxury.
Lol.
While it may seem like popping over to the sink to give your hands a quick rinse would be simple enough, there are more days than not where little bubba demands every. single. second. of your attention. Especially in those early days.
Having hand sanitizer in your diaper caddy makes post-diaper-change clean-up a breeze.
On the topic of hand sanitizer…
There are a whole lot of nasty hand sanitizers out there. Like… toxic.
That's why I swear by Rocky Mountain Soap Company's Nomad hand sanitizer.
Scented only with all-natural essential oils, it smells *so* good. And I swear it, somehow, leaves your hands softer and more moisturized than they were before. How is that even possible? Don't ask me.
This stuff is silky-smooth, made locally (here in Canada) by a lovely brand, and so good.
My other favorite is from a woman-owned company called Paume.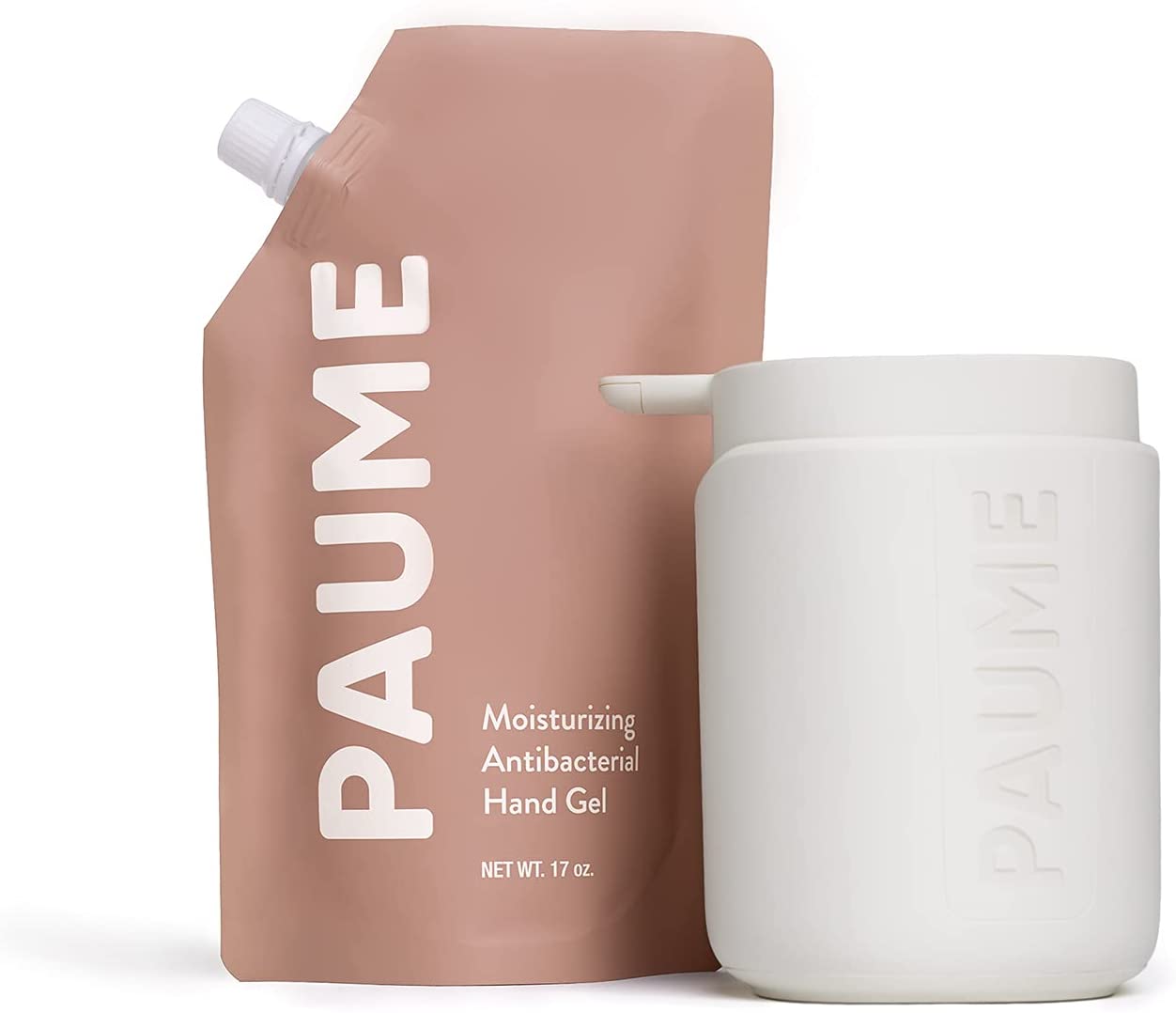 Paume Antibacterial Hand Gel, 2 Pack ($28)
You can sometimes find it on Amazon, but it's often out of stock – in that case, you can just buy it directly from them online.
Add to cart.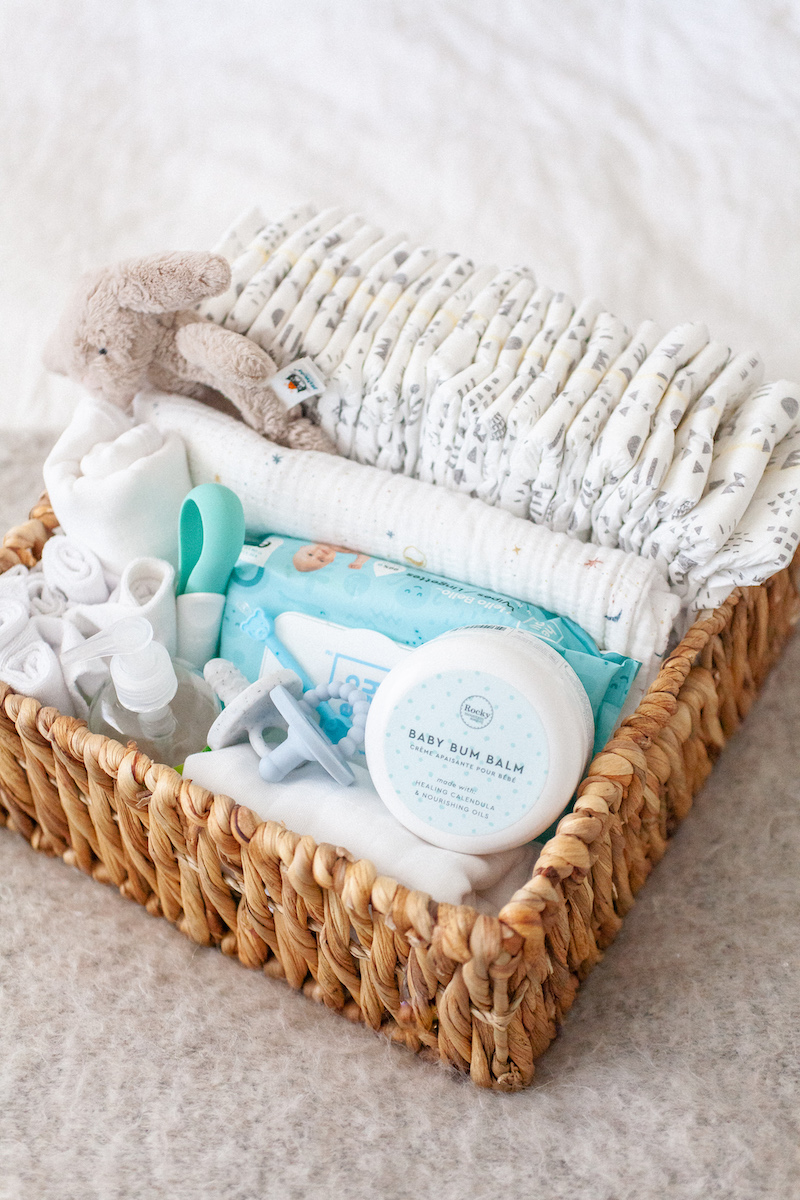 6. Change of Clothes
Because spit up, blow outs, too hot, too cold, and probably for a few other reasons, too.
It's just so handy having a few extra pieces of clothing
I just keep one or two pieces of whatever my little guy's wearing that season in my diaper caddy. In the winter, I had an extra pair of socks, footed pjs, a long-sleeve onesie and a pair of pants. In the warmer summer months, I just keep an extra t-shirt onesie or two (this set of 5 basic white cotton onesies is my go-to!).
7. Oogie Bear
Diaper changes are the perfect time for a little baby tune-up, and clearing their nose is an important part of that inspection.
While a clear nose might not seem like a dire issue, you'll quickly notice that if baby's nose is blocked when you try to put them down to sleep, it's a lot more difficult.
The Oogie Bear (called Nose Hero in the US) is a small, plastic Q-tip-esque tool that gets those little boogies out quickly, easily and painlessly!
Bonus: it also removes ear wax super effectively (I find that Q-tips actually just push the ear wax further in).
8. Saline Spray
Nose clearing solution, v 2.
Saline spray also clears out your babe's nose, but it's moreso for general congestion.
Saline spray spritzes a gentle mist of sterile water into baby's nose, which helps lubricate their nasal passage and often gets them to sneeze, which clears their nose.
I use this HydraSense Ultra Gentle Mist Nasal Spray.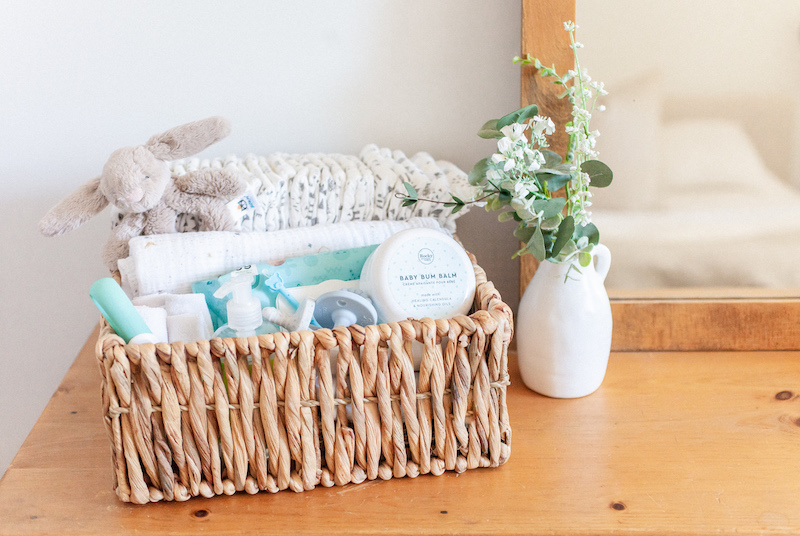 9. Nail Scissors
One of the first things you'll probably notice once your little sweet pea has arrived is just how long and sharp their fingernails are, and often they need to be trimmed.
Keeping a set of nail clippers in your diaper caddy is the perfect solution and allows for a quick trim whenever you find a moment that babe's calm and relaxed.
Do *not* buy any other set of nail clippers, but the FridaBaby Easy Grip Nail Scissors.
They work so well and are super easy to use.
10. Pacifier or Teether
I love these super trendy, minimalist Bibs pacifiers that come in gorgeous, neutral colors, and these Hevea pacifiers that are a similar style.
I also love fun, pastel-coloured Cutie PAT pacifiers by Ryan & Rose. These pacis are super unique and so pretty. The "PAT" in the name Cutie PAT stands for 'pacifier and teether' because the grip on the soother actually doubles as a teether!
Because Hudson was 3 weeks early and just teeny tiny, we found that these NUK orthodontic pacifiers worked the best for us because they're so tiny, light and flat, so they stayed in his mouth (unlike all the other, bigger ones).
Hudson also *loves* using these two teethers – the Matchstick Monkey and Bella Tunno teether – they are both small, lightweight, thin and have the curved edges that he can grip comfortably and easily.
11. A Toy or Rattle
While a little rattle or stuffy isn't exactly required for a diaper change, your diaper caddy will essentially end up serving as your portable baby command station, so throwing a toy or two in there just helps keep everything together.
Here's a few of our favorites: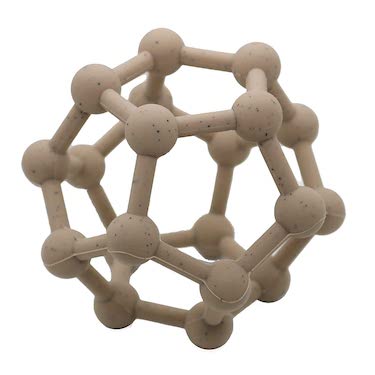 Kushies Silibounce Soothing Sensory Teething Ball ($13)
Do You Really Need a Diaper Caddy?
At the end of the day, a diaper caddy isn't an absolute must in my opinion.
That being said, it really doesn't cost much to put together a diaper caddy because you're basically just putting together a bunch of baby items you already have and keeping them in a convenient spot.
The only thing you really have to worry about is finding a storage basket that you like the look of enough to keep in your main living space.
The Best Diaper Caddy
I love using a pretty, simple basket, so that is isn't an eyesore, but you can also get this simple – super affordable – felt caddy with handles and many different compartments, too –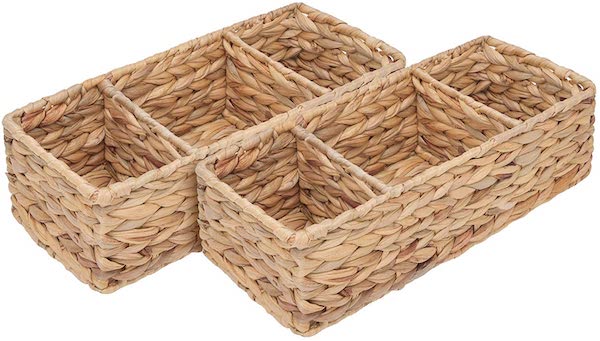 Amazon Hand-Woven Water Hyacinth Storage Baskets ($32.99 for 2)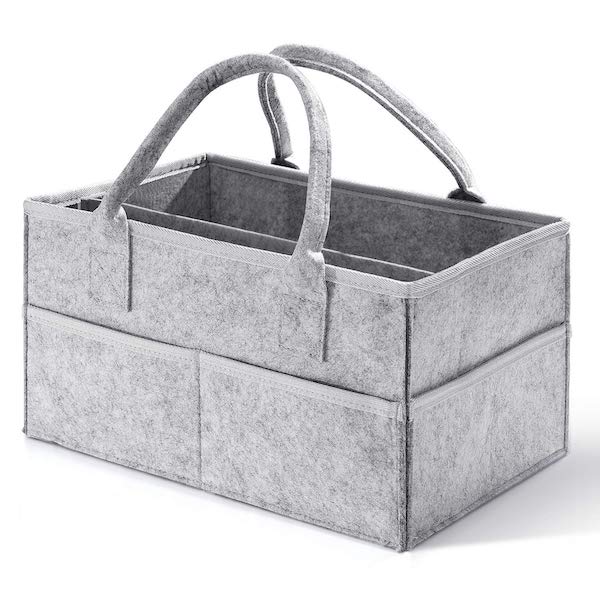 Amazon Baby Diaper Caddy Organizer ($9.99)
And there you have it!
Your diaper caddy should be all sorted.
Read Next:
49+ Important Items To Stock Up On Before Baby Arrives
11+ Super Useful Nursing Cart Essentials That You'll Definitely Need
49+ *Important* Things To Do Before Baby Arrives (Third Trimester Checklist)