This post contains affiliate links.
Wondering what goes in a nursing cart? Learn exactly what to put in your nursing cart, when to prepare it, and snag my printable nursing cart checklist!
The day of my 35th birthday, my husband and I were sitting down, enjoying our morning coffee together, giddily planning how we'd spend one of our last Sundays sans baby (whose due date was in 3 weeks).
We were already drooling, looking forward to a romantic dinner at our favorite Italian place – their house made goat ricotta is drizzled with the finest olive oil, flaky maldon sea salt, fresh rosemary and served with warm crostini. I die.
However –
Our daydream was cut short by an important phone call from my midwife.
It turns out, I had developed preeclampsia and had to be admitted to the hospital immediately, and induced.
Talk about a birthday surprise.
It goes without saying that a few of the things I'd wished I could have gotten done before baby arrived, didn't get completed.
Today, I'm sharing what I'll be doing differently the next time around.
So, when do I recommend you put together your nursing cart?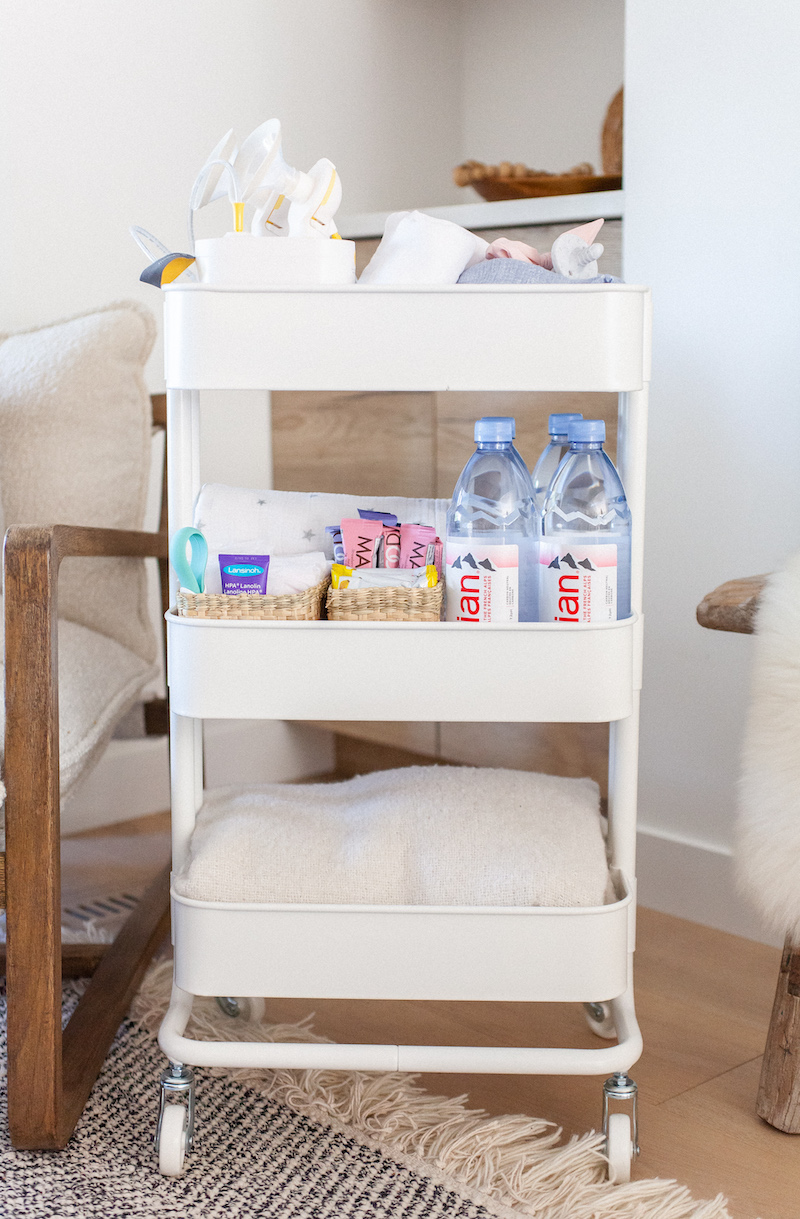 When to put Your Nursing Cart Together
Preferably before baby comes. (Lol)
I have found that it is not entirely uncommon – even without preeclampsia – for baby to come a few weeks early.
I have also learned, through my own experience, that it really makes the postpartum period a whole lot tougher when you didn't have time to prepare what you need for baby in advance.
So – my recommendation?
If I could do it all over again, I would aim to have everything – and I will say it again – *every* thing in preparation for baby completely done a month before their due date.
This includes:
Putting together a nursing cart
Packing your hospital bag
All right, your calendar's marked.
Now, what do you put in a nursing cart?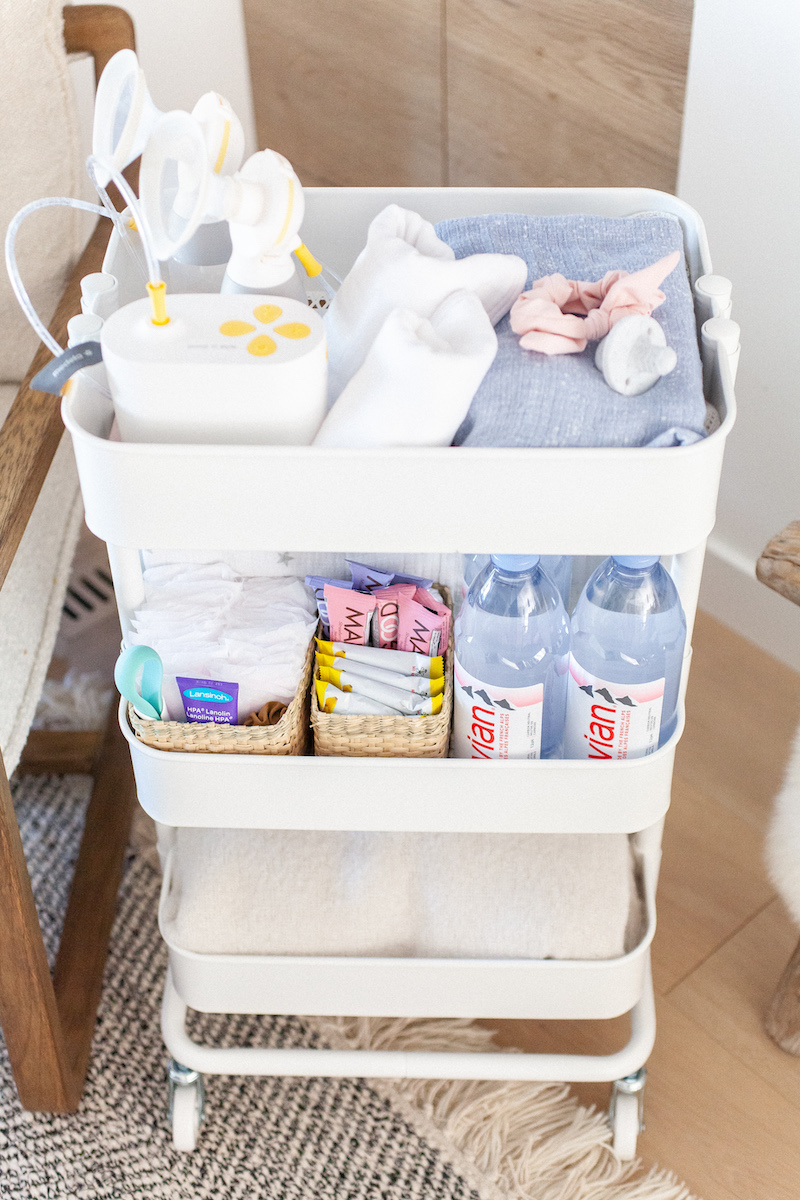 My Must-Have Nursing Cart Essentials
Here's exactly what to put in your nursing cart:
01.

Breast pump

I've got the Medela Pump In Style double electric breast pump.

'Double' denotes that it pumps both breasts at once, as opposed to a single breast pump, which only pumps from one side at a time.

It's also electric, as opposed to manual. With this model in particular, you can either have it plugged in to an outlet, or connect the portable battery pack.

Earlier on in my postpartum period, I used the battery pack to pump on the go in the car a few times when I had to go out to do something while my husband was at home with our little guy.

Whichever breast pump you choose, I recommend purchasing it, washing and sanitizing the pumping parts, and learning how to use it in advance.

And then storing it on your nursing cart.
Medela Pump In Style Breast Pump with MaxFlow ($195)
02.

Haakaa

What an invention the Haakaa is.

A haakaa is a small, squishy silicone container that looks very similar to the pumping attachments on a breast pump. The haakaa suctions on to your breast and is used to collect extra milk from the breast you aren't feeding baby with.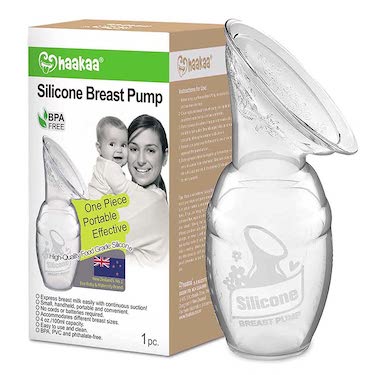 Haakaa Manual Breast Pump ($11)
Wait, isn't that what nursing pads are for?
Well, yes and no.
Every woman is different. Depending on how much milk you end up producing, you may find that you have a heavier let down than is soaked up by the nursing pads.
Or, maybe you're trying to build a freezer milk stash. The Haakaa allows you to collect that extra milk, and freeze it, instead of tossing it, or washing it out, with disposable or reusable nursing pads.
Which brings me to my next nursing cart must-have –
03.

Nursing pads

Nursing pads are small round pads that you line your bra with to catch extra breastmilk.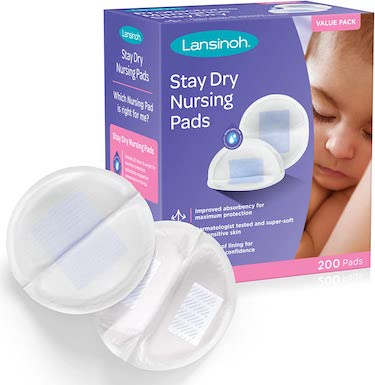 Lansinoh Stay Dry Nursing Pads, 200 Count ($24)
Nursing pads can either be single-use and disposable, or reusable. These ones from super cool maternity brand, Blanqi, are pretty, simple and comfortable. I'd recommend buying 3 or 4 pairs so that you have time to wash them in between uses if you want to go the reusable route.
Get $20 towards your first purchase by clicking the SHOP link below: 
Blanqi Washable Nursing Pads ($12)
04.

Swaddles

What can swaddling blankets not do?

I feel like a baby brand should create a '101+ Uses for Swaddles' contest where parents can share all of their creative uses for swaddles.

So far, here's what I've used our swaddle blankets for:
a swaddle
a blanket
a burp cloth
a changing pad liner
a tissue
a breast pad
a sun shield – and
a car seat cover
Swaddles are super useful. I can guarantee you'll use them.
Here are a few of my favorite swaddle blankets:
05.

Burp cloths
Comfy Cubs Muslin Burp Cloths, 6 Pack ($13)
Because of that whole emergency induction almost a month early thing, burp cloths were one of the things we didn't have when we brought our baby home.
In place of burp cloths, we ended up just folding some of our thicker swaddle blankets up to burp our little guy for the first few weeks.
I've got to say –
We did end up finally getting a handful of them, and they are so nice and thick, and just the right size to drape over your shoulder or catch spit-up with.
While swaddles do definitely work in a pinch,
Because newborn babies can often feed upwards of 10 times a day, and may spit up just as frequently, I would recommend buying two or three of these 6-packs so that you don't have to worry about washing them every day or two!
Before adding them to my nursing cart, I washed and dried them, and rolled them up.
06.

Nail scissors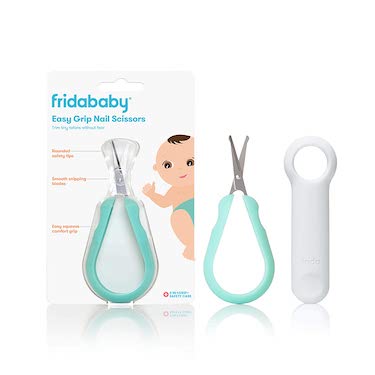 FridaBaby Easy Grip Nail Scissors ($8)
These nail scissors are so easy to use, and super awesome!
Baby's nails grow so quickly, you'll be surprised how often they need a trim.
Trimming baby's nails while they're breastfeeding is the best time to do it because they're squirming around a lot less, they're distracted and oftentimes, getting sleepy.
Keeping these handy nail scissors in your nursing cart will help you keep those tiny talons in check!
07.

Oogiebear

This is seriously one of the best baby items ever!

Newborn babies go through a period in the first few weeks where they are "flushing" everything out of their body and I swear, I don't know where it all comes from.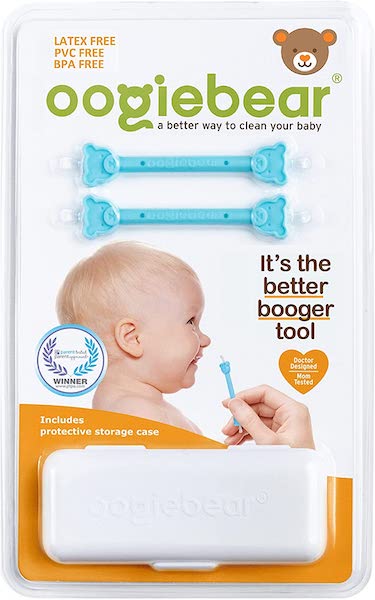 Oogiebear Safe Baby Nasal Booger and Ear Cleaner ($24 CAD)
This handy little q-tip-type tool is perfect for pulling little boogers and ear wax out of baby's ear, which you'll undoubtedly notice while you're sitting in your glider, admiring every square inch of their cute little being.
If you've done your research on baby essentials,  I'm sure you've come across other moms recommending the Frida Baby Snot Sucker. This is an alternative for that product and I prefer it.
Note – This item seems to only be available on Amazon in Canada. I purchased mine from Buybuy Baby, so if you are in the States, you can try there!
08.

Nipple Balm

It can take awhile for the sensitive skin on your nipples to adjust to the new reality of being tugged on all day long. This Earth Mama Organic Nipple Butter will soothe and soften sore, cracked or dry nipples.

Must-have.
09.

Snacks

What's the worst place to be when you're starving?

Stuck under a sleeping baby.

Grab a few of your favorite snacks and stock your cart up.

Here's a few ideas:
granola or protein bars
energy bites
whole pieces of fruit that are easy to eat one-handed like apples
nuts
crackers or pretzels
popcorn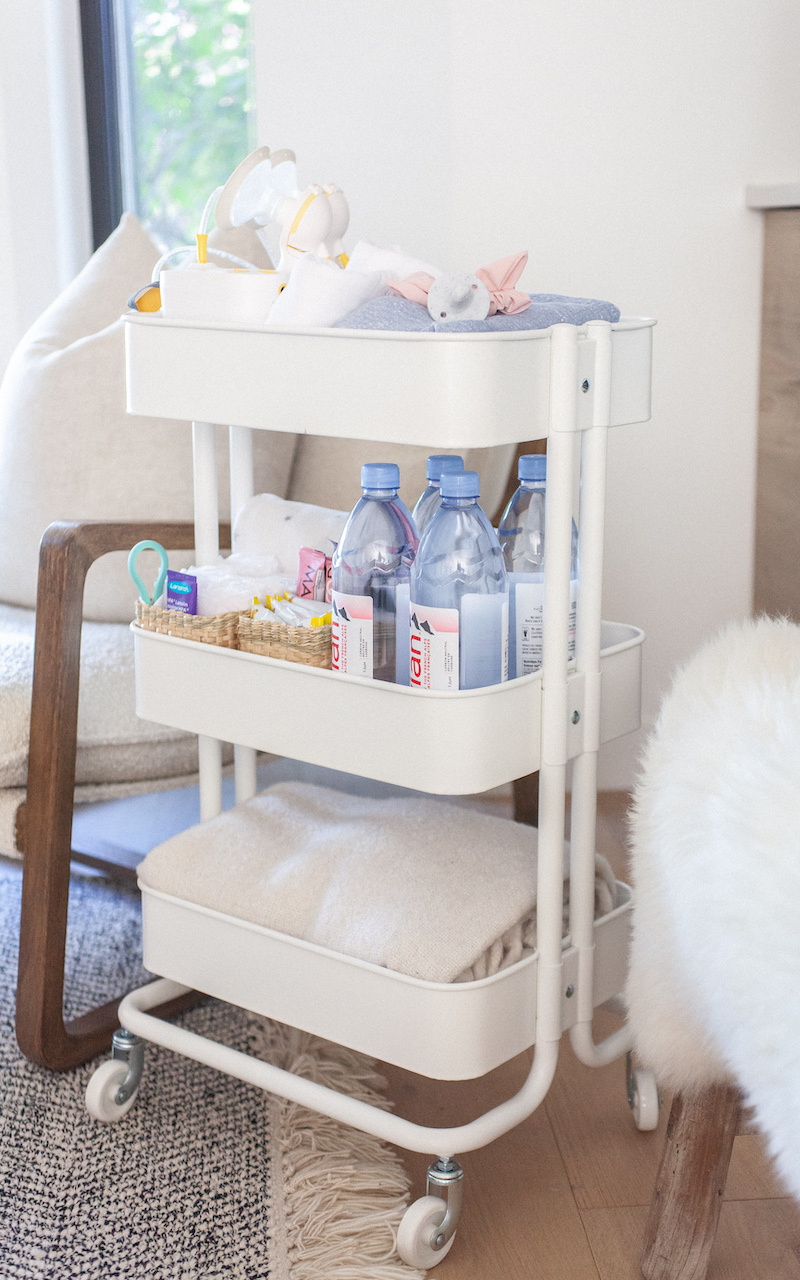 10.

Water

All the water in the world is not enough for a breastfeeding mama.

For real. My gosh.

Any new breastfeeding mom will tell you – they have *never* been so thirsty in their entire life!

Yes, of course, it seems pretty simple to just expect to keep the water bottle or tumbler you normally use filled, and then to remember to cart it over to wherever you sit down to nurse.

Somehow though, it just doesn't end up happening.
Reduce 24 Oz Tumbler with Handle ($19)
Between the baby burps, and blow-outs, and outfit changes, oh – and not to mention, the sleep deprivation – somehow, it just didn't end up happening for me.
Stock up on water. Add a few bottles to your nursing cart, and refill it every few days.
You'll thank me later.
Suggested For You: Snuggle Me Organic vs. DockATot Lounger: Which Is Better? [Review]
11.

Hair elastics or clips

I don't think there is any better feeling than tying your hair back after baby's been tugging on it all day.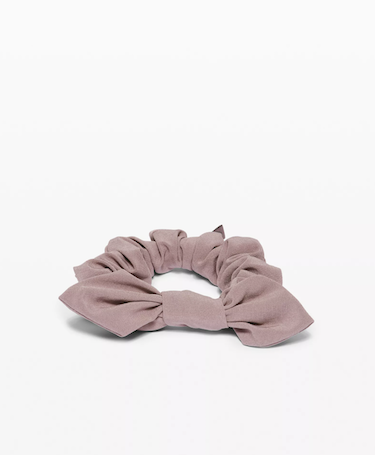 Lululemon Uplifting Scrunchie
*Bow ($9)
12.

Notebook + pen

After Hudson was born, when my dad first came to visit, he brought me one of the most thoughtful and special gifts – a special notebook to write notes to Hudson, and to record milestones and memories.

It was just so sweet.

Some of the most special moments I have had when it's just you and your baby, nursing in a dark room,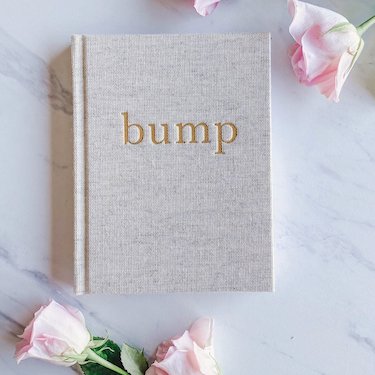 Nurtured 9 Bump Pregnancy Journal Keepsake ($36)
Nursing Cart Ideas
So – you know exactly what to put in your nursing cart, but where do you actually *get* the cart itself from?
We live only a few minutes from IKEA, so I picked ours up from there.
If you don't have a location nearby, this one's almost identical, and comes in both white and black:
Amazon 3-Tier Rolling Utility Cart ($45)
This one's also really similar, with a bit more minimalist design and lower price point:
Aojia Slim Storage Cart ($27)
Next on the list of nursery cart ideas – this pretty set of rattan shelves. It definitely costs a bit more, but if you are planning a boho-style nursery, this would match really well and could easily be used for storing toys or other items later on –
World Market Natural Rattan Cane 3 Tier Farrah Storage Tower ($139)
Nursing Cart Organizers
Now, what do you use as a nursing cart organizer?
I am a mama who just loves when everything has its own contained spot.
Here are a few ideas to contain your snacks, nursing pads, etc –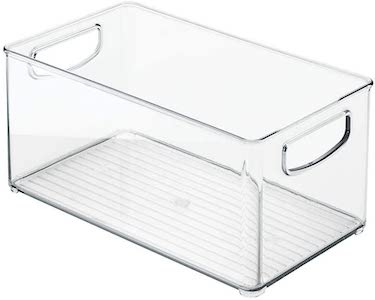 Amazon Deep Plastic Storage Organizer ($14)
The bins shown in the images of my nursing cart are the Lurpassa baskets from Ikea, but again, if you don't have one nearby, I've found another option, too.
These little rattan baskets would fit nicely in the nursing cart and look cute (you could totally use for storage or even as decor on open shelving in your home after baby) –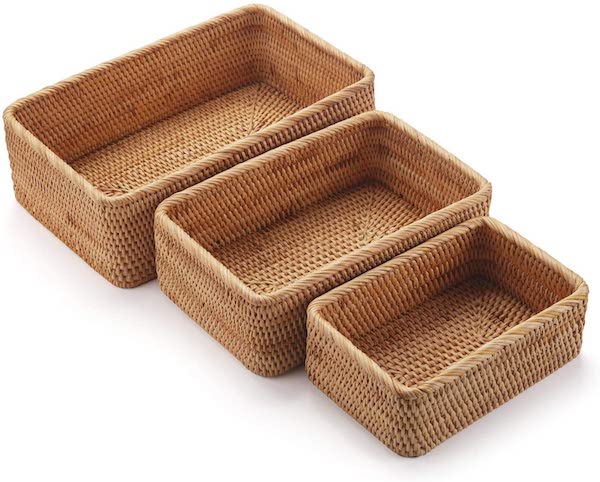 Amazon Natural Rattan Storage Baskets, Set of 3 ($36)
Nursing Cart Essentials –  TL;DR
Well, there you have it! That's how to put together a nursing cart that will serve you well.
What do you think? Did I miss anything important?
Read Next:
49+ *Important* Things To Do Before Baby Arrives (Third Trimester Checklist)
11+ Must-Have Diaper Caddy Essentials for New Moms