This post contains affiliate links.
Postpartum night sweats got you swimming? Find out how to deal.
So, you made it through your entire pregnancy.
You fought your way through contractions that could quite possibly have toppled Mount Everest.
You delivered an entire human being. 
And now,
you're dying to enjoy even *one* night that you aren't entirely swimming — completely drenched — in your own sweat.
Want to know how?
Let's go –
How To Survive Postpartum Night Sweats
Here's this mama's survival guide to dealing with postpartum night sweats:
01.

Dress lightly

TBH, it's probably easiest to just sleep naked. 

If you're super not into that, dress lightly. 

Tank tops will be much more comfortable than long-sleeve pyjama tops, and shorts will make your life easier than pants. 

Choose pyjamas with less coverage, and that are made out of super lightweight, and breathable fabrics, like bamboo and cotton. 

These shorts are great – super light, and super affordable.
02.

Stash back-up PJs

If you're already in the 'heat' of it, you know how uncomfortable it is to wake up with wet pyjamas in the middle of the night for a feed or diaper change.

I couldn't handle it. As soon as I woke up, I had to take those clothes off.

Of course, most people don't have 20 sets of pyjamas, so try to get creative.

Baggy, old t-shirts and tank tops worked really well for me. I ended up getting a pile of my dads old t-shirts and they were perfect.

They were so comfy and soft and of course, you can't complain about the price. 😆

We have bedside tables with deep drawers, so each night when I was getting ready for bed, I'd put 3 or 4 clean t-shirts in the drawer so that I could easily slip a fresh one on in the middle of the night.
03.

Get a mattress protector

Save that mattress of yours by using a mattress protector, which is a thin, waterproof sheet.

This one works great and is super affordable.
04.

Get throw-away bed sheets

My aunt is the modern day Martha Stewart.

She taught me early on that sticking to all white bedding is an easy way to try to steal that hotel look at home.

So, of course, all of our bedding is white.

Once I noticed how much I was sweating at night, I ordered this extra fitted sheet, ASAP.
05.

Use a light blanket

We usually have a duvet with a duvet cover on our bed, but I quickly realized it would be completely ruined within a few nights if I kept sleeping with it.

Instead, I swapped our good duvet out for an old one we had in the closet, and alternated between that and a lighter blanket that I could throw in the wash.

The first time I woke up, I'd flip the duvet so that the wet side was on the outside, and the second time, I'd put the duvet on the floor beside my bed and use the second blanket.

Of course, I'd wash both of them as often as I could (when I wasn't drowning in a mountain of baby onesies lol) which was at least once a week.

I should also mention – my husband and I both slept with separate blankets during this whole sweaty situation so that he wouldn't be disturbed each time I was wrestling with my bedding.
06.

Keep a towel beside your bed

So, in addition to wearing light pjs, or nothing at all, buying a mattress protector, using an old fitted sheet and blanket, and flipping by blanket every few hours (lol) –

I also kept an old towel beside my bed to dry off when I'd wake up in the middle of the night.
07.

Early showers

The last tip that helped me in dealing with postpartum night sweats is prioritizing a quick rinse-off shower once I got up for the day.

My husband knew that it was part of my routine, so he'd be sure to tend to baby if needed during that time so I could take a moment to refresh myself and change.
08.

Stay hydrated

Because all of that sweating pulls so much water out of your body, it's important to replenish those fluids by staying hydrated.

For breastfeeding mamas, this is even more important, as your body needs to be properly hydrated in order to keep your supply up.

I love this insulated tumbler because it's nice and big, stays cold and has a straw, which is *essential* for one-handed sipping. It comes in lots of other pretty colors, too.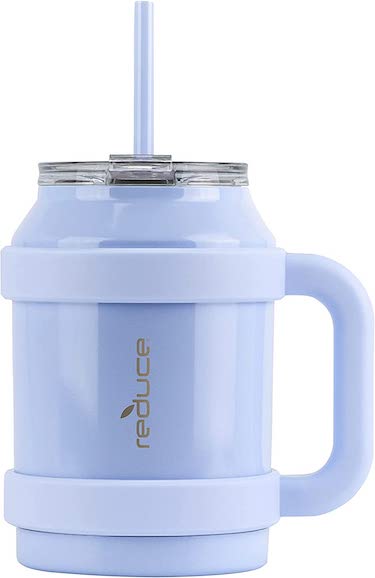 Reduce 40oz Mug Tumbler, Stainless Steel with Handle ($34)
Postpartum Night Sweats – TL;DR
Creating a new human life is such an incredible process, is it really any surprise that it can get a little messy?
At the end of the day, in most cases, dealing with postpartum night sweats is very common among for the first few months.
Do your best to stay cool, get into dry clothes and bedding when you can, and drink up.
Read Next: 13+ Helpful and Uplifting Instagram Accounts For New Moms