This post contains affiliate links.
Searching for the most ridiculously adorable baby's first Easter picture ideas to capture your little one's first Easter?
Then you're in the right spot, mama, because today, I've rounded up all of my favorite first Easter photo ideas for you to DIY at home, as well as a whole pile of super cute accessories to take your pictures to the next level.

The Cutest DIY Baby's First Easter Photo Ideas
Ahhh… the sound of snow melting off the rooftop…
the bright pops of green beginning to appear around the neighbourhood…
the *bliss* of cracking open that first bag of Mini Eggs for the season.
It's that time again –
Easter is just around the corner, and for many families, it will be their baby's first Easter.
What a special time to capture all the joy and cuteness of your little one's first holiday season with some beautiful photos.
Whether you're going all out and have a professional photoshoot planned for your little one, just want to use your phone to snap a few cute candid shots, here are some of the most adorable baby's first Easter picture ideas to inspire you.
Let's dive in –
Sweet Sleeping Bunny Photo Idea
This cute baby's first Easter photo idea is created by laying a pretty, knit white blanket on top of a SnuggleMe Organic – but in a pinch, you could easily roll a blanket up and fold it into a little nest, then drape a blanket over to get the same effect.
Here's what you'll need:
white knit blanket
SnuggleMe organic, or blanket rolled into a baby nest
knit baby outfit
Bunny with Easter Eggs Photo Idea
What's Easter without some pretty, dyed Easter eggs?
If you're the DIY-kinda mom, this maybe just be the perfect baby's first Easter picture idea for you.
Show off this year's Easter creations, along with your precious little bundle, by snapping a pic of your little one beside a carton of Easter eggs.
You'll need:
a neutral bed or couch
a ribbed white onesie
an egg carton
some dyed Easter eggs
Simple Letterboard First Easter Photo Idea
Obsessed with snapping a cute little letterboard milestone photo for your little one at each occasion?
Simply lay a few Easter eggs in front of your letterboard, throw your little one in a simple, classic t-shirt onesie and break out your funniest faces to crack a smile on your babe!
You'll need:
a letterboard
some Easter eggs
a small stool or chair
a simple white onesie
a blanket and throw pillow
Bunny Bonnet First Easter Photo Idea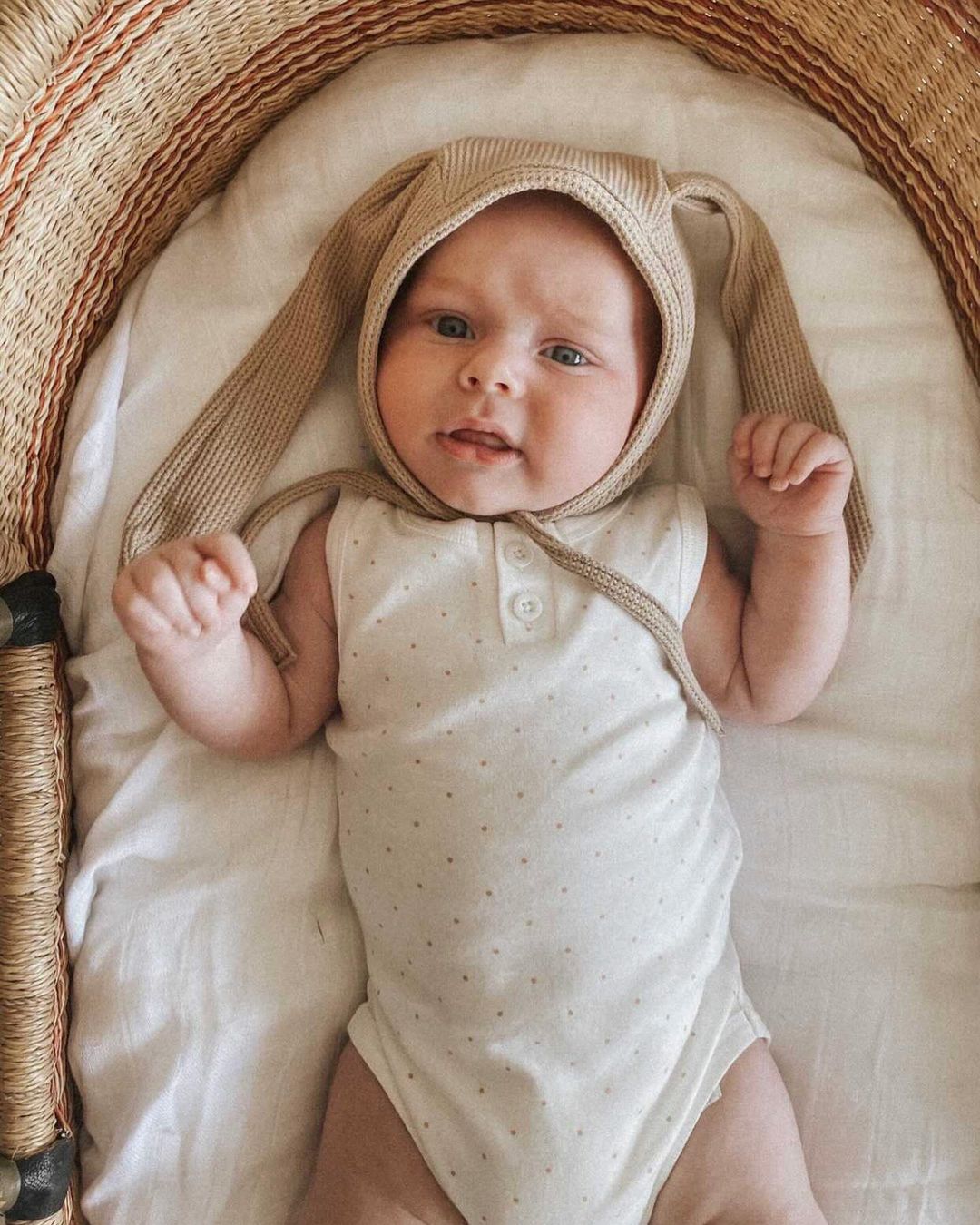 Little one not quite sitting on their own yet?
Throw them into a nice, neutral spring-y onesie, tie these super cute and soft bunny ears on them and let them relax in their bassinet (or, in this case, a super aesthetic Moses basket, if you have one!)
You'll need:
a bassinet, woven changing basket, or Moses basket
a neutral white onesie
Freshly Hatched Photo Idea
How cheeky is this adorable little freshly hatched photo idea for baby's first Easter!?
To recreate this photo yourself, grab a carton of brown eggs, give one a crack, and position it around baby, then have your significant other snap a quick photo.
You'll need:
a brown egg
a fluffy white blanket
a light brown baby blanket
Flopsy Bunny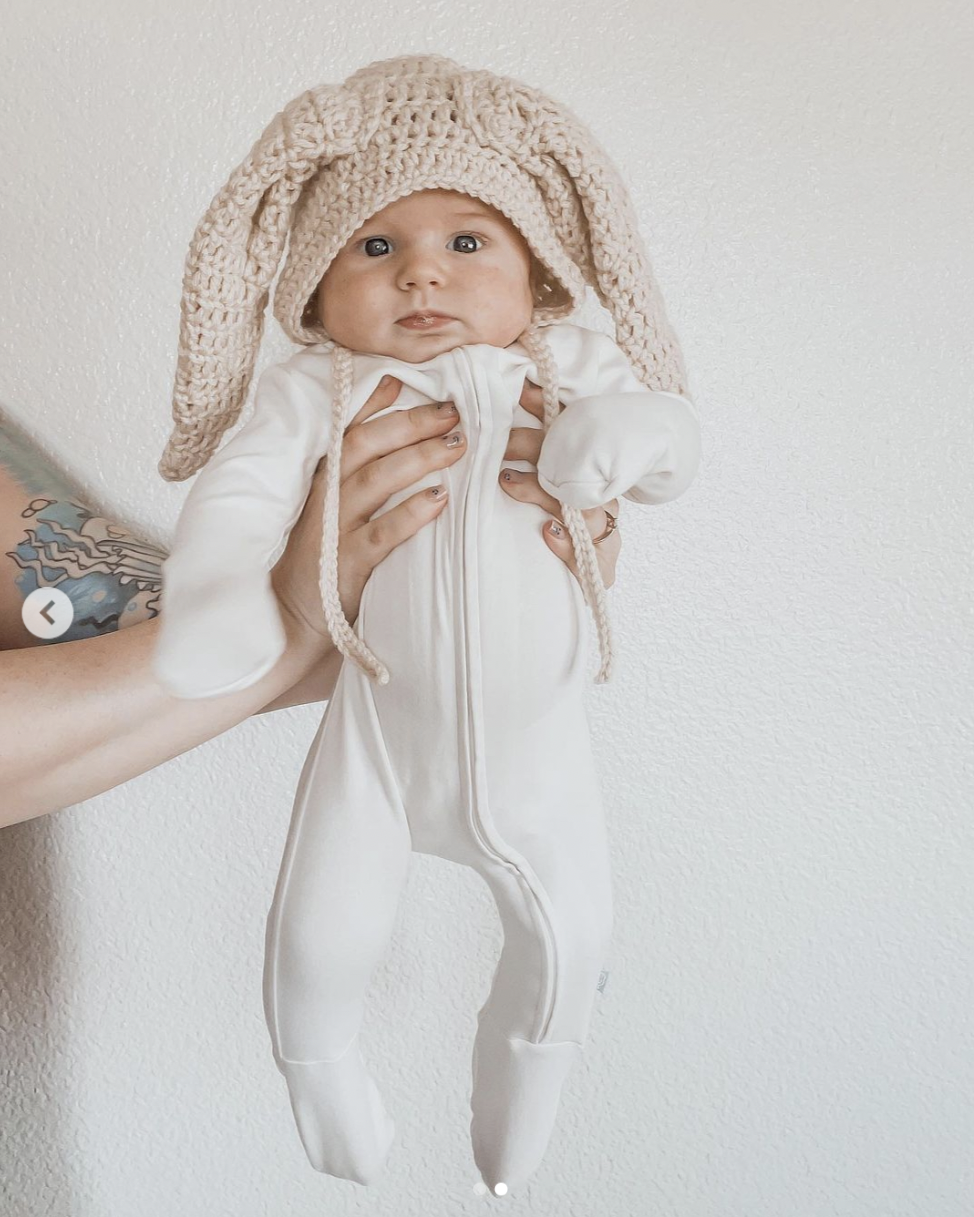 This modern, minimalist photo idea is super easy to achieve – you'll just need to hold your little one out in front of a neutral wall.
For the best results, you'll want to aim for a day that's somewhat overcast – a bright, sunny day will cast too harsh of shadows on your photo.
Grab baby under their armpits, hold them away from your body and have someone stand a few feet back and snap the pic.
You'll need:
Sweet & Simple Baby's First Easter Photo Idea
Capture that special calm you felt in your little one's nursery by sitting them up on the glider in their nursery with a simple Easter outfit – easy peasy!
You'll need:
Bunny In A Bassinet
For this cute first Easter photo, snuggle a little baby bunny stuffy and a carrot toy into your bassinet or changing basket with your babe and snap a quick photo. Bonus points for including a cute Easter-themed outfit!
You'll need:
a white outfit with embroidered bunny
bunny ears beanie
Easter Jammies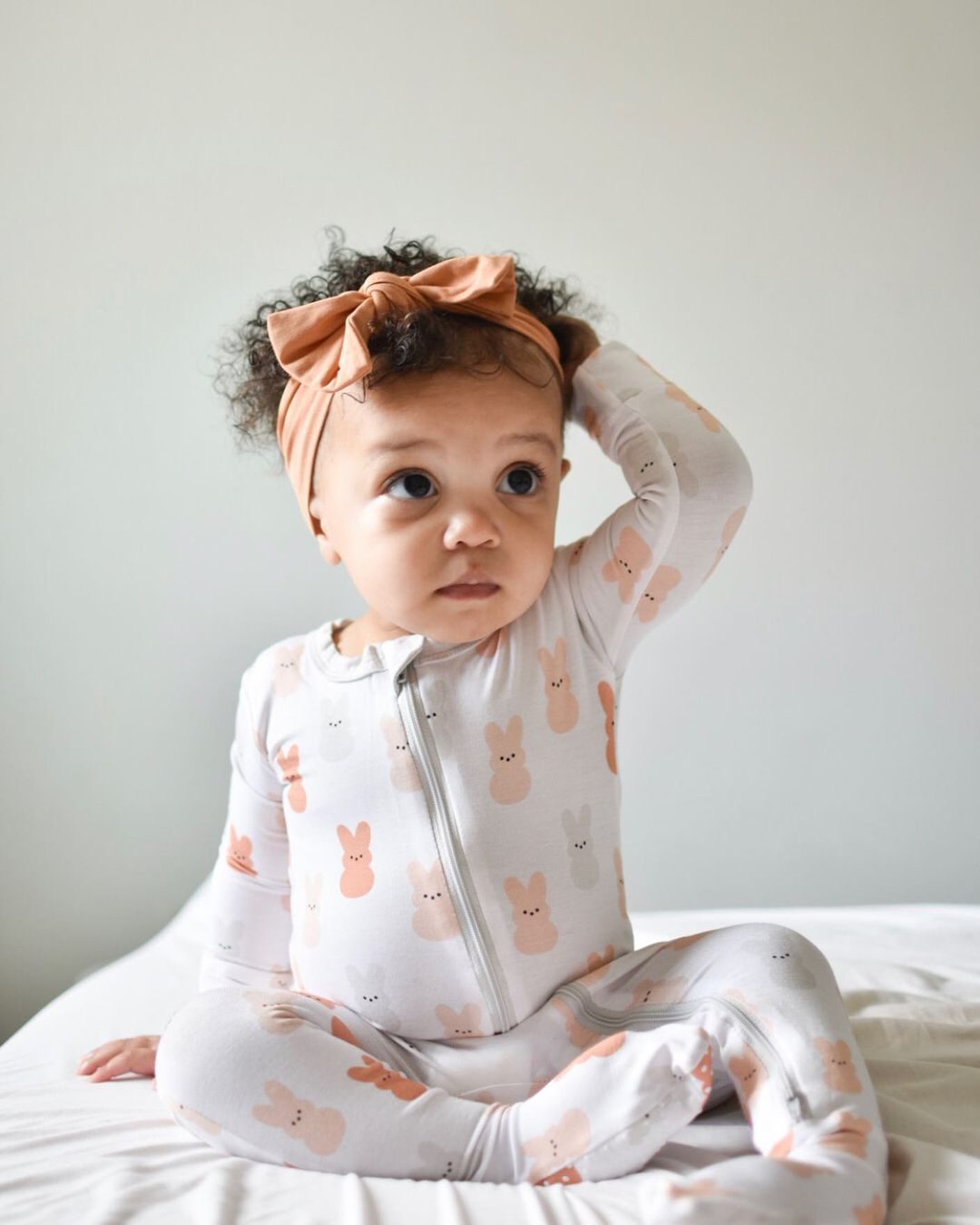 Looking for the easiest photo idea here? Get your little babe into their special Easter jammies after bath time, sit them up on the bed and take a quick photo.
You'll need:
Easter pajamas
hair bow (optional)
Bunny In The Buff
You'll need:
pompom bunny tail
bunny ears headband
plastic Easter eggs
Minimalist Baby's First Easter Photo Idea
You'll need:
a plain wall with natural light
Baby's First Easter Milestone Card Photo Idea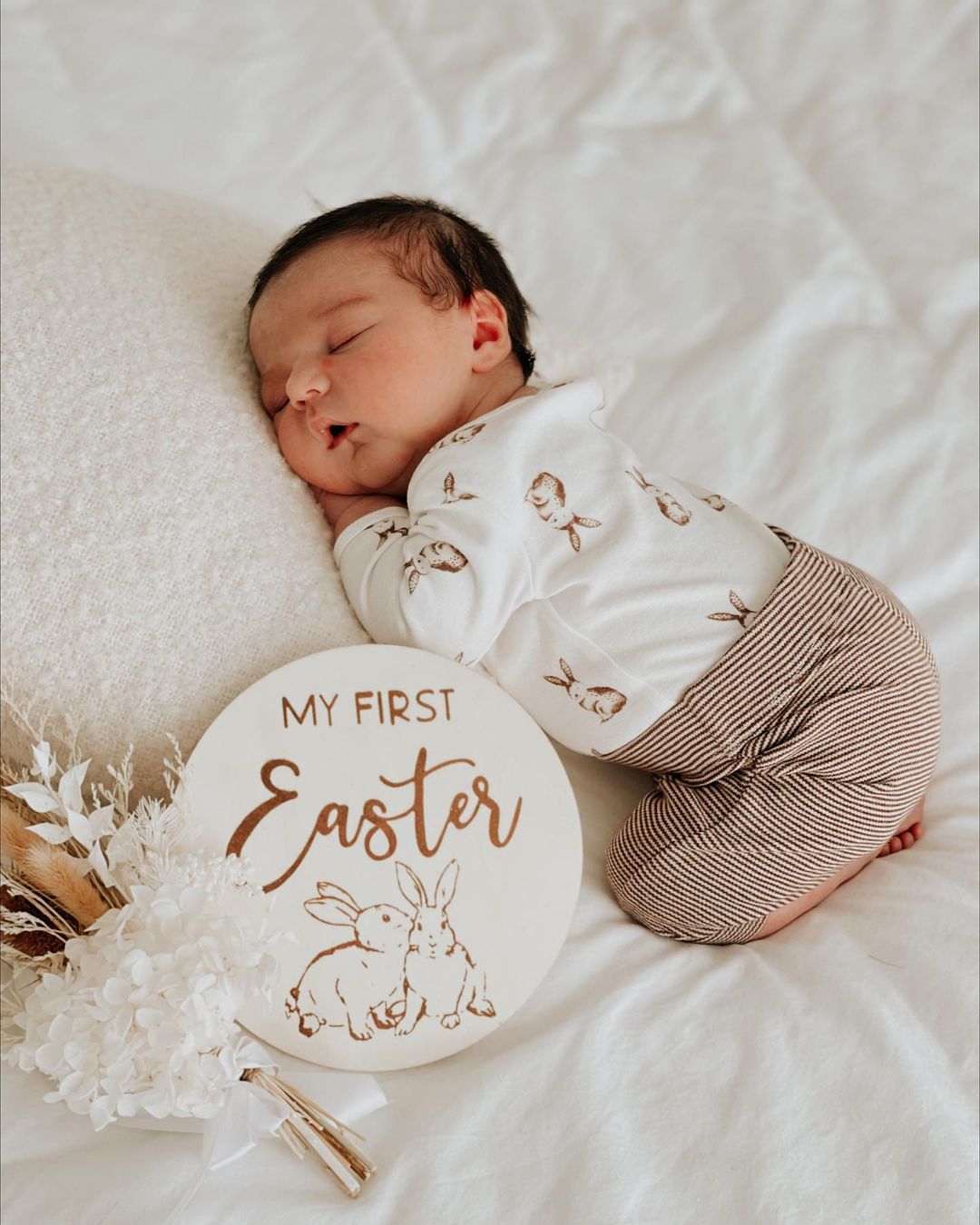 You'll need:
bunny onesie
matching pants
Shop

Crochet Baby Bunny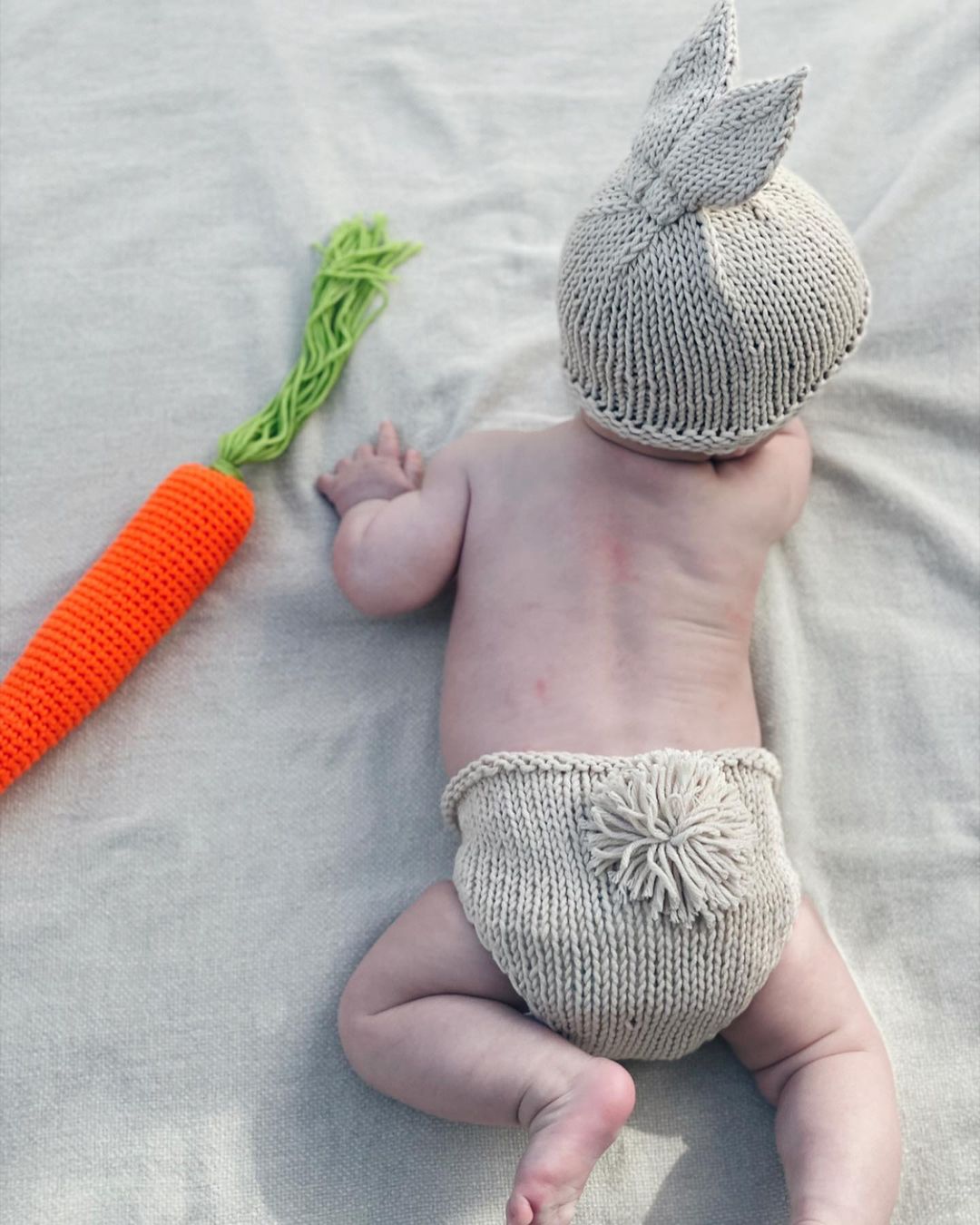 While you won't quite capture baby's face or expression with this photo idea, it's super simple and sweet nonetheless.
Simply get baby into their little Easter outfit, lay them on their belly for some tummy time, and snap your shot!
Baby's First Easter Photo Ideas – TL;DR
It's no secret that mom life is crazy busy, but in the midst of all the chaos, it's so important to try and find some time to slow down and record some of those precious ages and stages.
From baby bunnies to adorable Easter eggs – there's no shortage of cute ways to easily capture some special memories to last forever.
So, don't forget to get those cameras ready this Easter Sunday and let the creative photo ideas flow!
Bookmark for Later
35+ *Super Cute* Easter Basket Ideas for 2 Year Olds
29+ *Ridiculously Cute* Baby's First Christmas Photo Ideas (That You Can DIY!)