This post contains affiliate links.
The ultimate list of the *very best* gifts for 2 year old boys –
Coming at you from 3 different toddler boy moms (Isabelle, Christal & me, Brooke), here's all the stuff we've bought that our little boys – between 18 months and 3 years old – can not stop playing with!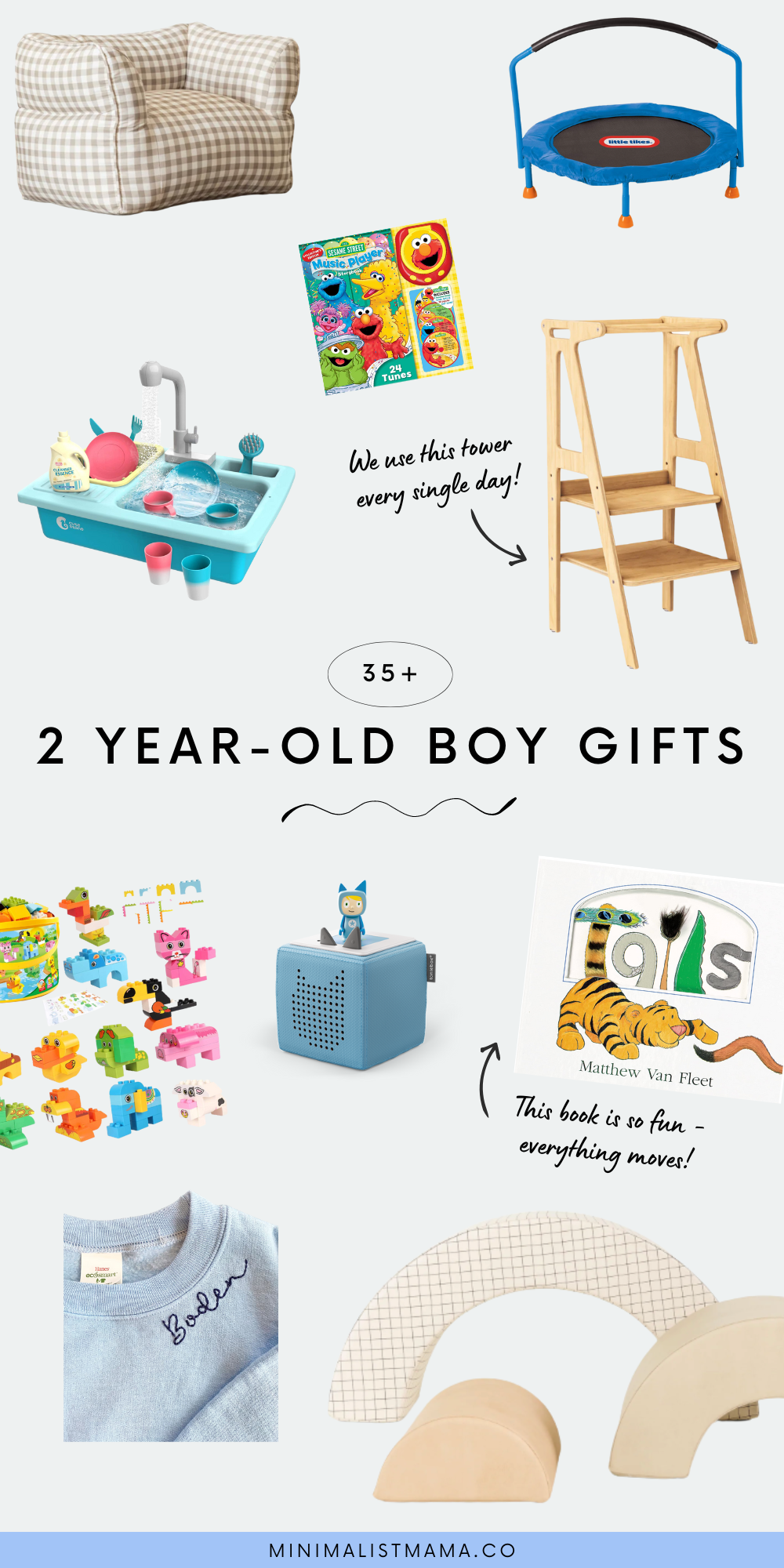 Searching for that *perfect* gift for anyone can be so difficult, and toddler boys are no exception.
I always find myself searching for great gift ideas that will make his little face light up with joy when he unwraps it, but also something that he can continue to enjoy long-term.
It can be a lot to think about – and although we all know it's not all about the gifts, it's so darn fun to get them something they love.
So, today, I am sharing my very own mega-list of awesome *tested and proven* gifts for 2 year old boys – yes, I have *actually* purchased almost every one of these toys and set my 23-month old son loose on them! If I had not purchased them myself, they are items that he has been *glued* to at either our friends' or family's homes.
In sharing this list, I've organized the toys and gifts by price point. You can either jump to a specific section using the links below, or read through the list in its entirety.
Either way – let's dive into this *GREAT* little list of gifts for 2 year old boys –
Gifts for 2 Year Old Boys Under $50
Raffi Song Book Set
Singing helps toddlers develop language skills! You may find they bring you these books over and over again to sing the songs in this Raffi book set. Even if you're not a big singer, or you're worried you don't know the tune, these books have a great rhyming pattern that you can speak instead of sing. Board books are a fun way to introduce little ones to the world of reading and song.
Raffi Song Book Set
Wooden Puzzles
Simple wooden puzzles are popular for a reason, they can help toddlers develop finger strength, problem solving and perseverance. Not to mention they're adorable and fun!
Grinnie Wooden Puzzles
Sesame Street Music Player Book
Sesame Street is known for its incredible puppets and educational programming. This music playing book allows toddlers to listen to their favorite songs and learn basic numbers, words and more.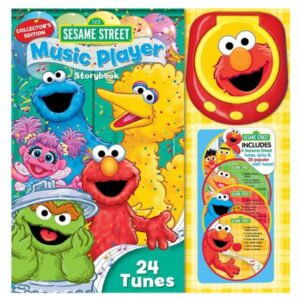 Sesame Street Music Player Book
Hand Puppets
High-quality, realistic puppets are great for so many reasons. They are excellent for pretend play as well as fine motor skills development. This cute safari animal hand puppet will not only entertain your toddler for hours, but as they get older they will enjoy taking a turn making the animals clap, sing, and dance. Puppets are perfect for making stories and songs come to life!
Melissa & Doug Hand Puppets
Play Food
Did you know play food can help with picky eating? I think almost every toddler parent is excited to hear that! Learning what foods are and seeing what they look like in a zero-pressure environment can help decrease fear and unease at mealtime. Pretend play food is also a good toy for developing a strong imagination. Pretend to cook up something yummy and feed it to the family!
Melissa & Doug Play Food
Crawl Tunnel
Get your wiggles out with a crawl tunnel. The best part of all, is that crawl tunnels are totally collapsible and store away very easily. This type of toy makes the perfect addition to a homemade fort and kids of all ages love using them. If you have older siblings, they'll be entertained right alongside your toddler. You're going to have the coolest house on the block with one of these.
Sunny Days Entertainment Crawl Tube
Wooden Instrument Set
Want a toy that can encourage your toddler's self expression? Musical instruments help build a toddler's sensory development and have been shown to boost brain development! This set of wooden instruments has a nice variety of great options to try out.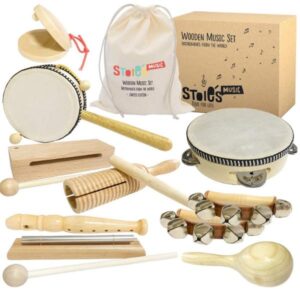 Stoie's Instrument Set
Little Tykes Trampoline
How perfect is a trampoline for an energetic little toddler? This Little Tykes trampoline is perfect for indoor play and the bar is a must for extra support! This is sure to be a hit for your little man – and the extra energy he expends while jumping will make for an extra sweet nap time!
Little Tykes Trampoline
Animal Duplo
Any type of building blocks are always a fan-favorite in my house. There's a reason these sets are such great toddler toys. The large building bricks in this set are age-appropriate for a toddler and the cute little animals will be fun to build over and over again.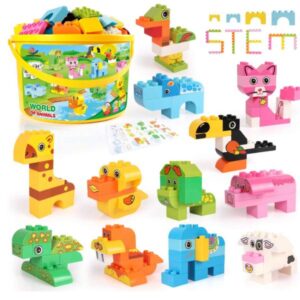 Duplo Animal Set
Battat Farm Set
I am such a supporter of pretend play. There is simply nothing better than sitting back and watching your little one pretend and explore their world through play. This farm set would be an amazing way to encourage that kind of play with your child while also teaching him about animals and farming!
Battat Farm Set
Tails Book
Reading just got a whole lot more fun for that busy toddler boy! This book includes engaging lift-tabs, liftable flaps, sensory fur to touch, and even scratch and sniff areas! Every page has colorful animals that little kids love. Your toddler will definitely be captivated and entertained by this fun book!
Tails Board Book by Matthew VanFleet
Gifts for 2 Year Old Boys
Under $100
Fire Station Wooden Doll House
This fire station house is going to grow with your toddler for years. It's the type of toy that encourages imagination and curiosity. It comes with a fire rescue helicopter, wooden fire truck, and some figurines like a fire fighter and even a dalmatian.
Hape Fire Station Doll House
Wooden Train Set
Choo choo! Here comes the train set! This classic toy is perfect for toddlers who love things that GO and are starting to do some open-ended play. Build a new track again and again with this set of high quality tracks from BRIO, one of the best train track companies on the market. Even if you don't have a big train table, any flat surface will work for these awesome tracks.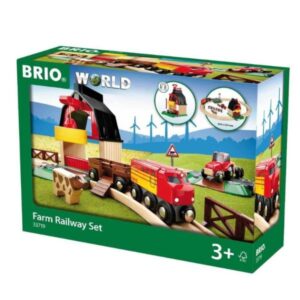 Brio Wooden Train Set
Foam Ball Pit
Ball pits are great for tactile stimulation and even relaxation. Toddlers can have a safe space to 'splash' and throw. They can use their imagination as well to pretend they are swimming and hiding. A sturdy foam ball pit like this will last a long time and offer good support and structure.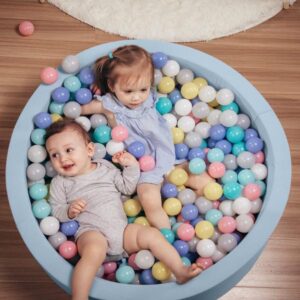 Hofish Foam Ball Pit
Toddler Piano
This toddler piano from Melissa and Doug has real keys, it's not just an electric keyboard like most competitors on the market. It has a pleasant sound and it's a good quality product. Toddlers as young as one or two years old will enjoy playing around and making sounds with their fingers. Older toddlers can begin to learn all about notes and music with this fun instrument.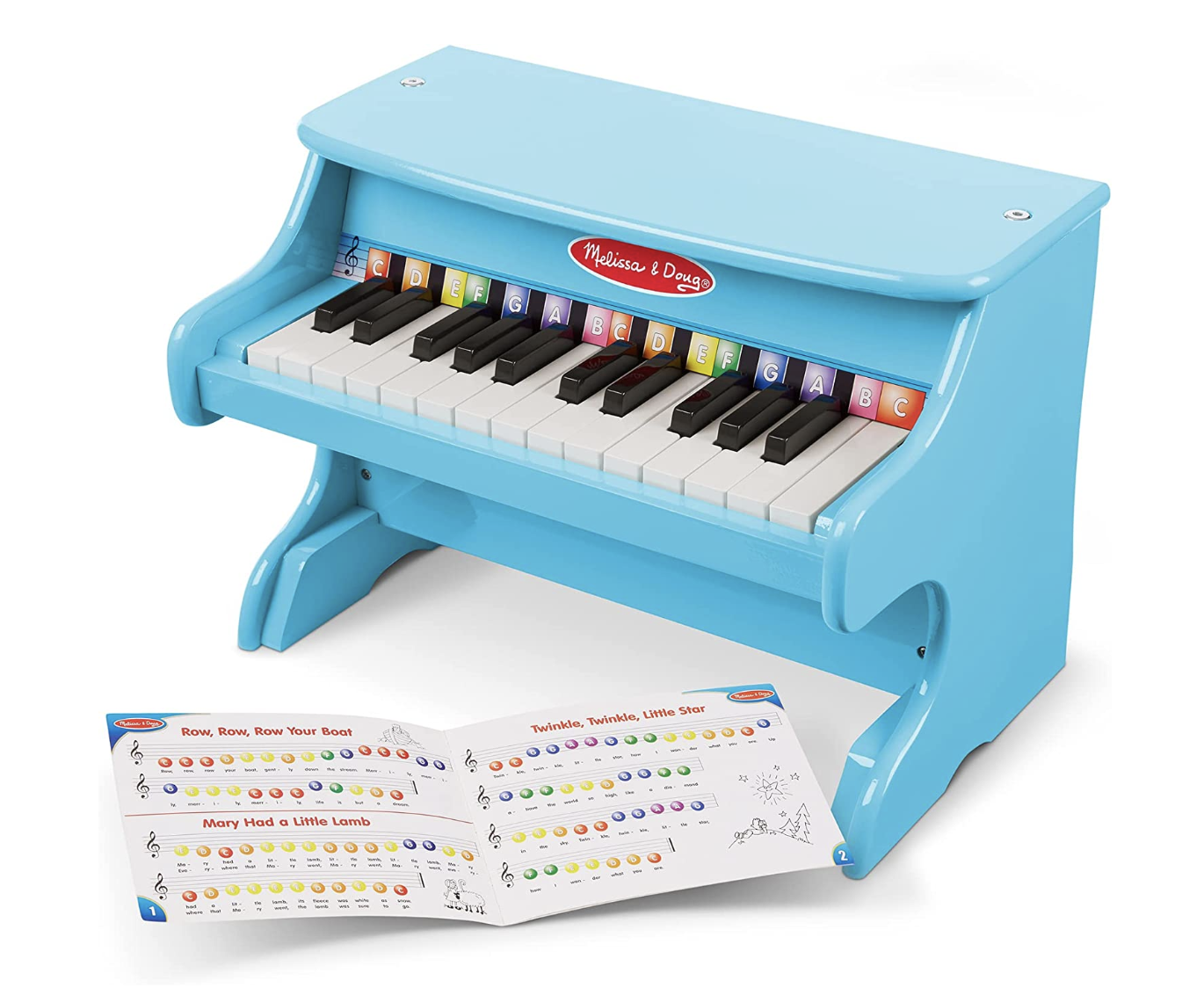 Melissa & Doug Toy Piano
Cozy Coupe
A classic must-have toy for all toddlers is a self-propelled car toy. It's great for strengthening gross motor skills. Making it even more suitable for your little boy is the fact that this one is a truck! Bigger wheels, a tailgate, and a realistic sounding horn, will make this cute little Cozy Truck a hit!
Little Tykes Cozy Coupe Truck
Wood Cleaning Supplies
Cleaning only becomes boring when it's real and your little guy will have so much fun pretending with these wooden cleaning supplies! Not only are they great for imaginative play, but they are so dang cute too!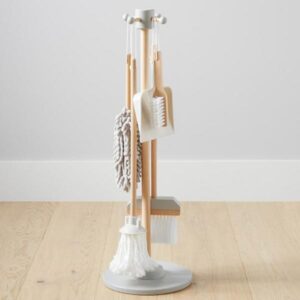 Pottery Barn Cleaning Toys
Wooden Shopping Cart
I love this wooden shopping cart and its soft fabric basket. Pretending to go shopping, just pushing it around the house, or loading it up with plastic dinosaurs, this shopping cart is such a great toy that will surely get a lot of use!
Pottery Barn Toy Shopping Cart
Personalized Sweatshirt
I can't get over how cute and simple these sweatshirts are! Not only is a personalized piece one of the most *thoughtful* gifts you could give, but it's such a great way for the little one in your life to start seeing and learning their own name. This is the kind of keepsake that you can bet Mama will cherish forever!
Fox Knoll Co Personalized Sweatshirt
Name Puzzle
Simple, cute, and a great way for your toddler to start exploring the letters in his name. I also love that there are handles on each letter making it easier for his little hands to manipulate each piece! Even older kids like these puzzles because they are learning how to write or trace their name.
Busy Puzzle Personalized Name Puzzle
Gifts for 2 Year Old Boys
Under $250
Canvas Playhouse
It's true! You can fit a whole playhouse in your home with this canvas toddler tent! No overwhelming colors to distract from playtime or clash with your color scheme. It even packs away neatly into its own suitcase. Is it a club house, a cave, or a train station? You're going to get hours of imaginative play out of this gift!
Razee Canvas Playhouse
Personalized Heirloom Sweatshirt
This hand-knit sweatshirt is beautifully made, and one of the most precious gifts you could give to that little one in your life.
Personalized Knits Heirloom Sweatshirt
Magna-Tiles
Did you know Magna-Tiles can help develop child's spatial awareness and motor planning skills? They're also so incredibly fun to play with! With a nice big set like this, there is room for unlimited entertainment. You can create towers, castles, animals and so much more.
Magna-Tiles 100 Piece Set
Wooden Tool Bench
Does your toddler boy want to be just like Dad? Get him his own set of play tools and a workbench. Pretend play is fun when it mimics real life. He can 'fix' his toys and take little cars to the mechanic with this cool set. This type of toy can really help parents engage with their toddlers during play time.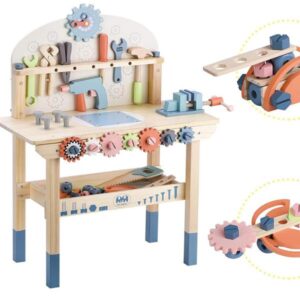 Toywoo Tool Bench Set
LovEvery Play Kit
This box is packed full of engaging and independent activities for your little guy to explore. Every activity is designed to support your child's budding independence and we all know just how much they like to do on their own!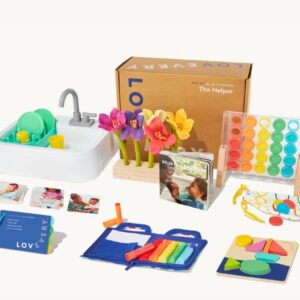 LovEvery Play Kit
Toniebox
This audio player for kids is the perfect screen-free technology for your little one! Listen to bedtime stories, music, and educational activities in a way that sparks your child's imagination without the over-stimulation of screen time! It's a fun educational toy that makes for a perfect present.
Toniebox Audio Player Starter Set
Wooden Balance Beams
What toddler wouldn't love these simplistic wooden balance beams? Climbing, balancing, and jumping, your toddler will have so much fun with these!
All Circles Balance Beam
Gingham Chair
I can't even with this chair – it is SO cute! Your toddler will enjoy TV time, quiet play, or reading books in this adorable chair just his size. And you won't mind having it in your living room either!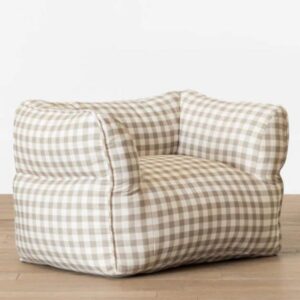 McGee & Co Gingham Chair
Anywhere Chair
The tried and true kids chair is the Anywhere Chair by Pottery Barn. Lightweight, easy to move, and a cozy sherpa cover will make this chair a toddler and mama favorite. Also worth noting is the sherpa cover is removable and machine-washable, a true must when having a messy toddler.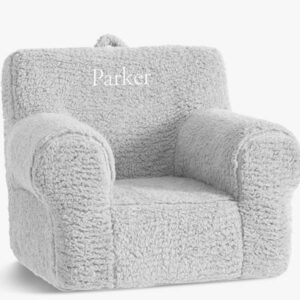 Pottery Barn Anywhere Chair
Gifts Under $500
Play Kitchen
Play kitchens are almost always a hit and a toy that will be frequently played with. This Pottery Barn play kitchen is not only neutral and beautiful but will be the perfect place for little boys to whip up so many delicious meals. Toddlers are still learning a lot about the world around them every day and a play kitchen gives them a spot to practise what they see their parents doing – cooking!
Pottery Barn Play Kitchen
Wooden Climber
This toy will last for years in your home and your little one will continue to love it as he grows. There are so many ways that this can be played with – many I'm sure that only toddler boys can come up with.
The Tot Wooden Climber
Pikler Triangle
If you have an active toddler this toy is for you and him. It's a versatile climbing toy that allows toddlers to climb, slide, and create their own active fun! It's the perfect size for an indoor playroom and a must-have item in any Montessori-style home.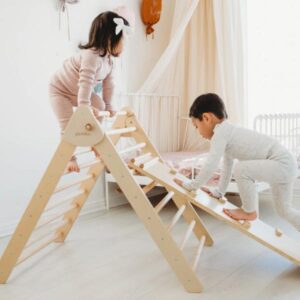 Piccalio Pikler Triangle
Nugget Couch
I'm sure you've seen the Nugget couches on Social Media and they truly are all they are cracked up to be. Forts, slides, tunnels, cozy nest for reading, these couches are so much more than just a place to sit. Your toddler will get years of use out of this toy!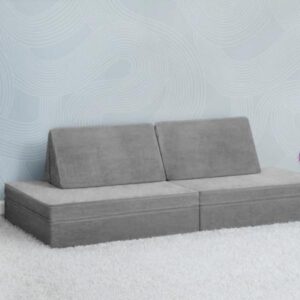 Nugget Play Couch
Arc Foam Block Set
Climb, tumble and rock with this fantastic arc foam block set. Not only is this the perfect toddler gift they will enjoy for years to come, but it also looks beautiful. Hands down, this will easily become one of your toddler's favorite toys. This giant foam block set also pairs really well with the Nugget Play Couch on this list!
Gathre Arc Foam Block Set
Wood Slide
So much fun will be had on this wooden indoor slide! Sliding, climbing, and fort-making are just a few ways your little guy can interact with this fun toy! It's much more durable than some of the plastic slides out there, which make it safer for big kids in your household too.
The Tot Wood Slide
Learning Tower
Toddlers are SO curious and helping out in the kitchen is always an activity that they love. The Oslo Learning Tower makes helpful kitchen toddlers safe and at the perfect height for countertop activities. Allowing them to be a part of their surroundings is such a gift that your child will love! Toddler towers can also be a good place for kids to eat a snack when they outgrow their high chair and they can even help curb picky eating. Sounds like a big win.
Audwell Learning Tower
Which Gifts for 2 Year Old Boys Would Your Little One Love?
There are so many great options on this list that will suit your needs. Sentimental toddler boy gifts, toys that help encourage fine and gross motor skill development, and plenty of toys that are just so much fun! Toddlerhood is a wild time for most parents and having the right toys around can help make life a lot more fun and engaging.
I hope you found the absolute perfect gift for you toddler boy on this list. Whether you're new parents searching for ideas, or you have a toddler in your life that you need the ideal gift for, I'm sure this gift guide has something perfect for you.
More than anything I hope you get to watch as your little boy's face lights up with joy when he opens the gift you thought so hard about – because that's what it's really all about, isn't it?