This post contains affiliate links.

Your little one's first year is one of the most special year of their entire lives.
Full of wonder, love and many, many, sleepless nights, it's no doubt that those first 365 days are something to celebrate.
But, besides choosing a theme, a cake, and putting together the guest list – one of the most important choices to make is how to decorate your little one's high chair.
So, today, I've put together a whole collection of my favorite first birthday high chair decoration ideas to get you inspired and ready to celebrate that little babe in style!
Let's hop to it –
The Cutest First Birthday High Chair Decoration Ideas
01. Tassel Garland

I love these cute handmade high chair garlands that you can have customized to match the theme of your little one's party. Simple and classic, they work brilliantly with any theme, and add a sweet touch of whimsy.
Have a floating shelf in your little's nursery? Once the party's over, hang your custom garland from the shelf for a fun keepsake from the celebration.
02. High Chair Balloon Garland
If there's one thing that's for sure, it's that balloon garlands are in.
They are in.
So, what better spot to garland than your baby's high chair on their special day?
Opt for the DIY option that will only require a few balloons, glue dots, and garland tape, (oh, and some patience), or do a search for a local balloon artist that will customize and deliver the garland to you at home.
03. One Banner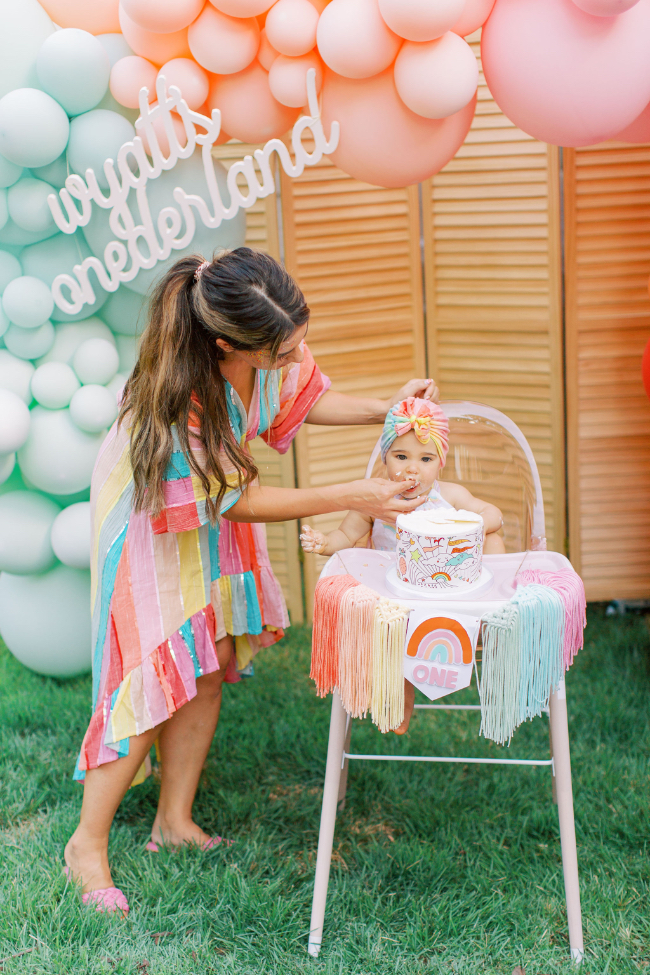 04. Classic Triangle Bunting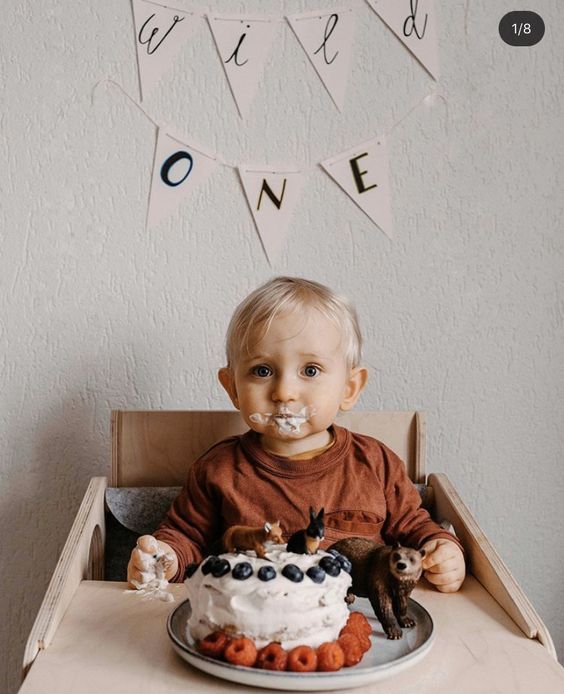 05. Felt Pom Pom Garland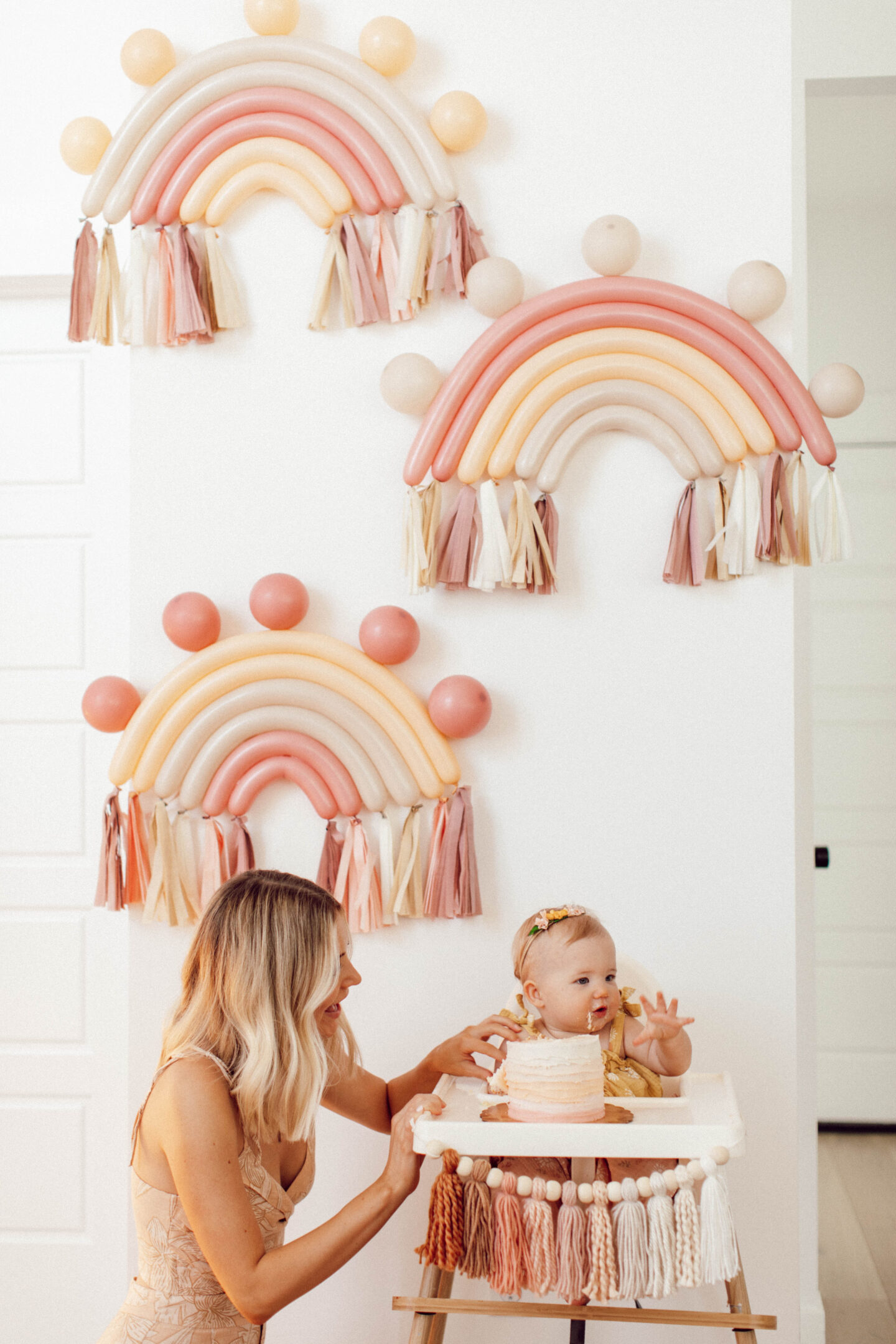 These adorable custom felt garlands are another cute first birthday high chair decoration idea.
Whether you opt for the classic pom garland, or something more elaborate like this daisy pompom garland, you really can't go wrong!
06. Eucalyptus Swag
A simple eucalyptus garland is a great way to add a sweet, earthy touch to your little one's first birthday photos and looks adorable with a classic wooden high chair.
07. Floral Swag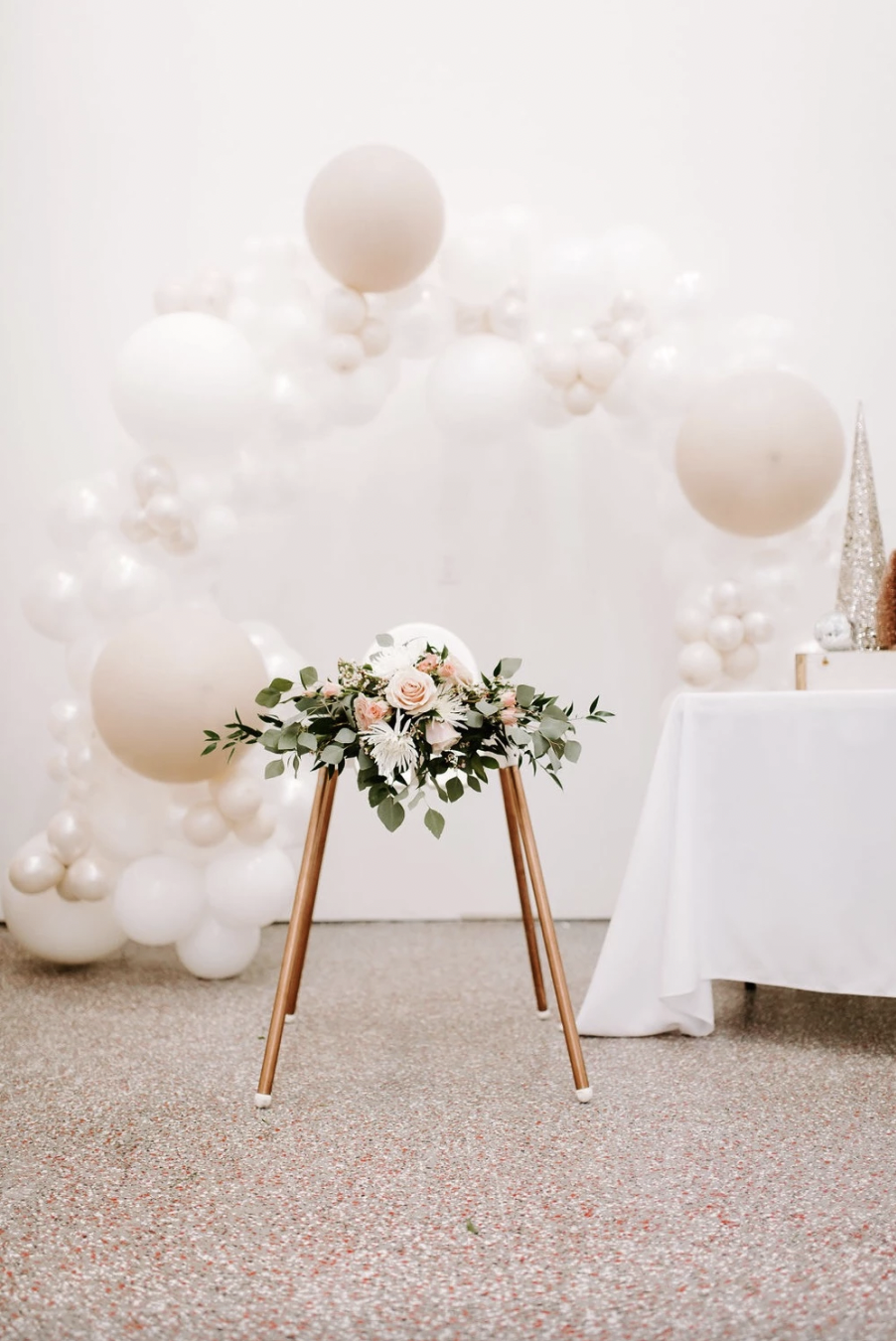 Looking for a pretty, natural way to dress up your little one's high chair to celebrate their first year?
A fresh floral swag from your local florist – like this one that includes silver dollar eucalyptus, Italian ruscus and roses – is a really gorgeous option that can really add a wow factor to your photographs.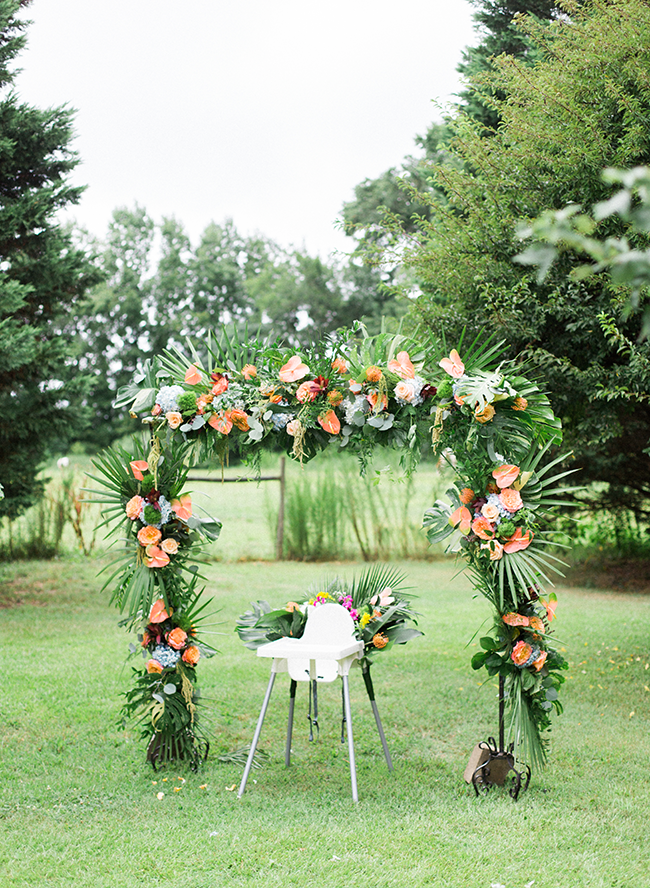 Or, take things totally tropical and attach a bold bouquet behind your child's chair for a totally unique backdrop.
08. Felt Name Banner
What better way to celebrate your little one's first birthday in style than with a custom made felt banner with their name on it?
This cute little banner that includes felt flowers and pompoms can also be hung in your babe's bedroom for year round decor, too.
09. Single Balloon
I love the classic whimsy of a single white balloon with ribbon, but you could definitely get creative with the type and color of balloon you use.
Just be sure to find somewhere locally that has helium so that your balloon will stay afloat on its own.
10. Number One Balloon
Next up, an alternative to the single round balloon – a foil number one balloon.
11. Balloon Arch
If there's one thing that's in right now, it's balloon arches.
The surprising part? They're actually pretty easy to DIY, and can be made a few days ahead of the celebration so you don't have to worry about the decor on the day of.
12. Wall Decal High Chair Backdrop
Ever seen a Notorious BIG-themed "big one"?
Well, today's the day.
Try dressing up your little sweetie's first birthday high chair set up with this cute vinyl sticker wall decal.
Or, this super sweet custom name wall decal, complete with race track flags, for a "Fast One" themed first birthday.
13. Paper Backdrop
This super cute and easy DIY backdrop is simply a large roll of paper decorated with black paint splatter, and a simple black paper banner.
Read Next:
✨ The 11+ Cutest, *Buttery-Soft* Bamboo Kid's Pajamas I'm Obsessed With
✨45+ Adorable Nursery Shelf Decor Ideas You Need To See
✨ 19+ *Stunning* Nursery Board and Batten, Wainscoting & Beadboard Ideas (2022)