This post contains affiliate links.

Searching for the most *picture perfect* nursery board and batten, wainscoting and beadboard ideas for your little babe's special space?
Besides choosing an eye-catching crib, and picking out some pretty wall decor (these are my favorite nursery wall shelf decor pieces) adding that extra design element –
like some darling wall paneling or trim –
is one of the easiest, and most impactful ways to really take your nursery from good to great.
So today, I've rounded up my very favorite nurseries that have completely hit the board and batten, wainscoting and beadboard trend out of the park. ⚾️
Let's dive in –
01.

Soft Grey Beadboard Nursery
This sweet, neutral nursery is made to feel about a hundred times cozier, thanks to the gorgeous beadboard detailing that extends half way up the wall.
Soft, organic wallpaper above the beadboard is the next-level detailing I wish I'd thought of when I was putting my son's nursery together.
Too gorgeous!
02.

Neutral Board and Batten Nursery Wall
Next up, this full wall of board and batten is painted out in Revere Pewter by Benjamin Moore, and topped off by three minimalist, contemporary animal prints.
Doesn't the tribal-inspired area rug just pull the whole look together?
03.

Vertical Board and Batten Nursery Wall
Looking for some simple, vertical board and batten inspiration?
Mama Lori pulled this simple but polished look together using 1″ by 3″ plywood, and makes the whole space pop with a few coats of Teton Blue by Behr.
For full nursery details and sources, check out Lori's Instagram highlight here.
04.

Neutral Wainscoting and Wallpaper Nursery Wall
Isn't Cruz a lucky little guy?
This adorable under the sea nursery comes to life thanks to three panels of wainscoting, and some super sweet sea life decals.
05.

Neutral Half Board and Batten Wall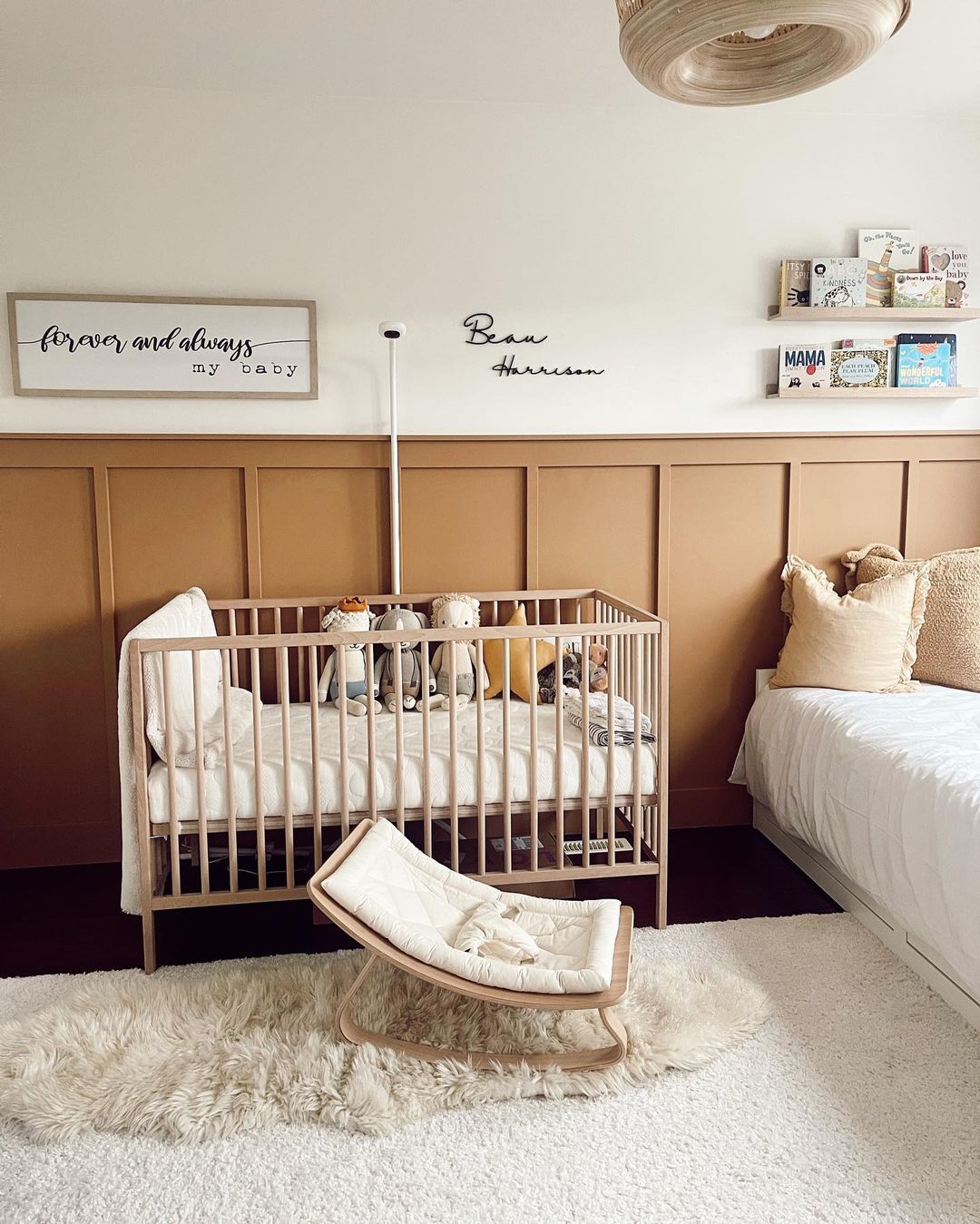 A mix of different trim pieces are used to get this half board and batten nursery wall look that I am 100% obsessed with.
06.

Soft Sage Beadboard Nursery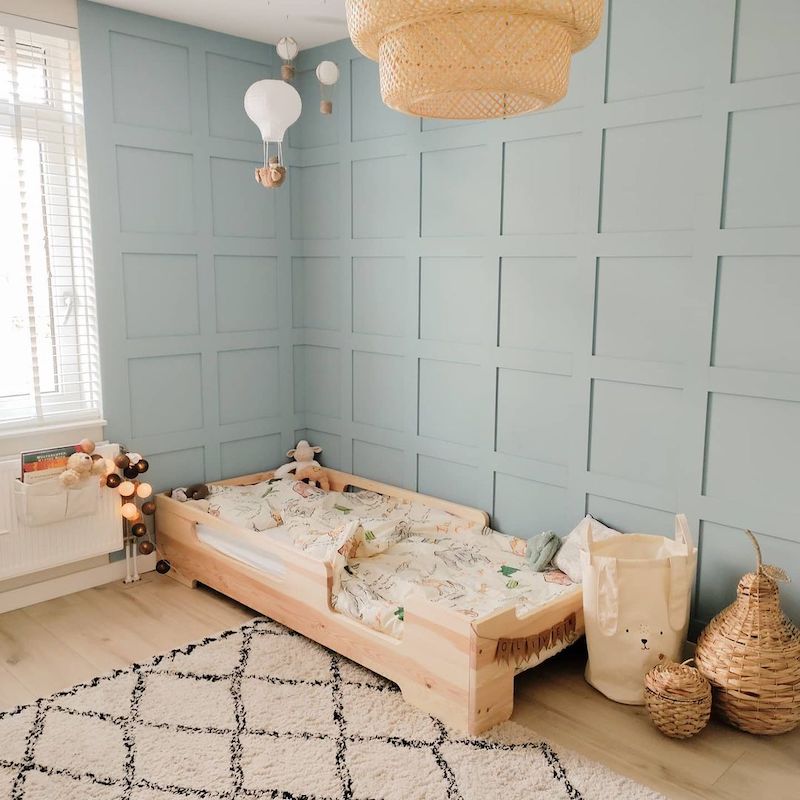 Wondering which wall to add your paneling to?
Think outside the box and consider taking the board and batten paneling past one wall for a totally unique look that is super interesting to the eye.
07.

Angular Board and Batten Nursery Wall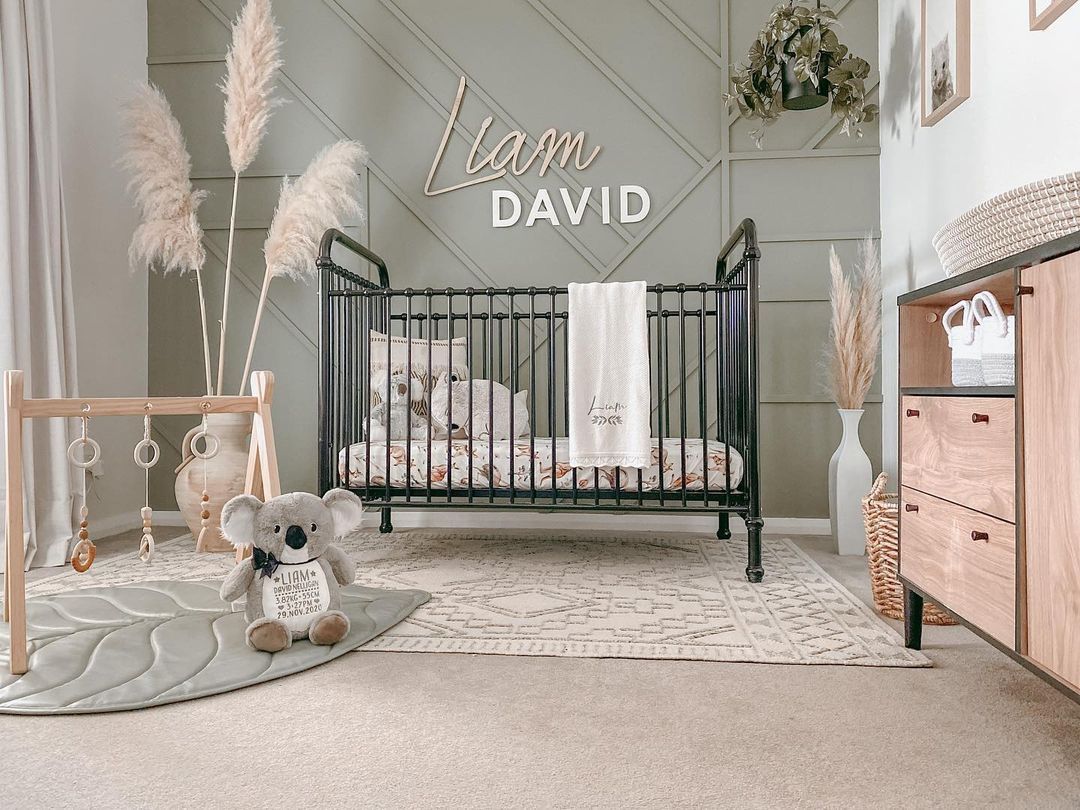 Searching for a funky, assymetrical board and batten nursery wall idea with some serious style?
Bookmark this stunning sage green board and batten design in little Liam's nursery!
08.

White on White Nursery Wainscoting Feature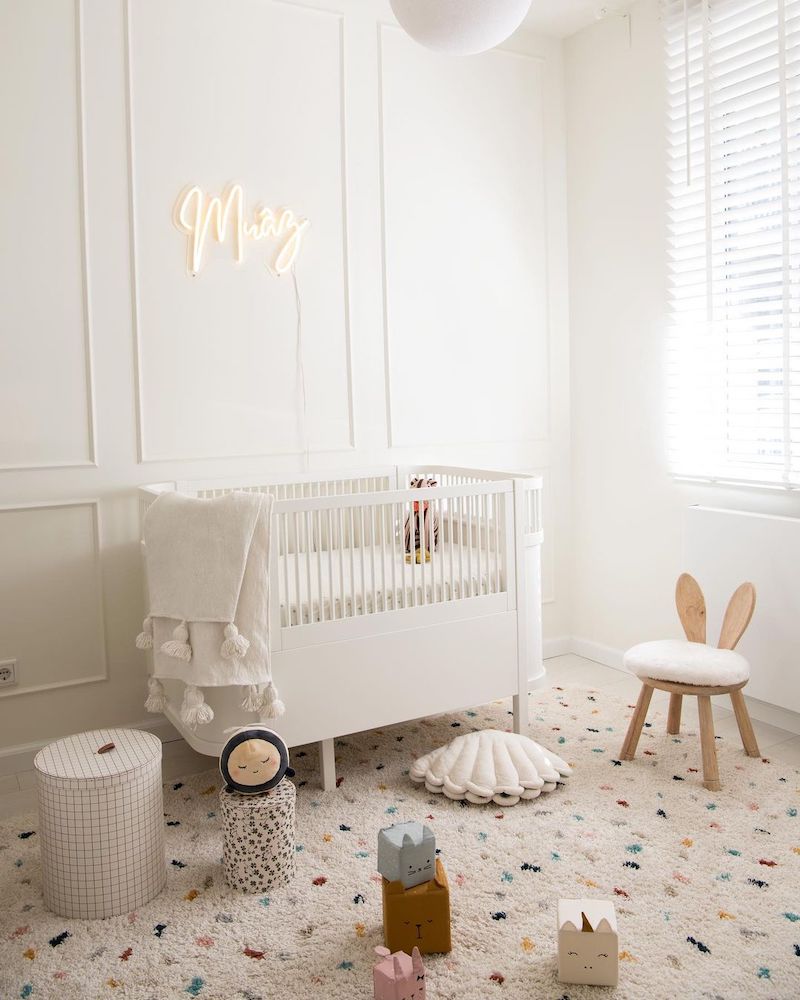 Put baby boy's name up in lights… in the middle of a classic but contemporary wainscoting design like this one by Sinem
(bonus – check out her feed to see how the space has transformed as her little one's grown up).
09.

Sage Green Board and Batten Nursery Wall
When it comes to adding vertical board and batten to your nursery, one of the first decisions you'll need to make is whether you'll want just vertical pieces, or if you'd also
This wall goes without the framing, which creates a bit more of an organic look (take a peek below for an example of a wall with the framed pieces).
Side note: for a killer color combo, consider mixing sage green with creams, whites and natural materials like wood and rattan.
10.

White Board and Batten Nursery Wall
If a sweet, custom name banner isn't the perfect finishing touch for this half board and batten nursery wall, what is?
11.

Neutral Half Shiplap Nursery Accent Wall with Ledge
Board and batten is great, but have you ever tried shiplap?
Half height vertical shiplap panels not only add dimension to the space, but create the perfect little shelf for little decor pieces, like this cute wooden bus.
12.

Classic Board and Batten Nursery with Pegs and Wallpaper
Looking for the perfect mix of traditional and modern?
Try using the same sized boards to create the board and batten panelling, adding wooden pegs, and a more ornate trim piece to cap it off.
Extend the panelling three quarters of the way up the wall, and top it off with a classic, whimsical wallpaper.
13.

Blue Board and Batten Wall for Baby Boy
Wondering if art works on top of board and batten?
You bet it does.
14.

Simple Single Wall Panel Nursery Detail
Want to draw the eye up, making the space feel bigger?
A single slim trim piece placed about a foot down from the top adds that extra touch, but is also a totally doable project that a tired mama-to-be could tackle in a weekend!
15.

Angled White Board and Batten Nursery Wall
A cute, personalized name banner looks so sweet on little Witten's board and batten nursery wall.
16.

Angled White Board and Batten Nursery Wall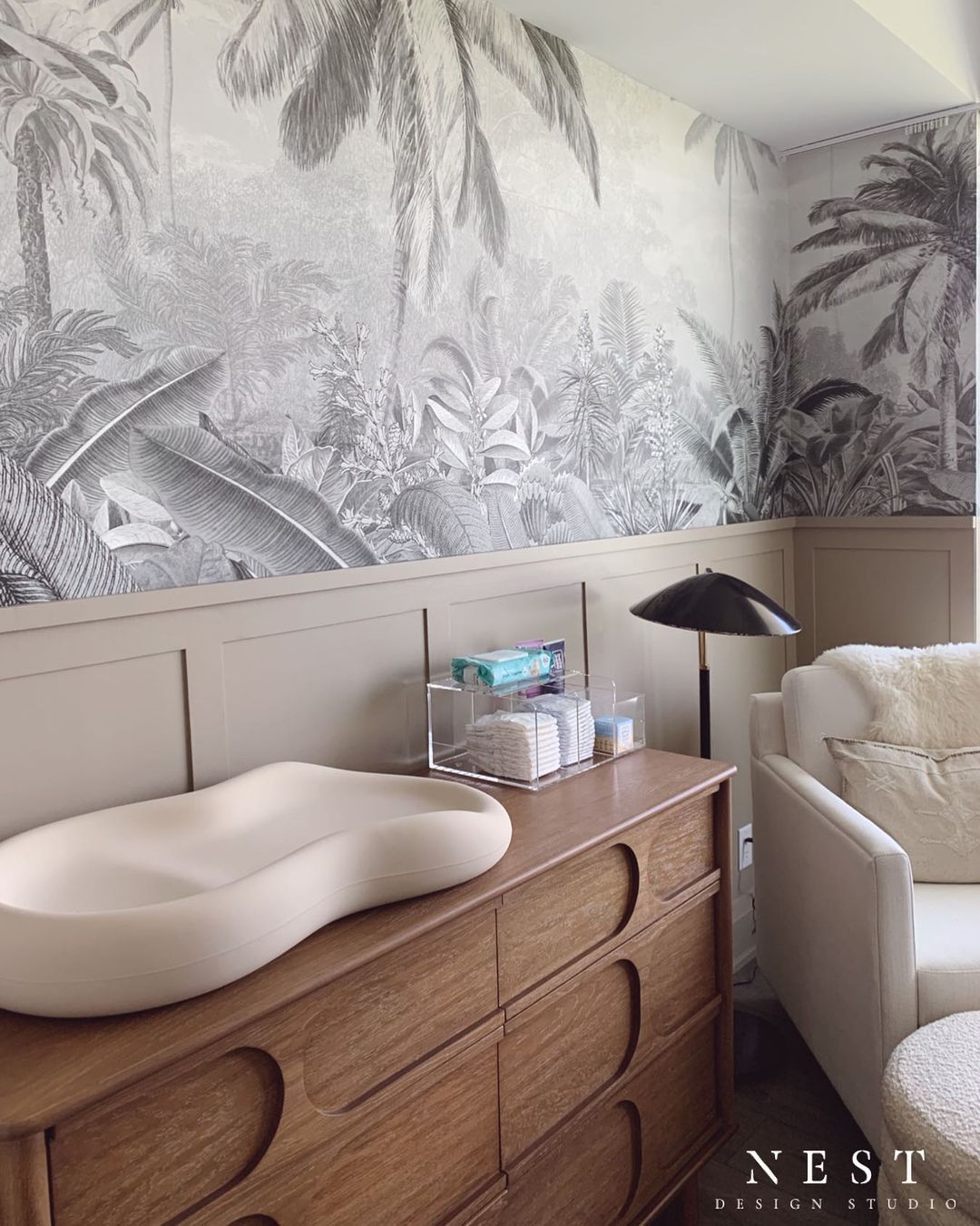 How good is this gorgeous, moody neutral nursery?
Recreate the look with a bold, black and white wallpaper on the top half of the wall, board and batten panelling on the bottom, and a small cap piece to separate the two elements.
16.

Taupe Beadboard Nursery Wall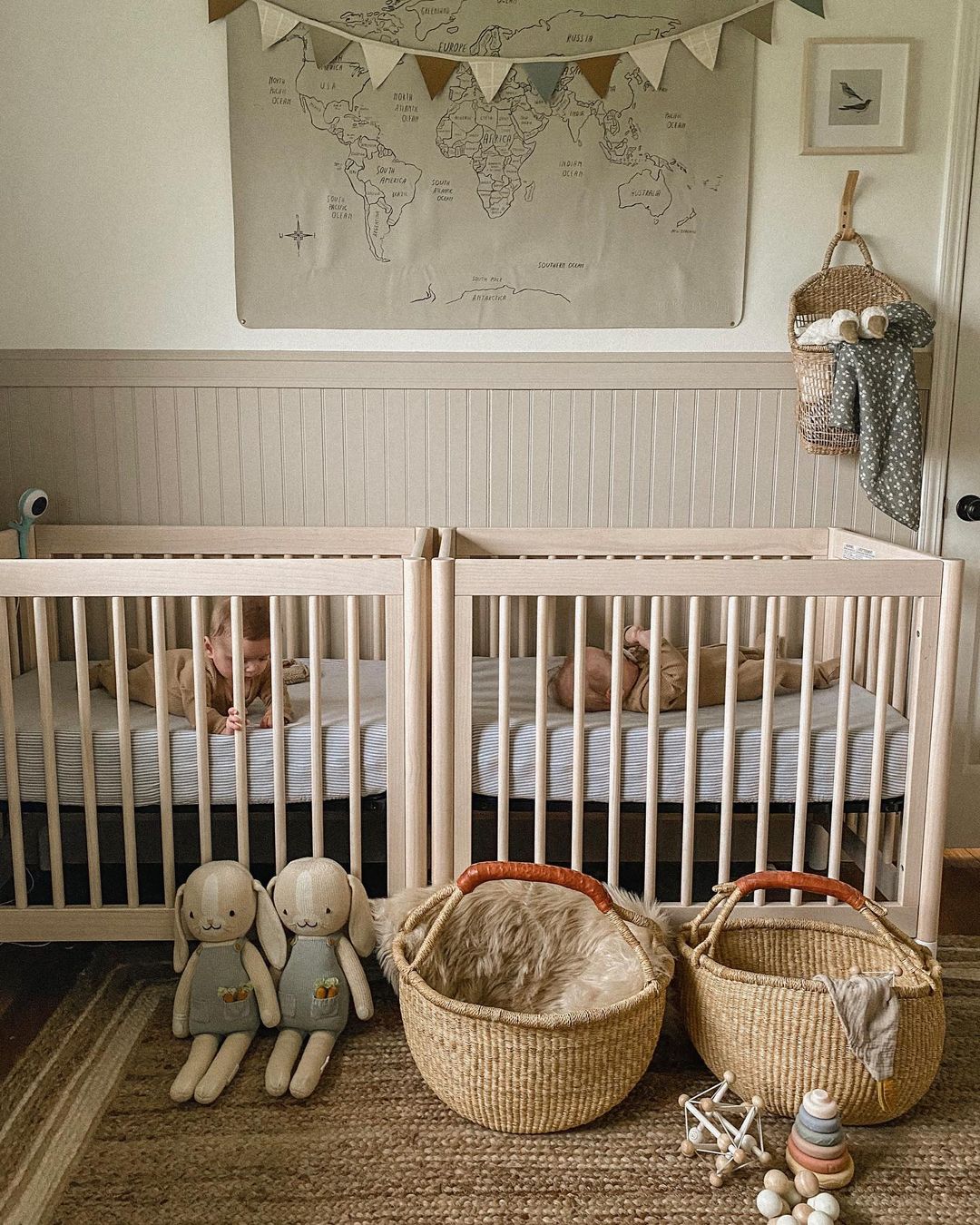 Maybe it's because my husband is a twin, but this one really got me.
Between the matching twin mini cribs, Cuddle and Kind bunnies, and wooden toys – I just can not with this sweet, gorgeous nursery and its charming beadboard detailing!
17. Sage Half Height Board and Batten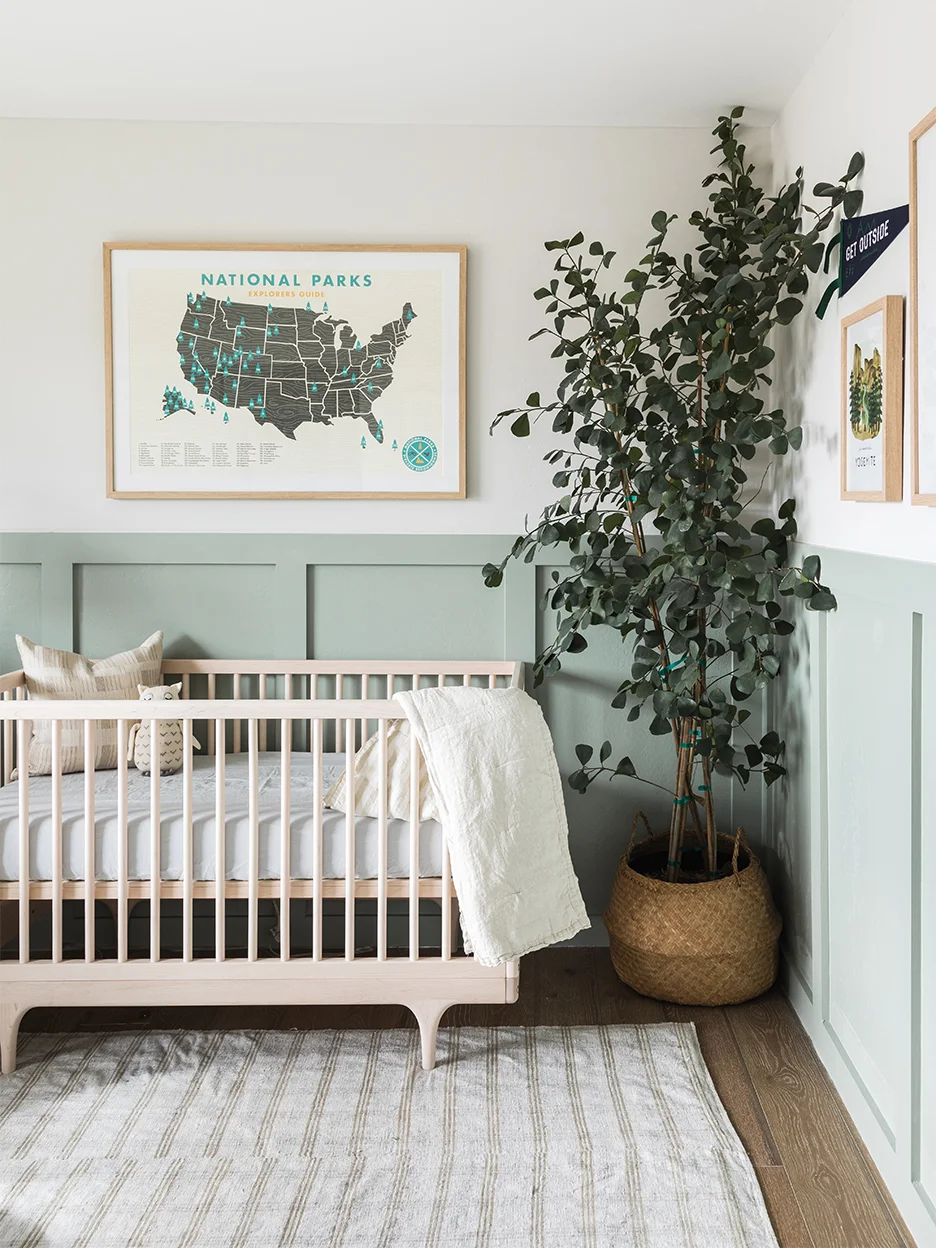 Board and Batten Nursery Ideas – TL;DR
And there you have it!
My very favorite nursery board and batten, wainscoting and beadboard design ideas for 2022 that are neutral, and on-trend.
Which one is your favorite?
Check out more of my favorite nursery inspo:
☁️ 27+ Jaw-Dropping Nursery Accent Walls I'm Swooning Over
☁️ 11+ Gorgeous, Practical Nursery Side Tables I Love (For *Every* Budget!)
☁️ 45+ Adorable Nursery Shelf Decor Ideas You Need To See
☁️ 19+ Simple Changing Table Essentials You're Definitely Gonna Need