This post contains affiliate links.

Besides planning how you're going to share the *incredible* news, a nursery theme and design is definitely one of the most exciting parts of early pregnancy.
Today, I've rounded up all of my favorite nursery accent walls – from wallpaper, to custom name keepsakes, simple paint treatments, and more.
Whether you're planning a little boy's nursery, a little girl's nursery, or – my gosh ❤️ – you've got twins, here's some pretty, modern, nursery accent wall inspiration to get your creative juices flowing.
Let's dive in –
01.

Dreamy Nursery Accent Wall with Neon Light

I absolutely love this gorgeous, neutral wallpaper and sweet light feature – a totally cool and whimsical vibe. The Babyletto Hudson crib looks so great with the grey tones of the clouds.
Get The Look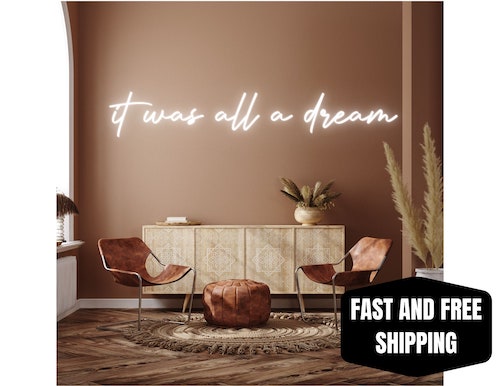 Etsy Custom Neon Sign
02.

Vertical Board and Batten Nursery Accent Wall

This simple and modern vertical board and batten feature wall is totally made complete by the sweet personalized name flag and blanket ladder.
Get The Look
Etsy Custom Name Canvas Wall Flag
03.

Minimalist Boy's Nursery Accent Wall with Wall Decals

You'll definitely need a bit of patience in order to line each of these minimalist wall decals up, but my gosh, does it ever have an impact!
Get The Look
Project Nursery Double Skinny Line Wall Decal Set
04.

Monochromatic Nursery Accent Wall

This gorgeous nursery is definitely a match made in heaven for fans of neutrals. This beautiful monochromatic accent wall is simply framed out with trim, and features a custom baby name sign, painted to match the wall color.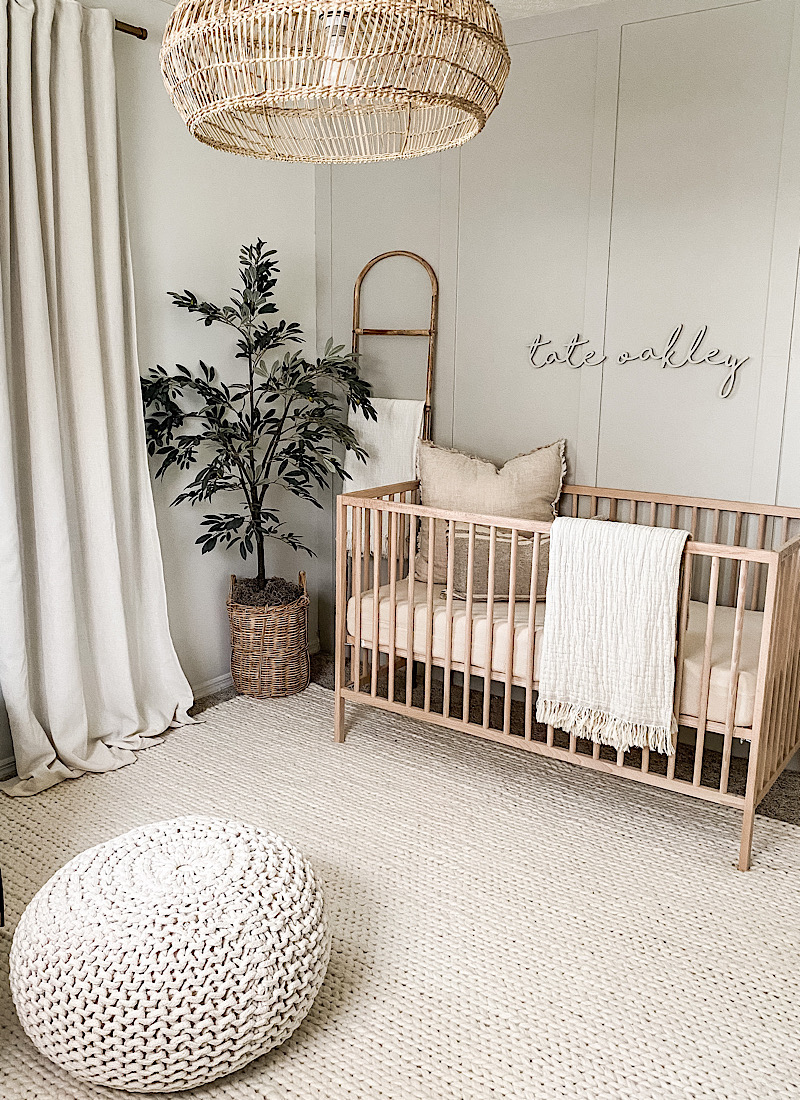 05.

Boho Girl's Nursery Accent Wall

Influencer mama Cait Vogel's nursery dreams came to life by layering this pretty, organic moon wallpaper, dried boho grasses and a custom neon name sign.
06.

Pink Board and Batten Nursery Accent Wall

Up next, the pink board and batten nursery accent wall that broke the internet.

A simple three quarter height board and batten feature wall is created with board and batten, painted pink, and finished with this adorable custom wood name sign.

I absolutely love this simple, modern rocking chair and seagrass pendant light (which is sadly discontinued from Ikea, but I found a dupe here – or, *treat yoself* and get this gorgeous pendant that I'm literally obsessed with.)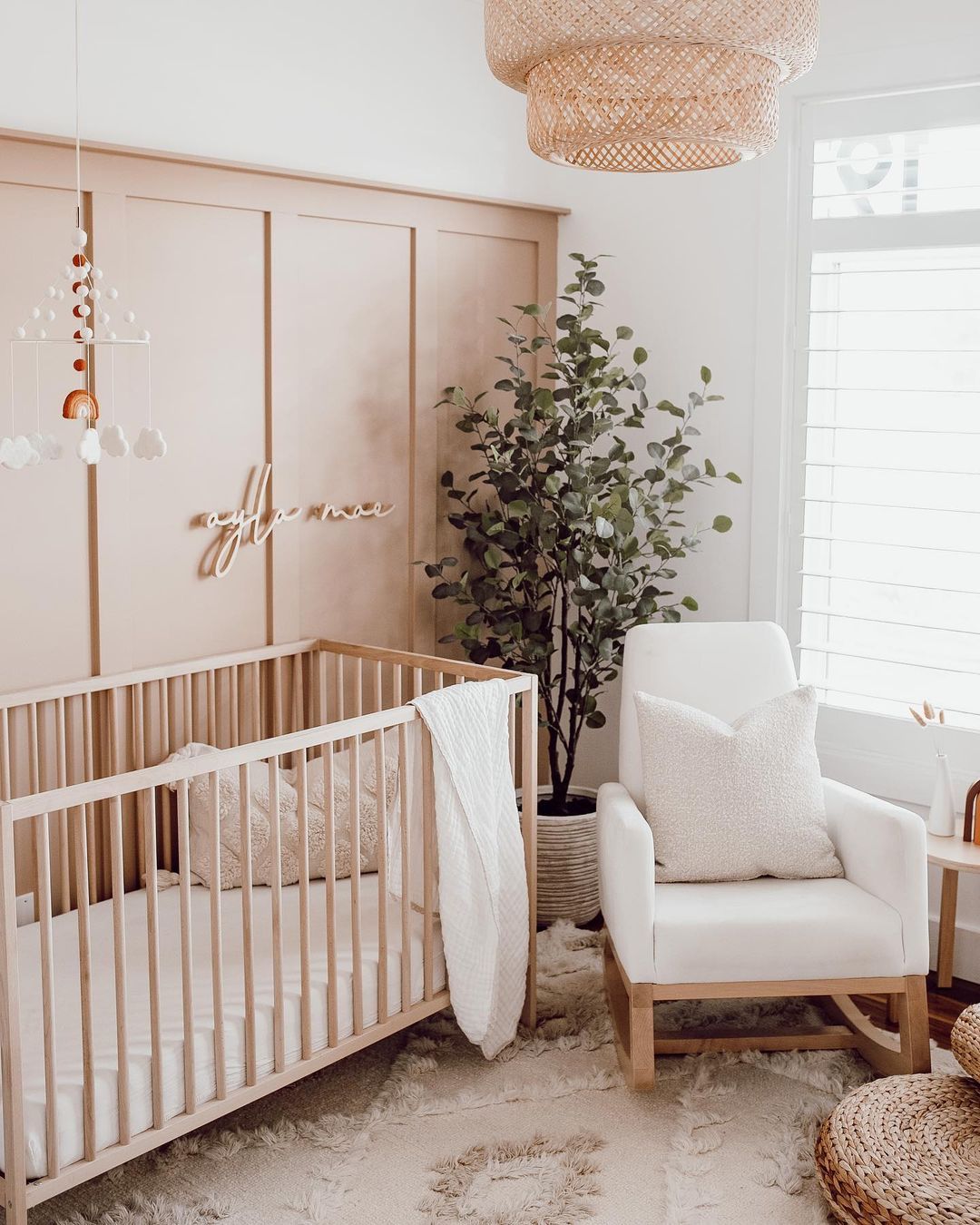 Get The Look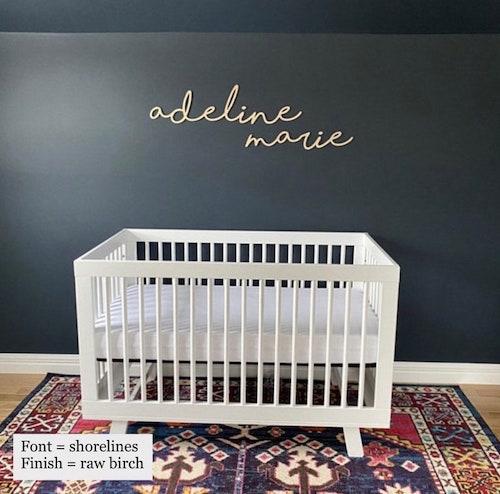 Etsy Custom Double Name Wood Baby Sign ($107)
07.

Gender Neutral Nursery Accent Wall

Peachy line decals make a huge impact in this gorgeous neutral nursery and compliment the natural wood furniture pieces so well.
Get The Look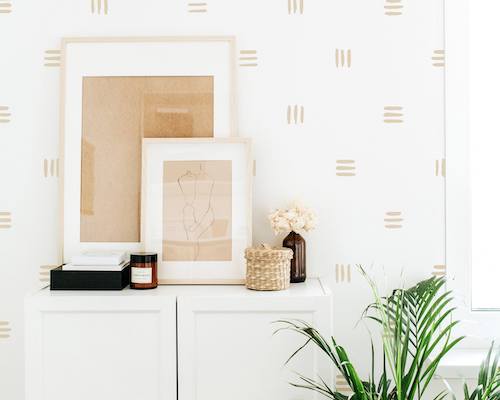 Project Nursery Small Line Wall Decals ($27)
08.

Simple Painted Arch Nursery Accent Wall

I really love this arched feature wall look, and it's definitely one you could achieve in a day, even if you're totally preggo and totally exhausted.
09.

Dried Bohemian Florals Accent Wall

This bold piece was inspired by the floral arrangements at the mama-to-be's baby shower and created by a local florist.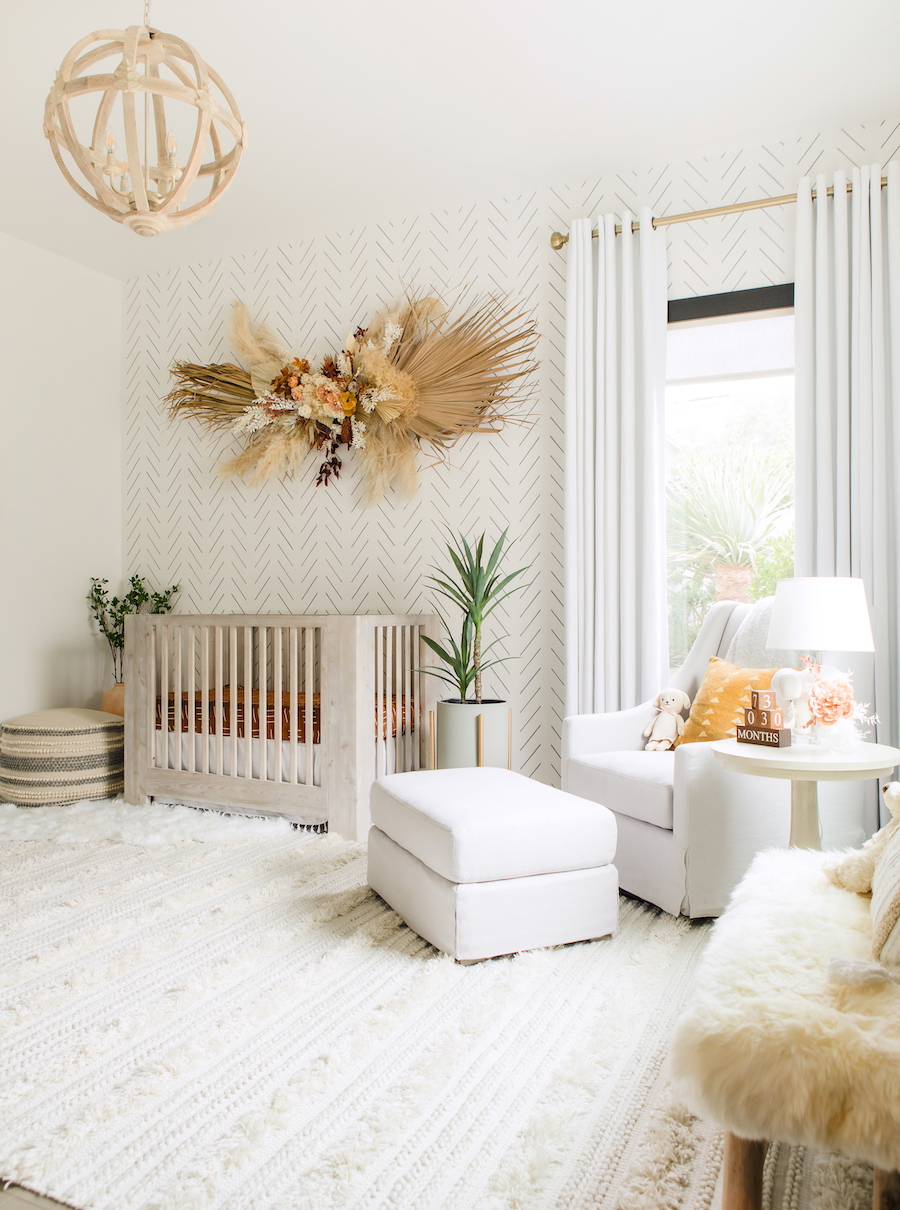 10.

Whimsical Wallpaper and Painted Panel Nursery Accent Wall

This sweet and whimsical wallpaper is taken to the next level by being paired with traditional half-height wood panelling and trim painted in a calming green.
11.

Earthy Wooden Nursery Accent Wall

Add warm, organic texture to your baby's nursery with wood quarter-rounds from your local hardware store.
12.

Nursery Accent Wall with Traditional Wainscoting

I absolutely love the drama of adding a more mature style of wainscoting to a baby's room.

The custom baby name neon light totally takes it to the next level, and the layering of white on white in baby boy's nursery is so pretty.
13.

Wallpapered Nursery Accent Wall with Rattan Wall Hanging

Looking for something unique? This bold jungle-inspired wallpaper is complimented by a rattan wall hanging and a sweet inspirational print.
14.

Wallpaper Nursery Accent Wall with Layered Wood Panelling

This pretty layered look comes to life by installing a few stained and sanded boards on top of a simple modern wallpaper.
15.

Wallpapered Nursery Accent Wall with Wood Name Sign

Looking for something subtle, but with a major wow factor?

A textured neutral wallpaper is the perfect backdrop for your sweet baby's name sign.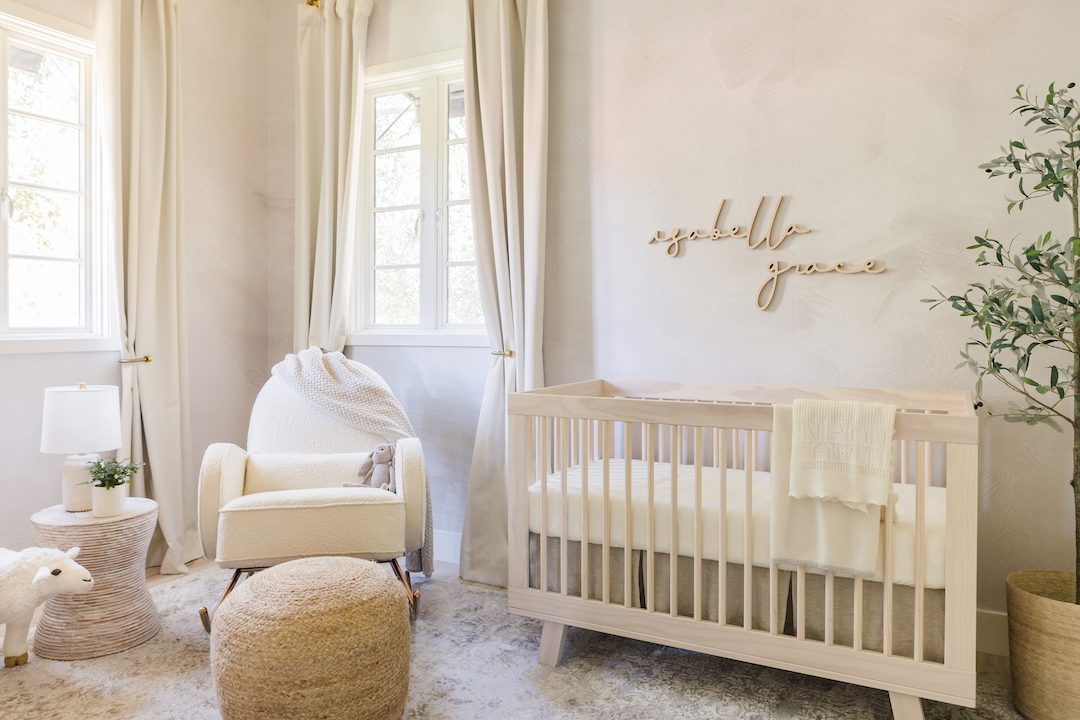 16.

Painted Arch Nursery Accent Wall

If there's one thing that's in right now, it's arches.

Steal the look with easy peel and stick arch wall decals and floating bookshelf.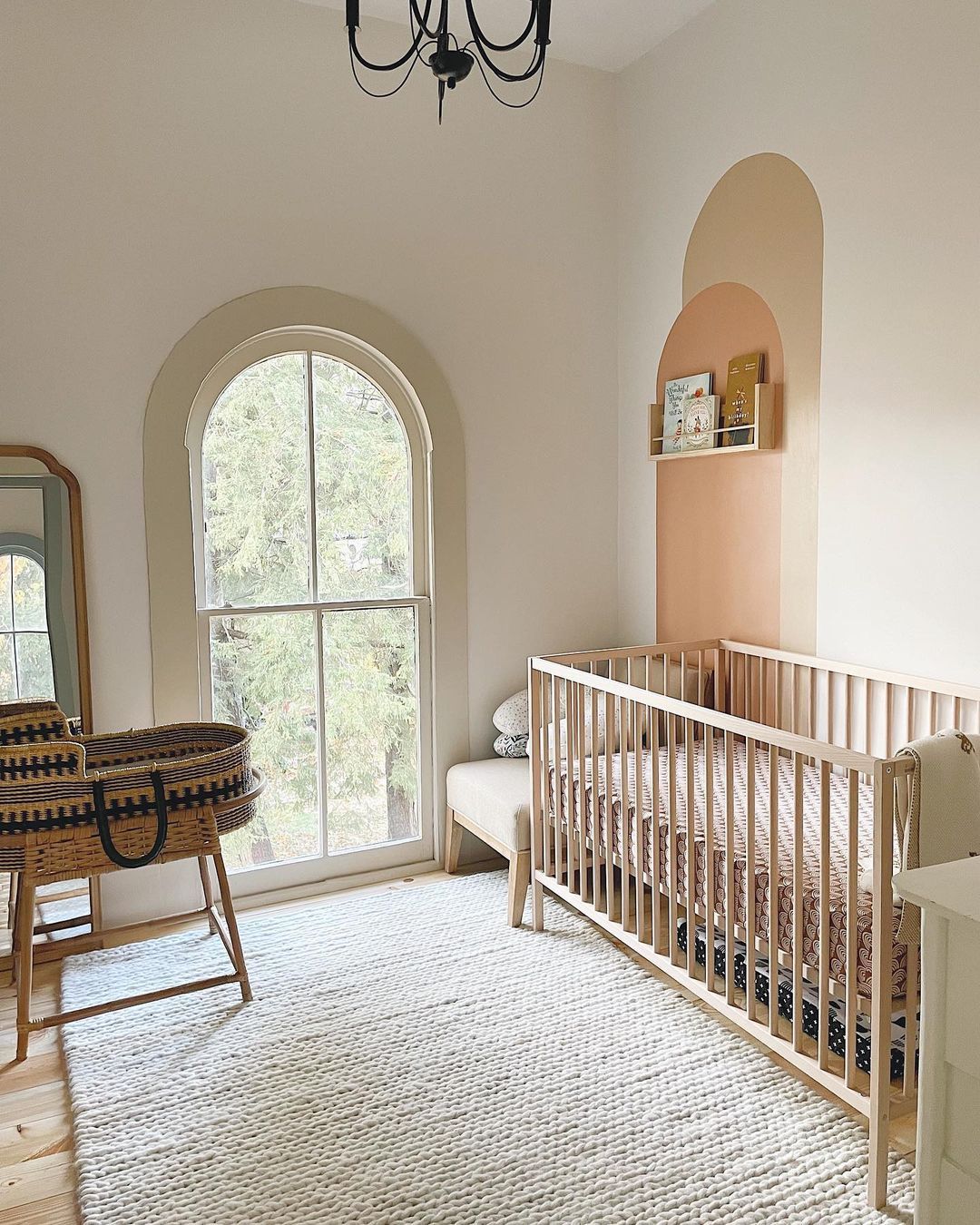 17.

Horizontal Painted Shiplap Nursery Accent Wall

While this bold green shiplap was applied beyond just the single accent wall, it would just be just as beautiful as a stand-alone feature.
18.

Vertical Board and Batten Gallery Wall Nursery

Considering a gallery wall in your nursery, but looking for a way to take it to the next level? Vertical board and batten may be your answer!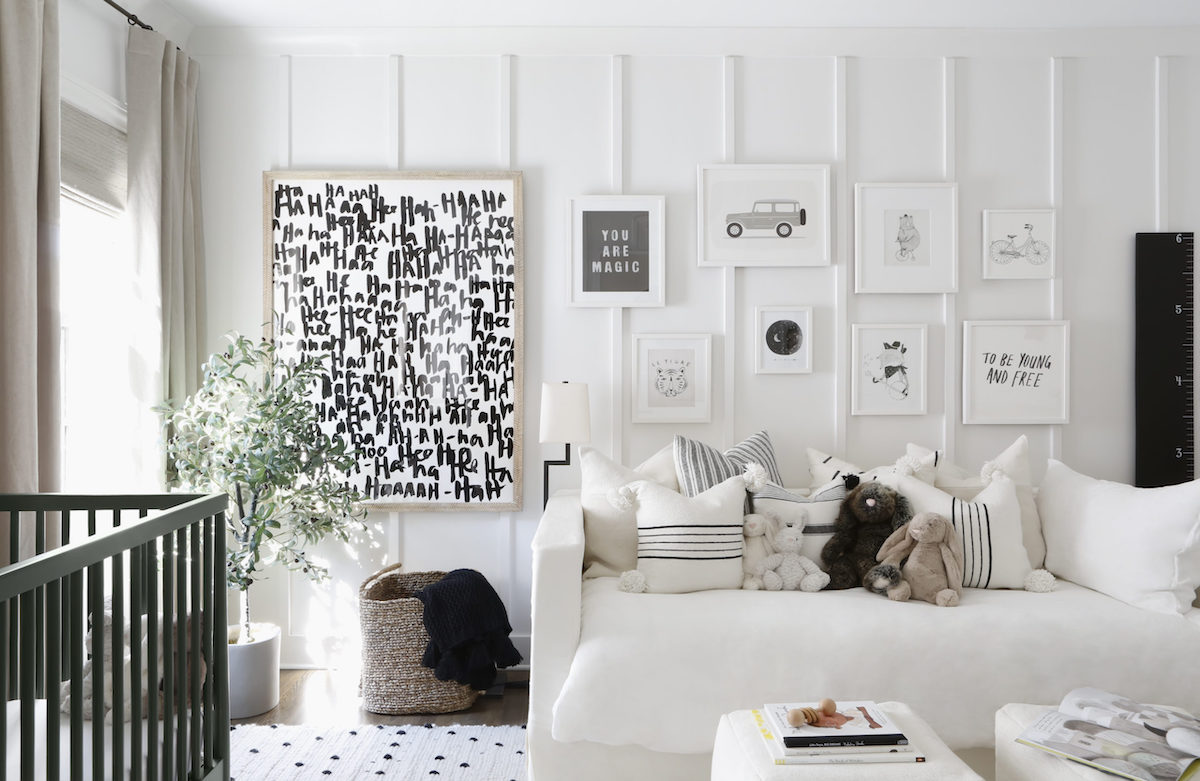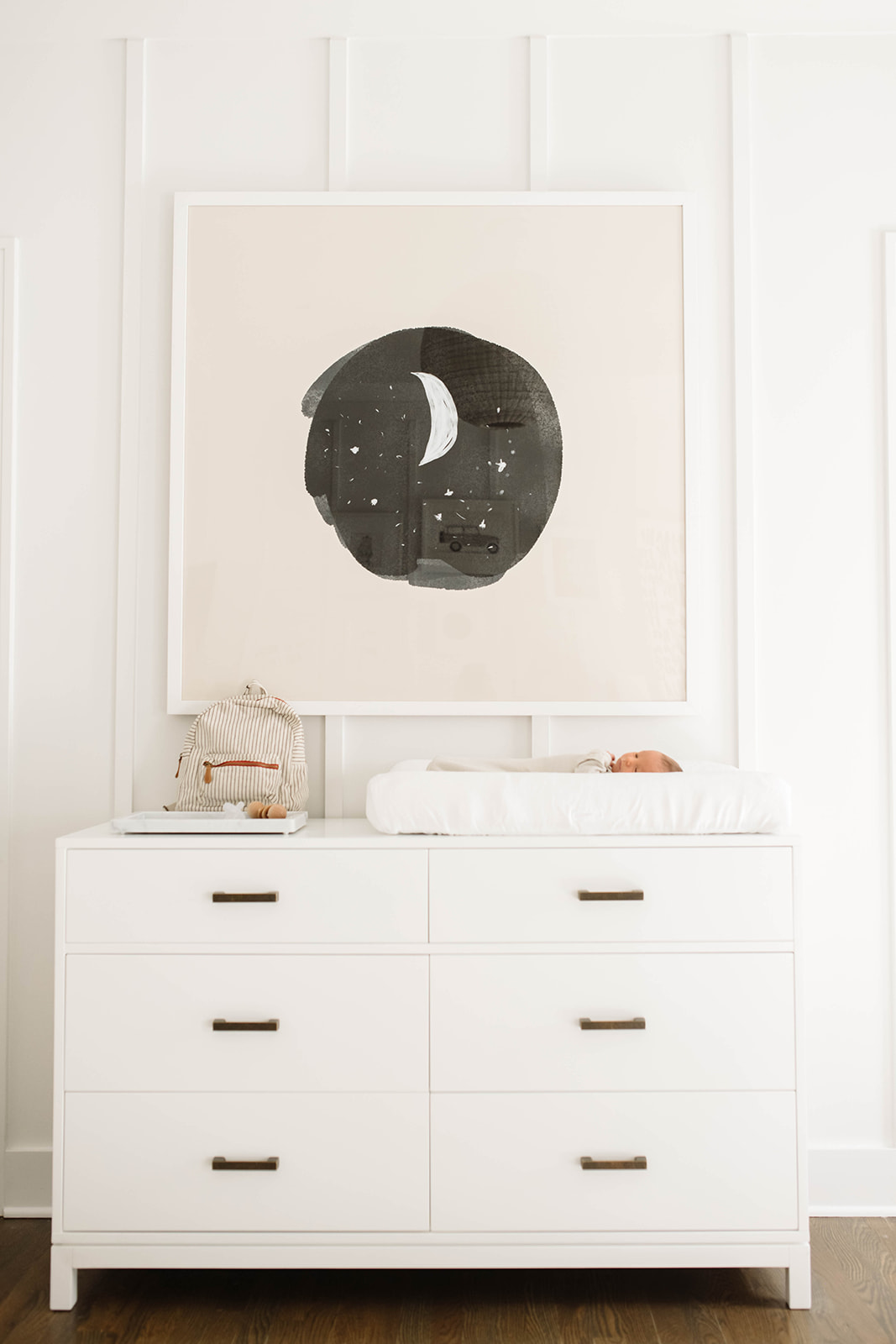 19.

Bold Wallpaper Mural Accent Wall

This stunning and unique Southern-inspired nursery comes to life with a bold wallpaper mural, and an eye-catching crib and window treatments in complimentary tones.

Related: 165+ Wild and Strong Country Boy Names You Need to Hear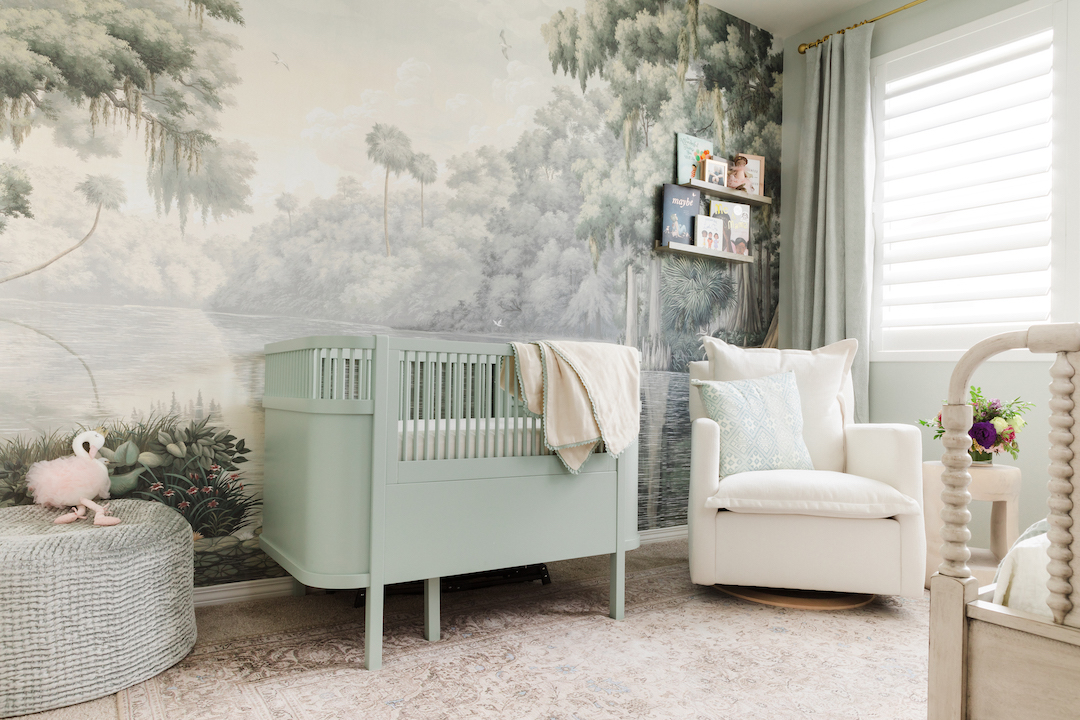 20.

Nursery Accent Wall with Wallpaper and Art

This gorgeous upscale bohemian nursery features a sweet, inspirational custom quote in wood, printed images of hot air balloons and a cute hanging sun banner; all layered atop pretty, organic wallpaper.
21.

Painted Scalloped Nursery Accent Wall

I've always loved how much a simple can of paint and some patience can add to a space, and this pretty pink scalloped detailing is no exception.
22.

Vertical Shiplap Nursery Accent Wall

Looking for a simple way to add dimension to your nursery? This adorable wanderlust-inspired nursery features a white vertical shiplap feature wall that adds some interesting texture to the otherwise neutral palette.
23.

Gender Neutral Wallpaper Nursery Accent Wall

Two words:

Lindye.

Galloway.

Need I say more?

Save me, I think I'm drooling…

How she manages to add the perfect touch of whimsy with a sophisticated charm is beyond me!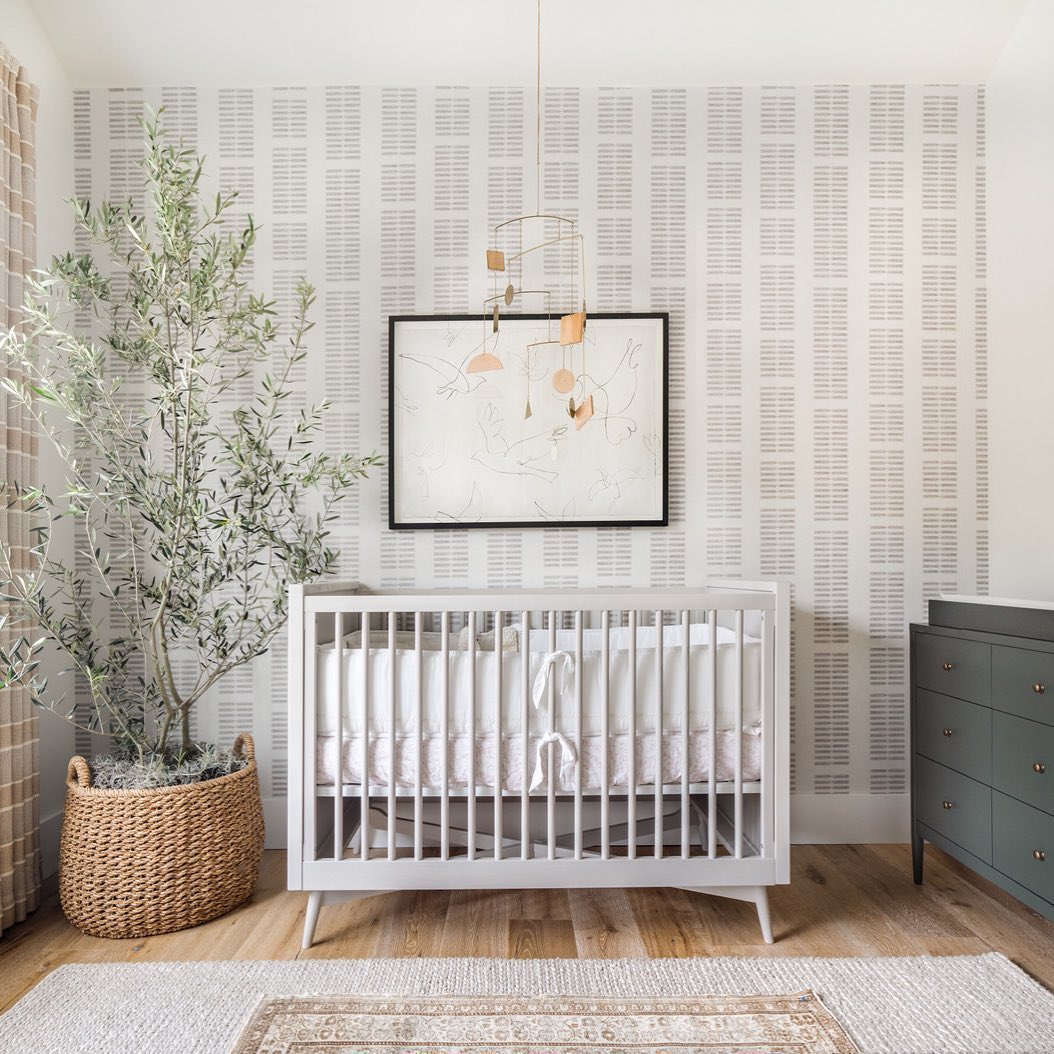 24.

Abstract Blue Dots Nursery Accent Wall

This cute painted dot baby blue wallpaper adds a sweet, calming touch to this adorable baby boy's nursery, without taking away from the beautiful, more intricate design of the dresser.
25.

Celestial Baby Boy's Wallpaper Nursery Accent Wall

This organic striped wallpaper adds so much dimension to this cute nursery, and plays really well with the graphic area rug.
26.

Boho Coast Surf Baby Boy Nursery Accent Wall

Go bold or go home with this graphic Japanese wave wallpaper accent wall that adds a vibrant pop of color to an otherwise neutral nursery.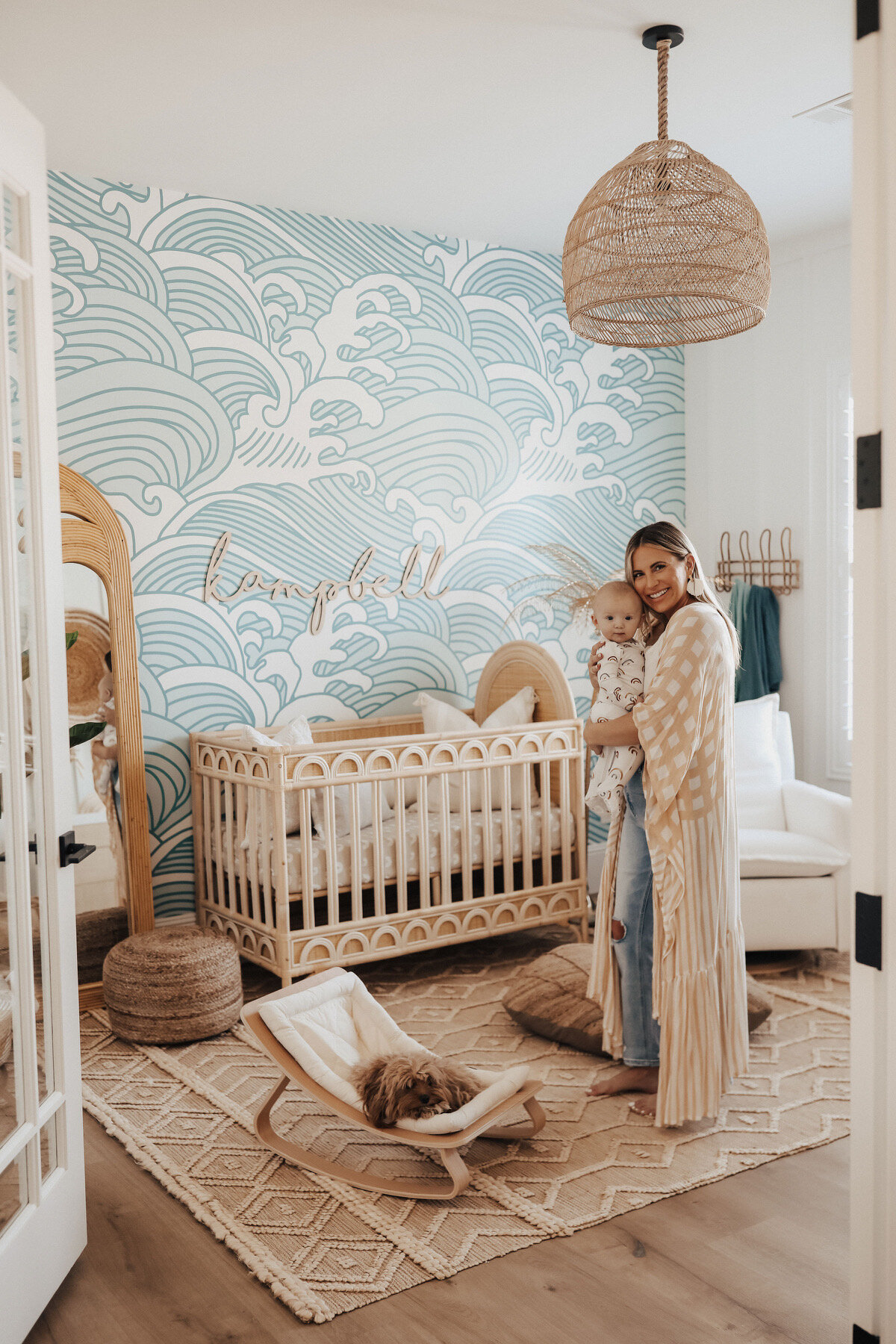 27.

Coastal Baby Boy Nursery Accent Wall

This totally stunning nursery was done by Pure Salt Interiors, a California-based interior design firm for Hills star, Lauren Conrad's son.

An airy, watercolor blue palm pattern wallpaper adds such coziness to the space, while tying the entire beachy vibe together perfectly.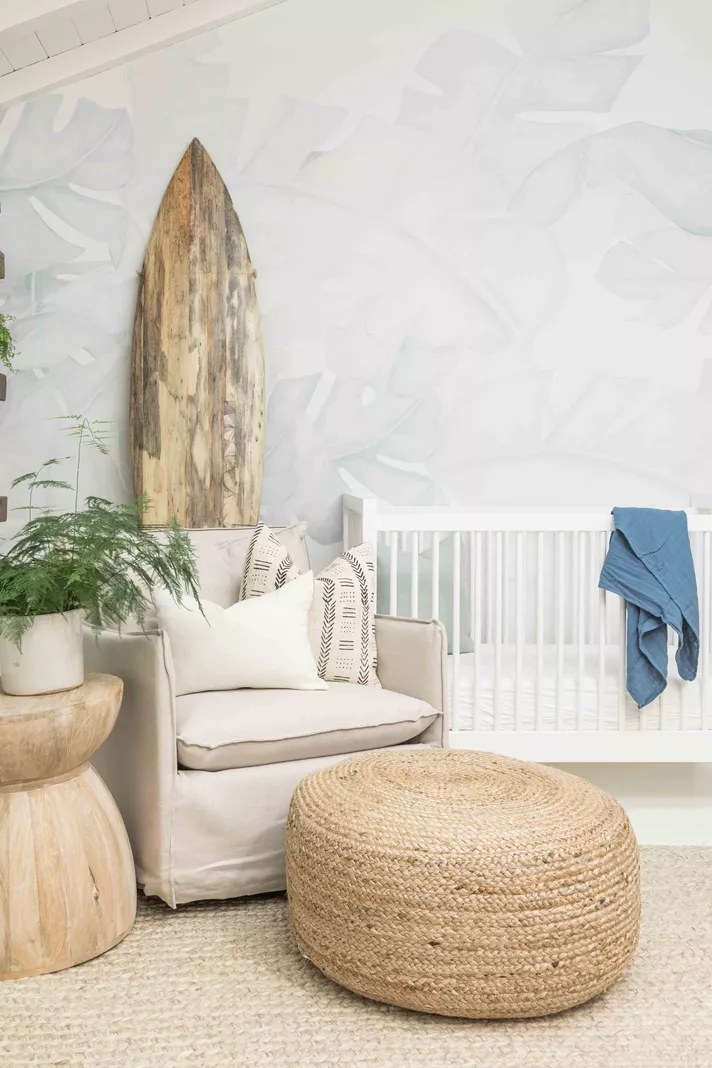 28.

This Lovely Scalloped Wallpaper Accent Wall

This pretty wallpaper nursery accent wall layers a soft, patterned wallpaper with a more bold piece of art, and boy oh boy, does it ever work.

I love how the wallpaper is sweet and simple and totally works in a baby's room, but can also be dressed up as their little one grows.
29.

Contemporary Wood Nursery Accent Wall

If there is one thing that's for sure, it's that fluted design details are in.

They.

Are.

In.

And if there's someone who's got the street cred to tell us so, it's mama Andrea, an interior designer based out of Ontario, Canada, who created this sweet wood nursery accent wall.

Obsessed with this look?

Here's the completely stunning cane detail dresser and here are those cute rattan birds that look so adorable beside the mirror).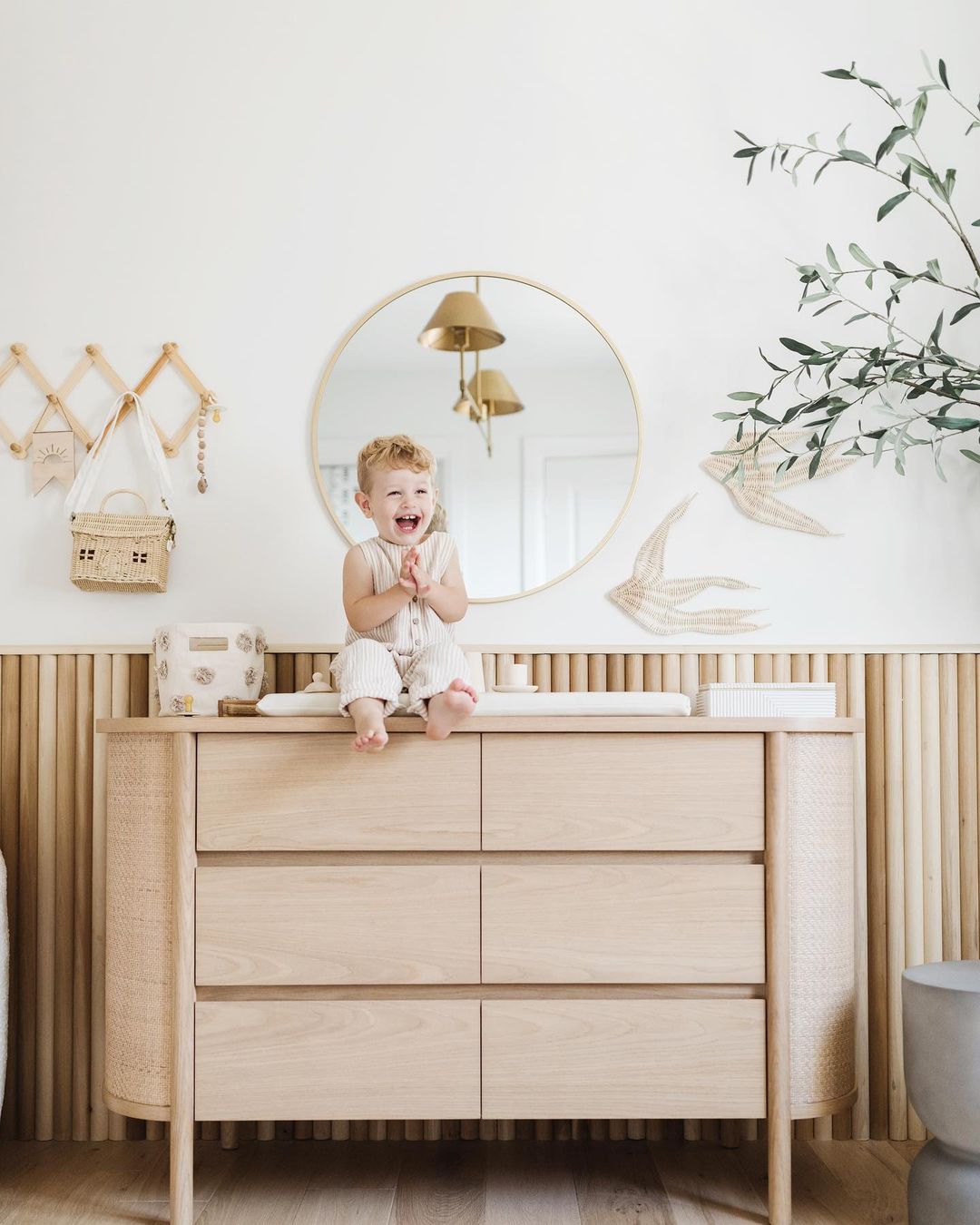 30.

Americana Classic Wallpaper Nursery Accent Wall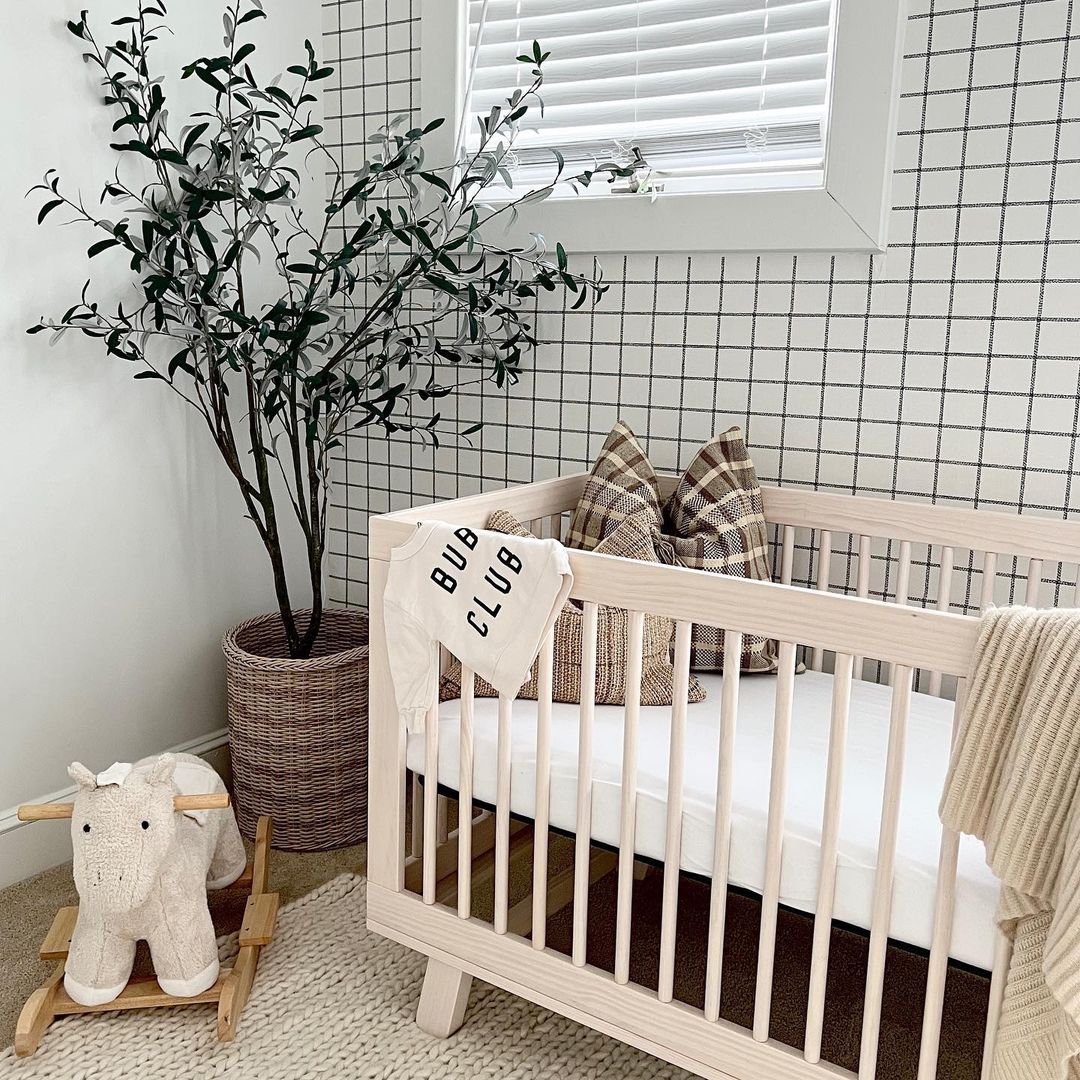 This beautiful simple wallpaper adds so much to the space, while still keeping it 0h-so-simple. Paired with the pretty light washed oak of the Hudson crib, and possibly the most popular, lush nursery rug out there, and you've got a dreamy little nursery fit for a prince.
Feeling a little iffy about installing the wallpaper yourself?
Pop on over to this great little guide on creating an accent wall with wallpaper via Ginger Casa.
31. Simple Shiplap Nursery Accent Wall
And there you have it – the very prettiest nursery accent wall ideas that are completely on trend in 2022 and make for a great jumping off point to inspire you as you put together your own baby room.
Whether you opt for something simple and stress-free like removable wall decals, or plan to go all out, layering a number of different elements in, there are so many gorgeous ways to make your space your own.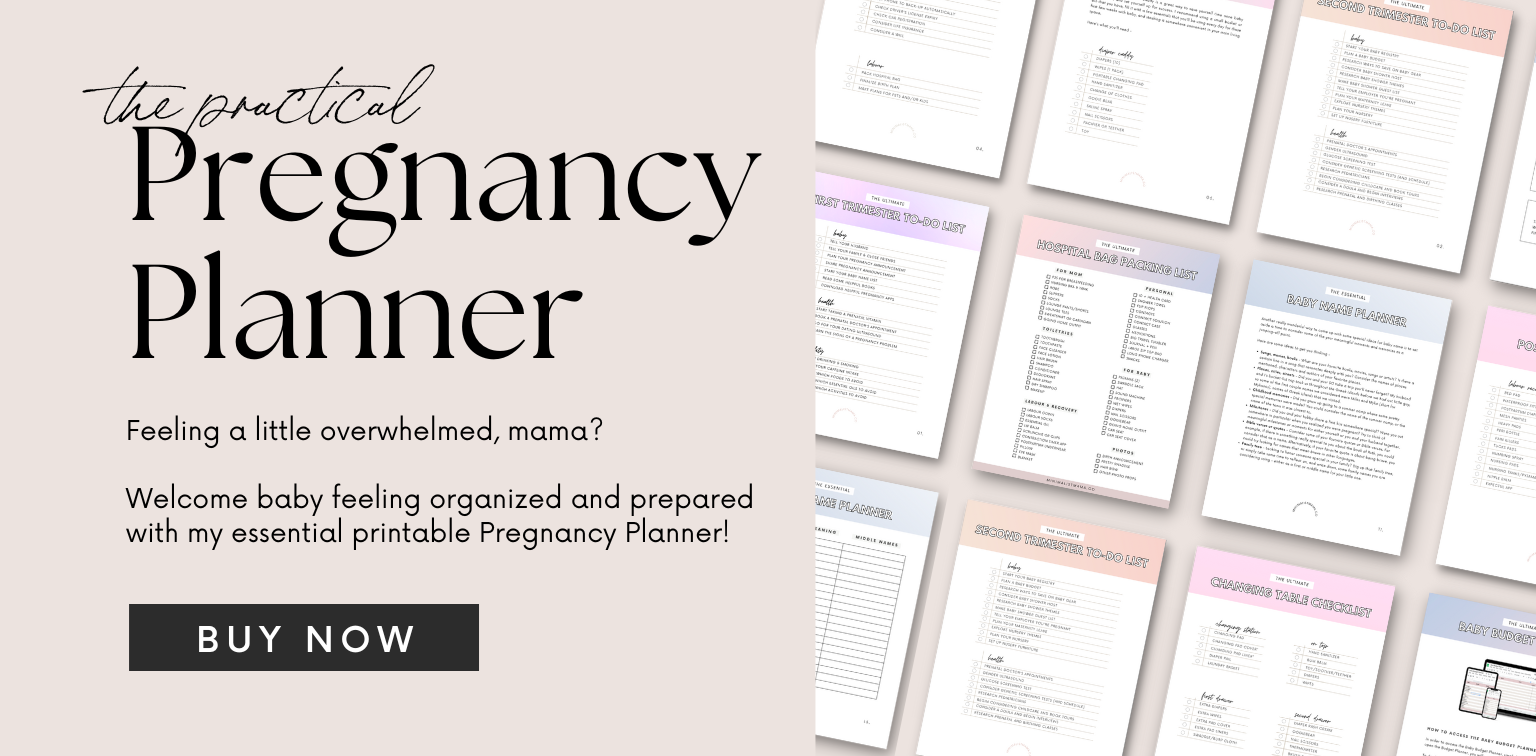 More Nursery Inspo and Ideas:
✨ 15+ *Stunning* Nursery Board and Batten, Wainscoting & Beadboard Ideas (2022)
✨ 5+ Keekaroo Peanut Changer Dupes You *Need* To See (+Keekaroo Alternatives)
✨ 45+ Adorable Nursery Shelf Decor Ideas You Need To See
✨ 19+ Simple Changing Table Essentials You're Definitely Gonna Need