This post contains affiliate links.
Fallen in love with the Keekaroo peanut changer, but not the price tag? 
Searching high and low a Keekaroo peanut changer dupe?
Or,  maybe you're just wondering if there's a Keekaroo alternative that works like the Keekaroo peanut changer, but costs less?
Well, then pour yourself a hot cup of coffee, mama, because there sure is! 🤩
I've rounded up all the best Keekaroo dupes and alternatives right here – and I can't wait to share them with you.
Let's get to it –
01.

Open Box Keekaroo

What if I were to tell you that there is a way to get a brand new Keekaroo peanut changer for a fraction of the cost?

Cue the confetti, right?

Well, there is.

I scored our Keekaroo peanut changer in vanilla for about half of the retail price by using this simple mommy hack: GoodBuy Gear!

As a mama with a love for the good stuff, and only so many dollars, I am a huge fan of premium baby gear marketplace for gently used and opened box baby gear, GoodBuy Gear.

✨ Check out their current selection of Keekaroo changing pads here ✨

(When I just checked, they had 12 peanut changers available, with many open box Keekaroos for $79!)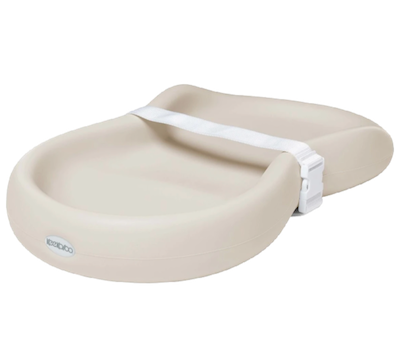 GoodBuy Gear Open Box Keekaroo Peanut Changer
02.

Amazon BabyWorks Changing Pad

Let's be real: you're most likely preggo, completely exhausted, and probably nauseous.

So, I won't waste any time.

Besides getting an actual Keekaroo for a fraction of the price on Good Buy Gear, this is the least expensive, most similar Keekaroo dupe (and yes, it's on Amazon).

It's about half the price, and made of a similar material, though tbh, it's more of a Leander Matty changer dupe than a Keekaroo dupe.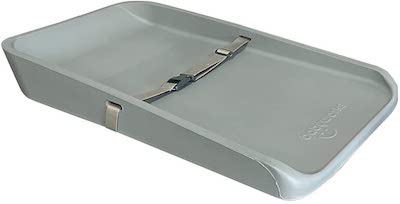 Amazon Baby Works Changing Pad
03.

Leander Matty Changer

Okay, next up – the Leander Matty changing pad.

This pretty, minimalist foam changing pad is a European addition to the baby gear scene, created up by Stig Leander in Denmark.

This Keekaroo dupe is more of a Keekaroo alternative, I would say: that is, it's about the same price as a Keekaroo peanut changer, but a bit of a different design.

The Leander Matty changing pad is a great option for the mama that's frustrated with the Keekaroo being out of stock *literally everywhere* (2022, am I right?) — or wants a bit of a different design than what's offered by Keekaroo.

Can I just say that the gorgeous neutral shades that this changing mat comes in are dreamy?

While the Keekaroo comes in a rainbow of rich, vibrant colors, the Matty comes in a sea of neutrals – an understated pink, light sage green, grey, taupe and beige.

Seriously, this changing pad is a neutral-loving mama's dream!  🤤

Additionally, the Keekaroo peanut changer, as it's name implies, has a distinct peanut shape, whereas the Matty, instead, is a rectangle.

The surface of the Peanut Changer is flat, whereas the Matty has a bit of a slope to it, which is nice for baby's first few months, when staying at a bit of an angle can help avoid extra spit up.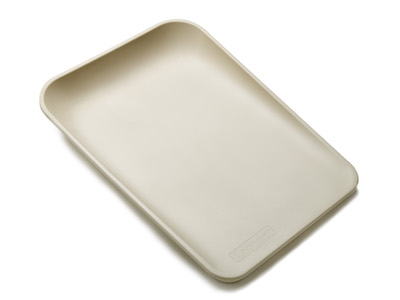 Amazon Leander Matty Changer
04.

Bumbo Changing Pad

The least expensive, and I would say best Keekaroo dupe, is the Bumbo changing pad.

While it isn't available in the same pretty neutral that the Keekaroo is (which, I mean, let's be real, is definitely a selling point for neutral-loving mamas), it does come in grey.

One thing to note is that the Bumbo is significantly shorter than the Keekaroo peanut changer.

What that means is if your little one is on the taller side, they may grow out of this piece of baby gear sooner than they would the Keekaroo.
05.

Skip Hop Changing Pad

The Skip Hop changing pad is yet another Keekaroo alternative to consider.

When compared to the other changing pads, the Skip Hop is about the same length as the Keekaroo, but an inch and a half wider – which is worth noting if you plan on using a dresser as a changing table.

While the Skip Hop changing pad is wipeable just like the other pads, it's also got a little mobile to catch baby's attention, which can definitely help make diaper changes a bit easier.

The foam is a bit less cushy than the Keekaroo, and it's only available in the light grey color.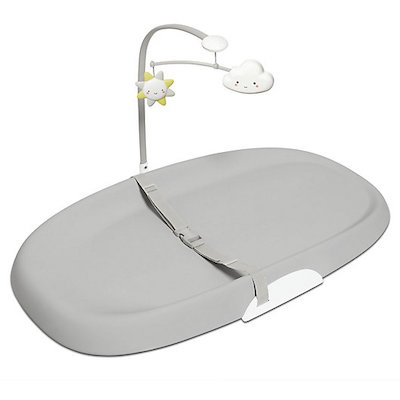 06.

Hatch Baby Grow Changing Pad

Lastly, the Hatch Baby Grow.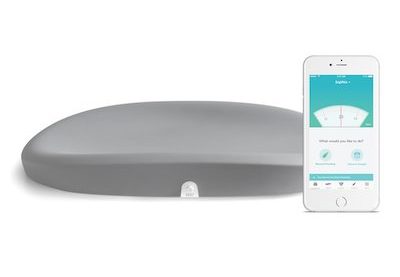 Check out some of my other baby gear guides: 
🍼 Ubbi vs. Diaper Genie vs. Pure Pail: My *Honest* Review (Yes – I Tested All Three!)
🍼  7+ DockATot Alternatives You Kinda Won't Believe (+The Best DockATot Dupe!)
🍼 7+ *Best* Baby Bjorn Bouncer Dupes You *Need* To See (Like Yesterday)