This post contains affiliate links.

Wondering what newborn baby bath essentials you'll need for that precious little babe that's on the way?
As a mama myself, I've rounded up all of my favorite baby bath items that we used, loved, and swore by, so that you can feel confident in knowing you're set up for baby!
Let's take a peek –
Our Most Used Baby Bath Essentials
While excitedly awaiting baby, my husband and I made our inaugural voyage to Buy Buy Baby for our baby registry bonanza (as you do).
It ended up taking three separate visits to get through the whole thing (I narrowed down the endless baby registry checklist they provide to what we *actually* used here: The Complete Baby Registry Checklist [PDF]).
Though this wasn't all the fault of Brenda (our helpful associate) – I had quite the rough go during my pregnancy and was nauseous for the entire nine months, so I could only handle so much each day.
When we got to the baby bath section, Brenda *strongly* recommended that we add six to ten packages of baby washcloths to our registry.
What?
Fifty.

This woman can not be serious.
I felt totally overwhelmed, anxious that this lady was suggesting we need $100 worth of baby wash cloths, and left wondering if I was being taken advantage of as an expecting first-time mom.
Well, I'm here to tell you that we did not buy 50 baby wash cloths, and we made it out alive to tell the tale. 😅
But I'll get into that in just a moment –
For now, let's dive in to the newborn baby bath essentials that we loved, and used almost every day, for those precious first few months.
Rub a dub dub –
01.

Baby Bath Tub

The first baby bath that we had gotten as a hand-me-down initially was great (the blue Fisher Price whale tub), and very similar.

However, I did find that my little guy slipped around in it a bit, because the insert is made of plastic.

I really like this baby bath tub because of the soft mesh sling that hugs baby snugly, so they're nice and cozy, and you don't have to worry about them slipping around.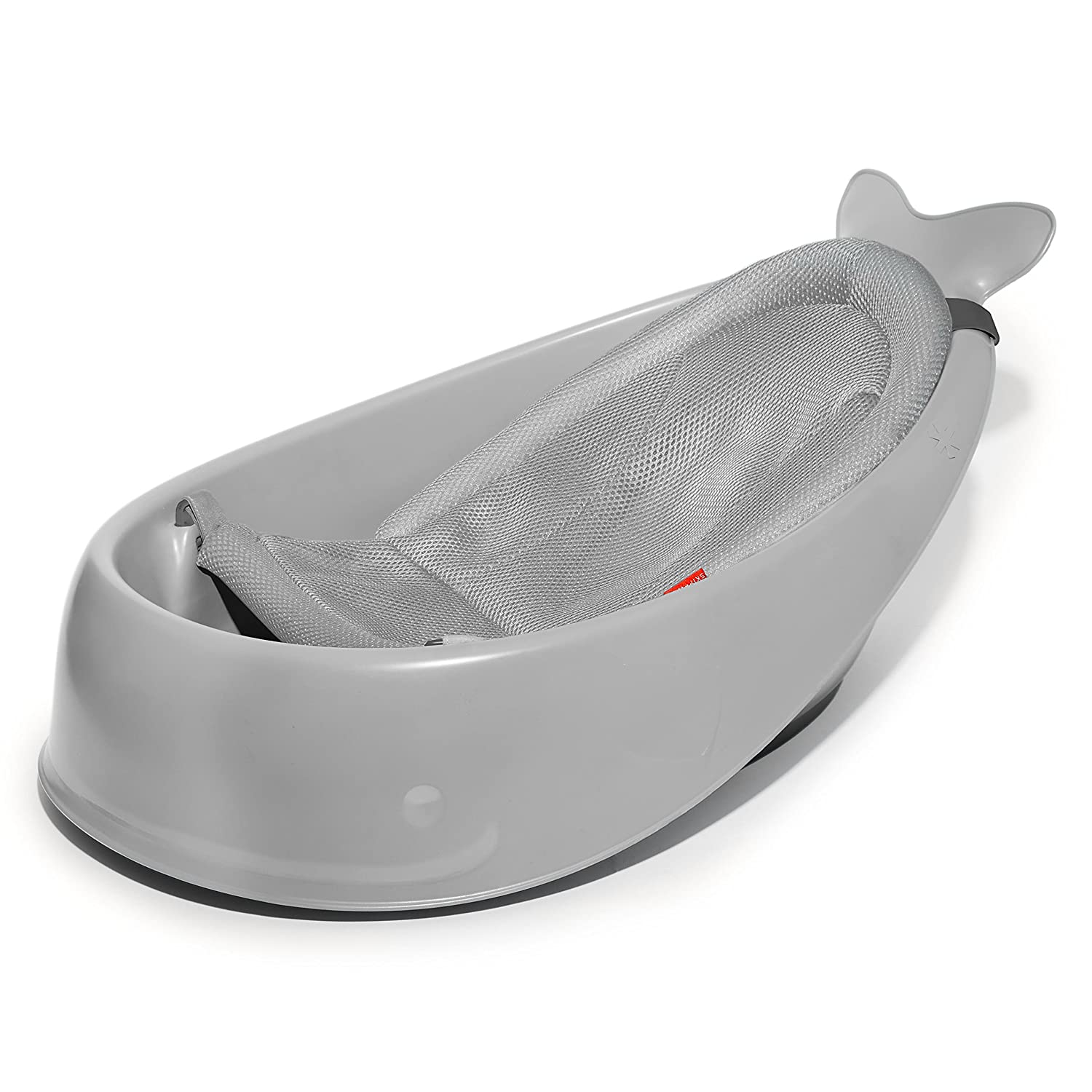 Amazon Skip Hop 3-Stage Baby Bath Tub
Wondering how long you'll use your baby bath tub for?
My son used this baby bath until somewhere between 6-9 months, until he could sit up pretty well on his own (we then switched to this bath seat, which is definitely one of my top bath time *must-haves*, but for older babies).
02.

Baby Bath Thermometer

Now, I've got to admit:

This one may be more of a new parent bath essential than baby bath essential.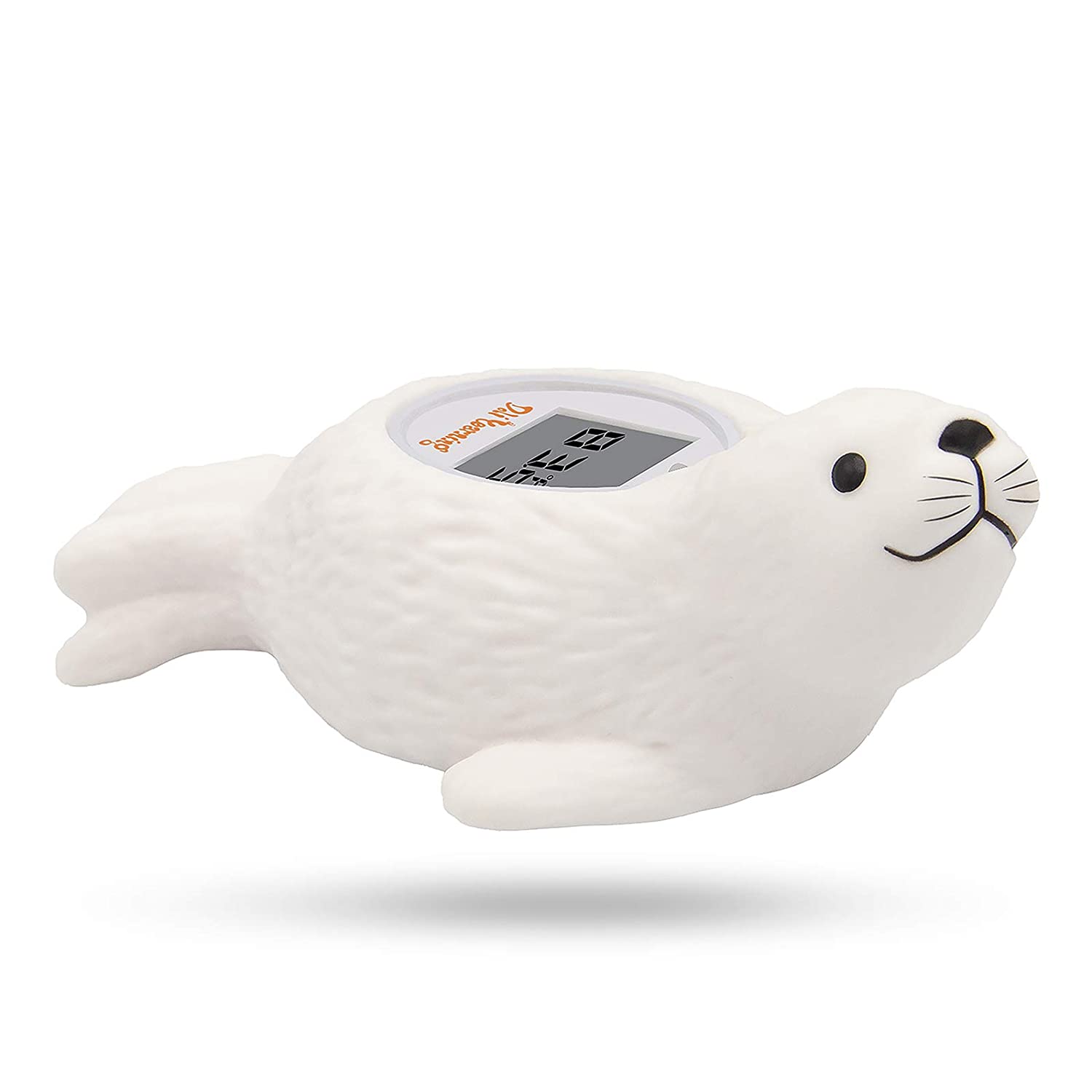 Amazon Baby Bath Thermometer
As a brand new mom, I came across an article by another mommy blogger with this bath thermometer on her "baby crap you don't need list".
It's funny, because to her, getting the water temperature just right for her brand new baby was obvious enough, but for my husband and I, it felt like a complicated science experiment that had no room for error.
To each, their own, I guess, right? 😆
Nonetheless, I remember one of the first few bath times with our little guy, googling "what temperature should bath water be for newborn baby?" (as you do, obviously).
The answer that the interwebs came up with for us was: "Not too hot, but also not too cold. Just warm enough for your baby."
Gee, thanks. Lol.
Thankfully, we had our little floating sea lion to help us out and once we tossed him into our baby bath, we were able to quickly adjust the water temperature until we got a green light, meaning it was "just warm enough."
Too hot or cold, the little light on top turns red; just right, green.
Easy peasy.
03.

Non-Toxic Baby Shampoo & Wash

Ever Eden is a skincare brand developed by a team of female founders – doctors and dermatologists – with completely clean, non-toxic ingredients that are *actually* gentle enough for your little babe's skin.

Just the one wash is all we use – on our little guy's hair and body.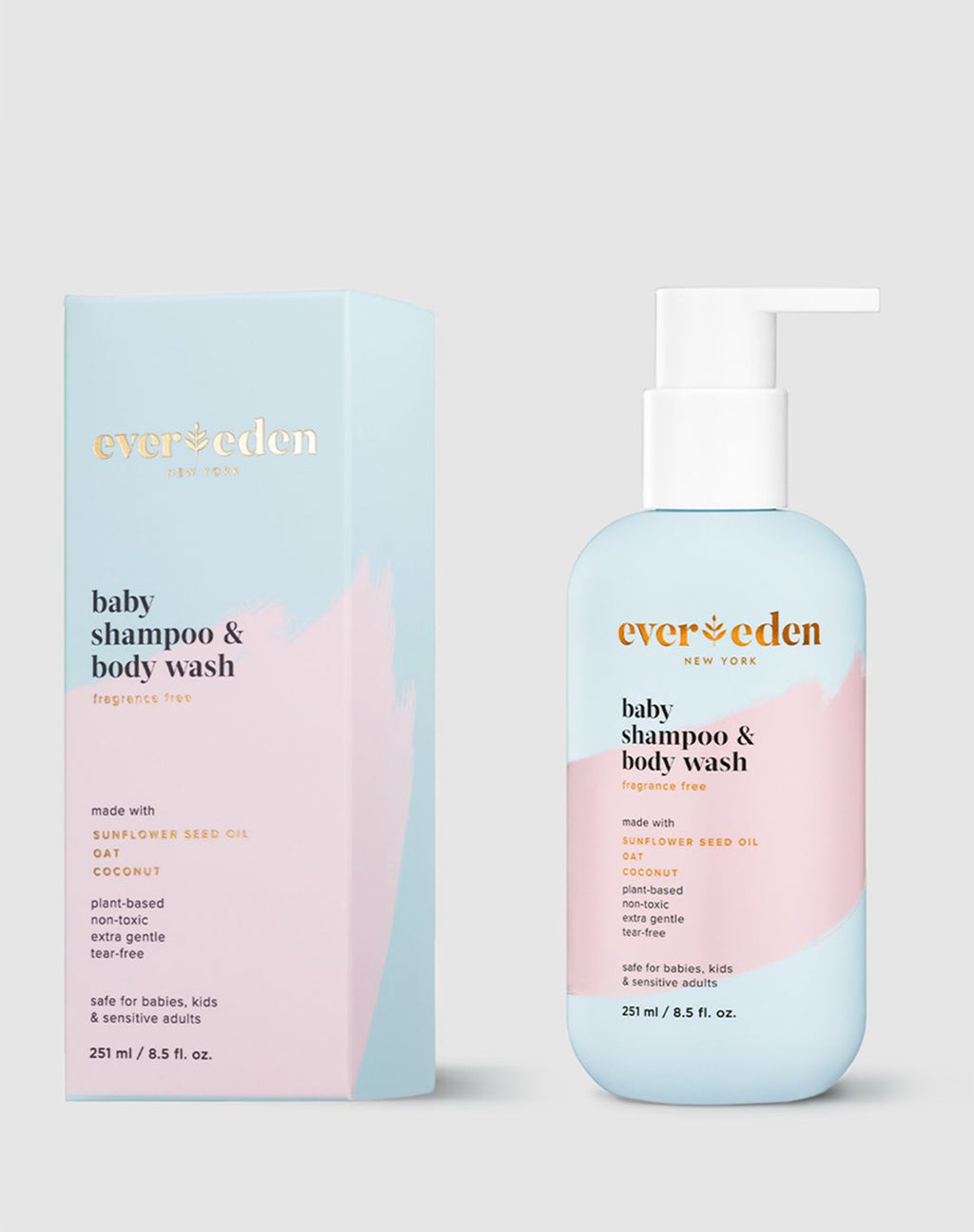 Evereden Non Toxic Baby Shampoo & Wash
04.

Stacking Cups

While I've seen a number of baby bath essentials list with those little grey whale water rinser sets, I found that for the first number of months, it was just too huge.

I had trouble filling it with water in his tiny tub, and when I did, it poured out way too much water that got everywhere.

These little stacking cups, which are actually a toy, were the perfect size to rinse soap out of his hair.

Once he started reaching for and grabbing things, he liked to play with them in the bath, too.

Double duty. 👍🏼

Amazon Mushie Stacking Cups
05.

Baby Wash Cloths

Baby wash cloths are definitely a baby bath essential.

We used them to wash our little guy's face, neck and ears, and also loved laying one across his chest and belly while he was in the bath to keep him warm.

We had about 20 wash cloths, and I think that was a great amount to have.

While it may seem like a bit of overkill, I will just warn you that you will be surprised about how many you'll go through.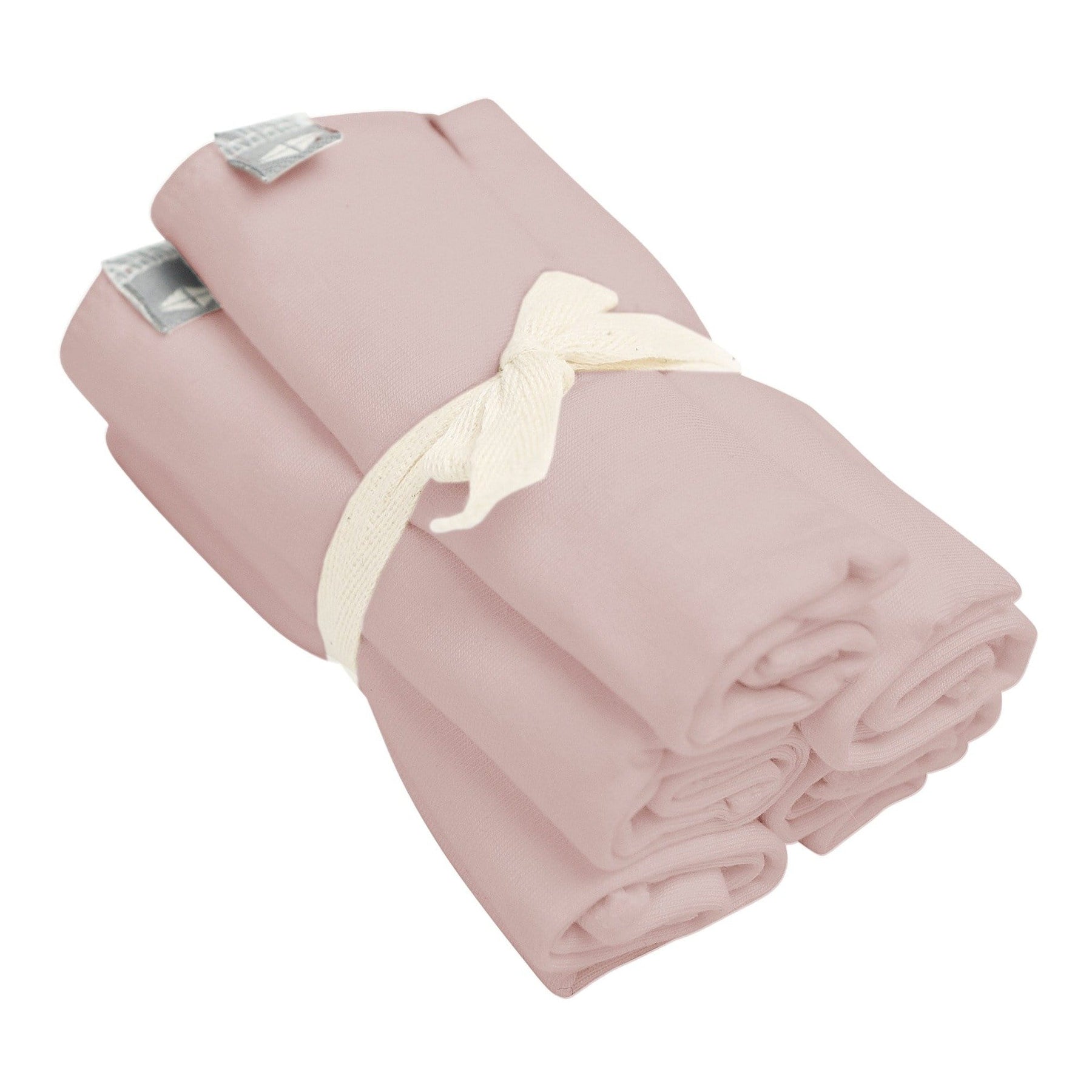 Kyte Baby Baby Wash Cloths
You may have a day where you can't find a burp cloth or swaddle to wipe spit-up off your baby's face, and opt for a wash cloth instead, and a few will undoubtedly end up in sock heaven (gone, forever 😂).
I love these super soft muslin baby wash cloths that you can grab from Amazon, as well as these Kyte baby bamboo wash cloths.
I find that both of these wash cloths are a great size and bigger than the more "regular" baby wash cloths that are on the shelf at every big box store.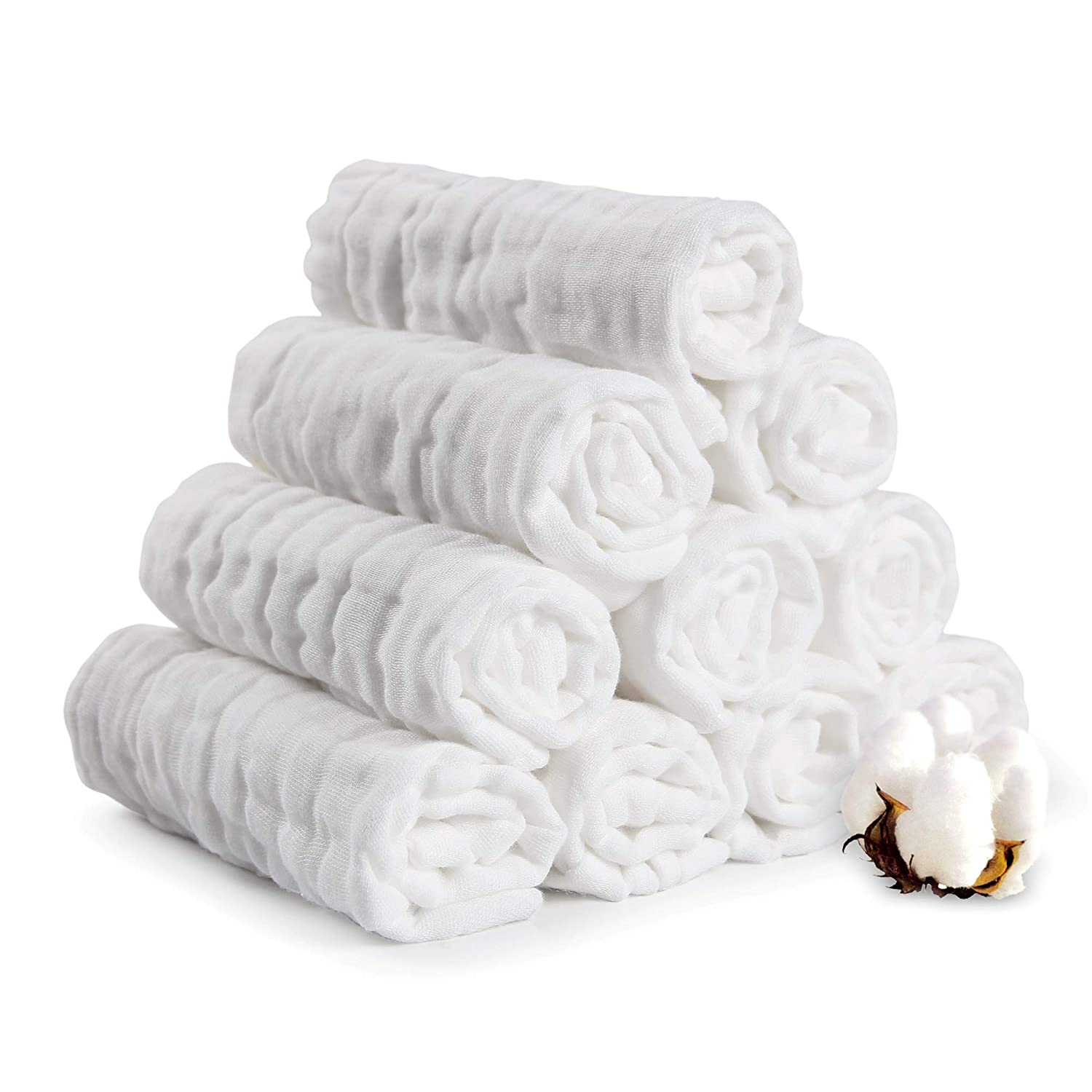 Amazon Muslin Baby Wash Cloths
06.

Muslin Swaddle Blanket

Next up, a swaddle blanket.

Say what?

Yep, it's a thing –

Here's a super helpful video of a newborn having a swaddle bath done by Lou Lou & Company's founder and mama to 5, Karen, showing you exactly how to master the newborn swaddle bath.

Essentially, in order to make newborn baby bath time less of a shock for your little one, you lay a swaddle blanket over them to keep them covered and a bit warmer (and yes, it gets wet).

This one is a great size, nice and soft material, and can be used a burp cloth, changing pad or light stroller blanket once your babe's out of the newborn phase.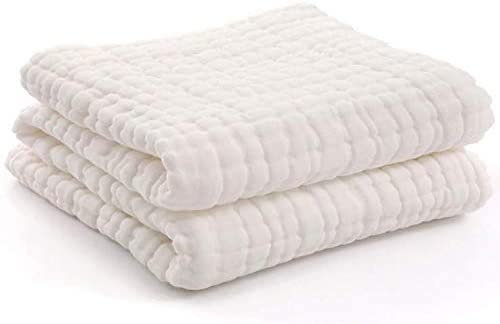 Amazon Muslin Baby Swaddle Blanket
07.

Baby Bath Towel

Rounding out our list is this soft baby bath towel that's made of a blend of bamboo rayon, cotton and bamboo terry.
Kyte Baby Hooded Baby Bath Towel
We had initially registered, and gotten this adorable (and very popular) baby bath towel, which is 100% cotton, and has polyester detailing.
I hate to say it, but it's awful.
So rough and scratchy and thin.
We used it for the first few weeks and then started using one of our own non-baby towels, just because they're so soft and fluffy.
Though this Kyte baby towel that I've recommended (and love) will cost you a few dollars more, it is *definitely* worth it!
08.

Nail Scissors

Lastly, rounding out our baby bath essentials list are these Fridababy nail scissors.

While I've seen many other mamas recommend this electric nail file, we didn't love it.

Besides the fact that it takes a lot longer to file those little nails down than to just do a quick trim, these nail clippers are small and compact, fit in our little baby care caddy perfectly, and so easy to use!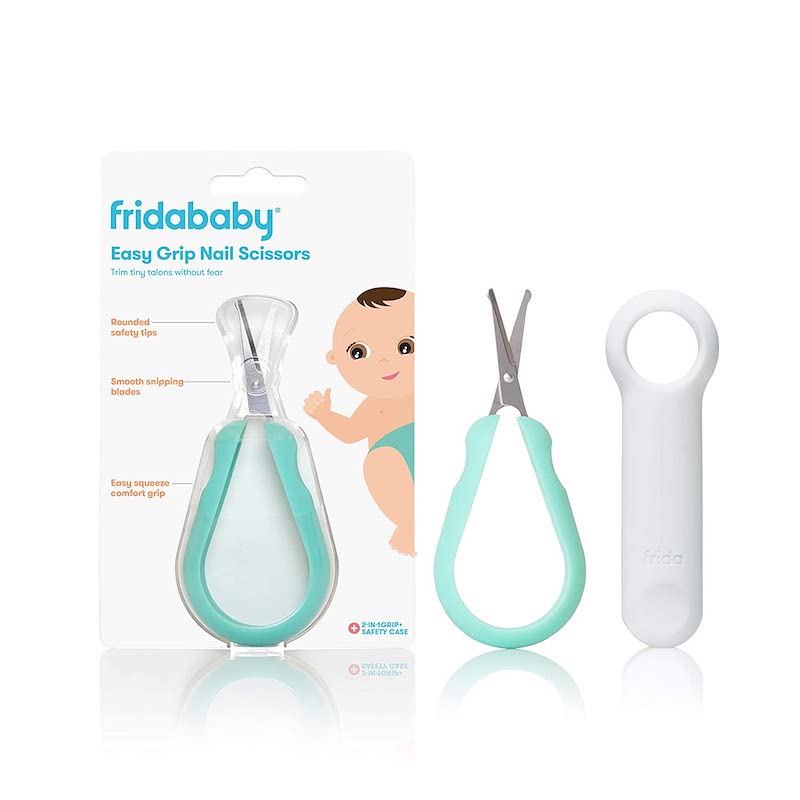 Amazon Frida Baby Easy Grip Nail Scissors
Baby Bath Essentials: TL;DR
Bathing your fresh little newborn is both an exciting and challenging task — but having the right baby gear can make it just a bit easier for both of you.
Are you all set for baby? Check out some more of my mom life essentials:
🛁 7+ DockATot Alternatives (+The Best DockATot Dupe!)
🛁 11+ DIY Postpartum Care Kit *Essentials* for New Moms