This post contains affiliate links.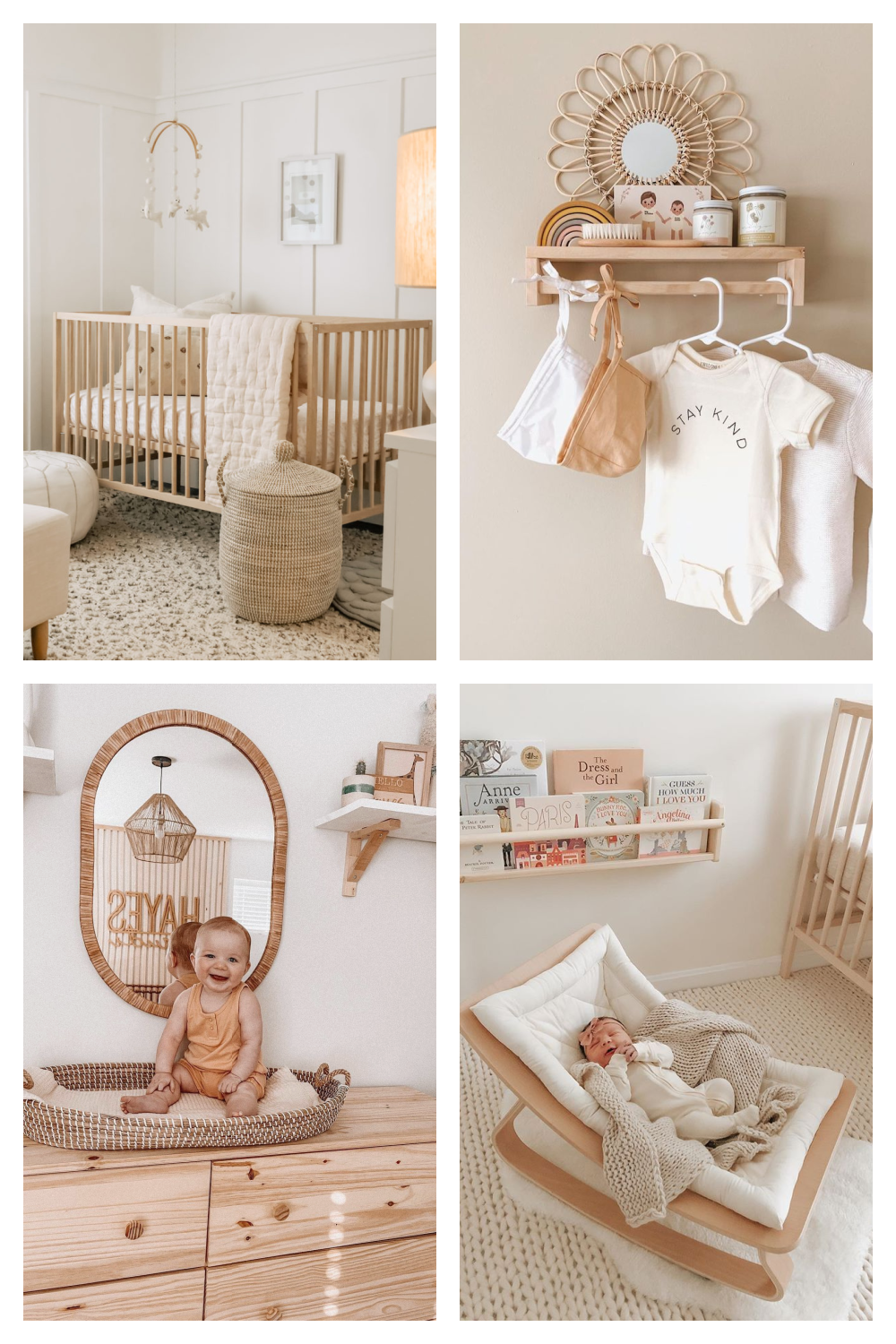 Searching for some cute, unique Ikea nursery ideas?
Today, I've put together a whole collection of adorable Ikea ideas from some of my favorite nurseries to inspire you.
Let's take a look –
My Favorite Neutral Ikea Nursery Ideas
I am a big neutral gal. In fact, I don't think I could love neutrals any more than I already do.
That's why I've chosen this creamy, dreamy neutral nursery as the first source of IKEA nursery inspo today.
01.

Minimalist Aesthetic Ikea Baby Boy Nursery

The IKEA pieces in this baby boy nursery are:
Ikea MALM 6-drawer dresser in white stained oak veneer
Ikea SNIGLAR crib in beech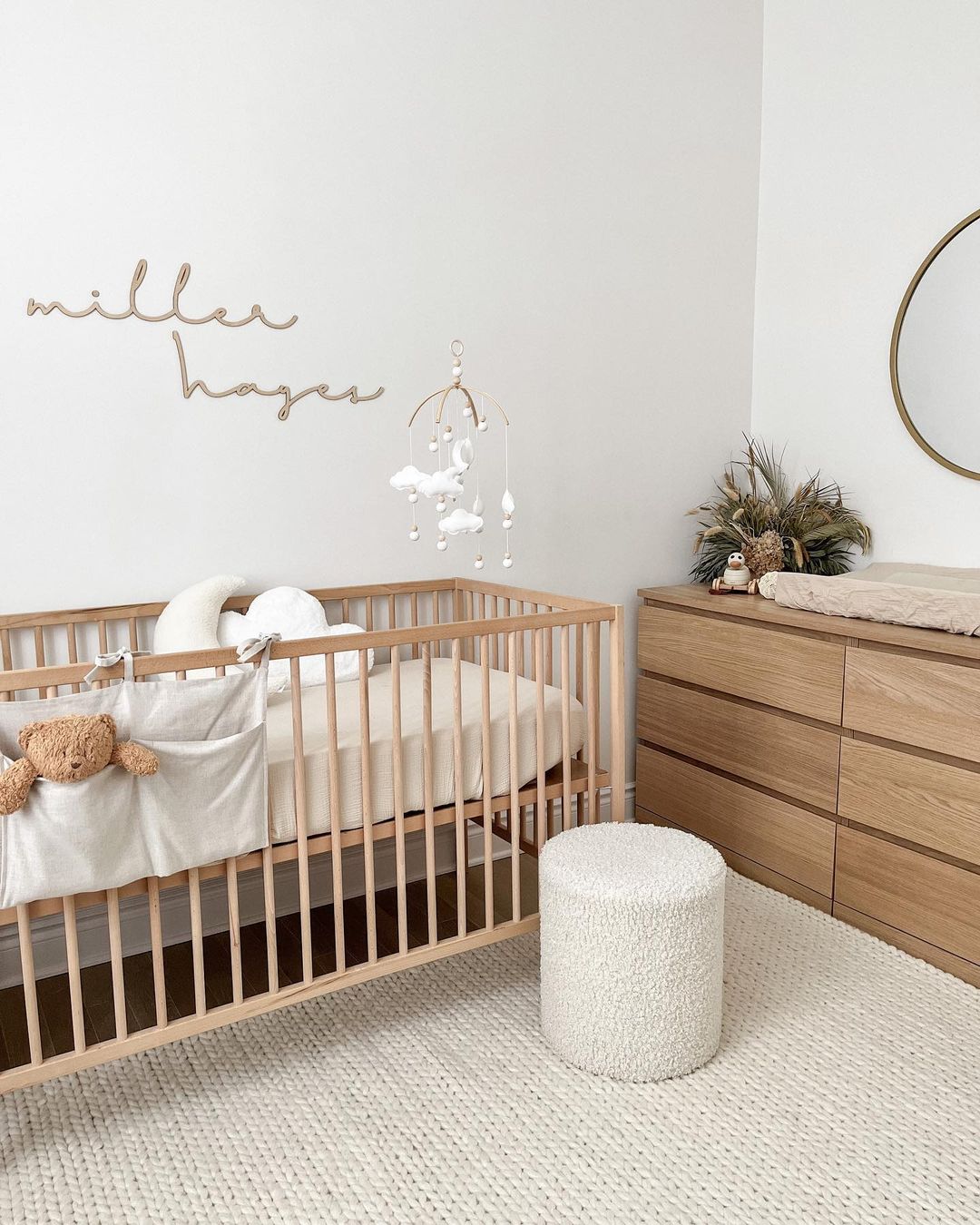 02.

Dreamy Neutral Nursery

The cult favorite Sniglar crib from IKEA is the star of the show here; a simple white hoard and batten wall feature adds depth, the adorable handmade felt mobile creates movement and texture and the gorgeous lidded basket is just the cherry on top 🤌🏼🤌🏼 (it is also, quite possibly, the single most essential nursery must-have from Serena & Lily.)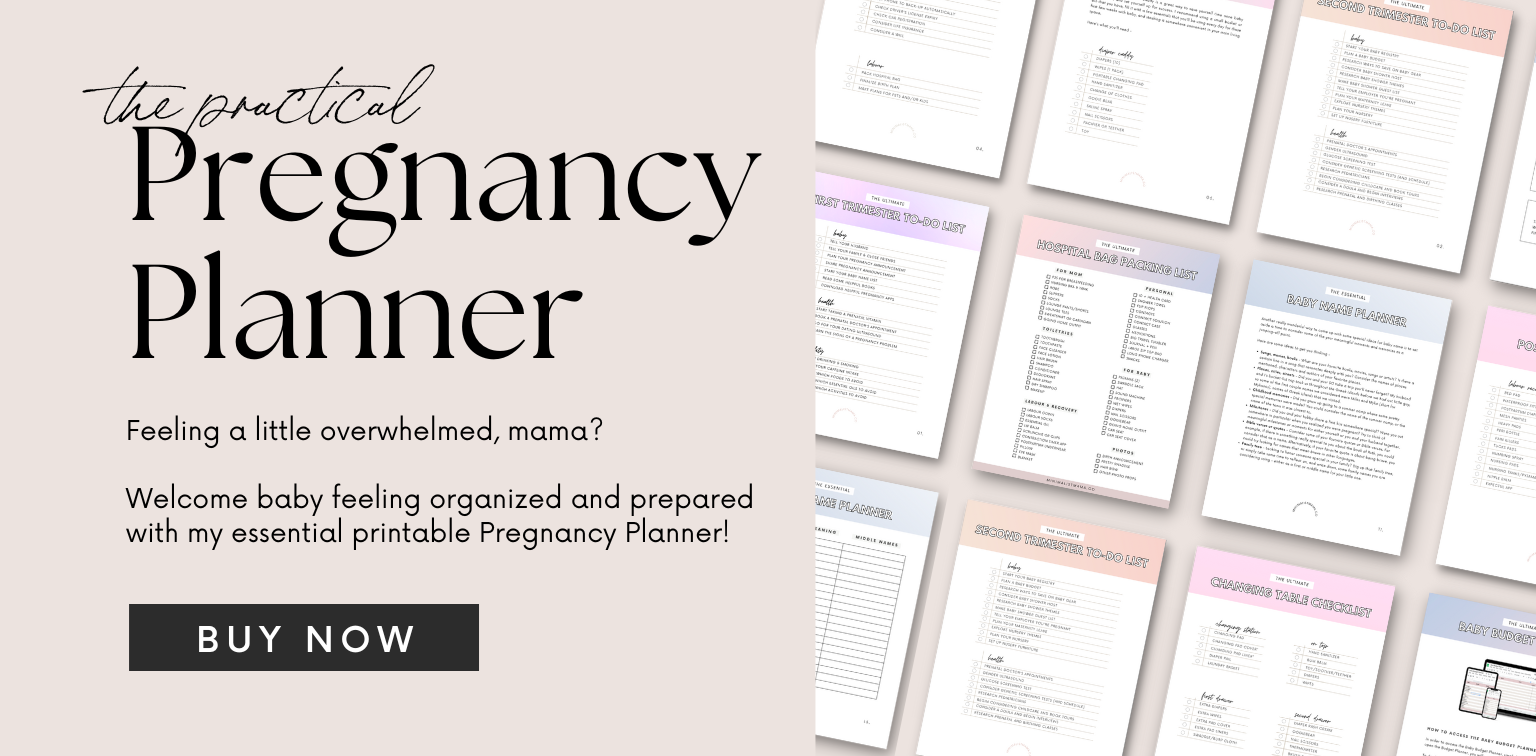 The IKEA pieces in this nursery are:
Ikea MALM 6-drawer dresser in white
Ikea SNIGLAR crib in beech
Ikea RIBBA frame in white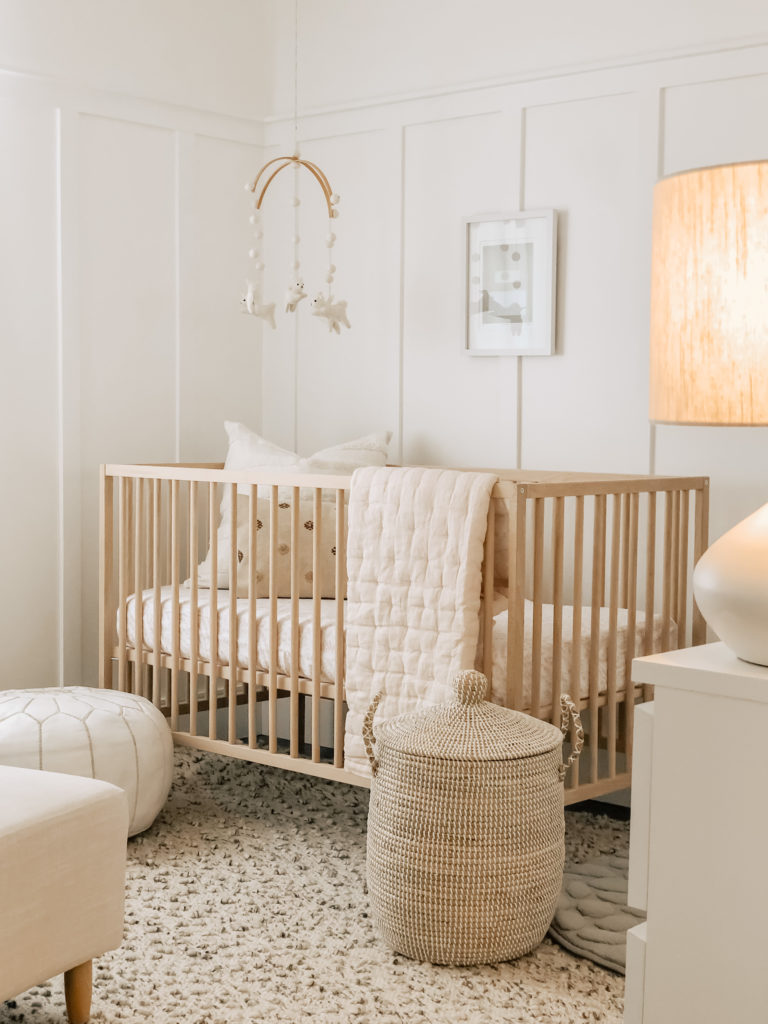 03.

Earthy Neutral Nursery

Next up, the Tarva dresser is the new changing table in Baby Hayes' nursery. This newer IKEA dresser is also a 6-drawer option, similar to the Malm, though the Tarva is a bit more slim, and ultimately, provides a bit less storage space than the Malm, too.

While mama Nic Maxam's left the Tarva dresser in its natural state here, it's actually the perfect blank slate and can be easily stained or painted.

The IKEA pieces in this baby boy nursery are:
Tarva 6-drawer dresser
Opphem rattan mirror
Bergshult/Sandshult wall shelf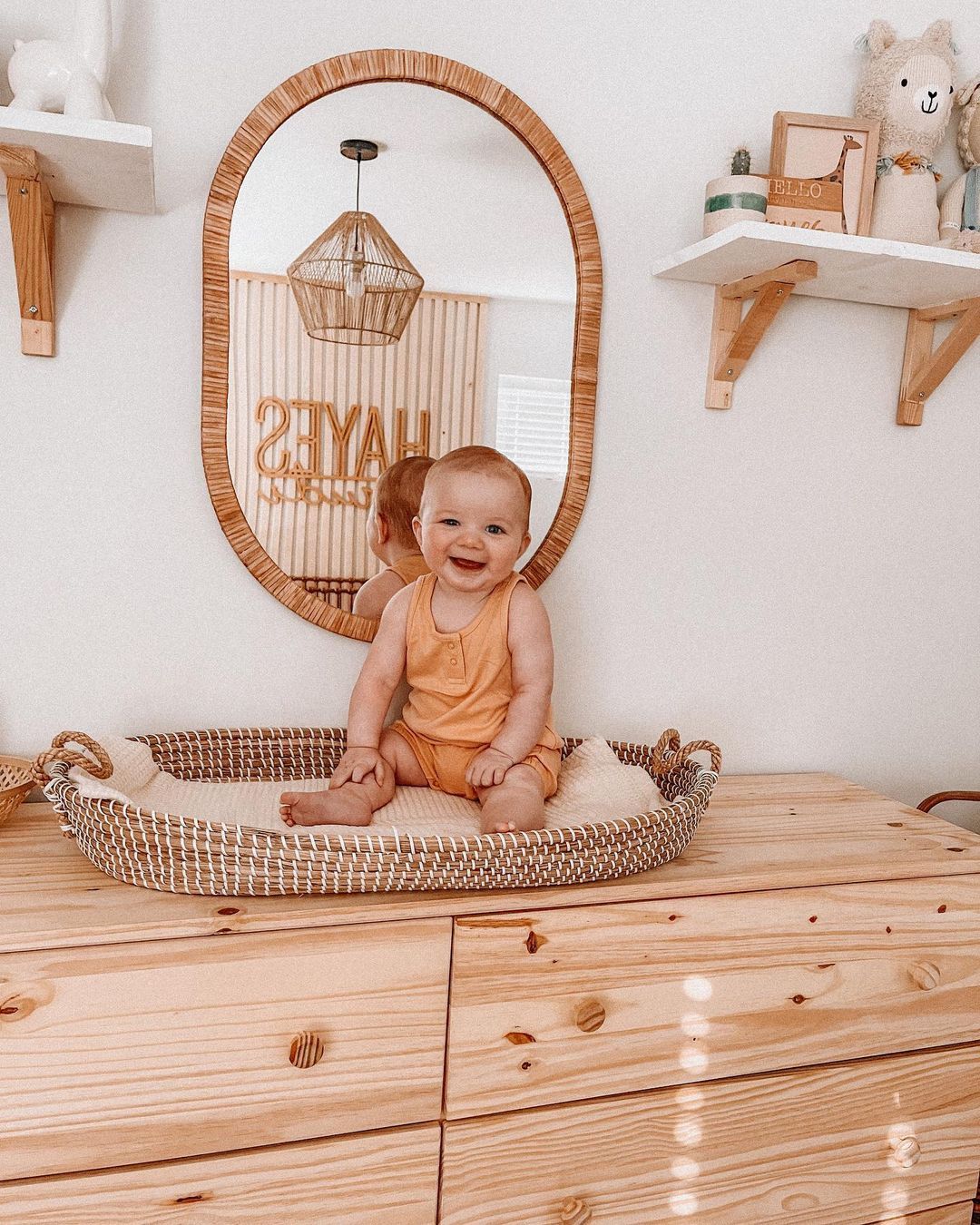 04.

Pretty Natural Nursery

How dreamy is this gorgeous, oatmeal nursery?!

The Toftlund throw makes this nursery all kinds of cozy, while the Sniglar crib and Flisat floating shelf add warmth.

The IKEA pieces in this baby girl nursery are:
Ikea SNIGLAR crib in beech
Ikea FLISAT wall storage
Ikea TOFTLUND rug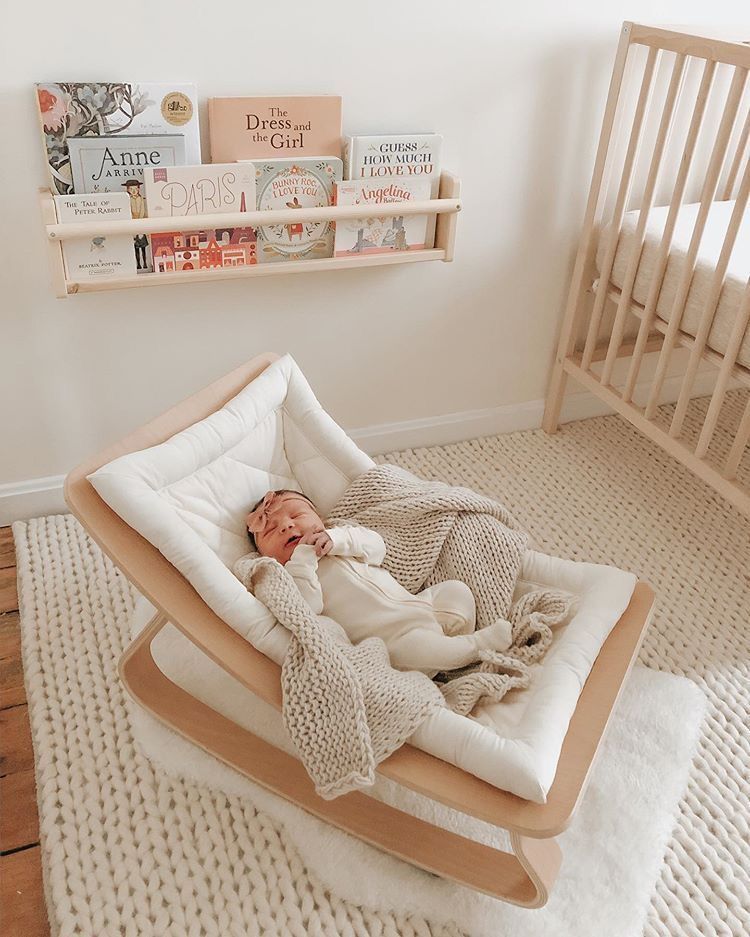 05.

Ikea Cane Book Shelves

The IKEA pieces in this nursery are: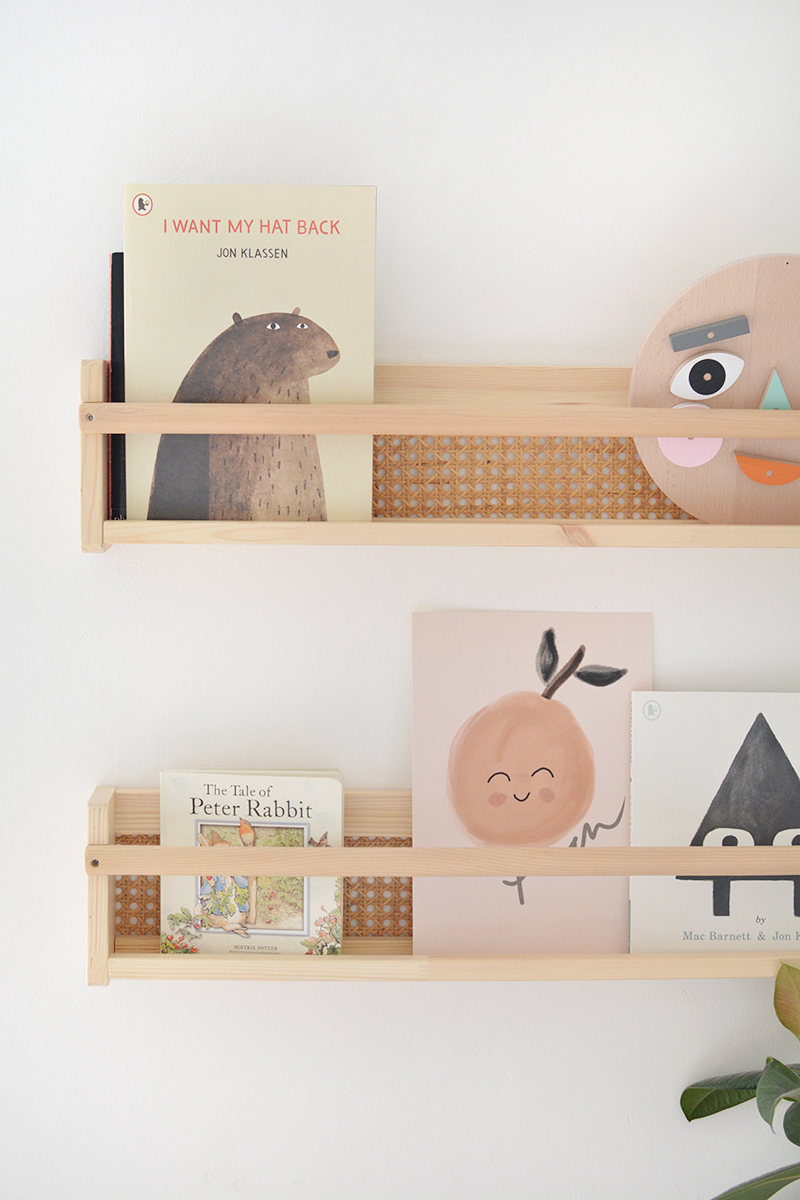 06.

Sweet Scandi Nursery

The Snidad basket is the perfect spot to stash extra pillows and throws in Baby Axel's bright and cheery Scandi-inspired nursery.
Two Alseda banana fibre stools stack for a comfy footrest.

The IKEA pieces in this nursery are:
Ikea SNIGLAR crib in beech
Ikea FLISAT wall storage
Ikea SNIDAD basket
Ikea RIBBA frames
Ikea GURLI cushion cover in golden yellow
Ikea ALSEDA banana fibre stool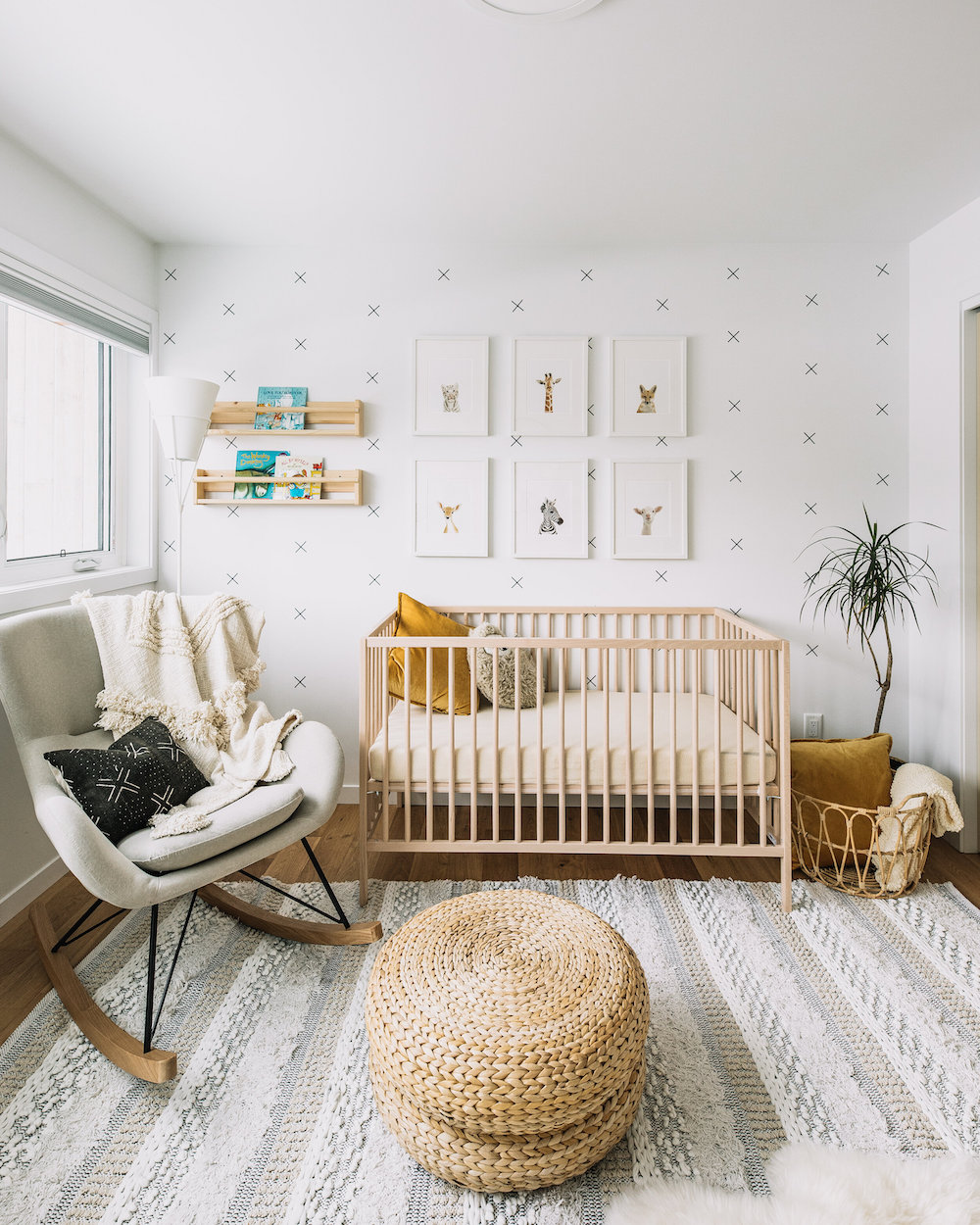 07.

Natural Green Nursery

Why yes, yes that is another Sniglar crib. I mean, for $100, how can you go wrong!?

Another appearance by the Tarva dresser again, as well (classic combo👌🏼), complimented so beautifully by the forest green board and batten feature wall and cute little celestial gold mobile.

Looking for some toy storage? Try adding feet to a pair of Kallax storage shelves (left) and go wild with IKEA's huge selection of perfectly sized storage bins in all colors and styles.

The IKEA pieces in this nursery are:
Ikea SNIGLAR crib in beech
Ikea TARVA 6-drawer dresser
Ikea KALLAX shelf unit
Ikea SINNERLIG pendant lamp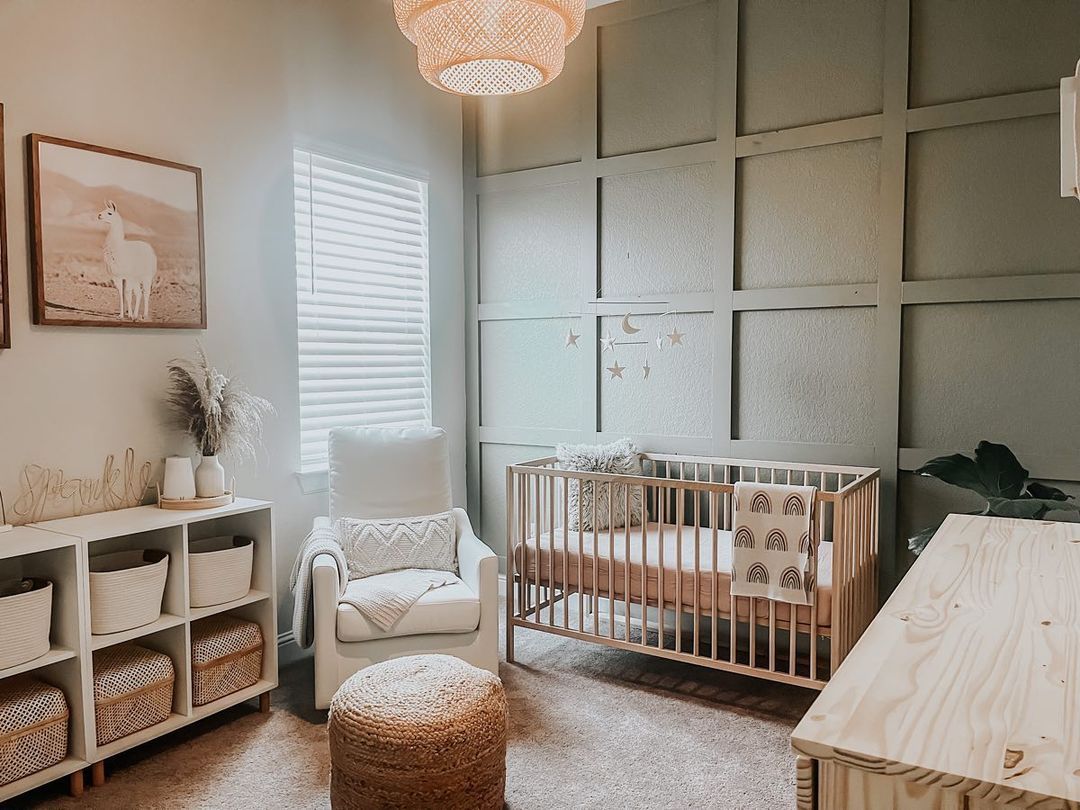 08.

Jungle Green Nursery

I absolutely adore this deep green IKEA Hemnes dresser hack for a little boy's nursery.

Paired with the two Bekvam spice racks and a gorgeous wallpaper, this moody, jungle-themed nursery is too cute.

The IKEA pieces in this nursery are:
Ikea BEKVAM spice rack
Ikea HEMNES 8-drawer dresser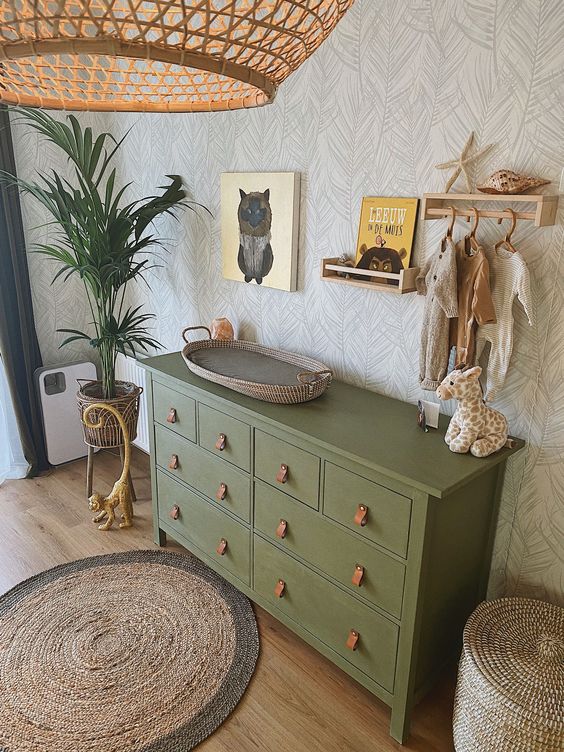 09.

Contemporary Traditional Nursery

All right, I'm just going to come out and say it.

This sweet little dresser is an Ikea hack.

Shut up.

No you shut up!

A few DIY panels create a slightly more traditional shaker-style look, and swapping out the hardware for sweet brass knobs totally polishes it off.

The IKEA pieces in this nursery are:
Ikea HEMNES 3-drawer chest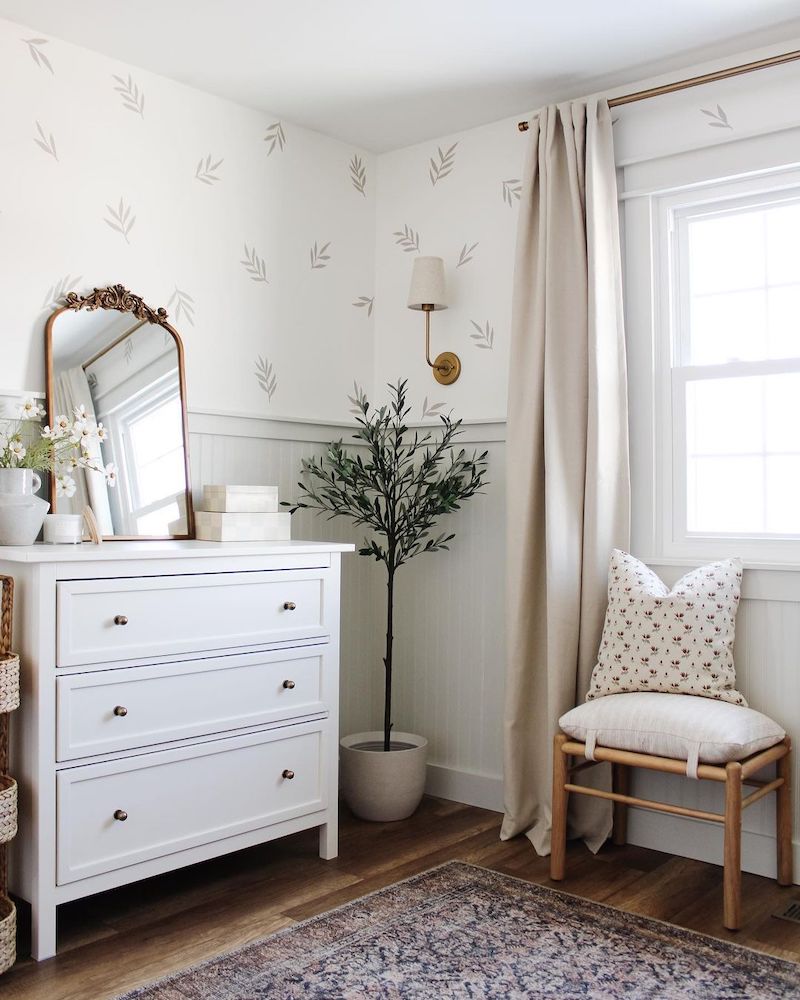 11.

Modern Natural Nursery

My obsession with the Canyon Spindle Crib by Crate & Barrel sure is real.

Gorgeous art by Bonnie Gray completes the crib, and a pair of Ikea's Björksnas dressers make for the perfect changing table.

To top it all off?

Two Flisat shelves mounted above the changing table as book rails.

The IKEA pieces in this nursery are:
Ikea BJÖRKSNÄS 5-drawer dresser in birch
Ikea FLISAT wall storage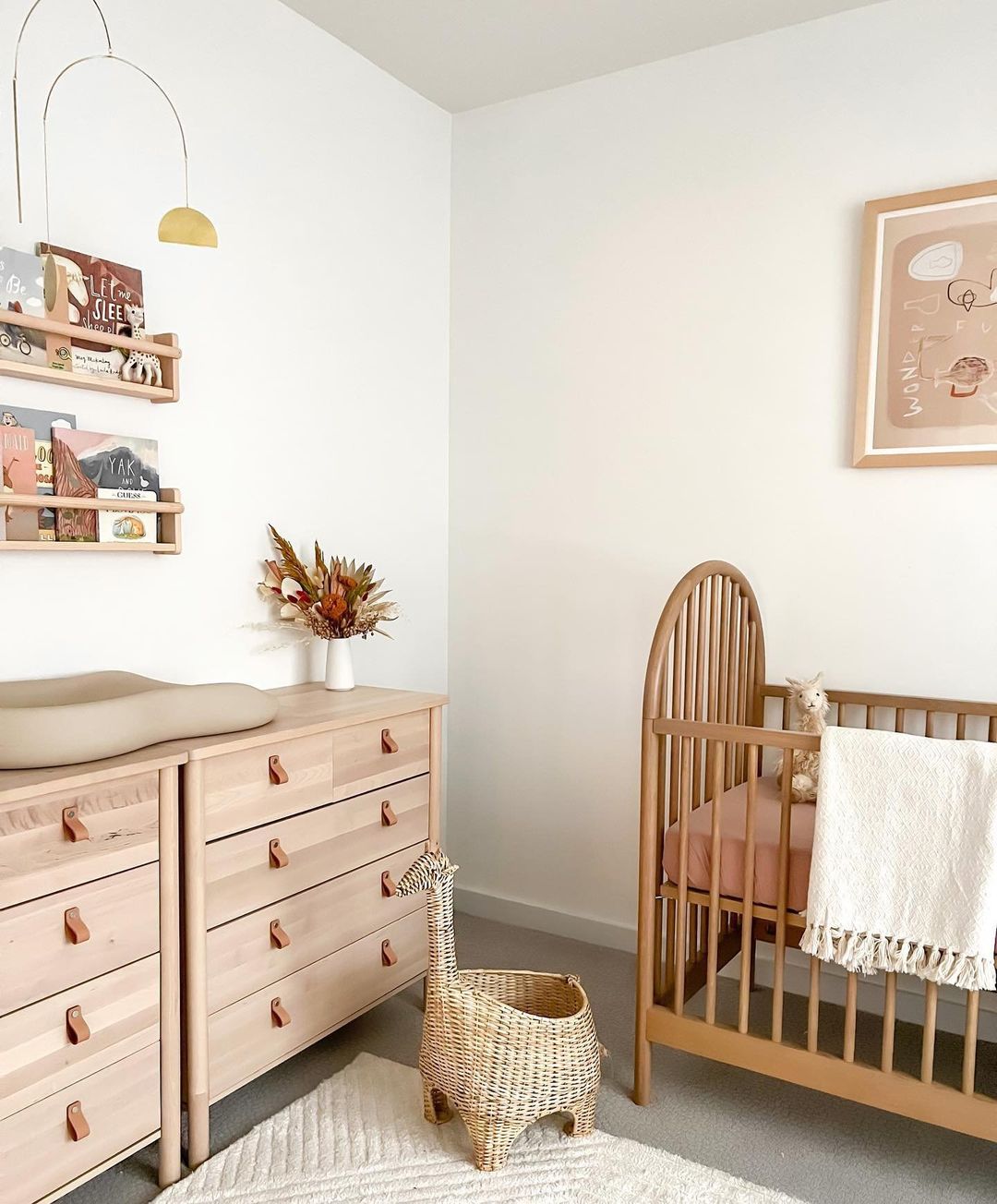 12.

White and Wood Nursery

The Hemnes dresser pops up again in this cute nursery, this time left in its original white, and jazzed up with the Östersnäs leather drawer pulls.

Can't find the Flisat shelves in stock at your IKEA? Look for these Bekvam spice racks in the kitchen section instead!

The IKEA pieces in this nursery are:
Ikea BEKVAM spice racks
Ikea HEMNES 6-drawer dresser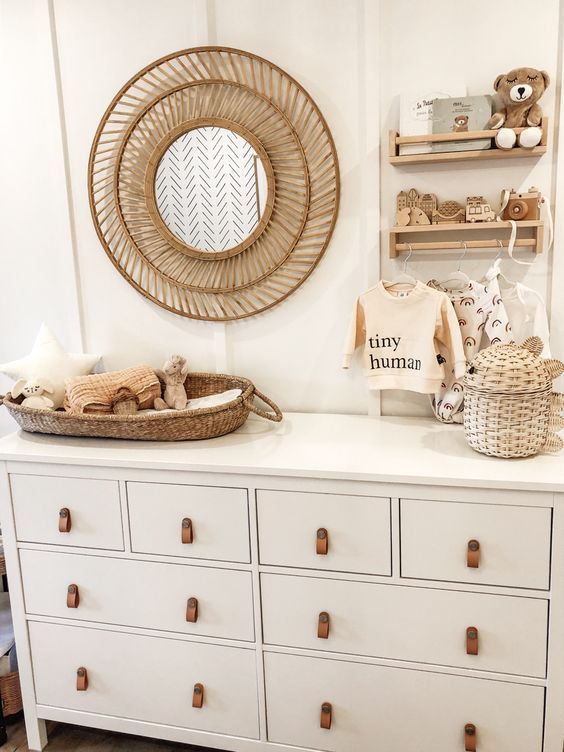 13.

Boho Baby Girl Ikea Nursery

The IKEA pieces in this nursery are:
Ikea HEMNES 3-drawer dresser
Ikea SNIGLAR crib in beech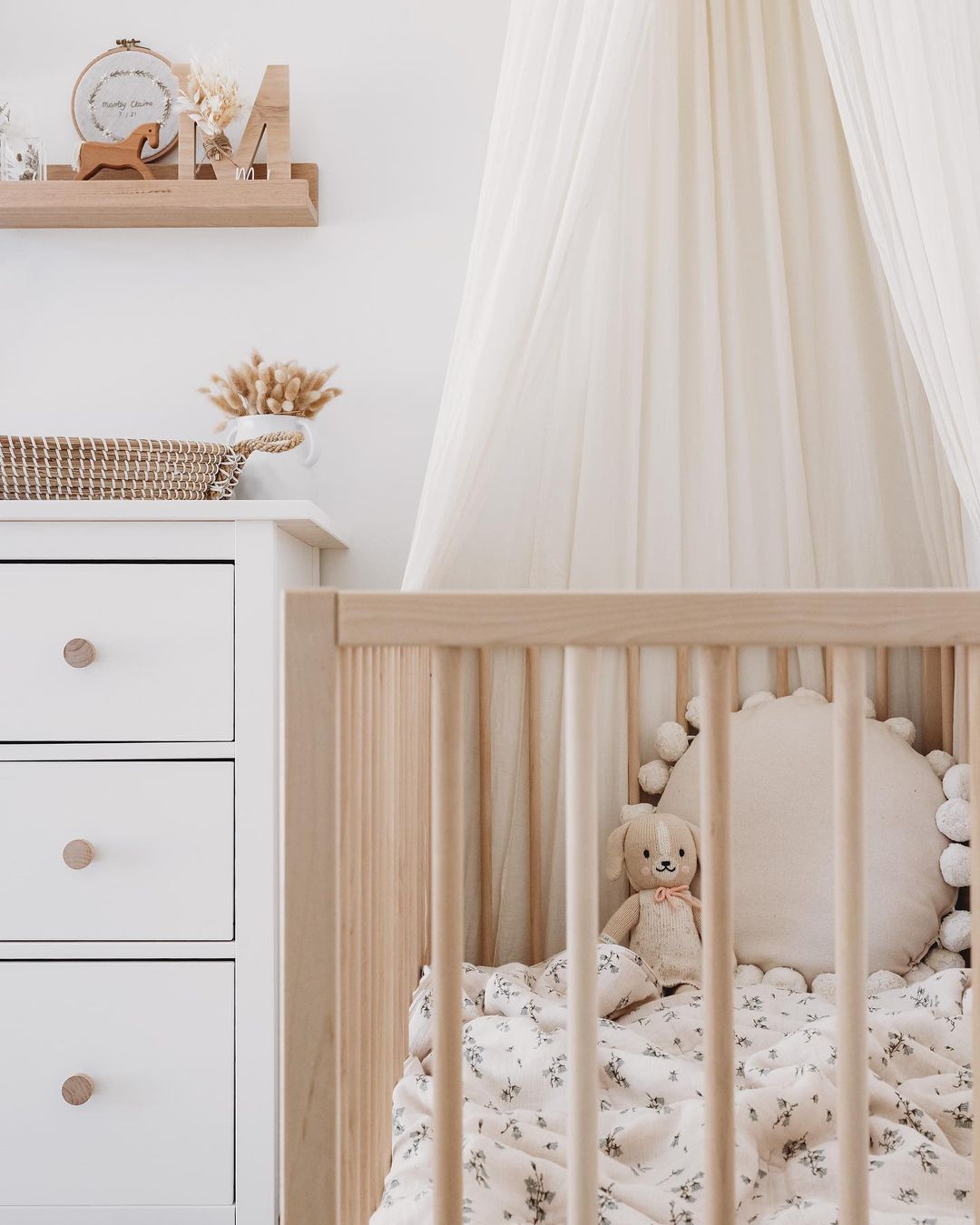 14.

Cute & Cozy Nursery Reading Corner

The IKEA pieces in this nursery are:
Ikea ALSEDA banana fibre stool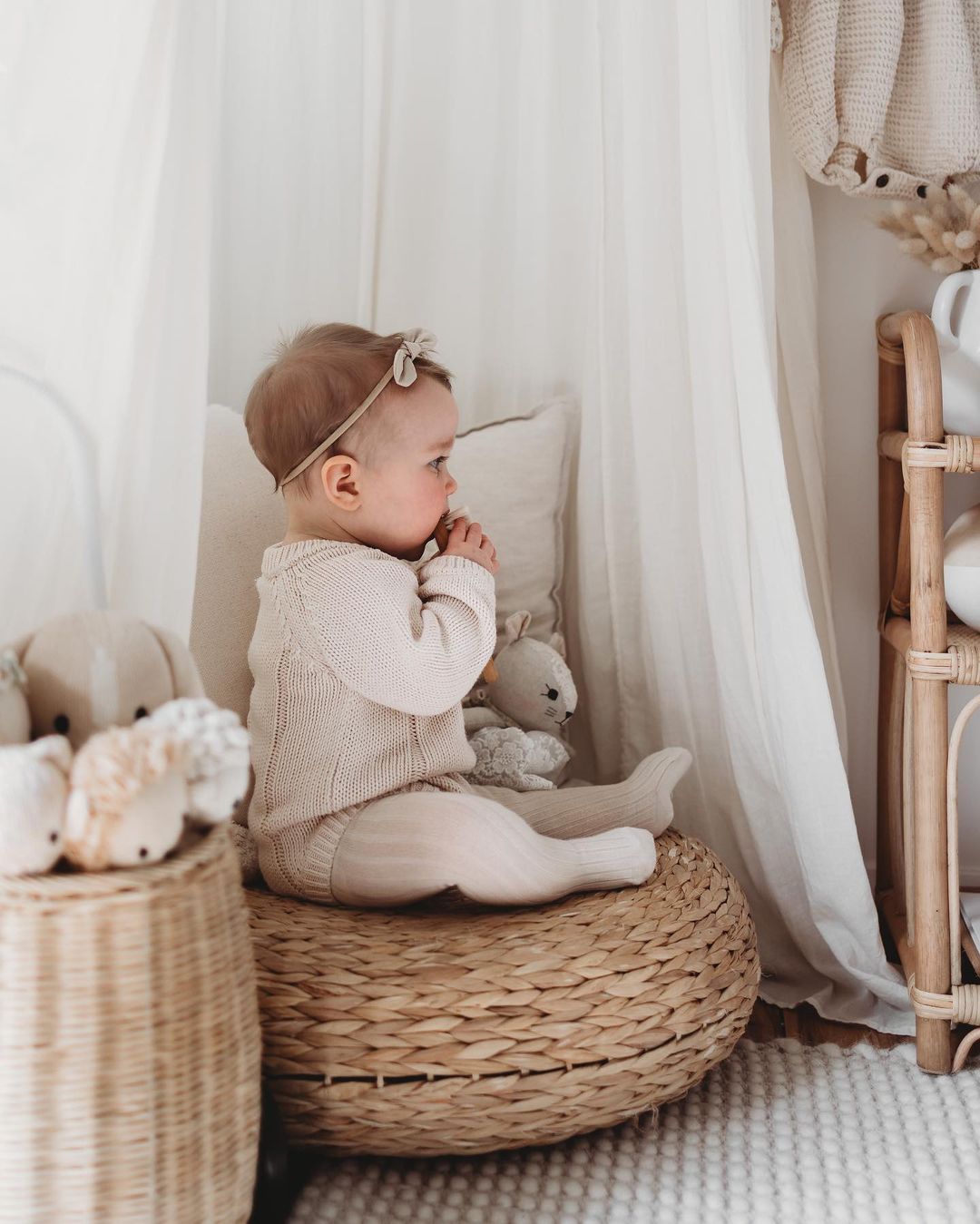 15.

Cute Ikea Dresser as a Changing Table

The IKEA pieces in this nursery are:
Ikea BJÖRKSNÄS 5-drawer dresser in birch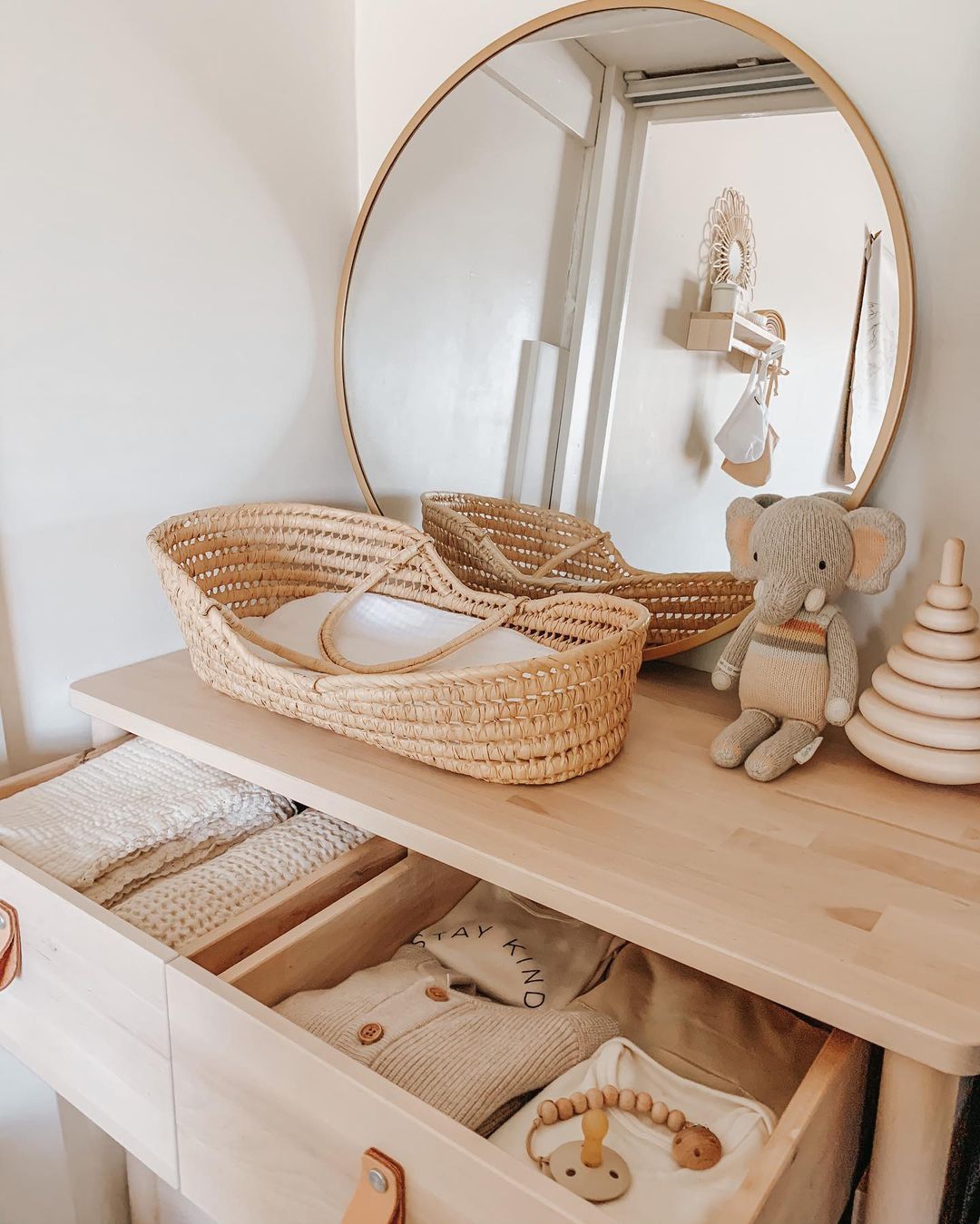 16.

Bright White Nursery

The white Malm 6-drawer dresser makes a spacious changing table in this crisp white nursery.

The IKEA pieces in this nursery are:
Ikea MALM 6-drawer dresser in white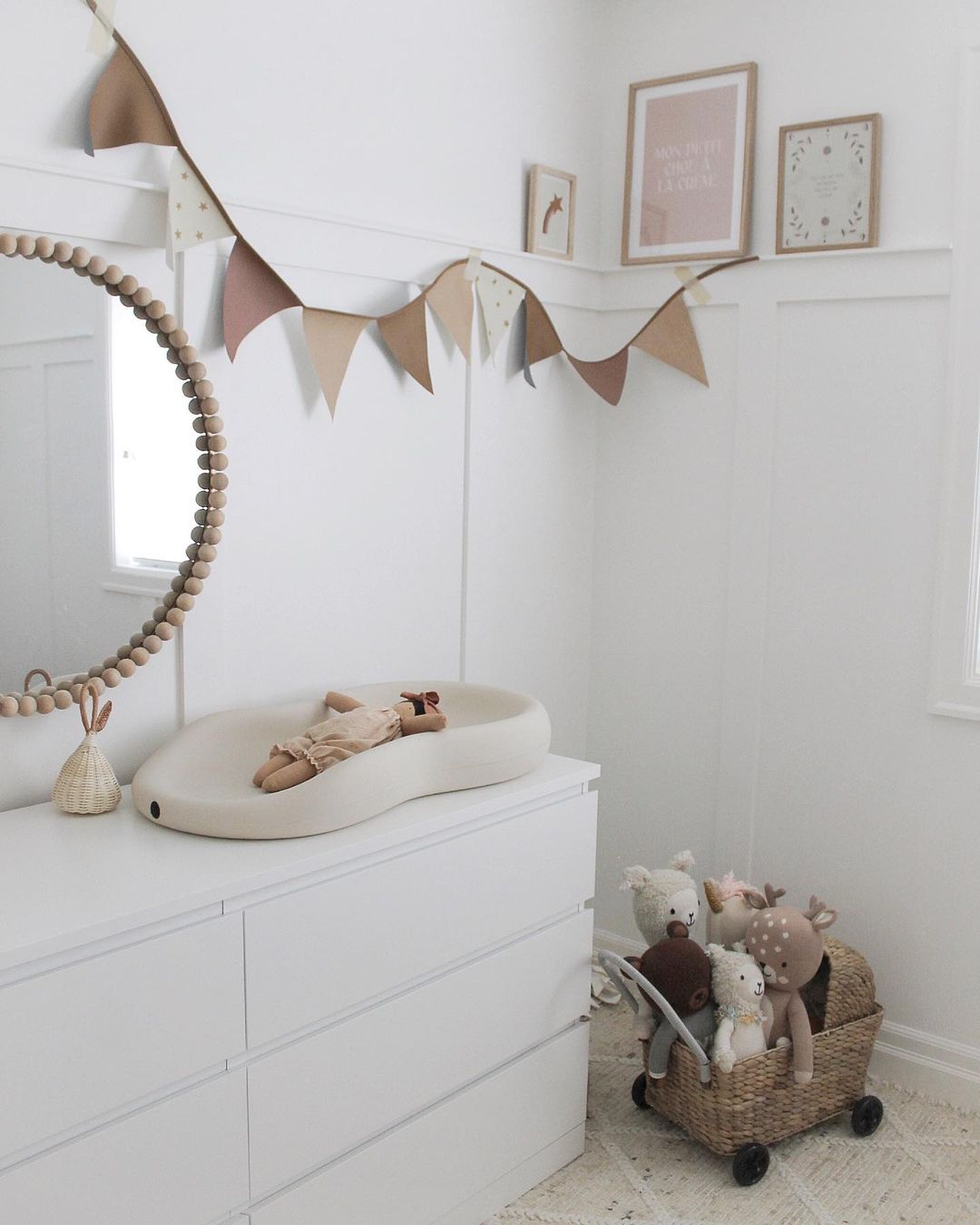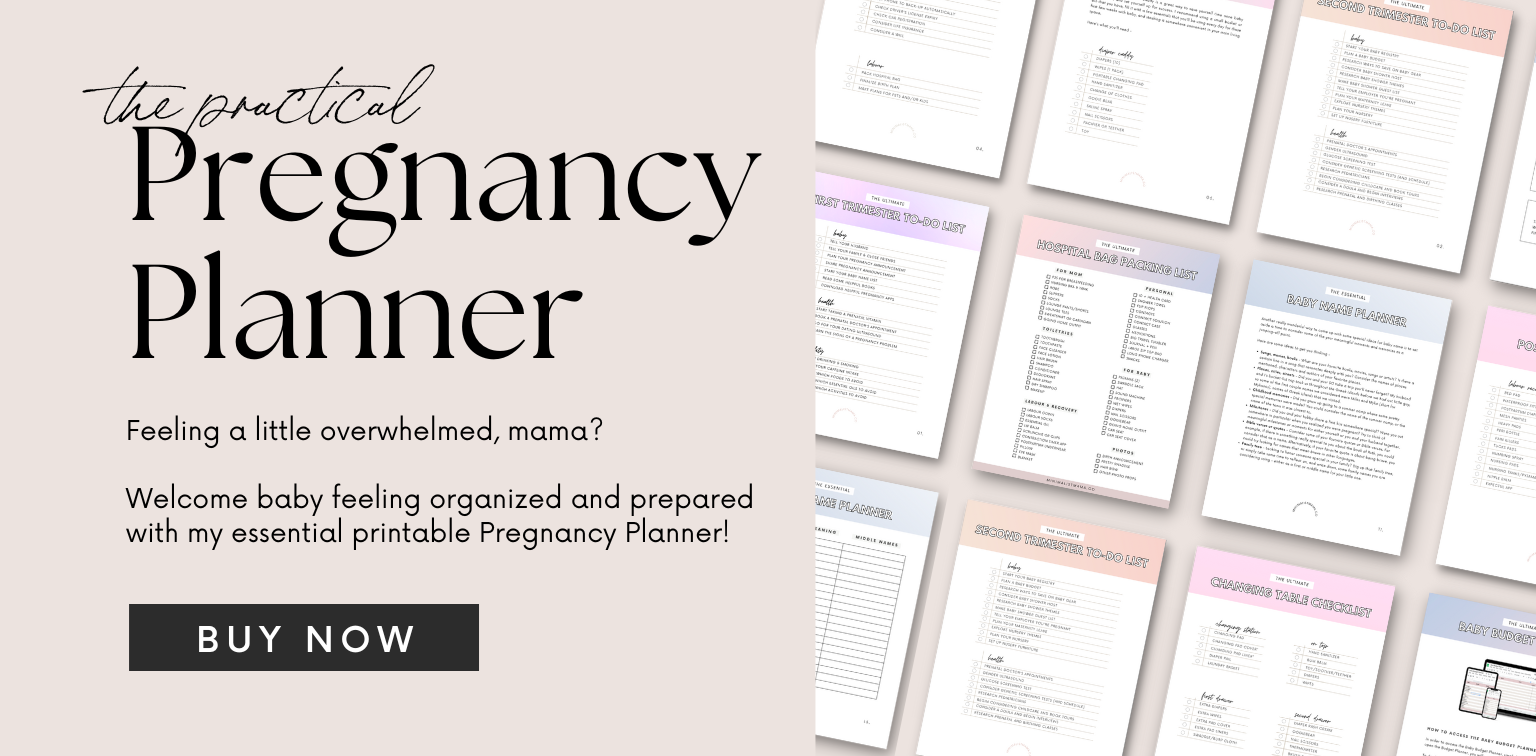 Read Next:
✨27+ Jaw-Dropping Nursery Accent Walls I'm Swooning Over
✨45+ Adorable Nursery Shelf Decor Ideas You Need To See