This post contains affiliate links.
On the hunt for a DockATot alternative that won't break the bank?
Then you're in the right place, mama.
Today, I'm sharing a list of the best DockATot alternatives, including baby loungers that are similar to DockATot (essentially a "cheaper version of DockATot"), a few that I would definitely label as DockATot knockoffs – and even the baby loungers that I think are the best DockATot dupes.
I've looked high and low across every baby brand, shop and boutique I know, so I'm pretty darn confident that you'll find a Dock-A-Tot alternative on this list that'll work with you!
Let's jump in –
A Quick Look at the Dock-A-Tot
Looking for a comprehensive review and comparison of both the Dock-A-Tot and the Snuggle Me Organic?
Bookmark this post for later – Snuggle Me Organic vs. DockATot Lounger: Which Is Better? [Review]
Baby Cubby DockATot Deluxe+ Dock ($175-205)
For now, let's just take a quick peek at the Dock-A-Tot so we know what we're comparing the alternatives to –
About: Dock-A-Tot is a premium baby lounger made by Swedish mama, Lisa Furuland Kotsianis
Sizing: the Dock-A-Tot offers two sizes of baby docks – the Deluxe+ (0-9 months) and the Grand (9-36 months)
Pricing: Dock-A-Tot Deluxe+ ranges from $175 to $205, depending on the print
Construction: The Dock-A-Tot is essentially made of a cover, a tube-shaped pillow, and another, flat pillow that your baby lays on. It includes carrying hands so you can easily move it from room to room, and a plastic clasp at the foot of the lounger, that you can unclip to accommodate your growing baby. The fabric is Oeko-Tex Standard 100 Class 1, which just means a third party verifies that there the material is free from harmful substances.
Care: To wash the Dock-A-Tot, you need to unzip the cover and remove both of the pillows. The cover is then washed in your washing machine, and hung to dry. One thing to be mindful of is that you will not be able to use your DockATot for the time it takes to wash and dry.
How To Find a "Cheaper Version" of DockATot
Are you sold on the style and function of the DockATot, but simply looking for a cheaper version of the DockATot?
Though I've rounded up a number of DockATot alternatives, at the end of the day, although a few of them are very similar, they aren't *quite* the same as the DockATot.
But, you know how you can find a genuine DockATot for a whole lot cheaper?
By purchasing a gently used, or even open box (not at all used) DockATot!
I also don't think it's necessary to buy everything your baby needs brand new – there really are so many great alternatives!
One of my favorites is to find excellent, very gently used (sometimes not even used at all!) second-hand baby items.
So, where's the best place to look for quality used baby items?
While you can definitely try local buy and sell groups online, it is a bit of a toss-up.
Between having to arrange a time to pick up the item, finding their home, not knowing if the product is exactly as they said it was – there isn't really any accountability and it's a bit of a free for all (though I *have* scored some pretty great deals going down this avenue myself).
Enter, Good Buy Gear.
Good Buy Gear is a US-based second hand baby gear marketplace that picks up your gently used baby items, clean and inspects them, lists them on their marketplace, and then ships them out to another family from across the USA and Canada.
Not only does baby gear get a second life, but you get to recoup some of your hard-earned cash! It's a total win-win.
So, if you love the DockATot, but are simply looking for a cheaper version – you definitely need to hop on over to Good Buy Gear and checkout their open box and gently used DockATots like yesterday.
01.

SnuggleMe Organic

The Snuggle Me Organic is perhaps the most commonly known Dock-A-Tot alternative.

When I was putting together our baby registry, I definitely asked around to try to figure out the difference between the Dock-A-Tot and Snuggle Me lounger, with both of them being so popular – and both super high quality.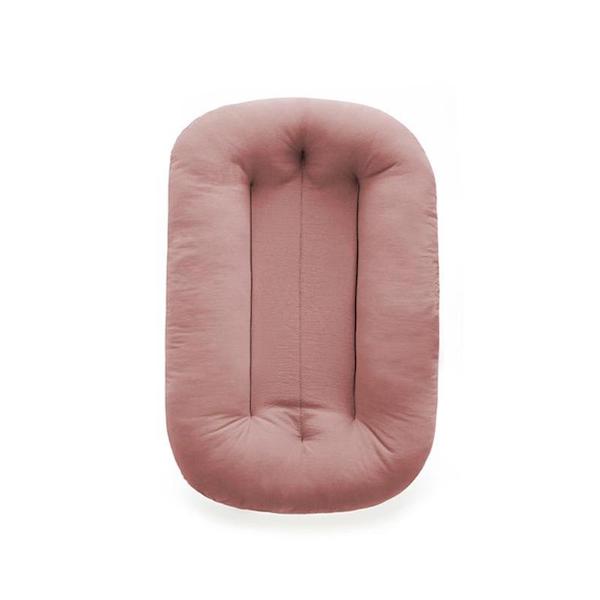 Snuggle Me Organic Bare Baby Lounger ($99)
I was sure other moms had the same question, so I even put together a whole comparison guide – Snuggle Me Organic vs. DockATot Lounger: Which Is Better? [Review].
At the end of the day, the Snuggle Me does end up being less expensive, and a bit easier to wash.
Perhaps the two biggest differences are that the Snuggle Me Organic lounger is more of a snug lounger, almost like a hammock, whereas the Dock-A-Tot is a bit roomier, more like a teeny mattress.
This difference in size also affects how long I found we were able to use our Dock-A-Tot – the Snuggle Me was too small for my little guy a few months earlier than the DockATot.
02.

Oval Lounge Mat by Finn + Emma

Next up, the small version of the Oval Lounge Mat by organic baby brand, Finn + Emma.

This adorable little boho lounger is suitable for babies from 0-9 months, and the cover is machine washable, which is definitely a very welcome feature.

All of the components are made of organic cotton and filled with polyester (the same as the Snuggle Me Organic), so if you are looking for a great little non-toxic baby dock, this might be the one for you.
Finn & Emma Oval Lounge Mat ($149)
03.

Wonder & Wise Baby Napper

This super stylish DockATot alternative by minimalist baby brand, Wonder & Wise, is available at a number of major premium retails like Neiman Marcus and Saks Fifth Avenue. Here in Canada, it's available at Maisonette.

This baby lounger is absolutely one of my favorite not only because it comes with this cute little cloud pillow and blanket that's perfect for tummy time, but I really feel like it's just as pretty as the Dock-A-Tot, which, let's be real – matters to some people (like me, lol 😆).

At less than half the price of a DockATot, I really feel like this baby lounger is a great, "cheaper version" of the DockATot.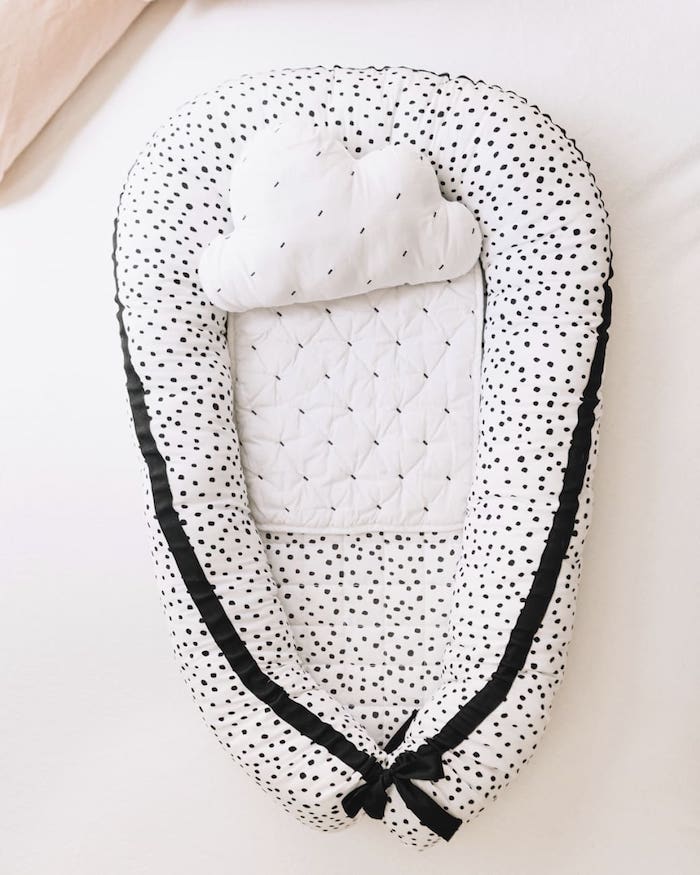 Wonder & Wise Baby Napper ($99)
Neiman Marcus ($99)→ Maisonette ($99) →
04.

Baby Nest Lounger

On to a few handmade alternatives to the DockATot from – where else? – Etsy.

(I've chosen one style that I like here, which is by a cute Australian maker, but you can take a peek at all of the similar docks, too).

While this alternative is a bit closer to the Snuggle Me Organic than the Dock-A-Tot, it's still definitely a great option to consider.
TheWildChildAU Baby Nest Lounger in Rust ($86)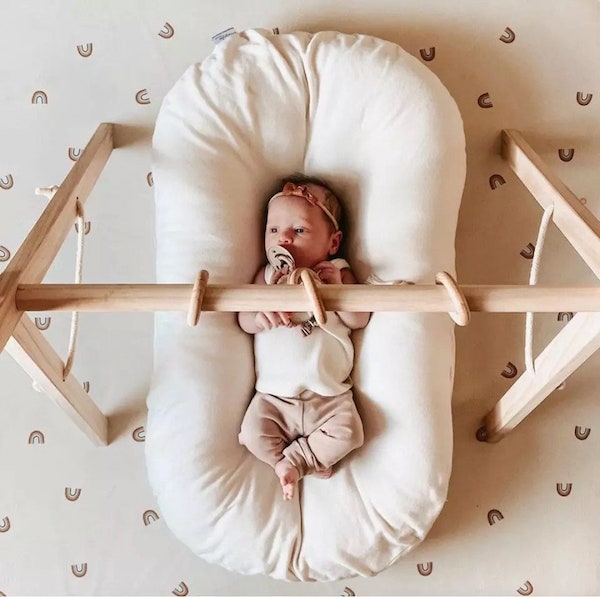 TheWildChildAU Baby Nest Lounger in Beige ($86)
05.

Newborn Nest

Another Dock-A-Tot alternative, found on Etsy, this handmade baby lounger is a great option

With over 20,000 reviews, and a 4.9 shop rating, I definitely think this newborn baby nest is a great option for the mama looking for something similar to Dock-A-Tot, but at a fraction of the cost.

One thing to be mindful of with this baby nest is that it does ship from Ukraine (which is probably why they are able to offer it at such a significantly lower price) – I would simply be mindful of the time it would take to ship, and adjust accordingly.

The two other key differences are that this Dock-A-Tot alternative does not include carrying handles, and also is held together using d-rings, which may be a bit more of a pain to open up, when compared to the easy clasp that you'll find on the Dock-A-Tot.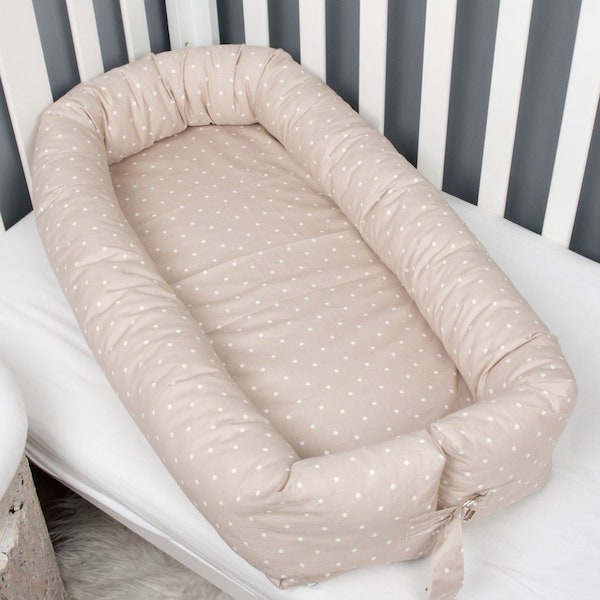 BabynestShop Newborn Nest ($44)
06.

Amazon Baby Lounger

The Amazon baby lounger is perhaps the most affordable and easily accessible Dock-A-Tot alternative on the list.

A simple Amazon click away, this Amazon baby lounger could be on your doorstep in just a day or two, for under $50.

While I'm not a huge fan of the prints that it comes in, if that isn't a big deal to you, this might be the right newborn nest for you.

With key features very similar to the Dock-A-Tot, such as the carrying handles, outer tube and flat cushion design, it's pretty darn close.
Amazon Baby Lounger ($46)
07.

Cosydream Original Newborn Lounger

The Cosydream Newborn Lounger is a Dock-A-Tot alternative that was developed by an osteopath with some pretty experience in dealing with the common ailments that babies face.

A raised headrest is said to help prevent flat head syndrome, and the leg rest at the base can help work through gas and bloating by raising their legs up.

Another significant difference between the Cosydream Lounger and the Dock-A-Tot is that the Cosydream is significantly smaller, and can only be used until 3 months of age.
BabyMoov Cosydream Original Newborn Lounger ($57)
08.

The Nido Nest

Across the pond in Poland is the last baby lounger that would work as an alternative to the DockATot.

One of the really neat features of this nest is that the drawstring holding up the sides can be loosened, which turns this lounger into a larger playmat.

Finding baby items that can serve double duty is always a major win, and for that reason, I think the Nido Nest is a great option for parents looking to squeeze a bit more value out of their investment.

What I will mention, however, is one of the reasons I found the Dock-A-Tot to be so useful is because I could have it on the island in our kitchen while I put away dishes or did some meal prep (only while Hudson was very, very young and couldn't roll, and only while I was standing right there).

This may not work with this lounger, as it's significantly larger. Just something to be mindful of, depending on how you plan on using it.
Kadaro Nido Nest ($115)
The Best Dock-A-Tot Dupe
Looking for the *closest* alternative to the Dock-A-Tot?
The Dormikid baby nest is almost identical; it is the same size, shape and design as the DockATot, includes a carring handle, and a clasp closure at the base.
While the finer details such as the hardware and zipper don't look to be quite as high quality as the Dock-A-Tot, and the colors and styles of the covers are pretty plain, all things considered, this is a pretty close Dock-A-Tot dupe.
Check it out on Etsy.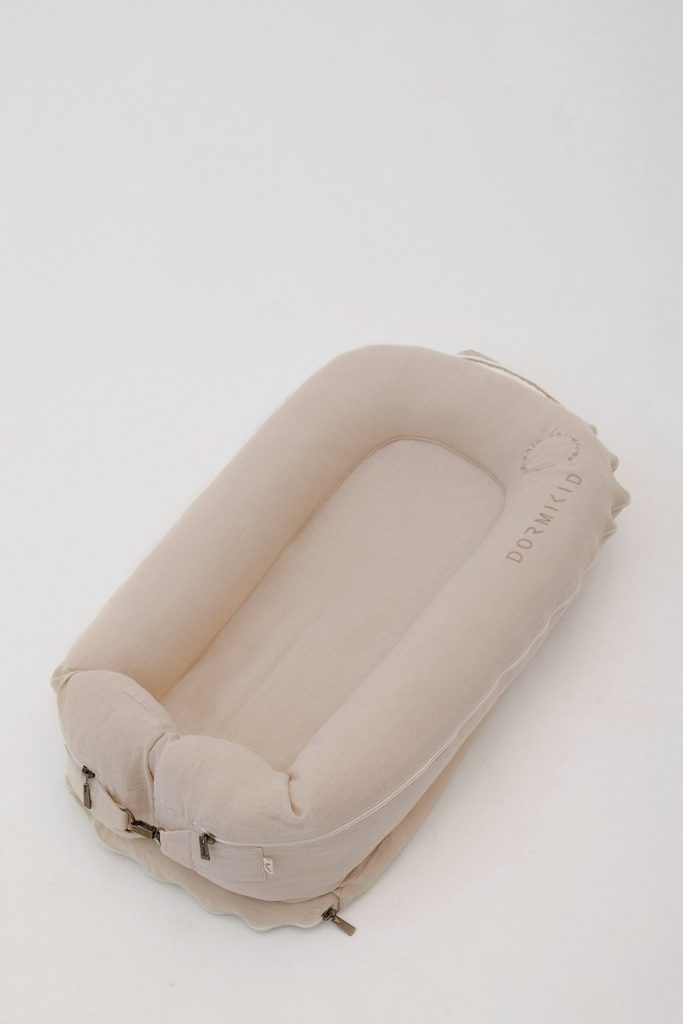 Dormikid Organic Linen Baby Nest ($139)
Read Next:
Baby Swing vs. Bouncer: Which One's Right For You?
7+ Low Light Nursery Lamps For Changing & Feeding Baby At Night
11+ Super Useful Nursing Cart Essentials That You'll Definitely Need