This post contains affiliate links.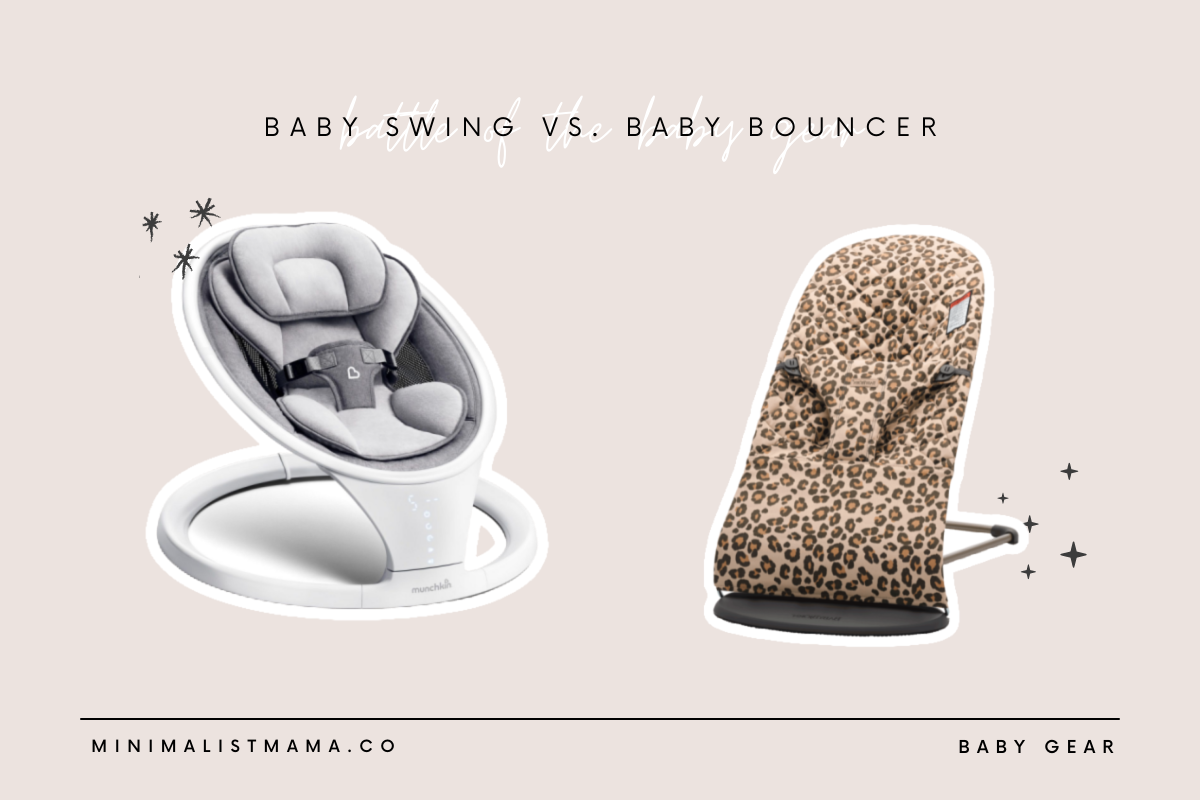 Hey, mama! Baby gear can be overwhelming, can't it? I know. I was there.
That's why I've written this guide, comparing a baby swing vs. bouncer: to help you decide which one might work better for you – or if you should buy both.
Let's dive in –
In order to explain the differences between the two, here's what we'll look at:
Motion: how does it move?
Function: how does it work?
Features: what does it do?
Size: how much space does it take up?
Portability: how easy is it to move around?
Storage: how easy is it to store?
Style: eye sore or cute?
Price: cha-ching-a-ling
Looking for a quick answer? Here's the nuts and bolts of it:
While both a baby swing and baby bouncer give parents a safe place to put their little one down, a baby bouncer is a bit more of a basic and lower-priced piece of baby gear that requires the parent or baby to bounce them up and down.
A baby swing, on the other hand, is typically at a higher price point, electric, and swings side to side, on its own.
Baby Swing vs. Bouncer: What's The Difference?
Motion
One of the key differences between a baby swing and baby bouncer is the type of motion they use to soothe your baby.
While a baby bouncer, well, bounces your baby up and down, a baby swing swings back and forth – either side to side, or front to back. Additionally, in today's tech-y age of baby gear, many baby swings like the Momaroo, will also offer a few additional types of movement patterns beyond just swinging side to side, such as kangaroo, tree swing, and car ride.
When it comes to the type of motion that babies prefer, there really isn't any golden rule, and it's just going to come down to which motion your individual baby likes.
Function
Besides which way each piece of baby gear moves, another key difference is how much parent involvement is required for the gear to work.
A baby bouncer is just essentially just a soft seat on a wire structure, and it requires someone to use their foot or hand to push on it to provide continuous motion, though many models do include a gentle vibration setting.
Alternatively, a baby swing is more hands-off, in that it needs to be plugged in to a power source, and generates the swinging motion itself.
Features
When it comes to the features included, both swings and bouncers offer toy bars that baby can look at and reach for, and some also offer a motorized baby mobile that suspends and slowly rotates toys above baby for entertainment.
Size
Tight on space? Then you may prefer the baby bouncer.
While the difference isn't huge, baby bouncers are definitely a bit smaller than swings.
If you live in a smaller space, this may matter to you more.
Portability
Looking for something that's easy to carry from room to room, or pack into the car for a visit?
Then a baby bouncer may be your preference.
Because baby bouncers are more simple, lightweight and smaller than swings, they're easier to carry from room to room in the house.
Baby swings, on the other hand, will typically be a bit heavier, and bigger, and won't always fit through a doorway assembled.
Storage
When it comes to storing each piece of baby gear away, a baby bouncer is easier to store, as many easily fold flat, and take up less space, too.
The most basic baby swings will also come apart and can be stored in a small space, but they are more of a hassle to disassemble and will likely require tools.
On the other hand, the higher-tech baby swings, like the Momaroo, can not be taken apart, so they're definitely more inconvenient to store.
Style
Are you the kind of parent that will spend the extra time and a few extra dollars on aesthetic baby gear?
Because I definitely am.
When it comes to the neon, cartoon, blinking world of baby stuff, I'm not a fan. Because all of the baby gear like activity gyms, play mats, nursing pillows, and yes – baby swings and bouncers, are so essential and out in our living space for such a long time, I am the mom who is willing to spend a bit extra on a pretty, stylish piece of baby gear that'l isn't a total eye sore.
When comparing baby swings and bouncers, another consideration is that most of the lower-priced baby bouncers are super bright and tacky, whereas baby swings – for some unknown reason – are much easier to find in simple, neutral designs.
Price
Baby swing vs. baby bouncer: what's the difference in price?
Because a baby bouncer is a pretty basic piece of baby gear, they're generally very affordable.
Simple baby bouncers typically starting at around $30, (with gently used bouncers even available for as low as $5), whereas the cream of the crop, the Baby Bjorn bouncer, is typically about $200 new (and $100 for gently used).
Looking for a steal of a deal on barely-used baby gear? You need to check out GoodBuyGear, mama!
Get $25 off your first purchase at mama mecca, GoodBuyGear today!
Baby swings, on the other hand, come with a higher price tag.
While you can get into a super simple baby swing for as low as $50, they are more commonly $100-150, and even $200-350 for the fancier, motorized models.
Read Next:
✨ The 11+ Cutest, *Buttery-Soft* Bamboo Baby Pajamas I'm Obsessed With
✨ The *Very* Best Non-Toxic Baby Shampoo (And Which To Avoid)
✨ 7+ DockATot Alternatives (+The Best DockATot Dupe!)
✨The 11+ Cutest, *Buttery-Soft* Bamboo Baby Pajamas I'm Obsessed With