This post contains affiliate links.
On the hunt for the best Baby Bjorn bouncer dupes? Then you're in the right place. Pull up a seat, because *these* are the best Baby Bjorn bouncer alternatives.
When it comes to baby gear, a baby bouncer is a handy essential that gives you a safe place to our your little one down to free up your hands.
It's lightweight and portable, so it can be easily moved from room to room, even with one hand.
What's more, is that most baby bouncers fold flat, so they're usually much easier than other baby gear to pack on road trips, or tote along on a trip.
Many new parents, like myself, use baby bouncers while they are showering, getting dressed, cooking dinner or folding laundry.
If you've already begun putting together your list of must-have newborn essentials, or started your baby registry, you've probably already come across the Baby Bjorn bouncer.
It sure is cute, isn't it?
And functional, too.
But what about alternatives? Are there any Baby Bjorn dupes that get the job done, while still looking nice, for an affordable price?
There sure are.
Let's dive in –
The Best Baby Bjorn Bouncer Alternatives
Here are my favorite alternatives for the Baby Bjorn bouncer:
01.

Buy a Baby Bjorn Bouncer Secondhand

Looking for a cheaper alternative to the Baby Bjorn bouncer?

If you love the style and function of the Baby Bjorn bouncer, but wish it just cost a bit less, secondhand baby gear marketplaces like Good Buy Gear, are a really great option.

Oftentimes, in addition to gently used items, they'll also have some open box gear, which is a total steal!

Check out their current inventory of Baby Bjorn bouncers here.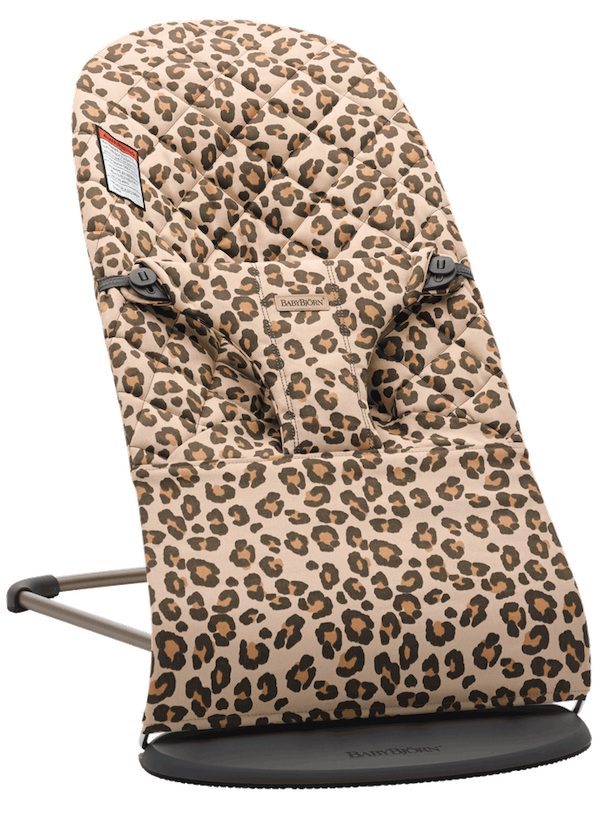 Good Buy Gear Open Box Baby Bjorn Bouncer
02.

Rent a Baby Bjorn Bouncer

Or, maybe you're into the Baby Bjorn, but aren't sure if your baby will take to it, so you'd like an option that is low cost, low commitment, and provides the flexibility to swap the bouncer out for a different style if it doesn't work for you.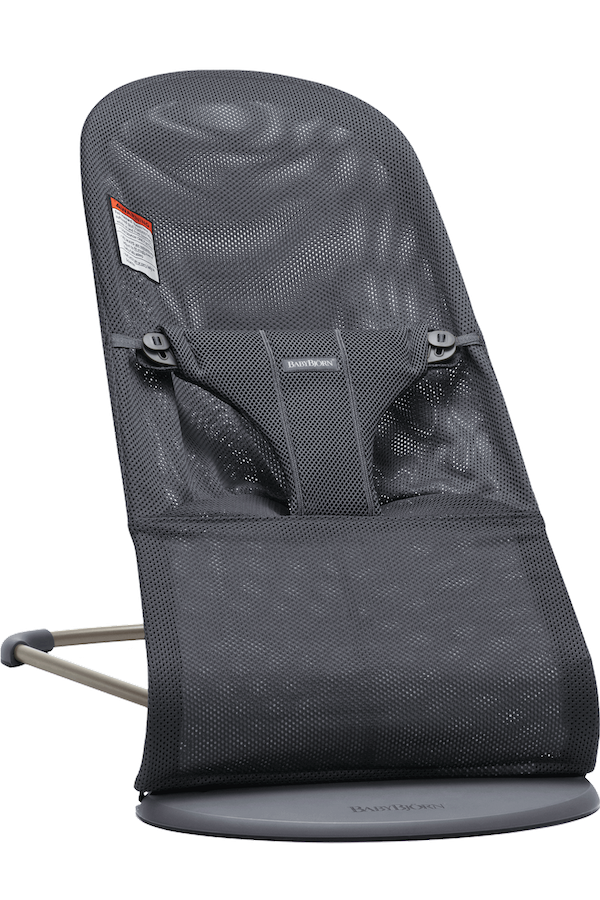 Loop.Baby Baby Bjorn Bouncer Rental
Why not consider renting a Baby Bjorn bouncer from a baby gear rental service like Loop.Baby for a fraction of the price?
03.

Baby Delight Alpine Bouncer

Next up, the Baby Delight Alpine Bouncer.

Okay, if any of these Baby Bjorn knock-off, it's this one.

Available in three different neutral colors, this baby bouncer folds flat, has three seating positions, just like the Baby Bjorn, and even comes with both a toy bar, and carrying case (both of which cost extra with the Baby Bjorn).

For less than a third of the price, this simple, practical baby bouncer is a pretty decent Baby Bjorn bouncer dupe.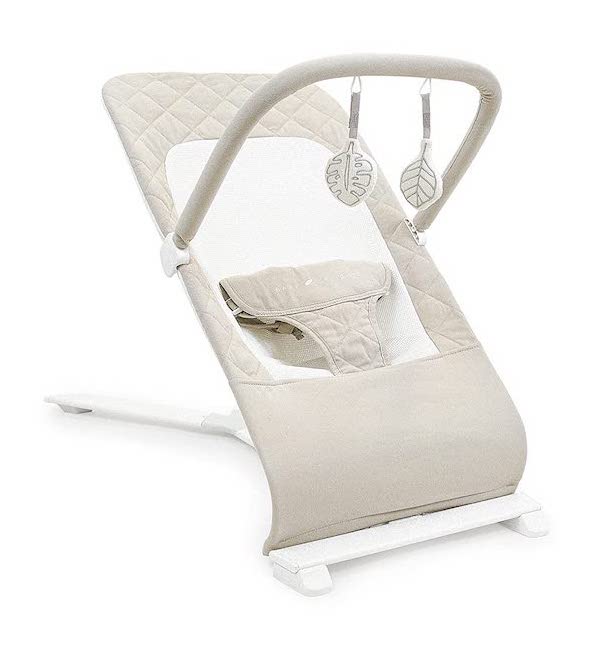 Amazon Baby Delight Alpine Bouncer
04.

Bloom Coco Go 3-in-1 Bouncer

The Bloom Coco Go 3-in-1 bouncer is a Baby Bjorn alternative that goes head-to-head with the Baby Bjorn on style, one-ups it on functionality, and ties on price.

If I had to hand out an award to the best looking bouncer besides the Baby Bjorn, the Bloom Coco Go would take the prize. Available in pretty, neutral colors, as well as this totally adorable star print, the Coco Go bouncer sure is pretty.

But, that's not all it offers.

This innovative bouncer also converts to a rocker, as well as offers a bit of functionality that a baby swing does, in that it has a *concealed* two-speed motor that offers baby the soothing movement they crave.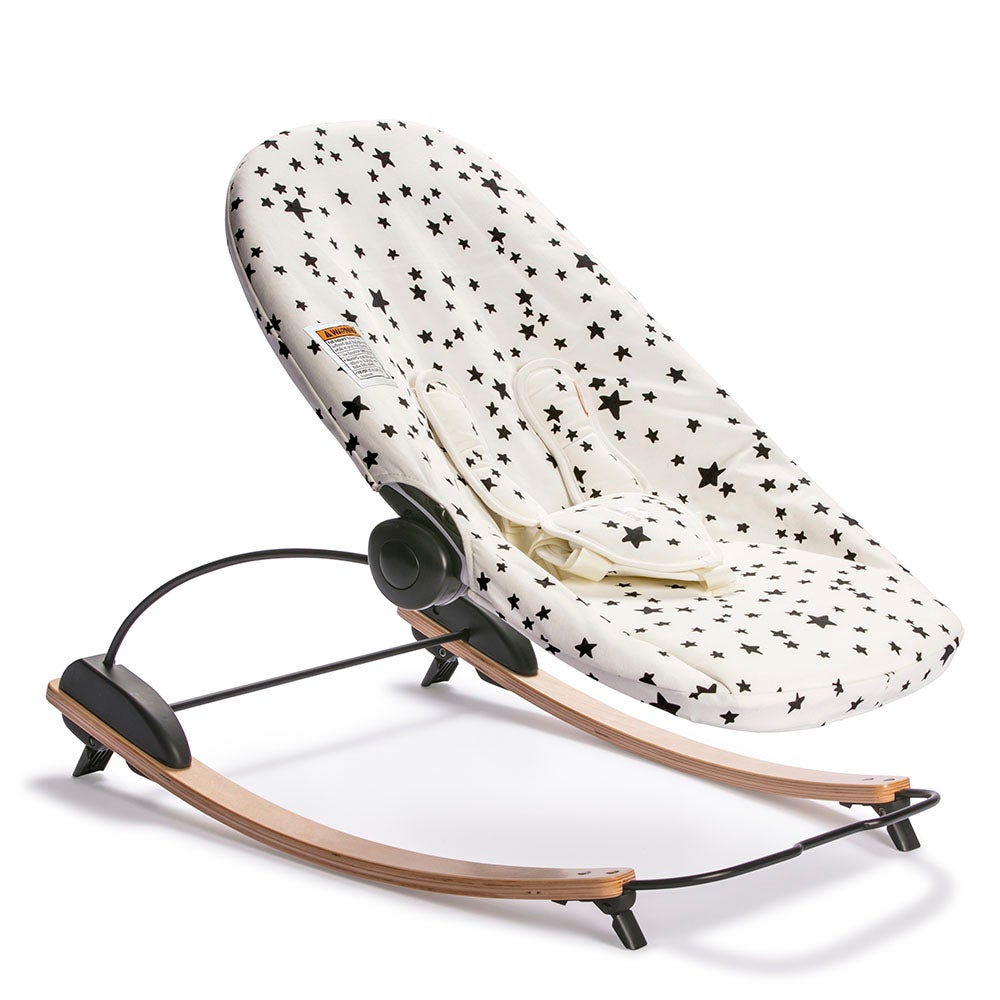 Bloom 3-in-1 Coco Go Bouncer
Shop →
05.

Evolur Koko Portable Infant Bouncer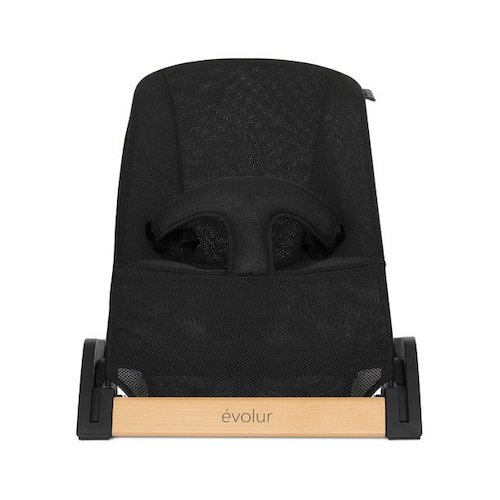 Evolur Koko Portable Infant Bouncer
Wal-Mart → Amazon→
06.

Bombol Baby Bouncer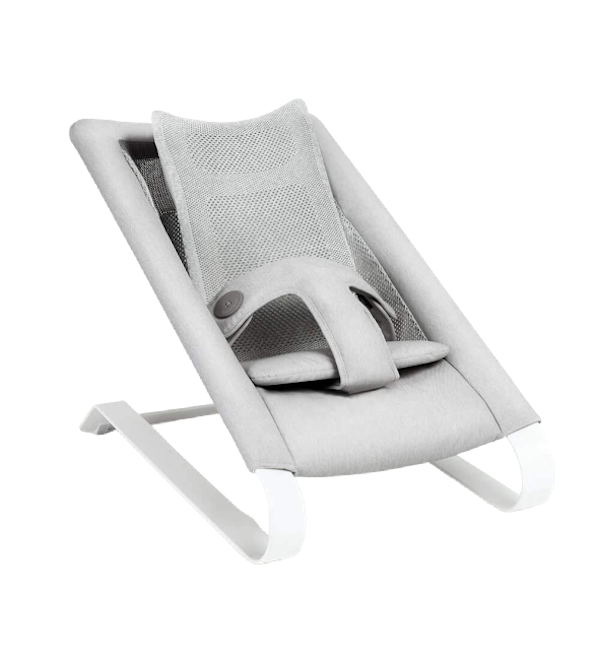 Amazon Bombol Baby Bouncer
07.

Maxi-Cosi Kori Bouncer

Our next Baby Bjorn alternative is the Maxi-Cosi Kori bouncer.

While I personally feel that this bouncer has a bit more of a masculine design that would be best for a baby boy, you could, of course, also use it for a girl, too.

While the Baby Bjorn bouncer is known for its gorgeous selection of covers, the Maxi-Cosi bouncer is only available in this grey tone, as well as a baby pink, navy blue and black, all paired with the grey lining and wood trim.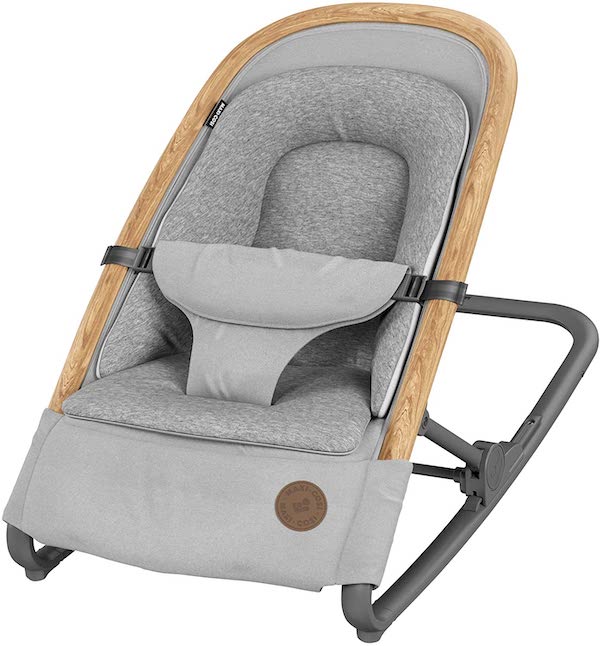 Amazon Maxi-Cosi Kori Bouncer
08.

Tiny Love Boho Chic 2-in-1 Rocker

This basic bouncer is another Baby Bjorn alternative that may work for you.

While it doesn't offer nearly the same number of colors and styles that a Bjorn does, it's simple enough, and even includes the toy bar (which is sold separately from the Bjorn).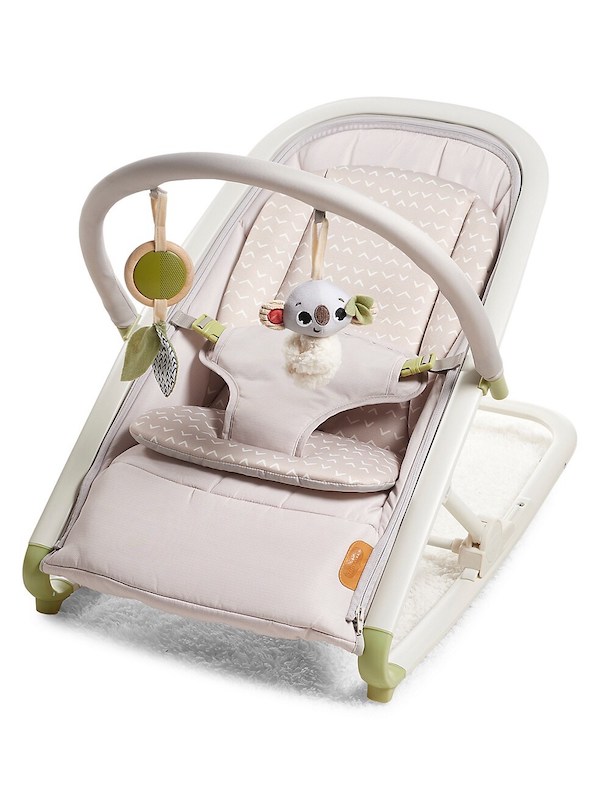 Amazon Tiny Love Boho Chic Rocker
09.

Finn & Emma Balance Board Rocker

The Finn & Emma balance board rocker is a Baby Bjorn alternative that grows with your baby.

While the Baby Bjorn bouncer is just that – a bouncer, organic baby brand, Finn & Emma's take on it is actually a rocker.

Not only does this simple wooden rocker gently rock baby, but it transitions with your child into toddlerhood as the lining is removable, and the rocker becomes a fun Montessori-style balance board for your little.

Now that's a piece of baby gear you can get some extra mileage out of!

Besides the fact that it rocks, not bounces, it's worth noting that though the design is gorgeous, this option does lack some of the functionality that you'd get with the Baby Bjorn bouncer, in that the Bjorn offers three different angles for your baby to lounge in, (ranging from more reclined to upright), whereas this rocker really only offers the one position.

Further, one of the reasons why so many parents love the Bjorn is because when baby kicks or waves their hands around, they generate the soothing bouncing motion themselves. This isn't true for this rocker.

With that being said, some parents do value aesthetics or longevity over function, and if that's you, this may be the right piece of baby gear for you.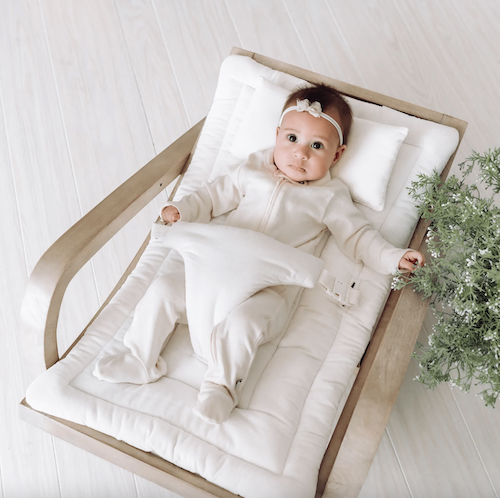 Finn & Emma Balance Board Rocker
10.

Cybex Lemo Bouncer

The Lemo bouncer by German baby brand, Cybex, is actually a pretty neat Baby Bjorn bouncer alternative.

In fact, if you don't mind sacrificing a hint of style for significantly more functionality, then this may be the baby bouncer for you.

In terms of price, when compared to the Baby Bjorn bouncer, the Cybex Lemo bouncer will save you between $50 and $100, depending on the model you compare it to.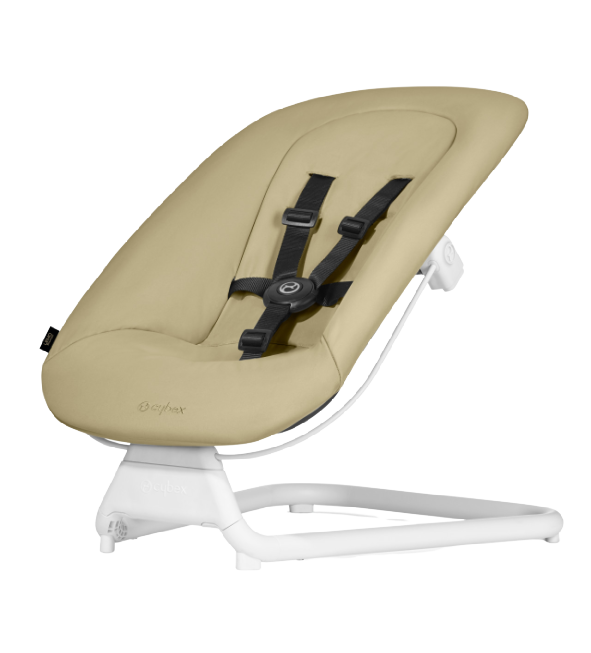 Cybex Lemo Bouncer
As for style, the Lemo bouncer is available in two neutral colors – a grey and a beige, which is much more limited than the pretty prints and shades offered by Baby Bjorn, though this may not be a big deal to many.
When it comes to how the bouncer actually works, the Lemo is very similar in that it has a base that sits flat on the ground, and a seat that will bounce gently as your baby kicks their legs or moves their arms.
However, there are a few really neat features that the Lemo bouncer offers, which the Baby Bjorn does not: namely, the Cybex bouncer gives you the ability to attach the bouncer to a convertible high chair, allowing you to safely raise your baby up so they are closer to you (as opposed to on the ground).
Another nice feature with the Cybex bouncer is that its plush fabric cover is removable, revealing a second, light mesh material, which is great if your baby will be using the bouncer in different seasons.
In looking at the drawbacks of the Cybex Leno bouncer when compared to the Baby Bjorn, the Cybex bouncer does not fold flat, which may be important to those living in smaller spaces, or planning on travelling with their baby.
Additionally, the Cybex does not have a toy bar attachment option.
Something that may be important to some.
Read Next:
7+ DockATot Alternatives (+The Best DockATot Dupe!)
The Ultimate Newborn Diaper Bag Essentials Checklist [PDF]