This post contains affiliate links.
Searching for the best Stokke Tripp Trapp alternatives & dupes? I'm a baby gear expert and toddler mommy, and these are my top picks (and to be honest, I'm frankly shocked at a few of the price tags)!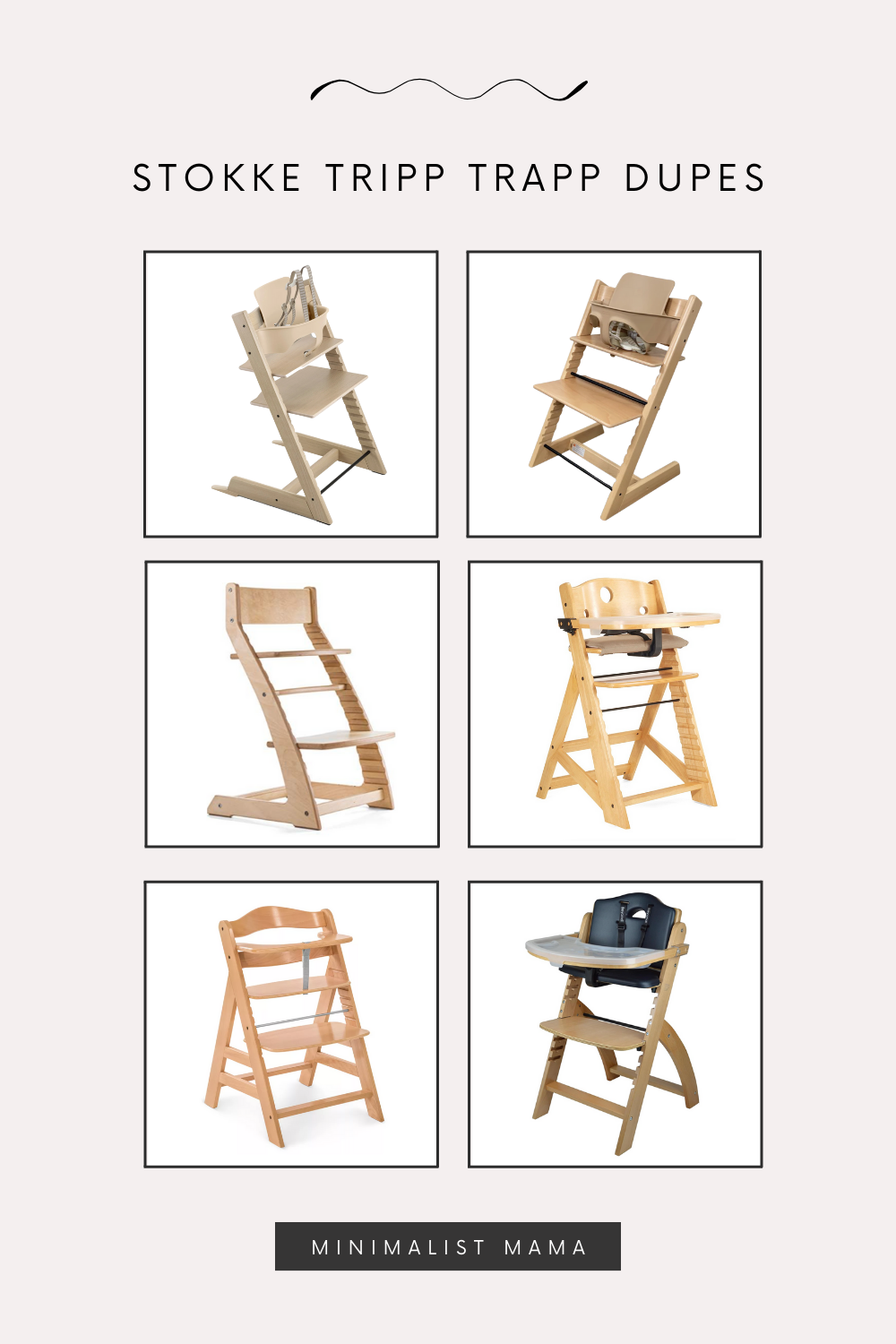 Diving into a wild world of mealtime madness and solid foods? New parents are always on the hunt for the absolute best high chair to park by the dining table. You've probably stumbled across the legendary Stokke Tripp Trapp chair. But guess what? There's a whole universe of alternatives and dupes out there that can give the Tripp Trapp a run for its money. There's a whole load of high chair options that'll have your little one comfortably chilling while you tackle those mashed peas.
While on the hunt for the best Stokke tripp trapp alternatives and dupes, I whittled a list of over 25 high chairs down to models by these nine brands: the ZigZagWoodAtelier, Abiie, Keekaroo, Fornel, Hauck, Costway, Munchkin, Dream On Me, Evolur and Lalo.
So, if you're ready to explore beyond the realm of the Stokke Tripp Trapp, hang tight – we're about to dish out the goods on some seriously cool dining companions for your growing family!
The Best Stokke Tripp Trapp Dupes
01.

Buy an Open Box Tripp Trapp

Check for Open Box Tripp Trapps →

If you've got your heart set on the Stokke brand but the price is just out of reach, I highly recommend checking GoodBuy Gear for an open box deal.

These products are typically floor models or returns that have been inspected for safety, functionality and cleanliness at the highest quality. If the highchair has any flaws, at all, they will be minor.

I've seen such great deals on this site, and orders often qualify for free shipping too! Bonus!
02.

Fornel Adjustable Wooden High Chair

The Fornel is great for toddlers ages 2 and up if you're looking for a Tripp Trapp alternative. It grows with your child and can even hold an adults' weight, so it will get plenty of use, even after the baby phase. A lot of high chairs have a lower maximum weight capacity, but this one remains excellent for the entire family.

It comes with an adjustable footrest to help keep your child's knees at a comfortable 90 degree angle, so they don't dangle while they eat.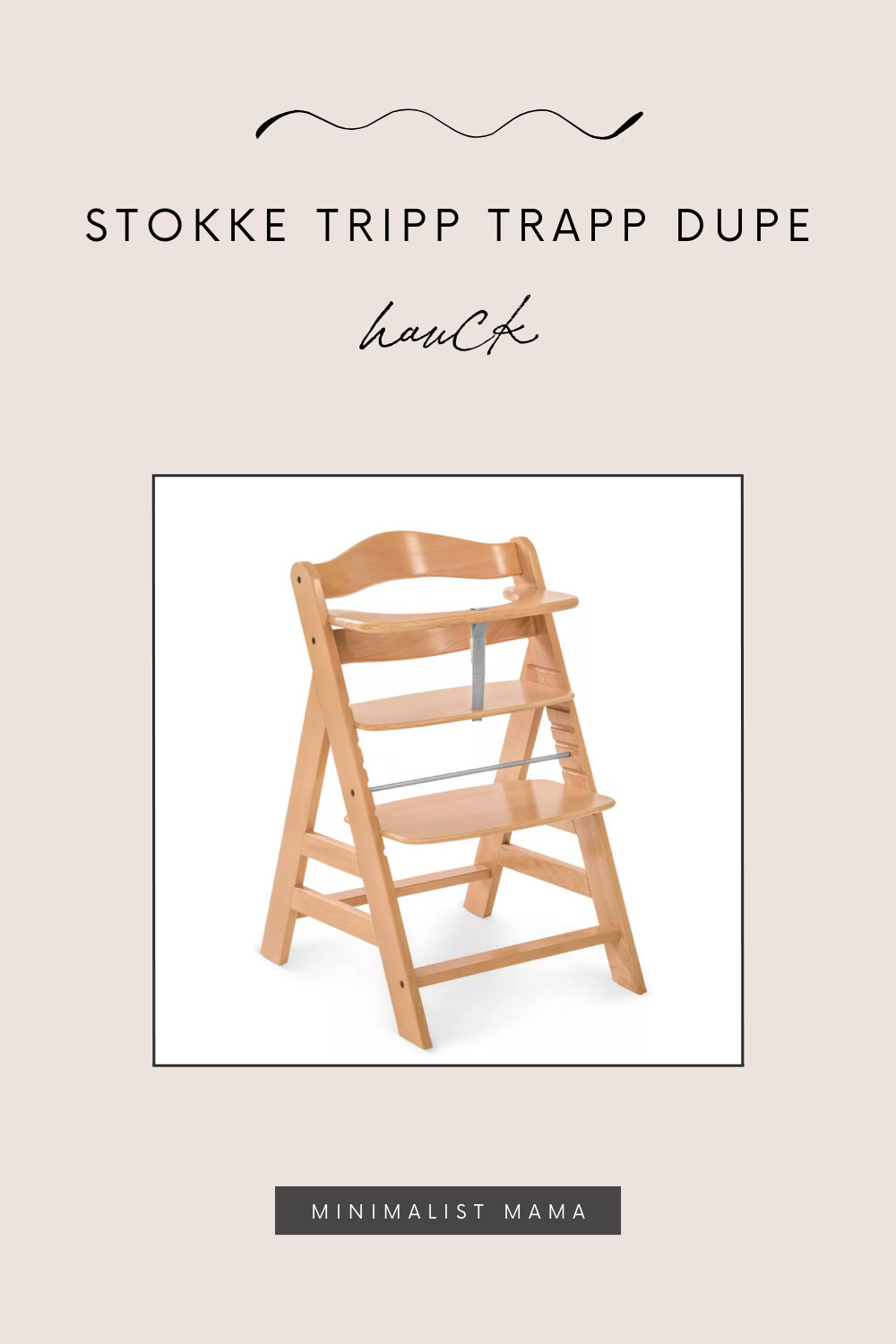 03.

Hauck Alpha Grow Along Adjustable Wooden High Chair

The Hauck Alpha comes with a 5 point harness that makes it possible to use with babies aged 6 months and up. It's made from eco-friendly Beechwood and built to be rock-solid safe, holding up to 198 pounds.

The seat and footplate are adjustable, so this chair grows as your munchkin does. That means a comfy, ergonomic setup at every age. There is no wobbling, thanks to the sturdy build and built-in gliders on the legs. So, when your little explorer chows down or plays, there's no tipping.

While the safety bar is great for tiny tots, as they level up, you can pop it off. Bottom line: give your mini-me the best ride from tiny human to big kid with this seat!
04.

ZigZagWoodAtelier Wooden Kitchen Helper Stool

The ZigZagWoodAtelier Wooden Kitchen Helper Stool is great for children to use from 18 months up to 6 years. This wooden baby chair will allow your child to feel like an adult and have some independence. The adjustable two-position footrest help keeps your baby comfortable no matter their size.

Choose from a variety of paint colors, or choose a more natural option that's treated with just linseed oil.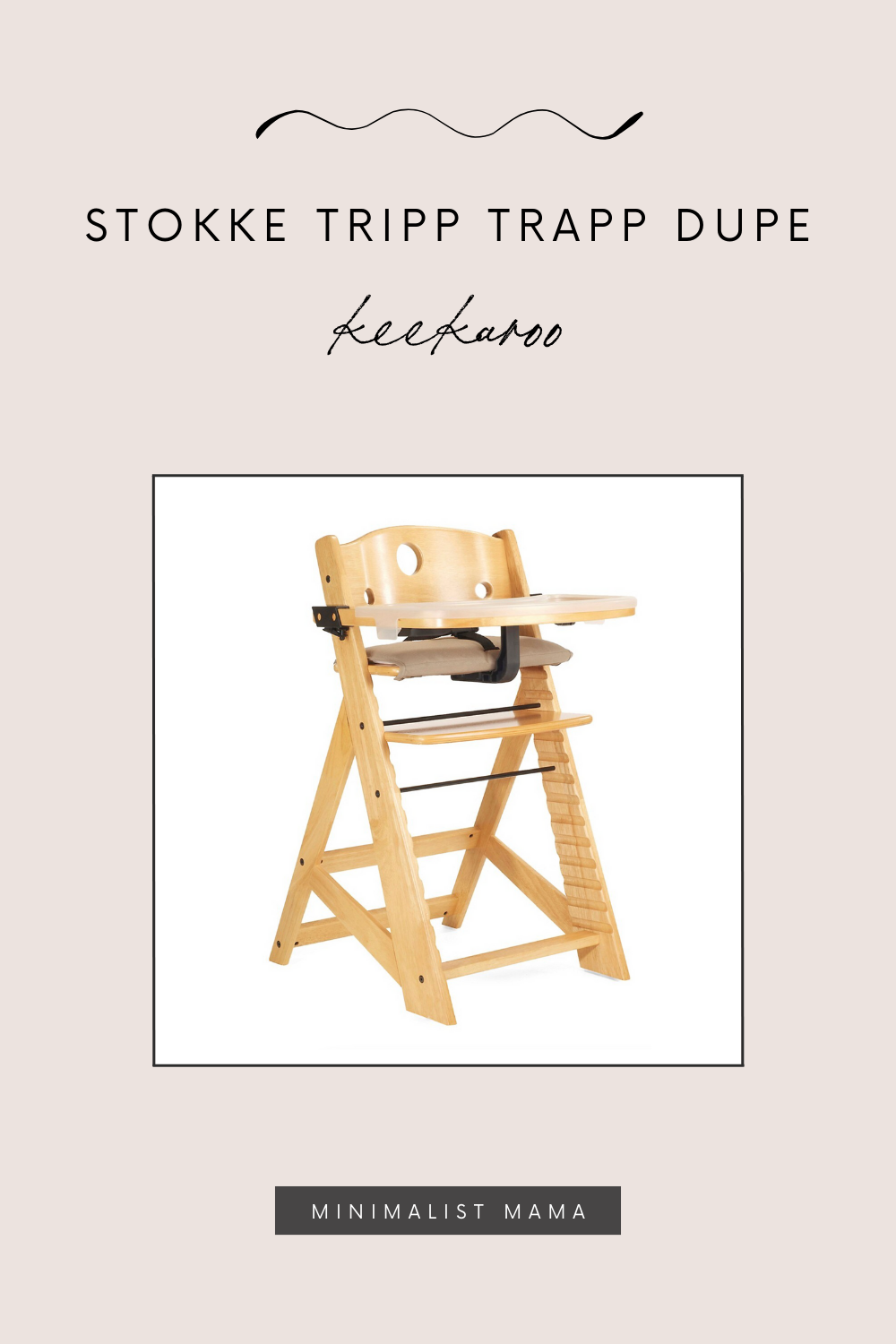 05.

Keekaroo Right Height High Chair

No need to worry about outgrowing the Keekaroo High Chair! This wooden wonder is the ultimate seat for your kiddo during chow time. From 6 months to 250 lbs., it's got your back.

You can adjust the seat's depth, tray, and footrest. Need extra height? No sweat – the seat and footrest rise up.

Keekaroo joined forces with physical therapists for top-notch posture and comfort. So, your kid can tackle food, fun (and someday homework) like a champ.

The tray cover is dishwasher-friendly, so cleanup is a breeze. And it's made from eco-friendly Rubberwood and coated in a plant-based lacquer. It's rock-solid and can handle even the messiest eaters without tipping over. As your mini-me grows, you can adjust the seat and footrest to find that perfect fit, inch by inch. And when their feet hit the ground, the footrest becomes a seat plate. This chair's here for the long haul!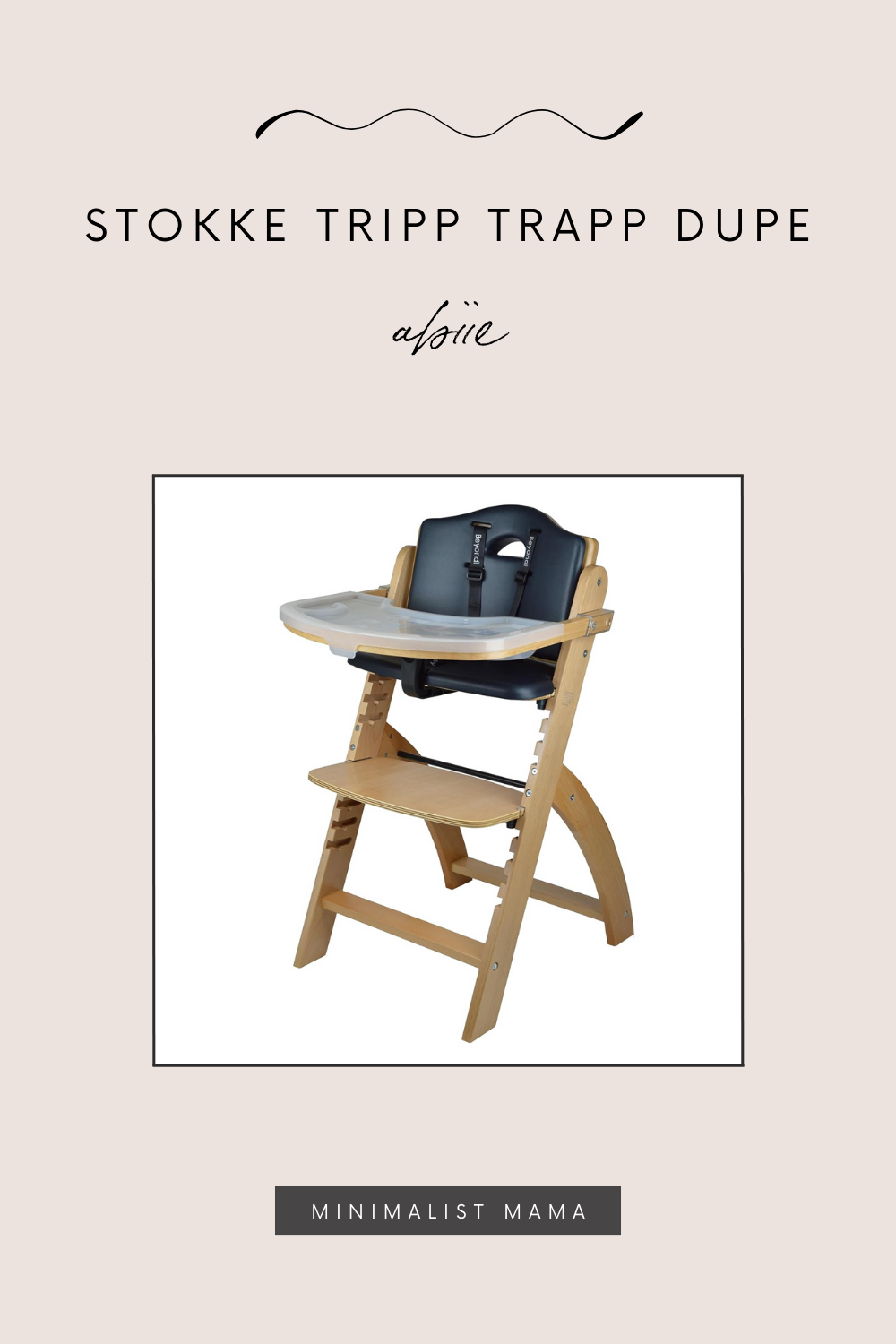 05.

Abiie Beyond Junior Y Wooden High Chair

This high chair is a multitasking superstar – it transforms into an infant seat, toddler chair, and a regular dining chair in under 20 seconds, no tools needed. It's like an economical space-saver that's always there when you need an extra seat. And guess what? It's a cool alternative to booster seats, growing alongside your kid.

This high chair lets you pick between a 5-point or 3-point harness to keep your little one snug and secure. You'll have peace of mind knowing they're enjoying mealtime in total safety and comfort.

Cleaning up after your mini-me is a breeze. Wipe away messes with a damp cloth. The waterproof cushion cover stops spills from soaking in, and the tray cover pops off and is dishwasher safe. No more hassle, just easy peasy maintenance.
The Best Stokke Tripp Trapp Alternatives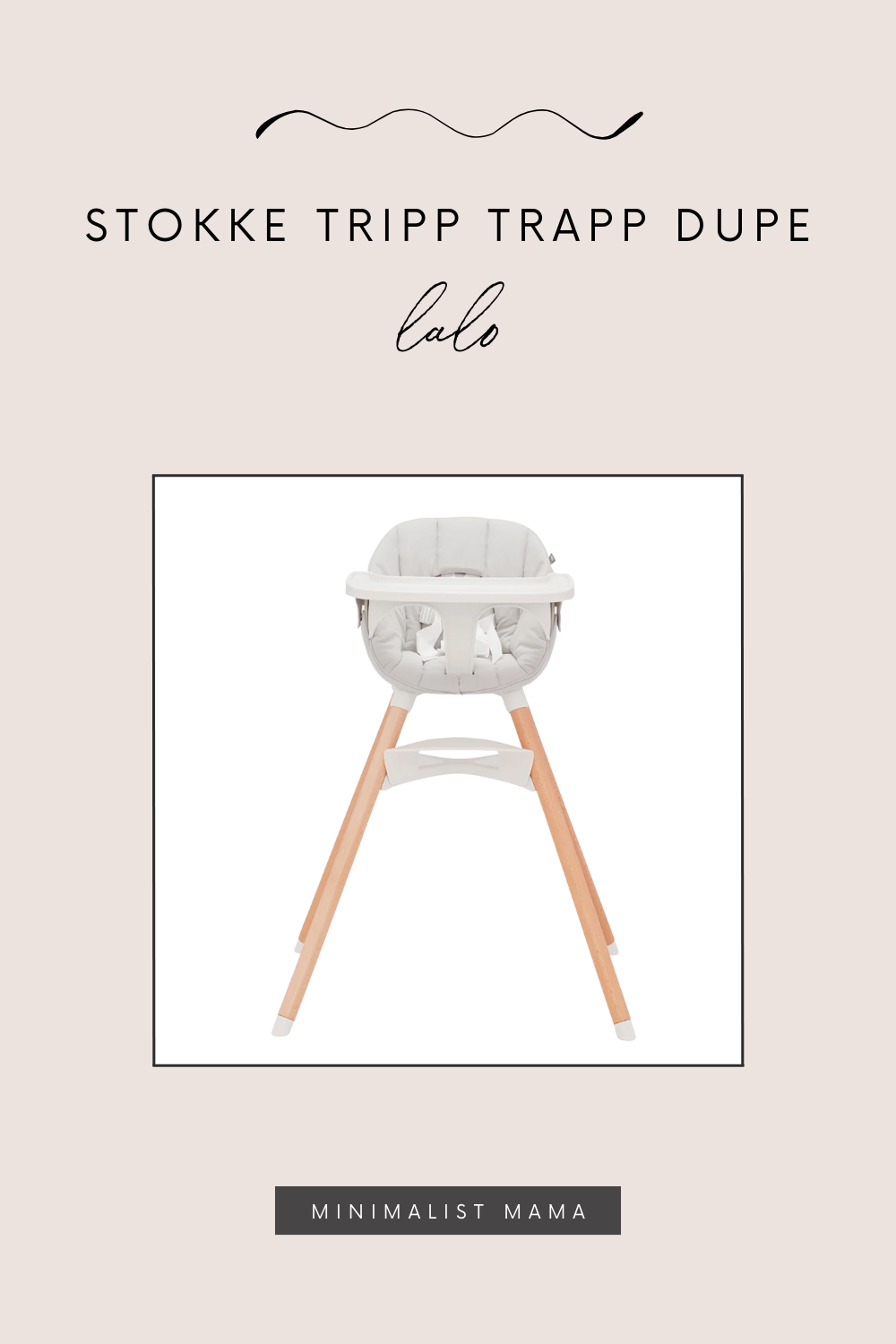 06.

Lalo Convertible 3-in-1 High Chair

The Chair is all about adaptability with its add-ons, fitting your kid's needs perfectly. Use it as a high chair for those first solid-food moments. Then, switch it up into a booster seat so they can join the table crew. And as they grow, it becomes a Play Chair.

This chair is made to support your kiddo even before they reach the footrest, but the footrest is raised a bit for extra comfort when they're little. As they get bigger, flip the footrest for more space. And don't sweat the mess – easy-clean surfaces and accessories you can toss in the washing machine mean you can deal with those "artsy" puréed moments without dinner turning into a disaster zone.

07.

Munchkin Baby Cloud High Chair 360 Swivel

Get ready for your little one to dine in style with the 360° Cloud Swivel High Chair. It's a mix of function and elegance that's easy to clean, assemble, and you will adore. The safety features are top-notch with a 5-point harness, and its swivel design makes feeding a breeze.

The seat swivels without moving the wide base, making it the best option for small spaces so you have easy access to putting your child in and out without moving the whole chair.

The modern look fits any decor, and cleaning is a snap with wipeable surfaces and a dishwasher-safe tray. It's quick to put together (boasting a 1 minute tool-less assembly time) and safe for kiddos aged 6 months to 3 years, up to 33 pounds. This high chair is as chic as it is practical – a must-have that matches your style and keeps mealtime messes minimal.

08.

Costway 6-in-1 Convertible Wooden Baby High Chair

This versatile 6-in-1 baby high chair grows with your child! It's a convertible chair, offering various functions, including high chair, baby high chair, junior stool, toddler dining chair, small chair, and small stool – all with a cute minimalist design. With removable tray and seat cushion options, it caters to different needs from infancy to toddlerhood. It features a 5-point safety harness and an anti-falling leg barrier for added security with younger babies.

The chair transforms to meet changing needs as your child ages, from 6 months to 6 years. The detachable double tray offers flexibility for eating, feeding, and playing. The footrest has adjustable heights and a storage tray for convenience.

Sturdy beech wood legs provide stability, and the removable seat cushion ensures a comfortable experience. Assembling the chair is hassle-free, and cleanup is a breeze with a waterproof seat cushion and dishwasher-safe tray.

09.

Dream On Me Lulu 2-in-1 High Chair

The Lulu 2-in-1 High Chair is perfect as your little one grows. Made from solid, eco-friendly beechwood, it transforms into a toddler chair with the included kit. It can accommodate kiddos aged 6 months up to 3 year olds, or until they can sit in a proper upright position independently in a normal chair.

Mealtimes are made happy and comfy! The highchair has a removable tray that's dishwasher-safe and adjustable to 3 positions as your kiddo grows. And when not in use, it neatly stores at the back.

Want convenience and safety rolled into one? The Lulu High Chair comes with a 5-point safety harness, easy-to-clean seat cover, and dishwasher-safe tray.

Match your home's vibe and choose from 4 finishes: Atlantis Green, Blush Pink, Black, and Light Grey.

10.

Evolur Zoodle 3-in-1 High Chair Booster

Say hello to the Evolur Zoodle High Chair – it's a total multitasker! When your little munchkin starts joining the table, it's a great high chair. And as they grow and become more independent, it easily turns into a toddler chair with an included conversion kit for an older child.

With a padded five-point harness and non-skid feet, safety's the name of the game. Looks-wise, it's a stunner – this sturdy chair is built with beech wood. The padded seat is lightweight, durable, and made of non-toxic Polyurathane fabric. Pick from five colors to match your style and decor.

The 2-position adjustable dining tray and two footrests grow along with your kiddo to ensure great alignment. It's good to go for kiddos from 6 months of age and up.

Don't sweat the mess – the seat cover is removable and super easy to clean after messy meal times. Just a quick wash with warm, soapy water and you're set.
Wrapping Up
So there you have it, a whole bunch of fantastic high chair dupes of Stokke's Tripp Trapp chair. Who knew that finding the perfect fit for your dining room and your wallet could be this exciting? Get the best looking high chair at a good value.
Wave goodbye to that hefty price tag and say hello to options that'll make both new moms and their precious little ones smile. Because, at the end of the day, your baby deserves nothing less than a cozy spot at the table.
Read Next:
☁️ 7+ Gathre Mat Dupes That Are A *Fraction* of the Price ($$$)
☁️ 29+ *Perfect* Gifts for 2 Year Old Boys (That Our Toddlers Are Obsessed With)
☁️ 11+ *Cutest* Second Birthday Themes for 2023 (Boy Edition)