This post contains affiliate links.
Throwing a Bluey birthday party, and looking for the best inspo on the internet? We've hand-picked the most adorable and stylish Bluey birthday party ideas – from decor ideas to cakes and cookies, food ideas and favors, these ideas are must-see!
Bluey Birthday Party Decorations
When it comes to setting the stage for a Bluey birthday party for your little one, the possibilities really are endless. We've scoped out the top trends and best ideas from the most viral party planners around, and put together a whole pile of inspo to help you dream up your very own bash.
A pastel palette of pink, purple, blue and orange paired with clouds and rainbows creates a gorgeous backdrop for Lennon's 4th birthday party.
Looking for a do-able DIY for your Bluey birthday party? A DIY fringe backdrop in pink, peach and teal fringe adds serious elegance to your event.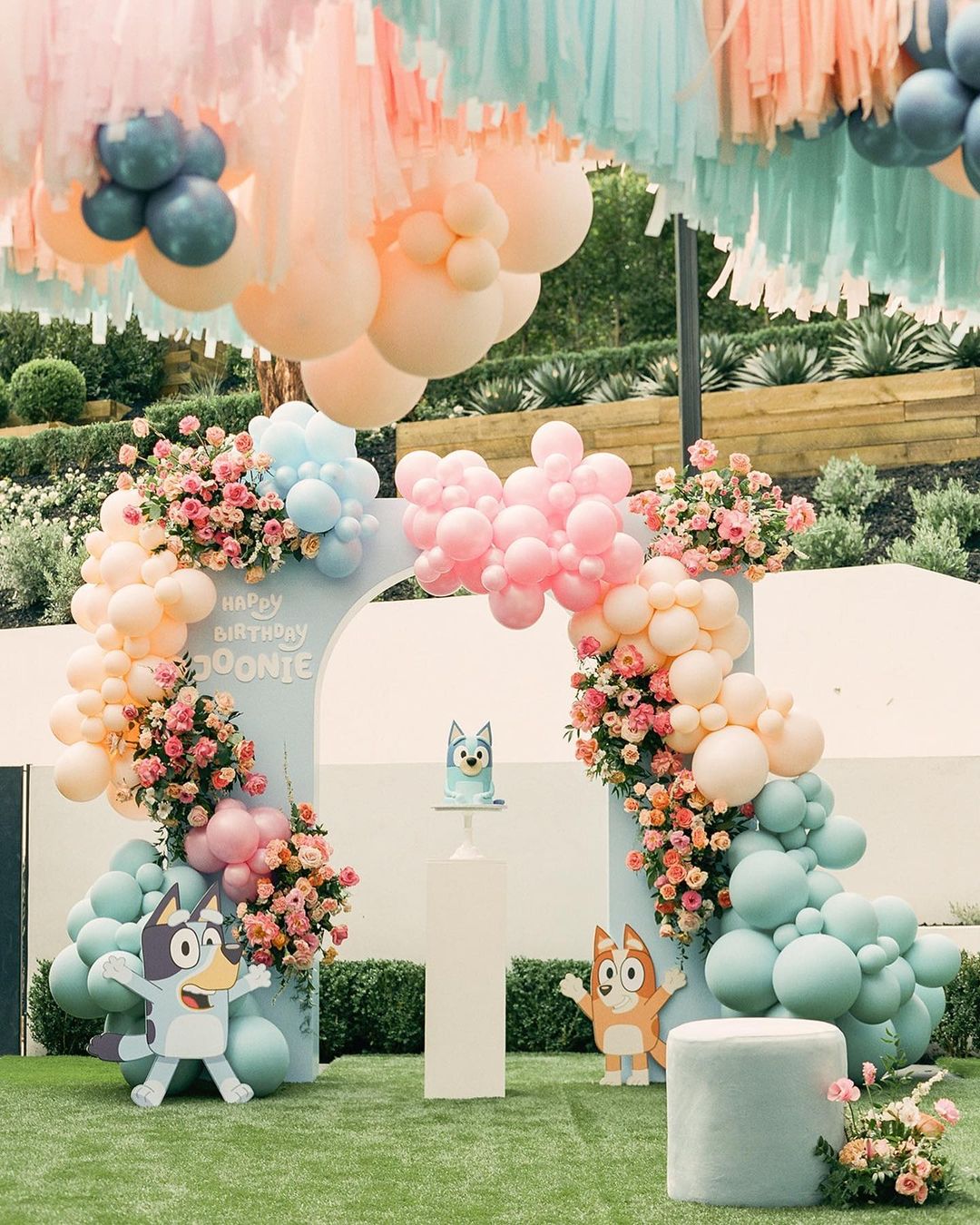 When it comes to planning your party decor, a surefire recipe for success includes a balloon garland, beautiful bouquets, and cardboard cut-outs of your favorite characters!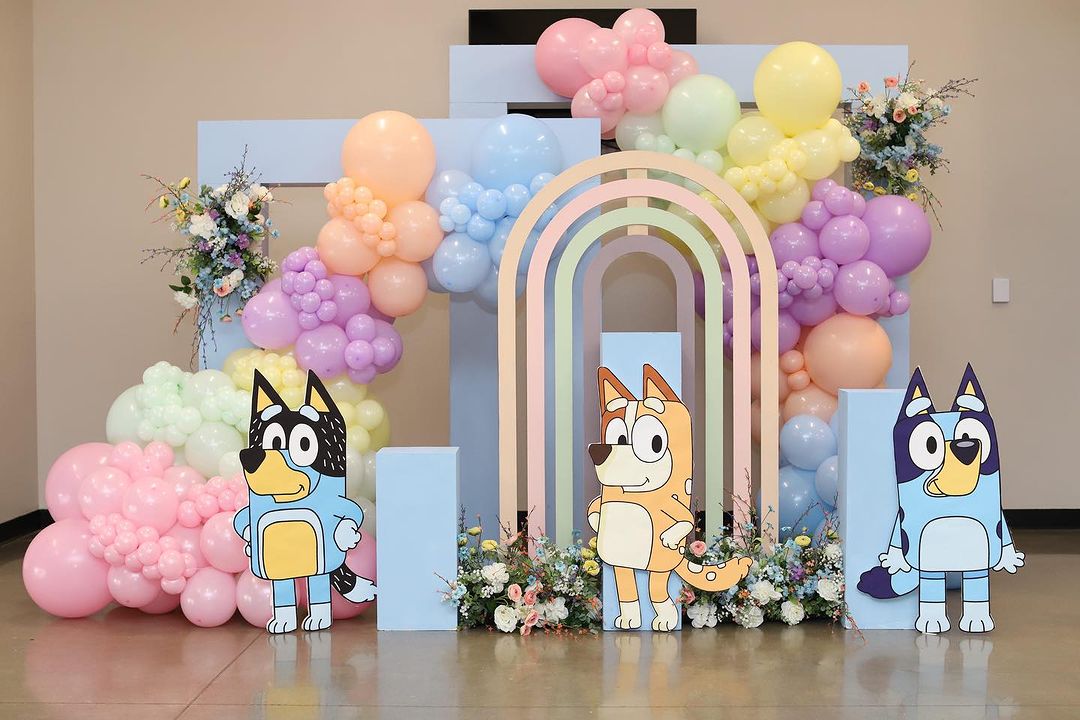 If there's one trend that's undeniable right now, it's these super fun arched backdrops. To personalize your event, order a customized decal with the theme of your party, your little one's age, or their name, and attach it to the backdrop that you can rent from local party rental companies in your area.
Another great idea when it comes to Bluey birthday party decorations is this super fun balloon mosaic. Whether your tot is turning one, two, three, four, or more, these number balloon mosaics can be ordered online, and stuffed with balloons that match your color palette for a super fun piece of customized decor.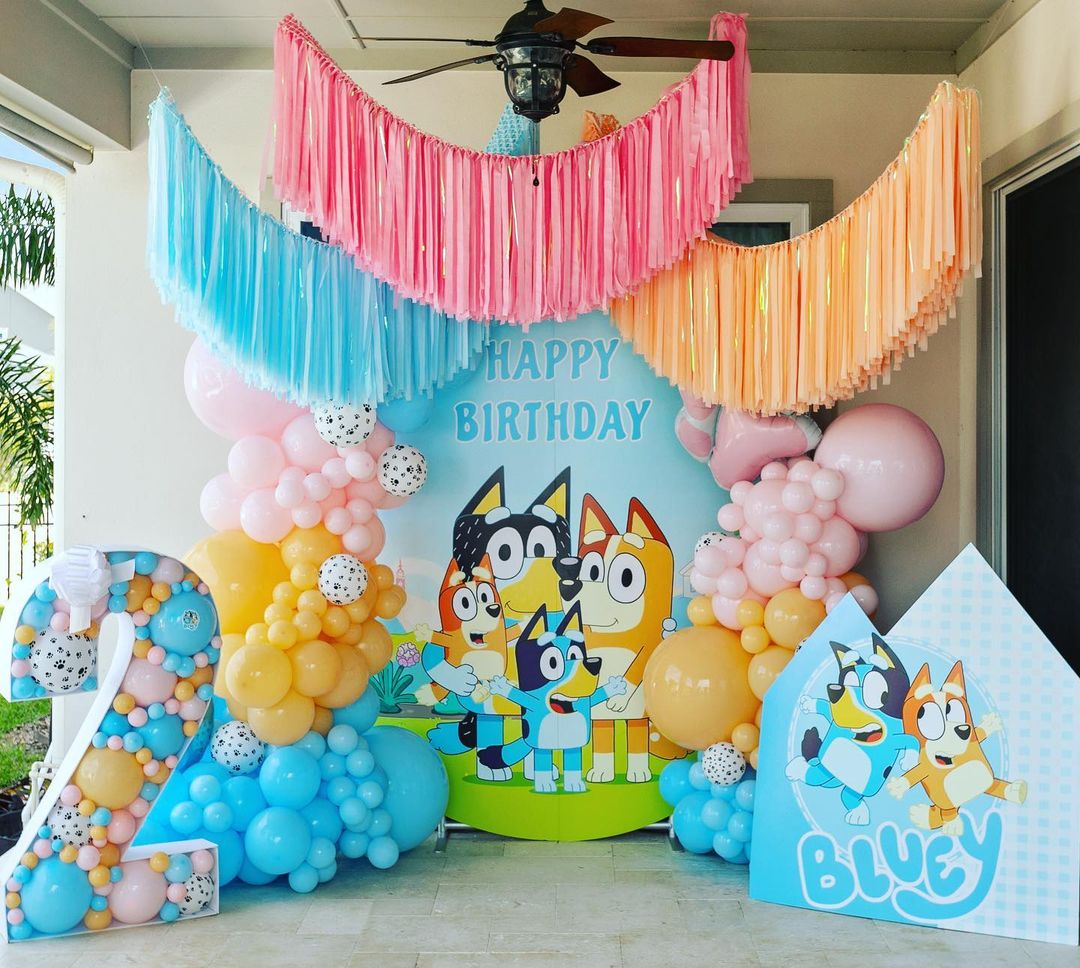 Another great element to tie into your event is daisies. These great little daisy balloons can be added to a balloon garland that you either DIY or order from a local balloon stylish.
Planning a Bluey birthday party for a little boy? Opt for a chilled out color palette of grey and blue.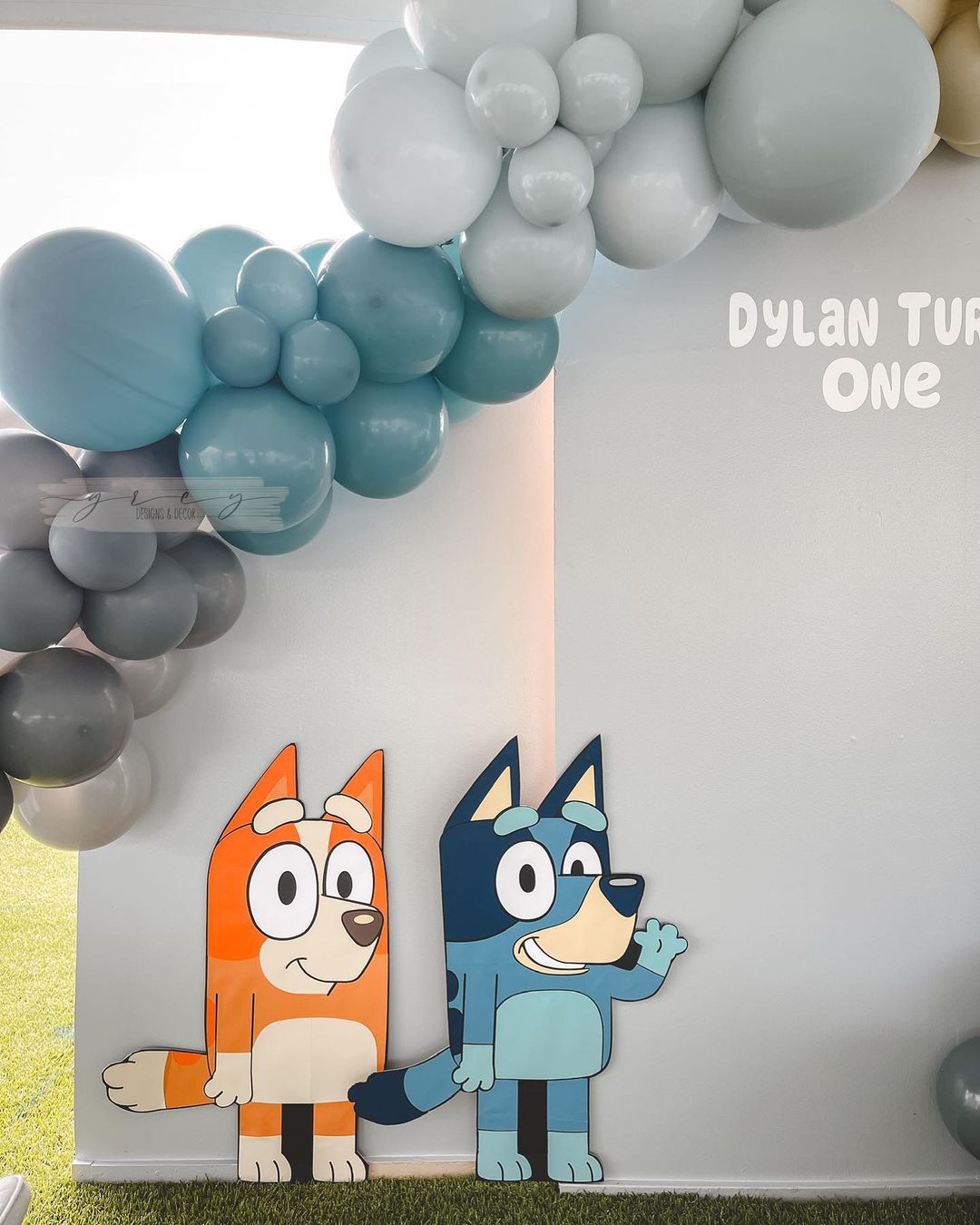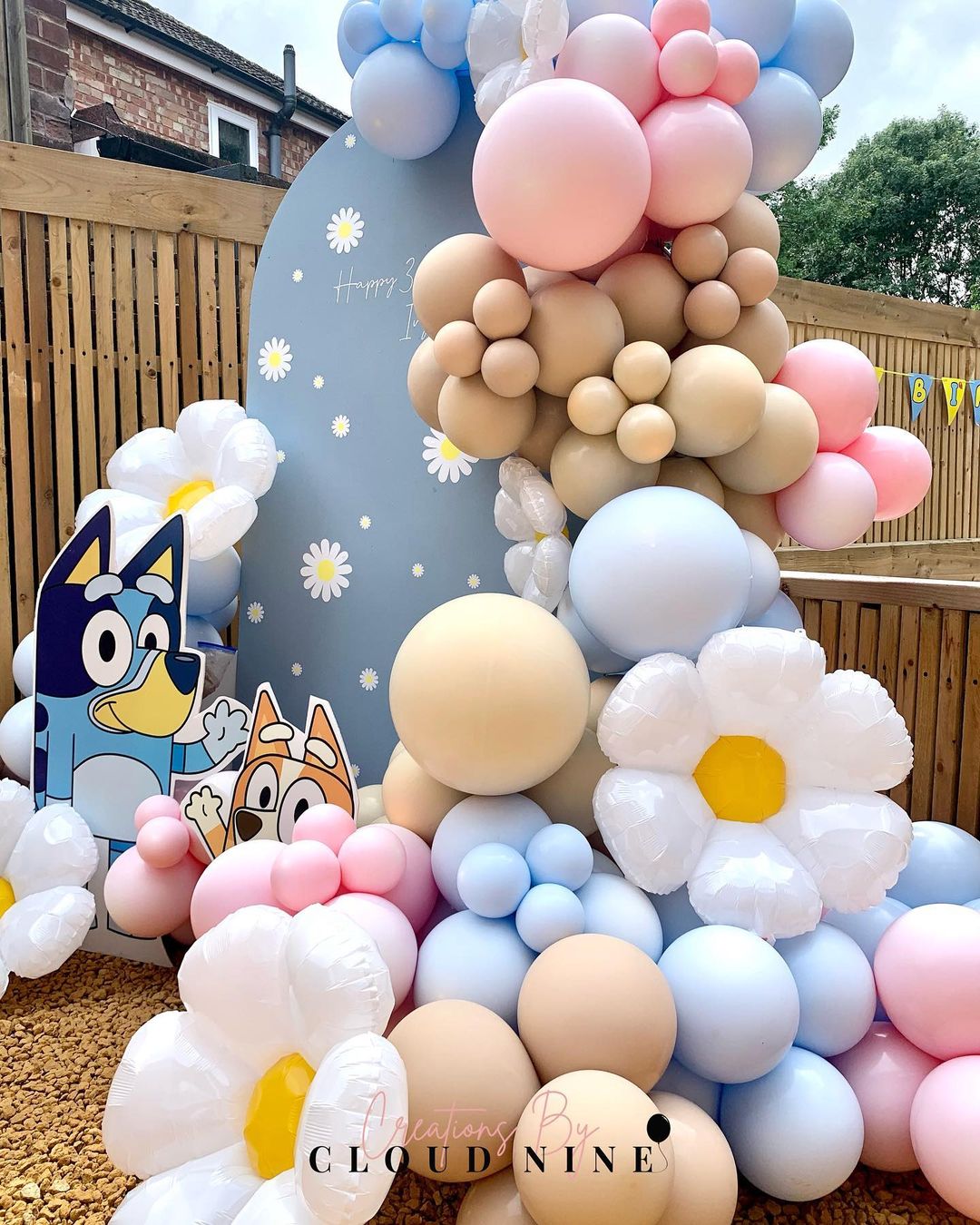 Daisies, daisies, daisies! Besides the premade daisies, you can also request that your balloon stylish throws a few DIY daisies into your arrangement, too.
Bluey Birthday Party Cakes
Pretty, modern chocolate bubbles in orange, purple, pink and blue give this Bluey birthday cake some serious style, while Bluey characters printed on fondant kick the party off.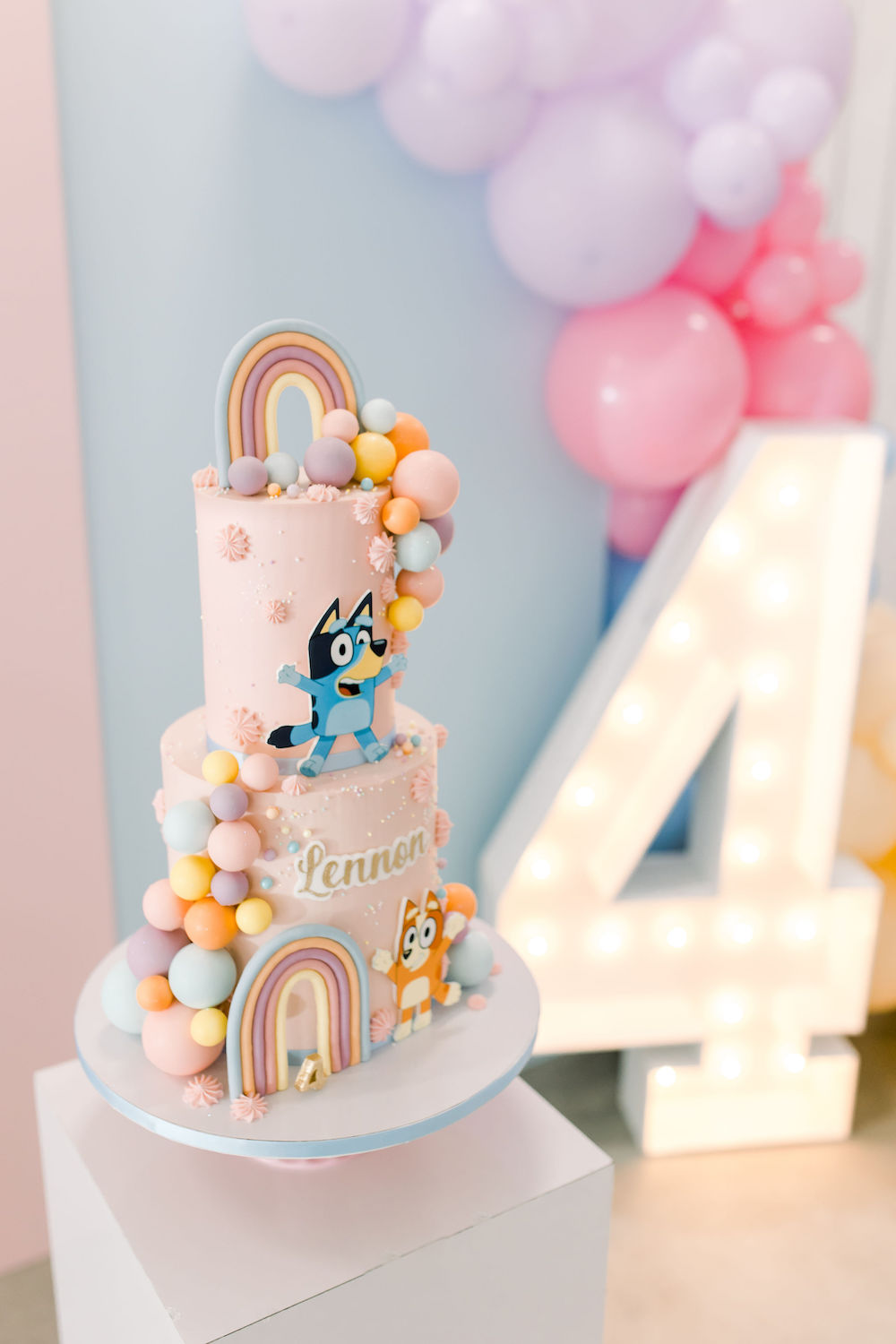 For this cute pink Bluey birthday cake, you'll need Bluey figurines, fondant rainbows, handmade pompoms and pink, blue & white sprinkle mix.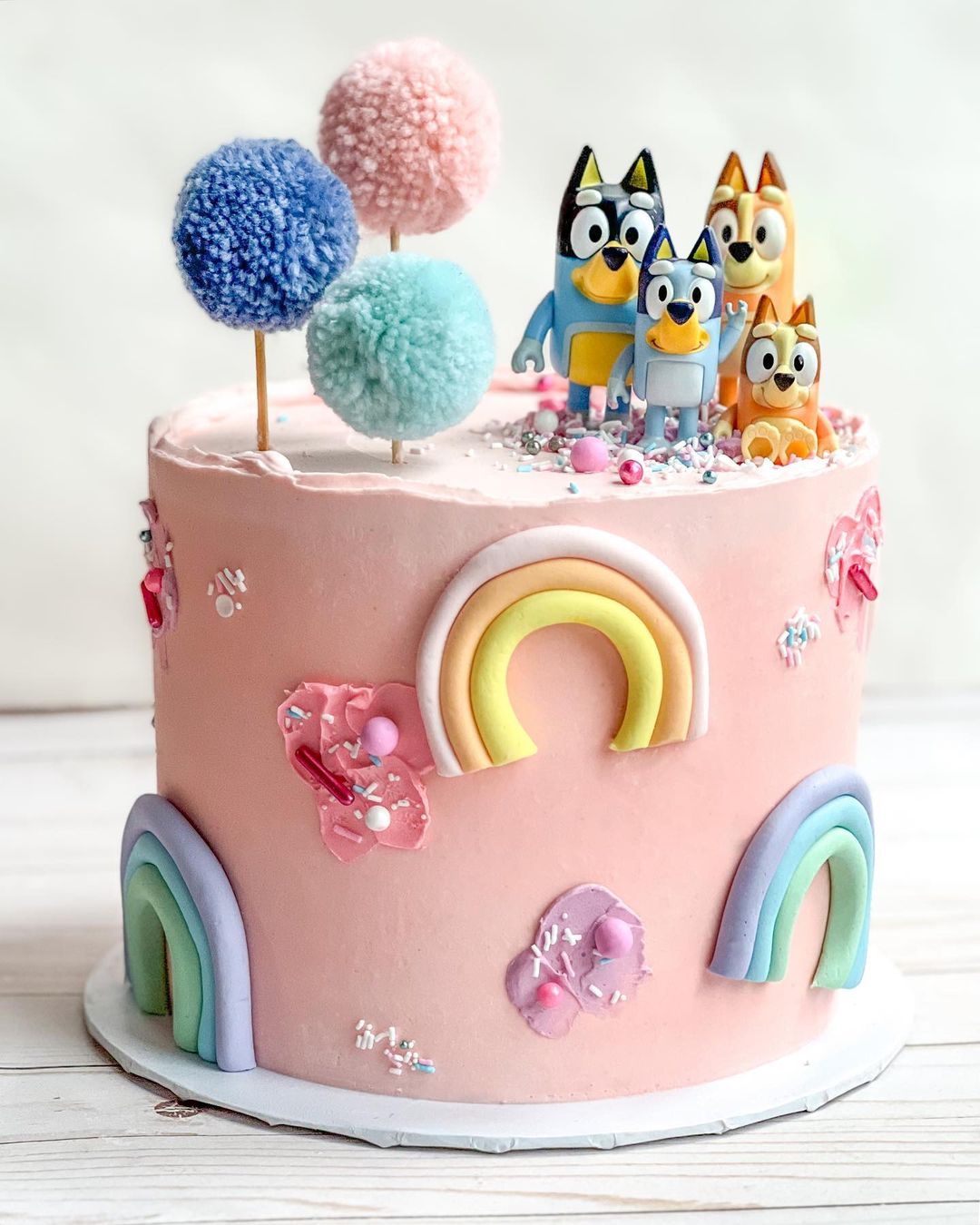 This super cute Bluey birthday cake design is brought to life with a pink and blue ombré base, a sprinkles number cake topper, and the very cutest itty bitty paws and dog bones, done by adding white candy melts to this little dog-themed silicone mold set.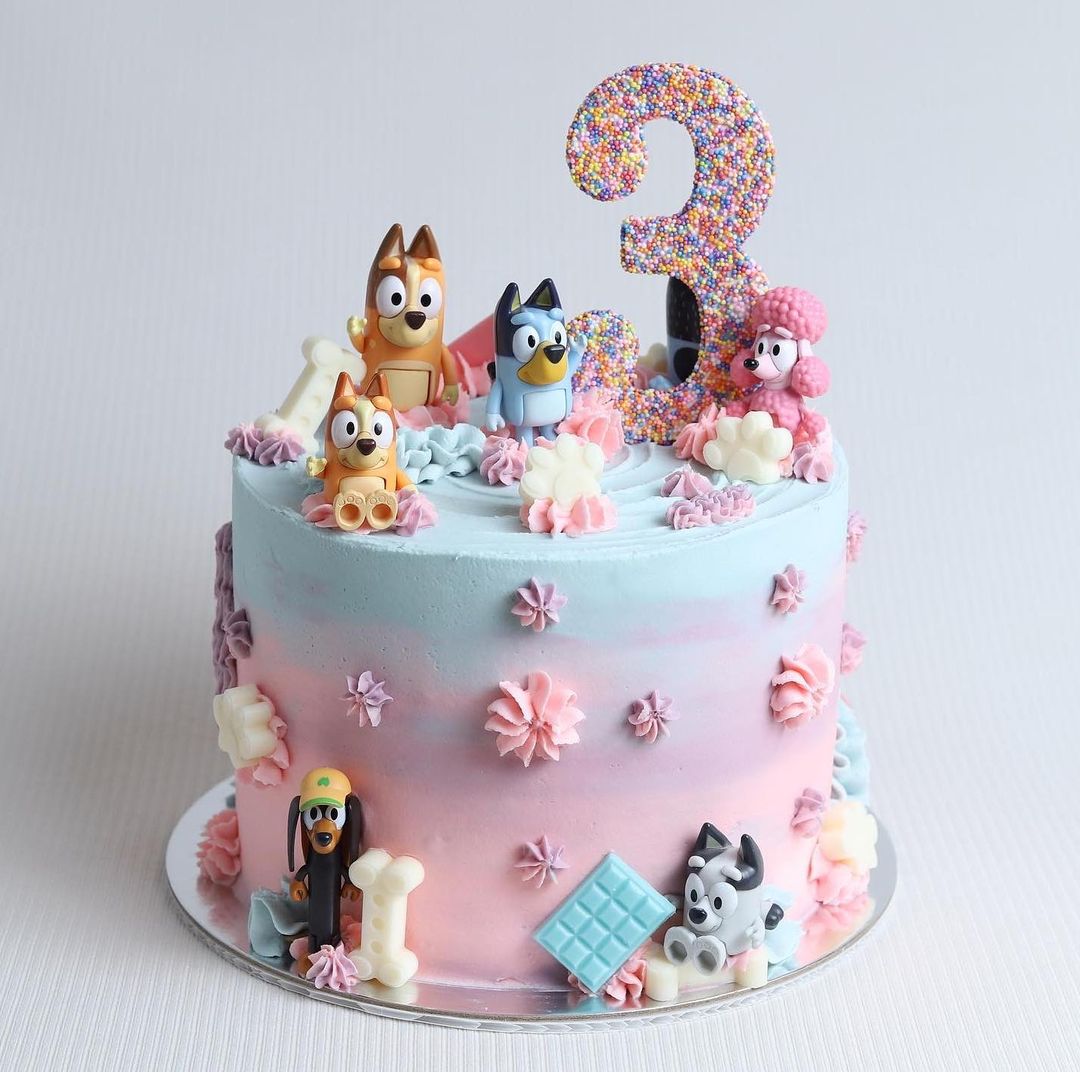 Or, keep things simple with these itty bitty daisies, pastel rainbows and glittery happy birthday cake topper.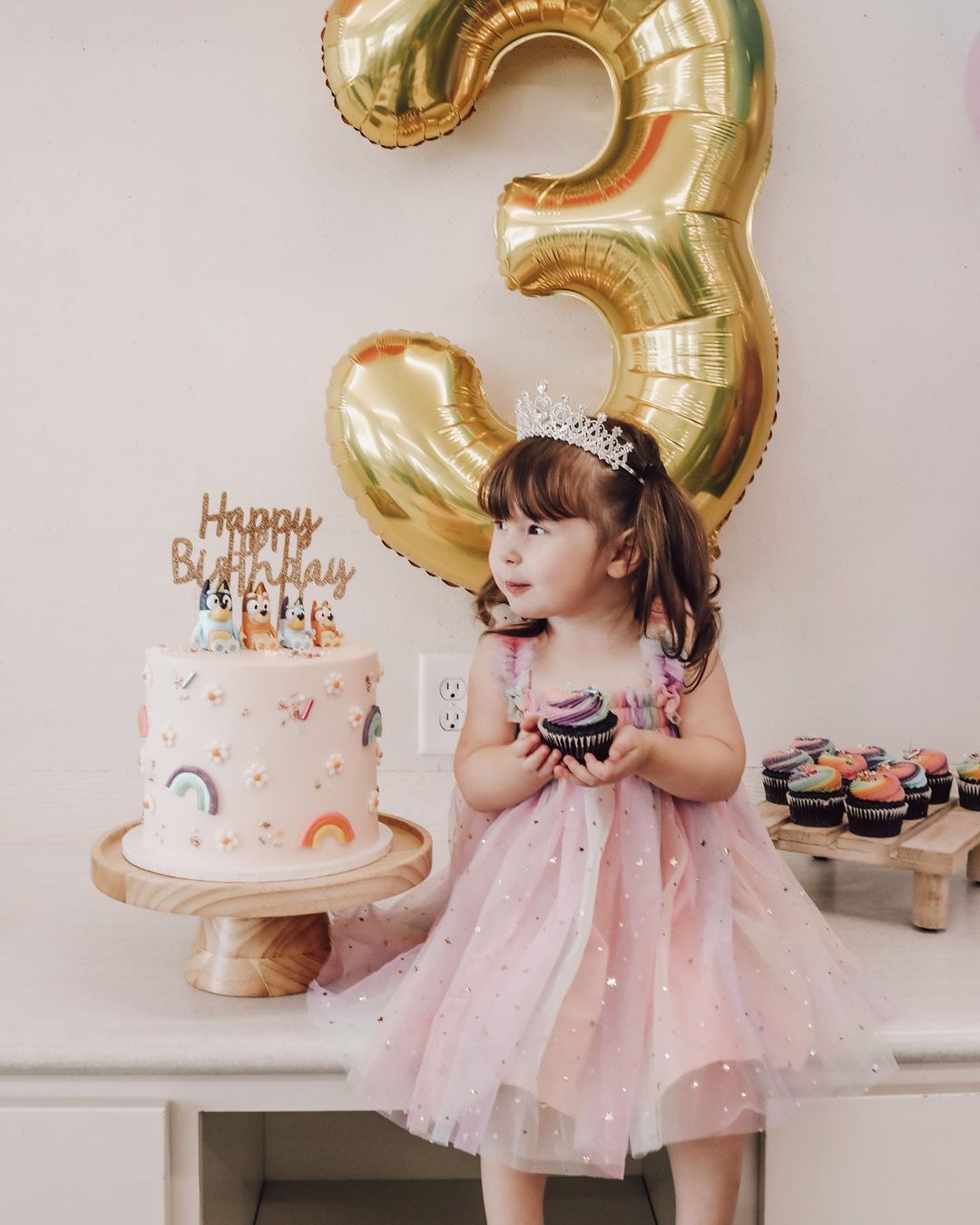 To add one dimensional Blueys to your cake, you can either print on a heavy cardstock or, if you have access to an edible printer, you can print the designs on to fondant.
If a more muted palette isn't for you, go bold with a rich shades of blue and a saturated orange color.
Another super cute Bluey birthday cake design includes using the light peachy tone as your base, and deep Bluey blue and turquoise for your accents. Throw a few rosettes and sprinkles on there and you're ready to rock and roll!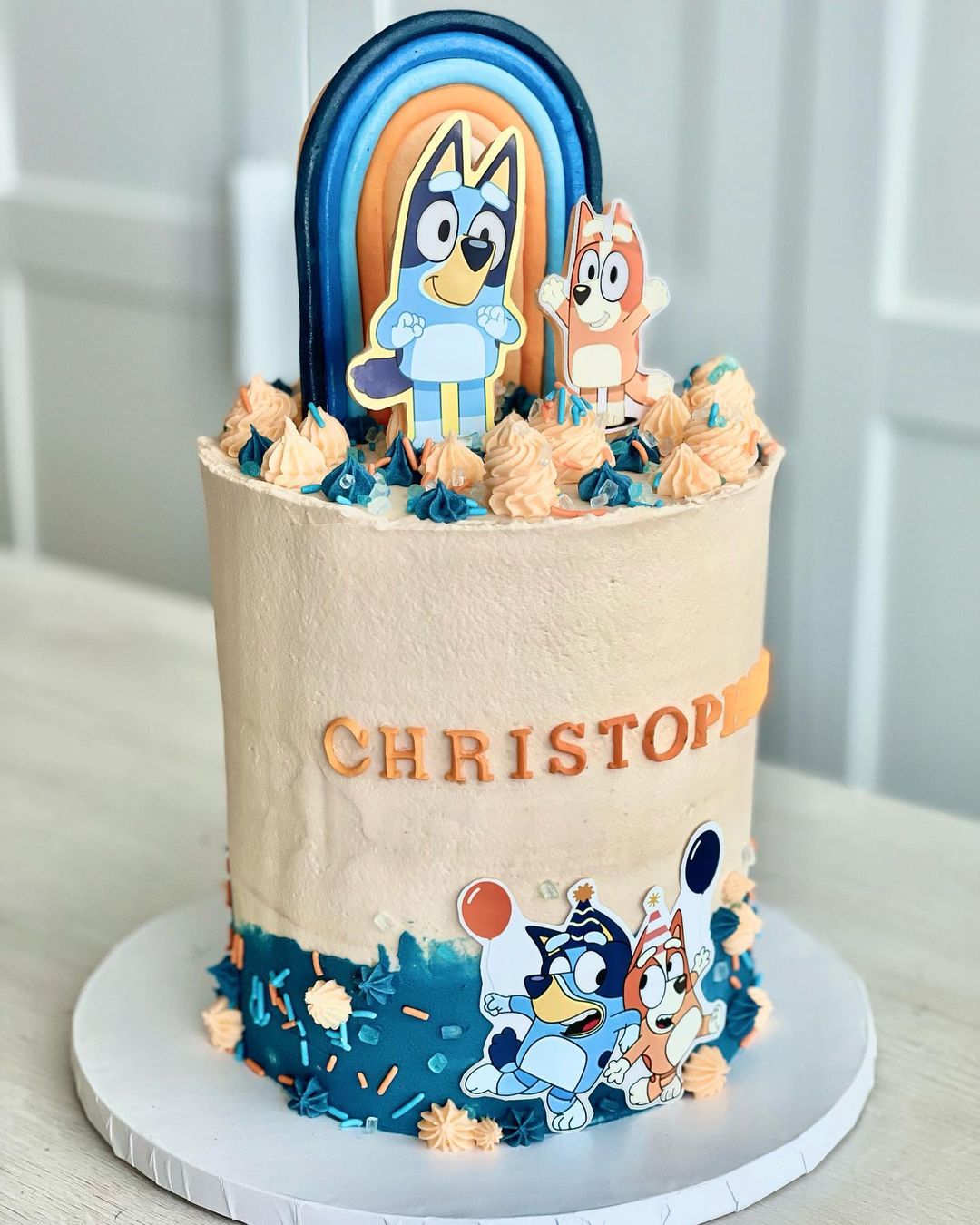 Consider adding a touch of gold to tie together the teal and peach colors beautifully!
Sometimes less is more… but sometimes, more is more.
This customized card stock cake topper matches perfectly with the chocolate cake spheres, and rosettes, and the itty bitty bone sprinkles are possibly *too* cute.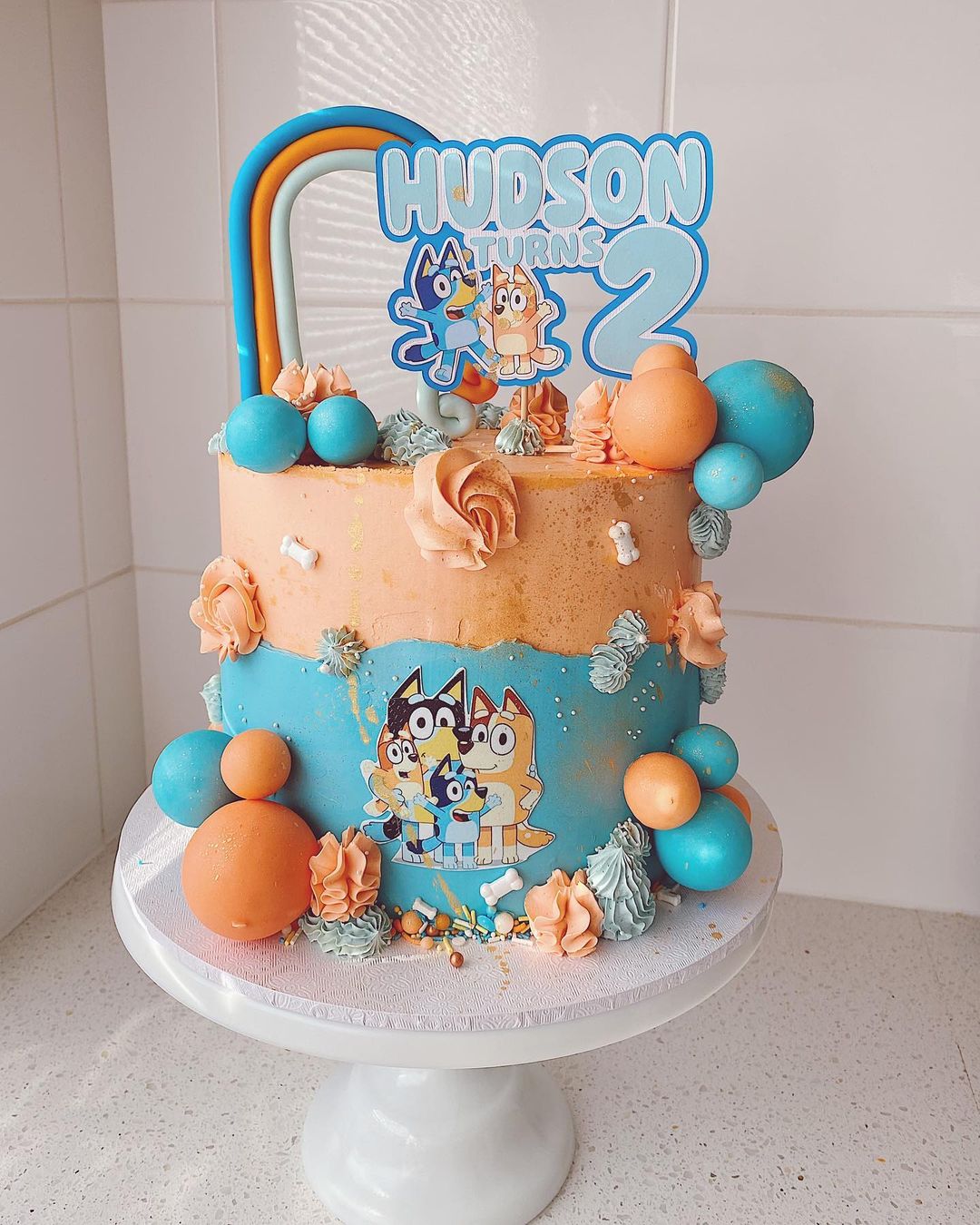 Lollipop, lollipop, oooh lolly lolly lolly pop!
A bright blue cake is perfect for a Bluey birthday party cake for boys, and simple fondant letters customize the cake in a simple yes stylish way.
Baby blue, pink and orange keep this Bluey cake pretty and bright, and matching macarons and marshmallow twists add a touch of whimsy that every toddler is sure to notice.
Bluey Birthday Party Cookies
What's a party without matching sugar cookies? Custom sugar cookie sets are a super cute way to play up the theme of your party, and can also be wrapped and set up as party favors for your mini guests to take home, too.
This muted blue set of Bluey cookies includes the cutest little paw prints and daisies.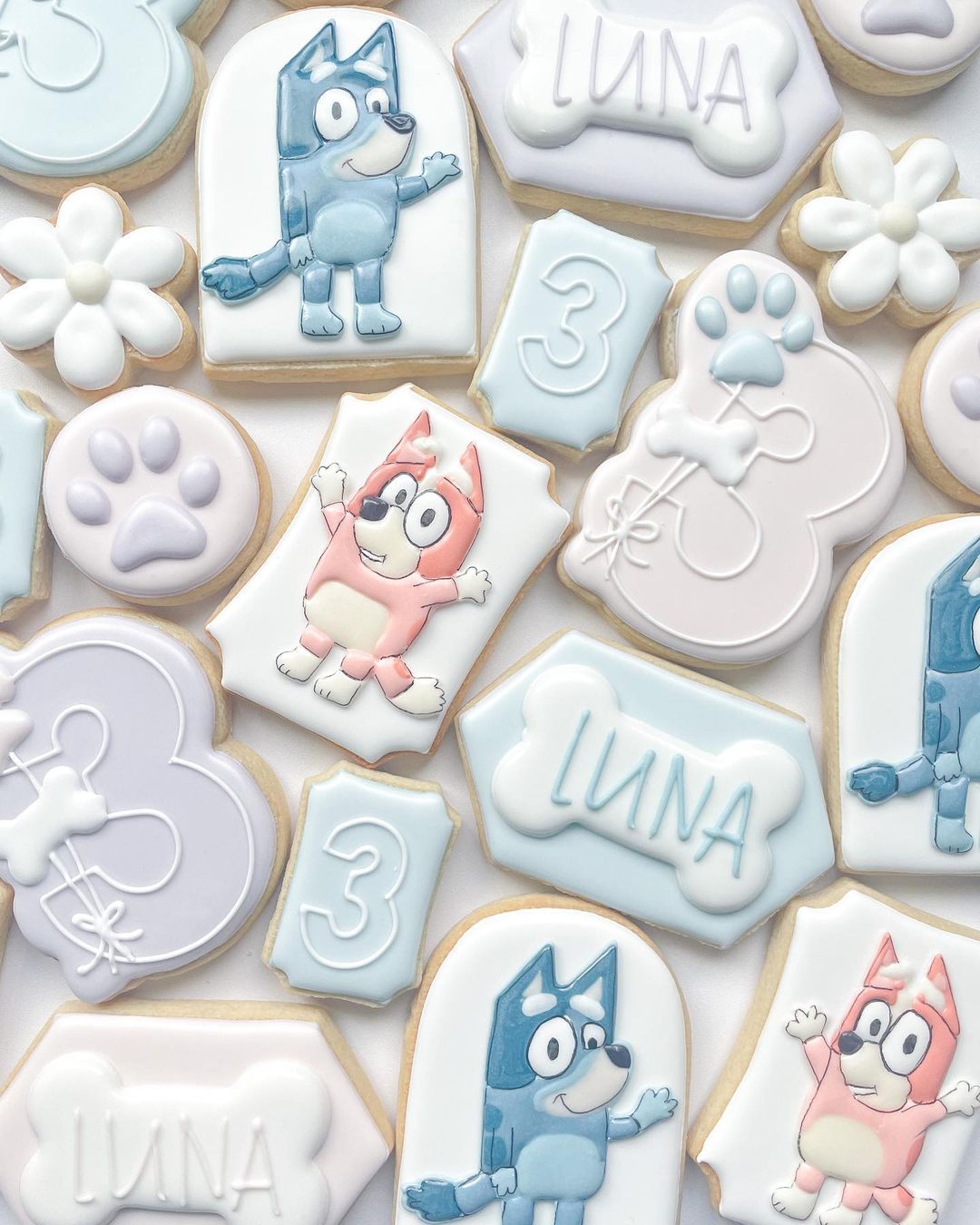 For a girl's Bluey birthday party, consider using a super bright pink color to anchor your palette, and add the classic dark blue, light blue and orange shades to it.
Or, for Bluey birthday party cookies for boys, stick with the two tones of blue and two tones of orange. Throw in a few name plate cookies, and a number cookie with tiny paw prints for good measure.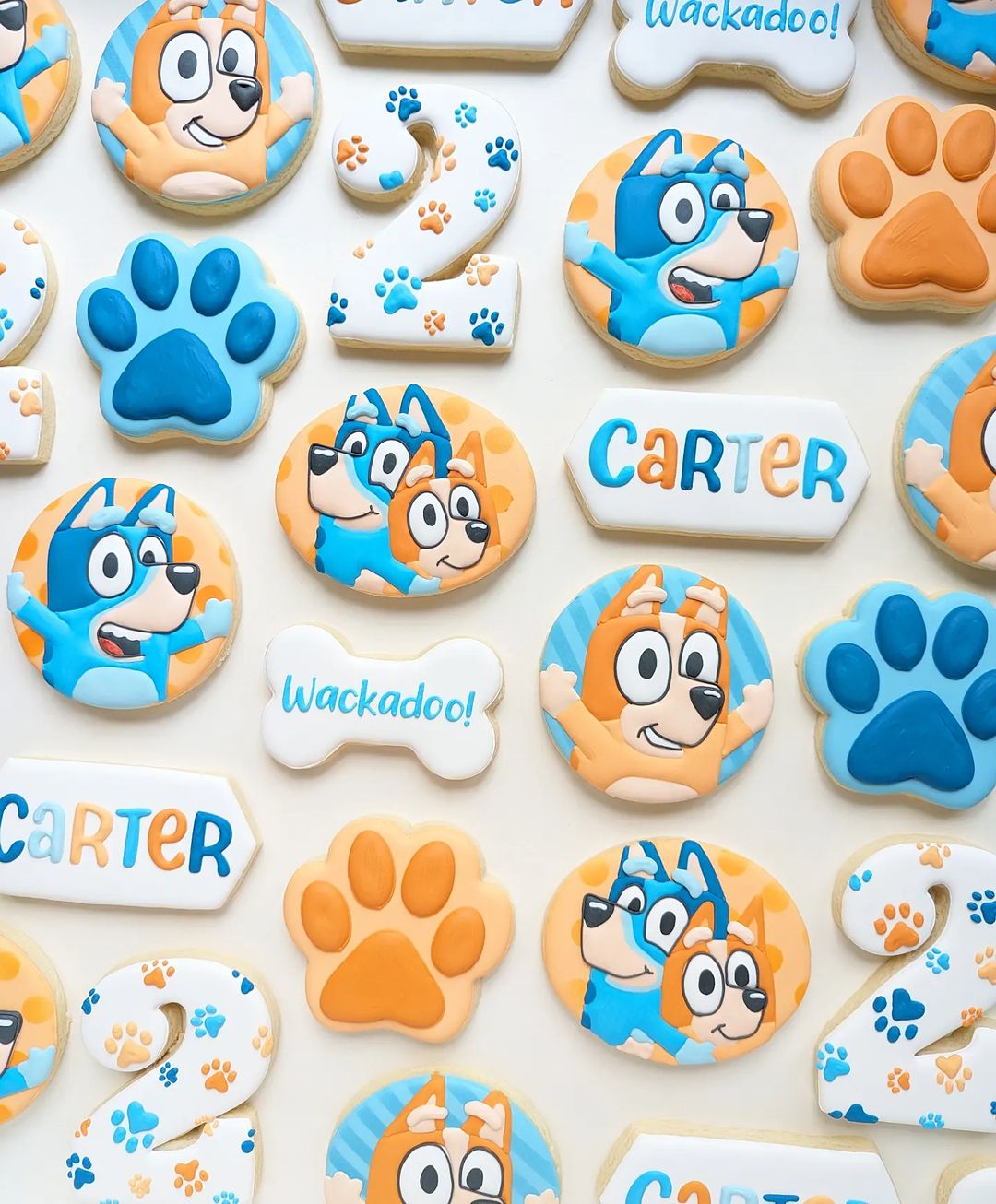 Or, take a leap completely from the vibrant Bluey color theme and opt for a pastel set with sweet soft pinks, purples and yellows.
Are those paw print balloons? I can not comprehend the cuteness right now…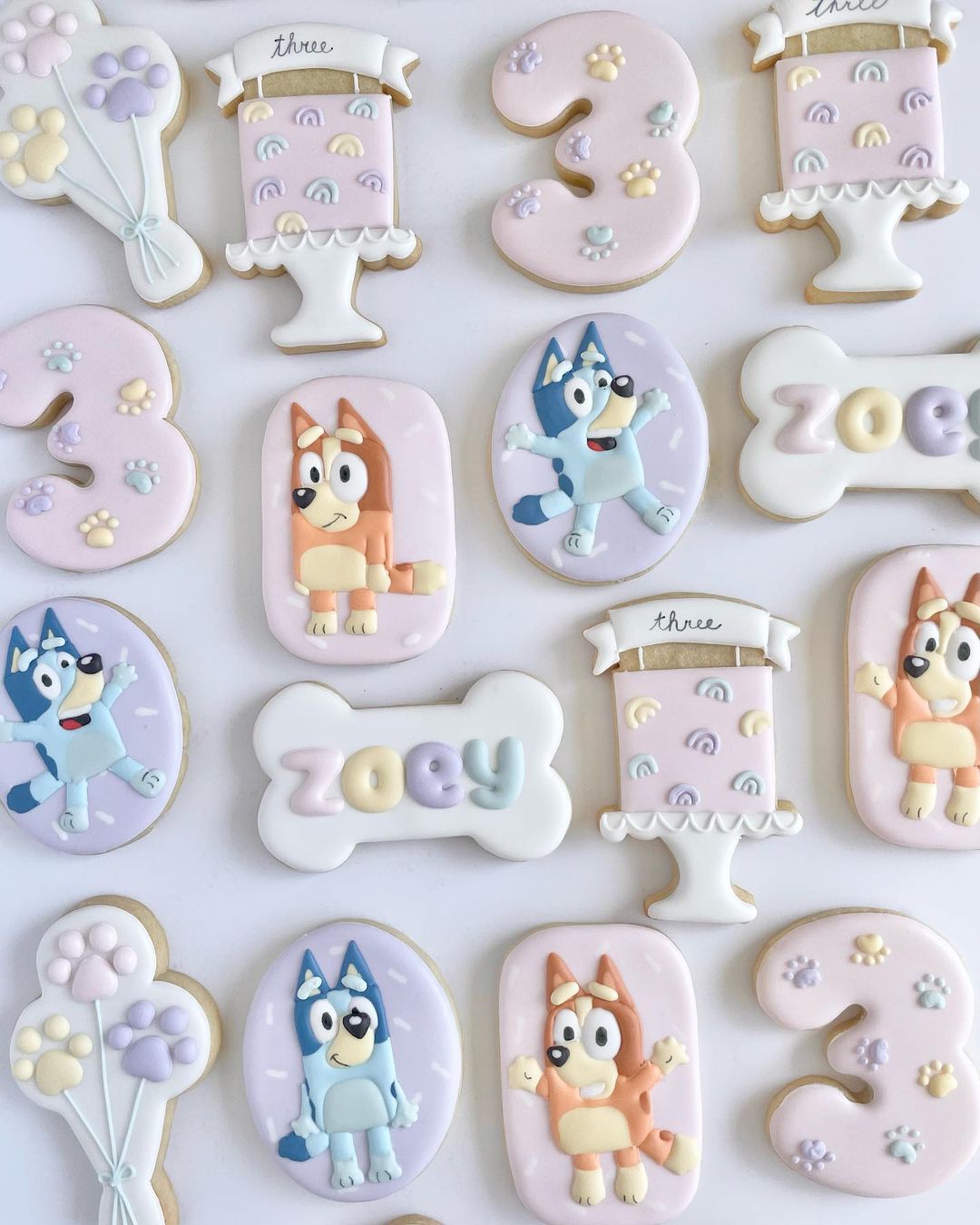 This fun and simple set of Bluey birthday cookies are made with fondant and a stamping set and give a totally different look that's fun and monochromatic!
Lastly, for a chilled out color palette, go with this muted royal blue and powder blue combo that's tied together with neutral nude tones.
Bluey Birthday Party Favor Ideas
What's a party without party favors? A small gift for your even smaller partygoers, these fun little party details leave your guests with something to remember the event by.
Adopt a Floppy
Welcome to my Bluey birthday party, to say thanks for coming, you can adopt your very own Floppy bunny!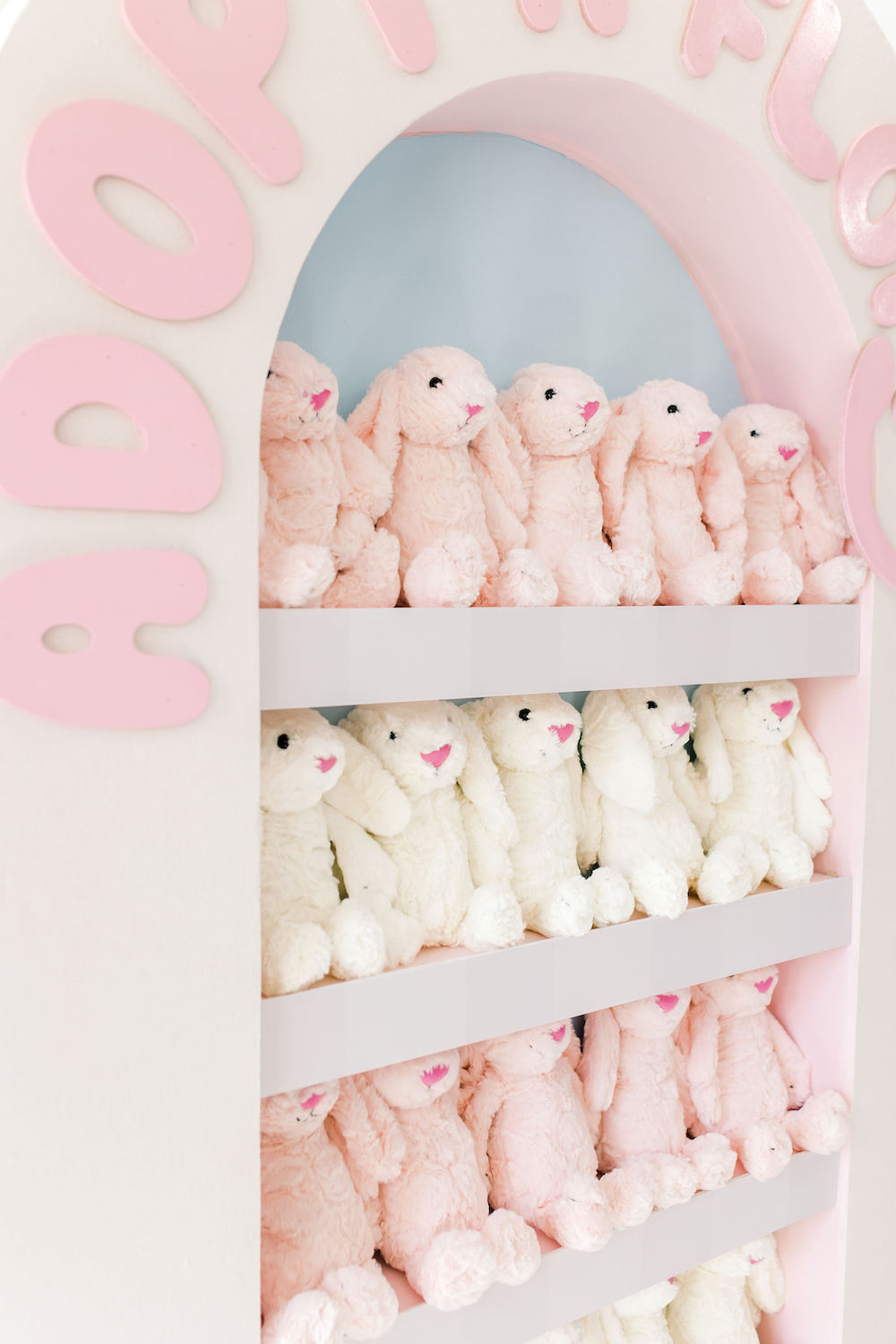 Personalized Sunglasses
For a super cute and personalized Bluey party favor, DIY these super adorable toddler sunglasses by gluing on letter beads to spell out their names (then put them in these ridiculously cute and trendy holographic favor bags).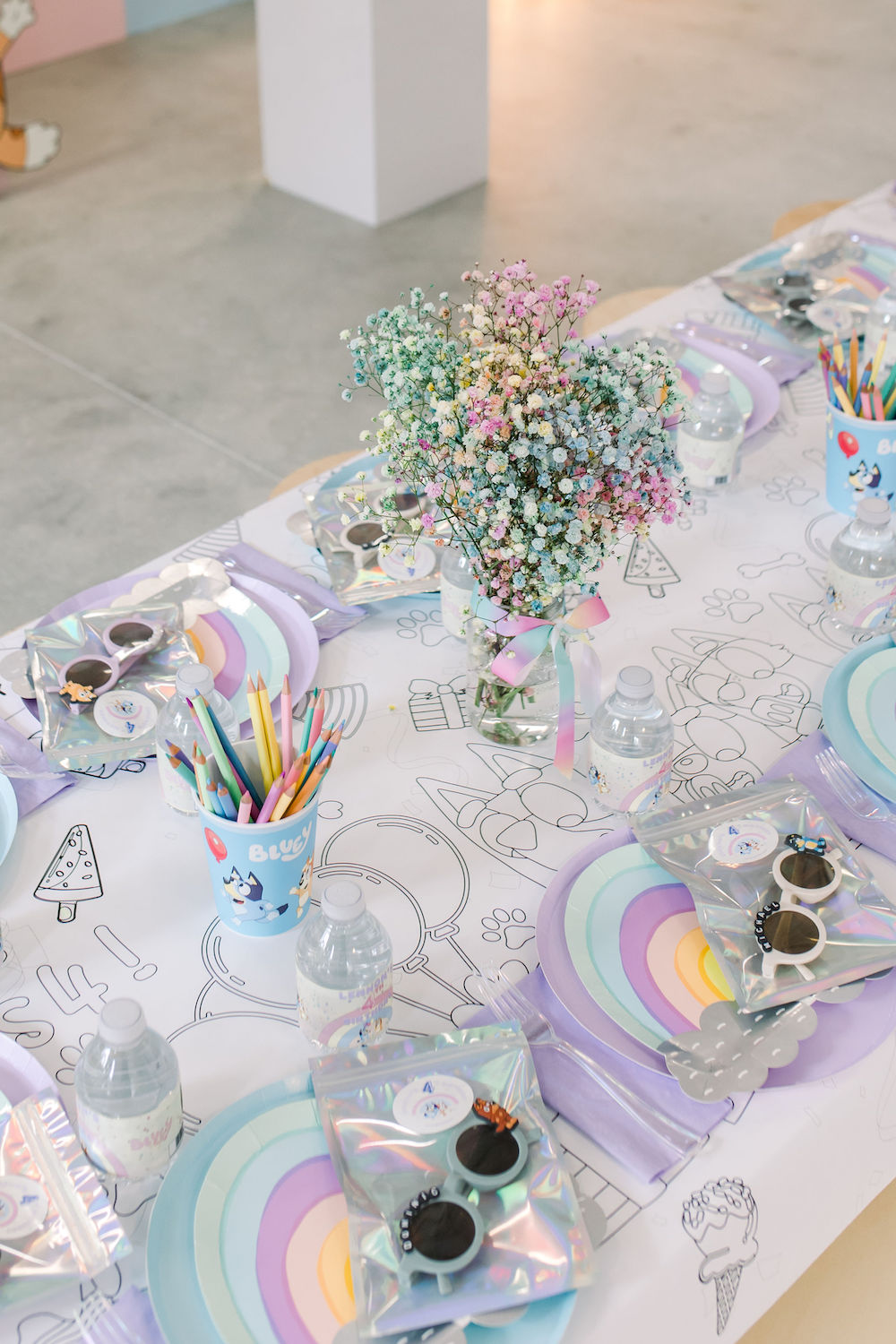 Bluey Coloring Books
Do you know a toddler that doesn't love coloring? I don't. Throw together these cute little coloring party favors with these simple little Bluey coloring books.
Bluey-Themed Favor Boxes
These super versatile paper favor boxes are the perfect size for little hands, can be totally customized with ribbons, stickers and cardstock, and can be filled with so many different treats and trinkets – what more could you ask for!?

Wrapping Up
Whether you're planning on hiring out help, or looking to totally DIY your own birthday bash, I hope these Bluey birthday party ideas have left you feeling totally inspired and excited to celebrate your little one's milestone in style!
Looking for more party planning inspo? Here are a few other collections I think you'll love:
Read More:
🌼 Two Fast Birthday: 21+ *Ridiculously Cute* Ideas To Steal
🌼 13+ *Best* Second Birthday Themes for Boys (2023)
🌼 29+ *Perfect* Gifts for 2 Year Old Boys (That Our Toddlers Are Obsessed With)