This post contains affiliate links.
Searching for the best ideas for a two fast birthday? This mega-guide is bursting with tons of inspo plus all of our favorite two fast birthday party supplies to make your day totally special!

Rev your engines, super moms, because – ready or not – it's time to plan your baby boy's second birthday party. (Welp. I know. It's ridiculous how quickly the time goes.)
After you've wiped your tears, crack out your notepad, pour yourself a cup of coffee (let's be honest, it's going to be a strong one today) and let's get this Two Fast birthday party started!
When it comes to planning an unforgettable second birthday party for your little one, the good news is that Amazon exists, and there are tons of super talented designers creating unique Two Fast birthday party decor.
The best part?
I've rounded up all of the best Two Fast birthday finds right here.
Let's dive in –
Two Fast Birthday Invitations
First things first: you've gotta give those guests the low down.
While years ago you would have headed to your local Party City to grab supplies, the digital age is upon us, and there are tons of online marketplaces for super cute, modern must-haves for parties of every style and theme.
To get start, pick one of these two fast birthday party invitations. Once you purchase the file online, you'll be sent a link to edit the details, then you can send them off to print somewhere like Staples or Walgreen's.
I've searched through the options, and here are some of my favorite Two Fast birthday invite picks:

Two Fast Birthday Decor
Next up, it's time to get festive.
There are so many options when it comes to two fast birthday party decor, but here are some of my fav ideas to get you started: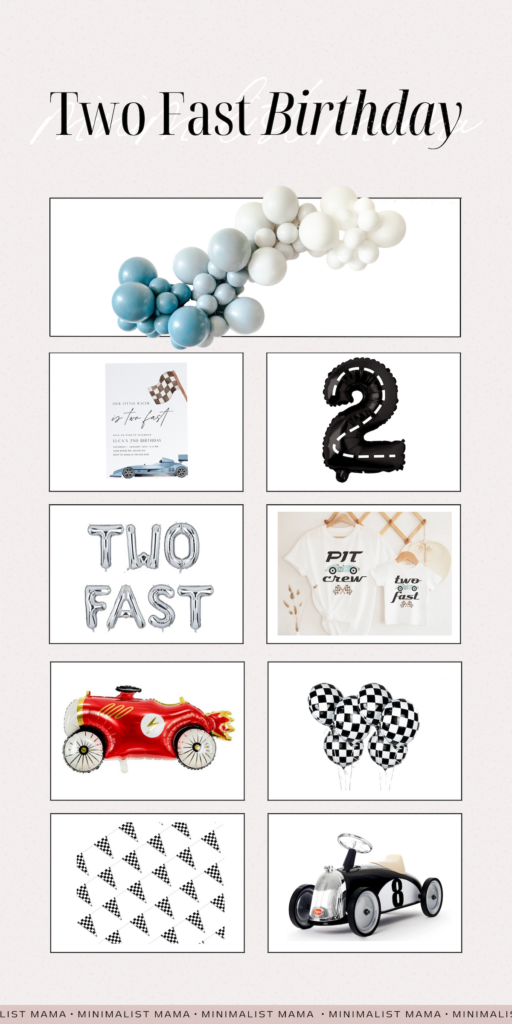 Use the tiny left and right arrows beside the product images below to scroll through our fav Two Fast party decor, and tap the image to be taken a shoppable link:

Two Fast Birthday Shirt
Of course, every little birthday boy needs a themed t-shirt for his big day.
And PSA – do not sleep on these *beyond* adorable Pit Crew t-shirts for mom and dad… I mean, I simply can not.
Use the tiny left and right arrows beside the product images below to scroll through our fav Two Fast party decor, and tap the image to be taken a shoppable link:

Two Fast Birthday Cake Ideas
It's time to cut the cake!
Here are some of my favorite designs for a Two Fast birthday cake to get you inspired: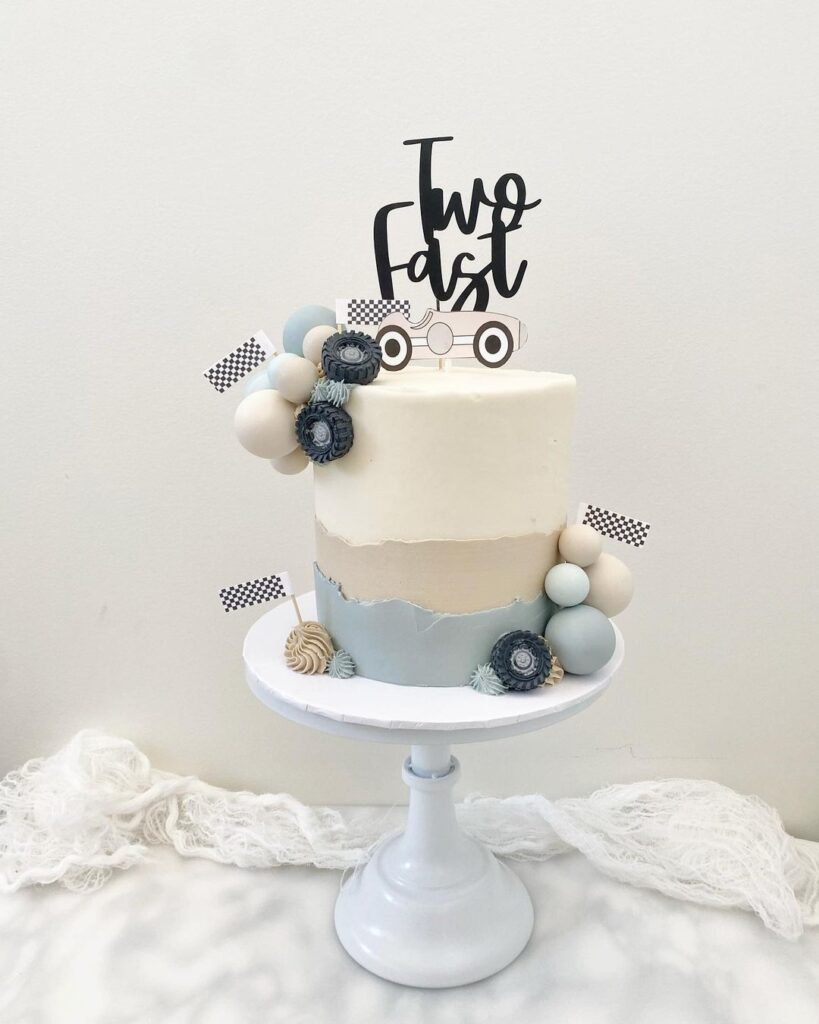 Monochromatic color schemes make my heart happy. Love the vintage blue color palette of this yummy Two Fast birthday cake.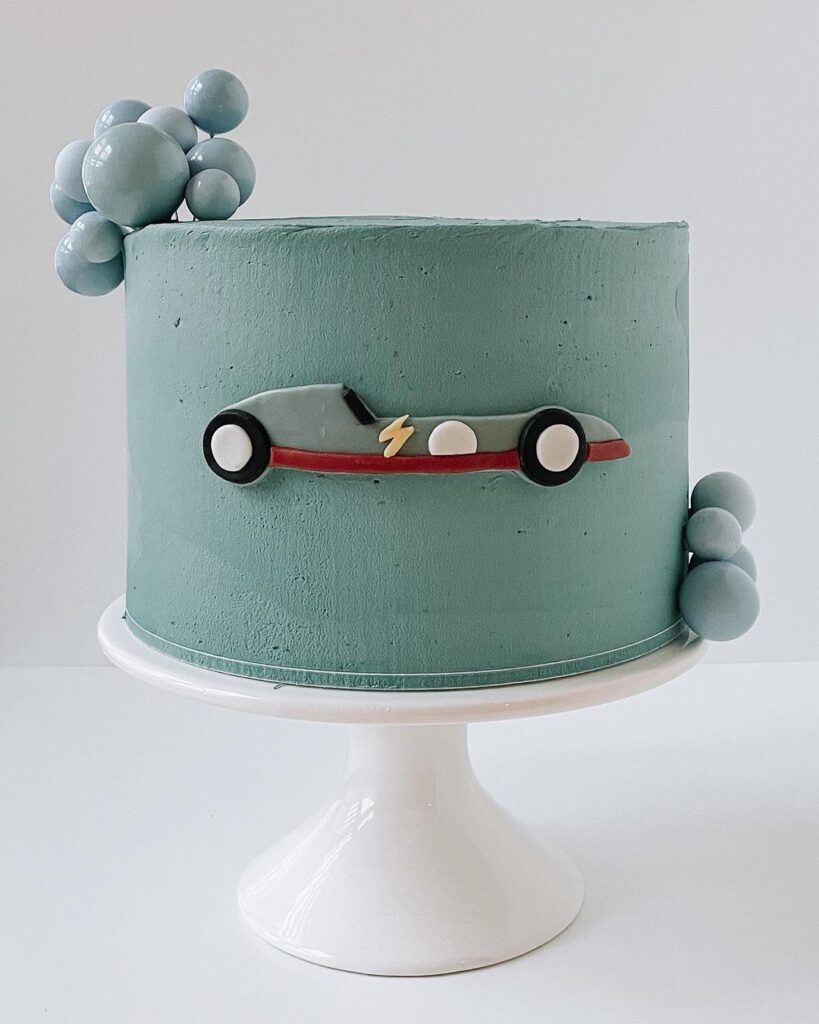 Simple and classic, this muted two-tier cake is part of a Two Fast second birthday party thrown by @paperlattes (who services So Cal if you're in the area)!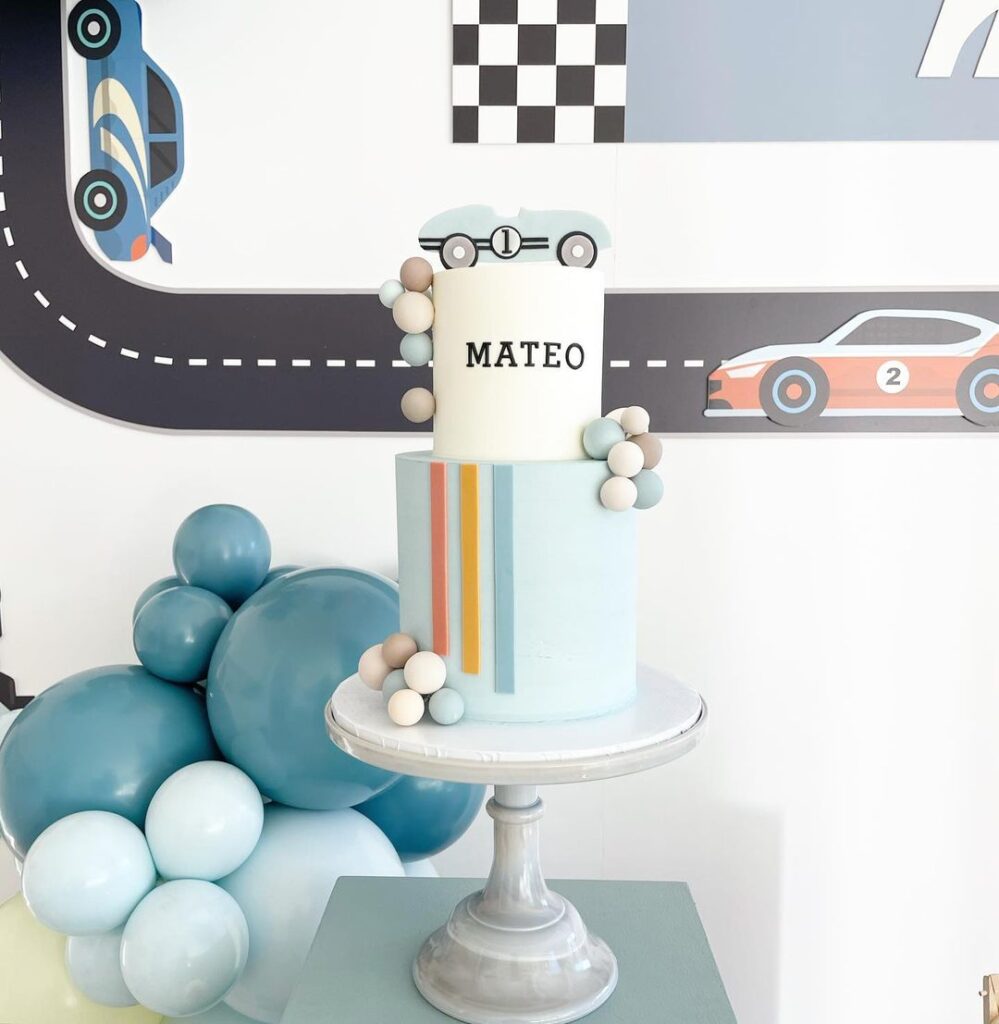 For a super simple yet still super adorable cake, consider ordering a white, two-tier cake from a local baker, and ask them to create the little race car out of fondant.
Add your own Two Fast cake topper using these *freaking genius* letter board cake toppers (and yes, you'll save some big bucks for foregoing all those fancy cake details on this one!)
If the black, white and red color palette is more up your alley, then this simple Two Fast birthday cake could be the perfect inspo for you.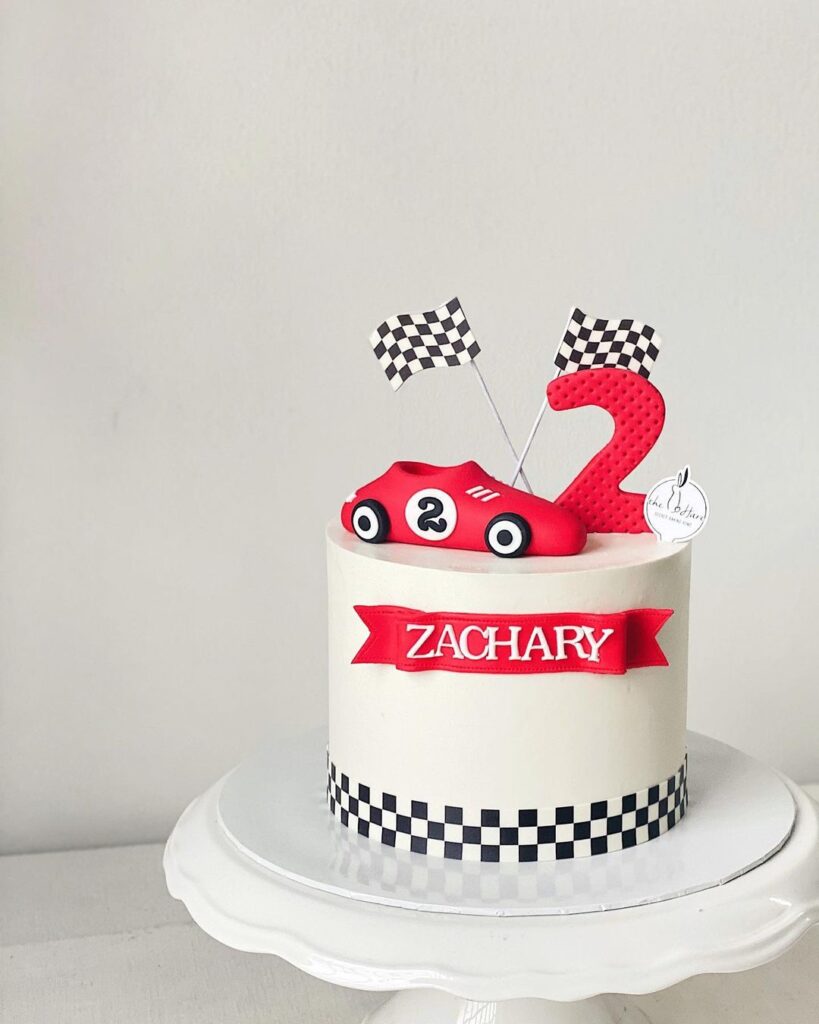 Aiming for a Two Fast birthday party with retro vibes?
This cool color palette of teal, dusty blue, yellow and red totally does the trick.
A fondant hand-painted race car detail, chocolate spheres, and tiny checkered flags take this simple, elegant cake over the top.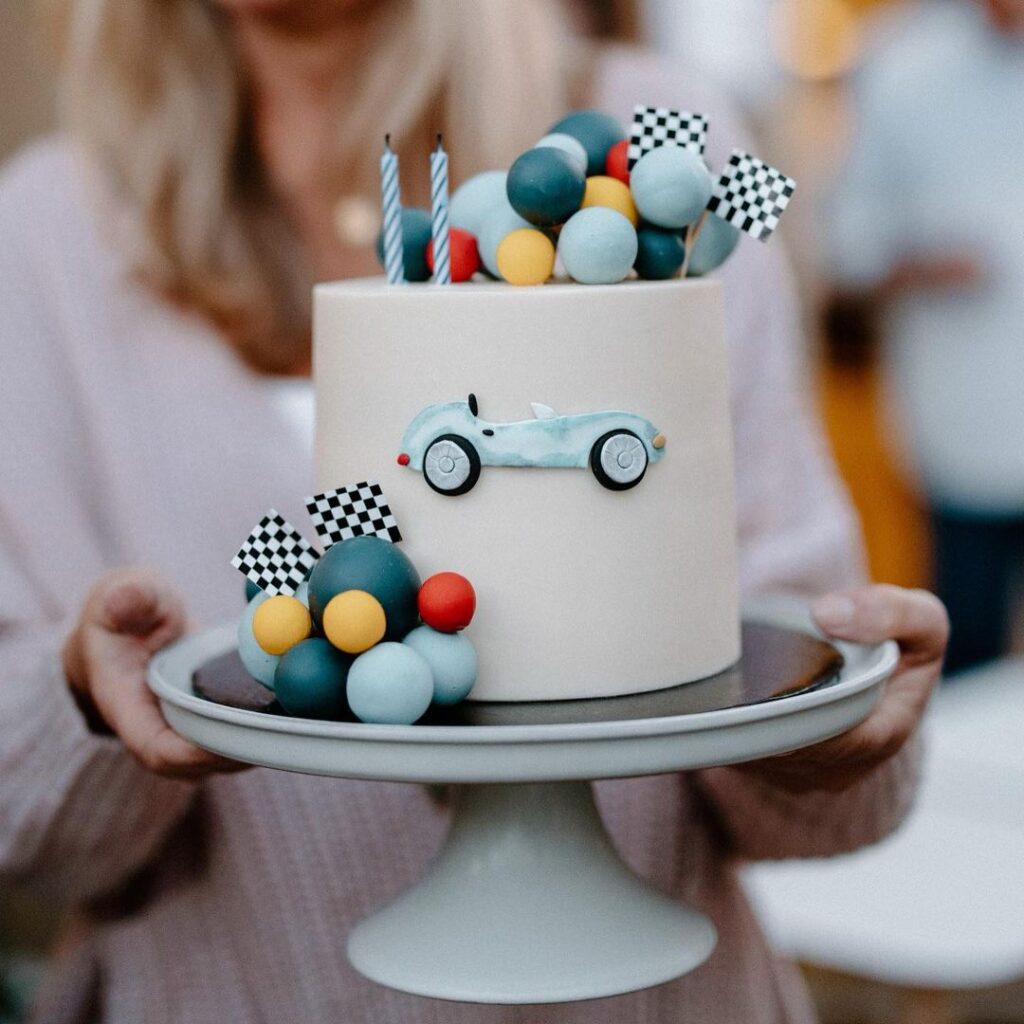 They say go big, or go home, right?
This pretty pale blue Two Fast birthday cake is definitely one to impress and includes pretty artisan nonpareils, a hand-crafted name banner and vintage race car. Gorgeous!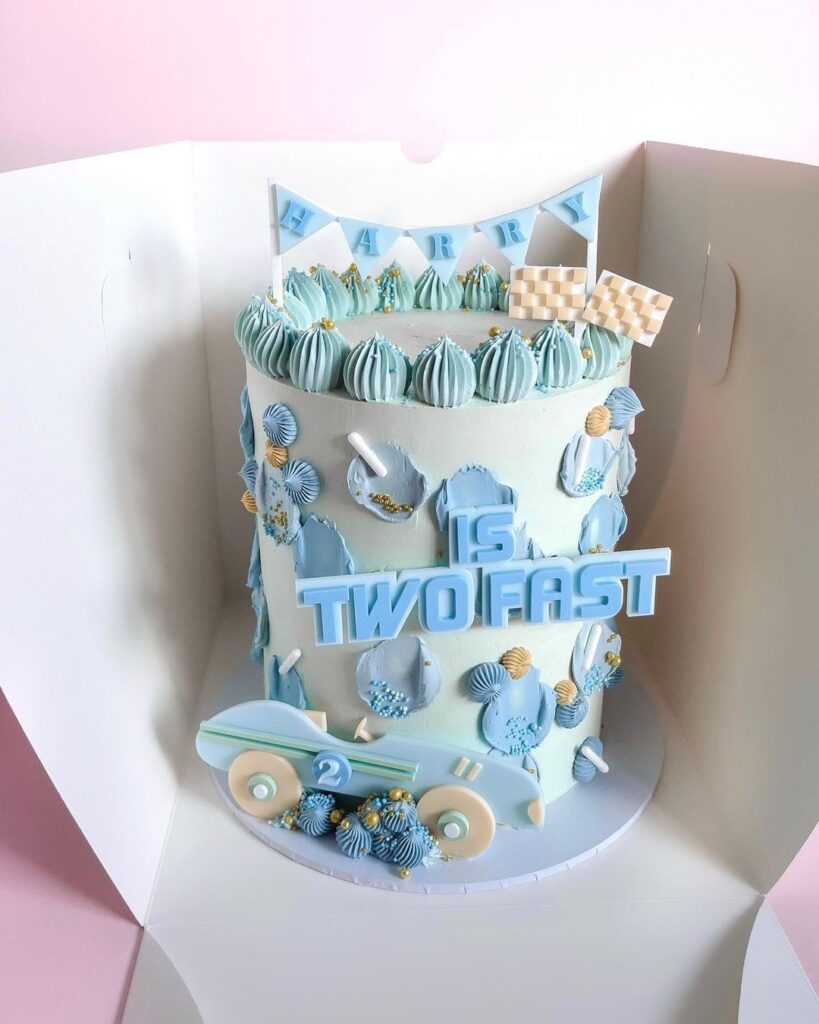 Two Fast Birthday Cookie Ideas
Not only do these Two Fast cookies make for the perfect addition to a birthday dessert table, but you could also choose to have them individually wrapped and gifted as party favors for your guests to take home and snack on later.
Here are some of my favorite two fast cookie designs for your little one's special day:
These vintage-inspired race car cookies would work really well if you chose to purchase one of the vintage toy cars I shared above –
and to really get those matchy matchy vibes?
Match the balloon garland you hang at your party to the balloon garland in these cookies, and make sure to grab a few of the checkered foil balloons, too!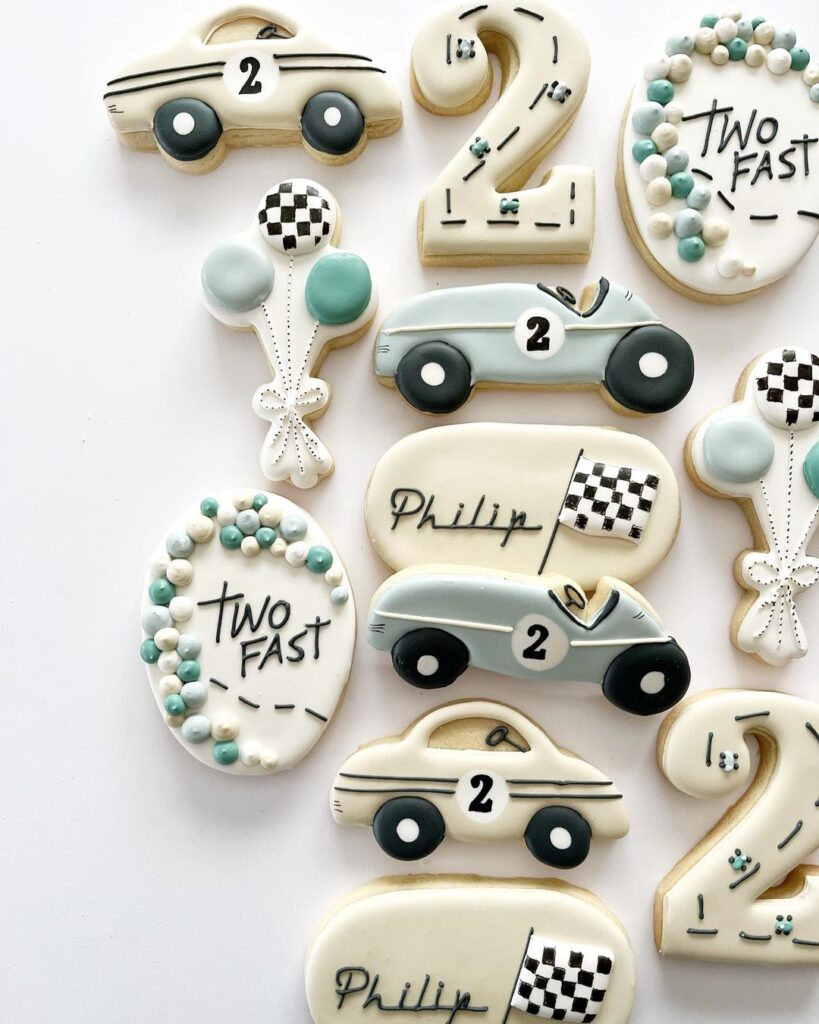 Next up, these adorable two fast birthday cookies include a cute little speed limit sign, incorporate some of the modern beige checkerboard pattern, and even some sweet little personalizations with a pen.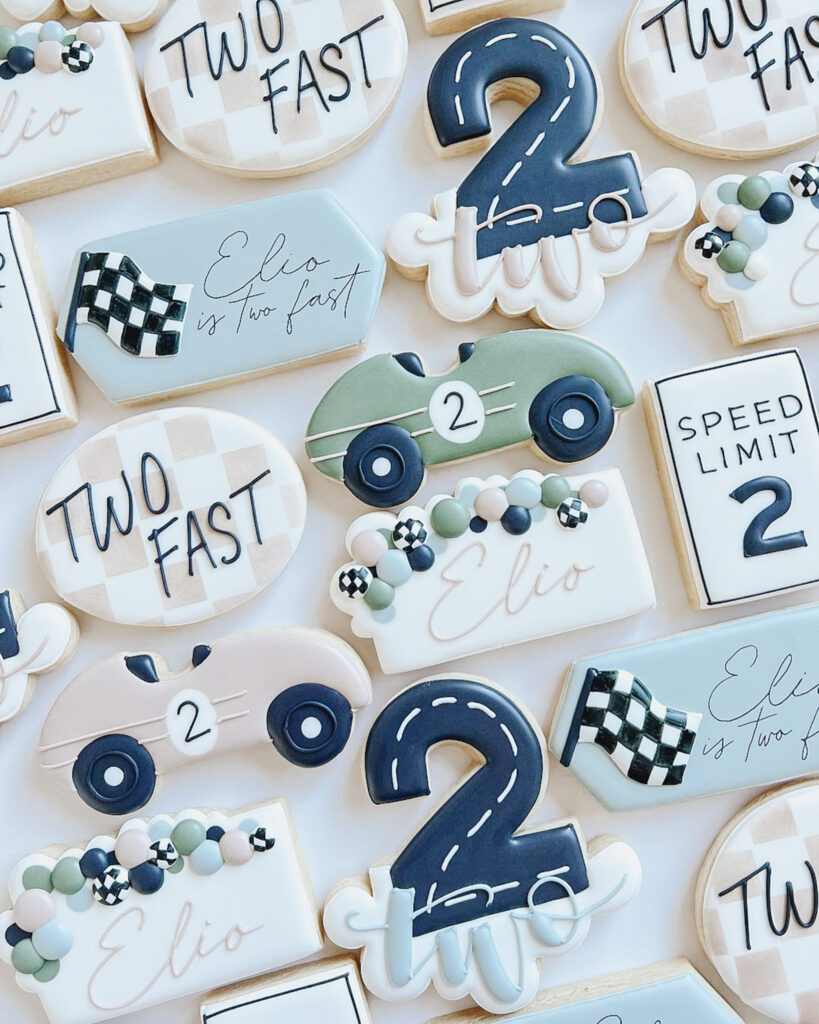 You know what they say… keep it simple, silly!
This next set of custom sugar cookies for a race car themed birthday party are a bit more simple than a few of the other sets, and will likely save you a few bucks on your order!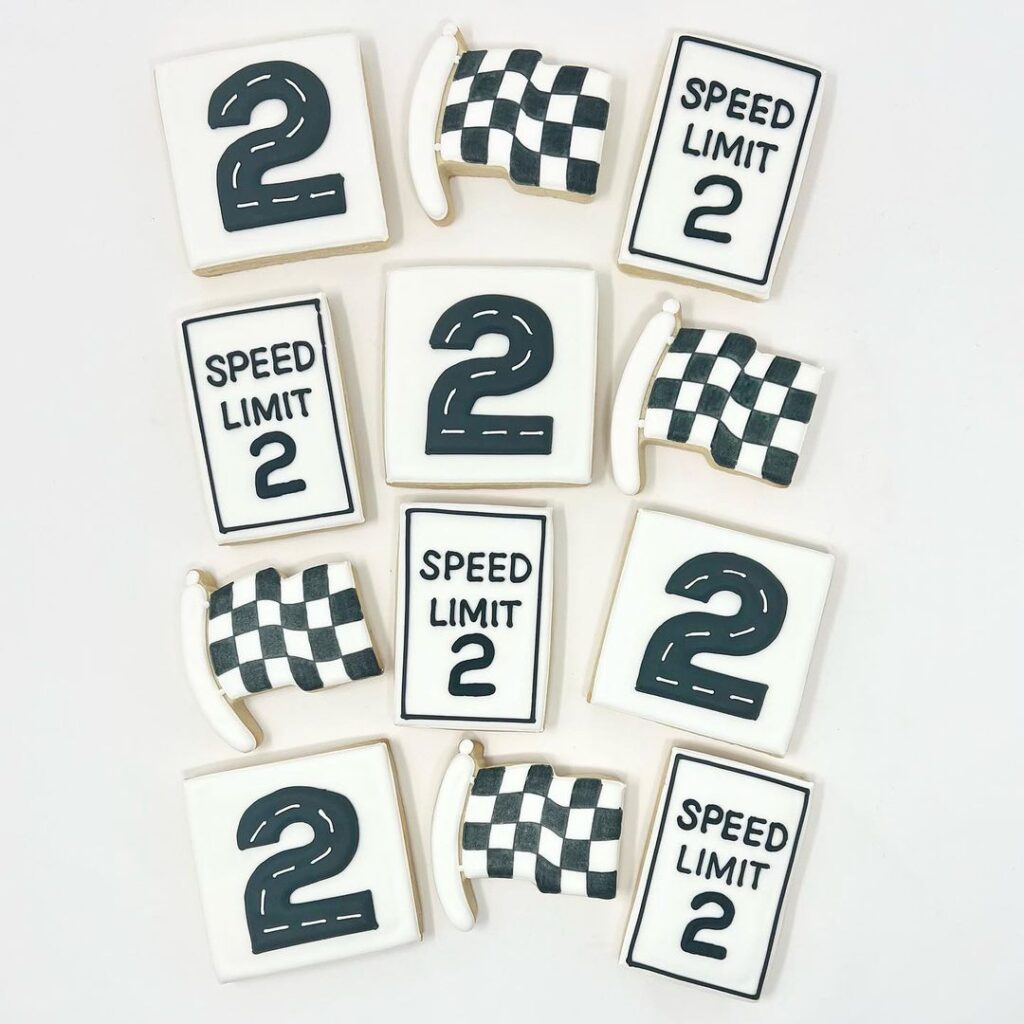 Love the cherry red vibes of this set of cookies?
Use it as a jumping-off point to plan the color scheme for your fête and the rest of your party decor!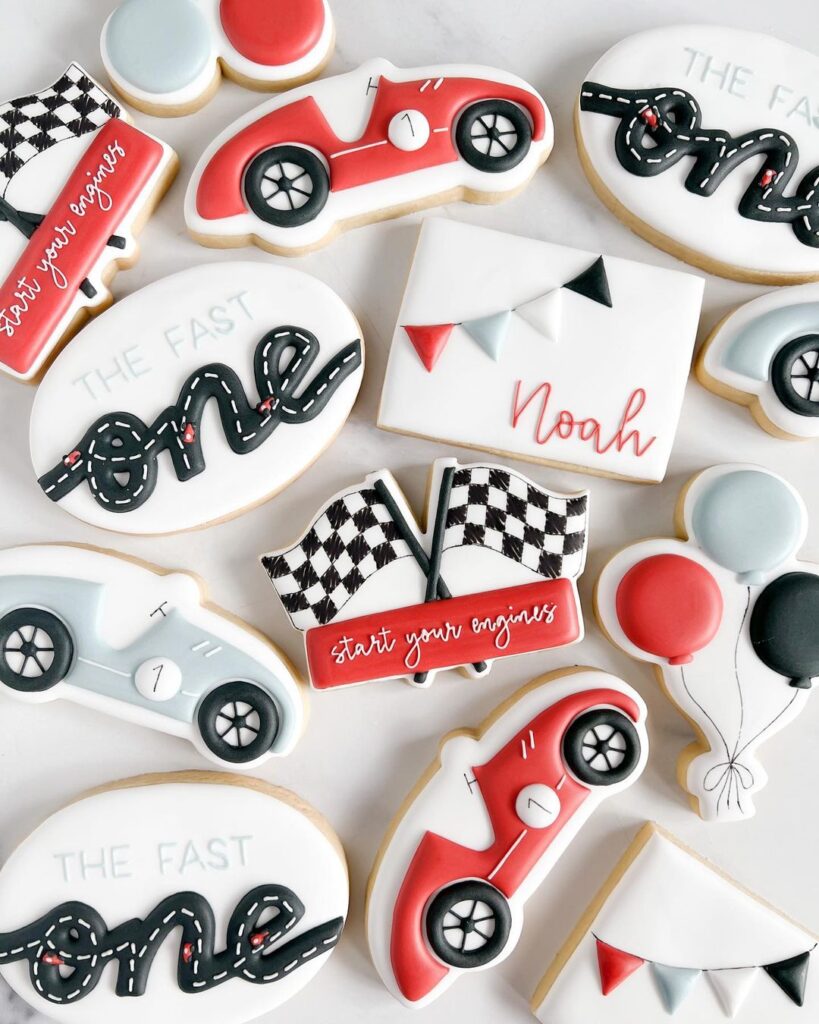 Black, white, red and blue – a nice classic color scheme that totally pops!
Again, we see another popular balloon being yumm-ified and made into its own adorable cookie (this one does it with these super cute number two road pattern foil balloons).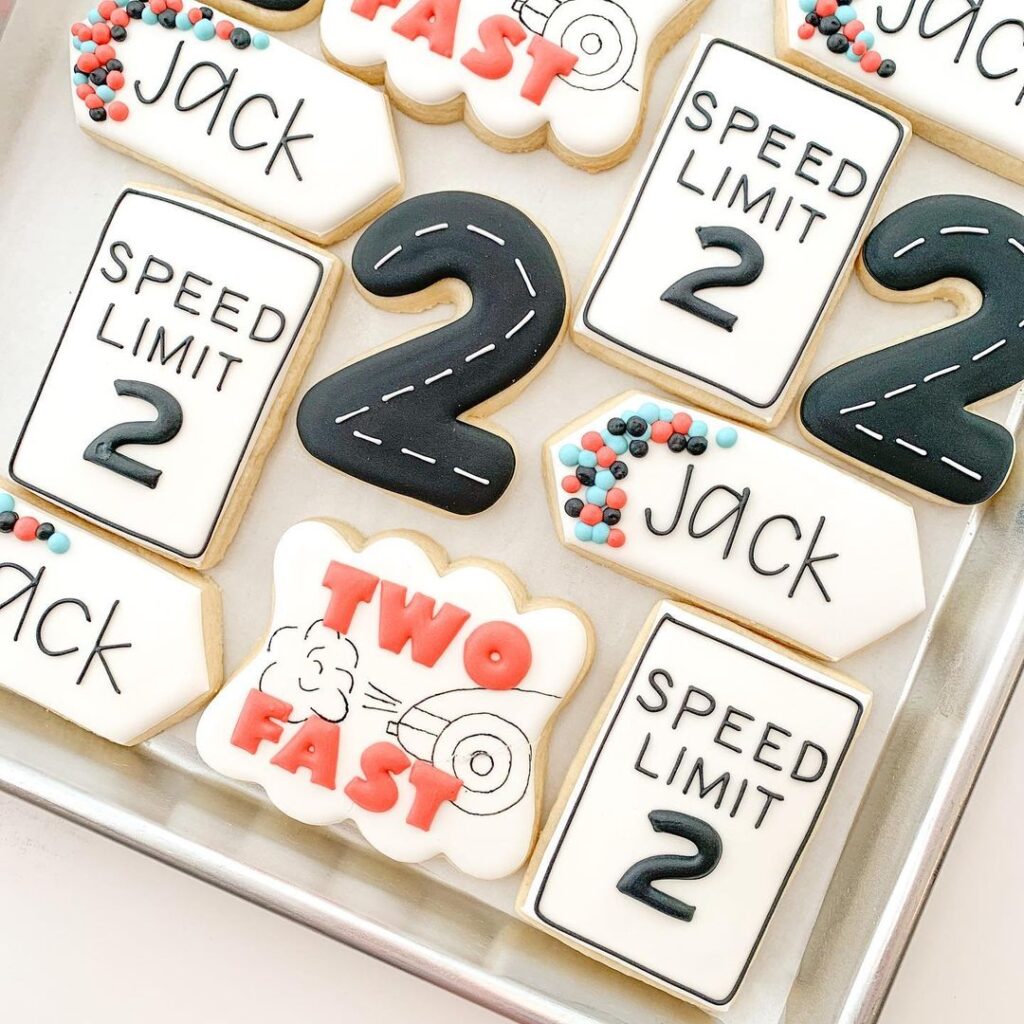 Wrapping Up
And that's a wrap.
I hope you were able to score some finds for putting together your toddler's two fast birthday party, and that you're feeling revved up and inspired to celebrate that little one's second year!
Read Next:
🏁 29+ *Perfect* Gifts for 2 Year Old Boys (That Our Toddlers Are Obsessed With)
🏁 21+ *Very Aesthetic* Cozy Coupe Makeover Ideas (That You Can DIY!)