This post contains affiliate links.
Searching for the pretty, stylish nursery light fixtures? Say bye-bye to that boob light because I've hand-picked the very best nursery light fixtures – and they're all right here.
Can you imagine that only a handful of years ago, nursery light fixtures were only a consideration in the highest-end nursery spaces? For so long, the flush mount light fixture that came standard in your home was left to do its job, and style and charm were created in nursery spaces with furniture and decor.
In 2023, it's a different story.
From woven bohemian pendants to simple, affordable flush mount fixtures, it's now super common to swab out the light fixture while designing your little one's nursery.
Today, I've rounded up some of my very favorite nurseries to get you inspired, as well as all of my top picks for nursery light ceiling light fixtures, at all different price points.
Let's dive in –
This is the nursery that texture dreams about.
The perfect, crafted mix of varying wood grains creates interest while the cute, vintage details make this space all kinds of warm and cozy.
Opt for this sweet little rattan flush mount light to begin to achieve as similar look.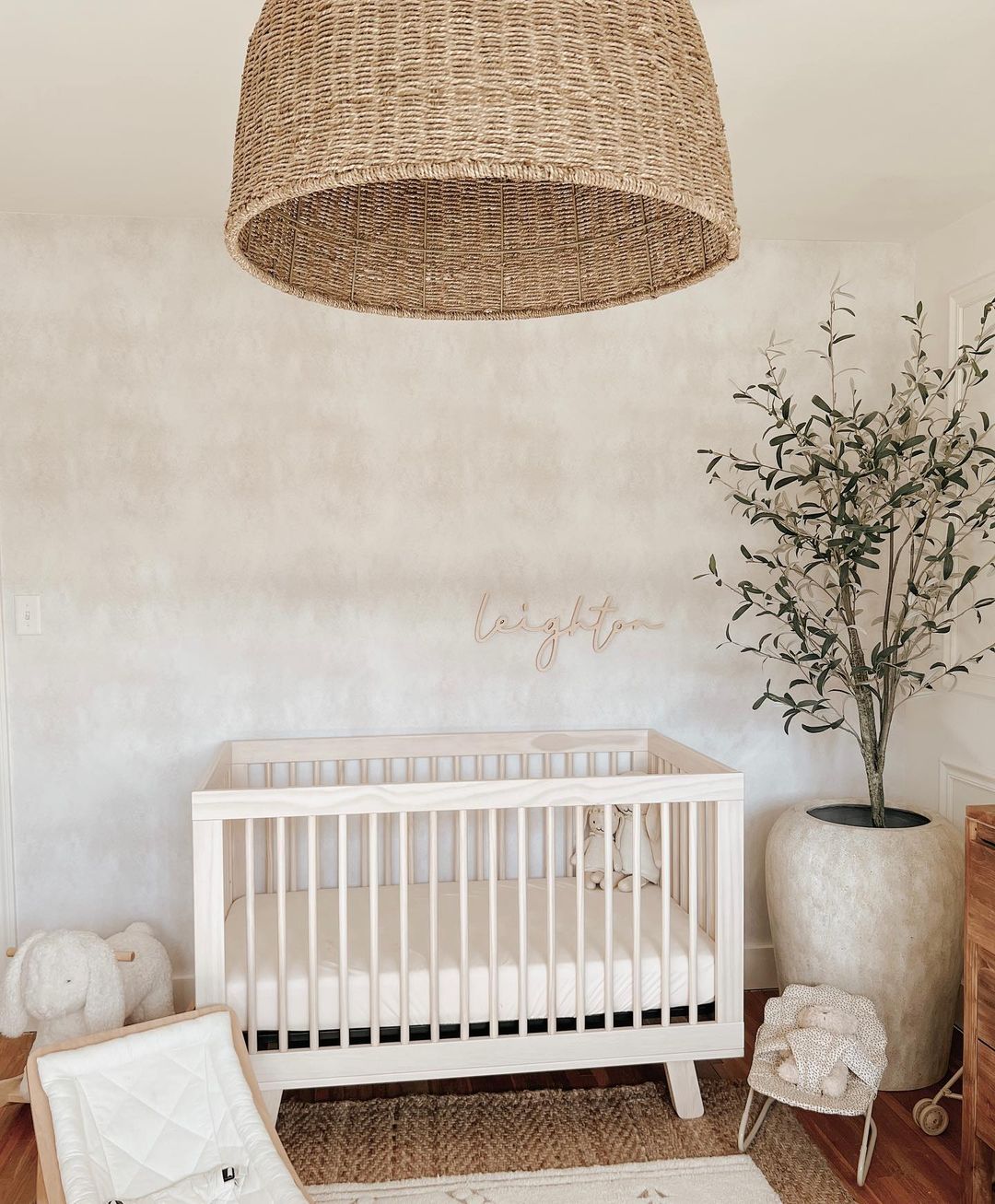 This warm and tightly woven rattan pendant light contrasts so well with this stunning wallpaper, jute rug and one of the most popular (if not *the* picks for neutral baby cribs in 2023) – the Hudson crib by Babyletto.
Brass & Gold Nursery Light Fixture Picks

This pretty in pink nursery is made even more soft with this modern bamboo nursery light fixture.
The round shape of the light is echoed in the curves on this dreamy bouclé rocking chair and matching storage ottoman, and this great little boho side table.
YouTube mega-star, Gemma Louise Miles, designed her nursery to be warm, dreamy and ridiculously cozy –
and this pretty bohemian nursery light fixture (similar here) is the cherry on top.
Cane & Rattan Nursery Light Fixtures
First off, one of the trending, yet still timeless light fixture picks – cane & rattan.
These pretty woven lighting options not only add warmth and texture to your little's space, but they cast a really beautiful diffused glow in the room, too.
We have this style of light in our dining room and it is the most cozy, inviting space – and I attribute most of that to the light fixture!
Here are some of my favorites:
one / two / three / four / five / six / seven / eight / nine / ten
Cane & Rattan Nursery Light Fixture Picks

Next up, this gold bulb light with vintage vibes is paired with a classic patterned area rug, and contrasted with the modern bouclé fabric for a really pretty juxtaposition.
Next up, this lovely little woven light fixture is super gorgeous, but it's definitely a bit of a larger light fixture – even when you go with the smaller size (it's still 14 inches wide by 20 inches high).
This smaller bamboo pendant light is similar, and only 10 inches high, so it may be a better fit for smaller spaces.
Black Nursery Light Fixtures
Great for creating a more bold look, these high contrast light fixtures range from cool and classic to high-style.
Black Nursery Light Fixture Picks

Wrapping Up
And there you have it – a whole pile of beautiful, modern nursery light fixture ideas for your little one's space.
It's my hope you've found something that will work perfectly for your baby room, and provide just the right amount of light for all your special moments ahead.
Read Next:

🧸 3+ *Really Good* Babyletto Crib Dupes You *Need* To See
🧸 11+ Gorgeous, Practical Nursery Side Tables I Love (For *Every* Budget!)
🧸 29+ Jaw-Dropping Nursery Accent Walls I'm Swooning Over
🧸 19+ *Stunning* Nursery Board and Batten, Wainscoting & Beadboard Ideas (2023)