This post contains affiliate links.
Searching for the cutest second birthday themes boy approved? You'll love this totally gorgeous collection of 2nd birthday party themes for boys that are totally trendy and fun!

Image credits Rodeo | Toy Story | Jurassic Park | Two Cool
The Best Second Birthday Themes – Boy Edition
Looking for the best 2nd birthday party ideas for boys? Are you ready to take your little guy's 2nd birthday celebration to the next level? Well, look no further because we've got the inside scoop on the coolest, wildest, and most epic party themes that will make his big day an absolute blast. From farm animals to puppies, race cars to baseball, we've rounded up the top contenders that will have your little dude and his pals grinning from ear to ear.
Let's get this party started –
Bluey Themed Second Birthday Party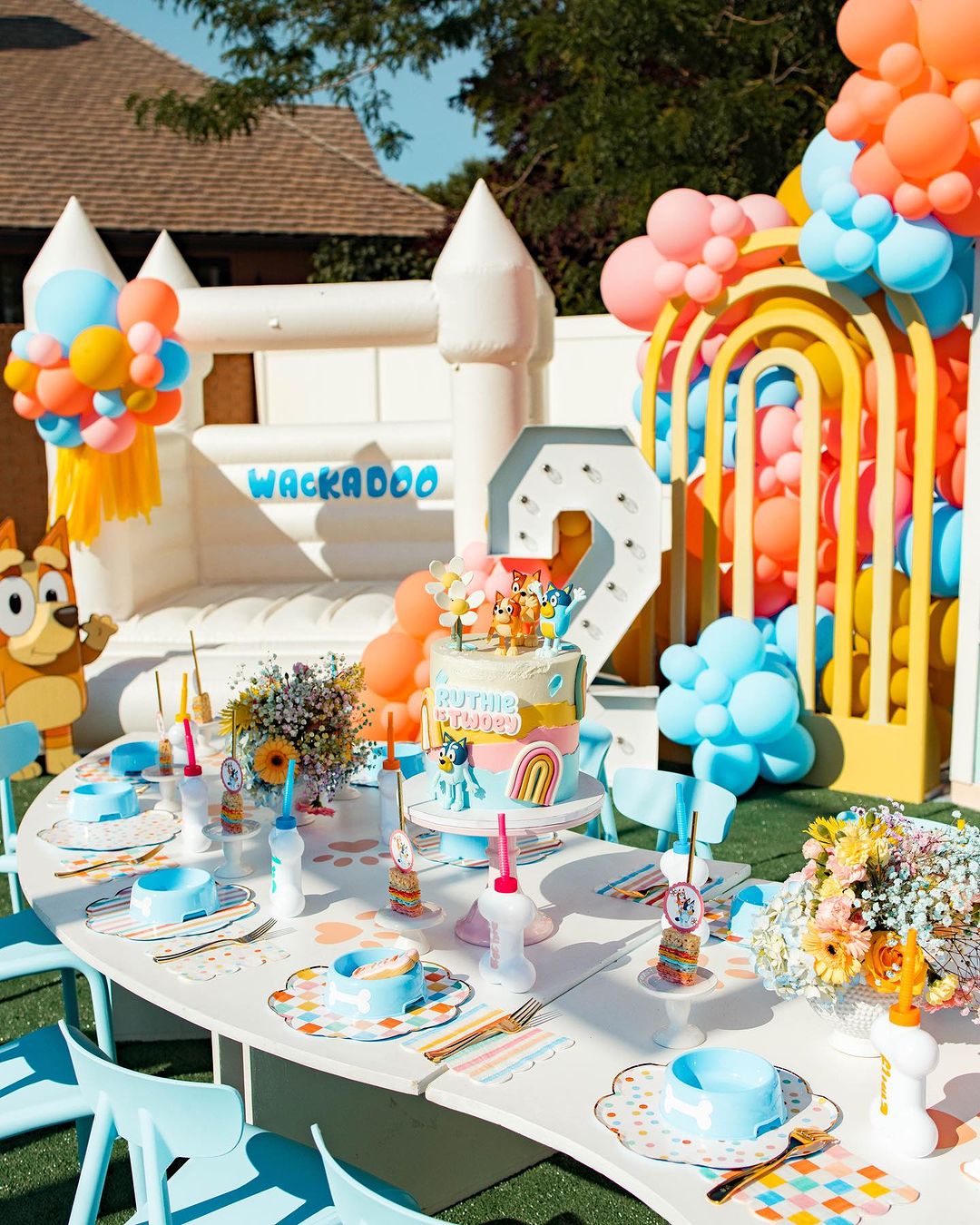 This episode of Bluey is called… Your Little One's Birthday!
You can hear the theme song playing already, can't you?
If your two year old is anything like mine, then Australia's favorite blue dog is a frequent request around your home, too.
What better way to totally spoil your almost-two-year-old than throwing them a super fun Blue-y themed birthday party?
With adorable catchphrases like Wackadoo! (Your Child's Name) is Two! and (Your Child's Name) is Two-ey!, you can really have some fun with this bright blue theme.
For even more Bluey party ideas, check out our whole collection of the best Bluey party decor, cookies and cakes!
Two Cool Second Birthday Party Theme
A play off of the super popular One Cool Dude or One Happy Dude first birthday theme for boys, a Two Cool-themed party is just that.
A color palette of black and white, or beige and white, with bright yellow is trendy and neutral, but still fun and bright enough to get your little one excited.
Two year olds often can recognize and name happy faces at their age, and the classic symbol makes for great decor, treats, and more.
Image credits invitation | cake | backdrop
Two the Moon (Space Theme) Second Birthday
Use imagery like stars, moons, rockets, and planets to create a magical atmosphere for this Two The Moon themed 2nd birthday party!
Image credits cookies | cake | favors | invitations
Decorate with star-shaped balloons, hanging moon and star cutouts, and planet-themed table settings. Incorporating glow-in-the-dark elements can add an enchanting touch to the atmosphere.
Make your own 'moon dough' instead of playdoh for party guests to take home!
Our Rookie is Turning Two (Baseball Theme)
Does your family love baseball? A baseball themed 2nd birthday is sure to be a home run!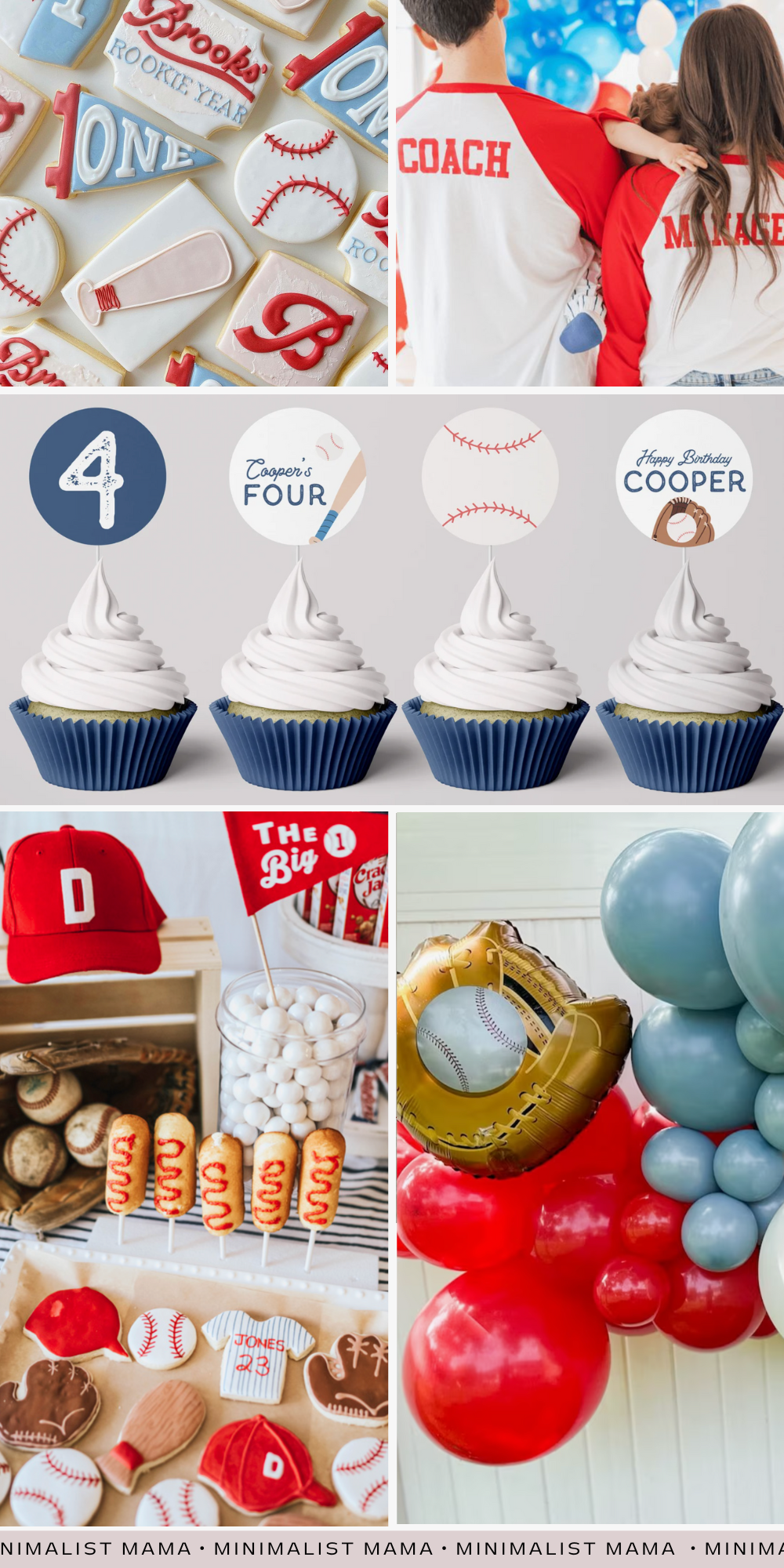 Image credits baseball
Baseball is a truly unique second birthday theme. Get matching shirts for your little Rookie and you, the coach! Decorate your party space with some amazing baseball themed balloons and check out these great snack and dessert ideas.
Not only do corn dogs kinda look like baseball bats, they're a typical food you'll find at a ball game. Other options to add to your menu include pickles, cotton candy and cracker jacks! Plus, these custom decorated sugar cookies are beyond adorable.
Chugga Chugga, Two Two! (Train Theme)
Woo, woo! Look who's turning two! Is your toddler obsessed with trains? Mine too!
Image credits party table | cardboard train | cupcakes | sign | food train
From wooden train sets to a homemade food train, the options for decorating a train themed second birthday party are endless. Want the perfect color scheme? Blue, red and white are classic colors for this type of theme.
Cupcakes with little white cotton candy sticks look like the steam of a train puffing out. You can even get your toddler a little train conductors hat or a cardboard train to wear to pull together this super fun theme. As an added bonus, the cardboard train could even be reused as a Halloween costume.
Two Fast, Two Curious (Race Car Theme)
Racers, start your engines! Get ready for a dash towards the finish line with this race car themed second birthday party! Who doesn't love race cars?

Image credits balloons | sign | cookies | invitation | cake
White and black racing checkers are such a classic look that even the most minimalist party planner can get behind. Incorporating vintage car decorations and race car balloons make this a chic choice for a car-crazy little boy!
It's the perfect party theme for your little boy's big day. Grab some white and black balloons, and all the cool vintage cars you can find to put together this theme.
Elmo & Friends (Sesame Street Theme)
Sesame street is a birthday theme that all your guests will know and love! It might date back to the 70's but it's still totally on-trend.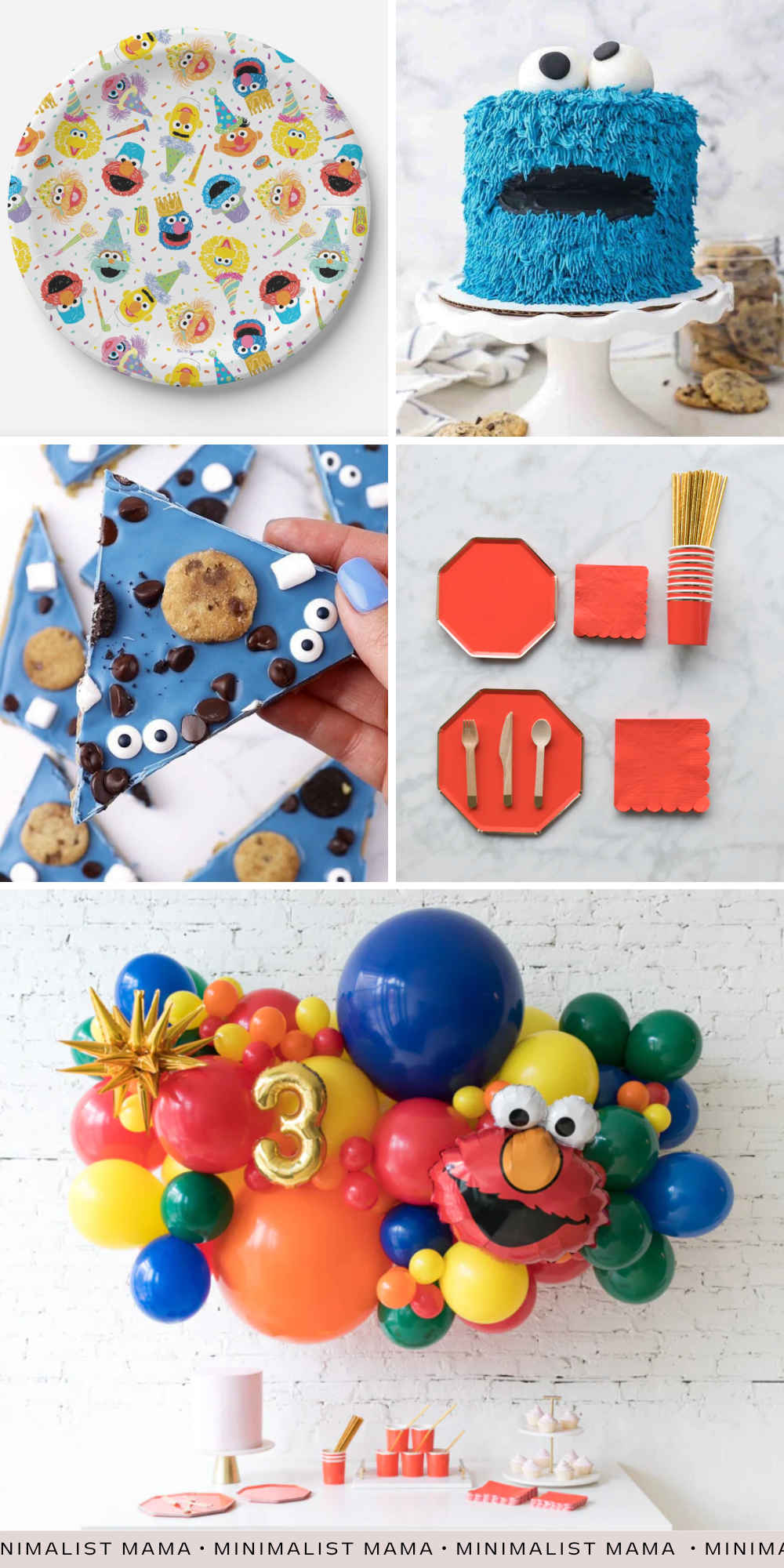 Image credits invitation & plates | cake | bark | plates | balloons
It's a great idea to DIY your own cookie monster birthday cake, or make some adorable cookie monster bark for your little monsters to devour. And try out some Elmo foil balloons and party supplies to put together an unforgettable theme for your birthday boy.
Pick your kid's favorite character, or use a mix of all the best ones! There are so many great Sesame Street themed party supplies that its an easy way to put together a 2nd birthday theme.
(Child's Name)'s Second Rodeo (Cowboy Rodeo Theme)
Saddle up and get ready for an adventure! Two year olds can be pretty wild, which makes a rodeo themed second birthday a great way to kick off their year.
Image credits invitation | shirt | cookies
Western imagery like cacti, boots and hats are perfect for a rodeo themed second birthday party. Classic games like pin the tail on the donkey are perfect for this kind of event. Be sure to bring your bow-tie and bolero and grab this adorable shirt that says: this ain't my first rodeo (it's my second).
Two Infinity & Beyond (Toy Story Theme)
Two infinity and BEYOND! The countdown is about to begin, we're ready to launch this party theme.
Image credits party | cake | cookies | favors
Little green space alien cupcakes and cardboard boxes for each child's party favors really drive home the Toy Story theme for this second birthday. It's one of those movies that multiple generations will enjoy, which make it a great party choice.
The Toy Story theme offers a vibrant and playful color palette, with bright blues, yellows, and greens. This makes it visually appealing and engaging for young children. Decorations, such as balloons, banners, and table settings, can incorporate these colors, creating a fun and exciting atmosphere.
Baa, Oink, Quack, Moo, (Name) is Turning Two! (Farm Animal Theme)
Looking for a 2nd birthday party theme that all your party guests will love? What better way to celebrate this major milestone than with a farm animal themed party?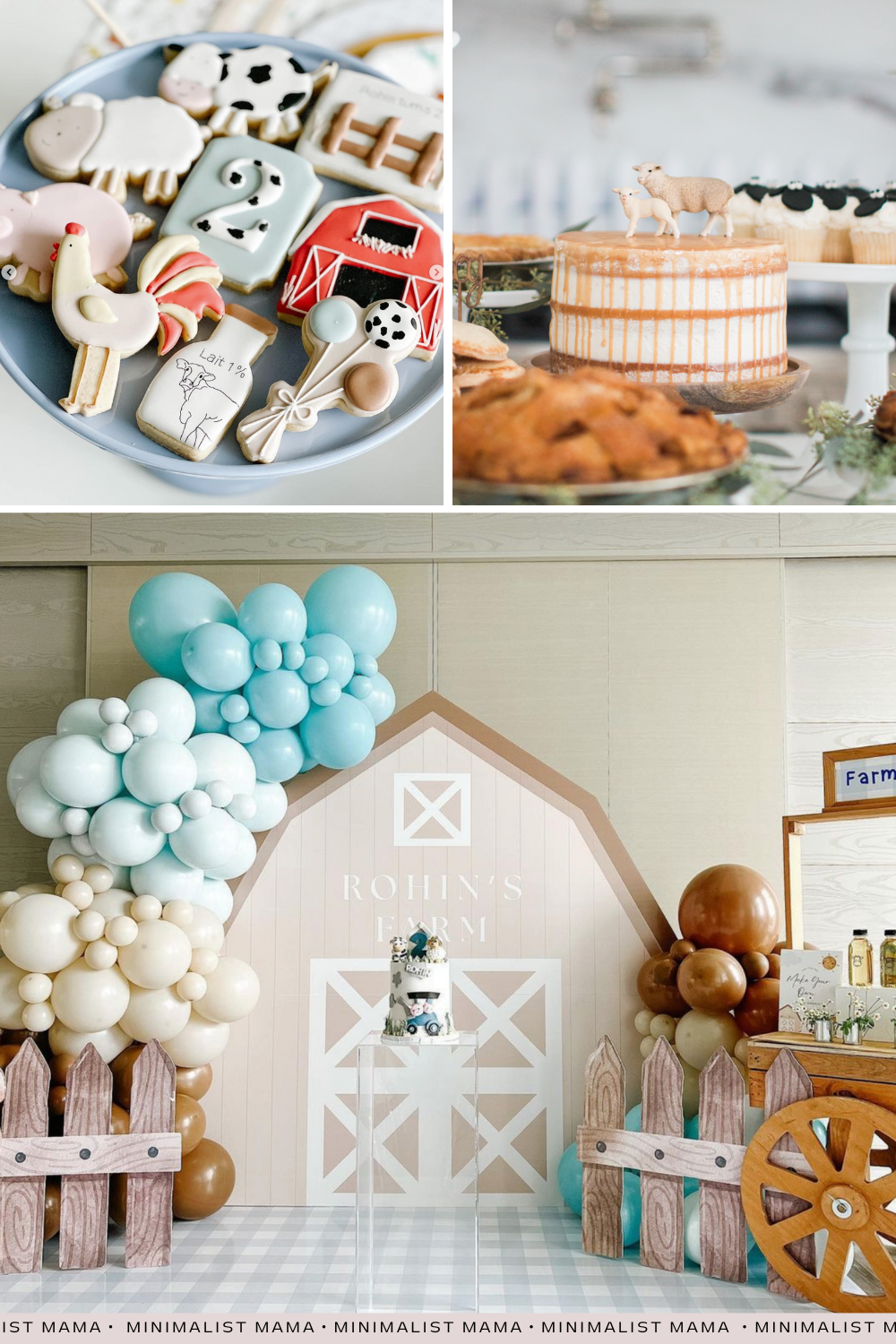 Image credits cookies | cake | party
farm animals might be the perfect theme for little guests. Bright colors like red and yellow and cute animals make this birthday theme so much fun. Or go with a more neutral color palate for a refined look.
You can see in these photos how a pair of sheep toys make a simple cake topper you could totally DIY at home, but notice the background of the picture, there are some adorable sheep-themed cupcakes too! Your dessert table is sure to delight even older children.
Two-Saurus or Two-Rex (Dinosaur Theme)
A dinosaur themed party is every little boys dream! It's such a fun way to celebrate their special day.

Image credits cookies | cake | balloons | hat favors
From a dinosaur dig site cake (with real white chocolate dino bones) to cute decorated cookies, there are so many things young boys love you could incorporate into this theme.
These safari hats are actually a super neat DIY activity. Get your little guests to decorate their own hat with stickers, see the link to check out the full party.
Bad Two The Bone (Puppy Dog Theme)
Let's get ready to PAWty! This Bad Two The Bone puppy theme is not only a hilarious pun, it's also adorable!

Image credits cookies | cakes | headbands | sandwiches
There are so many great decor, food and activity ideas for a Bad Two The Bone party! Something as simple as bone shaped cookie cutters can help you make everything from themed sandwiches and cookies to watermelon slices and more.
In case you didn't think turning two could get any cuter… Why not add these adorable puppy-themed headbands to your party? Create a great photo op by using them in front of a backdrop, or pass them out to all your guests to get in on the fun.
Wrapping Up
I hope you've found the perfect choice for your little boy's 2nd birthday theme! When it comes to throwing a stellar 2nd birthday bash for your little man, these themes are guaranteed make for a memorable celebration. From race cars to farm animals or a cosmic "Two the Moon" adventure, there's no shortage of fun and excitement.
So go ahead, let your imagination run wild, and get ready to party! Happy birthday planning!
Read Next:
🧁 29+ *Perfect* Gifts for 2 Year Old Boys (That Our Toddlers Are Obsessed With)
🧁 Two Fast Birthday: 21+ *Ridiculously Cute* Ideas To Steal