This post contains affiliate links.
Searching for the best minimalist nursery spaces? I'm a neutral-obsessed, minimalism aficionado and study nurseries for a living – here are my top picks.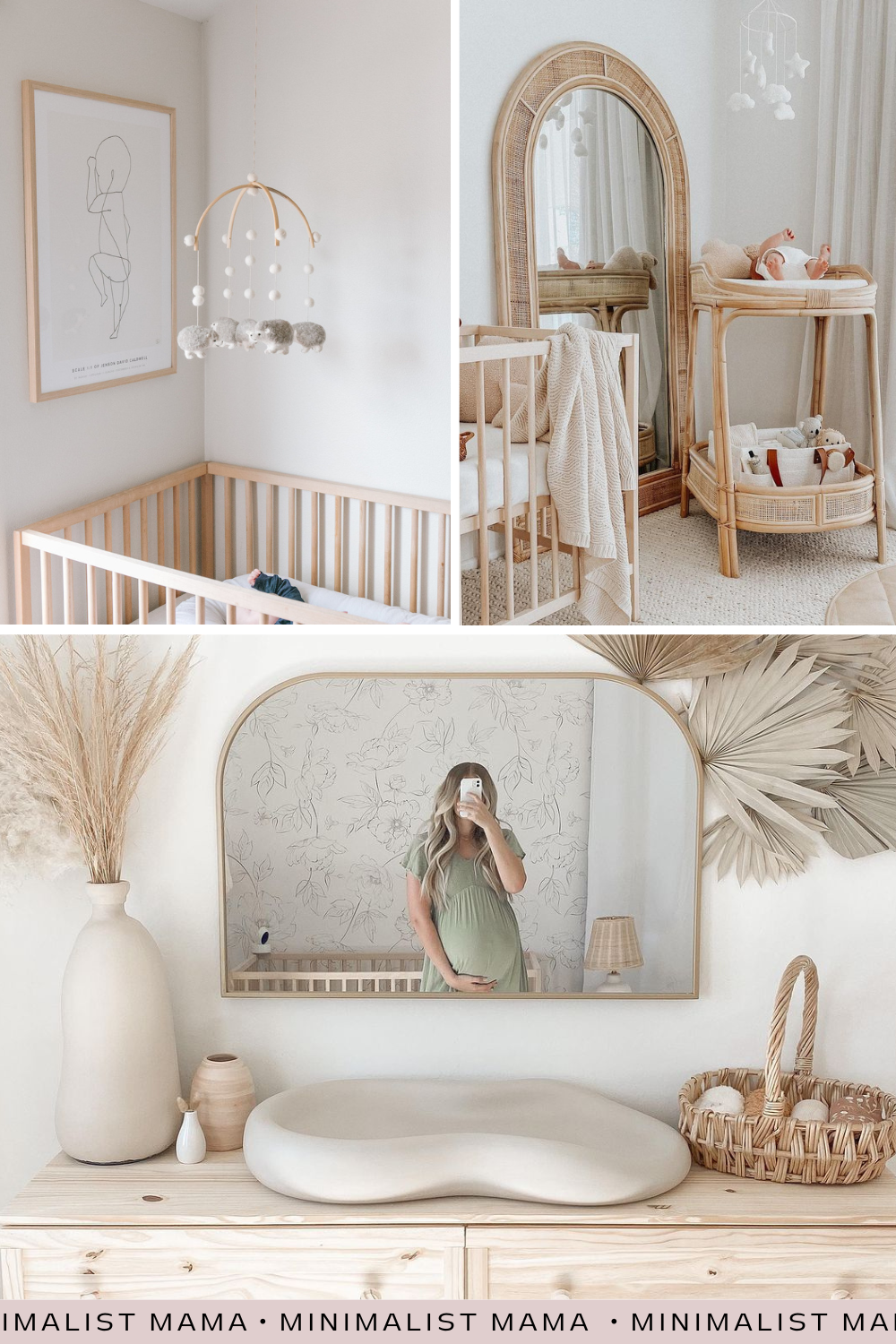 When it comes to putting together a nursery for your baby, it's no secret that it can be a daunting task.
Where do you start? Which piece of furniture do you choose first? Which pieces are worth investing in, and which ones should you just grab from Target?
There really are 101 questions to answer when designing a baby room, but choosing an overall vibe, or style, is definitely the right place to start.
And if you're here, you've at least gotten that far – and that's a win, mama!
While years ago, nursery themes were much more popular – from bunny rabbits, to hot air balloons, to rainbows – nursery decor used to be much more bright, colorful and childish.
But in 2023, we really are seeing a massive shift towards creating a space that matches the overall feel of your entire home.
Nurseries are more gender neutral, stylish and modern, and are designed to really grow with your little one.
And of course, a minimalist nursery achieves just that.
So, how do you put one together?
Today, we're taking a deep dive into some of the very best minimalist nursery designs of 2023 to harvest all kinds of tips and tricks from mamas who have achieved the look, and we're even sharing all of our favorite neutral nursery decor, too.
Let's get this party started –
The Best Minimalist Nursery Spaces in 2023
Here are the nurseries I am totally obsessing over –
01.

Contemporary Gender Neutral Minimalist Nursery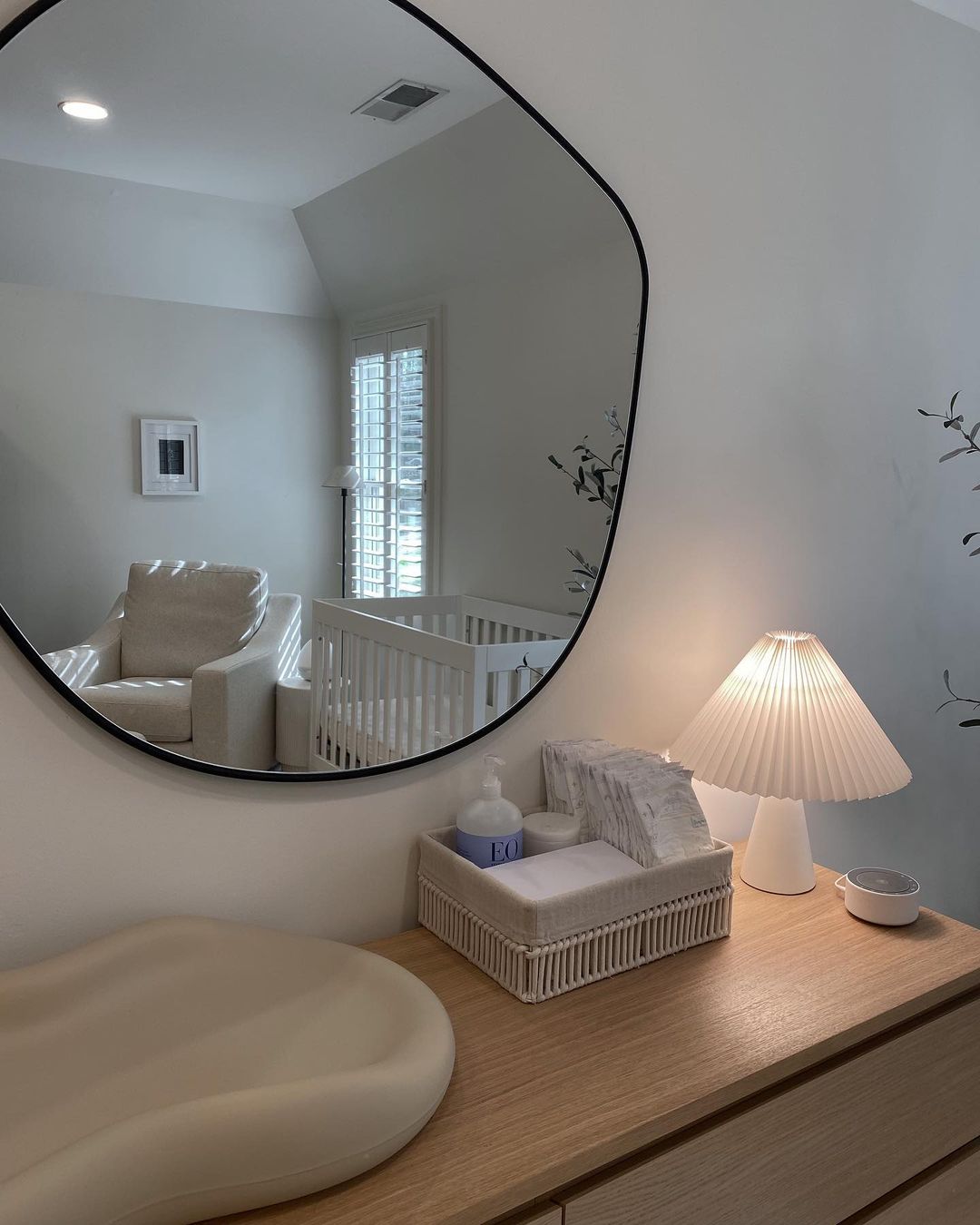 This freaking adorable nursery is ridiculously stylish, and so minimalist that I might actually be salivating.
To set up a minimalist changing table area, opt for a light, oak-inspired wood dresser as a changing table, top it with the modern, quintessential newborn must-have, the Keekaroo peanut changer, add a small, modern table lamp, and you're halfway there.
Be sure to hang 2023's mirror of the year above the scene to open up your space, and really nail the trendy, minimalist vibe.
*Chef's kiss*
02.

Minimalist Black & White Nursery
While minimalist usually doesn't include a whole lot of high contrast, this super cool baby boy's nursery had to make the list.
This fab black crib matches with a black wall sconce, and is totally tied together with the perfect soft and cozy area rug.
Oh, and it wouldn't be 2023 if there weren't a ridiculously cute mobile over that crib, am I right?
03.

Light & Airy Baby Boy Minimalist Nursery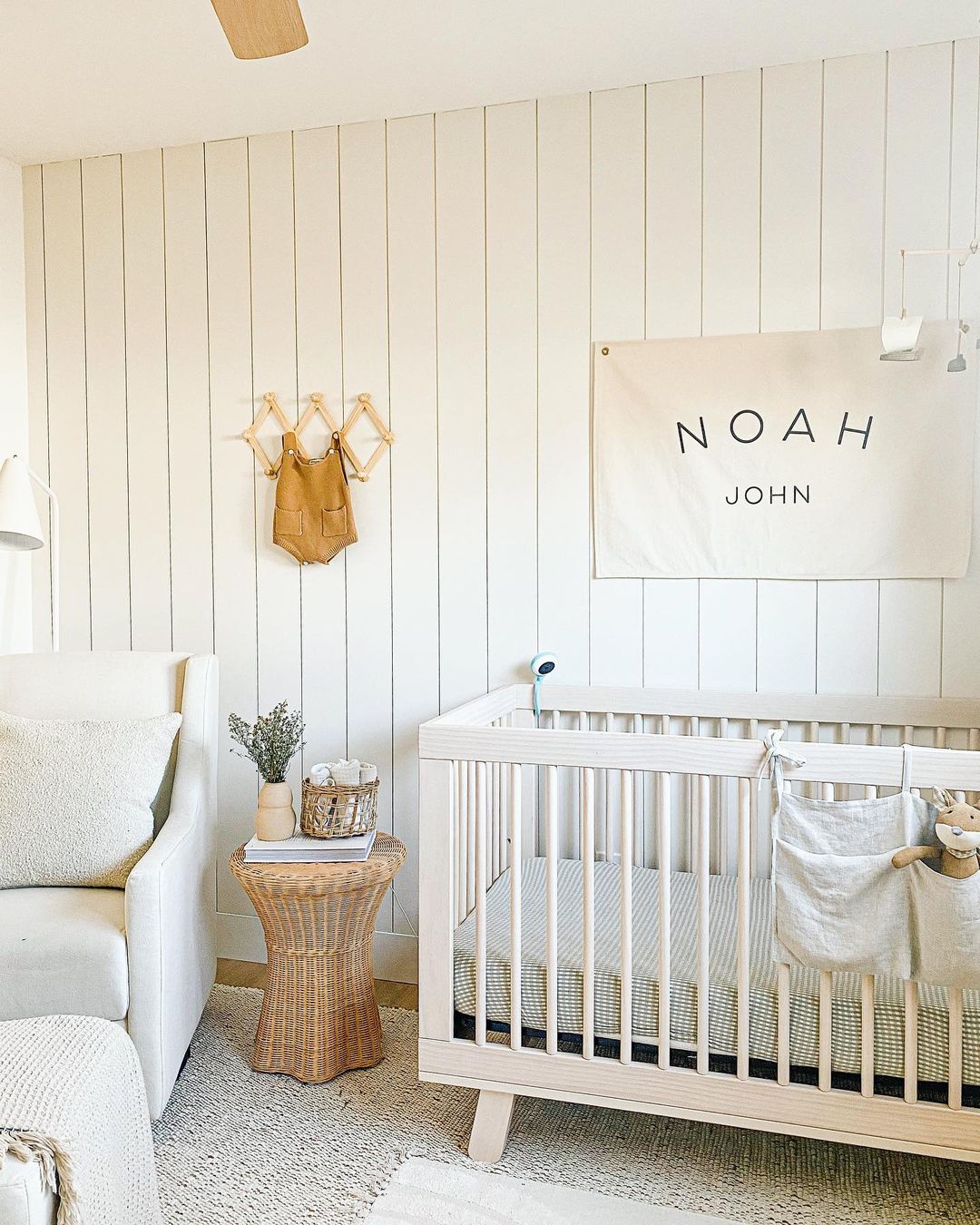 If there's one way to add some depth to the otherwise simple space that is a minimalist nursery, it's shiplap.
Okay, there are many ways to add depth to a nursery.
But shiplap is definitely one of them.
Horizontal shiplap has been super trendy over the decade, that some may even say it's out of style.
To be honest, I could probably be convinced of that.
However –
Vertical shiplap – now that's a different story.
I definitely feel that it gives total Jenni Kayne vibes, and if I'm honest, it's actually the wall treatment of choice in literally sooo many of the most viral nurseries that I have shared on Pinterest.
To warm up the space, consider adding a warm, woven component like this cute little side table (here are all my top picks for that piece of nursery furniture) or a cane or rattan pendant.
The cherry on top is of course, your baby name sign of choice. This personalized canvas wall banner is a great pick, and insanely popular right now, too.
03.

Lovely Limewash Minimalist Nursery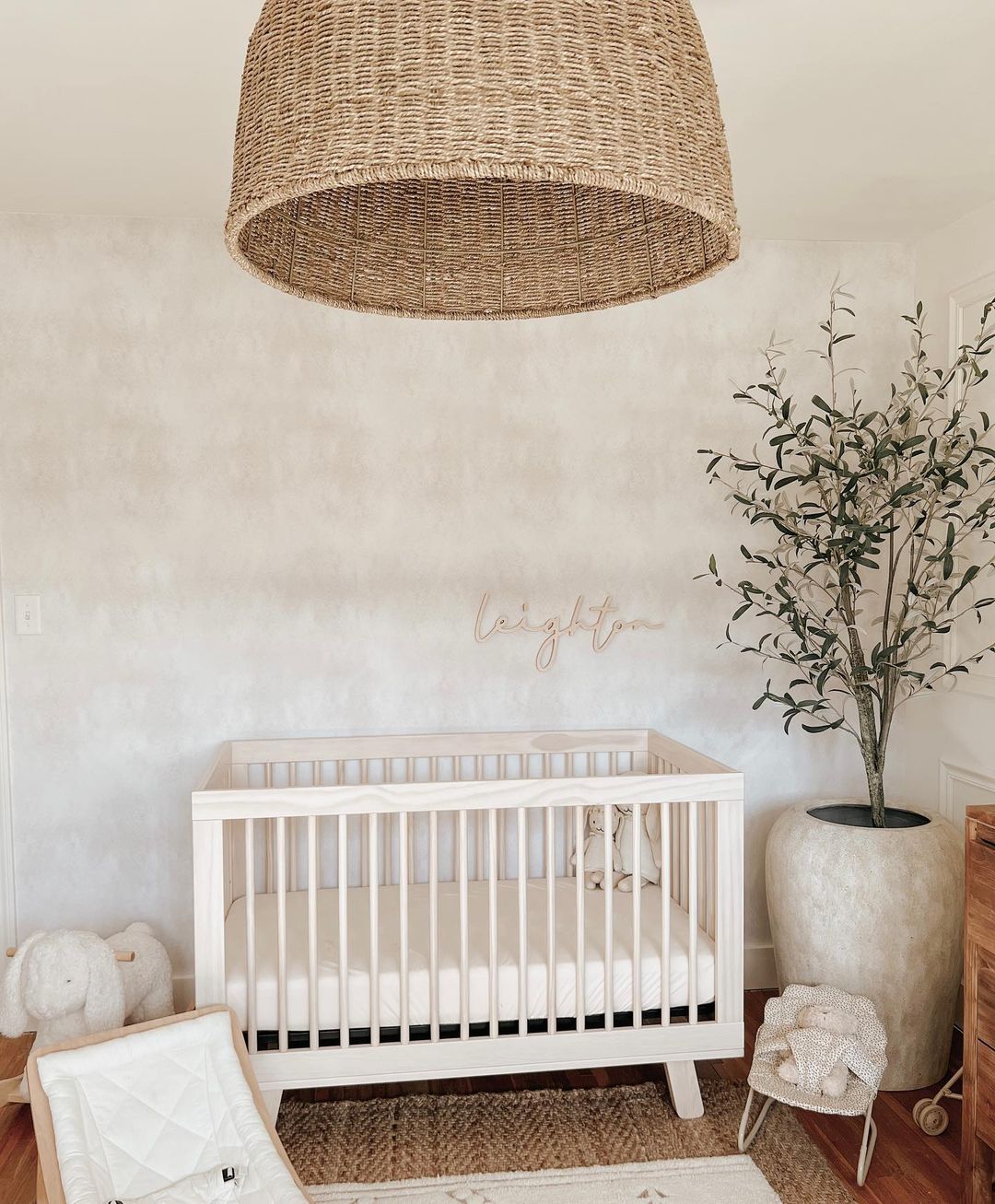 🎅🏻 I'm dreaming of a…. limewash nursery. 🎅🏻
Okay no but seriously, this textured wall look is soooo in right now.
So simple, it majorly fits the minimalist vibe, but totally adds a whole nother dimension to the space.
Try DIY'ing it, or going with this ridiculously popular limewash wallpaper that I literally get asked to send the link for every day.
04.

Transitional Minimalist Nursery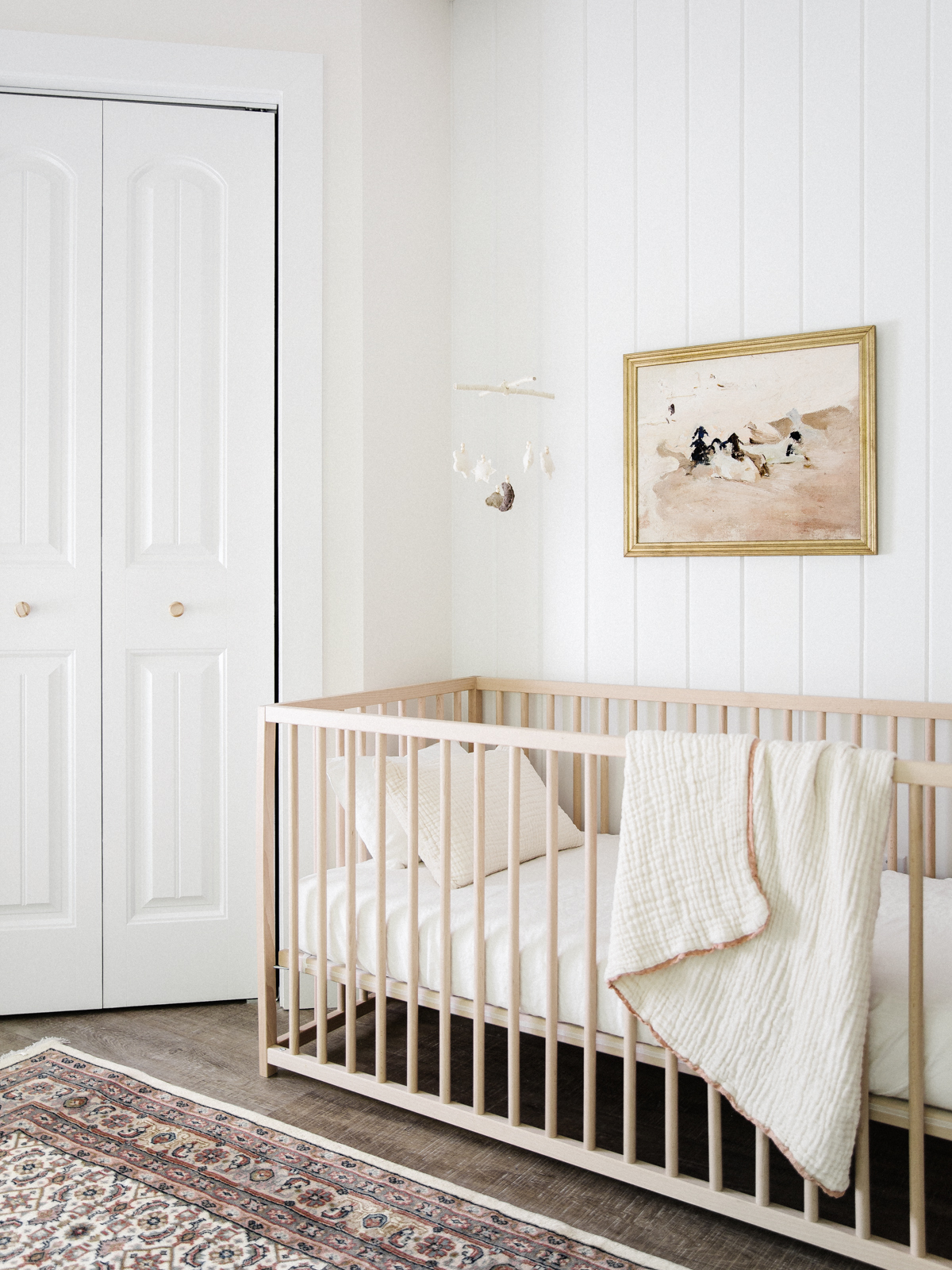 Transitional is a design style that is essential a transition between the old and new – a way of warm, cozy vintage pieces to be mixed in to modern spaces to give them a fresh, totally non-dated feel.
I am obsessed with transitional design – and it's very in right now, too.
Another great example of vertical shiplap in a minimalist nursery, this mama opted for a pretty, abstract piece of art in warm tones, and added some character to the room with an area rug.
The crib is kept super simple (here's where this one's from – I know, shocking, right?) and features sleek, simple lines and a cozy warm wooden feel.
05.

Cloud-Themed Minimalist Nursery
Mmmmmk. Welcome to bouclé heaven.
If I had to name my top pick for a minimalist nursery, besides the right crib, it's bouclé.
Whether you decide to invest in a gorgeous bouclé glider – which is the #1 piece I personally recommend you *do* invest in – or opt for a sweet mobile or cute little cloud-shaped pillows – it's a trend works in every modern nursery.
06.

Super Simple Minimalist Nursery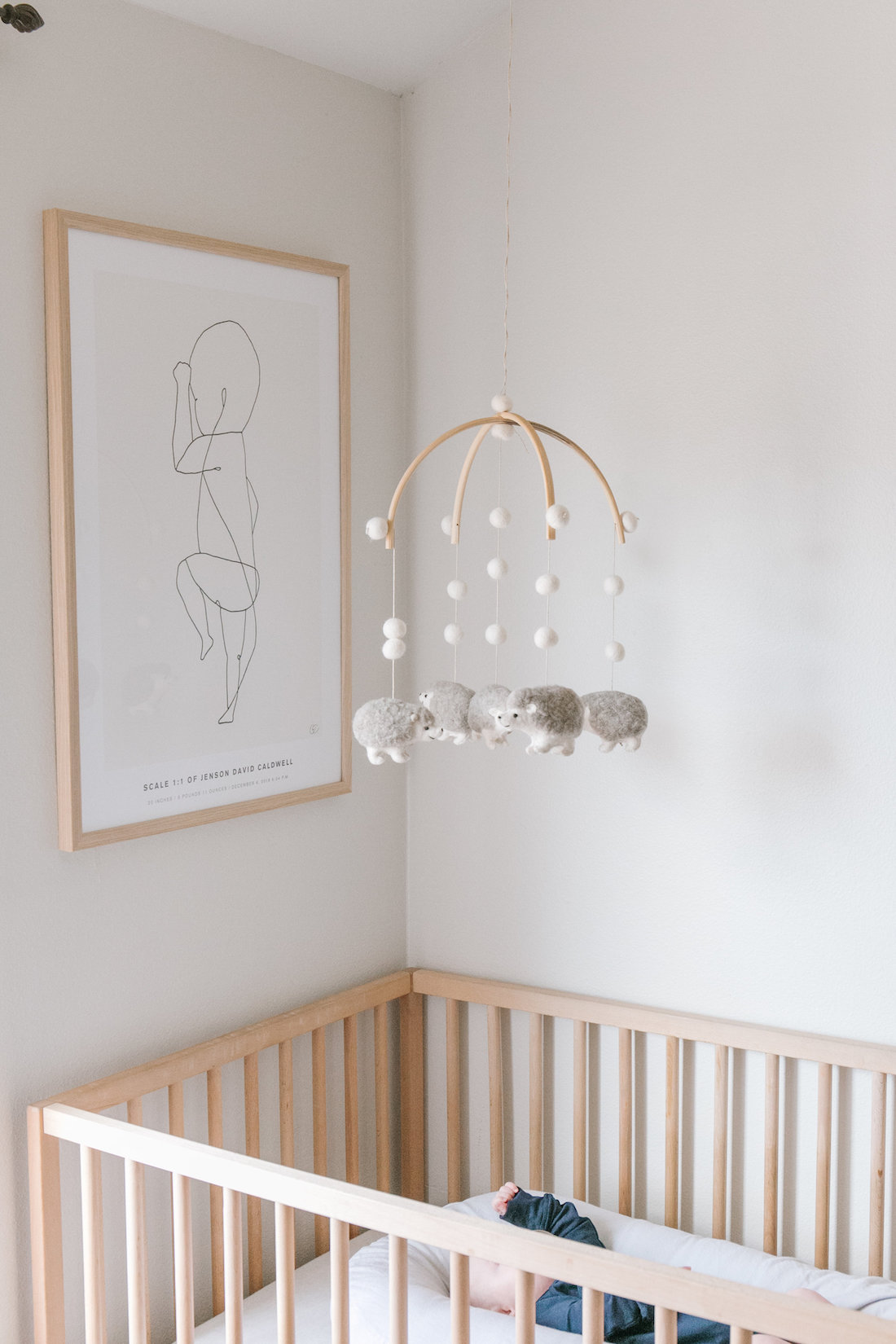 Nursery wall art can be tricky, but this 1:1 scale newborn portrait is super minimalist, totally stylish and such an incredibly precious keepsake, too.
With such a special piece, you can totally keep the rest of your nursery extremely simple and just let this totally sweet piece of art shine on its own.
07.

Calming Waves Baby Boy Nursery
This small nursery space comes to life the perfect light-toned wallpaper and a beautiful, quality crafted crib with unique and modern lines.
08.

Minimalist Modern Nursery Gallery Wall
Yes, of course, you can use big, black frames or those gold-rimmed frames full of character for a gallery wall.
But, what about sticking with *only* light oak frames, and creating an asymmetrical layout with cute, modern printable nursery wall art that you can customize yourself?
Add two scoops of wooden baby name sign, and one pinch of *literally the perfect crib* and you've got yourself a dreamy, minimalist nursery for that baby boy that's on the way.
09.

Boho Baby Girl Minimalist Nursery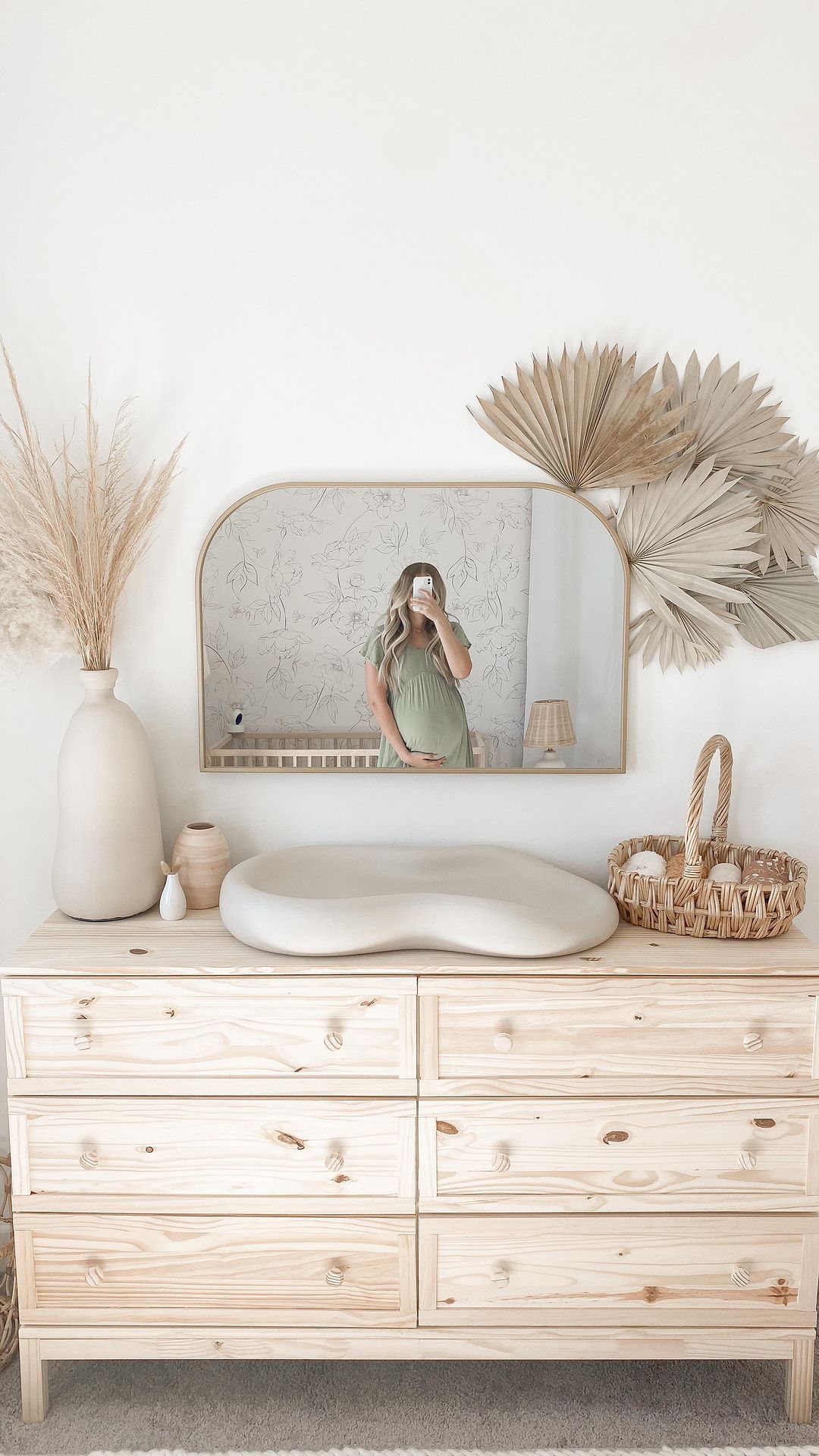 In this gorgeous baby girl's nursery, the IKEA Tarva dresser is given a new life with some wood trim, a pretty, gold arched mirror and dried boho florals for a super unique, yet still totally minimalist look.
10.

Simple & Sleek Gender Neutral Nursery
Limewash – again. I'm tellin' ya.
11.

The Perfect Textured Minimalist Nursery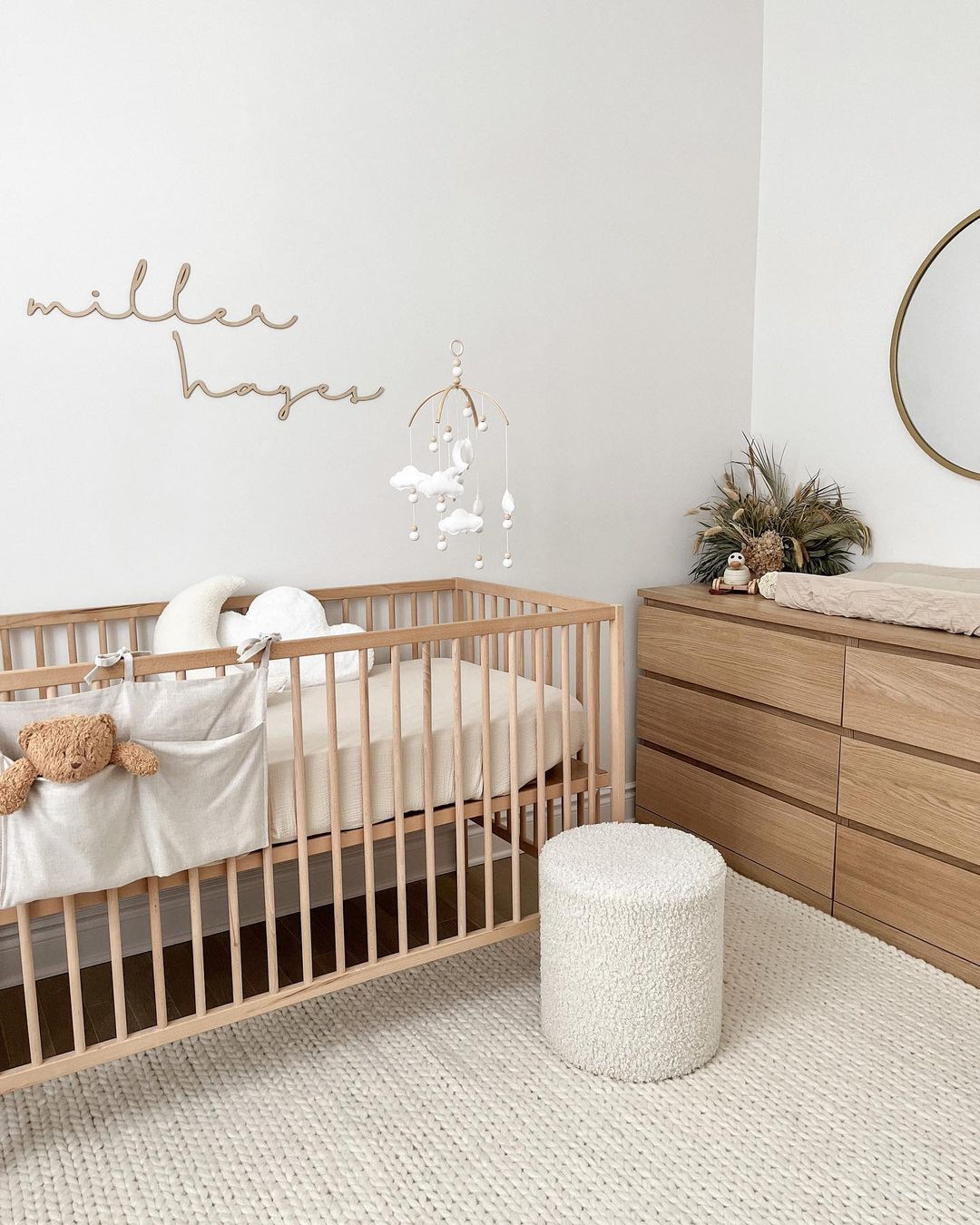 If I had to write the rules for putting together the best nursery space, rule number one would be texture.
Perhaps the most popular nursery rug is paired with a super cute bouclé stool that's perfect for mom or dad to plop themselves on while chatting with one another in the nursery.
Natural, light wood tones totally warm the space up, and this super affordable linen crib organizer (that I own and am totally obsessed with) is the perfect spot for teddy to hang out (another must-have, if I do say so myself).
12.

Yes, Green Is A Neutral Minimalist Nursery
13.

Neutral Bunting Nursery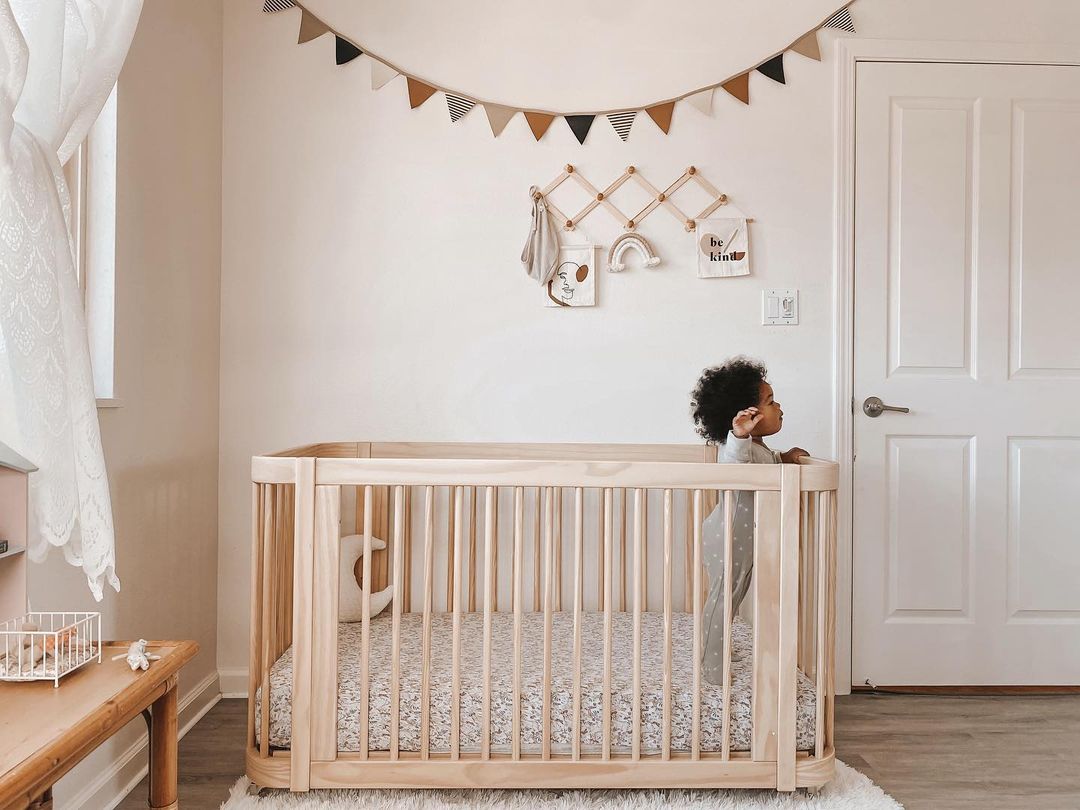 14.

The Nursery That Leanne Ford Are Made Of
15.

The Quintessential Gone Minimalist Nursery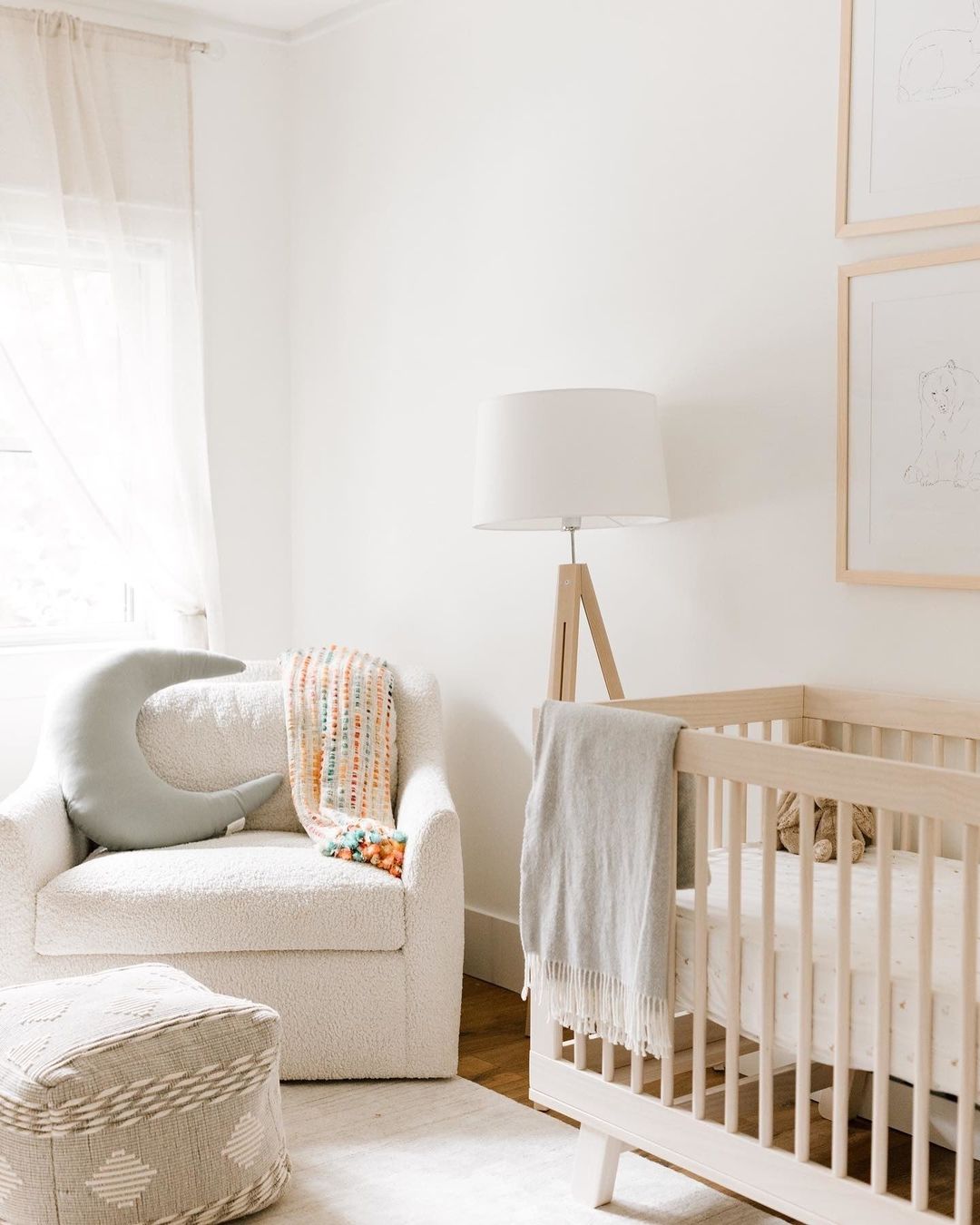 16.

The Under The Sea Minimalist Nursery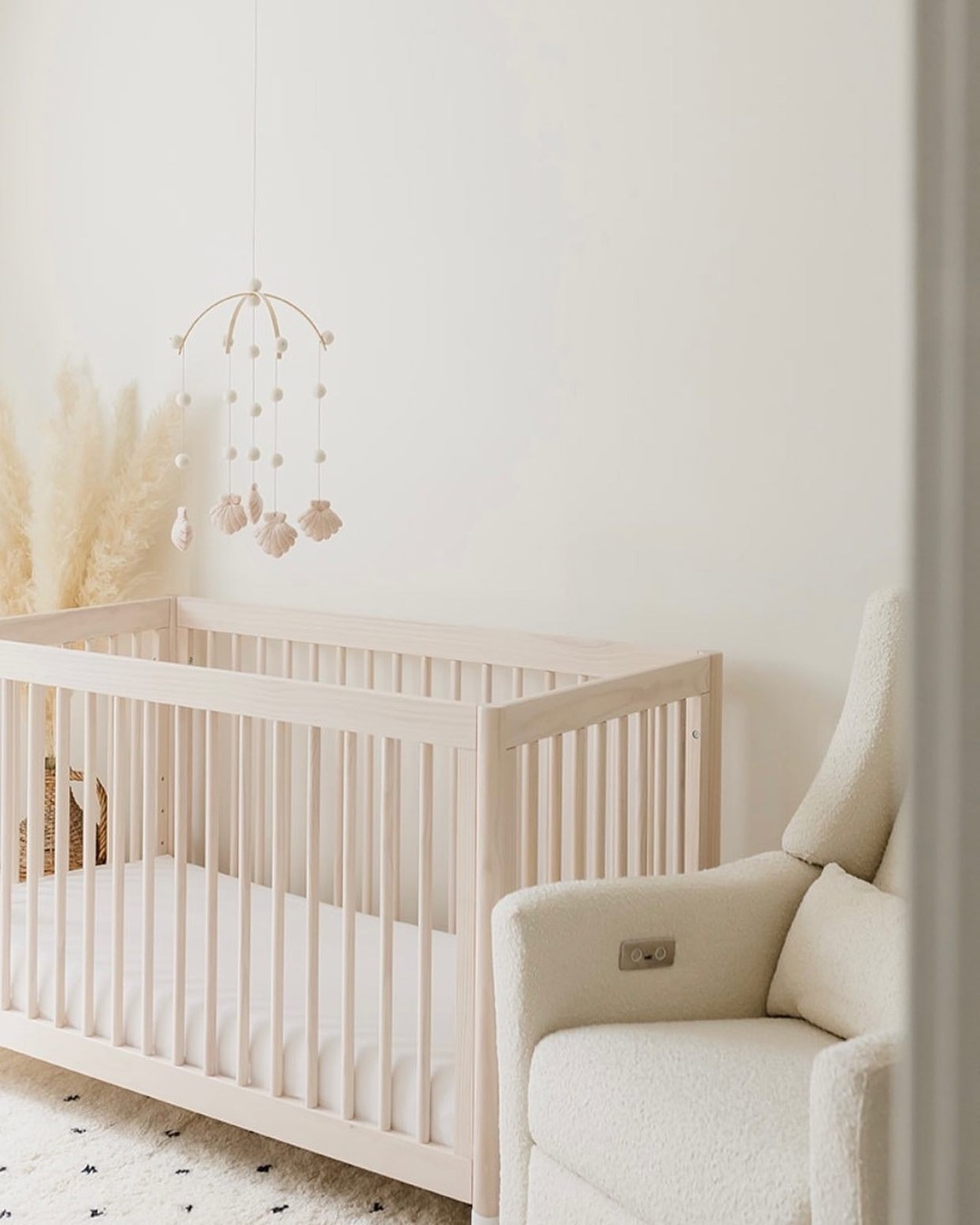 17.

Dreamy & Soft Baby Girl Nursery
18.

Pretty Modern Baby Girl Nursery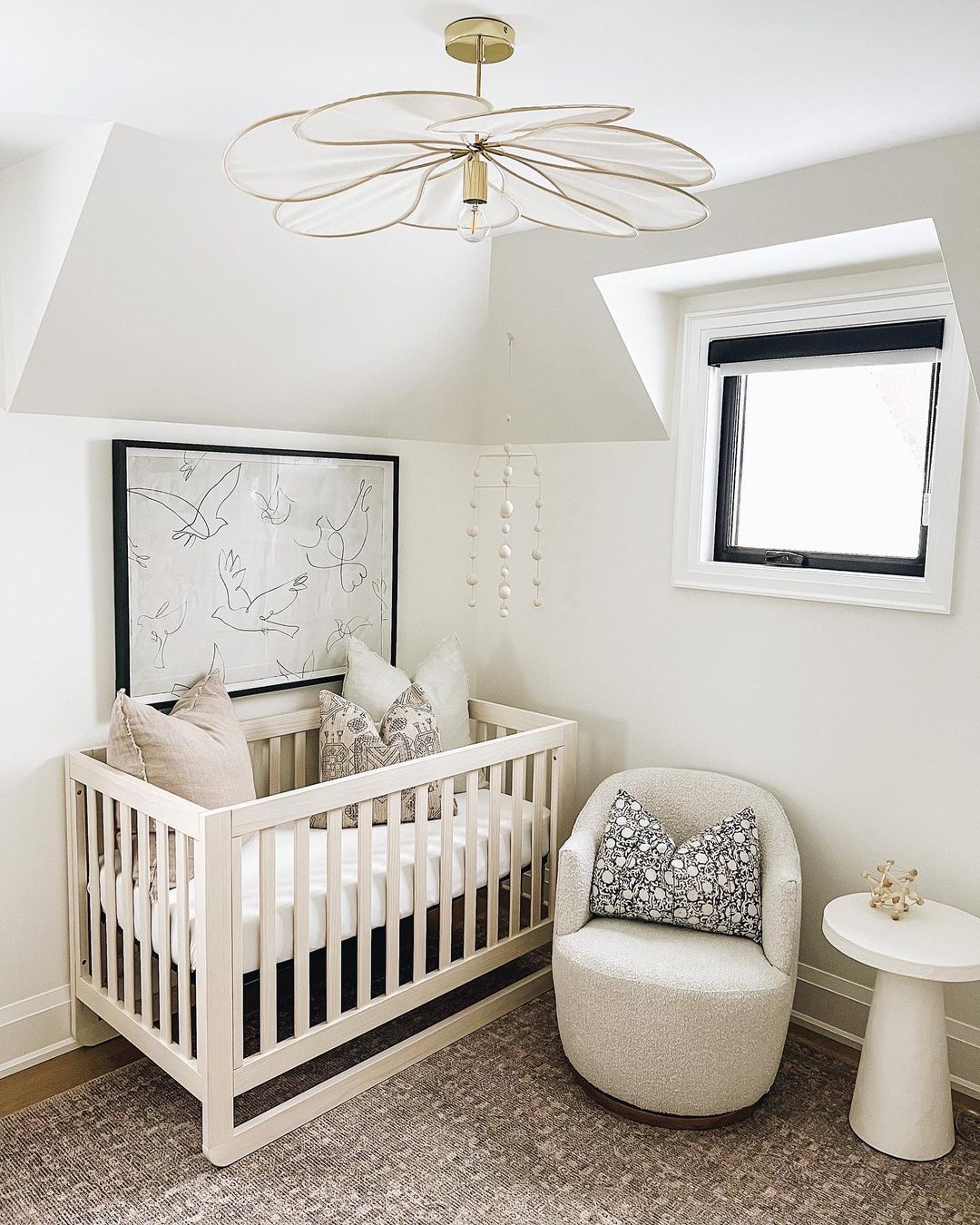 19.

Calming Clouds Nursery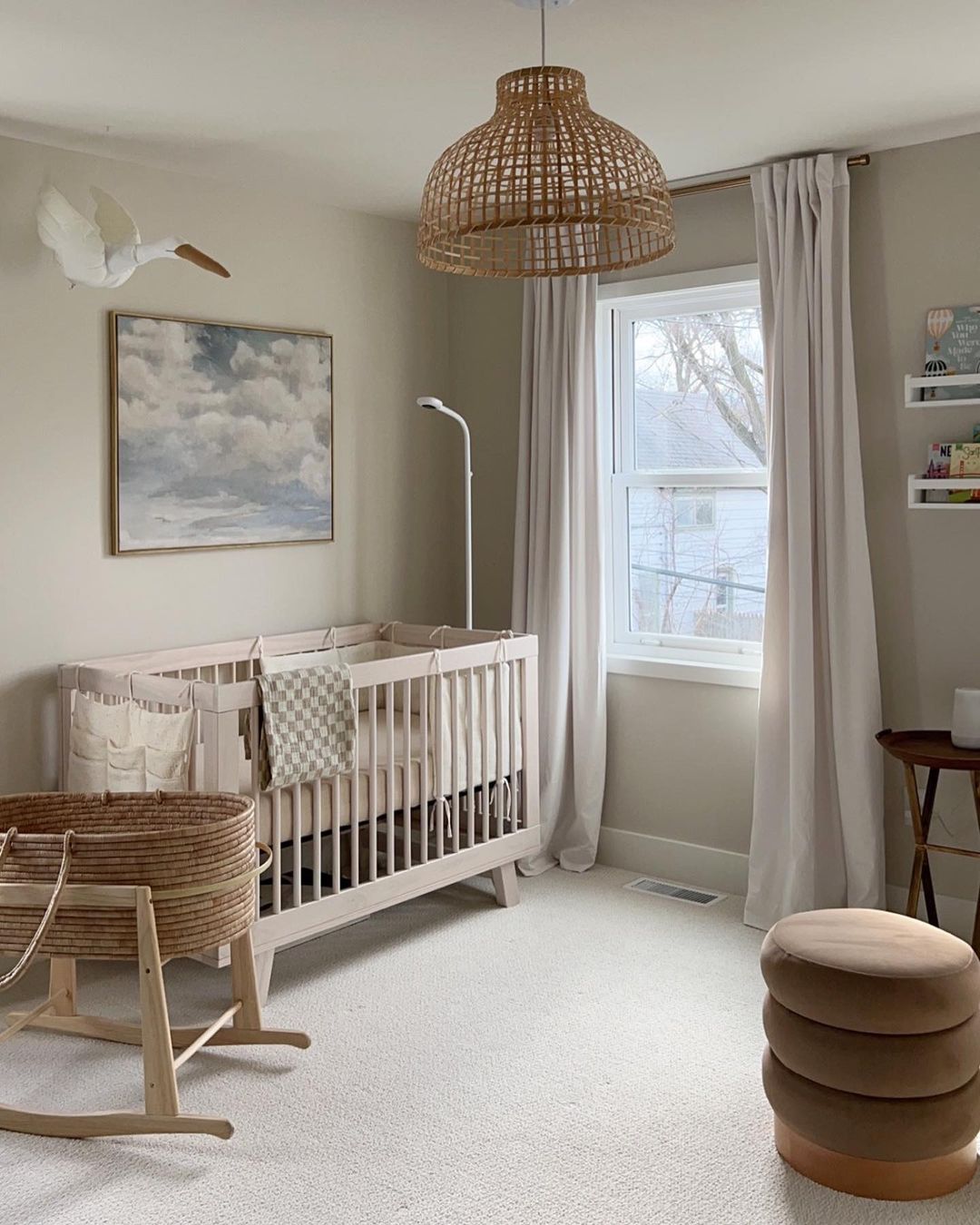 Wrapping Up
Whether you are totally obsessed with the creamy, dreamy feel of a totally neutral nursery filled with soothing tones of nude, cream and cocoa, or are considering adding a splash of (totally toned-down) color to your little one's baby room, there are so many different ways to achieve a minimalist nursery while still creating a space that feels totally special.
I hope these gorgeous spaces have inspired you to put together a few ideas of your own and to design a baby room that feels just right.
Happy nesting, mama!
Read Next:
☁️ 25+ *Gorgeous* Nursery Light Fixtures for a Modern Space
☁️ 9+ *Best* Baby Bjorn Bouncer Dupes (and Alternatives)