This post contains affiliate links.
Searching for the perfect middle name for Brooks?
Then you're in the right place because today, we're sharing the ultimate list of the most strong, unique and well-suited middle names that go with Brooks.
About the Name Brooks
So, you've fallen in love with the name Brooks for your baby boy — but did you know you're not the only one?
Since the early 1900s, the name Brooks has held fast in the top 1,000 most popular baby names in the USA, though it hasn't been until 2020 that it cracked the ranks of the top 100 at spot #91.
The origins of the name Brooks are widespread across the globe.
The name Brooks is most commonly used in the South of the USA, and seen as a country style name, inspired by cowboy culture or even one of country music's greats, Garth Brooks.
In Old English, which heavily influences the language throughout the UK, the name Brooks was used most commonly as a surname for someone who lived closed to the brook, or stream of water.
However, if we look to Jewish culture, the name Brooks can be found as well, stemming from the Hebrew name Boruch, meaning blessed. 
The Best Middle Names for Brooks
In order to
Here are the best middle names for Brooks,  –
Brooks Beau
Brooks Everett
Brooks Samuel
Brooks Isaiah
Brooks Judah
Brooks Cade
Brooks Ezekiel
Brooks Jett
Brooks Finley
Have a first name picked out?This personalized baby t-shirt is so special and would make such a precious keepsake.
Elfin Los Angeles Hand Embroidered Baby T-shirt ($46)
Brooks Hayden
Brooks Bryant
Brooks Liam
Brooks Rupert
Brooks Nash
Brooks Dean
Brooks Henry
Brooks Eli
Brooks Sawyer
Brooks Beauden
Brooks Tully
Brooks Emmett
Brooks Thomas
Brooks Grayson
Brooks Josiah
Brooks Tatum
These adorable wooden baby blocks look so cute on either your baby's dresser or a shelf in your nursery.
Etsy Personalized Baby Blocks ($18)
Brooks Cash
Brooks Luca
Brooks Joseph
Brooks Robert
Brooks Wyatt
Brooks Gideon
Brooks Finneas
Brooks Grey
Brooks Caden
Brooks Hudson
Brooks Cole
Brooks Finnegan
Brooks Sterling
Brooks Barnaby
Brooks Ford
Brooks William
Brooks Noah
Brooks Rhett
Brooks Benjamin
Brooks Mateo
Brooks Austin
Brooks Lucas
Brooks Emerson
Brooks Elijah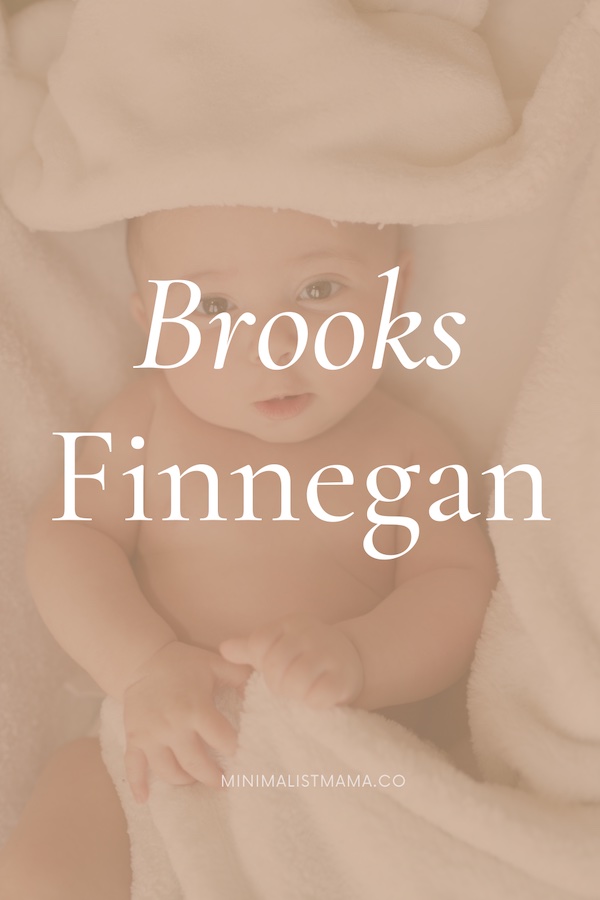 Brooks Byron
Brooks Denver
Brooks Easton
Brooks Oliver
Brooks Jericho
Brooks Heath
Brooks Arlo
Brooks Conor
Brooks Briar
Brooks Jackson
Brooks Christopher
Brooks Gideon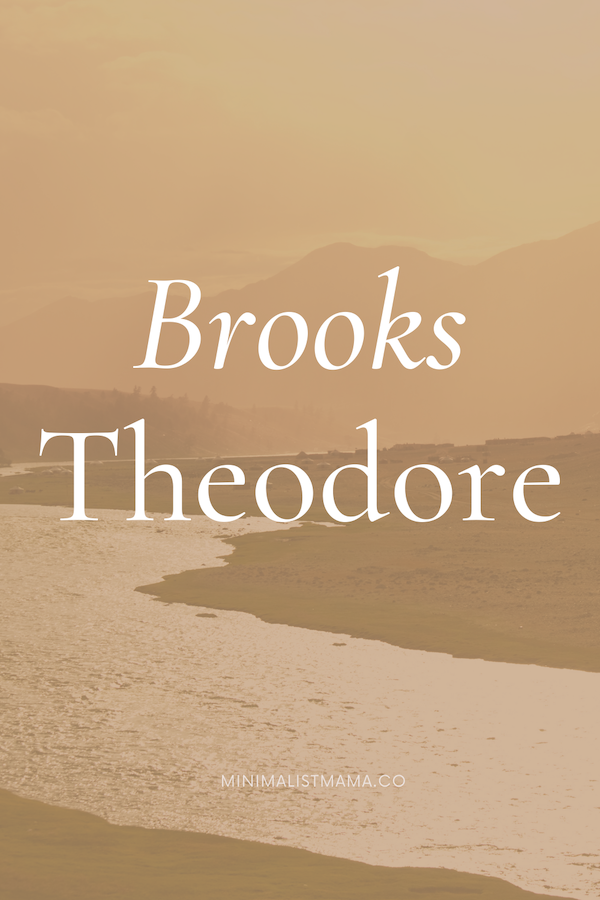 Brooks Jed
Brooks Cooper
Brooks Cian
Brooks Caleb
Brooks Lincoln
Brooks Levi
Brooks Asher
Brooks Hunter
Brooks Theodore
Brooks Cooper
Brooks Wilder
Looking for something in particular? Here are the middle name ideas for Brooks, broken down by genre –
Old Fashioned Middle Names for Brooks
Brooks Theodore
Brooks Oliver
Brooks Dean
Brooks Henry
Brooks Eli
Brooks Everett
Brooks Samuel
Feeling dapper? 🎞 Check out my full list of vintage boys names.
Southern Middle Names for Brooks 🇺🇸
Brooks Hunter
Brooks Cooper
Brooks Jed
Brooks Denver
Brooks Easton
Brooks Wyatt
Brooks Nash
Brooks Hayden
Any of these names make you go giddy up?  🐴  165+ Wild and Strong Country Boy Names You Need to Hear
Biblical Middle Names for Brooks
Brooks Levi
Brooks Elijah
Brooks Noah
Brooks Gideon
Brooks Ezekiel
Brooks Isaiah
Brooks Judah
Love the idea of honoring your faith? ✨ 35+ Unique Biblical Boy Names That You'll Fall in Love With
Irish Middle Names for Brooks 🇮🇪
Brooks Conor
Brooks Liam
Brooks Fionn
Brooks Callum
Brooks Rory
Brooks Niall
Brooks Aidan
English Middle Names for Brooks 🏴󠁧󠁢󠁥󠁮󠁧󠁿
Brooks Oliver
Brooks Leo
Brooks Arthur
Brooks Thomas
Brooks Alfie
Brooks Archie
Brooks Joshua
Brooks Lucas
Brooks Albie
Brooks Luca
Read Next: 
19+ Simple Changing Table Essentials You're Definitely Gonna Need
105+ Whimsical Boy Names That Will *Definitely* Inspire You