This post contains affiliate links.
Searching for cute, unique letter board pregnancy announcement ideas?
Then get comfortable, mama, because I've put together this sweet collection of modern pregnancy announcement ideas with a letter board that I just know you're going to love.
These cute photo ideas are so fun, but don't include a whole lot of inspo for what to actually write or caption your announcement with – for that, check out my MEGA list of super cute pregnancy announcement captions (perfect for Instagram)
Let's get to it –
Letter Board Pregnancy Announcement With Your Dogs
Looking for a super simple letter board pregnancy announcement idea that includes your four-legged friend?
Set up a cute letter board, a soft stuffie or baby toy, set your little furry friend beside the set-up and snap a pic.
To get that extra wow factor, try keeping the colors and tones of your stuffie, and letter board in the same realm, and find a nice, indirectly lit spot in your home.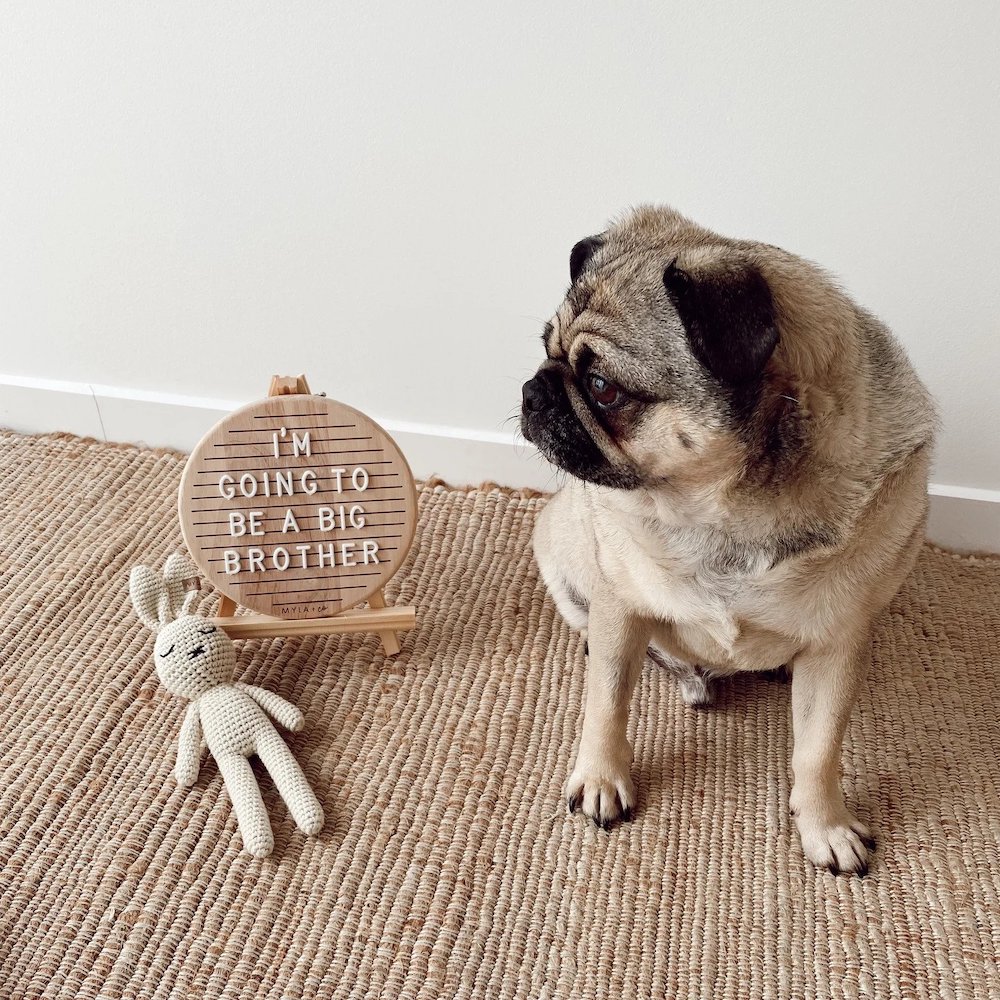 Do you have labs in the family? This cheeky and funny play on words is a must for your pregnancy letter board announcement. And be sure to include your due date, too!

Big Brother Letter Board Pregnancy Announcement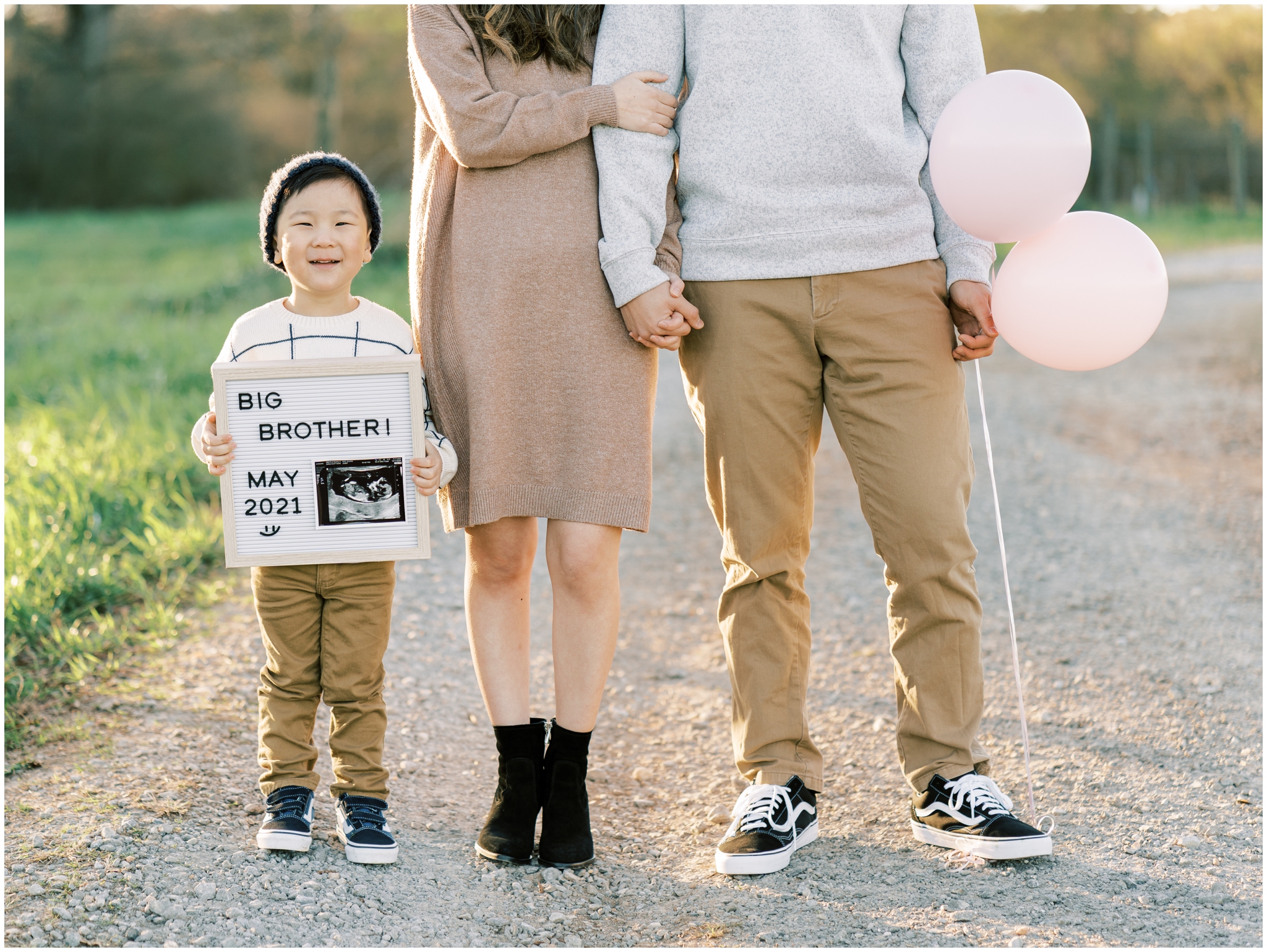 Already have a little one? Check out the entire collection of my fav big brother announcement ideas!
Planning to share your big surprise during a family photoshoot? Get your little one a big brother or big sister tee and your favorite letter board, and post their only child expiry date!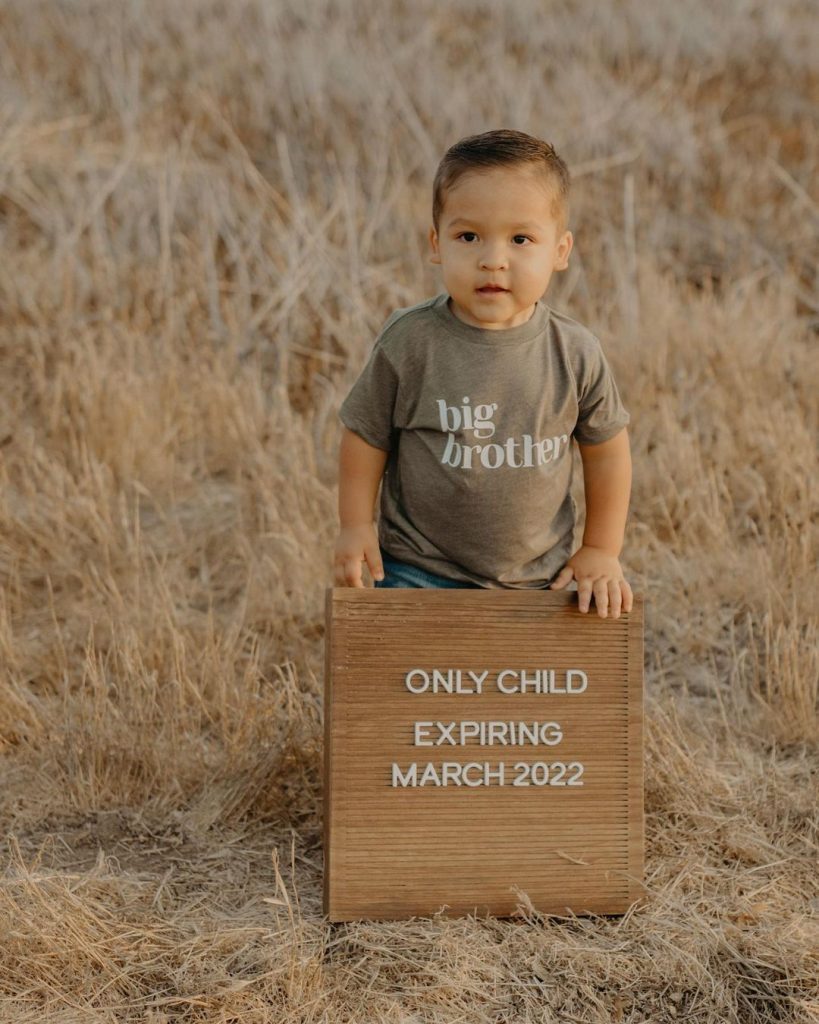 Mommy & Daddy Letter Board Pregnancy Announcement
Love the great outdoors?
To make your pregnancy announcement extra special, try tying in something you love.
This van life travel couple staged their letter board pregnancy announcement with a gorgeous scenic view as their backdrop, which makes such a fun way to remember that particular season of their lives.
Moses Basket Flat Lay Pregnancy Announcement
This next cute pregnancy announcement idea would work best for an expecting mama that either already has a little one (or two), and some baby gear.
A cute woven Moses basket makes a great backdrop not only for your pregnancy announcement but your birth announcement, newborn photos, and monthly milestone photos.
Lay a pretty, soft swaddle or light woven blanket diagonally across the Moses basket, add your caption to the letter board, and add a few pieces of clothing like a simple onesie, sweater or baby shoes.
Christmas Letter Board Pregnancy Announcement Ideas
Let your friends know that your Christmas will be a bit merrier this time around with this simple and cute Christmas letter board announcement.
For a classic look, opt for a light, neutral backdrop and simple, timeless outfits for both you and the daddy-to-be.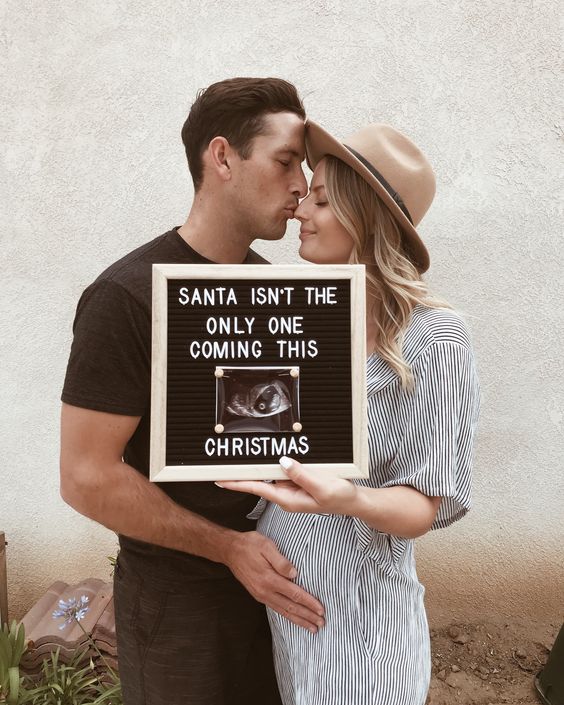 Enjoy the silent nights while you can, mama, because things are about to change…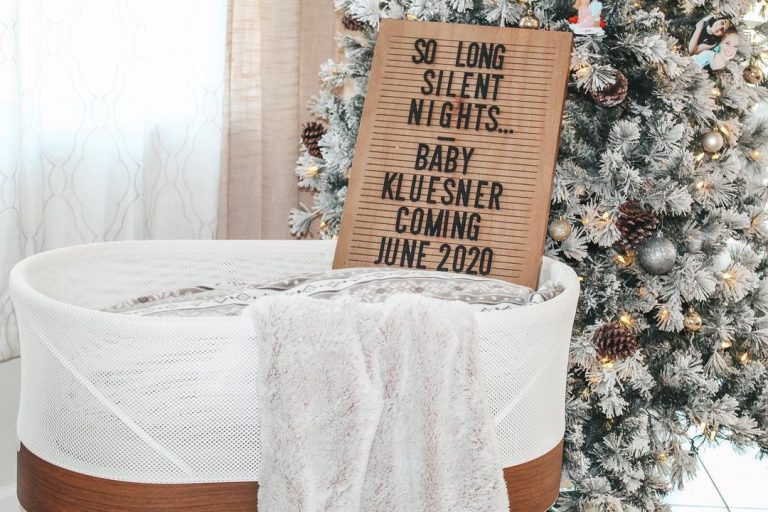 Keep your letter board baby announcement simple with this short and sweet caption, and add a festive touch with a cute little Santa hat.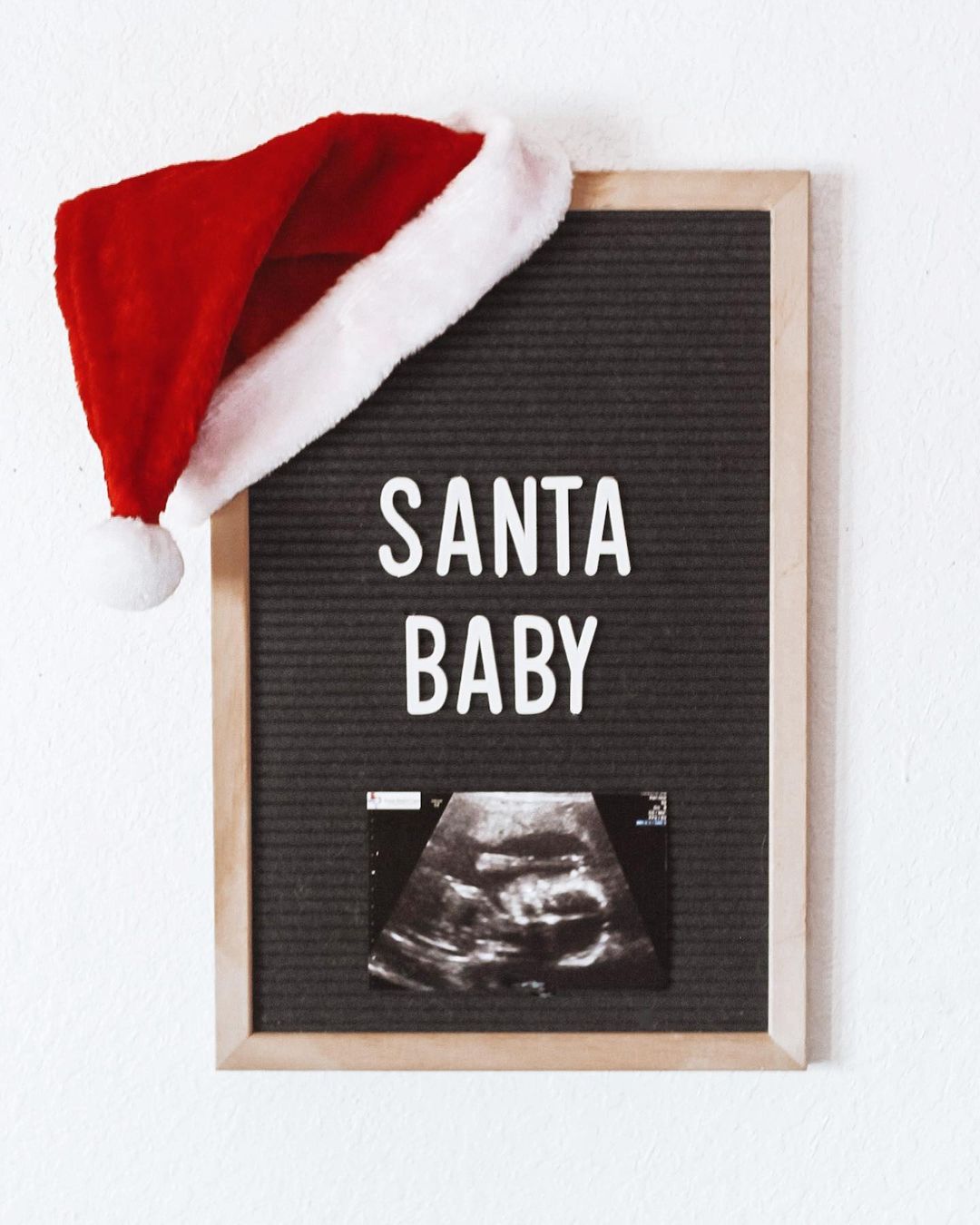 Looking for a pregnancy announcement caption for your letter board that's a play on word?
Announce that you're expecting a Christmas baby with the simple phrase "the more, the merrier" and a sonogram image.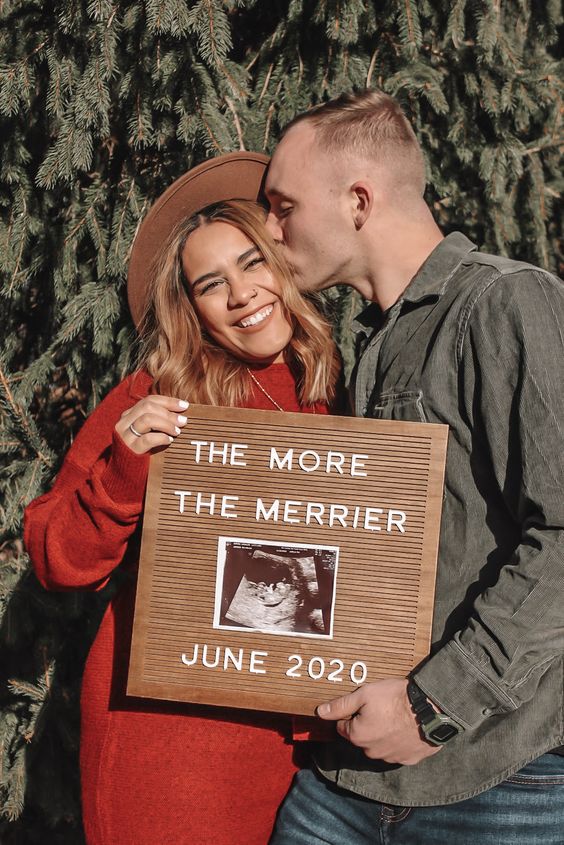 Planning a Christmas pregnancy announcement? Check out the whole collection of Christmas pregnancy announcement inspo here.
Read Next:
🍼 The 11+ Cutest, *Buttery-Soft* Bamboo Baby Pajamas I'm Obsessed With
🍼 7+ *Best* Baby Bjorn Bouncer Dupes (and Alternatives)