This post contains affiliate links.
Searching for the cutest Christmas pregnancy announcement ideas? I've searched through *thousands* of fun ideas, and here are the very best and creative Christmas pregnancy announcement ideas for 2023 –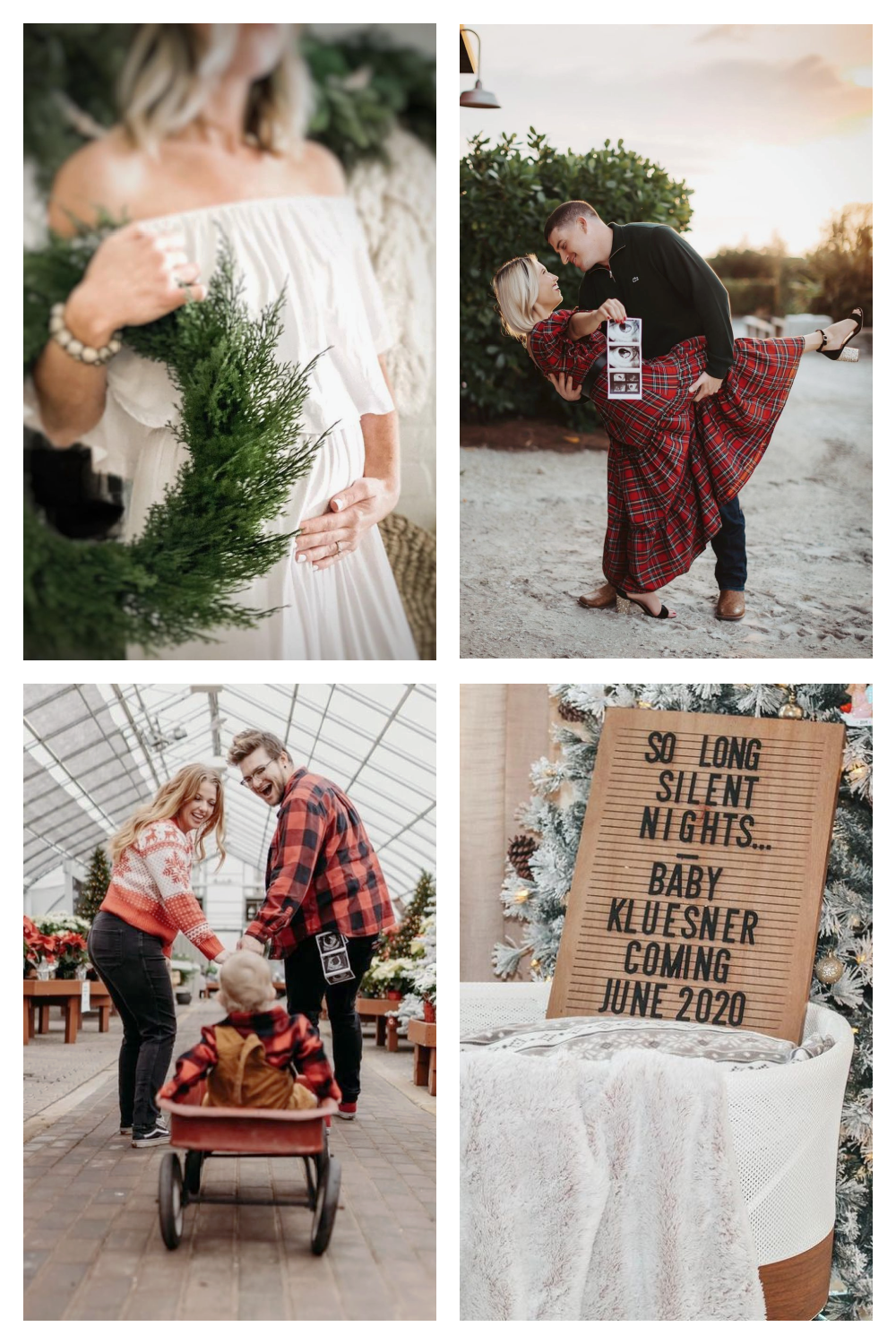 Pour yourself a cocoa and cozy on up, mama –
From Christmas pregnancy announcement photo ideas, onesies, flat lays, letter boards and beyond – because it's the most wonderful time of the year, and there's something for everyone here.
(This post focuses more on style and inspo for planning the actual photo – for some phrasing ideas, check out my list of super cute Christmas-inspired pregnancy announcement caption ideas that are perfect for your socials).
Let's dive in –
Christmas Pregnancy Announcement Cookies
Today, I'm kicking things off with my absolute *favorite* Christmas pregnancy announcement idea: custom sugar cookies.
Maybe it's the dreamy muted tones, the hand-piped poinsettia, or maybe it's the candy cane heart – no matter the reason, I am obsessed with this set of custom sugar cookies.
The *perfect* way to tell your family that you're pregnant, simply order a set of these yummy cookies and let the crew know that dessert's on you.
Bonus – you can totally a post a snap of them to your Insta or Facebook to share the news with everyone else!
(If you love this idea as much as I do, check out my mega-list of pregnancy announcement cookies, too!)
The Casual Christmas Baby Announcement
Keep things cozy and cute with this simple Christmas pregnancy announcement idea – a comfy matching set, a hint of wintery pine, and a simple snap of your sonogram.
Cookies In The Kitchen Pregnancy Announcement
Baking something extra special this Christmas?
Here's a super fun way to spice things up –
Instacart a couple Christmas baking staples like vanilla extract and flour, and pick up a few holiday-themed baking tools from HomeGoods when you're there next to stage this cute pregnancy announcement photo.
Take the Christmas vibes to the next level with cozy Christmas jammies (hubby can keep it classic with a simple white tee).
The Christmas Kiss Holiday Pregnancy Announcement
Many local photographers offer Christmas photoshoots at local tree farms around the holidays – and what a perfect, picturesque spot to share your big news!
For a pretty, timeless photograph, stick with warm neutrals when putting together your fam's outfits, and share the baby news by holding up your ultrasound picture.
Classy Plaid Christmas Baby Reveal
Looking for outfit inspo for the perfect Christmas pregnancy announcement?
You *can not* go wrong with a bold, classic red plaid dress, and a romantic sunset photo with hubs.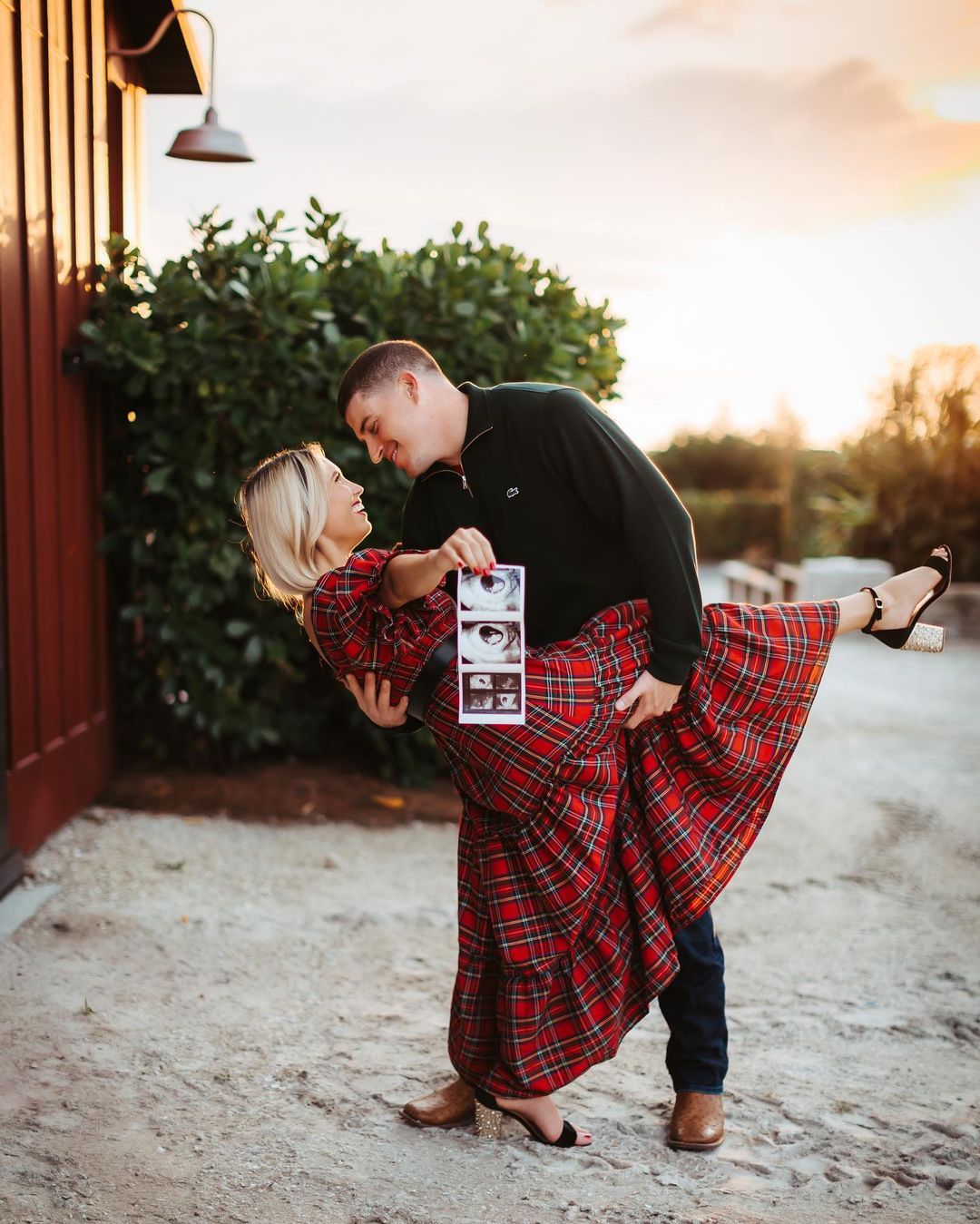 Baby Bump Letter Board Reveal
Next up, such a unique way to share your news – have mama hold a letter board with her baby bump in front of the Christmas tree!
Or, get your hubby in the photo – choose a cute quote, grab a letter board and your sonogram.
The Snowy Kiss Baby Reveal
Of course, so many of these photo ideas would make for the perfect Christmas card pregnancy announcement, but this sweet photo with the falling snow is such a festive way to tell everyone you're expecting!
Big Brother Christmas Baby Announcement
Looking for an adorable way to let baby-to-be's older siblings share the good news that they're about to be a big sister or brother?
Grab some plaid throw pillows or a cheery red blanket, some greenery or a wreath and a letter board, and set your little one up for a photo with this cute quote –
Santa's bringing me a gift like no other…
I'm going to be a big brother!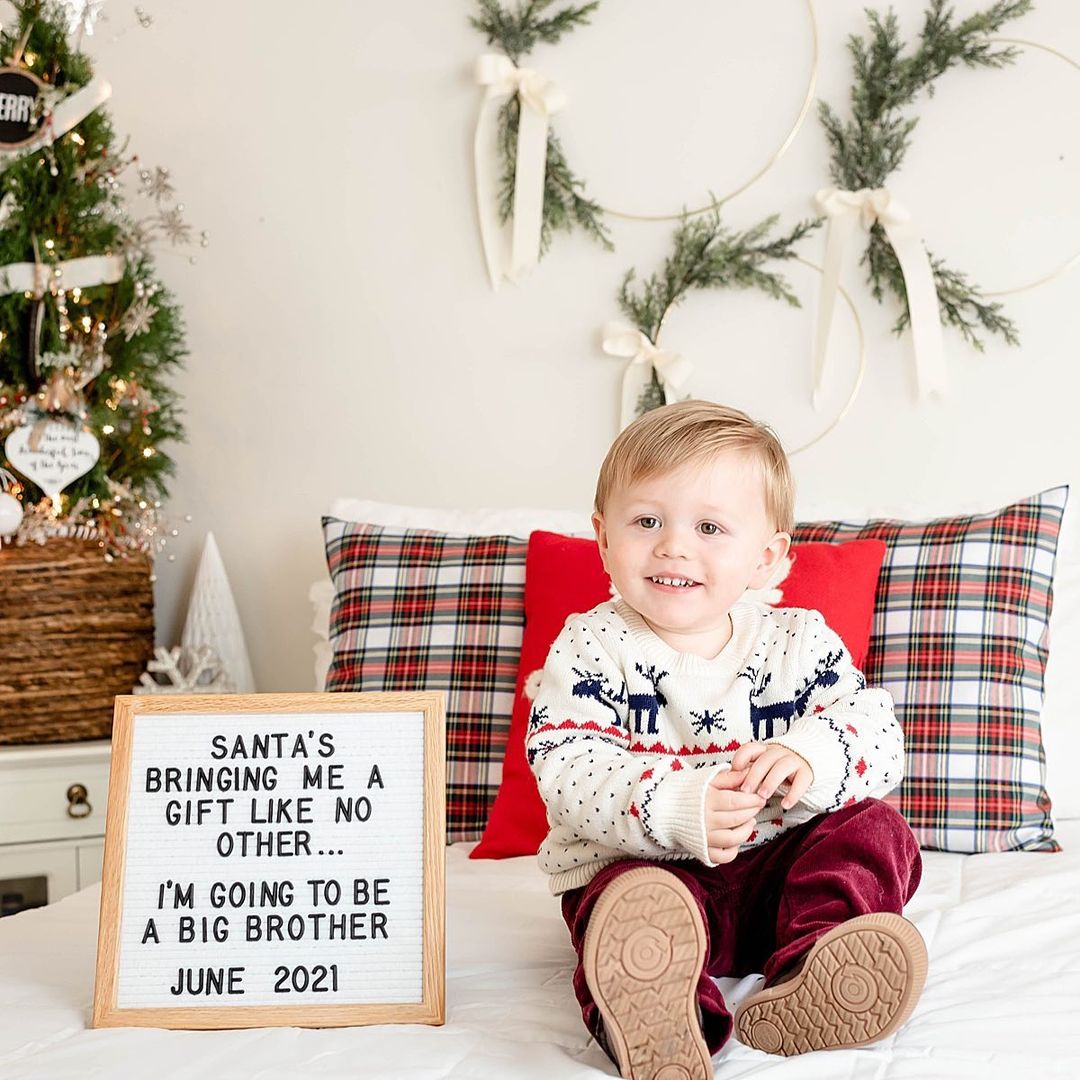 If you already have a little one (or two), check out this whole collection of sibling pregnancy announcement ideas, too!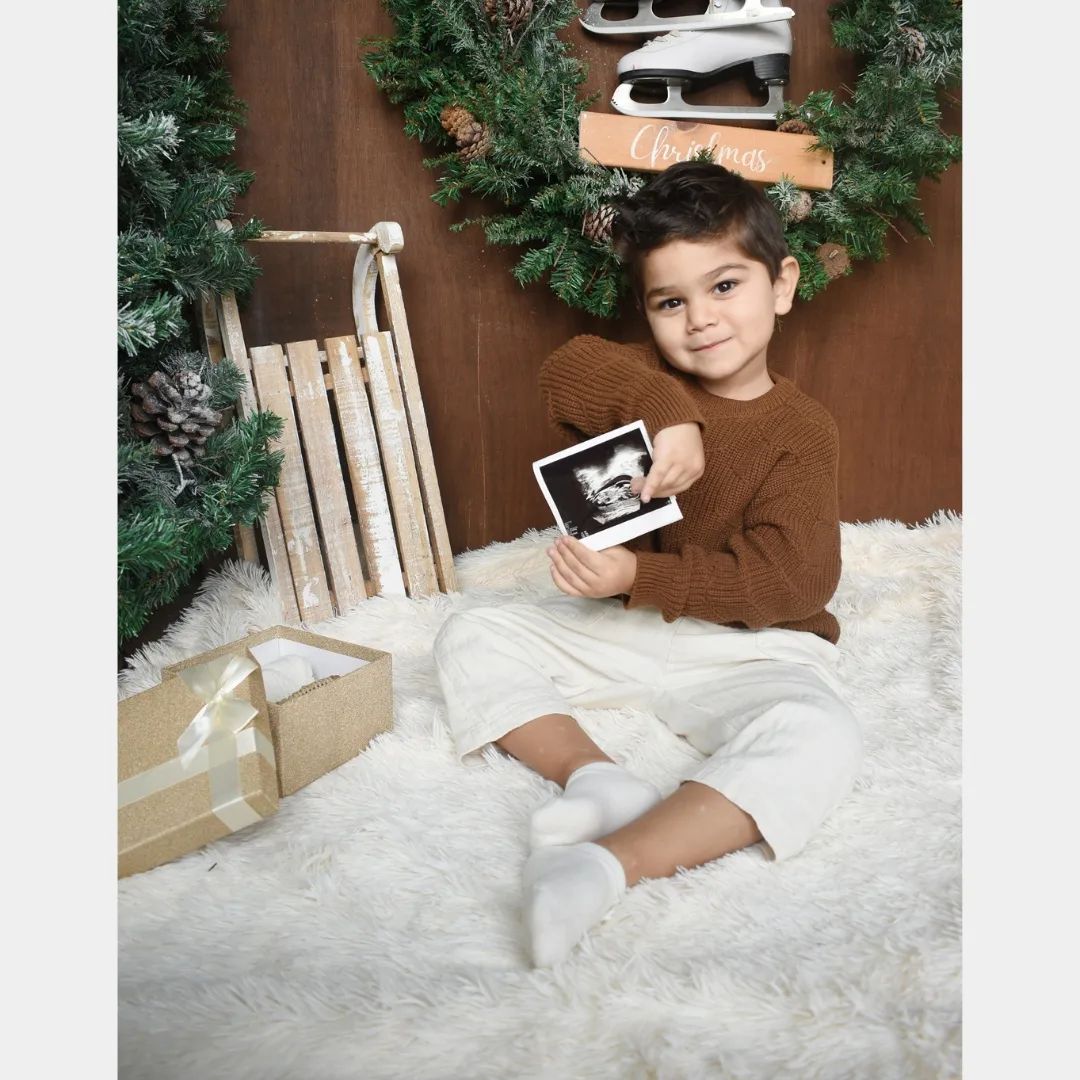 Tree Farm Christmas Baby Announcement Photos
A simple, seasonal dress like this pretty emerald green velvet one and a bold red lip are just about all you need to pair with that pretty pregnant glow.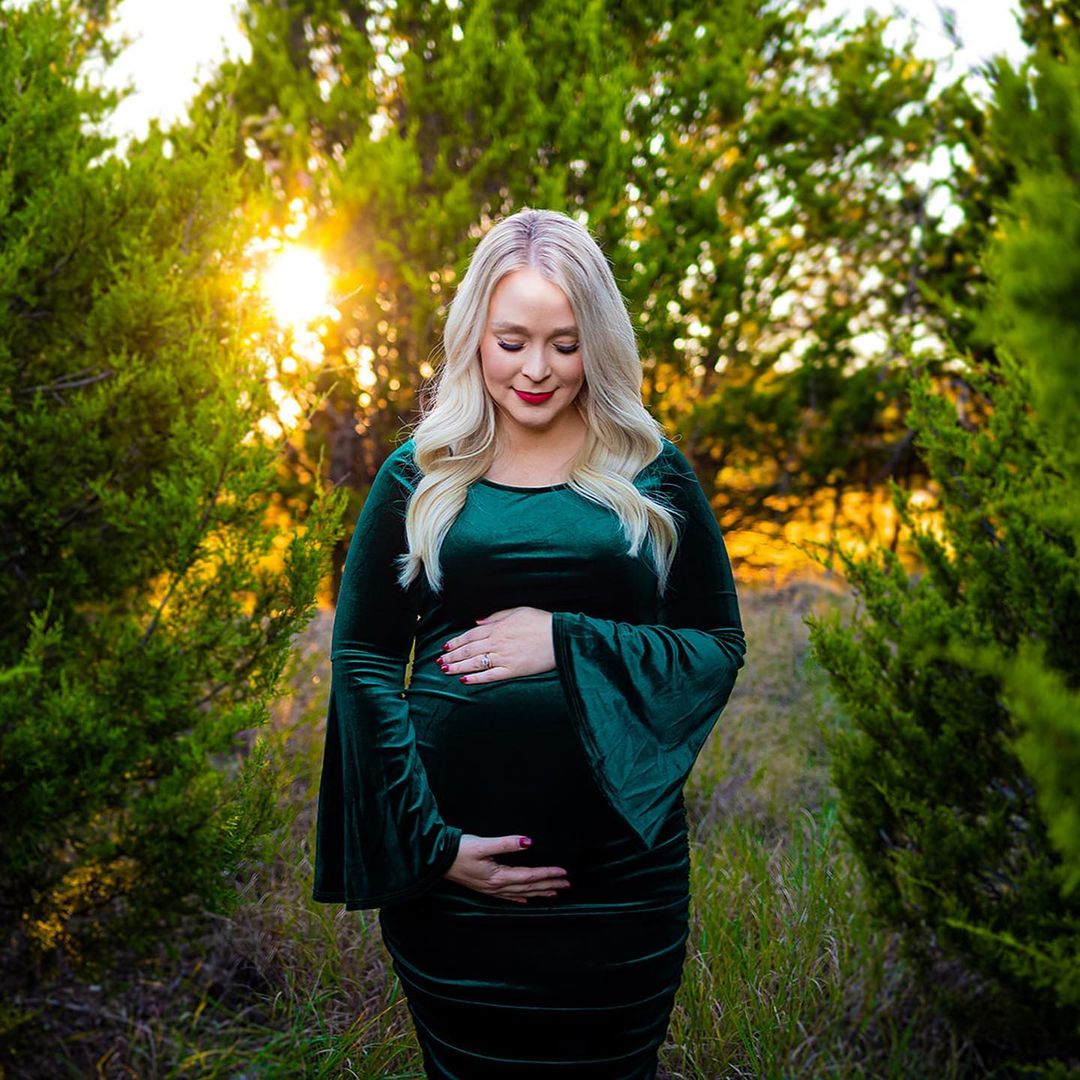 Keep it all about the mama-in-the-making, or –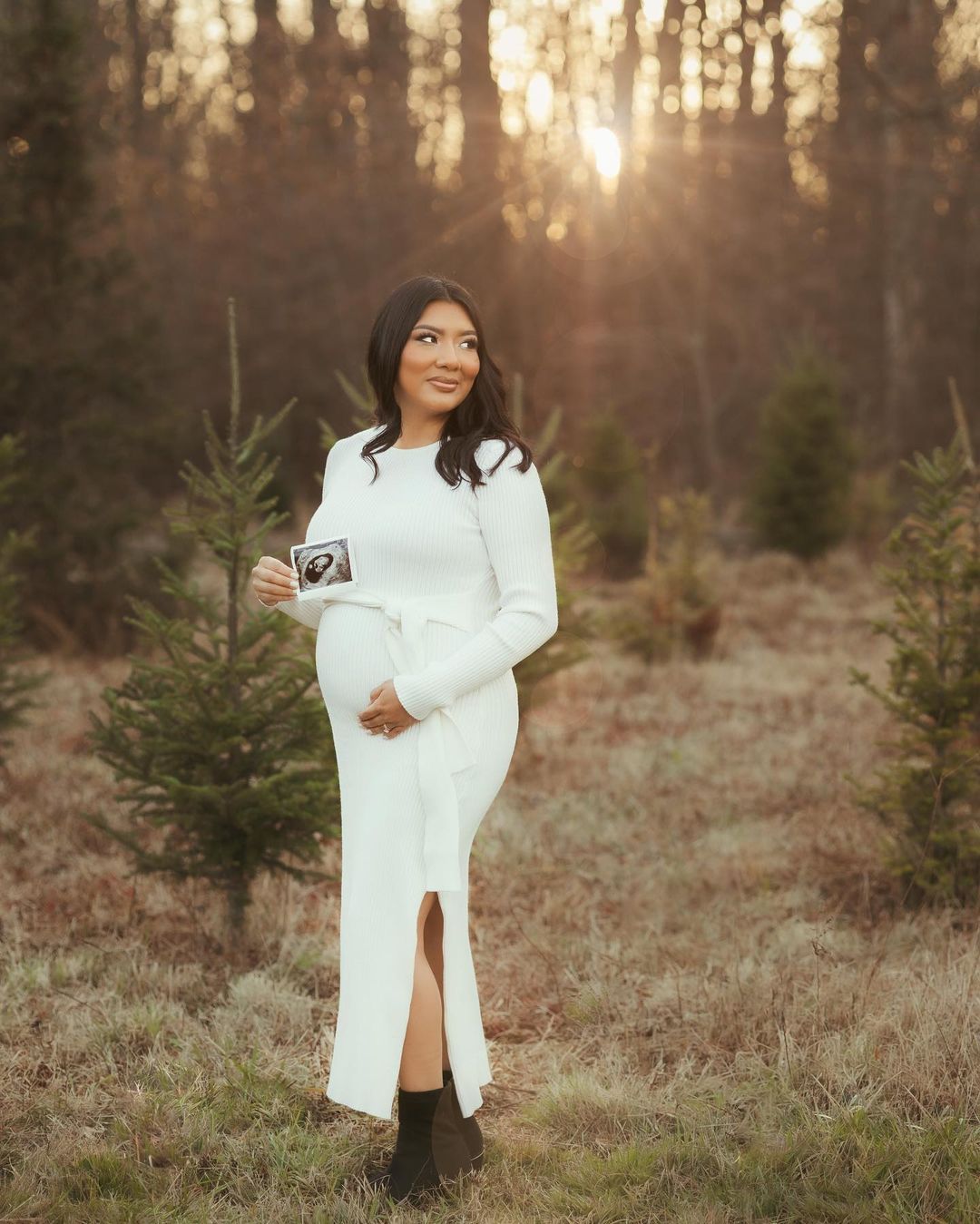 Get the whole family involved, and cozy up together for a special family photo with your little ones.
Christmas Pregnancy Announcement Card
Of course, you can get custom Christmas cards made with your own photos, but if you're looking for a super simple option, you can definitely go with a premade Christmas card.
Simply pick from one of the different designs, purchase the digital file and have it printed either online and sent to your home, or at a local print shop.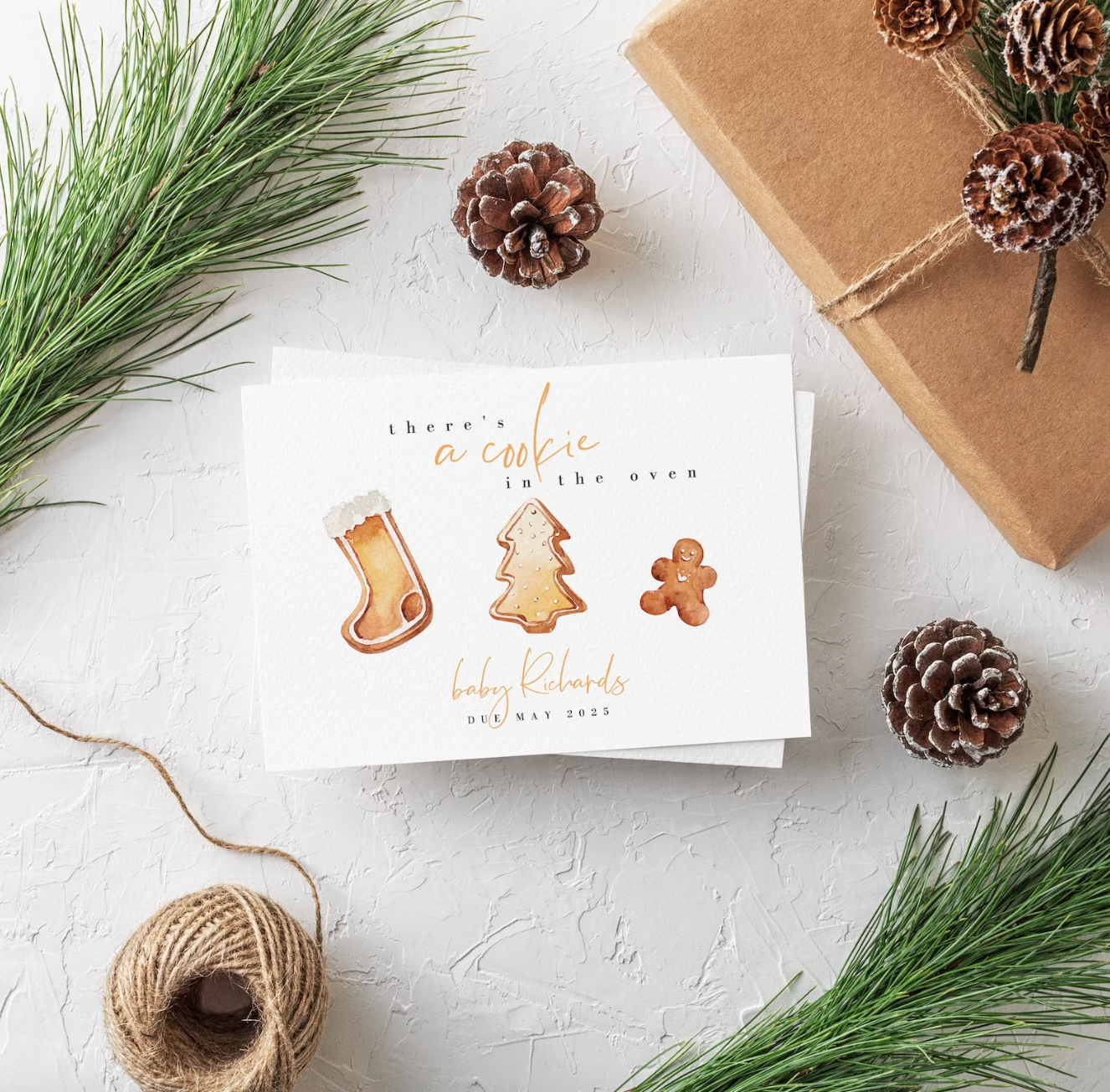 Letter Board Christmas Pregnancy Announcement
Next up, a totally creative way to break the news during the most wonderful time of the year.
DIY a cute little Christmas letter board pregnancy announcement with one of the witty pregnancy announcement captions we've included later on in this post.
Once you've decked the halls around your home, find a cozy little spot where you can bp a photo of your letter board. Ge the best results, aim for a bright, but slightly overcast day where you can get some indirect light.
Or, grab a santa hat and snap a simple photo –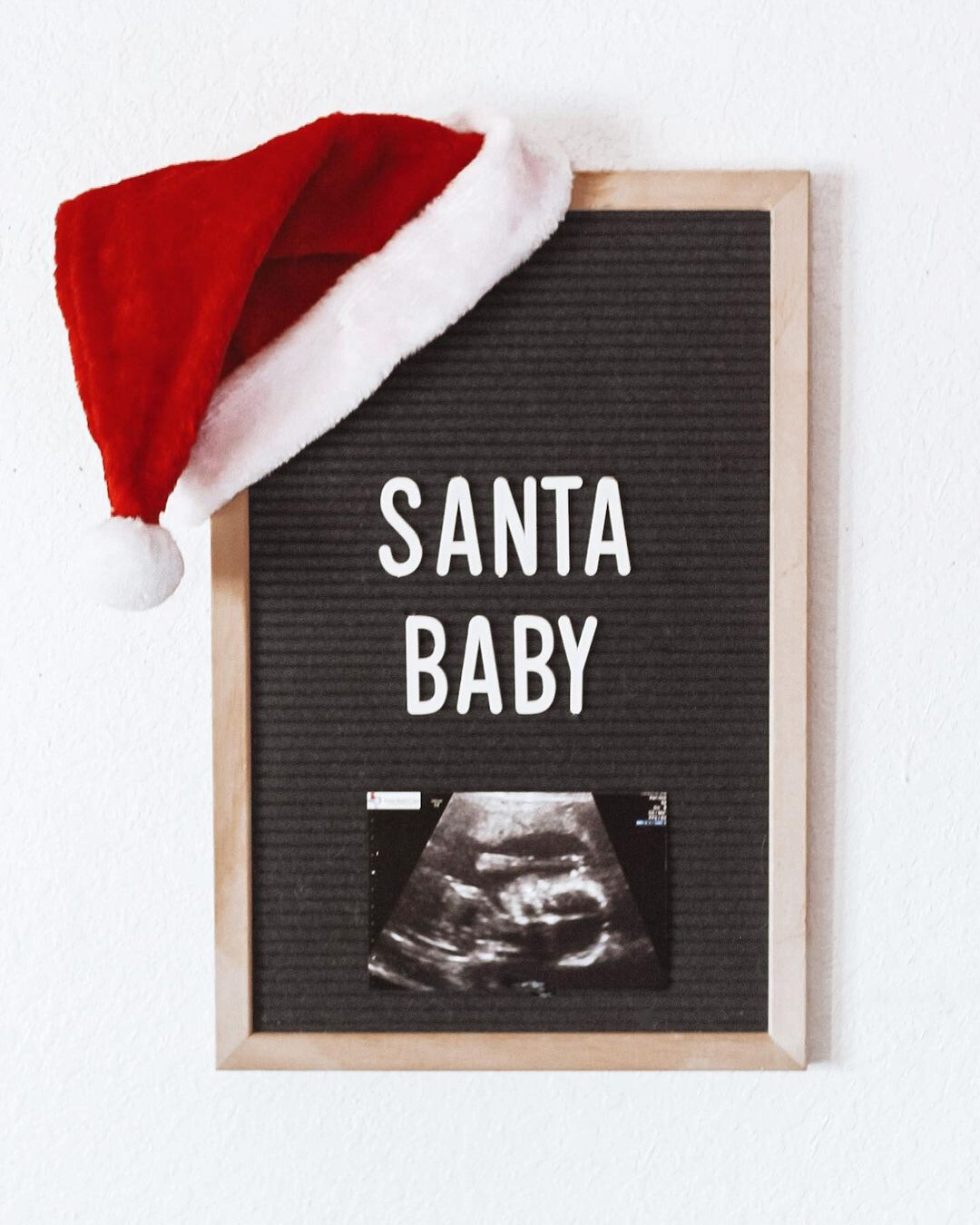 Little Red Wagon Christmas Pregnancy Announcement
If you don't already have a child to ride in the wagon, or, don't have a wagon, for that matter, try recreating this Christmas pregnancy reveal by pulling a classic wooden sled through the snow with a Christmas tree or mini baby booties as the passenger.
Just like the photo, tuck your sonogram in hubby's back pocket for your big reveal!
(Bonus points if you can get it together to have these this cute photo put on to a pregnancy announcement Christmas card, too!)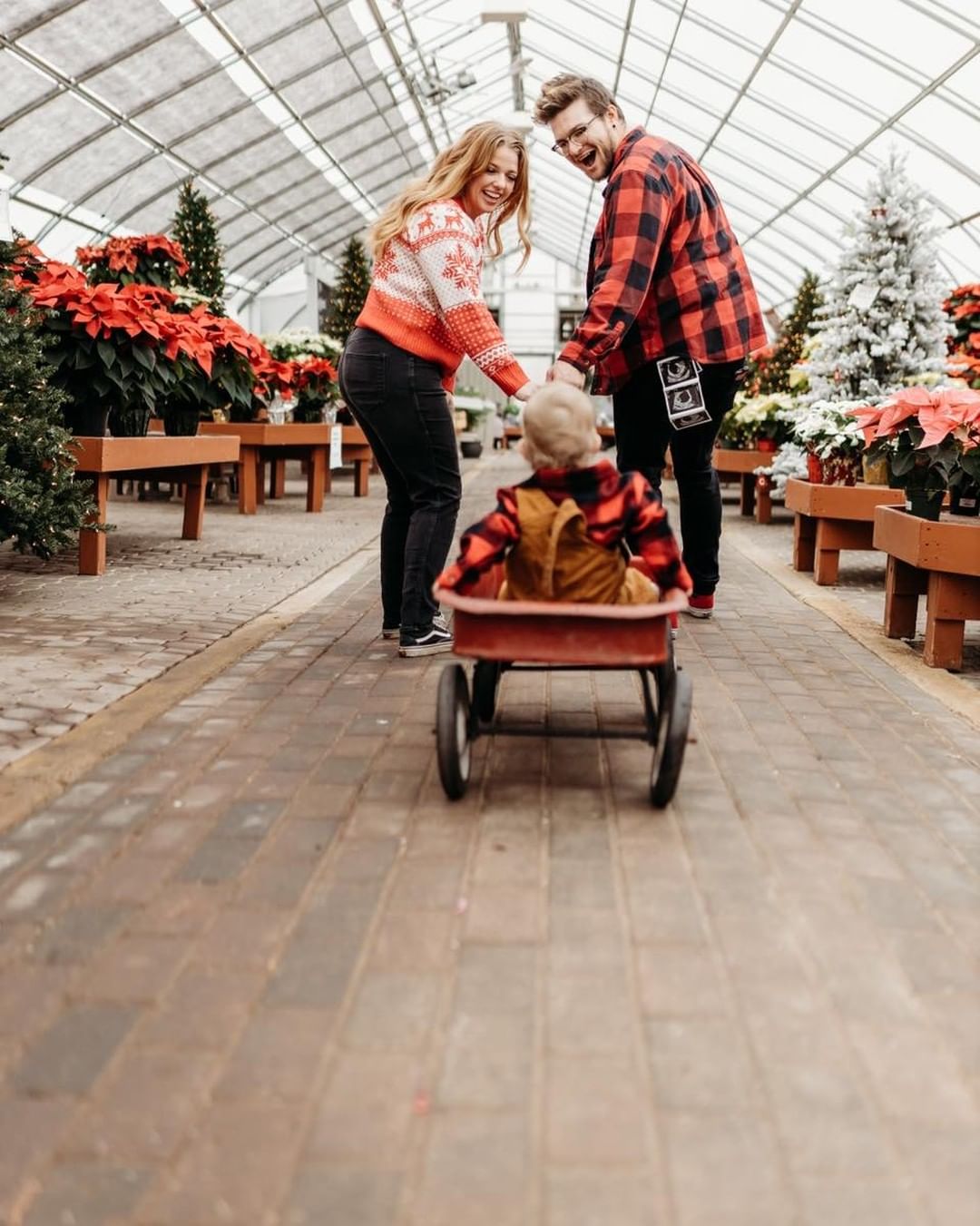 Digital Christmas Pregnancy Announcement
In 2023, it should come as no surprise that digital pregnancy announcements are a thing.
This sweet little Moses basket Christmas scene is actually a digital image that you can customize with your own sonogram photo and due date in seconds.
You know what that means, right?
Clearly, more time for Christmas cookie sampling… 🍪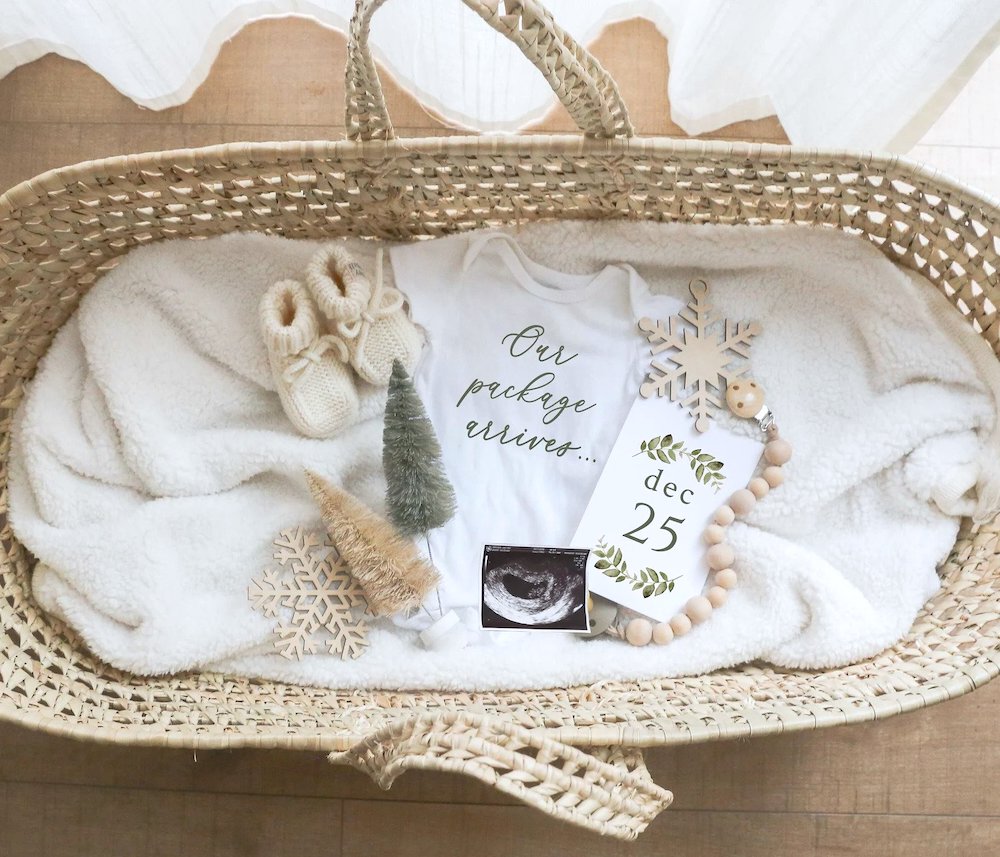 Or, if you're more of a DIY type girl, put together a sweet little scene yourself!
(How cute is this Santa baby onesie!?)
Sonogram in the Tree Christmas Pregnancy Announcement
Looking for an easy, adorable way to share that you're expecting a bundle of joy?
This next idea is the perfect pregnancy announcement for mamas that are still in their first trimester and not feeling oh-so-hot –
Simply snap a photo of your sonogram nestled in front of the tree and voila!
Baby reveal sorted.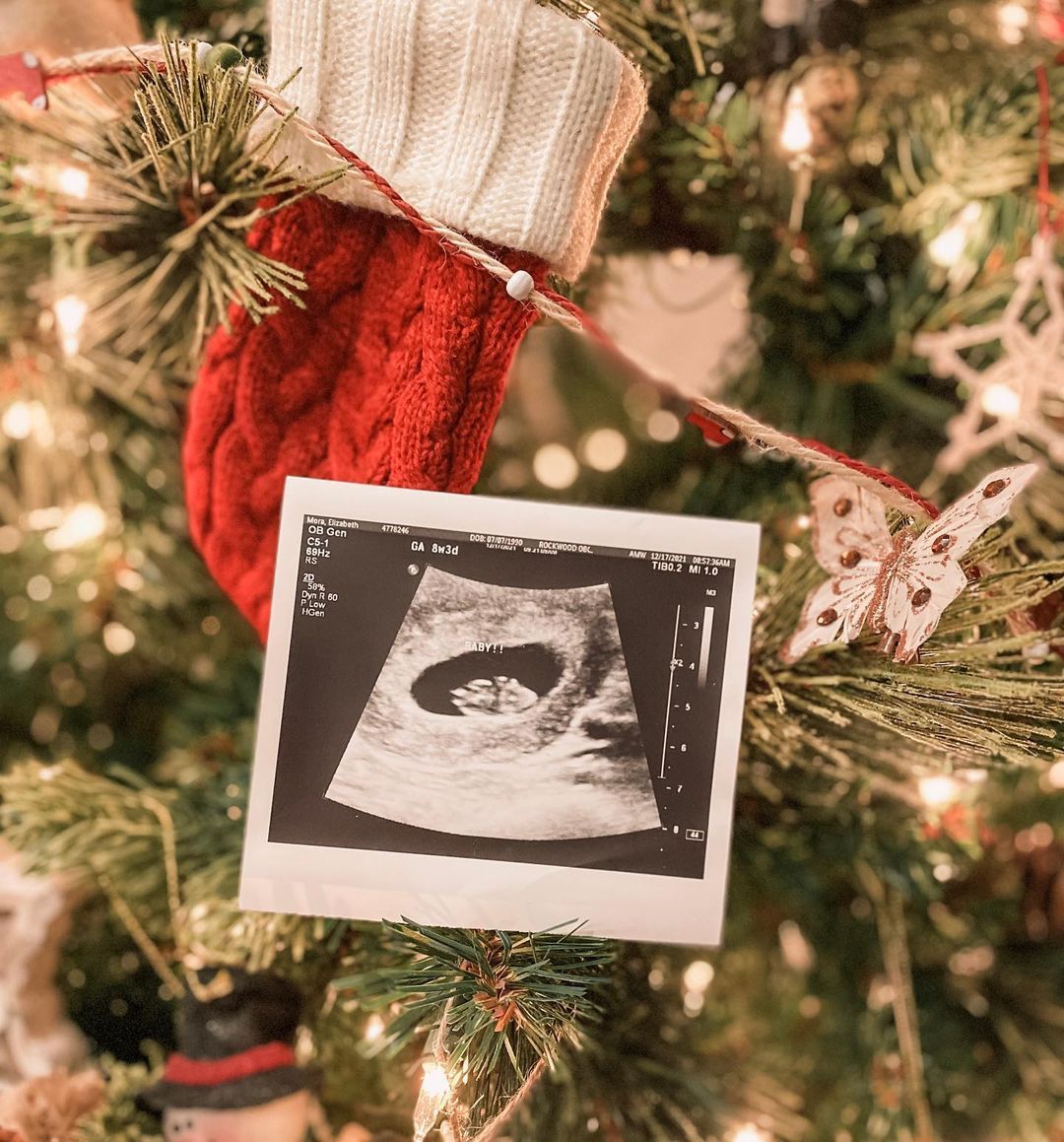 Simple Wreath Christmas Pregnancy Announcement
Now, I don't like picking favourites.
But, if I had to…
I might pick this one.
Classy and timeless, this simple mini bump reveal photo with a gorgeous, fresh wreath and festive greenery is just so stunning.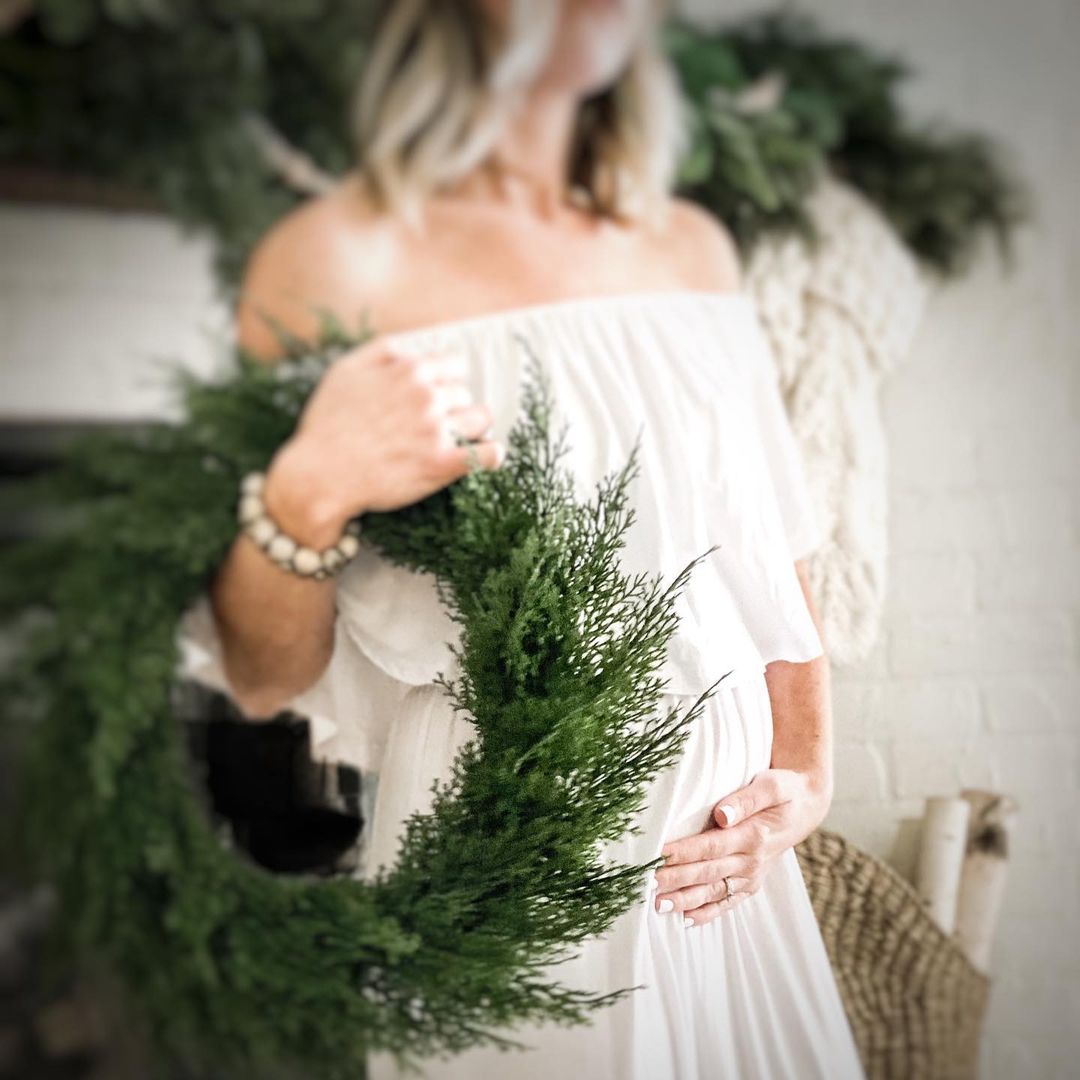 Matching Family Christmas Jammies Baby Reveal
Did somebody say family marching pjs??? 🤩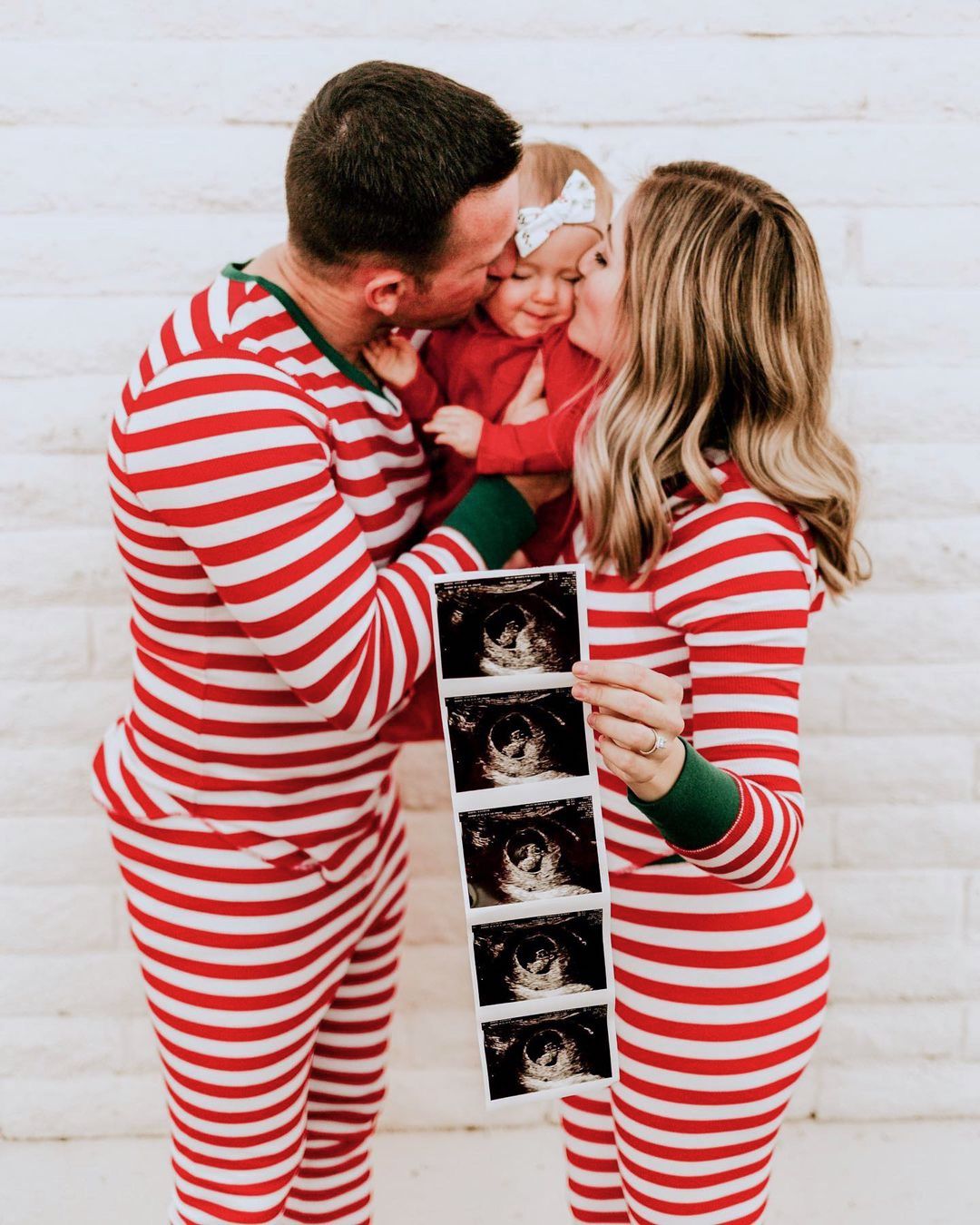 Christmas Pregnancy Announcement Flat Lay
For a pretty and festive Christmas pregnancy announcement, try putting together a flat lay with items like aletter board, your sonogram, fairy lights, greenery, a baby rattle and some booties.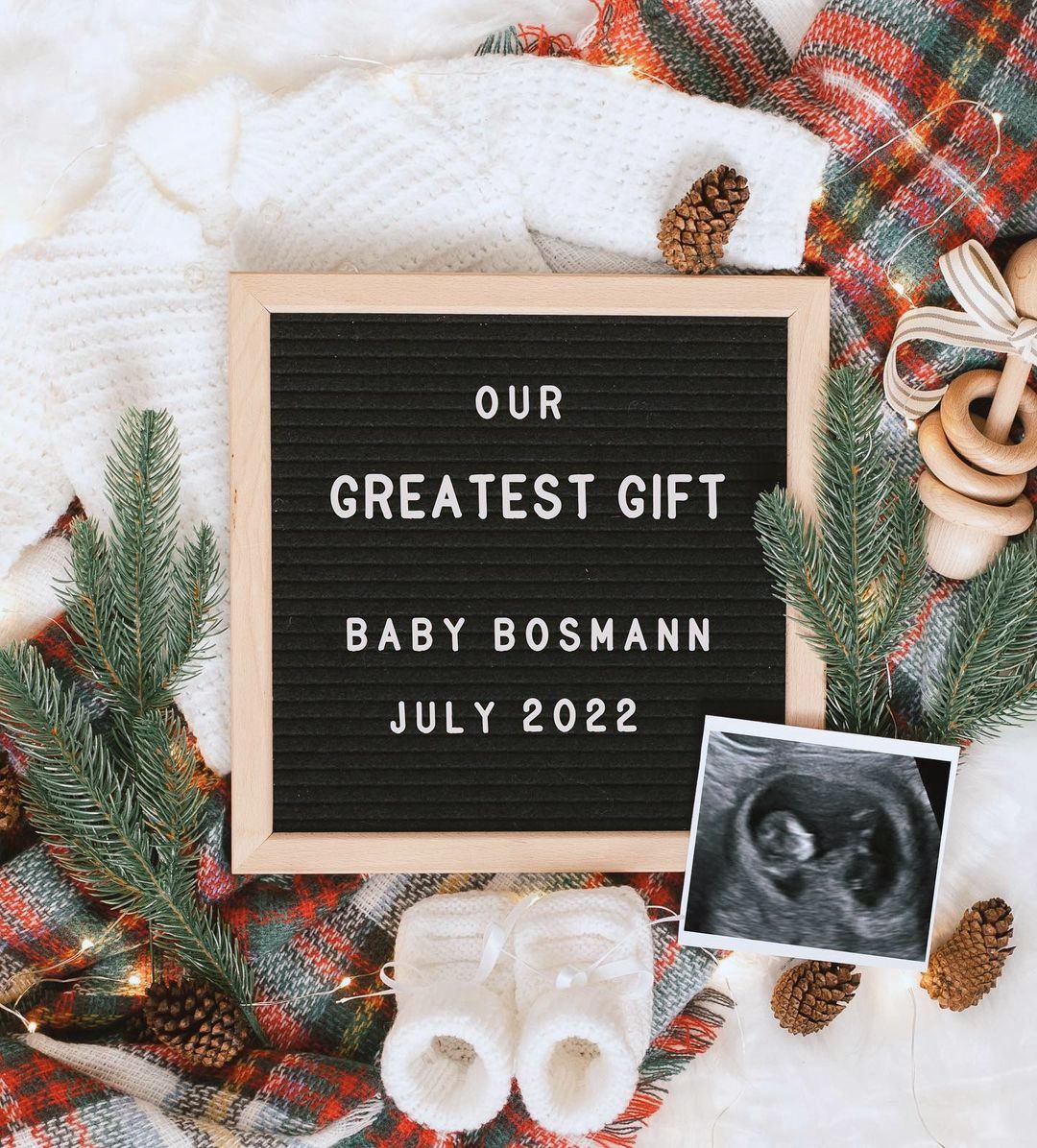 Christmas Pregnancy Announcement Ornament
Looking for a Christmas pregnancy announcement idea that you can revisit and cherish every year?
These gorgeous, custom ornaments are handmade and will be an heirloom for years to come.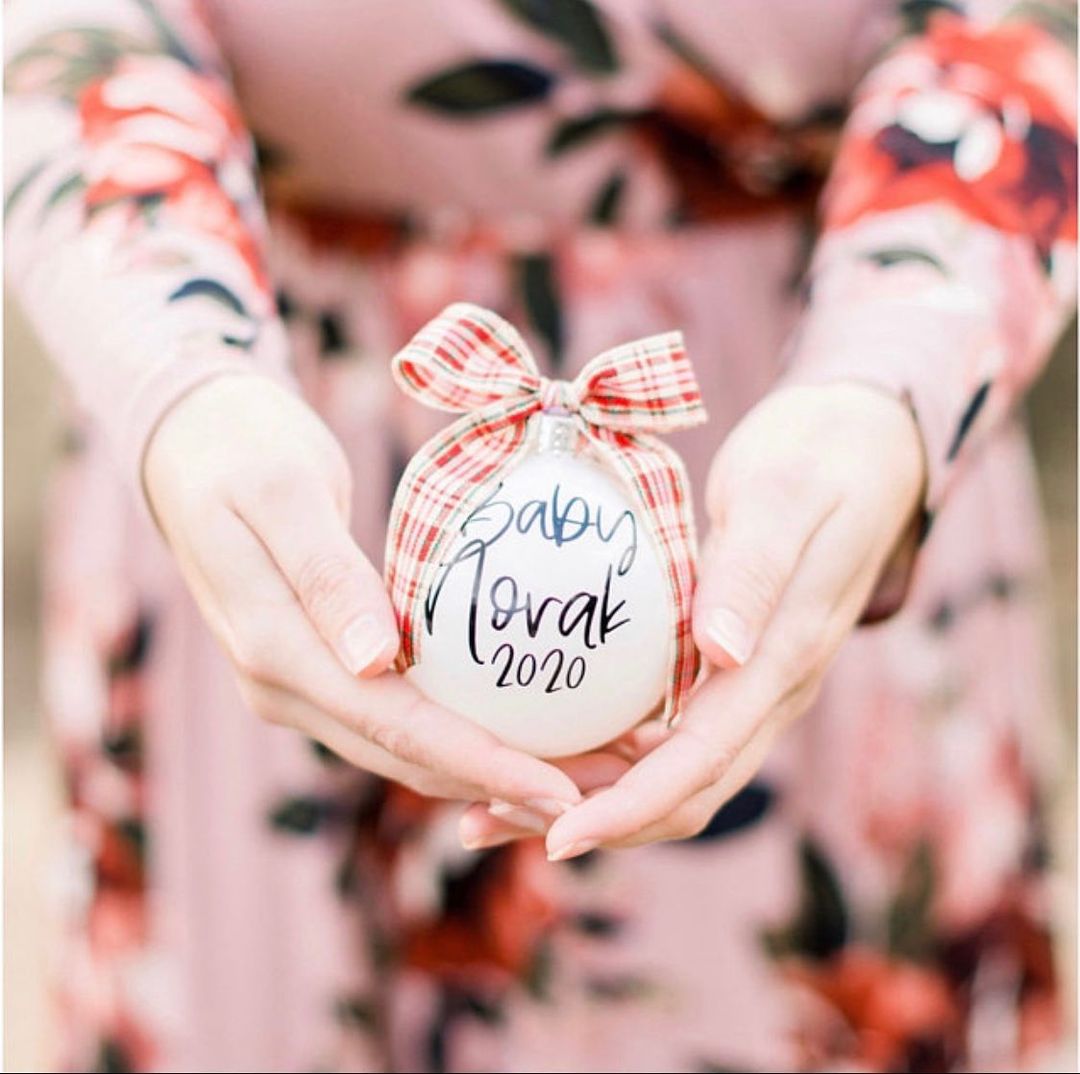 Or, keep it simple and add your ultrasound photo to a simple clear ornament –
Christmas Pregnancy Announcement Shirt Ideas

Christmas Pregnancy Announcement Onesies
Looking for a lasting way to share the pregnancy news? Order a super adorable baby onesie for your photos – a special keepsake you'll cherish for years to come:

Digital Christmas Pregnancy Announcement
Looking for a simple Christmas baby announcement idea? There are tons of Etsy sellers that have put together beautiful, holiday-themed images that you can personalize yourself, and re-post on your social media account:

Christmas Pregnancy Announcement Captions for Social Media
The same way that gingersnaps just aren't the same without a cold glass of milk, a special pregnancy announcement just isn't complete without the perfect caption.
Here's a great little list of Christmas pregnancy announcement captions for Instagram, Facebook and beyond –
No more silent nights – Baby (last name) due (month) (year)
Mistle toes coming soon…
Jingle bells, jingle bells, jingle all the way – Oh what fun, it is to say, a baby is on the way!
A little snowflake is on the way
It's the most wonderful news of the year – Baby (last name) (month) (year)
Merry Christmas from our growing family to yours
Ho Ho Holy Shit – (last name) Twins due (season) (year)
Santa isn't the only one coming to town
This Christmas is extra sweet, our family is growing by one heart & two feet
A tiny gift for Christmas
Jingle bells, jingle bells, baby on the way
The best gifts are homemade
Our Christmas is a bit brighter this year
Our very special package arrives (month) (date)
Merry Christmas to me, I'm a big sister-to-be! (month) (year)
Trading silent nights for more joy to our world – Baby due (month) (year)
Baking more than cookies for Santa this year
Making spirits bright – Baby (last name) #2 – (month) (year)
I'll be home for Christmas – Baby (last name) – (month) (year)
We asked Santa for a baby! Baby (last name) – due (month) (year)
We are excited to say, a little present is on the way
So very merry – Baby (last name) (month) (year)
The best presents aren't under the tree
Santa's bringing me a gift like no other – Next year, I'm going to be a big brother!
Eating Christmas cookies for two – Baby due (month) (year)
Oh baby – the more, the merrier!
Our little Christmas miracle
One more reason to be merry
Considering waiting a bit longer to announce your pregnancy? Pin these super cute Valentine's pregnancy announcement ideas for later!
Read Next:
Want to include your pup? Check out these cute ideas to inspire you: 11+ *Actually Adorable* Pregnancy Announcements with Dogs You Need To See
🎄 The 11+ Cutest, *Buttery-Soft* Bamboo Baby Pajamas I'm Obsessed With
🎄 11+ Gorgeous, Practical Nursery Side Tables I Love (For *Every* Budget!)