This post contains affiliate links.
Originally Published May 19, 2022 ・ Updated May 6, 2023
Expecting, and looking for a cute way to involve your dog in your big reveal?
Then you're in the right spot.
Today, I've rounded up my very favorite ideas for planning a pregnancy announcement with dogs that are ridiculously adorable, and that I just know are going to inspire you as you plan your own.
Let's dive in –
Timeless Black & White Dog Pregnancy Announcement
Is there anything more classic and timeless than a black and white photo? Capture this special time in your life by opting for some black & white edits of your fur baby.
Dog Bandana Pregnancy Announcement
Want to make your dog the star of your baby reveal?
Simply grab one of these cute custom dog bandanas and snap a quick pic.

Etsy Custom Dog Bandana
Flat Lay Pregnancy Announcement with Dog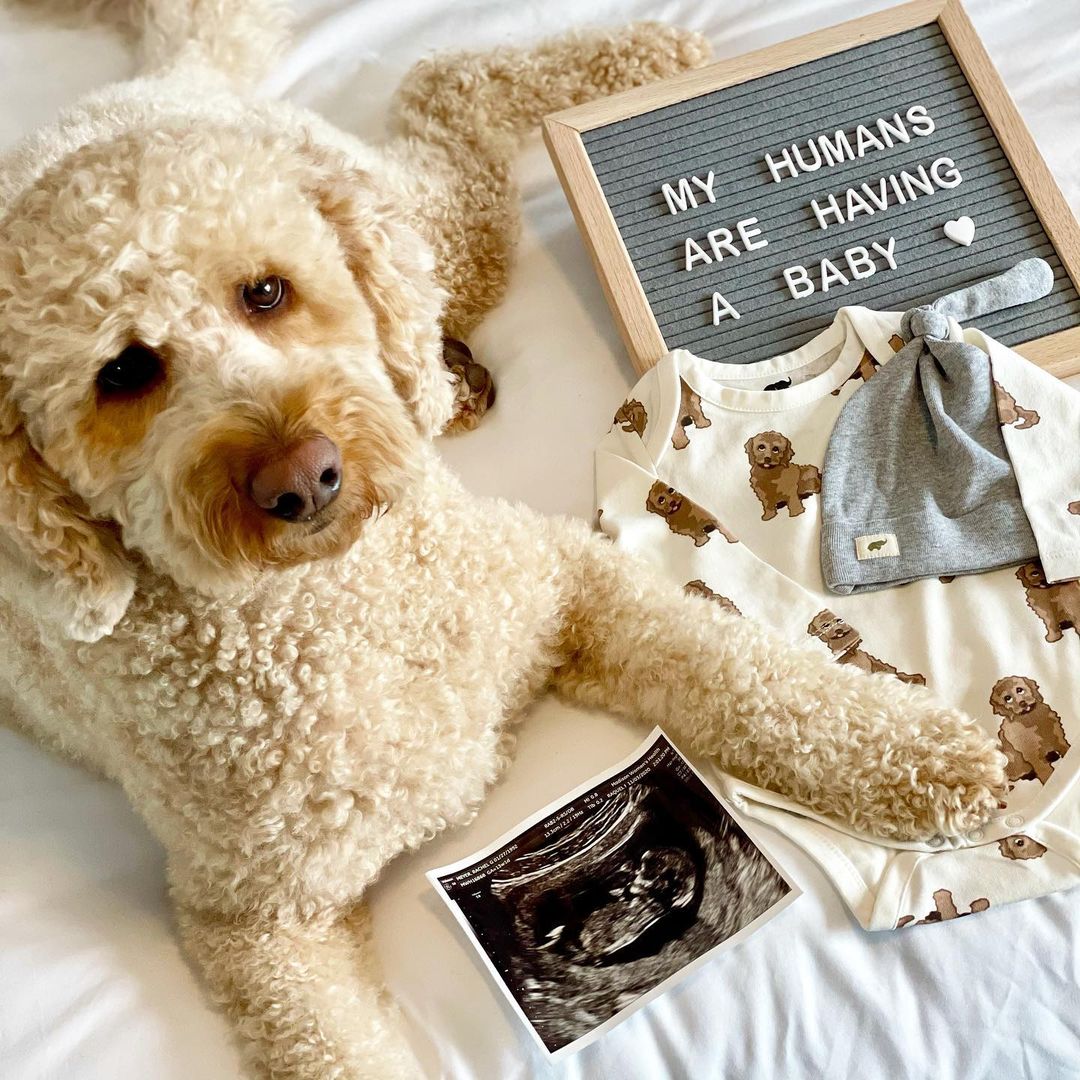 Next up, a cute pregnancy announcement flat lat, ft. Mr. Woof.
For this pregnancy announcement, you'll need:
a baby onesie
a baby hat
sonogram image
a letterboard
Simple Modern Dog Pregnancy Announcement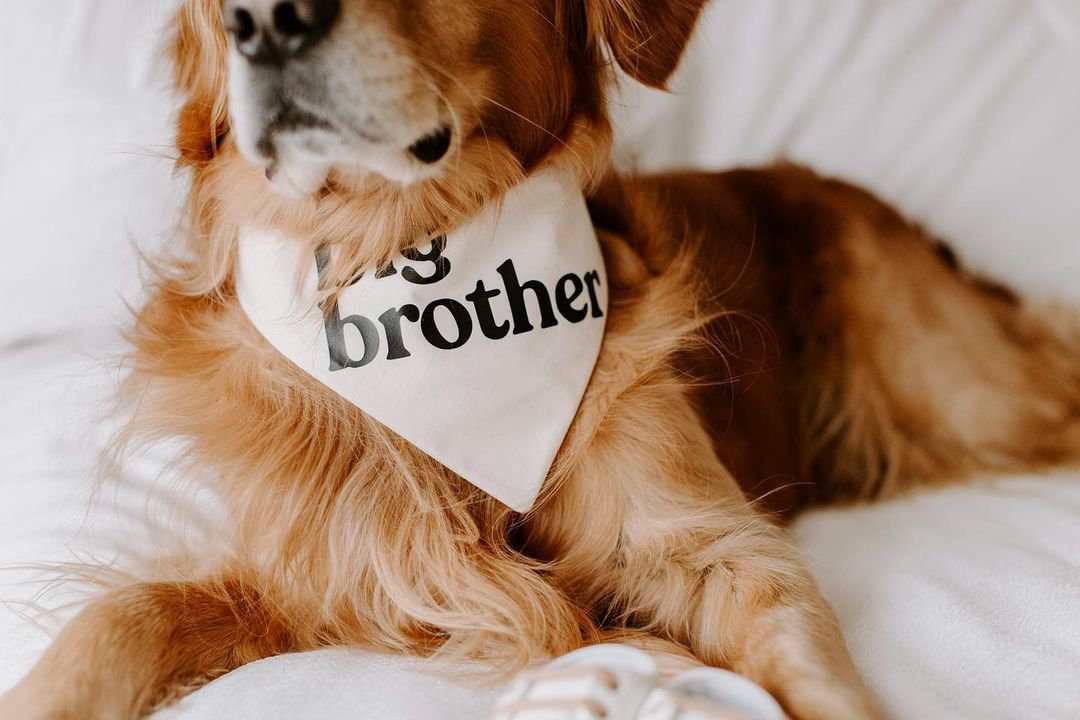 The most simple puppy dog pregnancy announcement photo idea of all – grab one of these cute baby announcement dog bandanas, set up a white cloth backdrop at home (or get your pup to hop up on your bed if that's allowed!) and throw your iPhone into portrait mode for a sweet, simple, but meaning photo like this.
Puppy Picnic Pregnancy Announcement Idea
Like to live life in the fast lane? Hide some treats in your hand and call your pup over to capture a cute photo like this – and be sure to tie the bandana backwards so you can read it from behind.
Casual At-Home Pregnancy Announcement with Dogs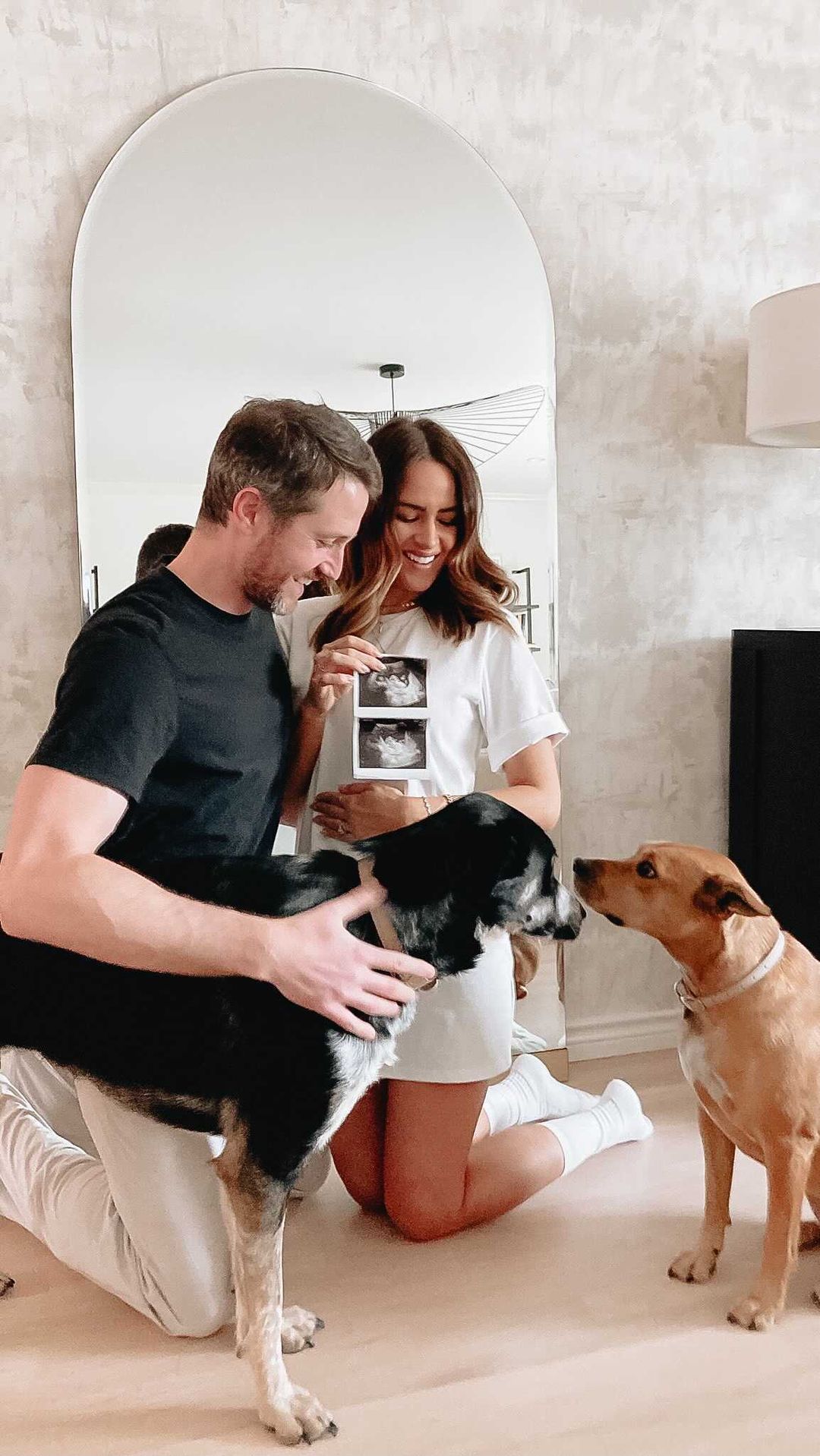 Looking for dog pregnancy announcement idea that gives low key vibes? Amazon yourself an oversized white tee and a fresh pair of slouchy socks then snap some pics of your dogs and daddy-to-be in a comfy setting in your home.
Letter Board Pregnancy Announcement with Dog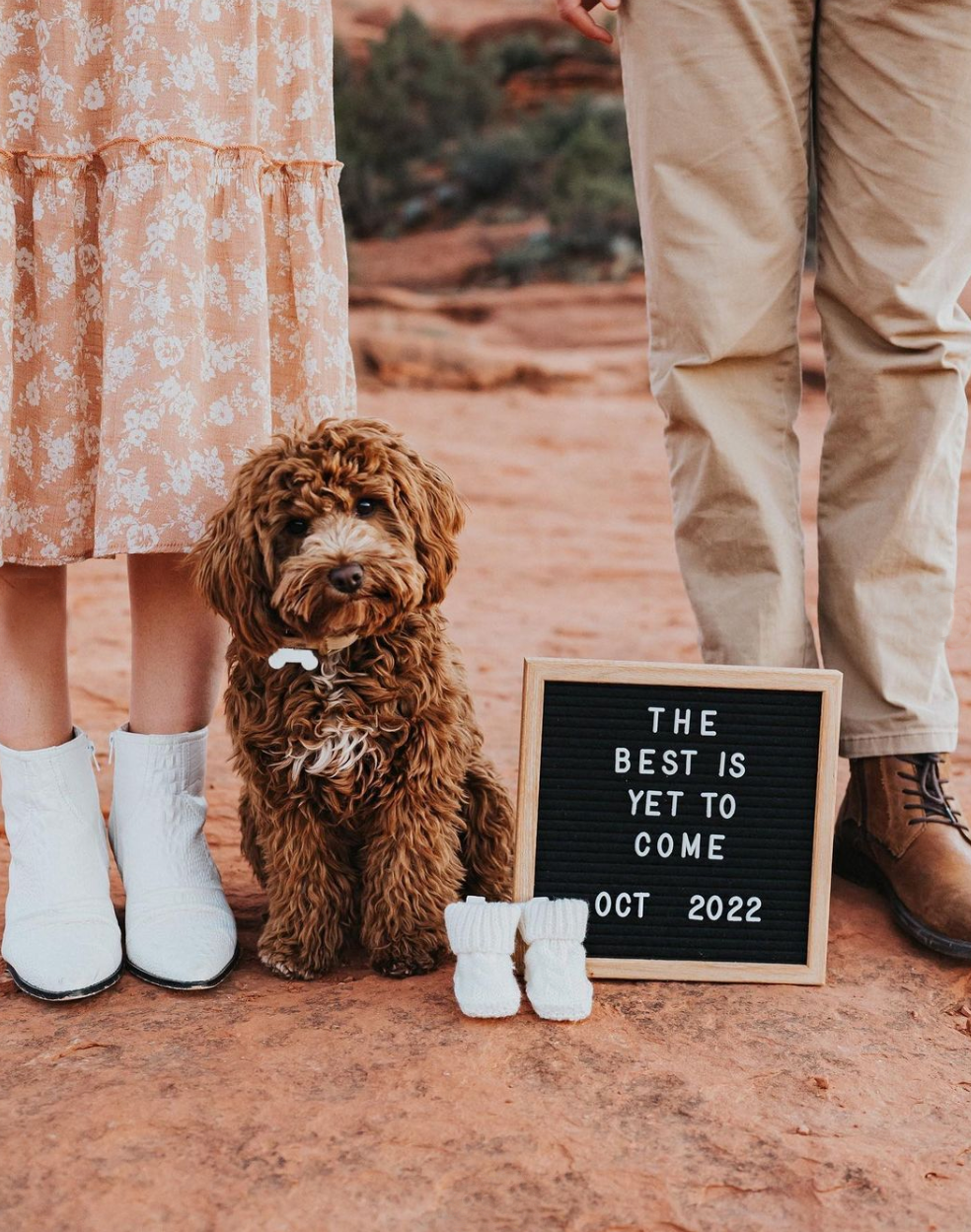 Grab a simple letter board, a little pair of baby booties, and head out to a local outdoor spot with a pretty backdrop.
Amazon Felt Letter Board
To really take your photo to the next level, try to consider the colors of the space you plan to use for your photo, and choose outfits for you and the daddy-to-be that share the same tones.
Dog Reading a BookPregnancy Announcement
Think you can get a pair of glasses to stay on your pup for long enough to snap a pic?
Then this sweet little pregnancy announcement idea might be just the one for you.
While there are a few ways you could set this one up, it may be easiest to create a cover for your book yourself with some card stock or pretty paper.
To include the sonogram, grab a mini clothespin and attach the photo to the book before you place it in front of your dog (of course, having lots of yummy treats on hand may help this feat go a bit more smoothly!)
Here Fido Puppy Dog Pregnancy Announcement
The Great Outdoors Pregnancy Announcement with Dog
While the classic pregnancy announcement photo typically includes a sonogram, it's definitely not necessary.
Instead, simply snap a pretty shot of your little growing family, post it to your socials and make the announcement official with a really great caption (here's my mega-list of baby announcement caption ideas to bookmark!)
Dog with Balloons Pregnancy Announcement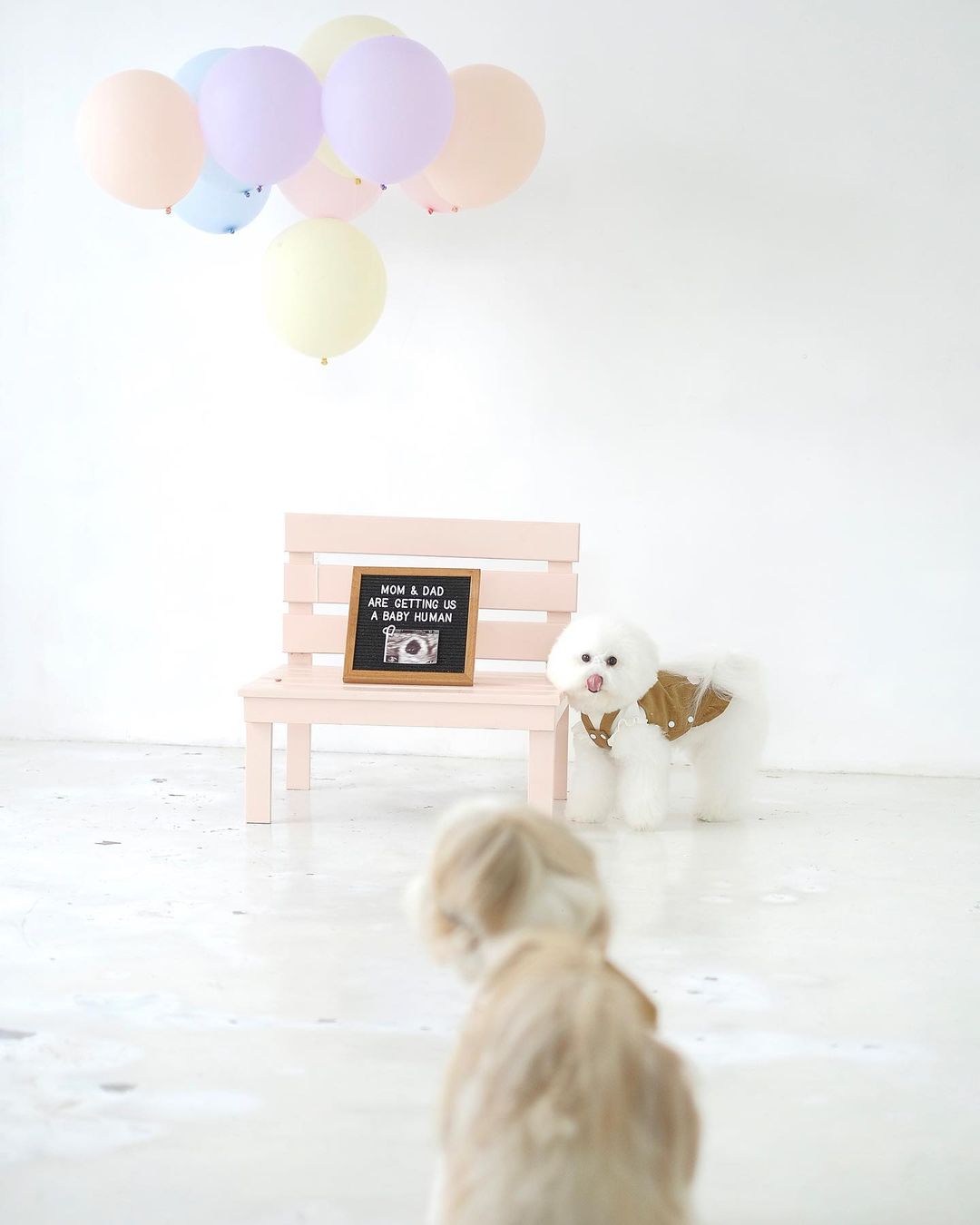 How cute is this little photoshoot set up with Ichi and Nomi, announcing their mom and dad's special news?
Dog Bandana Pregnancy Announcement Idea
This cute pregnancy reveal idea is simple and sweet and all you'll need is a cute custom dog bandana for your pup.
To make your image pop, try dressing in colors that contrast with your dog's coat, which will help draw your friends and family's eye to the big announcement!
Light & Airy Baby Announcement with Dogs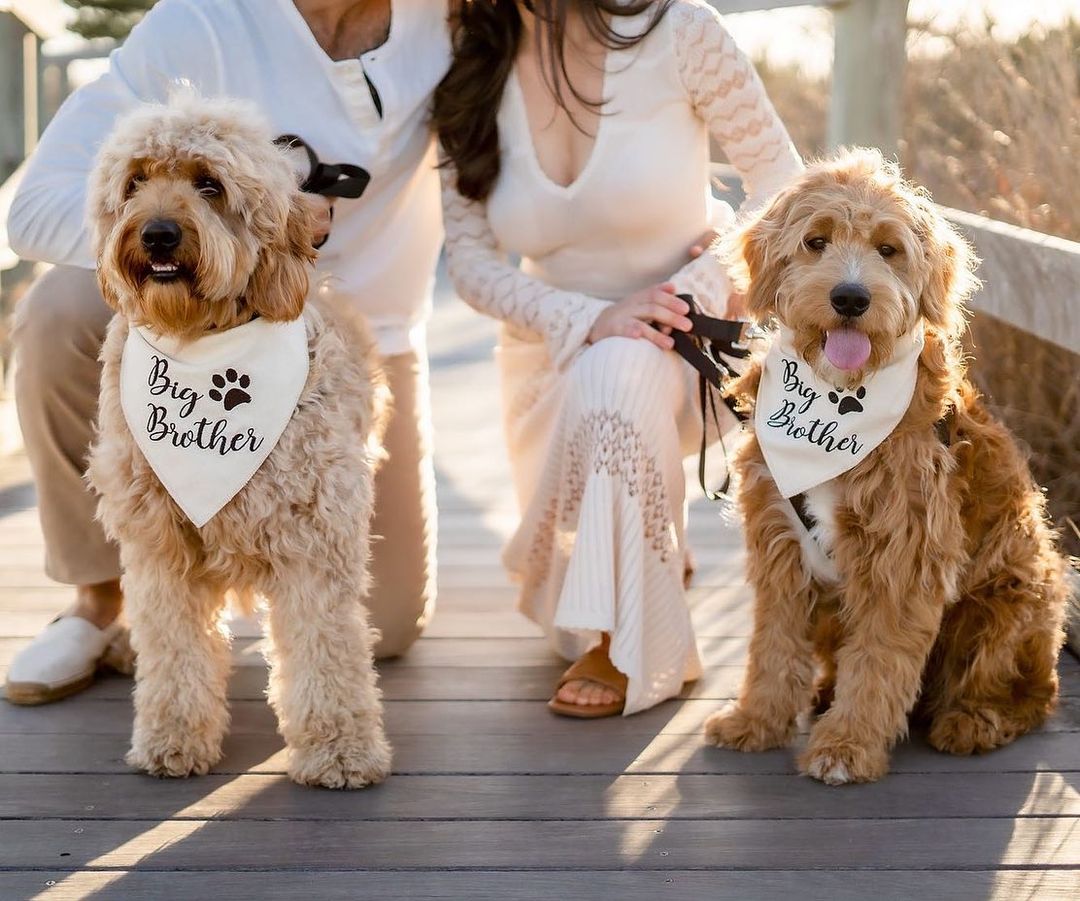 If you plan on having your baby reveal photographs taken with a professional photographer, they will, of course, provide plenty of poses and shots for you to choose from.
While planning which style of photos you'd like with your photographer, consider having them shoot a few where the pups are in focus, and the subject of the images, too, just like this one.
Big Brother Bandana Pregnancy Announcement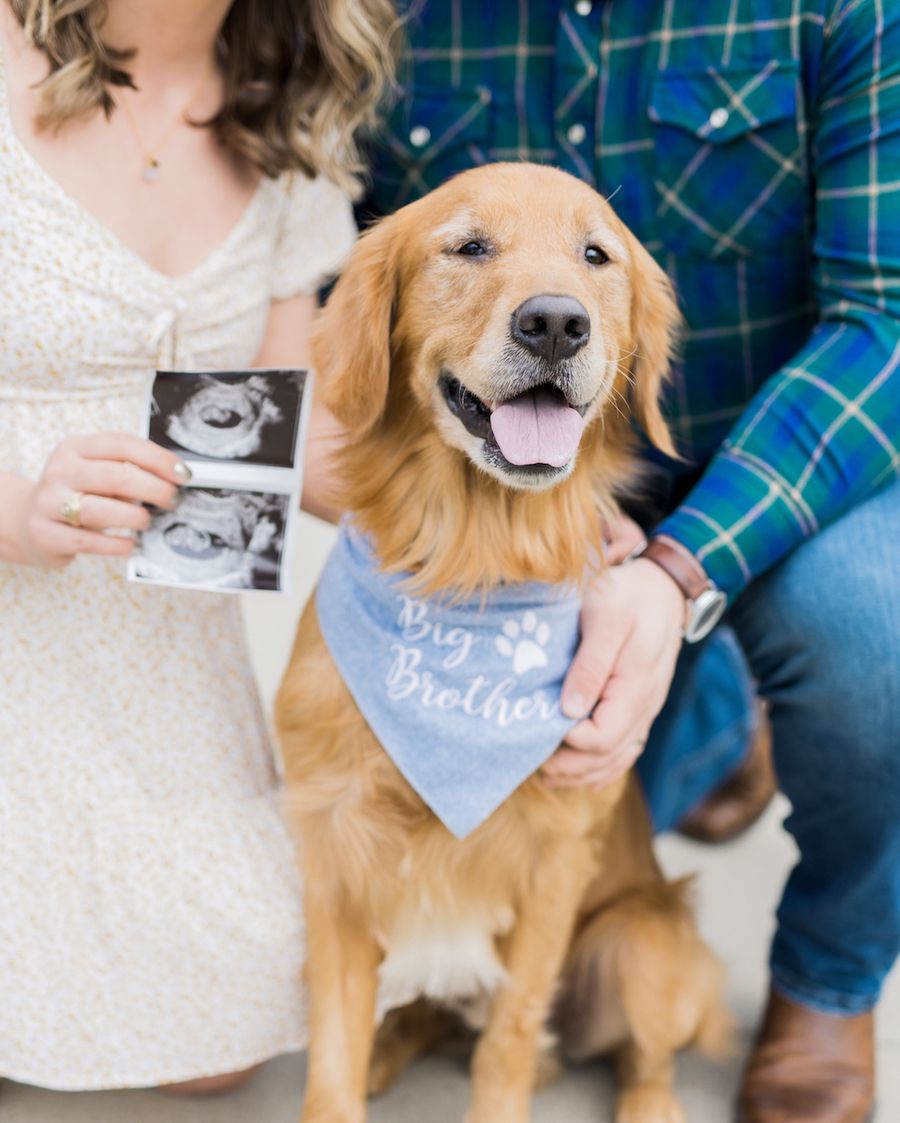 Looking for a classic pregnancy announcement idea with your dog?
Choose timeless colors and prints for your outfits, like this feminine floral patterned dress, and blue plaid shirt with matching blue jeans, and your special images will be sure to stand the test of time.
Funny Pregnancy Announcement with Dogs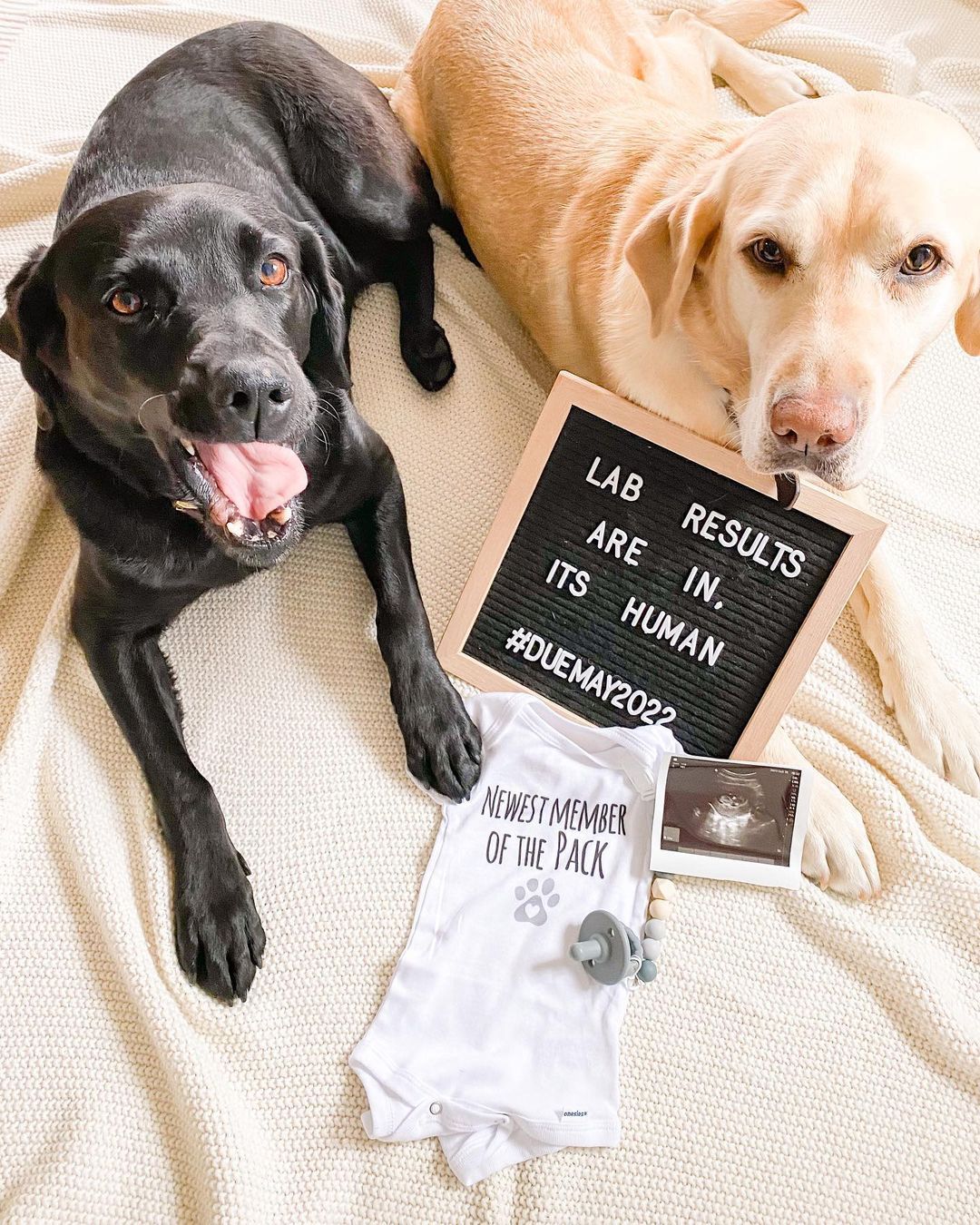 To recreate this cute pregnancy announcement with dogs, you'll need a letter board with a cute and funny phrase, a custom baby onesie, a soother with a clip and your sonogram photo.
For the best photo, try to find a spot in your home that gets indirect sunlight, and take the photo on a slightly overcast day if you can.
For a nice and bright backdrop, try laying down a neutral blanket.
Big Sis Bandana Pregnancy Announcement with Dog
Not super excited about the idea of popping in front of the camera yourself?
Choose a cute dog bandana, and hold your ultrasound images in front of your pup to reveal your big surprise.
Here are my favorite custom baby onesies that you *need* to see:

Pregnancy Test Pregnancy Reveal Idea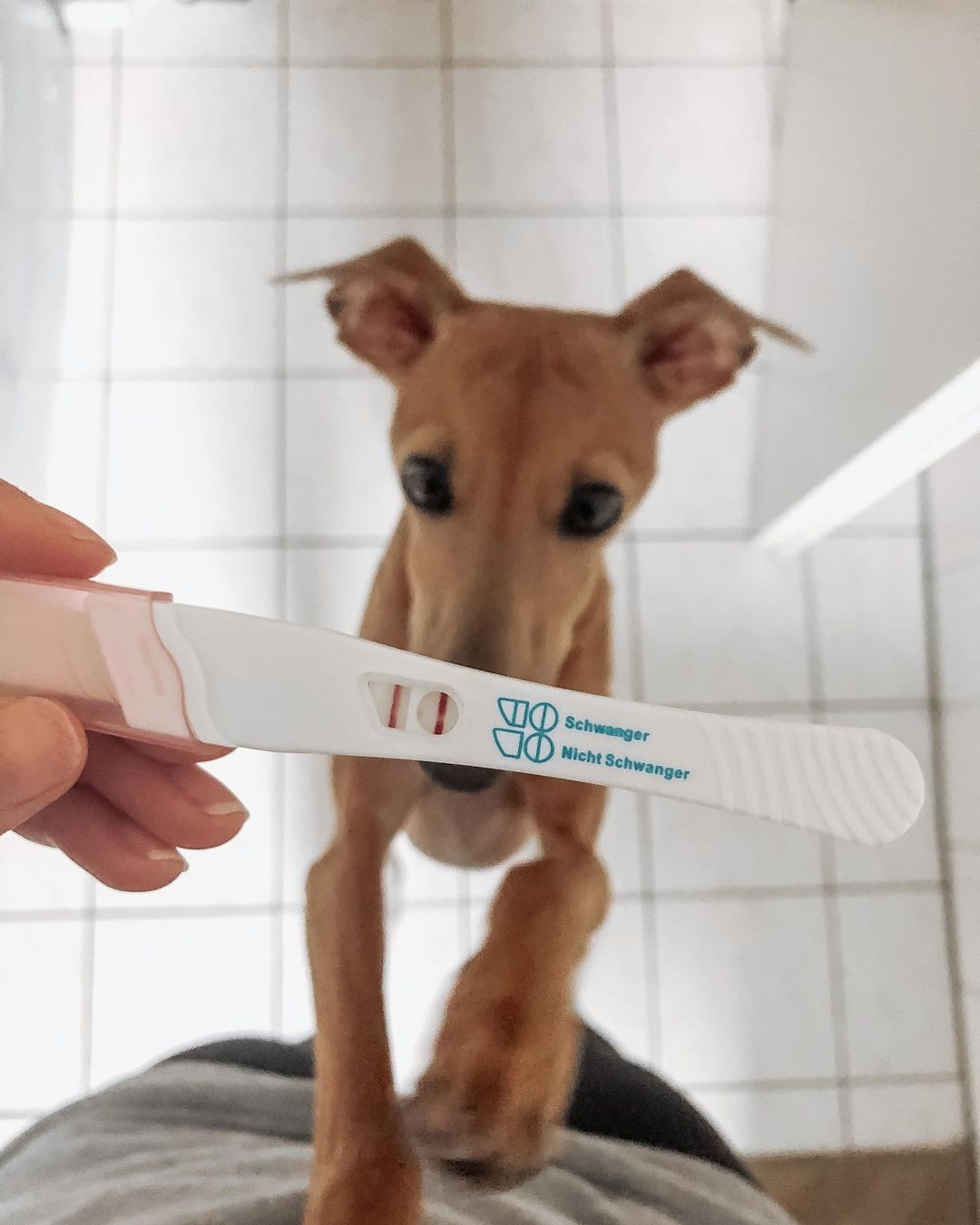 Would you rather just keep things easy?
Simply hold up your pregnancy test and stand in front of your dog, then have someone take a photo over your shoulder (it may work best if they hop up on to a chair to get a good angle).
Outdoor Pregnancy Announcement with Dogs
🎵 These are a few of my favorite things… 🎵
Besides including your precious pup in the photo, consider shooting your photos somewhere meaningful to you.
This sweet couple from Florida that loves waterskiing chose to shoot their pregnancy announcement with their dogs on a dock over the water.
Love the idea of a pregnancy announcement on the water? Hop over to this list next: 25+ *Stunning* Ideas for a Beach Pregnancy Announcement
Gangs All Here Pregnancy Announcement with Dogs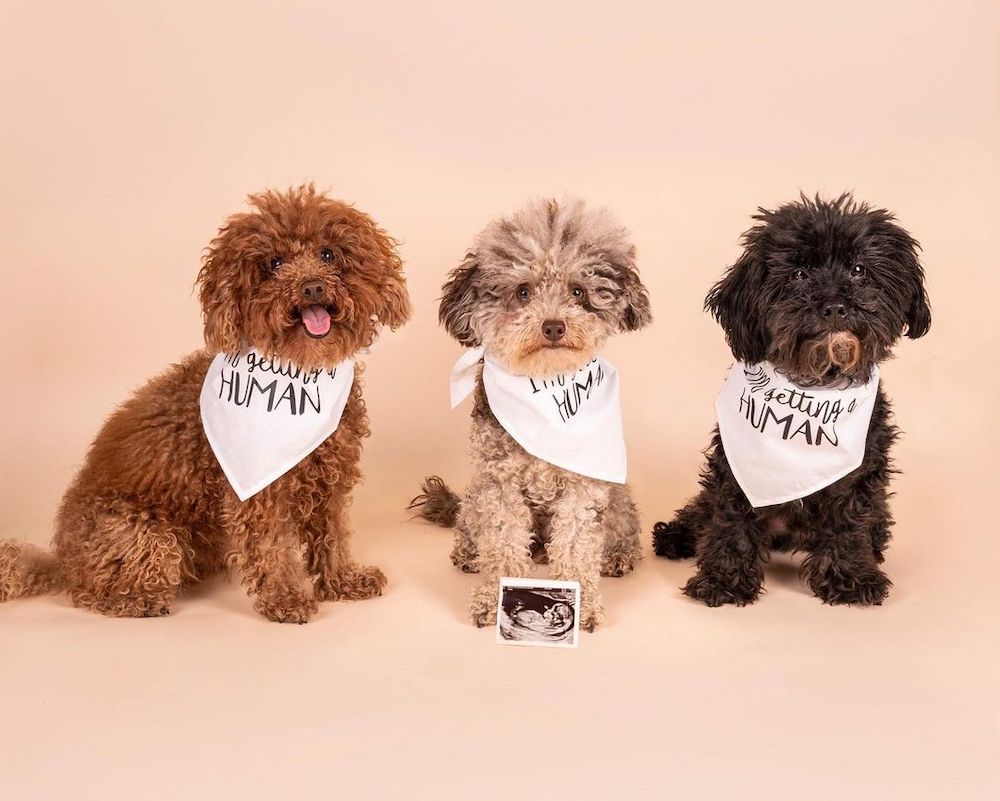 Tie one of these cute "I'm getting a human" doggie bandanas around your fluffy friend, prop the ultrasound photo up in front of them, and snap your photo!


And there you have it – all of my favorite ways to announce you're pregnant with your dog!
*Literally can not stop* sharing photos of your pup on Insta? Bookmark this *ridiculously cute list* of dog instagram captions for later! 🐾
For more cute ideas for planning your pregnancy announcement photos, check out this mega-list of my fav picks, too!
Read Next:
🍼 Check out my Expensive Baby Gear Dupe Finds 🍼
☁️ Check out my fav Neutral Nursery Ideas ☁️
🎀 Explore my Baby Name Lists for Girls 🎀