This post contains affiliate links.

Fallen in love with the name Sienna, but just can't find a middle name for Sienna that makes your heart skip a beat?
Well, then pour yourself a hot cup of coffee, mama, because today, I've put together a list of my very favorite hand-picked middle names for Sienna that I can't wait to share with you.
Let's dive in –
About the Name Sienna
The name Sienna is of Italian origin and means burnt orange, and comes from the clay-colored buildings and roofs that fill the town of Siena in Tuscany, Italy.
In the US, the name Sienna continues to grow in popularity, ranking as the 149th most popular baby name for girls in 2021.
In the States, the name Sienna is most popular in Nevada, Arizona, and Utah – the Southwest.
However, when we take a look at the how common the name Sienna is around the world, we find that it's actually more popular elsewhere – in Australia, New Zealand, the UK and Canada.
Names Like Sienna
If you love the name Sienna, but are still considering other baby names, here are some pretty names like Sienna:
Celena
Cella
Sofia
Luna
Cecilia
Sicily
Bianca
Caprina
Mia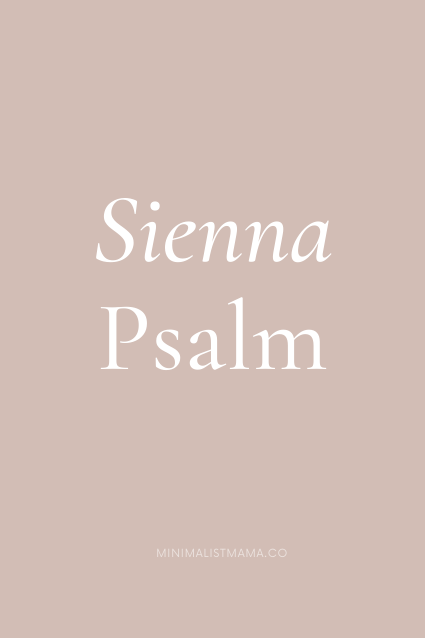 Lucia
Giana
Emilia
Carina
Camilla
Aria
Celeste
Sunna
The Best Middle Names for Sienna
Here are my very favorite middle names for Sienna:
Sienna Mae
Sienna London
Sienna Olivia
Sienna Leigh
Sienna James
Sienna Brooke
Sienna June
Sienna Adaline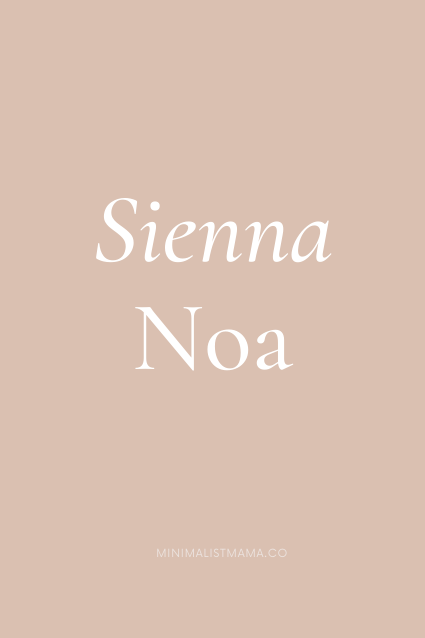 Sienna Mika
Sienna Lily
Sienna Soleil
Sienna Evie
Sienna Ruth
Sienna Ivy
Sienna Isabelle
Sienna Juliette
Sienna Camille
Sienna Wren
Sienna Avery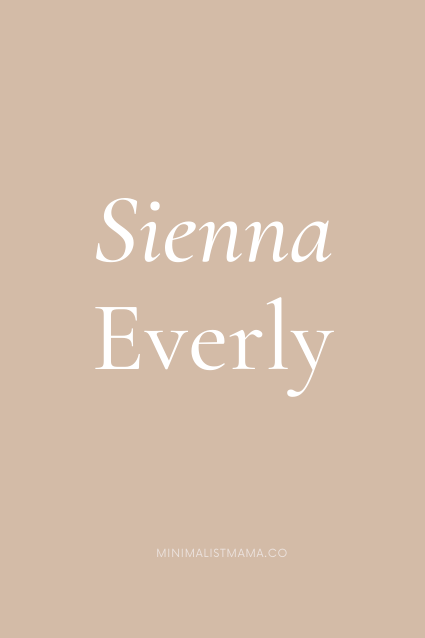 Sienna Celeste
Sienna Edith
Sienna Ruelle
Sienna Sunna
Sienna Odette
Sienna Navy
Sienna Noa
Sienna Quinn
Sienna Isabella
Sienna Linnea
Sienna Violet
Sienna Saira
Sienna Laine
Sienna Jane
Sienna Elizabeth
Sienna Mila
Sienna Helene
Sienna Indy
Sienna Cade
Sienna Lincoln
Sienna Charlotte
Sienna Cove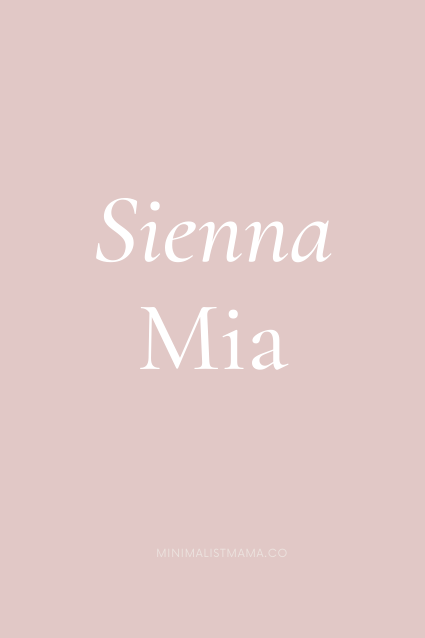 Sienna Psalm
Sienna Grace
Sienna Paige
Sienna Blaire
Sienna Edie
Sienna Piper
Sienna Addison
Sienna Dale
Sienna Elodie
Sienna Flori
Sienna Eliza
Sienna Giada
Sienna Summer
Sienna Evangeline
Sienna Caia
Sienna Margot
Sienna Elle
Sienna Mia
Sienna Adelaide
Sienna Everly
Sienna Naomi
Sienna Eve
Read Next:
🤍 85+ *Prettiest* Middle Names for Ella for 2022 (+Names Like Ella)
🤍 75+ Pretty Girl Names That End in A That I *Love*
🤍 285+ Seriously Gorgeous Unique Girl's Names You *Need* To Hear